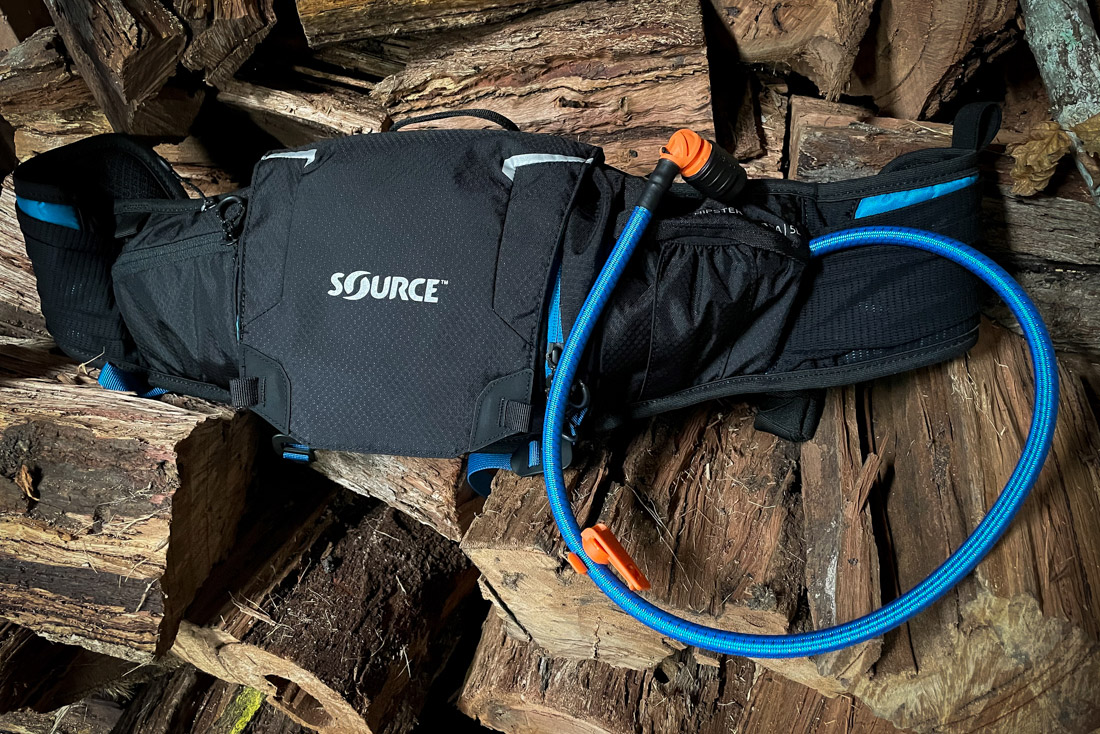 Carry More Than Ever with The Hipster Ultra!
Cut to the Chase
The Source Hipster Ultra is a pack that has redefined what a hip pack can be. Now you can forgo the backpack for longer rides and stick with the hipster. With more storage and hydration on board, you can go further, with more gear, in comfort. If the hip pack is your thing but you've never been able to get everything you need into it for those longer adventures, then look no further. This is the pack for you!
Pros
Tons of storage options.
1.5 L bladder
Excellent hydration system
Super-tough materials, ideal for the Aussie bush
Cons
Harder to access main compartment whilst on the go (from previous model)
Source Hipster Ultra Review
SOURCE has been making hydration systems for decades and it's no wonder that they are up there at the top of their field when it comes to providing athletes and amateurs alike, with some of the most effective hydration and on body storage solutions for outdoor sports.
We reviewed the original hipster a few years ago and since then it has remained a firm favourite with our in-house testers. The original Hipster received praise and awards from blogs, bike-mags, and riders around the world. The Hipster Ultra adds additional storage while keeping the original Hipster's advantages. Its smart design and stable and comfortable fit make it a perfect companion for longer day trips, big stage enduro events, or ultra racers.
Features
The Source Hipster Ultra has a lot to offer in terms of storage, good quality hydration system, and comfort. The key takeaway of the Source Hipster Ultra is the capacity to store more items than a regular hip pack. This allows you to travel further and safer by carrying more food, bike repair tools, or a first aid kit, for example. But let's delve a little deeper into these features.
Storage
The Hipster Ultra has plenty of storage options. It features a single large front main compartment with several internal organiser pockets and a mesh zipped pocket on the inside of the flap. Two hip pockets; one mesh and the other zipped, and also features two more stretch pockets on the hip belt! This thing is overflowing with storage options. The hydration bladder is 1.5 litres, but the total capacity is stated as 5 litres, so that's 3.5 litres of storage, if our math is correct. Either way, the Source Hipster Ultra offers a lot of storage for a hip pack.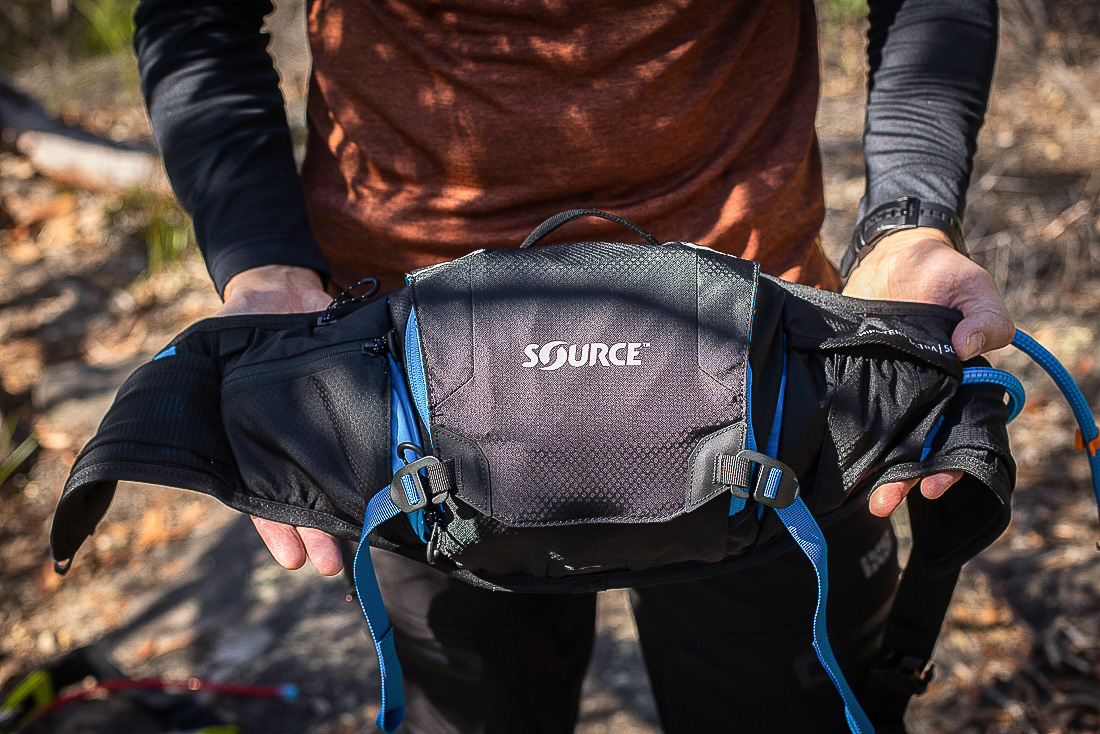 The Source Hipster Ultra is a 5 litre capacity hip pack designed for longer rides.
Photo: ©Richard McGibbon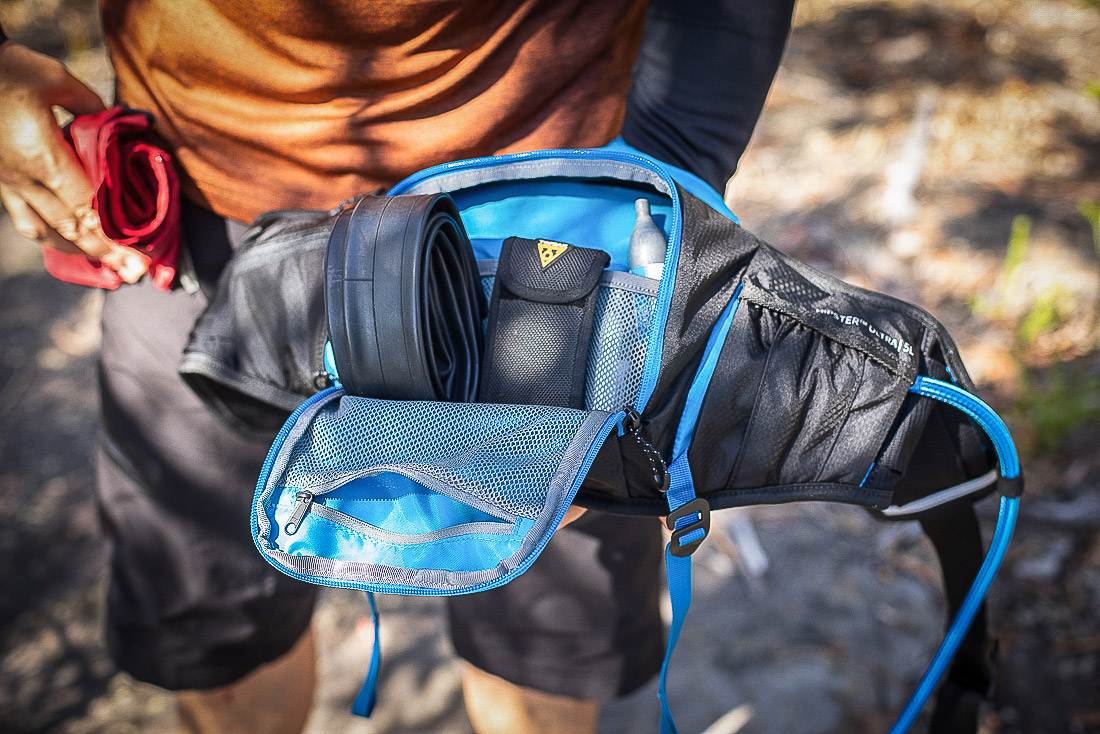 The main compartment is roomy enough for plenty of essentials, with room to spare A mix of mesh organiser and zipped mesh pockets.
Photo: ©Richard McGibbon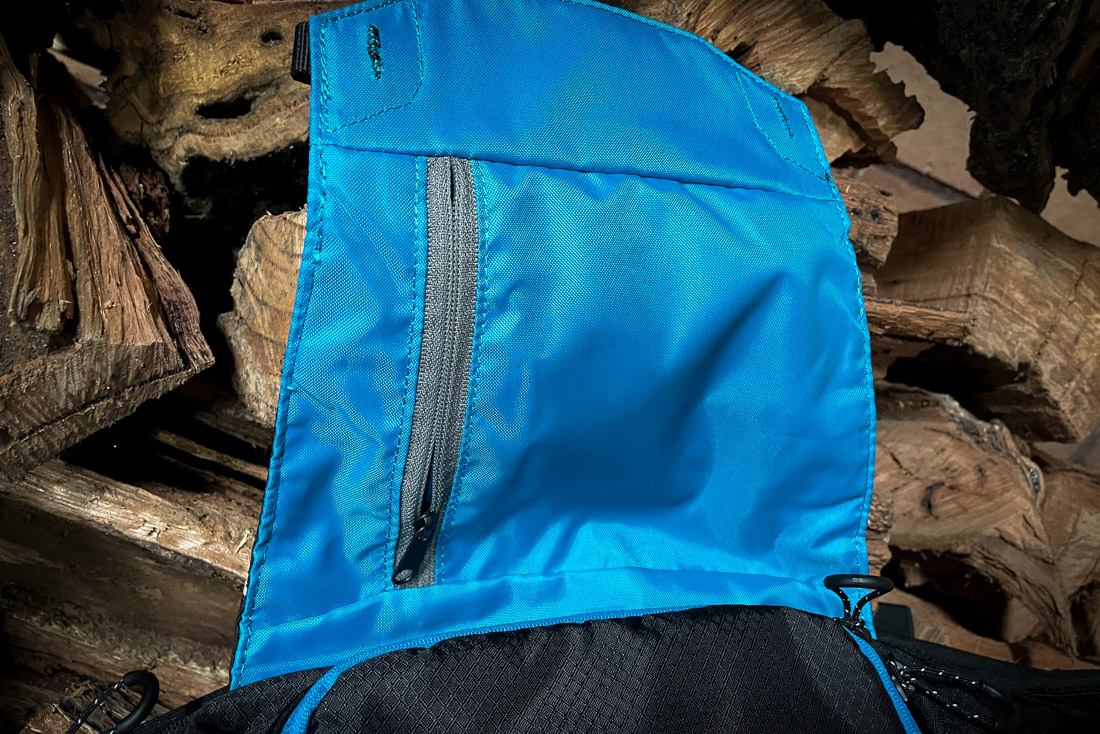 The main compartment even has a zippered pocket on the inside flap!
Photo: ©Tyres and Soles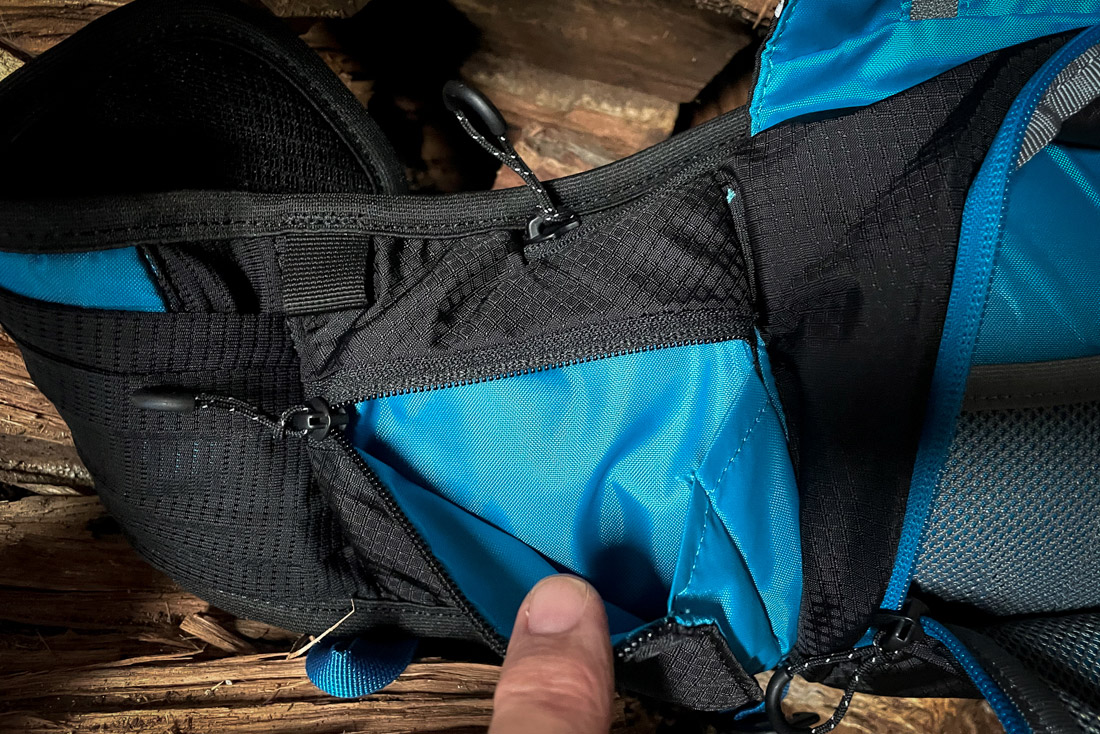 There is a LOT of storage options in this pack, we counted 6 in total.
Photo: ©Tyres and Soles
Materials
The Hipster Ultra is made from durable, water-resistant 210 Denier Nylon fabric. This tough outer fabric is perfect to withstand a good bashing from the harsh Australian bush and the type of pack you can throw around on the trail or in the back of truck beds, and not worry about it falling apart.
The Hipster Ultra is a burly pack ready for any action you can throw at it. Its production is BLUESIGN certified for responsible and sustainable manufacturing of textile consumer products. Win, win!
Comfort
Although the Source Hipster Ultra boasts a 5 litre capacity, it's surprisingly comfortable when fully loaded. The supportive hip belt keeps the pack securely fastened with an off-centred buckle. This allows you to cinch the belt with a single adjustment point, rather than having to centre and pull on two ends.
In terms of breathability and comfort, the EVA netting on the back of the pack helps with ventilation and reduces sweaty or hot spots that can lead to skin abrasion. The padding is light but very effective. It uses a triangular waffle pattern that helps keep the overall weight down, and airflow high.
As well as the main buckle belt, the Source Ultra also features an integrated compression strap that you can easily tighten on the fly. These use small hooks that are connected to the pack which pulls through the inside of the hip belt. This is a really quick way to adjust on the fly whilst seated.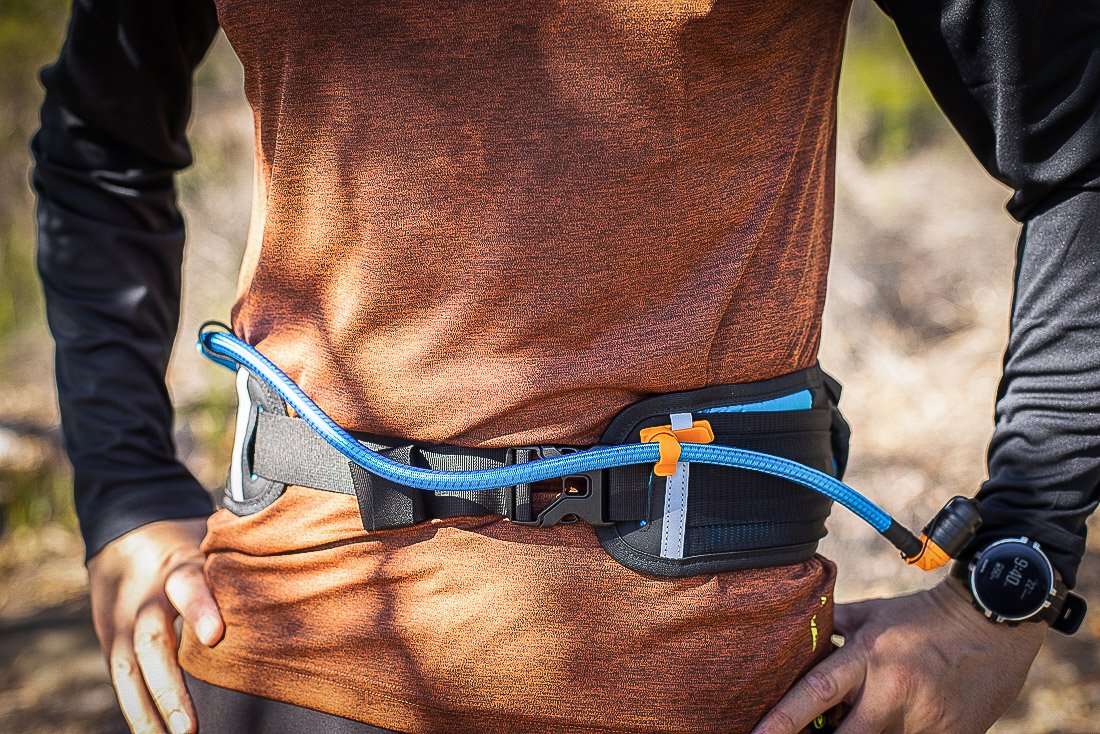 The hose connects via an adjustable magnetic clip, ensuring it doesn't flap around.
Photo: ©Richard McGibbon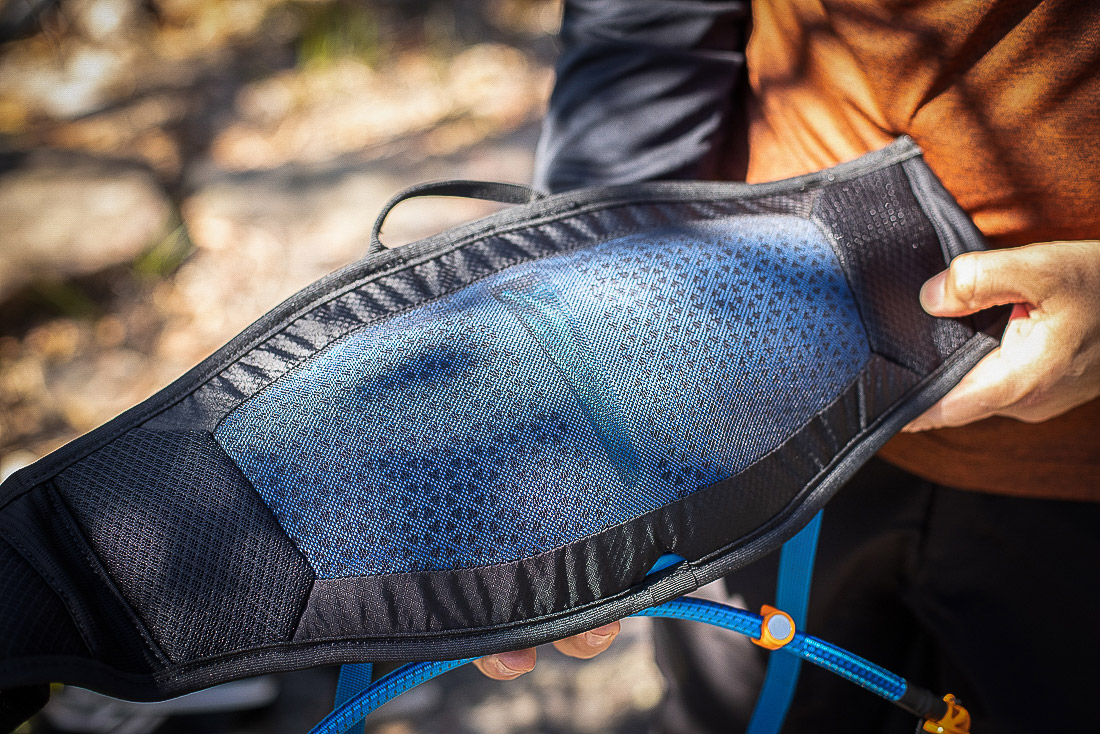 The EVA netting allows for great ventialtion to stop sweaty back syndrome, and the cutout padded design adds great levels of comfort whilst keeping the weight down but still providing maximum airflow.
Photo: ©Richard McGibbon
---
Hydration System
The Source Hipster comes with a blader and hose in the pack, so there's no need to worry about finding a system that fits. Source uses a Taste-Free™ System which retains a cleaner taste with absolutely no plastic flavour. It's also BPA and Phthalate free. The hydration system also features Source's very own GrungeGuard™ Technology inhibits bacteria growth in the reservoir and tube.
The widepac closure used with the Source products has been copied by many others in the market, and we can see why. It functions far better than an awkward screw-top opening, is easier to fill, and makes for very effective cleaning. Oh, and you can also insert large chunks of ice on really hot days.
---
Out On The Trails
Out on the trails, the Hipster Ultra is surprisingly comfortable and easy to ride with. No bothersome child-like tantrums, it just behaves itself. That being said, when you have the bladder filled to maximum and the pockets fit to bursting, you certainly know it's there. But that can be said about any pack.
The improved padding (upgraded from the previous Hipster) offers excellent comfort levels even when fully laden. The mesh rear panel and the cut-out padding provides excellent breathability and air-flow which helps to reduce a sweaty back and thus, potential chafing.
What we really appreciate about the Ultra is the way you can easily adjust the fit, on the fly. The main buckle is one aspect of this but the really cool feature is the compression straps that are weaved through the main hip belt. This allows you to pull on the ends whilst on the go, without having to re-adjust the main belt. It's a very well-thought-out feature.
In terms of hydration, the 1.5-litre bladder is perfect for longer rides. Combine that with a bottle on the frame, and you have a hydration and storage system ready for all-day rides. We love the No-Taste system that Source use. We experienced none of the horrible plastic taste you can get with other bladders, and the water stayed cool throughout the day thanks to the material used in the bladder pocket.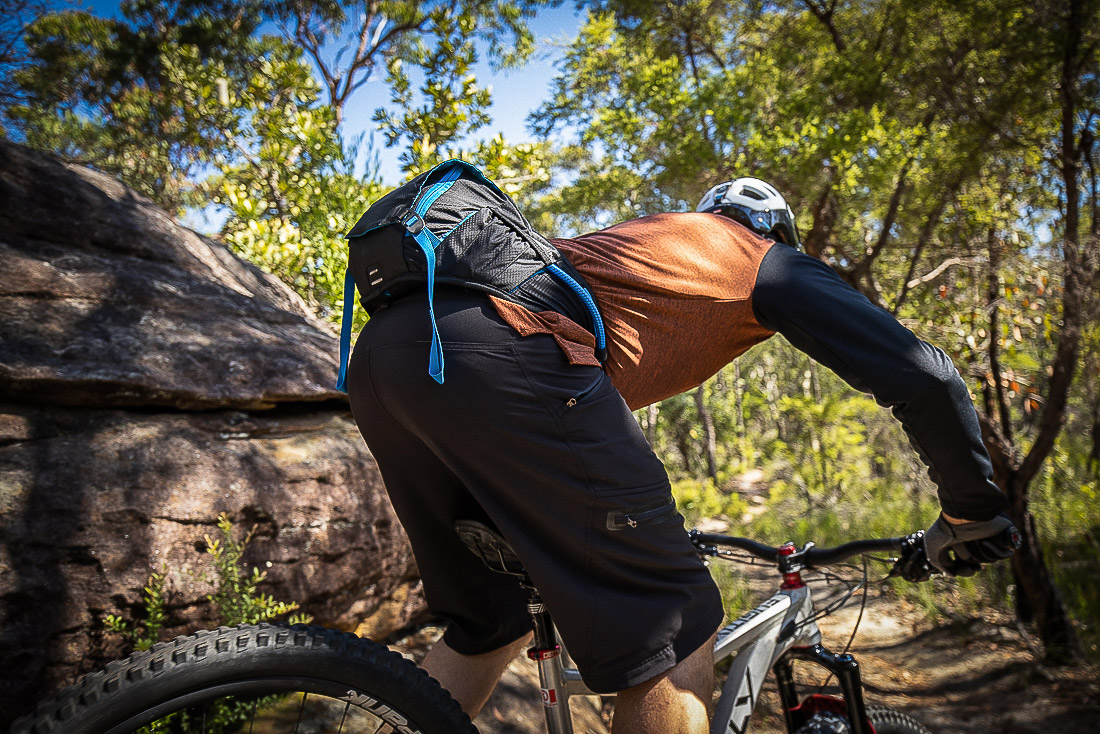 The blue straps pictured are the compression straps. These typically weave through the hip pocket so you can pull them from the hip to adjust on the fly. We forgot to tuck them in 🙁 But trust us, they work!
Photo: ©Richard McGibbon
Although a large pack, the Hipster ultra has been designed to keep the bulk down with all the contents secure and as bounce-free as possible.
Photo: ©Richard McGibbon
---
Conclusions
If you are sometimes in a quandary whether to take the hip or the backpack, then the Source Hipster Ultra certainly defines what a large hip pack can be, and is an excellent addition to your other packs. With so many storage options and excellent comfort and adjustability features, it makes the pack a pleasure to ride with. If a hip pack is your preferred storage but you just need that extra bit more room or hydration capacity, then look no further. All in all, this is one hell of a hip pack.
---
Where to Buy / Price?
Source Hipster Ultra: $109.90 USD ($140AUD approx)
For more info, visit the SOURCE website. You can order straight from the website and shipping times have been great, in the past.
---
Hipster Ultra Specs
1.5L Widepac™ closing (US Patent no 7,648,276,B2)
3 layered membrane
SQC™ (SOURCE Quick Connect)
Coextruded tube
UV protection cover
Valve Helix™
Dirt Shield™ valve protection
Magnetic Clip valve docking stationHeight (max): 22 cm
Width (pack): 82 cm
Weight: 580 gr
Waist: 80 cm – 135 cm / 31.5 in – 53.1 in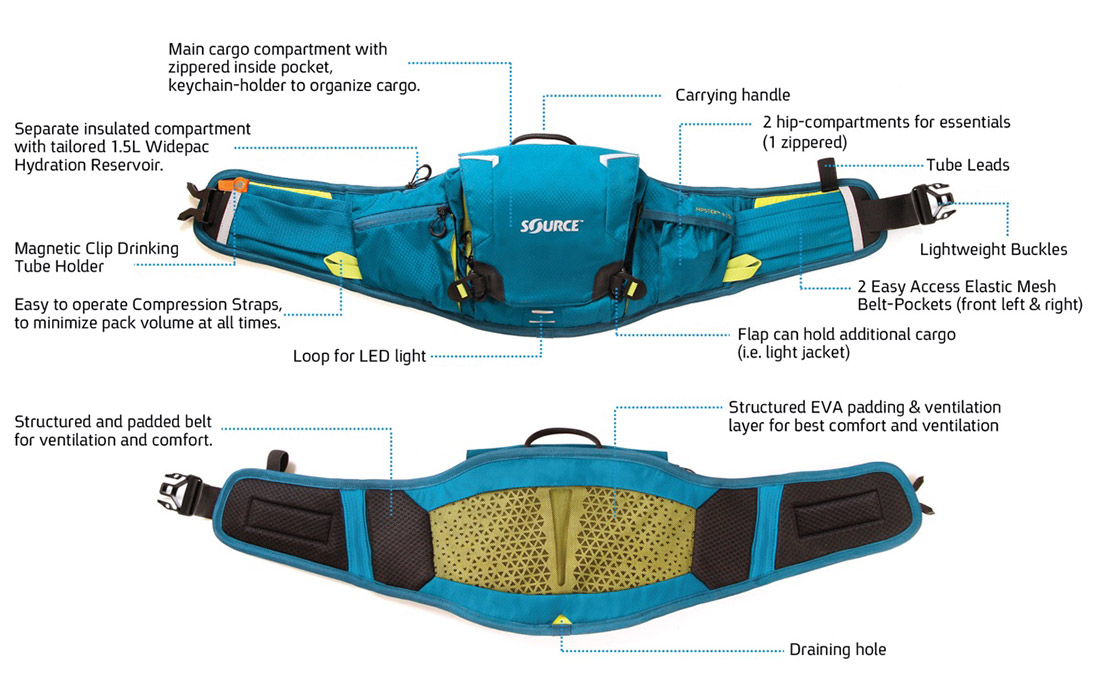 Colour options
As well as black, it comes in "Chili Orange" and "Atlantic Deep Blue".