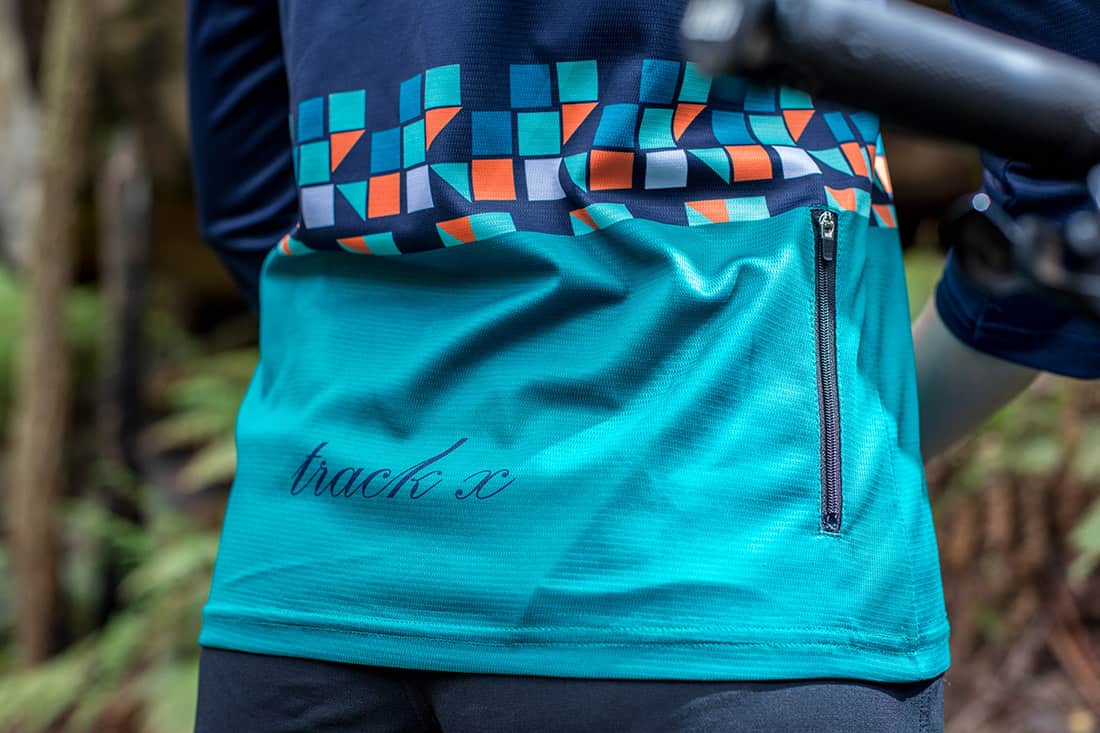 Made by Riders for the Riders! 
Cut to the Chase
The Track-X Tiled jersey and Enduro shorts is a great jersey and shorts combo from a homegrown brand. Aimed with the enduro rider in mind, built to withstand the all-day assault on the trails. Using a combination of lightweight stretch materials, highly breathable and quick-drying fabrics with a flattering fit and stylish looks.
Pros
Homegrown brand
Stylish fit and design
Shorts have a longer length than usual
4-wat stretch material
Lightweight, breathable fabrics
Price
Cons
Small range (at time of this review)
Shorts only come in black (at time of this review)
Track-X Women's Trail Jersey & Shorts – Apparel Review
It's always great to hear about brands hailing from these good shores, so we had to find out more about Tasmania's Track-X mountain bike apparel brand. Track X. Designed, tested, manufactured, and worn since 2008, they have been offering a range of mountain bike ride and casual clothing for men and women.
We won't go into the details of the company in this post as we interviewed the nice people of TrackX only recently. You can read that post here. This post is about the Women's Long-Sleeved Jersey and Trail shorts.
So let's get on with it…
Look and Feel
Straight out of the bag the jersey looks great! No shrink and pink approach here, which is a refreshing change. The overall design and styling has a classy feel, nothing too garish.
Although the jersey has a relaxed style, the panel construction gives it a slightly fitted appearance. The jersey features the popular 3/4 length sleeve design, which is perfect for the Australian climate. Hot one day, cold the next.
The fabric is light and made of a quick-drying polyester, which wicks away sweat and dries very quickly. If you like to stash items on yourself, then you'll be pleased with the good-sized zipped pocket on the side of the jersey.
The jersey graphics are printed using a sublimation process, which is something we really like in MTB apparel these days. This means the inks are fused into the fabric as opposed to sitting on top of the fabric, which can result in the graphics peeling off after a while.
Once on, the jersey fits very well. We mentioned it has a relaxed fit but it strangely also felt quite fitted. Some sort of Tasmanian wizardry going on here.
There was no gathering around the shoulders or under the armpits. The length of the 3/4 sleeves and the rear of the jersey were also spot on. The neckline and diameter of the neck hole was just right. Not too tight and no annoying pieces of fabric to cause abrasions.
NB: Sizing for the jersey is small. If you normally wear a small we'd suggest ordering a medium (see TrackX size guide for measurements).
Out On The Trails
The TrackX 'Tiled' jerseys are designed for women who love to shred the trails up and down, so have been designed with this in mind. The lightweight fabric meant that our test rider didn't experience any overheating on harder climbs, especially on warmer days.
Although we didn't test in the middle of the Australian summer, we are pretty sure it would be too warm for those conditions, 35+ degree days…but for riding during the Autumn, Winter, and Spring months, it's perfect!
Our test rider noted a good level of stretch in the fabric when in the attack position, which resulted in a comfortable fit with or without a pack, with no tightness under the armpits. Plus no riding up the back was experienced, which is a box we always like to tick.
---
Women's Enduro/Trail Shorts MKII
The shorts are aimed at the trail, enduro, or DH rider who is looking for a lightweight breathable short. TrackX say "We have altered our 1st generation shorts to produce a better fit and more accurate size". We can't comment on their previous models but these were very comfortable indeed.
We like light shorts but you have to have a balance of lightness versus strength. The last thing we want is a total shorts failure out on the trails. You can get arrested for things like that.
The shorts feature an additional rear panel which creates a better range of flexibility when riding and a fit that suits a wider range of rider profiles.
There are two side zipped pockets, which have ample room and one rear zipped pocket with a double snap closure and zipped fly. The fly and pockets all come with quality YKK zips.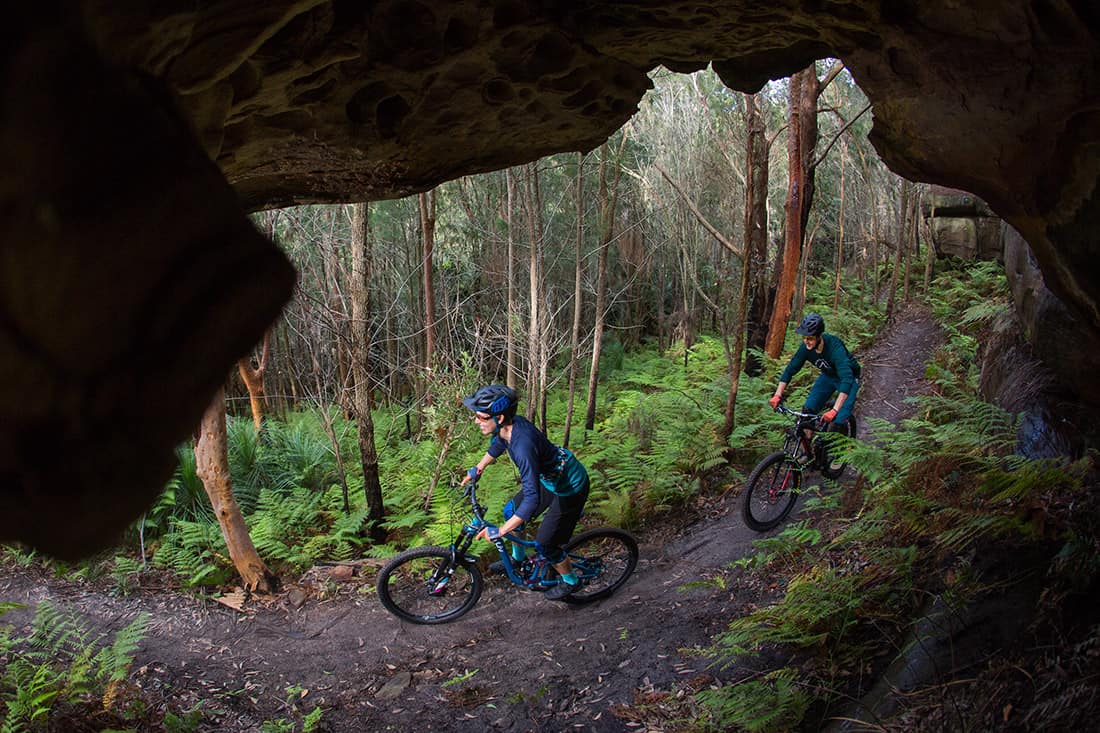 Out On The Trail
The combination of the loose fit and the 4-way stretch, plus that extra length came into play on the trails. In the corners roosting it with the bum out or rolling over steep terrain in the attack position, they felt really great!
The amount of stretch and lightness gave them good airflow, especially when moving along at speed and the extra length made them very adaptable with all types of knee pads. We tested both lightweight trail and heavy-duty DH knee pads and we had no issues with the shorts catching on the pads.
We liked the pockets with their deep and roomy space, plus the peace of mind of having a zipper on all of them was a big plus for us. We got soaked through a few times on some of our test rides but due to their lightness, they dried super-quickly! Like really quickly.
Conclusions
It's good to see more women's choices when it comes to riding gear. We often get asked "but where's the Women's version?" and quite rightly. So thanks TrackX.
Overall, the Track-X Tiled jersey tick all the boxes. Lightweight, stylish design, great fit and priced well. The styling is classy and refined and it features some really nice design touches.
The shorts are light, stretchy, and very, very comfortable and will handle pretty much any type of riding you can throw at them. XC to DH, and everything in between.
If you're in the market for some new threads and prefer to buy from local brands, then you should definitely check out TrackX.
Price/Where To Buy
The price point on the TrackX products is very reasonable, even with shipping costs on top.
Track-X Tiled Jersey – $70.00
Track-X Trail Shorts – $99.00