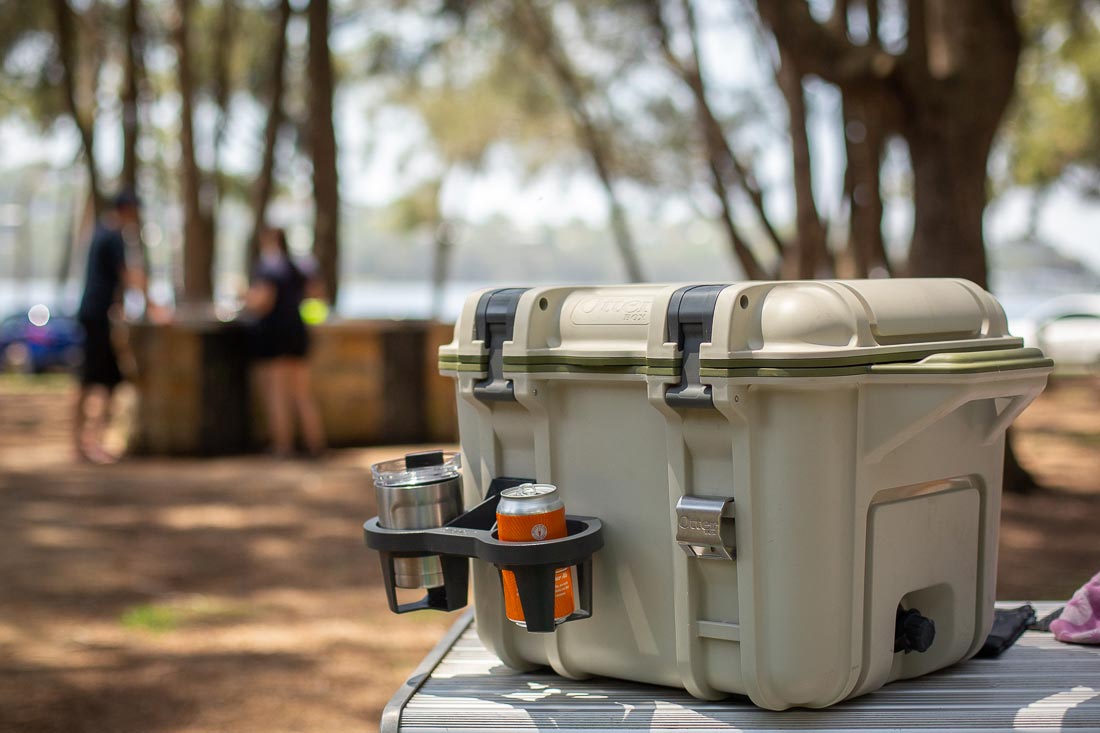 OtterBox Venture 45 – Cooler Review
Cut to the Chase
If you're in the market for a new cooler this summer, whether it's camping, on the water, outdoor recreation, sports events or parties, the Otterbox hard case coolers are a great choice. Designed for a rough and tumble lifestyle that's built to last a lifetime and will keep its contents fresh and cool for up to two weeks!
Pros
Practically indestructible
Keeps ice for up to 14 days!
Lifetime warranty
A range of handy accessories
Cons
A little on the pricey side
Internal space is a little tight
---
Summer is here and it's time for blisteringly hot temperatures, camping trips and picnics at the beach, but how do you keep your food and drinks cool?
Apart from keeping your food cold, we know only too well the importance of a frosty beer on a hot summer day. It would be pure blasphemy to have a warm ale!
Who is Otterbox?
OtterBox began way back (for us fortysomethings) in 1998 out of a Colorado garage of dreams. They started with a simple concept…a waterproof box, and the rest is history. Otterbox have earned respect from the outdoor enthusiasts as a hard-working and down to earth brand, who actually give a toss about their customers. Yes, they listen to the people who buy their products!
The Otterbox cases are dedicated to the thrill-seekers, go-getters, weekend warriors, dirtbags and beach bums all over the world. If you don't want to be worrying about that 10-year-old leaky cooler you've just dusted off, then don't fret, these bad boys are designed for the rough and tumble lifestyle.
Features
The Otterbox Venture comes in three sizes; 25, 45 and 65 and can retain ice for up to 14 days! Yes, you did read that correctly. This makes it a perfect companion for multi-day camping trips for perishable items or on the boat, keeping bait or fish fresh for days.
We took it on a 5-day car camping trip and it kept our food and beverages cool for the entire 5 days, with ice cubes still intact at the end of the trip. If you're careful and close it securely each time, the Otterbox Venture equals an electric refrigerator.
Another feature we really appreciated but didn't notice at first, was the slightly slanted bottom. This made draining the water at the end of the trip just that bit easier. A small thing but obviously well thought out.
Internal Space
The Otterbox 45 (Quarts) equals 42.5 litres. This translates into 20 kgs of ice, 25 cans of beer, or 48 juice boxes. However, due to the incredibly efficient cooling system, it does mean the internal space is sacrificed a little. But that's what you get for two weeks of cooling power
What makes the Otterbox so efficient is the materials. With a Polypropylene inside and outside shell, two-part polyurethane insulation, and silicone seal and latches. This baby keeps cool even on the hottest of days.
Accessorise
It's the small touches that we like about the Otterbox, such as the rubberised feet. This makes it sit where you want it to, especially on smoother surfaces. The handy bottle opener is a dream, yes, we're easily pleased.
The Otterbox Venture coolers can be used with a range of accessories such as; a cutting board, dry storage tray, bottle opener, a double cup holder, side table and more. Each accessory fits on via external and internal attachment points and slots. These are ideal if you need to keep wet items separate from dry goods, meat and beverages etc. Check out the full range here.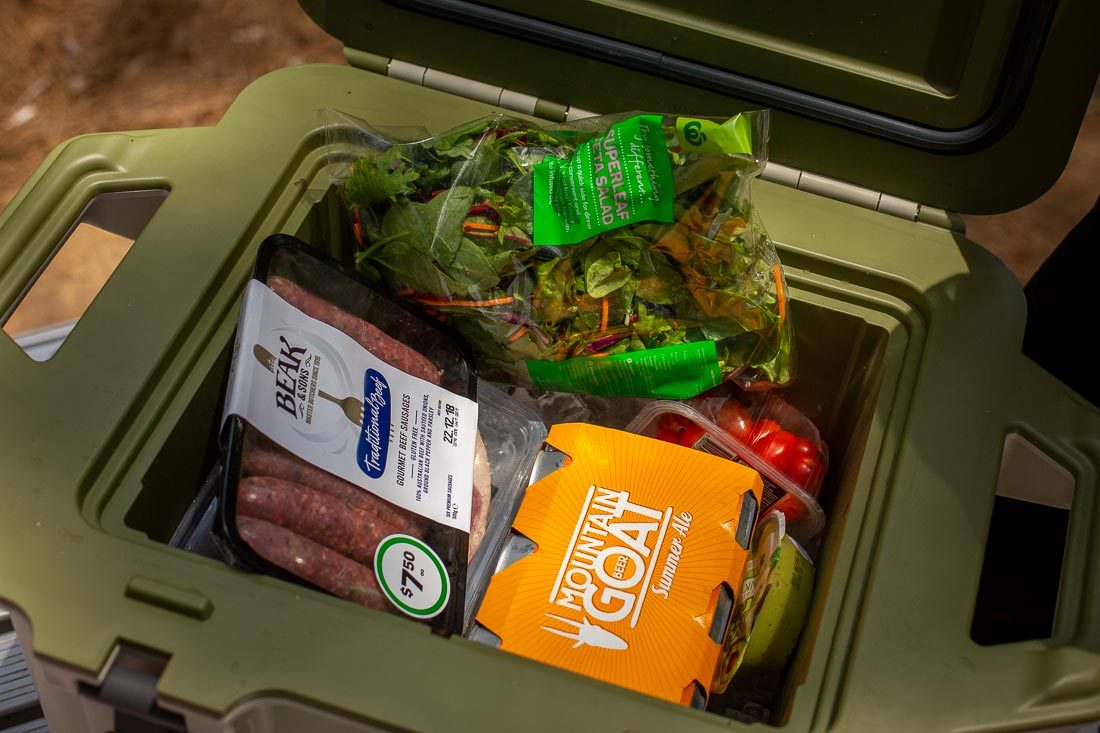 Hard As Nails!
If you like to throw kit around truck beds, utes, boats or on the floor, don't worry because these cases are incredibly strong and can take a serious amount of abuse. Built like something you'd expect to see in a military encampment, each clasp, lock and handle have all been designed for the most extreme adventures in mind.
But don't think you need to go on some sort of Indiana Jones adventure to be worthy of an Otterbox. The Otterbox Venture looks right at home at a pleasant beach or park setting, sat prettily on top of a tartan blanket full of ripe fruits, smelly cheeses and a bottle of classy wine. Otterbox doesn't discriminate.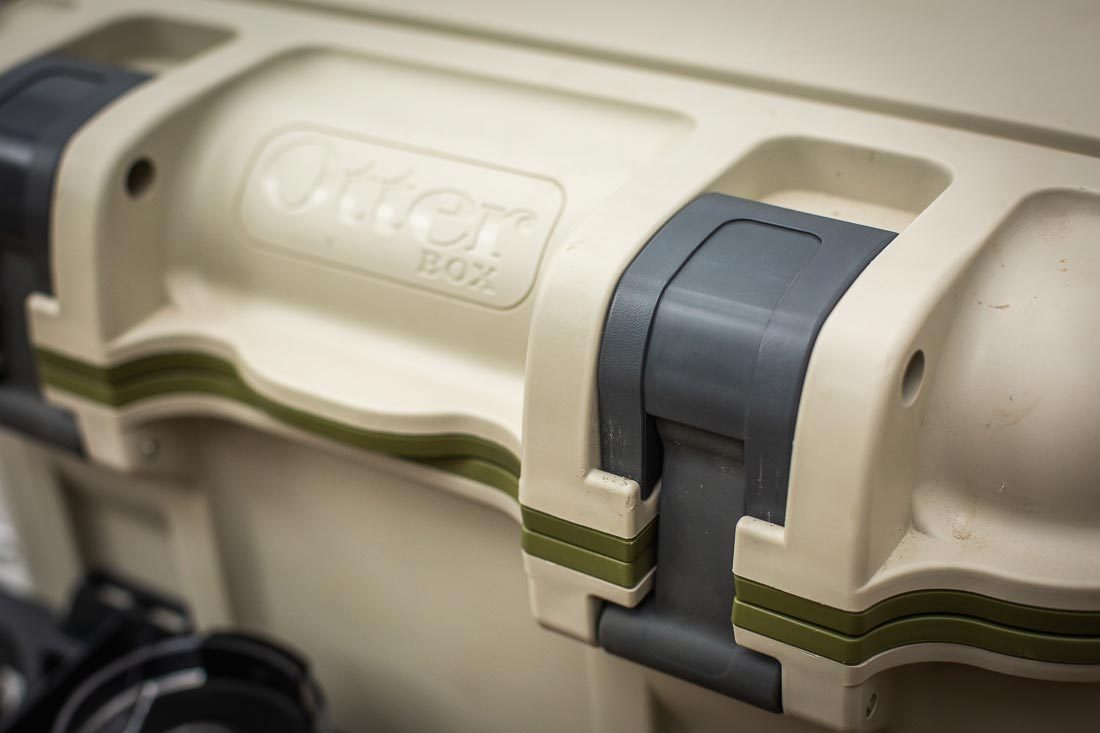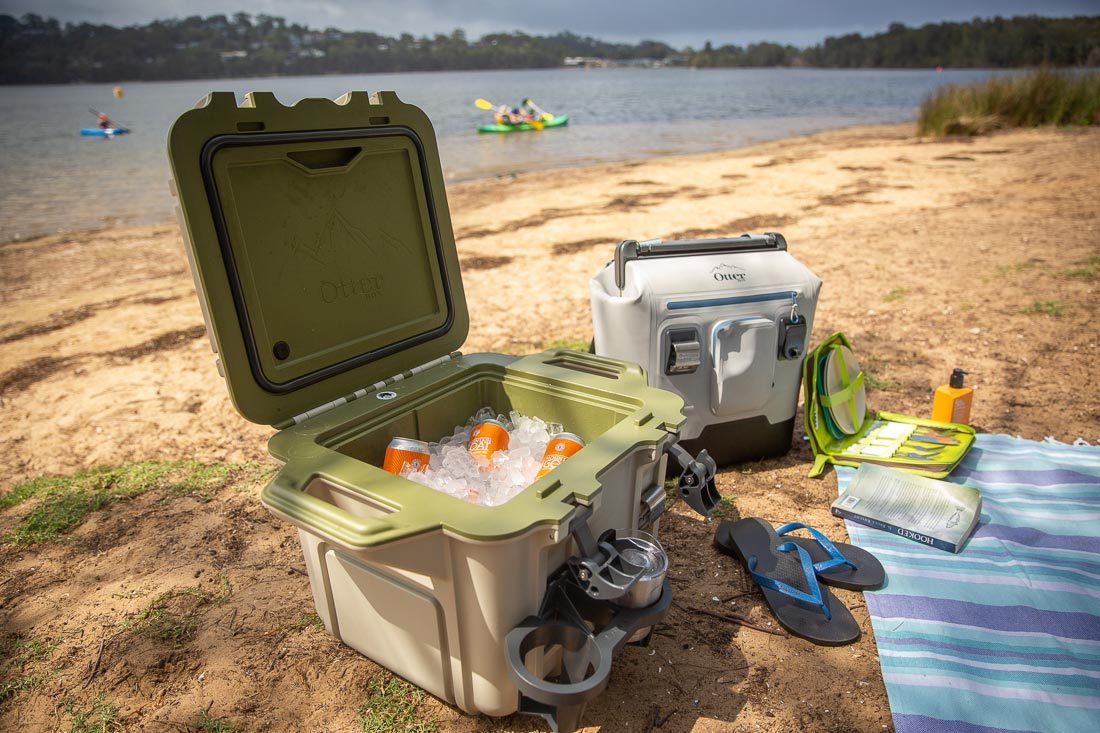 Bear Proof
If you're one of our readers who live in a country with bears (that does not include drop bears), then you'll be glad to know that they are also Certified bear-resistant by Interagency Grizzly Bear Committee (IGBC) (when secured with Locking Kit). See for yourself with this video!
Specifications:
Capacity: Internal capacity is exactly 45 quarts (42.5 litres).
Mounting system: Attach accessories for every adventure.
Tough latches: Lock in contents, keep critters out and drop down out of the way.
Included accessories: Dry Storage Tray and Bottle Opener.
Anti-slide rubber feet.
Durable integrated handles.
Slanted interior bottom for easy draining.
Nesting grooves: Cutting Board and Dry Storage Tray.
Organize: Includes three slots for custom compartments (Separator sold separately)
Designed in Colorado USA.
Backed by OtterBox Limited Lifetime Warranty.
Materials
Polypropylene inside and outside shells
Silicone seal and latches
Polycarbonate/ABS latches
Nylon drain plug
Two-part polyurethane insulation
Stainless steel pins
TPE feet
Where to Buy / Price
You can purchase the Otterbox direct from their website.
Venture Cooler 25: $399.99
Venture Cooler 45: $499.99
Venture Cooler 65: $569.99
A full list of APAC and global distributors can be found here.