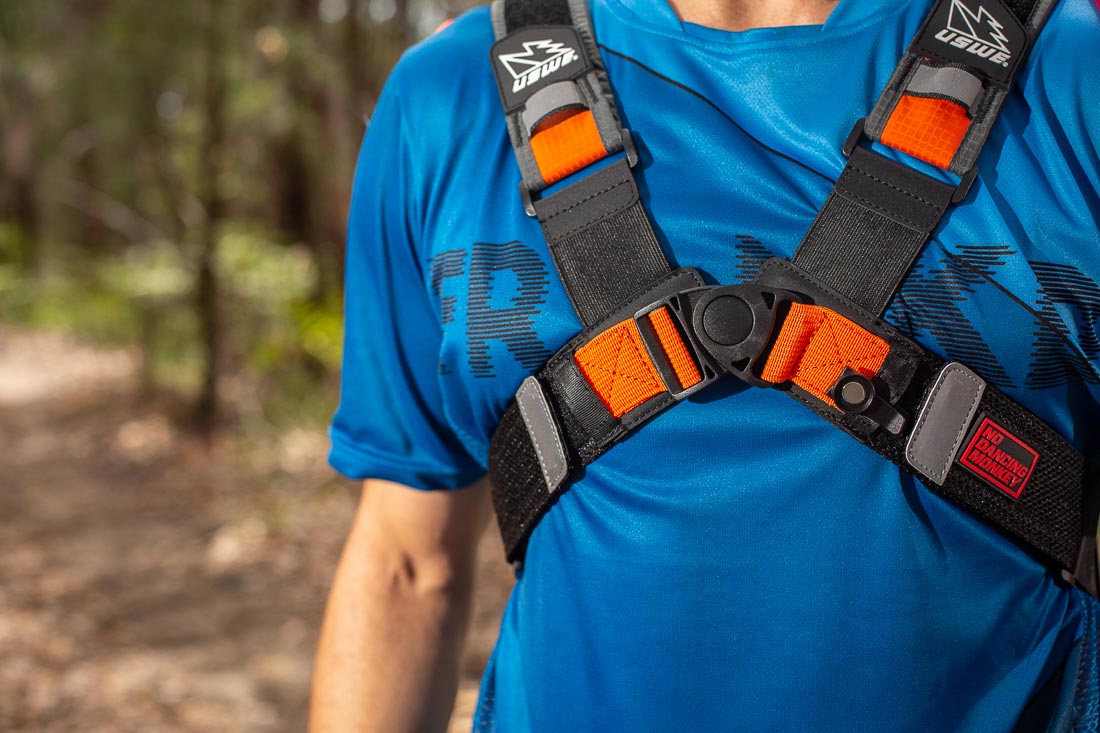 Stop That Dancing Monkey On Your Back!
Cut to the Chase
The USWE Airborne 15 is a pack designed to withstand a serious amount of punishment, whether your a social rider or an EWS elite racer. With tons of storage options, a 2.5-litre bladder and the famous No Dancing Monkey 4 point harness system, the Airborne 15 offers everything we look for in an action based pack.
Pros
A highly adjustable and comfortable harness system.
NDM™ offers a bounce-free experience.
Good levels of storage options.
Helmet storage/attachment
2.5-litre bladder with additional features.
Low profile
Fair price
---
USWE Airborne 15 – Pack Review
USWE was born from a desire to explore the Swedish countryside, searching for the toughest terrain and pushing further into the wilderness. In the early years, USWE was frustrated by the lack of packs on the market for extreme sports, most packs available were designed for walking paced activities. So, in 2007 USWE started a mission to design packs specifically for action-based sports.
Along the way, USWE collaborated with top athletes from all over the world putting the USWE packs through rigorous testing. Out of these tests, a body-hugging, bounce-free creation was born and grew into what we see today as the key feature of the USWE packs, the No Dancing Monkey technology.
Features
The Airborne 15 is the largest pack in the Airborne range. It offers a good variety of storage pockets, open or full-face helmet compartment, 2.5-litre bladder, highly ventilated back panel and the unique looking NDM™bounce-free harness, that you may have spotted on the EWS (Enduro World Series) races.
No Dancing Monkey Harness
NDM™, No Dancing Monkey is USWE's award-winning, patented suspension harness technology that offers zero bouncing on your back. The unique looking harness uses an elastic 4-point strap system called the "edge" (no connections to U2), which allow you to cinch the pack really tight, without affecting your breathing or freedom of movement.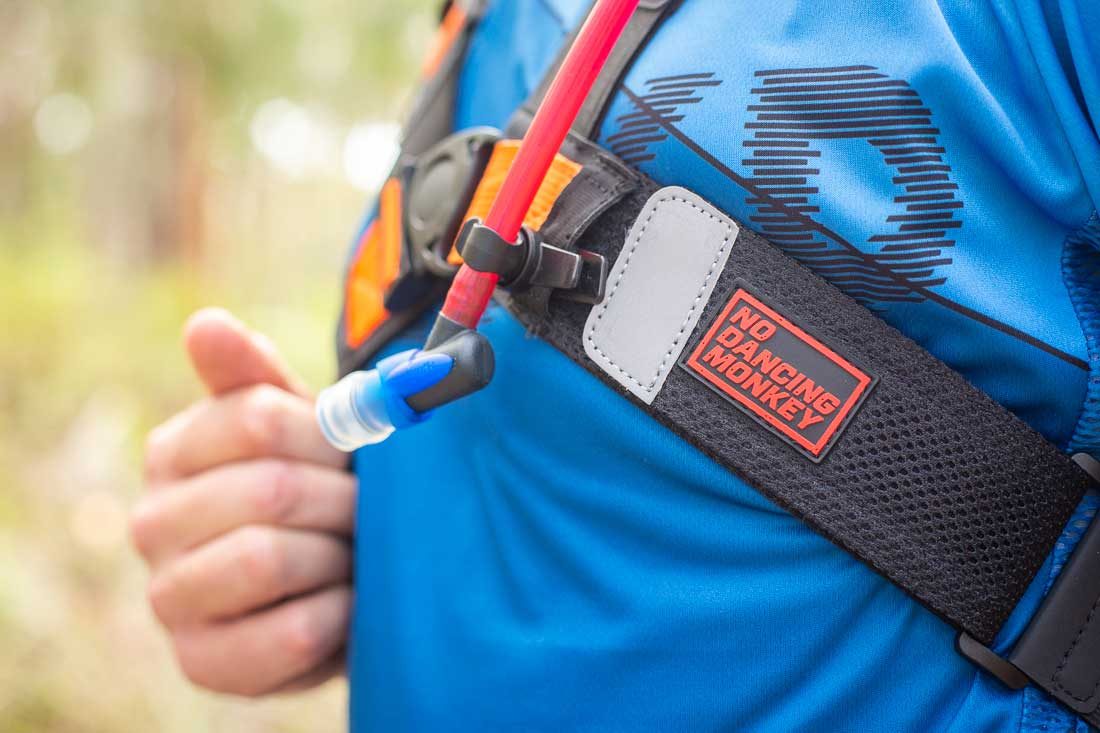 Above: No monkeys were harmed during the testing of this, well, maybe one. Photo: ©Richard McGibbon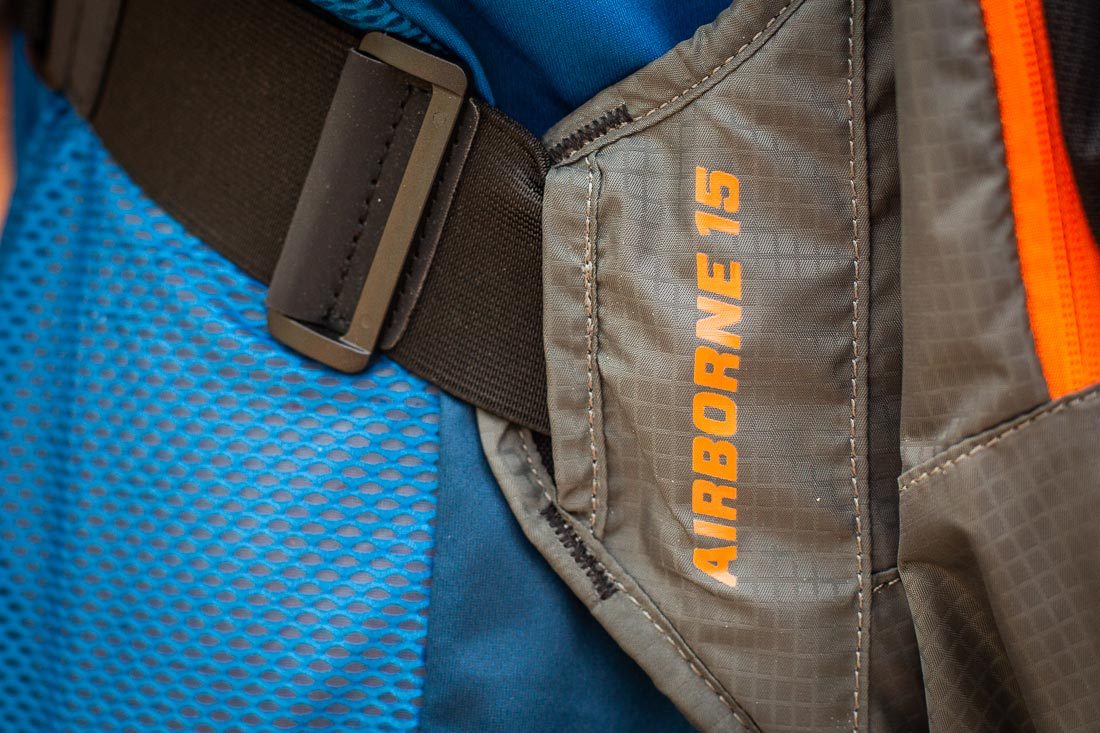 Above: Lightweight materials yet still tough enough for the Australian bush with rip-stop fabric technology to prevent tears. ©Richard McGibbon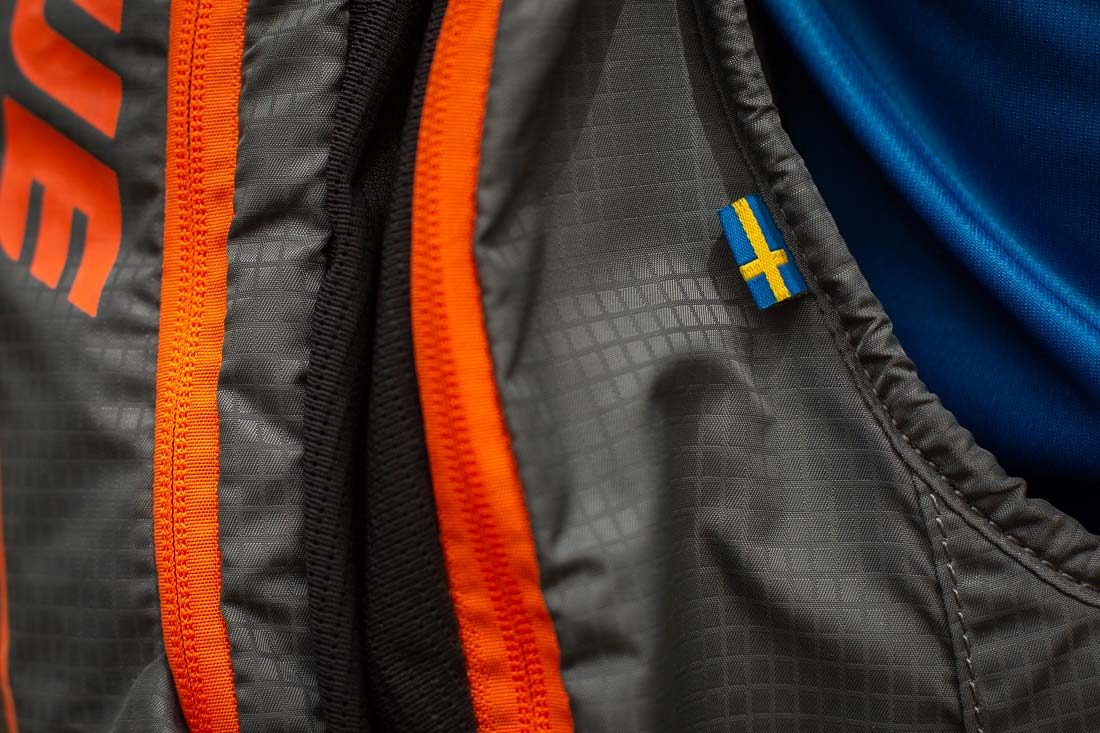 Above: European quality, made for the harshest weather conditions. Photo: ©Richard McGibbon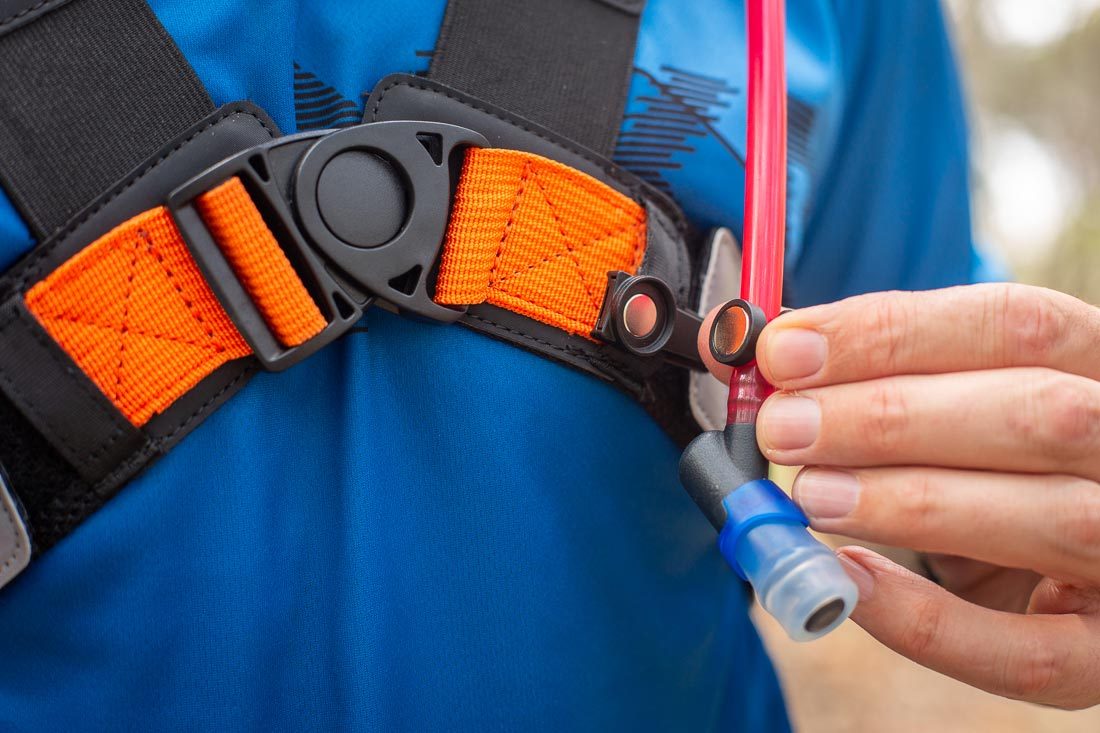 Above: A large, soft rubber bite valve makes it super-easy to grasp between your teeth and when done, the hose snaps back in place via a magnetic piece. Photo: ©Richard McGibbon
---
Hydration System
The USWE Airborne 15 come with a pretty clever hydration bladder. The Shape-Shift Hydration System uses a baffle which can be zipped to slim the bladder profile or unzipped to restore it to full volume. This makes it incredibly versatile for short or long rides, or if you just want to reduce bulk without having to purchase a smaller bladder.
The super-wide opening on the bladder makes it easy to fill and clean afterwards. It's also dishwasher safe! The opening is so large you can easily load up with ice on those super-hot days, similar to the Source bladders, which we really like.
On The Trails
On the trails, the USWE Airborne 15 is just what we were expecting. A body hugging pack that stayed in place. That may sound simple enough but in our experience, it's not always the case.
The criss-cross chest harness system is incredibly easy to engage and disengage, and the elasticated straps allowed us to have a huge amount of adjust-ability without compromising breathing whilst on the bike.
The fact that you can cinch it up tight and still have freedom of movement due to the elasticated harness, is what makes this pack bounce-free on the roughest of trails.
We had a LOT of storage options to choose from, so much so, we had space left over. We packed a lightweight rain jacket, spare tube, CO2, multi-tool, tyre levers, snacks, full bladder (2-litres), first aid kit and phone, all easily stored away with space left over.
The open face helmet compartment was large enough for our Troy Lee A1 helmet (xs/s) plus wiggle room, so if you have a larger helmet then fear not, you'll be fine. A full-face helmet can be attached to the back of the pack via bungee cords.
The rear of the pack has good levels of padding with deep channels in-between that create good airflow. However, the pack doesn't offer specific spine protection like some other packs on the market. This is something that we would like to see in the next iteration.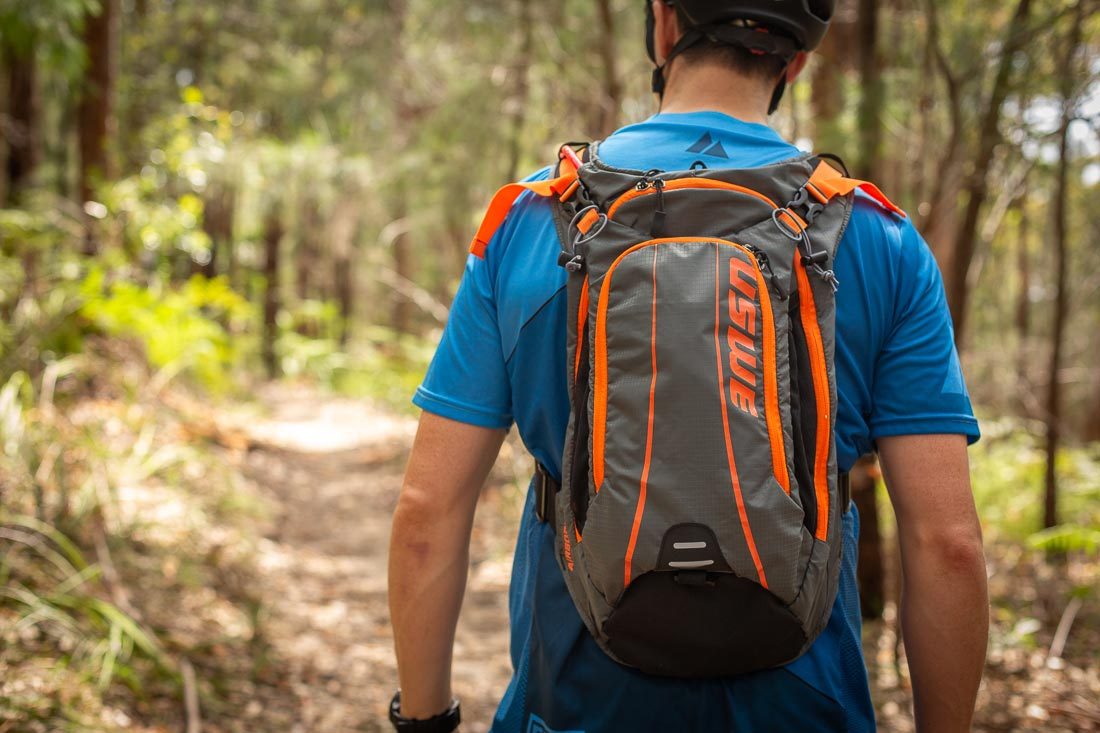 Above: The UWSE Airborne 15 is the largest of their Airborne range with a 15-litre volume capacity. Photo: ©Richard McGibbon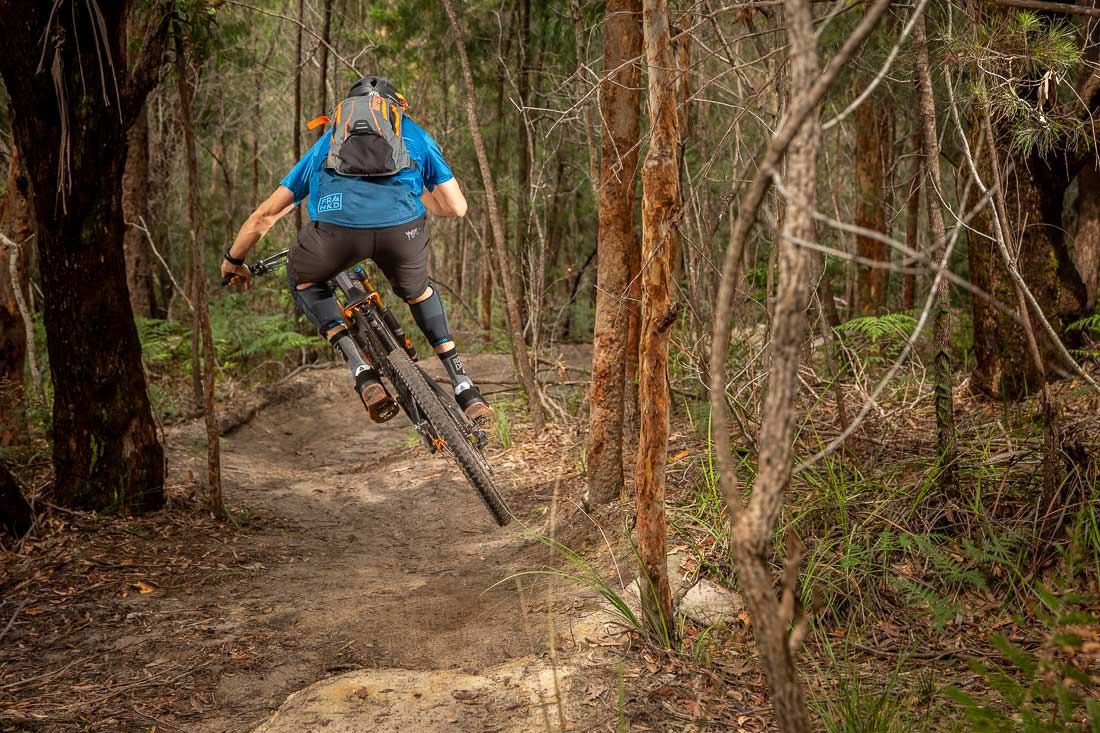 Above: The No Dancing Monkey harness technology ensuring a bounce-free fit. Photo: ©Richard McGibbon
Pack Specifications
Volume: 15L
Weight: 710g ex. bladder
PATENTED No Dancing Monkey harness technology
Adjustable bladder system. PVC and BPA-free. Exceeds FDA & EU regulations.
Attachment system for a helmet (xc and full face).
Internal key attachment clip and pocket.
Organizer compartment (wide opening).
Water resistant (Not waterproof) smartphone pocket.
LED bike light attachment point.
Reflective points for high visibility at night.
Sizes: M-XL (Approx. Chest: 84-110cm) highly adjustable.
Fit: Unisex.
Bladder Specifications
Includes: 45 degree bite valve, drink tube, Plug-N-Play connector and bladder.
Material: TPU (thermoplastic polyurethane).
Reversible for easy cleaning and drying.
Shape-Shift technology provides optional baffle while maintaining reversibility.
Constructed with 0.25 mm thick TPU (thermoplastic polyurethane) for superior durability and flexibility.
Patented wide slider opening for quick filling and leak-proof seal.
RF welded seams to create superior bonds at a molecular level.
Filtration Compatible (with Plug-N-Play connector) links with in-line water filtration options.
BPA-free.
PVC-free.
Dishwasher Safe.
Exceeds FDA & EU regulations.
Naturally Anti-fungal.
No-Leak Product Warranty
Where to Buy / Price
Prices range from: $194.95 – $2.19
You an pick up the USWE Airborne 15 from most good online stores.
---