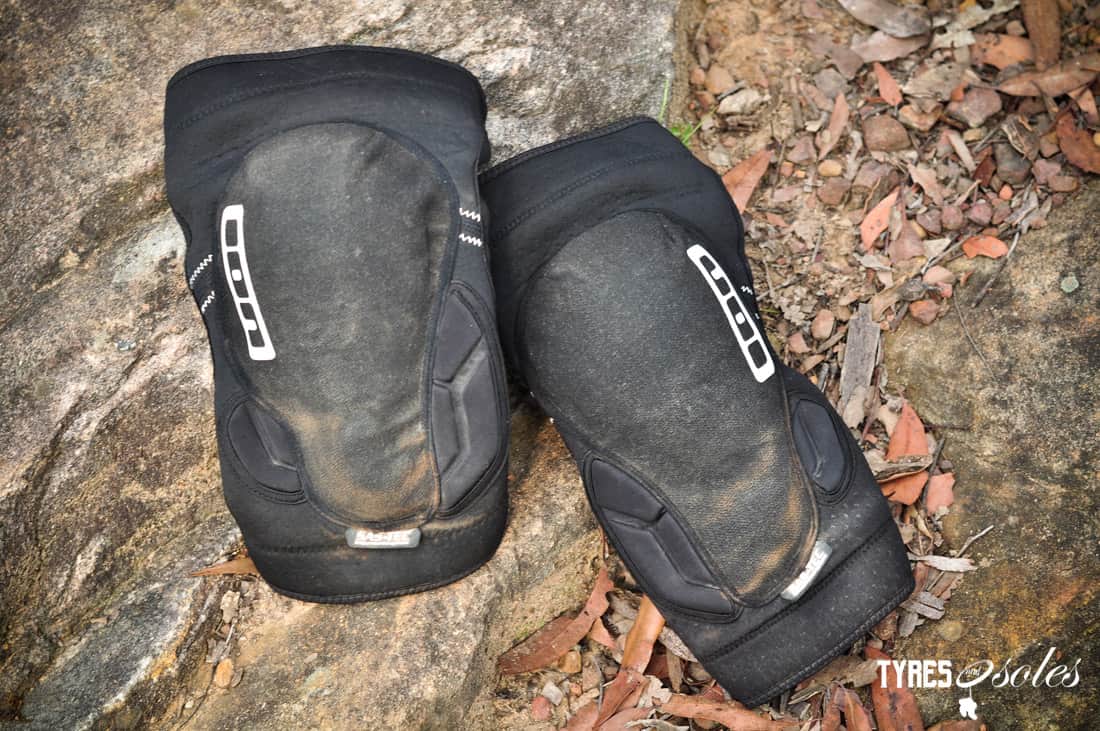 ION K-Lite Knee Pad – Body Armour Review
Cut to the Chase
The ION K-Lite knee pads offer protection on par with DH pads but the weight and comfort factor means you can now use them as your everyday go-to trail riding pads. The level of protection, placement of padding and the lightweight breathable materials all work together in harmony to provide you with an excellent all round pad. If you value your knees and want to continue riding into your golden years, then seriously, check these out. It's a no brainer for us and should be for you.
Pros
Excellent levels of protection with SAS-TEC materials
Breathable and very comfortable
Good knee cap and side coverage
Value for money
Removable pads for easy washing
Cons
A lack of adjustment options
---
Have your cake and eat it with the ION K-Lite knee pads.
Putting on your pads can be one of those things that when you don't, you'll wish you had.
It's too hot, they're uncomfortable, too cumbersome blah, blah, blah. Yep, we've heard them all, because we've used them all. These are the kind of excuses you'll be kicking yourself about, well actually you won't be able to because you'll be lying in the hospital with your knee split open. Try kicking yourself now, smart arse.
So why do we sometimes ride without the basic of basic protection strapped on, the humble knee pad? Dunno! Maybe it's the excuses above or we've simply left them at home. Or it could be that by not wearing them, we exude some sort of uber-cool vibe and will never ever crash. Well, good luck to us all with that.
Look, we're not here to judge, as we've all gone for rides without knee pads on. Funnily enough, these days we feel quite naked and exposed without them, maybe that's a good thing. Something is telling us to go back to the car and strap them on, pronto!
Oooh, look! Shiny things
Our current pads were on their way out and to be fair, not particularly comfortable, so as it happens, we were on the lookout for some alternative options. There are a lot of pad options out there and we've owned a fair few ourselves. Lightweight to heavy duty, cheap to expensive. There's a lot of choices on the market.
ION has been catching our eye of late with their presence on the trails and in the media, so we thought we'd give them a crack. They certainly have it in the looks department but let's not judge a book by its cover.
Who is ION?
ION launched back in 2004 focusing on wetsuits & neoprene products for the international windsurf, kitesurf, surf, SUP and wakeboard scene and have become a market leader in this scene.
In late 2012, ION launched a separate bike division with functional clothing, accessories, gloves and protection. Since then, the ION Bike range has continued to grow in range and popularity and offer some of the most stylish and innovative products on the market right now.
First Impressions
When you pick up the ION K-Lite pads you'll notice how light they are, which is surprising considering the level of protection they offer. These are on par with some of the more heavy duty pads out there.
What we like about the ION K-Lites is that they're not overly bulky and have a stylish appearance. Yes we know looks don't really matter when it comes to protection, but hey, this section is called first impressions after all.
They have a semi-open back section, which I know some people are divided on, but there's enough material there that wraps around your calf and lower thigh, to keep them upright all day. Overall, on first impressions, they look the biz, as you'd expect from ION.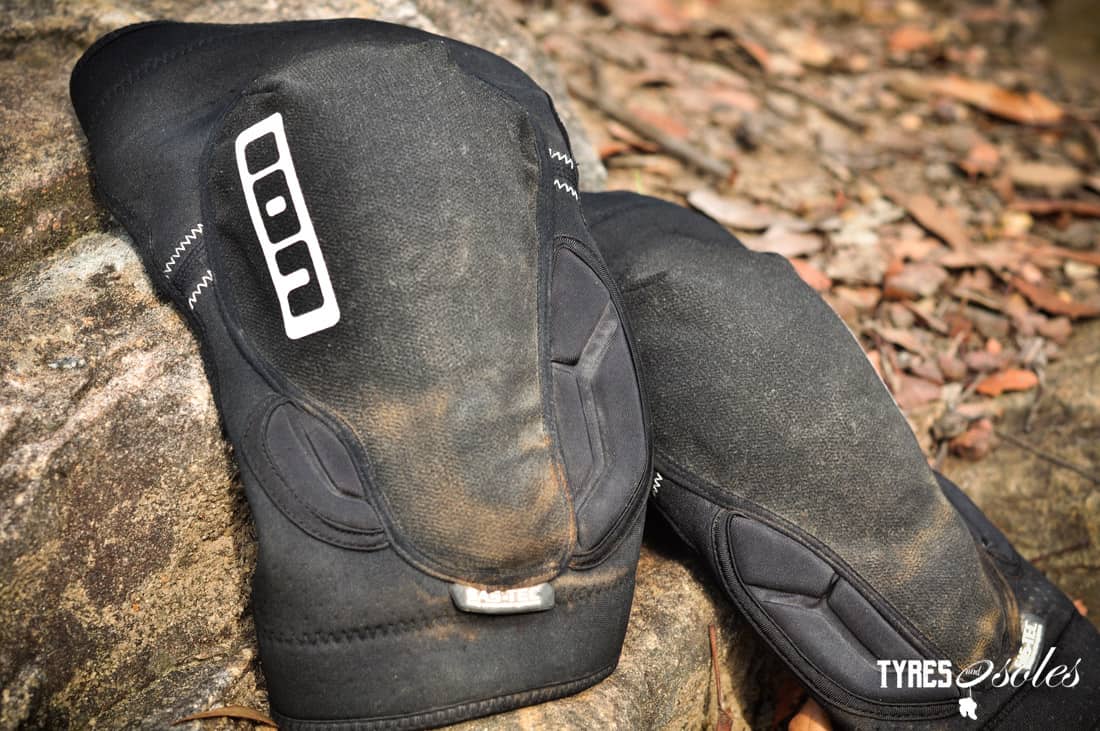 Above: The ION K-Lite, sans rider. Photo: ©Tyres and Soles
Above: The ION K-Lite offer a low profile design. Photo: ©Tyres and Soles
Fit
As you pull the K-Lite pads on they have a really nice snug feel, which is what ION are so good at doing. This is where their wetsuit skills come into play. The snug loop closure on the rear certainly feels secure on the upper calf and lower thigh and the sticky neoprene bands keep the pad exactly where it belongs.
With some minor squashing, you can mold the main pad into the shape of your knee for a more personalised fit. The length is just right, any longer and they would be getting into shin guard territory. I would say they sit about the same height as the POC VPD 2.0, perhaps a little longer overall.
Once on, they feel secure, light and flexible on and off the bike. They're very comfortable to walk in and we felt no cutting into the thigh or shin bone areas after prolonged periods of use.
Features
We have to laugh at some of names we see on products these days i.e the cosmetics industry or even worse, body building products. ION have got some corkers here also, but to be fair, they make a hell of a lot more sense than those other industries ever will.
So with fear of simply repeating what ION have to say, we'll summarise their feature terminology for you below.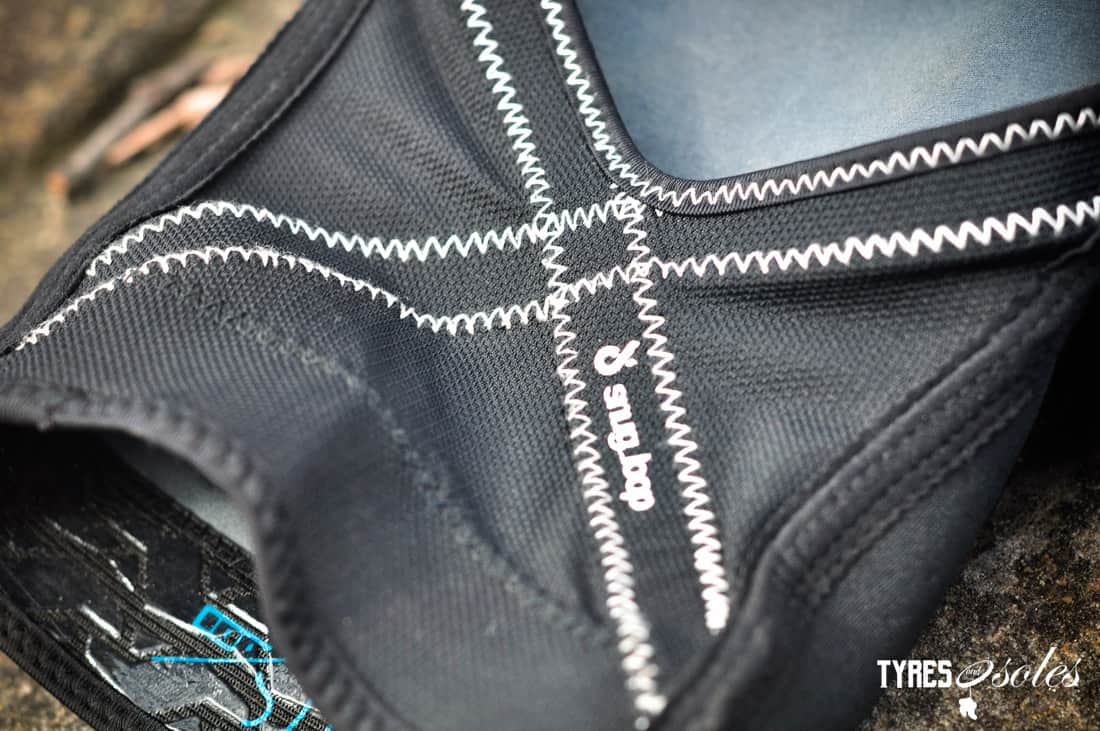 Above: The "snug loop" criss cross design gives a snug and comfortable fit. Photo: ©Tyres and Soles
3D Shaped Ionic Fit
ION use their experience with designing form-fitting wetsuits into their bike protection range, so essentially the pads fit very snug and comfy around the contours of your body parts. Noice!
Snug Loop Strap
A loop of material that's stitched in a cross/loop pattern around the rear of the pad fabric. This is to help keep them secure and upright throughout your ride.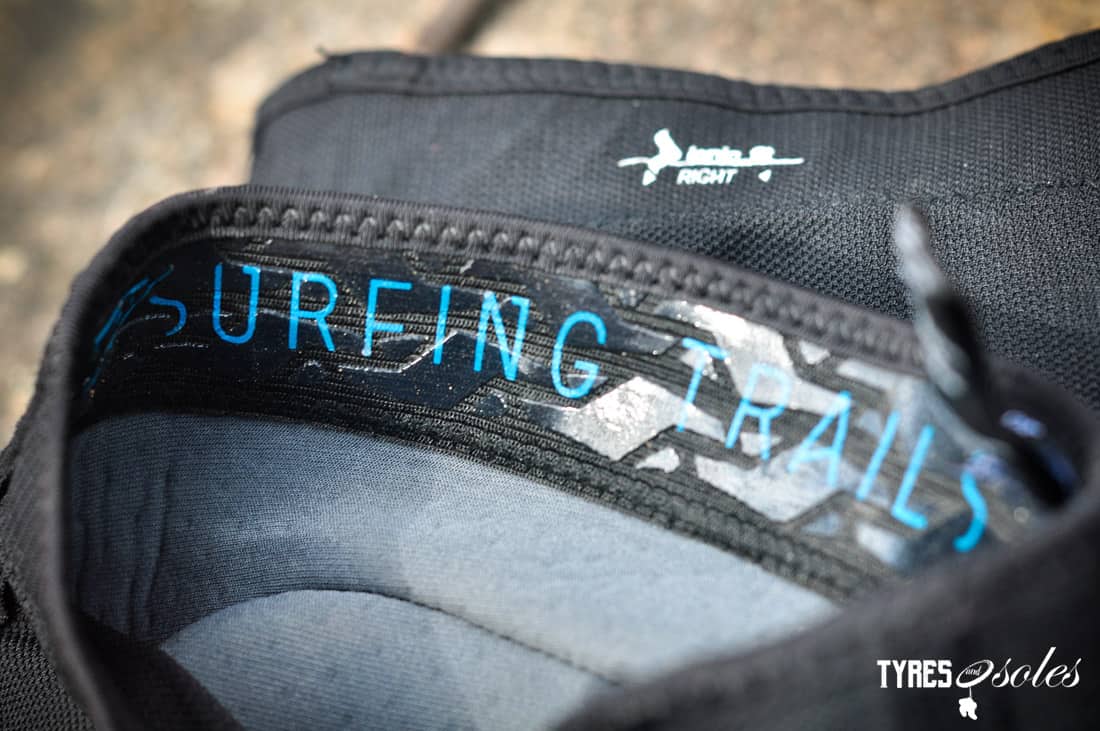 Above: The sticky loop keeps the pads upright. Photo: ©Tyres and Soles
SAS-TEC Padding
SAS-TEC is a German-based producer of motorbike body armour. The material uses a viscoelasticbodybuildinge don't know what that means), but we do know it works! This is the main material for the knee cap piece.
Air Prene
Heard of Neoprene? Well, Air Prene is lighter. It has the same lightweight protection but with extra breath-ability, which is good for us lot living in this sometimes batshit crazy oven-like environment.
Fine Mesh
Elastic and lightweight mesh fabric for optimal ventilation and additional freedom of movement. OK, you got us, we copied and pasted this one. There's not much more we could have added really.
Power Aramid
Power Aramid is one of those super-hero type substances. Spiderman's outfit is probably made from it. It's used in a range of products from tyres to bulletproof helmets. So if you're ever riding around a shooting range, fear not.
On The Trails
So all of the above means nothing if they don't do what it says on the box. Thankfully, they do. We've been testing these pads for about 6 months and have ridden them in dry, hot and dusty summer conditions here in Australia and in sopping wet conditions in the UK.
Above: Pedal friendly pads. Out on the trails, the ION K-Lite is incredibly comfortable. Pic:©Tyres and Soles
Comfort
What we really like about the ION K-Lite is how comfortable they feel on longer rides. After several hours on the bike, they never felt uncomfortable. The snug-Loop construction on the rear and the extra wide silicone ribbons on top and bottom really work to keep them up throughout the day, so we experienced virtually zero slip.
The edging around the main protective cup sits nicely on the shin bone and doesn't dig in. Other pads we've tested in this range have become almost too painful to wear after a couple of hours of riding.
We didn't experience any painful friction on the skin, due to overheating or sweating. ION really know how to work with breathable neoprene and body contour styling materials. These are what we like to call "pedal-friendly" kneepads.
Above: Nicely placed protection for those knobbly bits on your Tibia bone. Pic:©Tyres and Soles
Level of Protection
Well, now we get to the nitty-gritty of the pads. Do they protect you in a fall? We can safely say, they did for us. Of course, it comes down to what type of crash you experienced but we've taken some big hits to the knees, where all we can say is "thank f*&k" we had these on!
Of course, don't use this as some sort of guarantee. This is from personal experience and thus, please don't sue us if they don't work for you.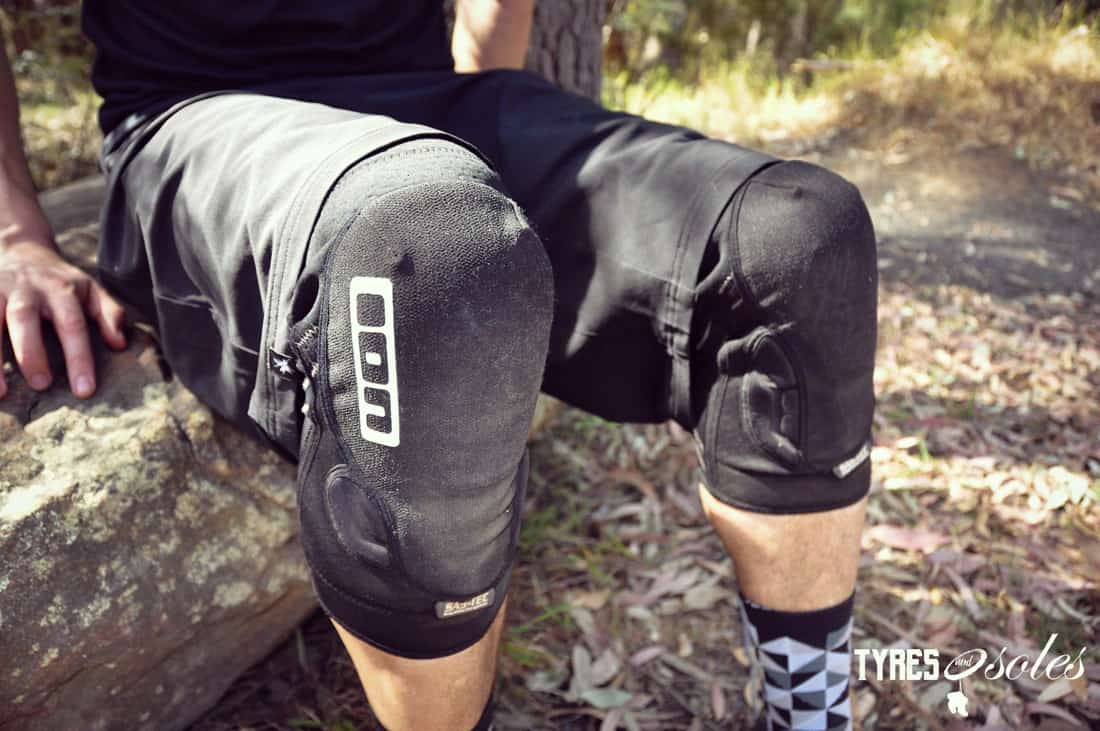 Above: The K-Lites from ION could very well be our new best, best friend. Pic:©Tyres and Soles
The Proof is in The Pudding
With my confidence levels on max (perhaps due to having new padding on?) I had the unfortunate experience of going down on a nasty, rocky section. Confidence too high, or just punching above my weight…whatever it was, the padding works!
The SAS TEC padding, which covers the main part of the knee, certainly saved me from an expensive and painful hospital visit. I cringe to think of what could have happened in my lightweight enduro style pads or even worse, nothing at all! The level of protection is on par with what you'd expect from downhill specific pads.
During testing, I've had a few annoying little spills where I've bumped that sensitive part of the knee, you know, that small knobby part on the side of the knee cap. Well, the padding they have here is beautifully placed to protect that spot. So I've had a fair range of impacts to be able to say that they certainly do perform.
Price
Prices range from $134.00 and can be purchased from most good online stores or local bike shops.
---