Feel The Difference with the Source Hipster Hydration Pack
Cut to the Chase
The Source Hipster Hydration belt is a great all-round lightweight lumbar style pack for short to mid-length rides. It has enough storage for essential tools and other small items and comes with probably one of the best water bladder systems on the market.
Pros
Lightweight & Adjustable
Excellent water bladder system
Comfortable harness
Compact storage options
Price
Cons
Storage can be a little limited.
---
Source Hipster – Pack Review
With the trend of riding sans backpack we've seen a steady march of the hip pack over recent years, so let's take a look at a brand that has a reputation for award-winning hydration systems and see what they can bring to this movement.
The Source Hipster is a hip pack, OK, a bum bag. Let's not beat about the bush here, it is what it is. We have to admit, we've fallen face-first into the bum bag trend and are feeling the benefits. We recently tested the bombproof version from Henty, and we're very impressed. So this pack has a lot to live up to.
Who Are SOURCE?
SOURCE was founded in 1989 by Yoki Gill and Daniel Benoziliyo and now employs more than 200 people. SOURCE are well known in the Tactical Gear, hiking sandals, hydration and travel accessories categories worldwide for over 20 years.
The Source Hipster is a good looking hip pack with all the essential features.
Photo: ©Richard McGibbon
---
First Impressions
I have been wearing the Source Hipster for about 4 months now. I love it so much I haven't used a standard backpack since. What I noticed with the Source Hipster is how light it is, it weighs in at around 465grams, which is not a bad starting point for any pack.
There's one main storage compartment for your gear and smaller pockets at the rear and on the hip belt, plus some bungee cords for other attachments. The harness is minimalistic and has reflective tabs for nighttime visibility. The pack includes a water hydration system and has its own pocket which holds the bladder.
Overall, the Hipster certainly looks the part and has all the features I would look for in a daypack. What I really liked was that it didn't appear overly bulky but still has all the basic features. The Hipster comes in a range of colours but I chose the "goes with your bike and your kit" colour, black of course.
Harness
The nice thing about this pack is that the harness is completely removable and you can use the pack without it. It has plenty of adjustment toggles for a wide range of body sizes and is incredibly bright at night with its high visibility colour and reflective strips.
The hydration hose can be attached to the harness near the sternum strap via a magnetic clip, which keeps it locked in securely and stops it flying around on wilder trails.
Hydration Technology
The bladder has a 2-litre capacity and looks uncannily like a manta ray! Or is that just us? What I really like about the Source products are the design features used with their bladders, tubes and mouthpieces such as the Glass-Like™ Technology film, which is smoother than standard TPU films which prevent biofilm build-up, making the system virtually self-cleaning!
This magnetic clip can also be re-positioned and attached to the belt so you can use the bladder either around the waist or up and over the shoulder.
Taste-Free System
The Source Hipster comes with a blader and hose in the pack, so there's no need to worry about finding a system that fits. Source uses a Taste-Free™ System which retains a cleaner taste with absolutely no plastic flavour. It's also BPA and Phthalate free. The hydration system also features Source's very own GrungeGuard™ Technology inhibits bacteria growth in the reservoir and tube.
The bladder sits inside its own special pocket that has extra layers of cooling material in there, which we've definitely noticed the effect. The water does tend to stay cooler for longer.
We haven't had any mould build-up as of yet and we've been using this for about 4 months. Admittedly we do store our hydration bladders in the freezer. This is a good little trick to avoid mould.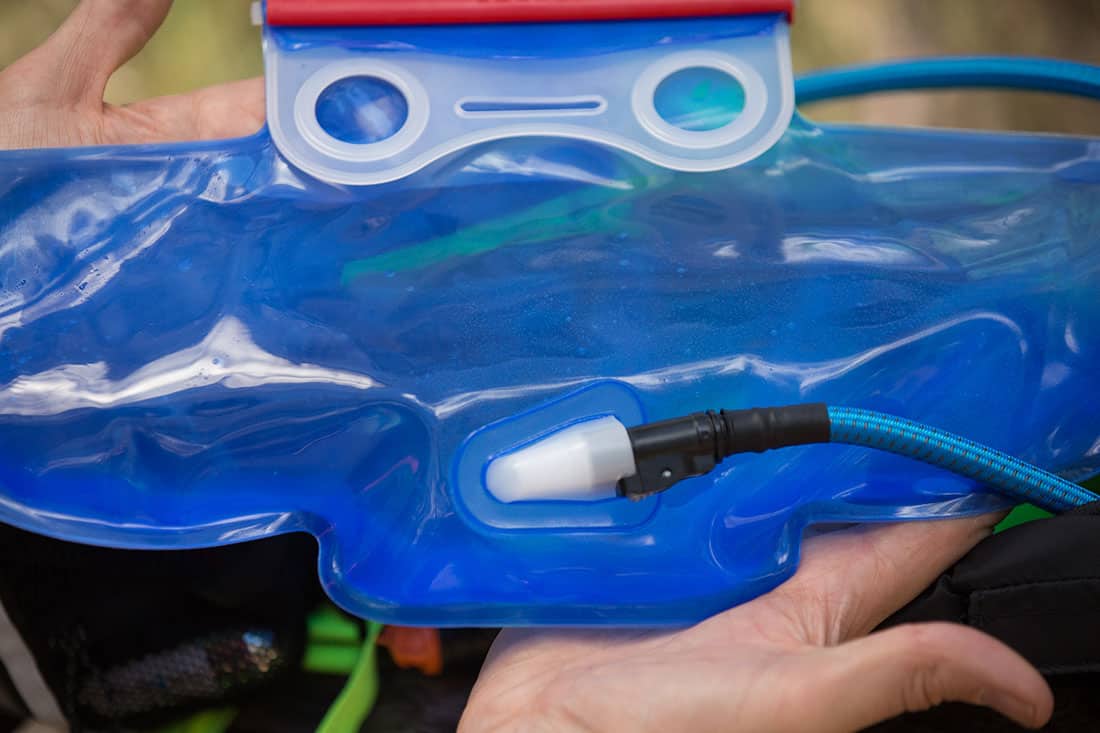 Smiley manta ray bladder?
Photo: ©Richard McGibbon
---
Widepac Slide Closure
What we've seen over the years are two types of bladder openings. One with the annoying screw-type cap and the other, which uses a slider piece that closes the entire opening at the top. We are definitely in the latter camp. It makes the filling and cleaning the bladder much, much simpler.
The widepac closure used with the Source products is a Source invention and has been copied by many other brands in the market, and we can see why. It functions far better than an awkward screw-top version, is easier to fill and makes for very effective cleaning. Oh, and you can also insert large chunks of ice on really hot days.
Storage
Storage is minimal, as you'd expect for a hip pack, compared to a backpack but it's got enough space for day/night ride essentials. I can fit my basic first aid kit, tyre repair tools (tyre levers, tube, CO2), a multi-tool, energy bar, phone and the all-important lip balm.
The Source Hipster has five main compartments all up, excluding the bladder pocket. The largest compartment sits at the rear in front of the bladder pocket, then there are two smaller pockets either side and another two mesh pockets, one on each side of the belt.
Out On The Trails
The Source Hipster is incredibly comfortable out on the trails. The first time you wear it, it will feel strange, but only because now you're upper back is open to the elements, the sun and the wind. So it's a strange but fantastic feeling. You can kiss goodbye to sweaty back syndrome forever!
The weight distribution is good which is a benefit for those steeper trails or if you happen to take off on jumps, maintaining a lower centre of gravity. Access to the bladder hose is easy, be it over your shoulder or around the waist. To be honest, over the shoulder is much easier though, but you do have that option of connecting it to the waist belt if you wanted to remove the harness.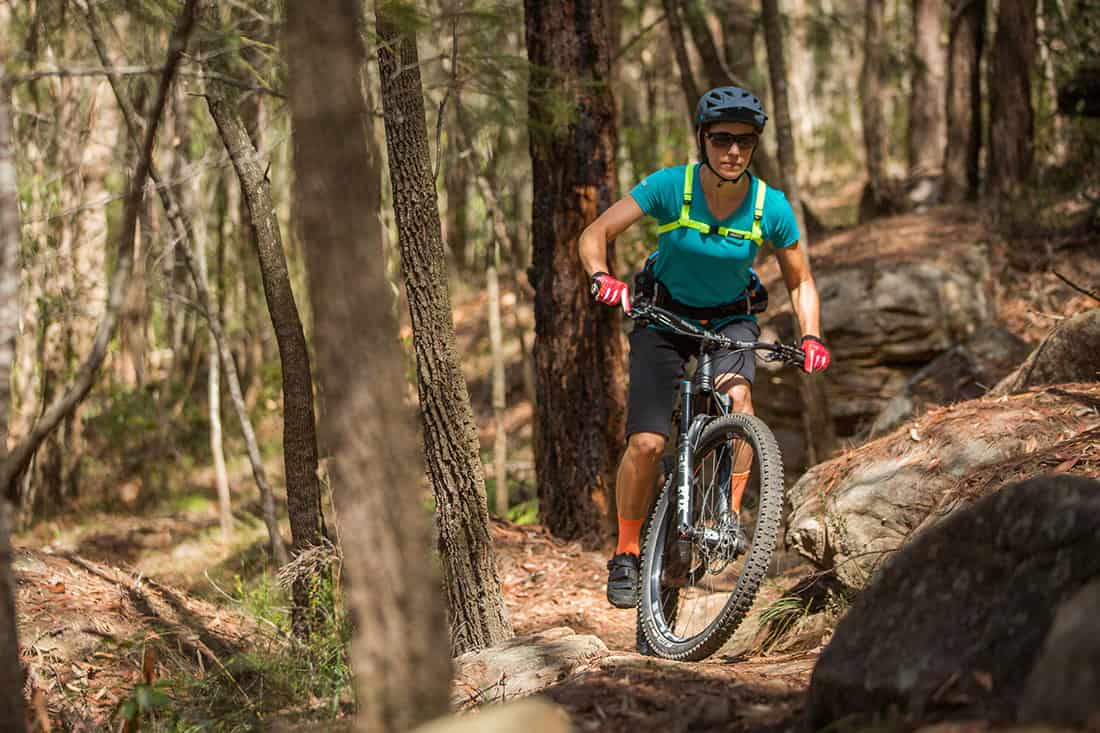 The Source Hipster is very comfortable out on the trails.
Photo: ©Richard McGibbon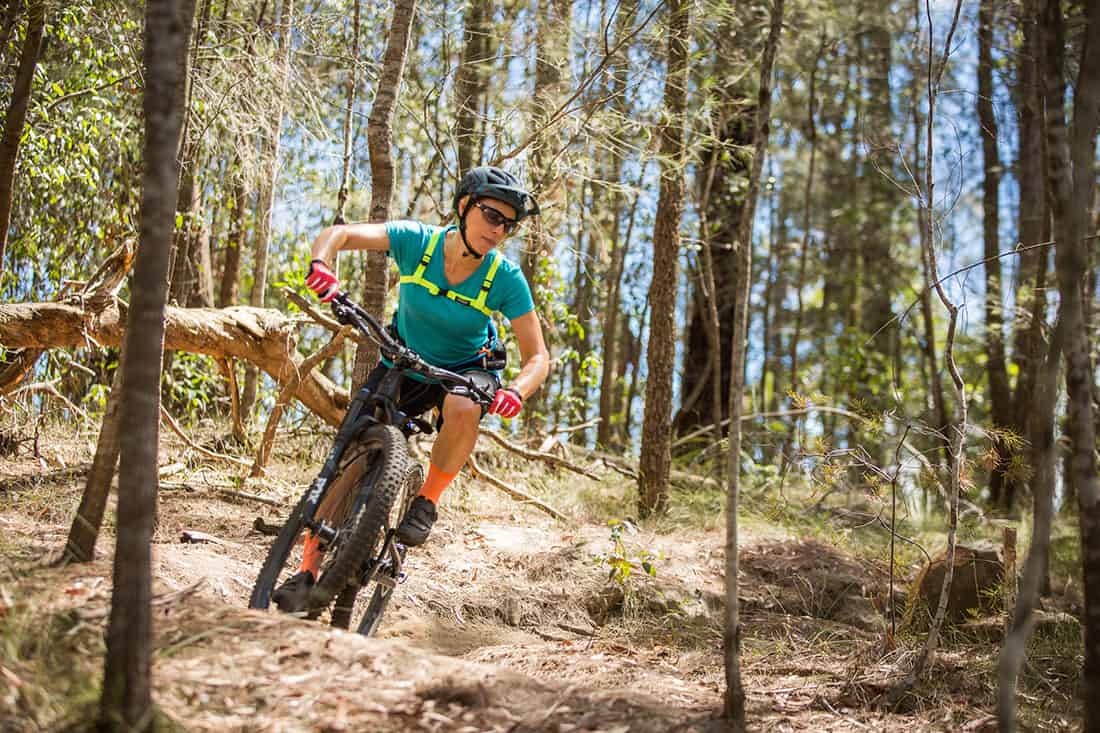 The Source Hipster, lightweight and zero hindrance.
Photo: ©Richard McGibbon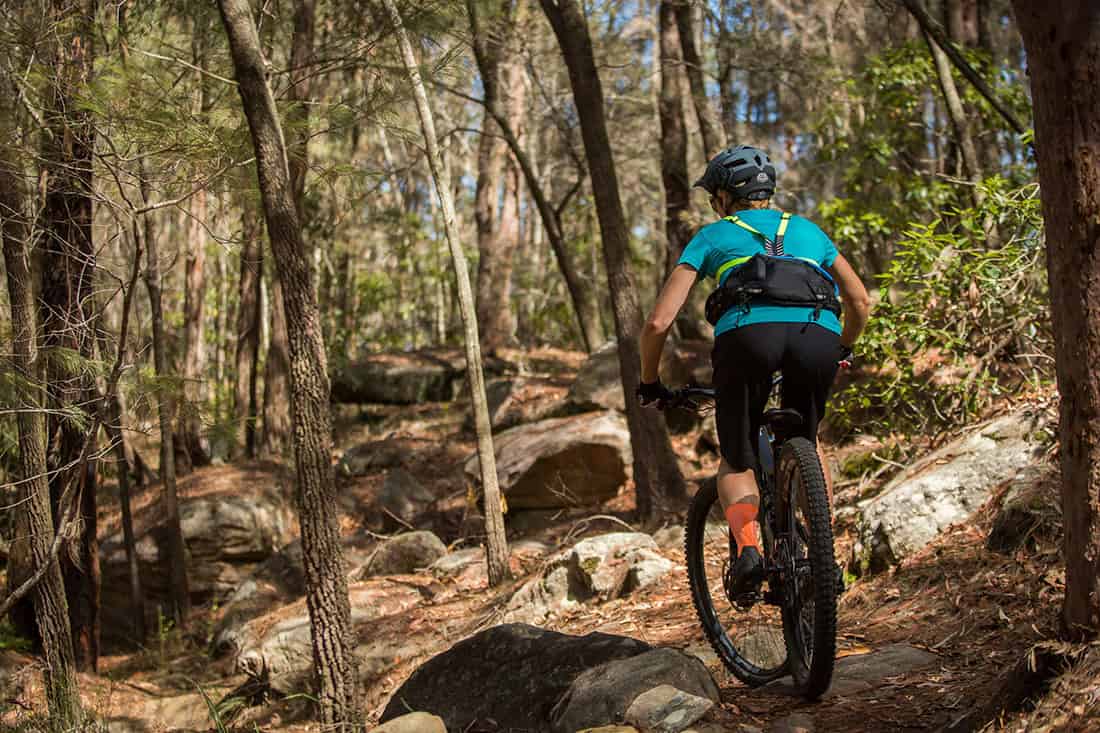 Say goodbye to sweaty back syndrome!
Photo: ©Richard McGibbon
---
Conclusions
Over the past 4 months, on many varied trails, the Source Hipster has never once felt uncomfortable or hindered my riding in any way that I can think of. It has withstood some abuse out on the trails and thrown around on the floor many times, so durability doesn't seem to be an issue.
The only area I would want Source to look into is possibly more storage options. It's just a wee tight in there and a little bit more room would make a big difference, but in saying that, it's not a show-stopper at all. I can safely say that I've become a true fan of the Hipster and in the new revolution of bum bags in general. The Source Hipster gets a big thumbs up from me.
---
Specifications/Key features:
Hydration system features
Widepac™ closing (US Patent no 7,648,276,B2)
3 layered membrane
SQC™ (SOURCE Quick Connect)
Coextruded tube
UV protection cover
Valve Helix™
Dirt Shield™ valve protection
Docking Station™
Hipster Hydration Belt Specs
Height (max): 21 cm
Width (pack): 40 cm
Weight: 465 gr
---
Availability/Price?
The Source Hipster is priced anywhere from $100 – $150 online.
The Source Hipster is available at your local bike shop or any good online retailer.
To find out more about the full range of Source products, click here.
---