You Can Kiss Goodnight to Uncomfortable Nights Forever and Go Fully Freestyle with the Zenbivy Bed!
If you're a side sleeper or flat on your back, prefer to be zipped up or open to the elements, either way, you can sleep the same way you do in your bed at home with the Zenbivy Bed.
Choosing the right sleeping bag can be a tricky trail to navigate and what you end up is not always the most comfortable option. The Zenbivy Bed means to change this with their unique freestyle sleeping system.
The Zenbivy bed is designed to be the world's first freestyle sleeping bag, allowing you to sleep in any position you like and closer to how you would sleep in your bed at home. But let's be clear, this is not a "bag" and is not quite a "quilt", it's a hybrid of both worlds, that offers a incredibly comfortable nights sleep.
The urge to dive in and wrap it around yourself is overwhelming!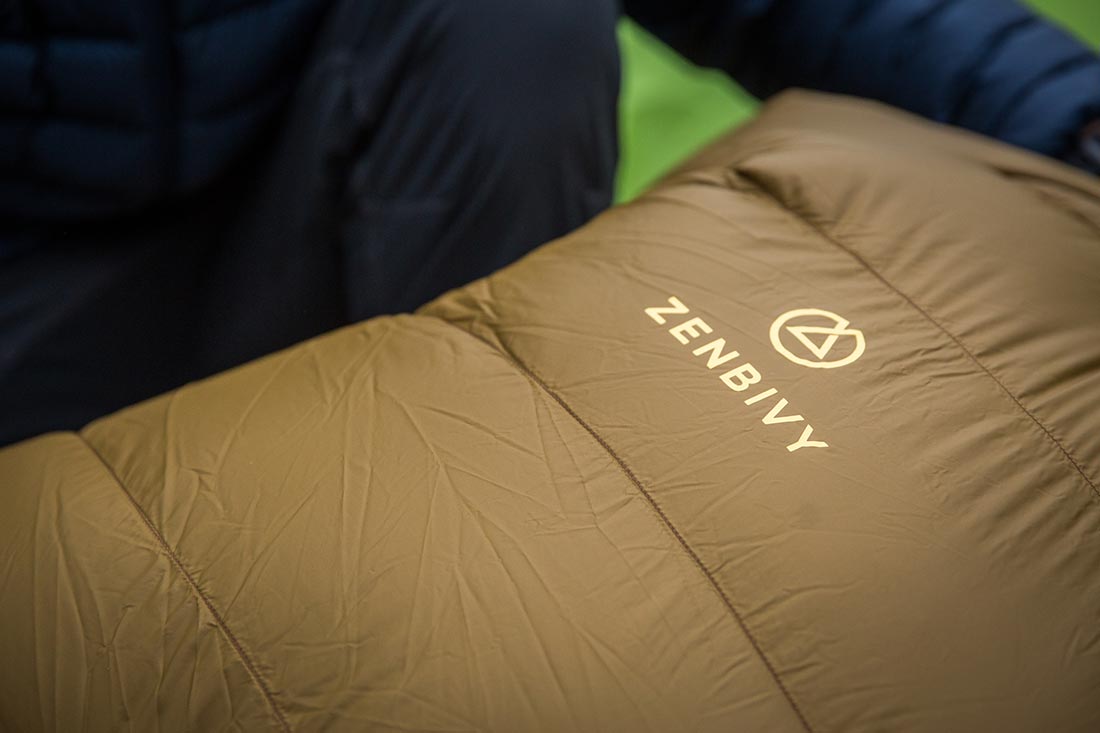 First Impressions
Michael Glavin, founder and creator of Zenbivy has an impressive record of bringing game-changing innovative products to the outdoors market, and now he brings us what we think is another corker with the Zenbivy Bed.
On first glance, the Zenbivy bed looks a little odd and does share some similarities with other quilt style sleeping bags but on closer inspection, it begins to reveal the unique features that make this a very different sleeping system.
What is clearly evident, is as soon as you touch and fondle (yes, we said fondle) the Zenbivy bed, you'll be amazed at how soft it feels. The urge to dive in and wrap it around yourself is overwhelming!

Two-Piece Set Up
The Zenbivy bed is a two-piece design that has similarities to a quilt style system but also incorporates sleeping bag features. The hook to this design is the combination of a bottom sheet and top quilt system. Imagine a traditional sleeping bag but de-constructed into two parts.
The top section includes the hood and the bottom sheet, which securely wraps around your sleeping pad. The second piece is the main quilt which zips onto the bottom sheet, giving you the comfort and freedom to move around.
By having a two-piece design, the headpiece stays in place when you twist and turn at night and you don't end up sliding off the sleeping pad, losing all the thermal benefits you've built up.
The secret to the Zenbivy bed is the way it can get wider where and when it needs to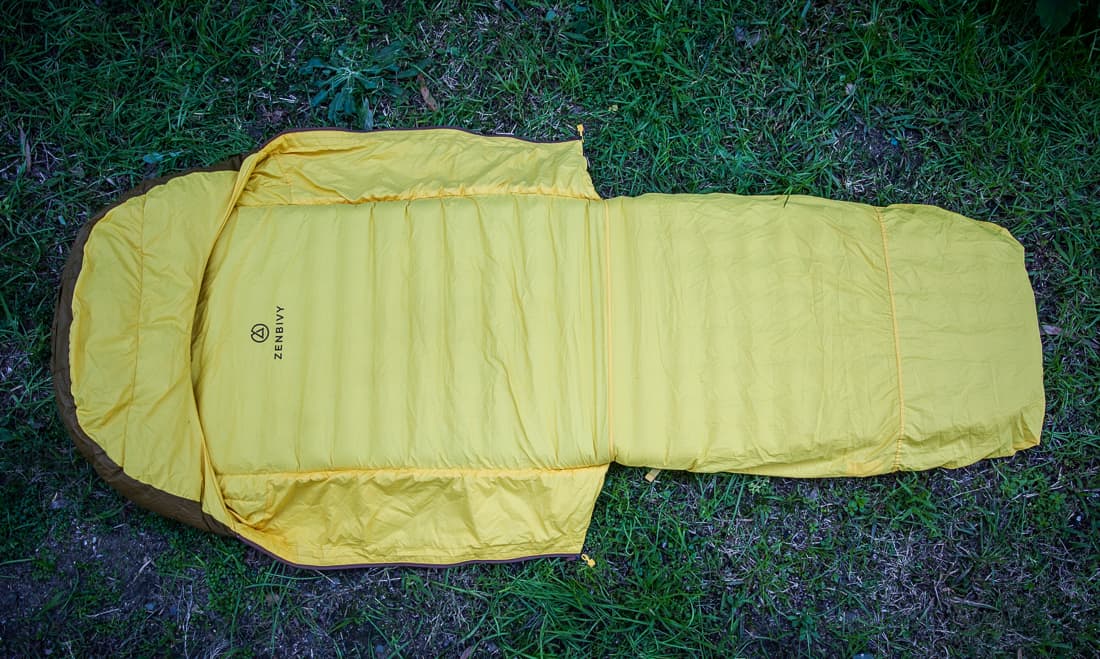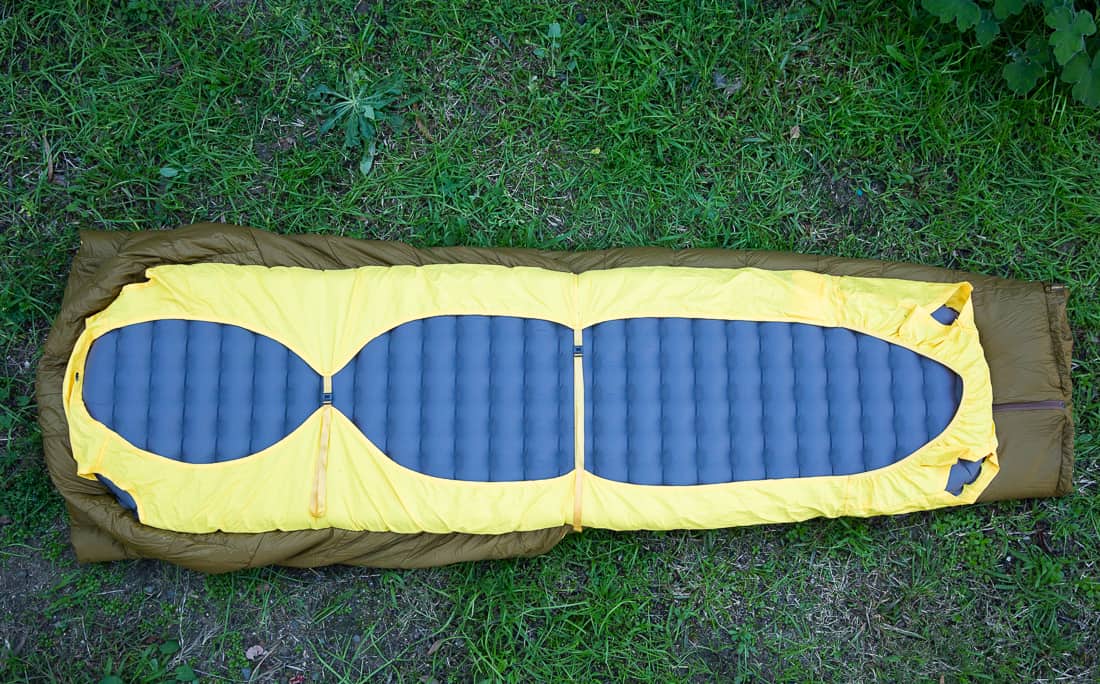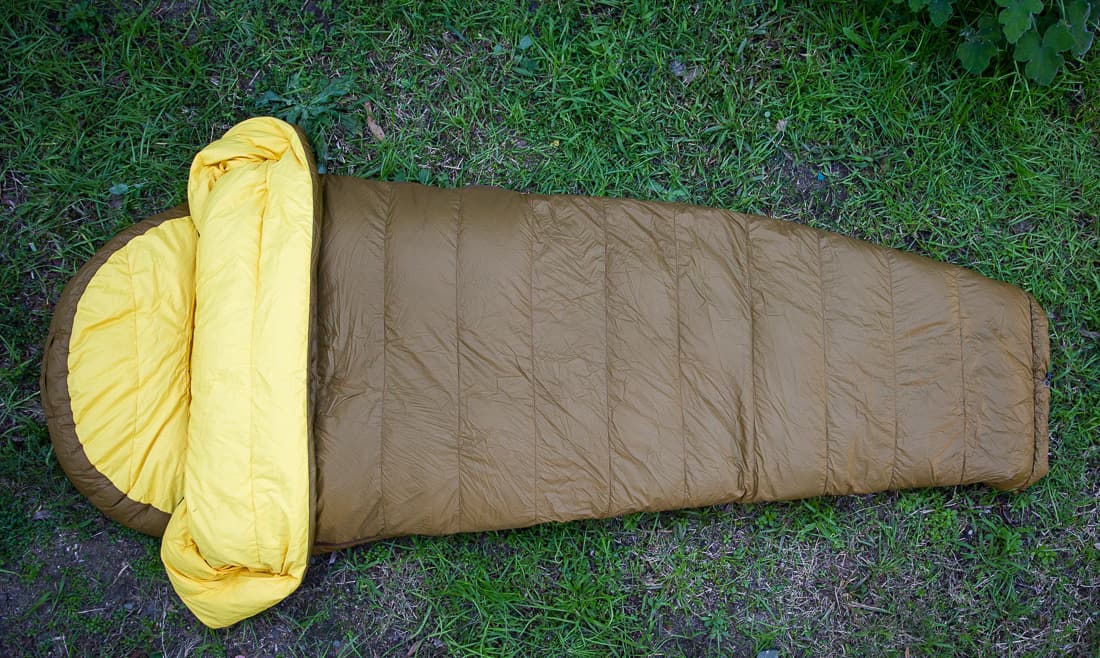 Features
Traditional mummy style sleeping bags need to be small to retain the heat and let's be honest, they don't provide the best sleeping position. They slip and slide off your sleeping pad losing all that precious heat and you can get into a right twist during the night as you try to get comfy.
Being able to move around without getting tangled or twisted up is key
The secret to the Zenbivy bed is the way it can get wider where and when it needs to, giving you the freedom to sleep the way you want, just like you would in your own bed at home. This also allows you to regulate your heat much easier.
Being able to move around without getting tangled or twisted up is key. You can wrap up tight or let it all hang loose, sleep on your side, your stomach or on your back without sliding off your sleeping pad.
Adjustable Foot Box
The Zenbivy backcountry bed uses a fully adjustable foot box. You can choose to cinch it up on cooler nights or have it fully open and let your feet hang out on warmer nights. This allows you to move your feet around freely and reduce that uncomfortable bunched up feeling. It also allows you to regulate your temperature much more efficiently.
Hood
The hood is secured to the bottom sheet section, so this keeps it in one position and doesn't move around when you do. The hood is also deep enough for you to tuck your arms underneath, just like you would with your pillow in your own bed.
Zippered Wings
On each side of the quilt are zippered wings. These are attached to the bottom sheet to keep the quilt securely attached. This keeps you in place and stops you from sliding off your sleeping pad but still allows freedom of movement to turn around as much as you like. You'll never get tangled up like you do in a traditional sleeping bag.
Easy Access
No more having to turn around and find the zip to get out. The Zenbivy bed has both left and right side zippers which allow you to get in and out any way you like.
Stowaway Pocket
There's a small storage pocket at the top of the hood, making it perfect for your headtorch or other essential items that you need to grab in the middle of the night. Like chocolate or a toddy of whiskey.
We knew it was going to get cold. In fact, we had a severe weather warning hit us as we were heading out there.
On The Trails
Setting up for the first time is a little different to normal mummy bags where you just throw it in the tent and it's ready to go. The Zenbivy backcountry bed requires a little bit of set up time, so we recommend a test drive in-house or in the garden before your trip. Once you've done it, it's super-easy the next time around.
Warmth Rating
The Zenbivy bed is rated at around 0 degrees Celsius for comfort and -5 on the limit. I paired the Zenbivy bed with a Nemo Tensor insulated sleeping pad.  (the Zenbivy bed works with rectangular or tapered sleeping pads) and took the setup out to a location where we knew it was going to get cold. In fact, we had a severe weather warning hit us as we were heading out there.
It got down to -6c during the early hours. The Zenbivy bed performed exceptionally well considering its extreme rating is -5.  I did have my trusty Brubeck thermals on and a beanie of course. But for the majority of Australian temperatures, during most months of the year, the Zenbivy bed will be more than warm enough.
Comfort & Function
Being able to move around freely was a joy! My feet never felt cramped or painful. I never once slipped off the mat and I could twist and turn as much as I wanted without the hood rotating around. Everything just stayed in place.
Best of all, I could tuck my arms under my head and into the deep soft hood section. It was pure bliss. The great part to this system is that the covers are never truly off you due to being zipped to the sheet that you're lying on and the comfort factor is OFF THE CHARTS!!!! Sorry, I just can't express that enough.
The fact that I wasn't slipping off my pad meant that I wasn't losing any heat by being exposed to the ground, and not getting all tangled up or achy feet due to being squashed in, was such a relief. I was as snug, as a bug in a Zenbivy bed.
---
Specifications
Temperature Rating:
EN Limit: -5º C
EN Comfort: 1º C
Trail Weight:
20R: 1.1 kgs
20L: 1.3 kgs
25L: 1.3 kgs (approx)
Shoulder/Hip/Foot Measurements:
20R: 173 x 147 x 106 cm
20L: 180 x 155 x 111 cm
25L: 193 x 167 x 112 cm
Quilt Dimensions (flat):
20R: 198 x 137 cm
20L: 218 x 147 cm
25L: 218 x 147 cm
Materials
Down: 700 fill-power HyperDry™ fluorocarbon free water-resistant 85/15 duck down
Shell: 20d Nylon Taffeta, coating-free, 380T, cire, fluorocarbon-free DWR, 36g/m2
Liner: 50d Polyester Pongee, coating-free, 300T, cire, 62g/m2
Zippers: YKK #5 MUSI interchangeable coil on quilts, YKK #5 coil on foot box
Synthetic hinge: XD Padding 80g/m2
The Zenbivy bed is also hammock and ground compatible.
---
Where to Buy/Price?
You can order the Zenbivy Bed from the Zenbivy website.
Price: $362.84 AUD
---
Conclusions
Comfort -

10/10

Function -

10/10

Innovation -

10/10

Warmth -

8/10

Weight -

8/10
Summary
The Zenbivy Bed is an incredible piece of outdoor gear technology. Finally, a sleeping system that blends the best features of a traditional mummy bag and the freedom of a quilt. With the ease to move around as you would in your own bed at home, and the ability to regulate your heat with ease, this could be the only sleeping system you'd need for the majority of your hiking adventures.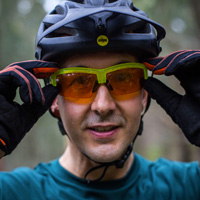 Chief Editor
at
Tyres and Soles
Born and grew up in Wales but now a fully fledged Aussie. A passionate mountain biker, hiker and general nature addict. I'm also a bit of a muso and enjoy a good craft beer every now and again (probably too often).

I hope what we do here at Tyres and Soles will inspire people to get out there and experience first hand, the natural wonders that surround them. So, pump up those tyres, don your favourite boots. Grab a mate, a partner, a pet… and head out into nature. But tell us all about it when you get back.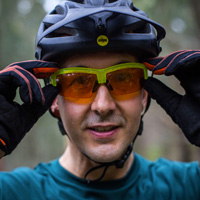 Latest posts by Jason Lorch (see all)