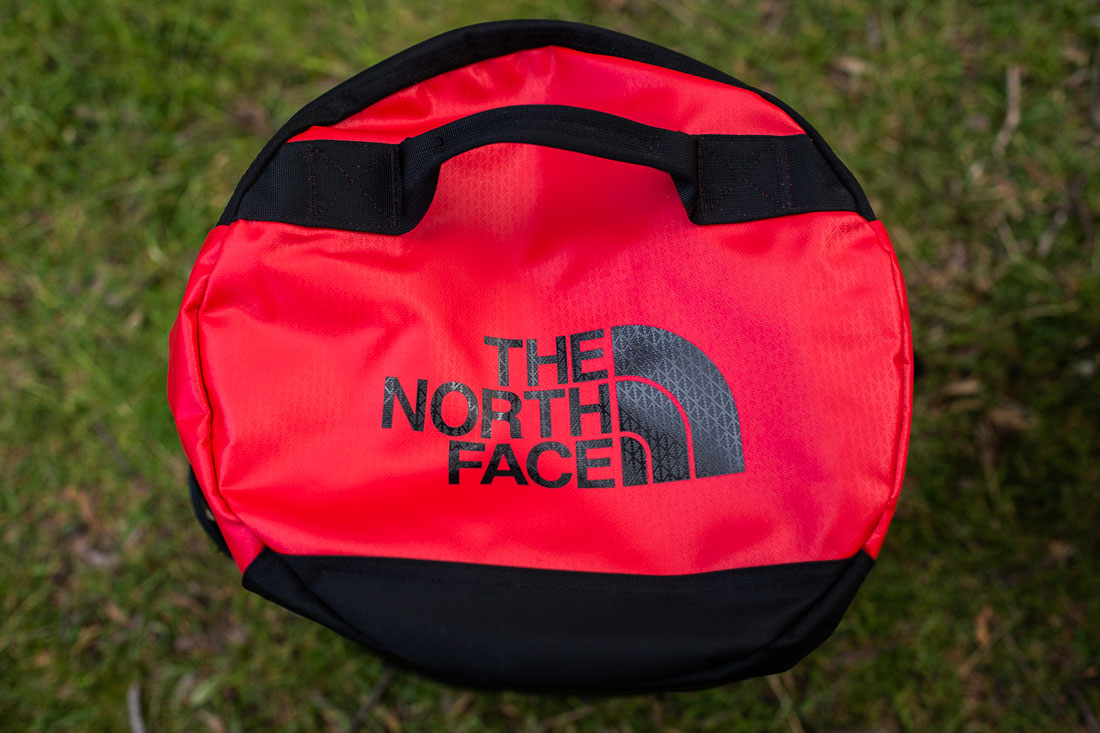 TNF Base Camp Duffel – Review
Cut to the Chase
Whether you're going for a day trip or a week of adventures, The North Face Base Camp duffles are roomy enough inside for all your gear. Just keep on cramming kit in there and you'll be surprised how much you can get into this iconic, super-tough expedition duffel. Throw it into truck beds, drag it across rocky mountain ledges or tie it to huge hairy animals, and yaks...it loves it. TNF Basecamp Duffel was born for a lifetime of adventures.
Pros
Made from super-durable materials.
Backpack style harness straps.
Good amount of alternative attachment options.
Price point.
A good range of sizes and colours, from XS - XXL
Cons
None that we can think of.
---
Haul Your Way Around The World with The North Face Base Camp Duffel
When we think of duffle, it's hard not to picture the Base Camp Duffel. Why? Because it's been around for over 30 years and is still considered one of the all-time classics.
"So what constitutes as a classic?" I hear you say. Classic essentially means that things have stayed the same since its inception and in doing so, has become timeless. No matter what the era, the product is still appropriate and can provide for us what it has always provided..a solution to a problem. The Base Camp duffle was pretty much flawless to begin with and has required very little improvements, if any, since its birth, 30 years ago.
But let's be honest, a duffle only needs to do a few very simple things for it to be useful. It can, of course, embellish on those functions, but at the core of it, it's simply a vessel to hold items, must be transportable and most important of all, made to be kicked, dragged, dropped and thrown around truck beds and dragged across every surface on the planet.
---
Features
The North Face Base Camp duffel shares similar features to other duffels on the market. It comes down to what your brand preference is and the after service you receive from them. We will say that TNF Base Camp Duffel must be doing something right to have stayed a firm favourite for so many years.
The main compartment is accessed via a large D-zip with a zippered mesh sleeve on the inside for organising your smaller gear. The D-zip flap opening features a weather-resistant flap to keep it all protected.
There are three main carrying options on the Base Camp Duffel. The side and top haul handles which are nicely padded to provide extra comfort when hauling heavy loads, and the detachable, adjustable, alpine–cut shoulder straps. The shoulder strap has recently undergone a re-design to help reduce twisting and provide a more ergonomic fit.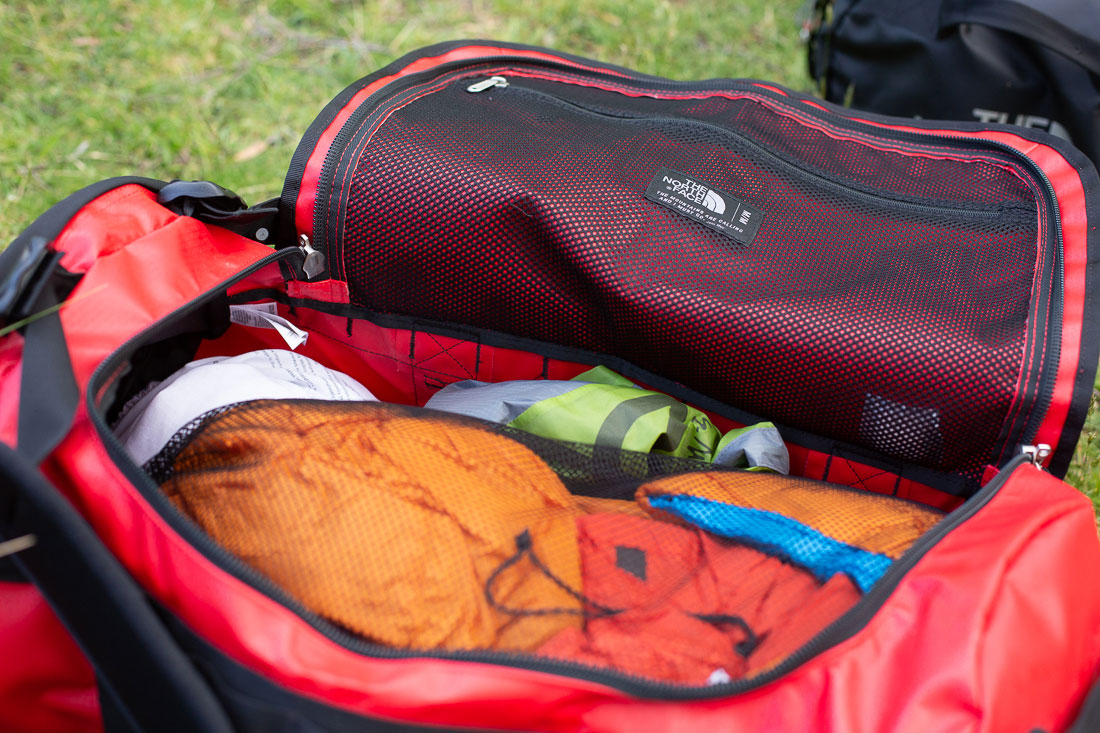 The main access is via the single, large D shaped opening, which includes a separate mesh compartment for those stinky items.
Photo: ©Richard McGibbon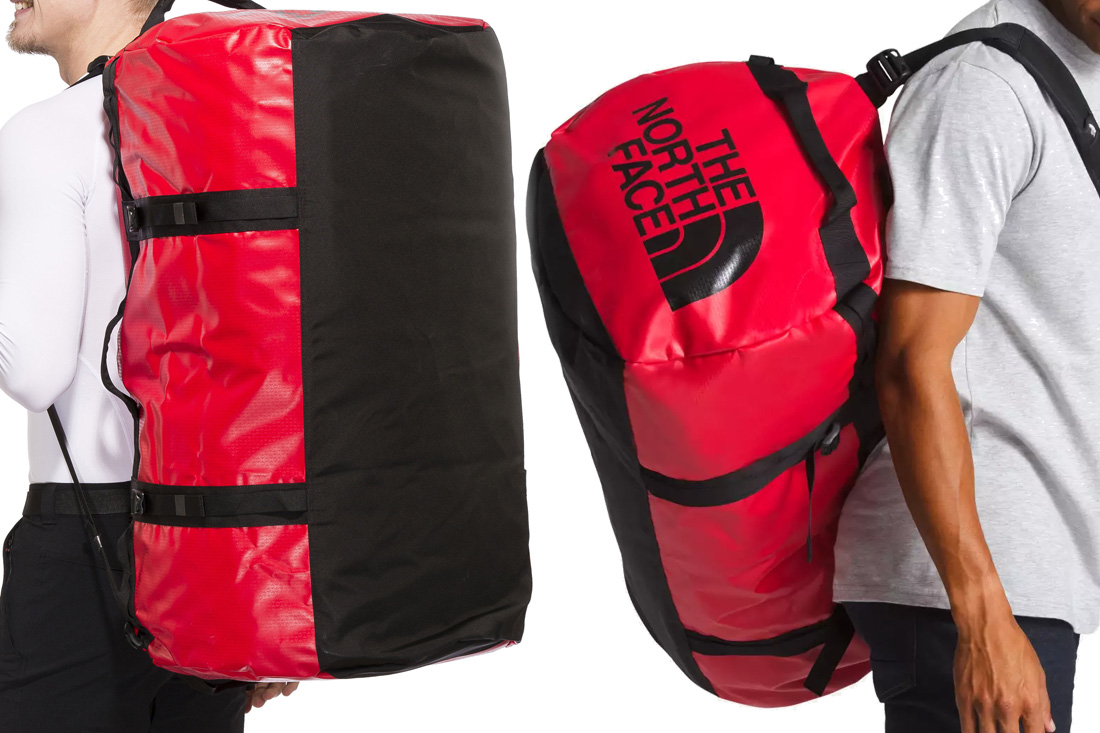 How many ways can you carry a duffel? At least two.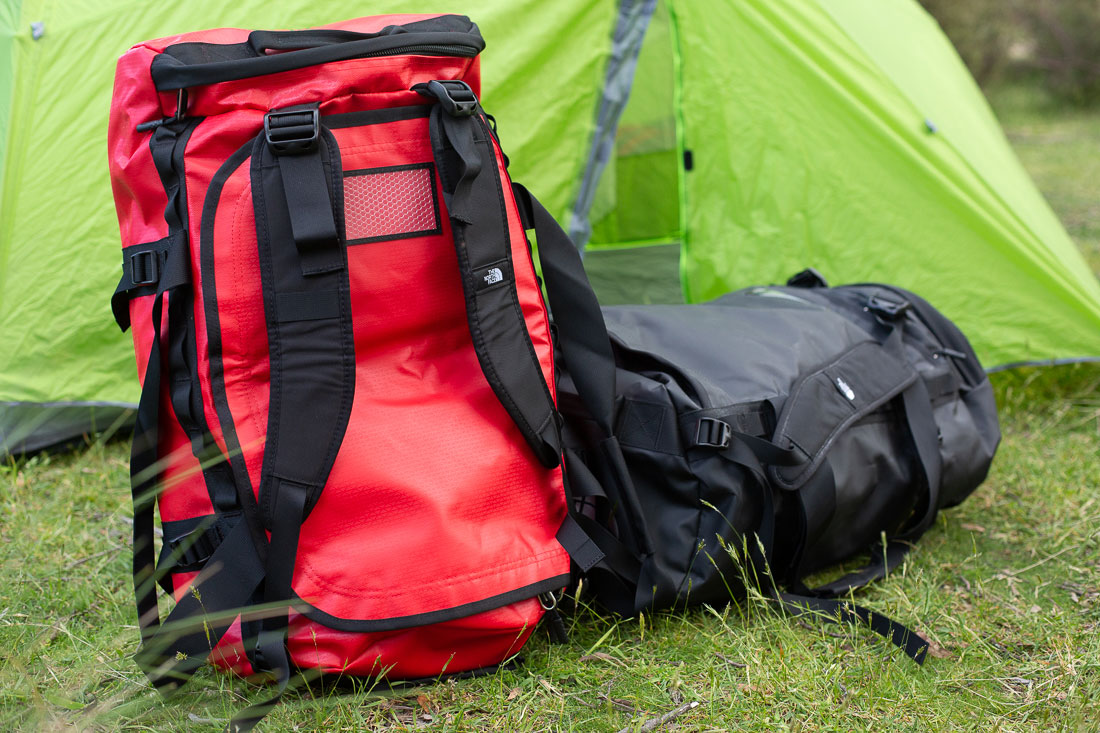 The harness system makes it easier to carry on those longer trips from vehicle to base camp.
Photo: ©Richard McGibbon
The design offers all the standard features you'd expect from a duffle. The material used is a highly durable 1000D TPE fabric laminate with a reinforced 1680D junior ballistic nylon base. wih a plus an end-cap zippered compartment so that you can stash your filthy shoes and stinking clothes and keep them separate from your 'clean' stuff.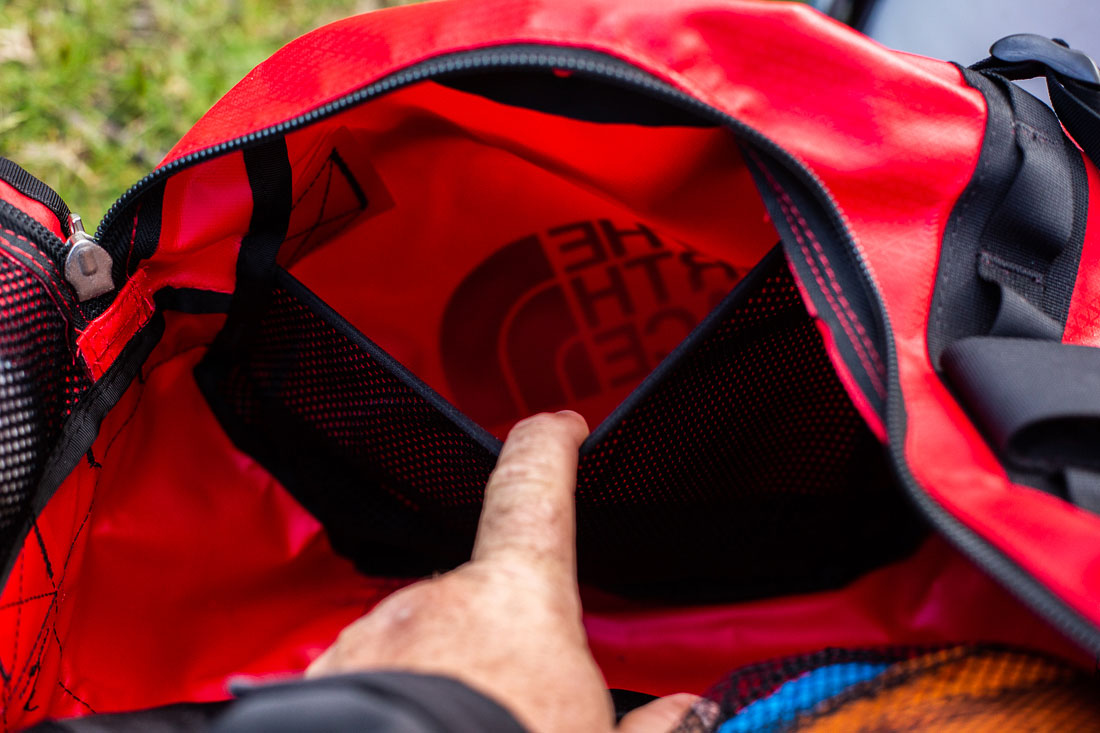 Smaller pockets to keep your gear organised.
Photo: ©Richard McGibbon
---
If you need quick access to some of your gear, you can attach additional accessories to the duffel via the daisy chain webbing located around the bag. Once all packed up, the entire duffel can be tied down with the compression straps on both sides of the bag for a more compact fit.
---
Specifications
End-cap zippered compartment allows you to separate wet clothes, dirty shoes or extra gear without sacrificing volume
Mesh sleeve pocket in the end-cap compartment provides additional organisation
Detachable, adjustable, alpine-cut shoulder straps for an ergonomic fit with minimal twisting
Padded side handles serve as both duffel carry handles and haul handles
D-zip opening with a weather-resistant zipper flap
Main compartment has a zippered mesh pocket
Legendary rugged construction offers water-resistant Base Camp material, extra bartacks and double stitching
Four compression straps
Water-resistant ID pocket on top
New mesh-bag packaging contains the duffel in a clean format
External Dimensions: 64.5 x 35.5 x 35.5 cm
Weight: 1.60 kg
Material: 1000D TPE Laminate (phthalate-free)
Volume: 71 L (medium)
Warranty: Lifetime Warranty(Offered by brand, ex shipping)
---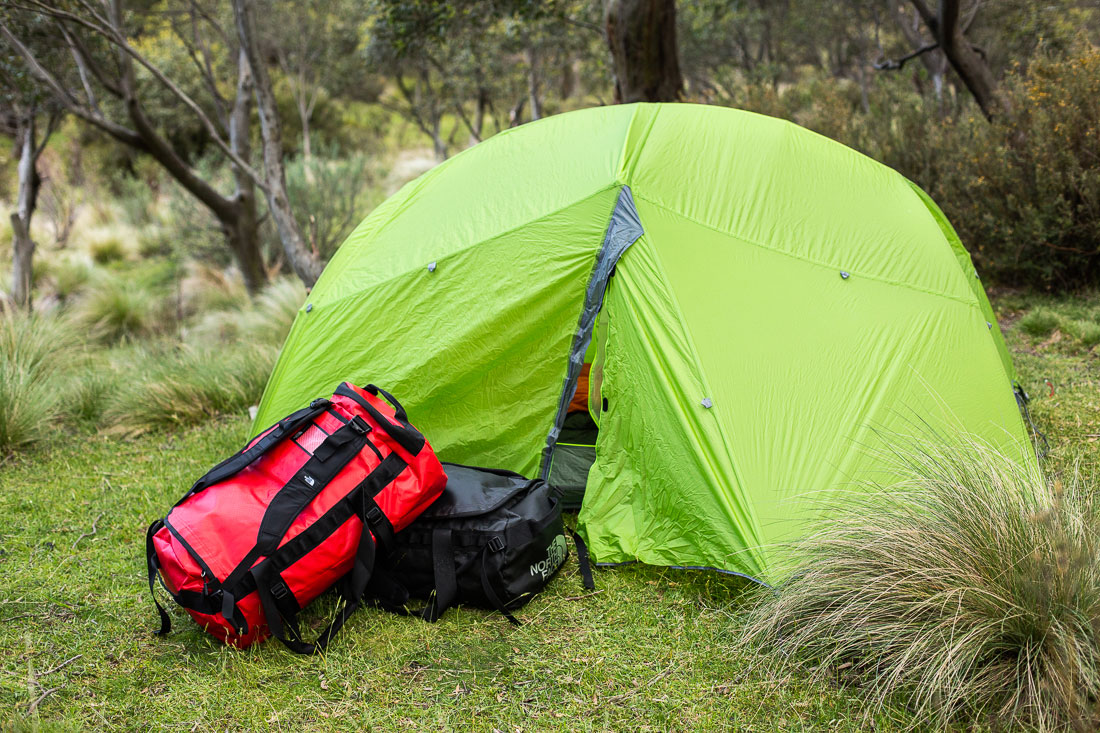 A familiar site at base camps all over the world, for the past 30 years! TNF Base Camp Duffel is a timeless piece of adventure kit.
Photo: ©Richard McGibbon
---
Conclusions
The TNF Base Camp Duffel is an all-round tough cookie. Durable to withstand the rough stuff while keeping your gear safe and sound inside. The carrying options make it super-easy to haul, drag or throw around the campsites or in the back of vans, and the comfortable shoulder straps make it easier to carry for long distances, whilst freeing up your hands to carry more gear.
If you're looking for a new duffel and don't really want to spend hours and hours searching alternatives online, then simply hit the "Buy" button and the rest will take care of itself. Trust us.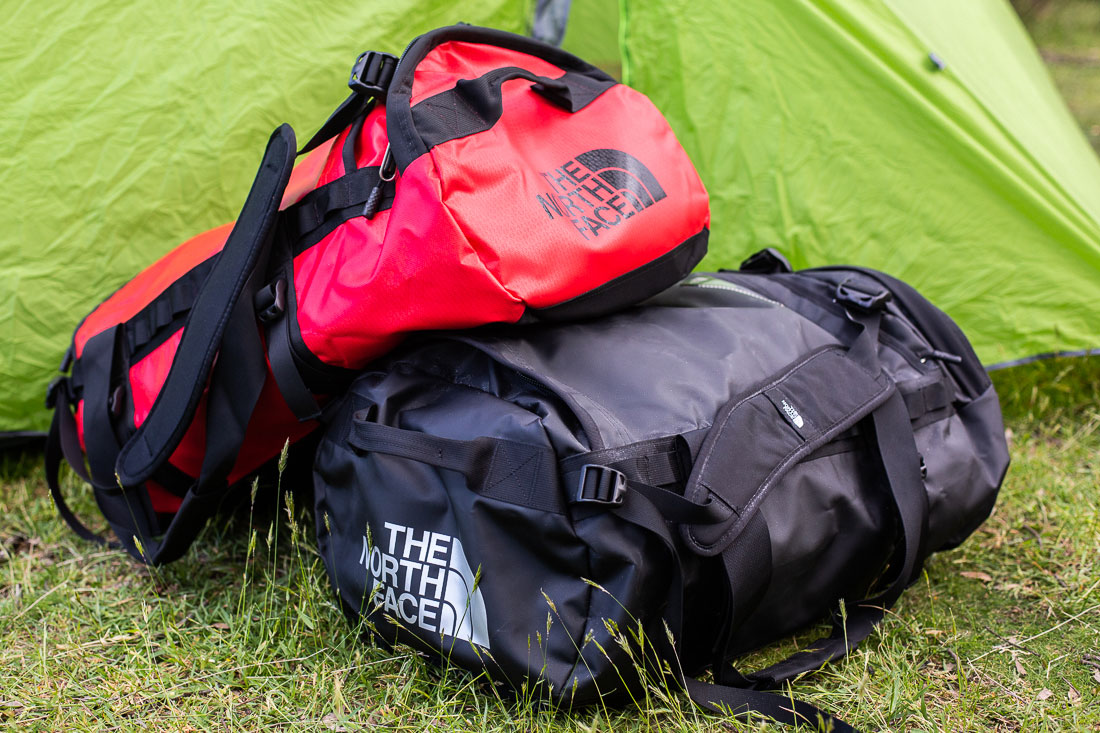 Throw those duffels around, they love a bit of it!
Photo: ©Richard McGibbon
---
Where to Buy / Price
The North Face Base Camp Duffel can be purchased at most good outdoor stores or online from the North Face website.
Price: Range from $180.00 (XS) – $300.00 (XXL)
---