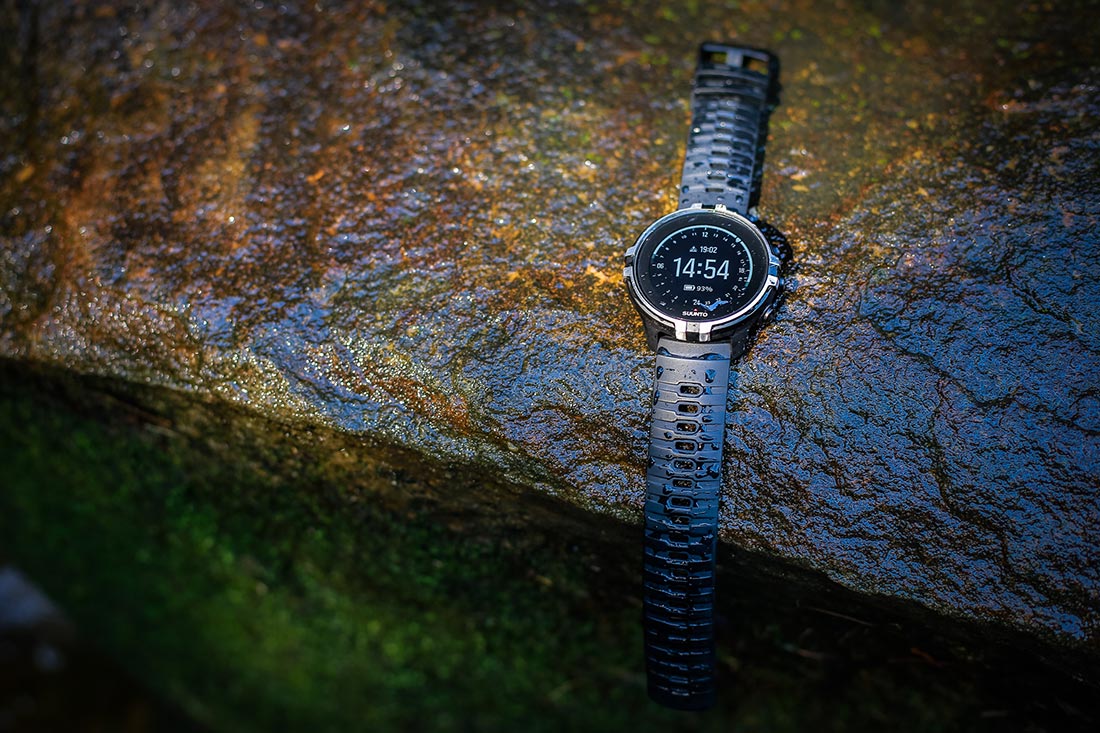 This Could Be the Ultimate Adventure Watch
Cut to the Chase
The Suunto Spartan Sport Wrist HR Baro will have you re-thinking your current activity tracking devices. You can say goodbye to multiple devices altogether with this elegant and highly sophisticated watch, offering one of the most accurate "on wrist" heart rate monitors and GPS tracking software on the market. The Suunto Spartan Sport Wrist HR Baro is a serious adventure tool and one we would highly recommend for the weekend warrior to the most extreme and professional adventurer. It also looks fantastic in the bush, at the office or after works drinks.
Pros
Barometric altimeter data
Customisable watch faces & Data sets
Highly accurate GPS and on wrist HR tracking
Colour display touch screen and physical buttons
Swanky appearance
Excellent App connectivity
Cons
A little pricey
Watch face may be too large for some tastes.
---
Suunto Spartan Sport Wrist HR Baro – Watch Review
Smartwatches have become ubiquitous amongst outdoors enthusiasts. From the weekend warrior who loves to run, hike or cycle to the serious mountaineer hanging off a 6000m cliff face.
As humans, we love data, we just can't get enough of it, it seems. From knowing how many steps or calories are burnt in a day to beating your personal best on your local trail (beating a friend is even better). It's data, data, data, and I have to admit, it is interesting, especially if using it towards reaching a goal. Never underestimate the power of a goal.
There are a huge amount of smartwatches on offer these days, ranging from the more fashionable Apple Watch, all the way to the extreme end such as the Suunto and Garmin watches. The type of watch you choose is typically a reflection of the lifestyle you live.
But not all watches can claim to provide as much data as the Spartan Sport Wrist HR Baro, this watch has a dizzying amount of data that will suit anyone from a casual outdoors enthusiast to a professional athlete.
We've been using it for hiking and mountain biking for over a year and have been seriously impressed with it.
Aesthetics
This watch ticks all the boxes in the eye candy department. With all the hallmarks of a serious adventure watch, it has that perfect balance of grit and elegance. With the "do the job right!" seriousness of a S.A.S soldier and a touch of James Bond gadgetry, glamour, and sophistication. If it was a person it would be a mash-up of John McAlesse and Roger Moore. Is that good? We think so.
If you're a fan of the pilot chronograph face or prefer a much simpler analogue style, then you can change the watch face to suit the mood or scenario you find yourself in, making it appropriate for outdoor activity and still looking just as good on the wrist in the city and for work.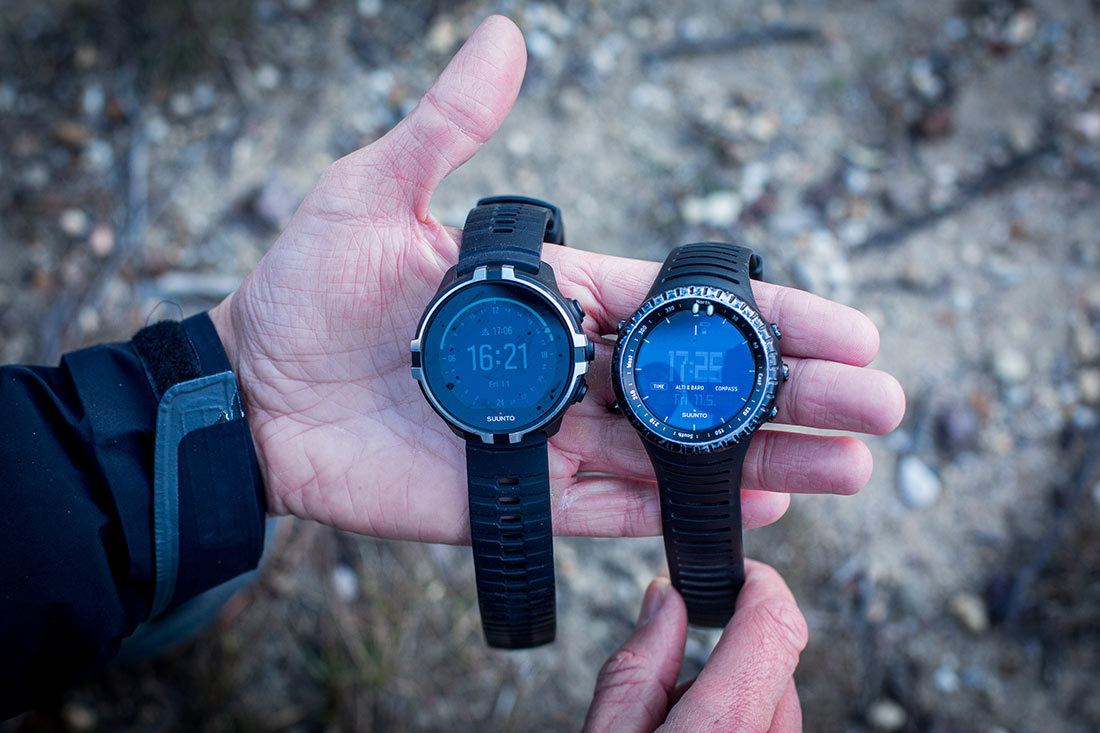 Size comparison between my previous Suunto Core (right) and the new Spartan HR Baro (left). Photo: Richard McGibbon
Materials
Measurements: 50 x 50 x 17 mm / 1.97 x 1.97 x 0.67 "
Weight: 74 g / 2.61 oz
Bezel material: Stainless steel
Glass material: Mineral crystal
Case material: Glass fibre reinforced polyamide
Strap material: Silicone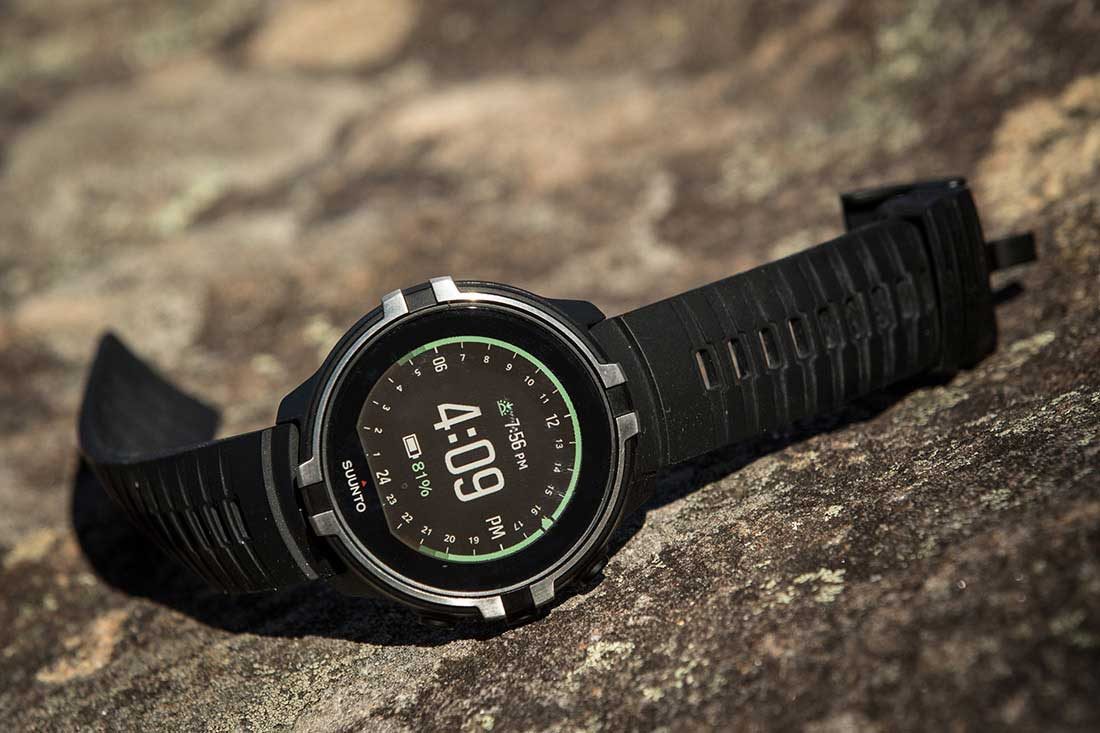 Clean and intuitive GUI. Photo: ©Richard McGibbon
---
Features
The Suunto Spartan Sport Wrist HR Baro, like many watches at this level, has an epic amount of features that cover just about every type of outdoor activity in existence. We're not going to go into each of those because we'd be here for a week, seriously, there's a lot. Here is a high-level list of the features, in a nutshell:
Highly accurate GPS and navigational tools
An epic amount of activity tracking and data tools
Stopwatch/timers
Sleep tracking
Sports modes (predefined and custom)
Training and recovery
Highly sensitive on wrist Heart Rate monitor
Barometric altitude
Temperature
Storm alarm
Notifications (Bluetooth connectivity)
Touch screen
Colour screen
Within each of the above categories are subsets and layers with more detailed options. It really comes down to what you're going to be using the watch for and what your expectations are. Here's a full feature list. Put the kettle on, you'll be some time.
---
Activity Tracking, Navigation & GPS
One of the main reasons we buy a watch like this is to track activities and the combination of the default tracking tools combined with the huge amount of sports mode data gives this watch a dizzying amount of information
Out-of-the-box setup is quick and easy by following some simple setup tutorials. You'll be out on the trails in no time at all.
The Suunto Spartan uses a highly accurate GPS GLONASS software that provides exceptional positioning data. The watch features a powerful compass, (accuracy to 5°) breadcrumb feature, and POI (Point of Interest) tools that make navigation a breeze.
For our mountain biking activities, we connected with the Strava App so we could upload our ride details straight after we'd finished, and make comparisons with our iPhone/Strava results.
It was interesting to compare the iPhone Strava results with the Suunto results. We found the iPhone would make some unrealistic Strava readings, whereas the Suunto Spartan would be right on the money, every time.
The iPhone resulted in some unrealistic times and even KOM's which we know could never be achieved, even from the likes of Sam Hill. Unless you were in a jet fighter, those times could not have been achieved on a bike.
So what does this mean? Well, it means that it is a much more reliable form of GPS than the iPhone. Yes, we had to deny ourselves some KOMS, but better that than have inaccurate (laughable) data.
GPS Tracking & Navigation hit list:
Satellite systems GPS, GLONASS
GPS recording rate. Best, Good, OK
Waypoint and visual route navigation
Zoom levels in navigation
Auto-zoom based on route shape
Breadcrumb trail in real-time
Route planning with altitude profile
Outdoor maps by satellite, terrain, and topography by Mapbox, Google Maps & Android
Heatmaps to browse and show on Moves
Route planning with heatmaps
Personal route library synced to watch
Routes to take into use from community in Suunto Movescount.com
Point of Interest (POI) navigation
GPS track analysis
Track logging, viewing, and sharing
ETA (estimated time of arrival), remaining distance
Battery life, GPS active
---
Sport Modes
With over 80 sports modes pre-installed on the watch, the Suunto Spartan HR Baro is ready for pretty much any kind of activity straight out of the box. Be it running, cycling, swimming, triathlon, skiing, or hiking you'll get accurate feedback and a plethora of metrics relevant to that sport.
Within each sports category there are subcategories. Let's take cycling for example. There's mountain biking, indoor cycling, and just plain old cycling, (we assume this is road cycling?) and this is the same for all other sports modes on the watch.
During Sports Mode, you can display up to 7 fields on the main display, plus up to an additional 50 measurement parameters which can be accessed via a simple finger swipe.
Cycling Tracking:
Speed and Average speed in real-time
Bike POD with speed/cadence support (Bluetooth Smart)
Bike power meter support (Bluetooth Smart)
Bike Power (W), average and maximum with power sensor, (Bluetooth Smart)
Bike Lap and Lap Maximum Power (with power sensor)
Real-time lap table with avg Heart Rate, avg power and avg speed
Interval guidance with power, speed, and heart rate on watch
Hiking / Trail Running Tracking:
Running pace
Suunto FusedSpeed™
Running power with Stryd sensor
Foot POD calibration (automatic)
Lap comparisons
Average, max, lap pace in real-time
Interval guidance with running pace/heart-rate/distance (on watch)
In addition to both the above specific tracking, the watch still tracks all the default activity stats including heart zones (effort and time spent in each of those zones), climbing and descending, distance, and breadcrumb mode if you're riding or running/hiking.
---
Heart Rate Monitor
The integrated Heart Rate monitor on the Spartan watch is incredibly accurate. The data we received was as accurate as any paired chest strap that we've used. What this means is that you can do away with the chest strap altogether and still get highly accurate data.
However, you can still pair a chest strap with the watch if you desire to get even more accurate readings and other benefits such as the Suunto Smart Sensor, which gives you the added advantage of heart rate memory.
In addition to tracking heart rate during exercise, Spartan Sport Wrist HR keeps an eye on your heart rate throughout the day, and together with steps taken, provides more accurate data about your daily activity levels and calorie consumption.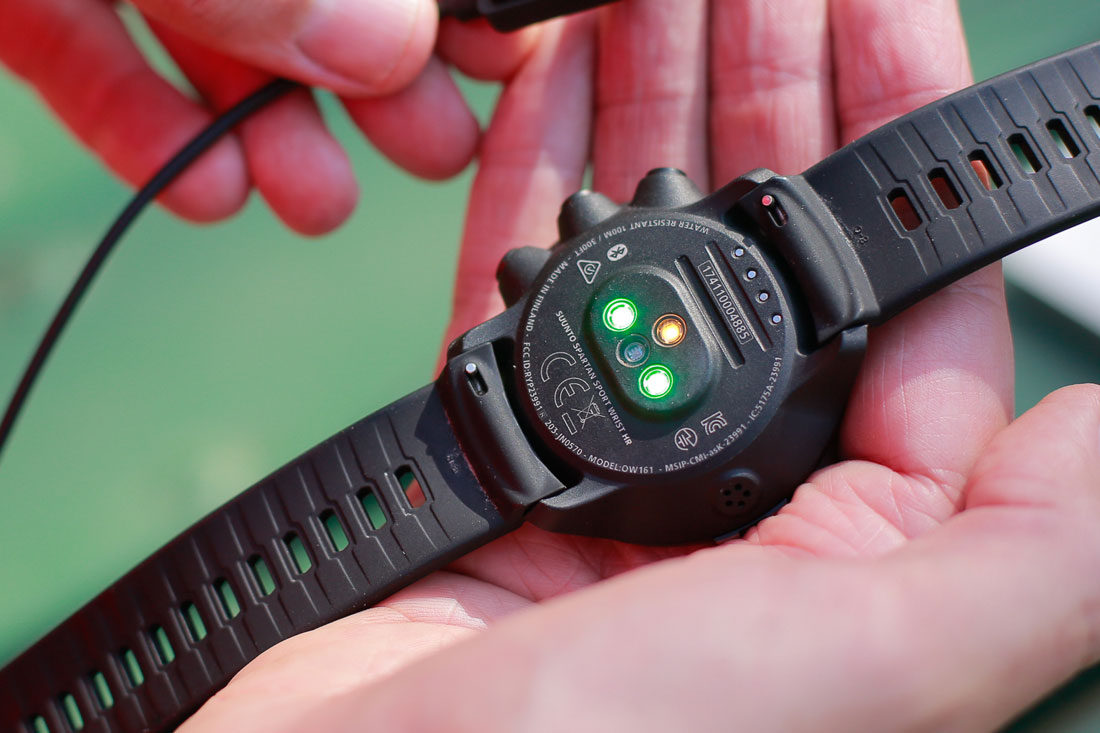 The Suunto Spartan heart rate sensor is incredibly accurate. Photo: ©Richard McGibbon
---
Clean & Intuitive GUI
Navigation is simple with the physical buttons on the side that navigate to the main menus, and tapping or swiping the screen opens up subsets of those menus.
The main menu options are:
Exercise
Navigation
Logbook
Timer
Heart Rate
Steps/Calories
Training Plans/Goals
Altitude/Barometer
Temperature
Sleep Tracking
Settings
What we really liked is the easy-to-read watch face during the activity. For example, your heart rate zones sit around the watch face in 4 colour-coded quadrants, going from green all the way round to red. This gives you a very quick reference point of how well, or bad, you're doing whilst on the move.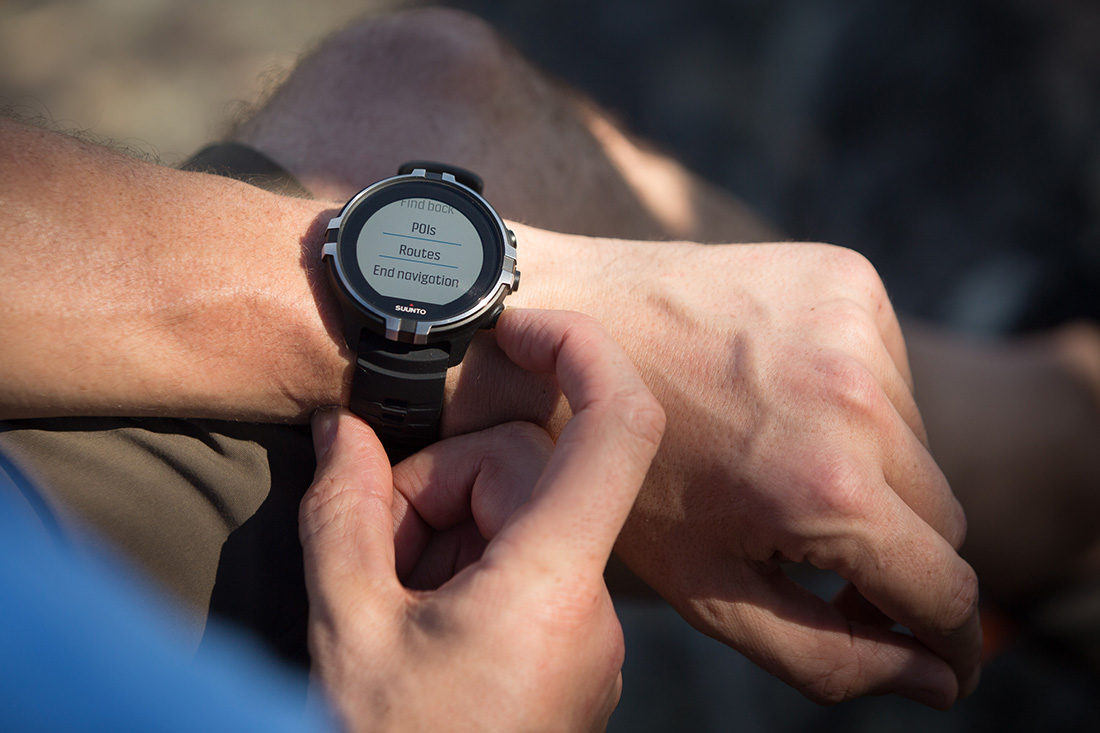 The Suunto Spartan Sport Wrist HR Baro offers 80 sport modes! Photo: ©Richard McGibbon
---
Weatherproof Design
As well as weather proof, i.e dust and grime, the Spartan Sport Wrist HR is also waterproof to a depth of 100 metres. However, avoid pressing any of the functional buttons when in or under water, as this can lead to water getting into the watch.
Clean and intuitive GUI. Photo: ©Richard McGibbon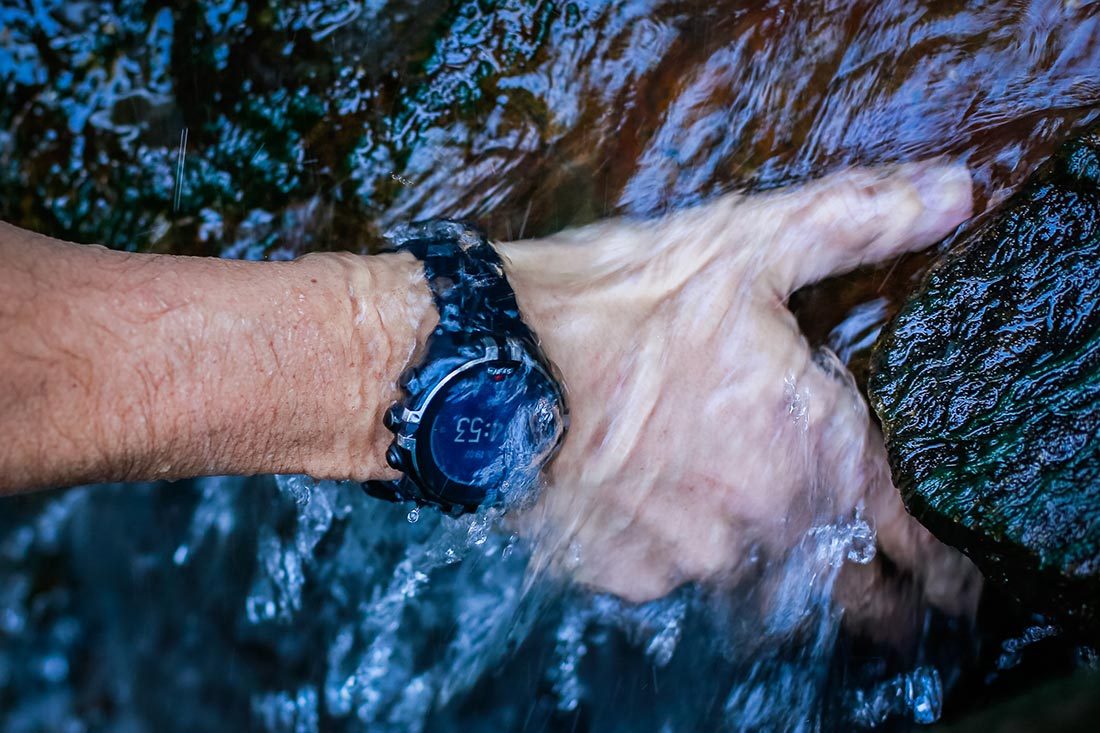 The Suunto Spartan is waterproof to 100 meters! Photo: ©Richard McGibbon

Connectivity
The Suunto Spartan watches have all the usual app connectivity, such as:
Strava, TrainingPeaks, MapMyFitness and more. If you enjoy drooling over stats, then you'll love what the Suunto Spartan has to offer, not limited to just within the watch itself but all of the additional connected apps.
Movescount
If you need to edit specific datasets for your training program you can simply log into the Movescount website, connect your phone to your computer and edit the data sets in each of the sports modes.
In addition to editing the sports modes you can also log all of your activities, select from a huge choice of free training programs (apps), upload or create your own training programs via training calendars and of course analyze your activities, in great detail.
Suunto App
The new Suunto App is where you can view your training, activity, and sleep summaries, stay connected with notifications, and customize what you want to see on your watch during training and adventures.
The activity-specific heatmaps in Suunto app show you where the most popular routes are, all around the world. Discover and plan your new favourite routes in your home city or while you're traveling somewhere new. Sync them directly to your watch and GO!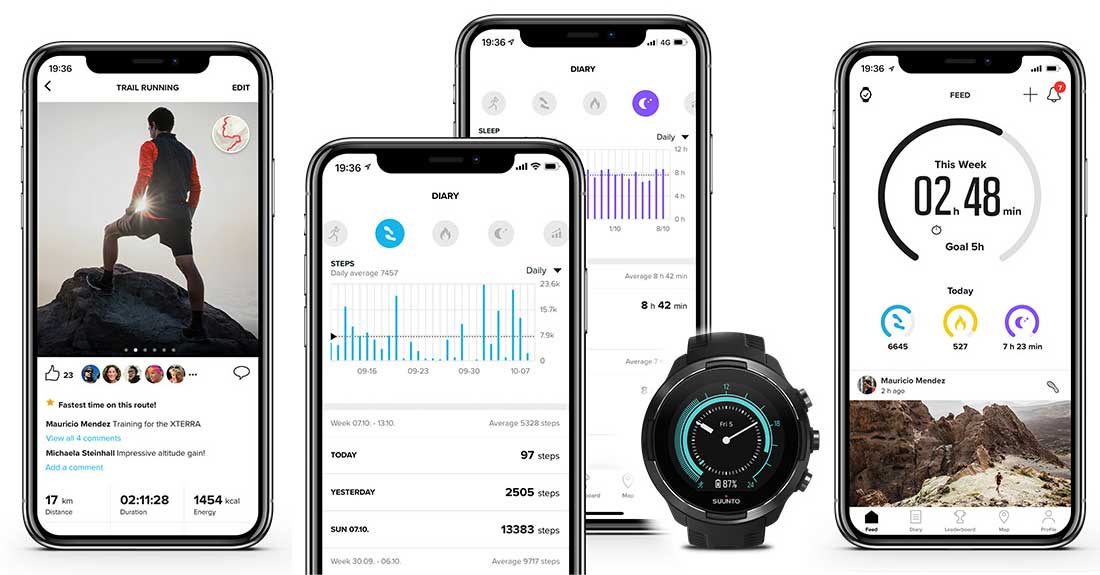 The new Suunto App keeps you synced with your activity data whilst on the go.
---
Uploading Data
At the end of the day, uploading data after your activity is super easy with the USB cable that slaps on the back of the watch. Insert the USB into a laptop or desktop and this will boot up the Movescount program automatically.
Log into your Movescount account and you will be able to access a ton of data from your activity, view your history via a calendar and explore and download hundreds of user-generated sports modes and training plans.
In addition to this you can simply download the Suunto App, which will auto-sync once your activity is over, and upload it to the fitness tracker app of your choice. Easy!
---
Battery Life / GPS Accuracy
In standard time mode (no activity tracking), the battery life will last up to 14 days. When using the 24/7 tracking and mobile notifications it will last up to 7 days. The battery life is quite impressive, considering the amount of live data you can track.
We tested the battery levels from a Sunday morning to the following Friday night with all the tracking tools switched on and also recorded my exercise routine for that week and two MTB rides on the weekend.
Exercise during the week was:
Gym x3, wights, and circuit training (45mins -1 hour per session)
Saturday and Sunday MTB rides of around 2-3 hours each.
However, even when the watch was on its last legs with only 6% battery life remaining, it seemed to really slow down in terms of dropping any further. Without using any of the tracking tools and keeping it in just standard time mode, it lasted for 5 hours on the last 6%!
We ran the battery completely empty and the charge time from dead flat (blank watch face) was about 2hrs, but when the watch has even the smallest of % left, the charge time is considerably quicker.
If you need to prolong the battery life you can do a couple of things. You can use the power save mode, which is very handy if you're out on a remote hike and need the watch for crucial GPS use. Or you can choose to adjust the interval rate of the GPX fix.
The GPS fix determines the accuracy of your tracking data – the shorter the interval between fixes, the better the track accuracy is. Each GPS fix is recorded in your log when recording an exercise.
The GPS fix rate directly affects battery life. By reducing GPS accuracy, you can extend the battery life of your watch.
GPS accuracy options are:
Best: ~ 1-sec fix rate with full power
When set to Best, your watch is using GPS at full power all the time. In full power mode, the GPS is able to filter out interference and get the best fix. This results in the best track accuracy but also uses the battery the most.
Good: ~ 1-sec fix rate with low power
By using Good, you can still get a GPS fix every second, but the accuracy is reduced because the GPS is not in full power mode all the time. Between fixes, the GPS goes into a low power mode for a short time, as illustrated below.
This extends battery life, but it means the GPS has less time to find a good fix and filter out interference. So the resulting track is not as accurate as with Best.
OK: ~ 60-sec fix rate with full power
With OK, the GPS fix rate is reduced to once every minute. This significantly increases battery life but results in a less accurate track.
Whenever you navigate a route or a POI, the GPS accuracy is automatically set to Best.

Above: GPS accuracy GOOD, below; GPS accuracy OK.

---
Where to Buy / Price
Price: Anywhere from $650.00 – $799.99, depending how much online searching you do.
For more information on the new Suunto Spartan range and to purchase, head over to the Suunto website.
---