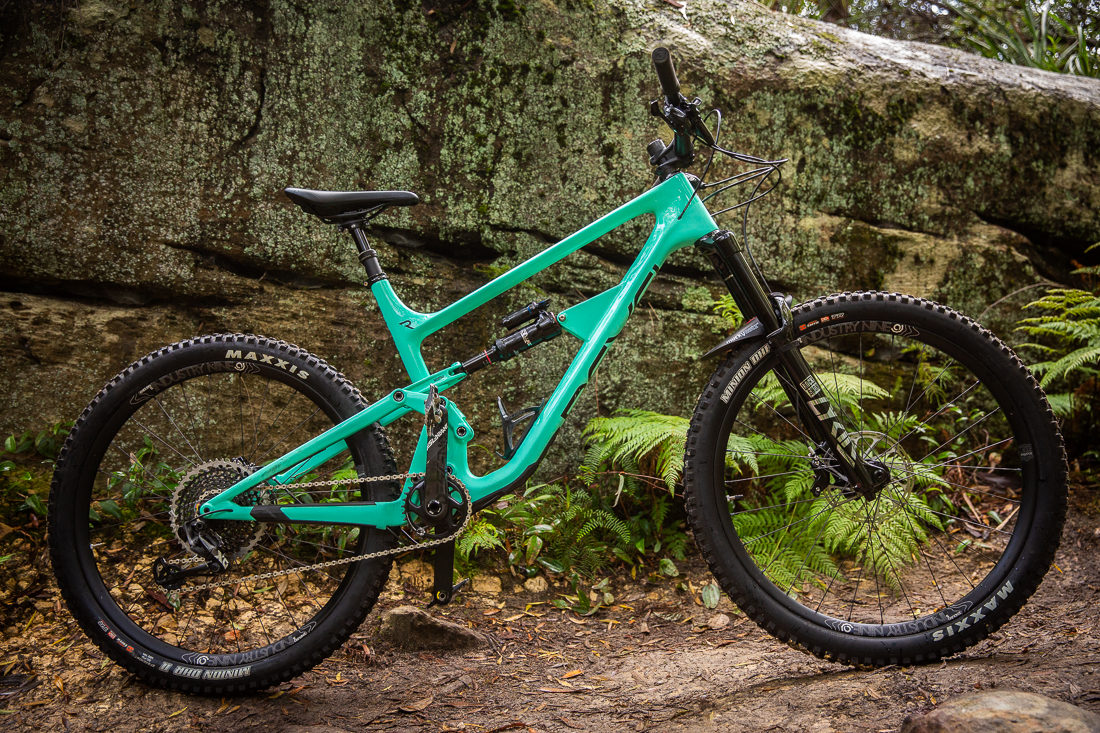 Cut to the Chase
The Revel team created the RAIL with two things in mind: maximum thrills and climbing hills. The build quality and engineering that's gone into the tuned carbon frame is impeccable and combined with the CBF system and 170/165 of plush travel, you have yourself a bike that is equally at home on gnarly downhill trails, bike parks and techy climbs. If you're looking for a 27.5 bike that's efficient on the ups and pure joy on the downs, the RAIL will open up endless trail opportunities for you. The RAIL has upped the benchmark for all other 27.5 bikes to follow.
Pros
Canfield Balance Formula is pure MAGIC!
Impeccable carbon frame.
Turns rock gardens into buttery smooth highways.
Mountain goat climbing skills.
Quality suspension & component spec
Top-notch braking performance.
Super-silent internal cable routing.
Comfortable all-day riding position.
Rigid and responsive Wheelset
Bottle holder, yay!
Cons
Does feel a little raked out on tight switchback climbs.
---
We find ourselves Reveling in the glory of the RAIL!
Bike brands have come and gone over the decades with a key few who seem to be here for the long haul. Brands that were considered number one in the day are now but a distant memory, but hey! … to our surprise and joy, some of those legendary brands have made a come-back, but to start a brand new bike manufacturing brand in this ever changing and demanding industry, takes a lot of guts, brains and a huge amount of confidence in what you're creating.
Enter Revel bikes. REVEL launched their debut bike line in February of this year with two bikes on offer; The RAIL, a 27.5 weapon and the RASCAL, their 29'er trail whippet. With only a few short months on the market, Revel has already stirred the pot and pricked up the ears of the industry media and other bike brands, and have left us all clambering to get our grubby mitts on one and thanks to the Australian distributor, ORBO (Off-Road Bikes Online), we got what we wished for.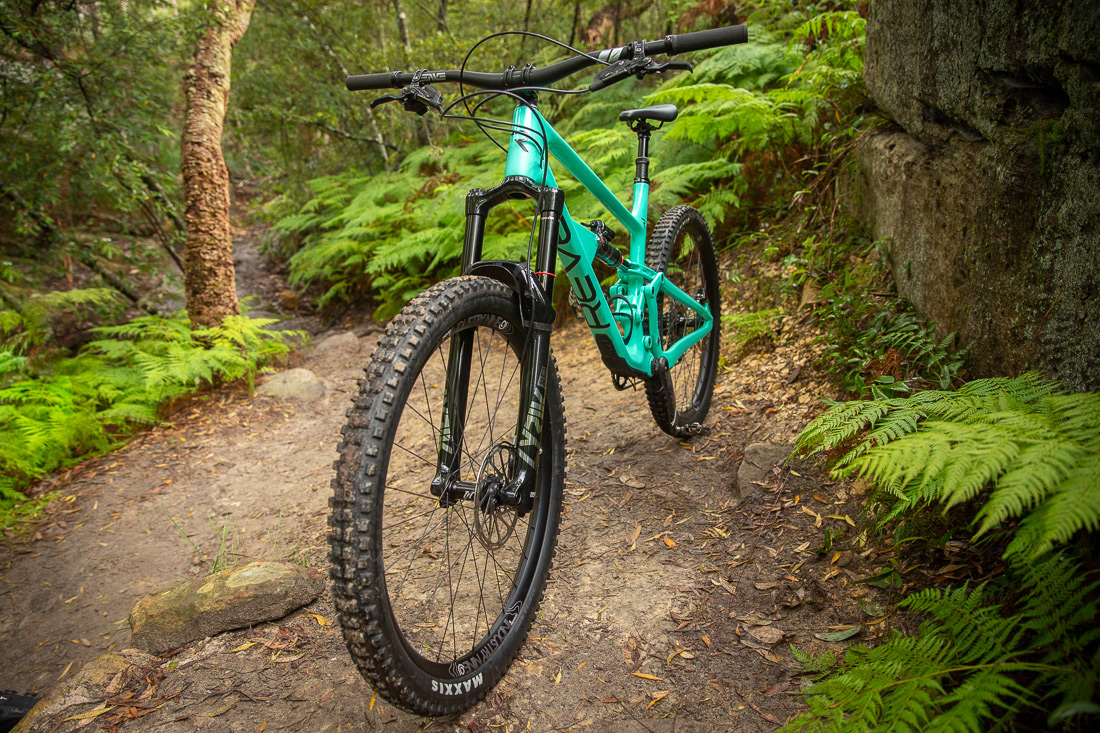 The Revel RAIL, a 170/165mm trail beast, designed by an industry A-Team. Don't write off the 27.5's just yet.
Photo credit: @Richard McGibbon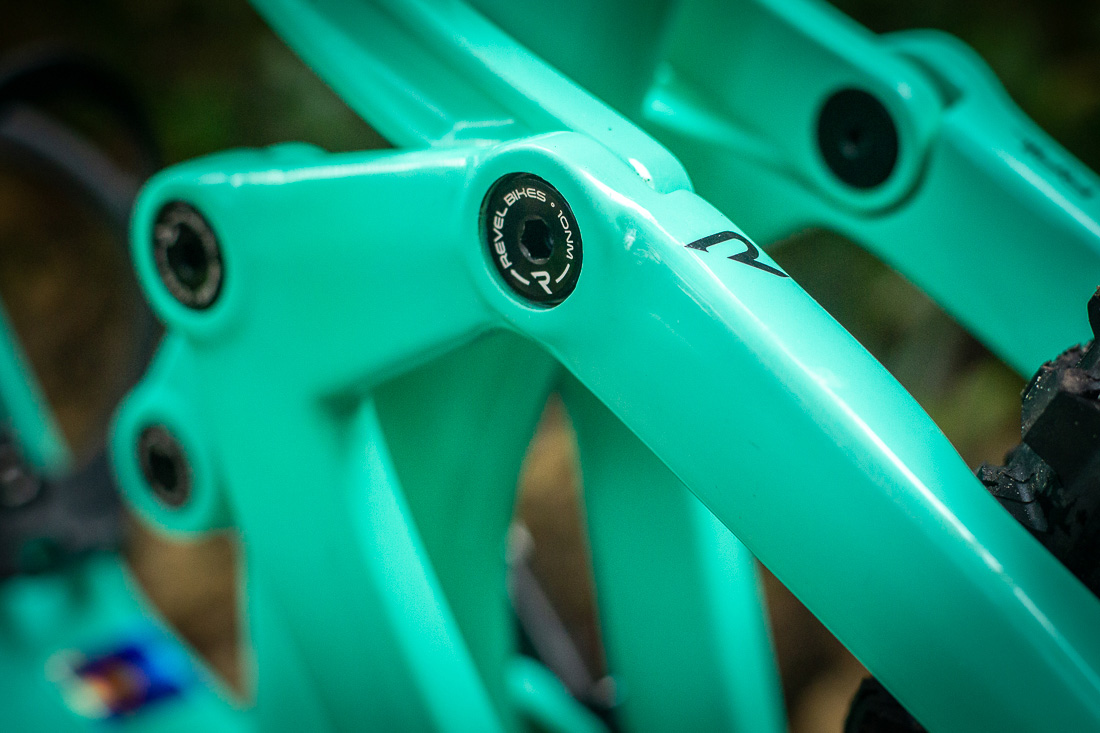 The CBF Linkage is the reason why this bike is so impressive on the downs as well as the ups.
Photo credit: @Richard McGibbon
---
Who Are Revel?
Revel is a Colorado-based company made up of life-long bike revellers, a mix of dirt-bag bikers, die-hard creators, and business people. Revel is also a rider-owned and privately-funded company which allows them to do things that other brands cannot i.e. fast iteration and testing cycles with no red tape to navigate, they get shit done and to an incredibly high level.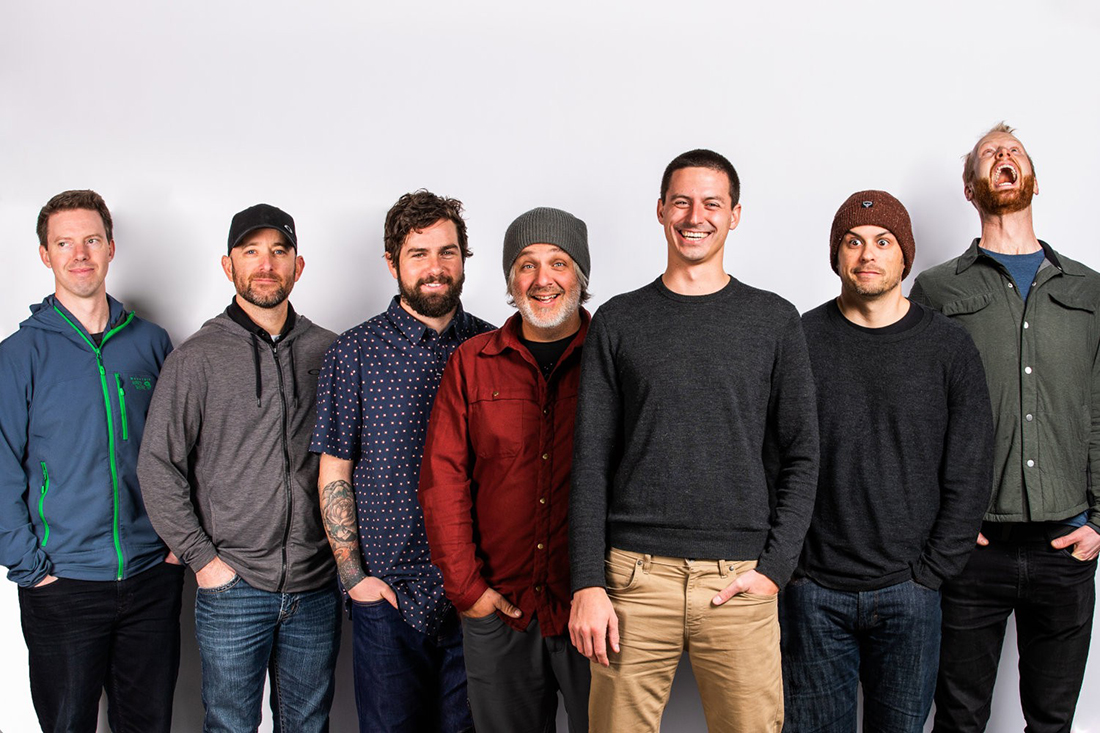 Revel is a Colorado-based company made up of life-long bike revellers, a mix of dirt-bag bikers, die-hard creators, and business people
---
The team is made up of industry icons such as; Adam Miller, owner and deep-rooted bike nerd who founded two previous bike companies, Jeremiah Starkey, the former lead engineer at RockShox and Trust Performance, Chris Canfield, who designed and patented Revel's magical suspension and Mike "Steezy" Giese, also Trust Performance and now working with Revel. These are just some of the names that make Revel a brand to be reckoned with. Head on over to their website to read more about this fresh and exciting brand.
---
Features – X01 EAGLE KIT
The Rail is a 170mm / 165mm, 27.5 bike, built around the once-forgotten Canfield Balance Formula, or CBF for short, which all hinges on designing rear suspension around the Centre of Curvature to give you maximum pedalling efficiency and suspension isolation, more on that below.
We've seen reviews pigeon hole this bike as a "Trail" bike but we think it sits more in the Enduro ballpark with 170mm front and 165mm rear giving you a hell of a plush ride on the downs. But don't let those numbers fool you, the Rail has a very efficient pedalling platform that really surprised us.
Custom Carbon Frame
The Revel custom carbon frame is something to behold and in the Mint Chocolate Chip colour scheme, this thing seriously POPS! The Revel carbon frames have been optimised by one of the industry best; Enve Founder, Jason Schiers uses an optimised layup with a mix of Japanese Toray T700 and T800 fibres, but Revel claims the real magic is in the angles. Most bike frames use a selection of 0-, 45-, and 90-degree fibres, since these are the most readily available and easiest to work with, but Jason optimized the Revel frames using more 30/60-degree fibres, which, when laid up properly, create stronger and stiffer tubing and shapes, using less material.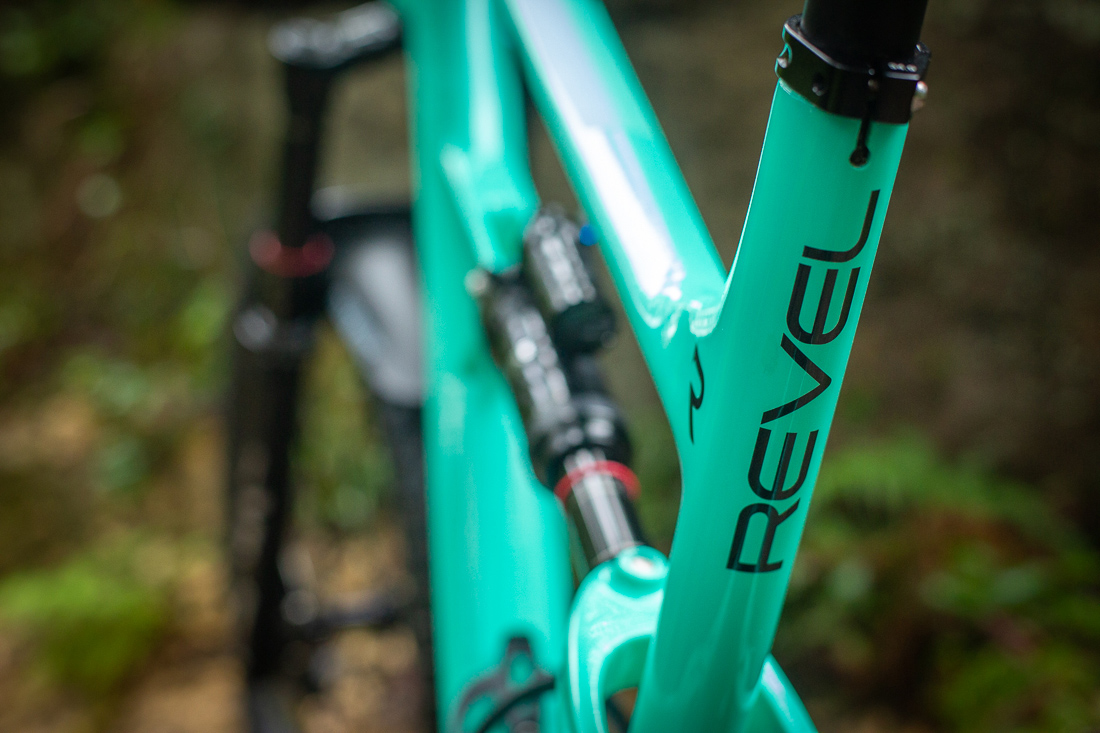 The real magic is in the angles. RAIL's Custom carbon frame is a thing of beauty.
Photo credit: @Richard McGibbon
---
CBF Linkage
The Canfield Balance Formula (CBF) focuses on designing rear suspension around the Center of Curvature (CC). Until now, most suspension systems have focused solely on the instant centre. CBF points the chain line and corresponding drive forces around the top of the chainring through 100-per cent of the travel resulting in maximum pedalling efficiency, regardless of where you are in the travel, what terrain you are on or what kind of power you're putting down. All the power you put into the pedals goes into turning the rear wheel, allowing the suspension to do its job completely independent of drivetrain and braking forces and making the sag setting much less critical.
"The Canfield Balance Formula (CBF) is the heart of every Revel bike, which maximizes the amount you pedal in the sweet spot and keeps the suspension wildly active while descending and braking." Revel.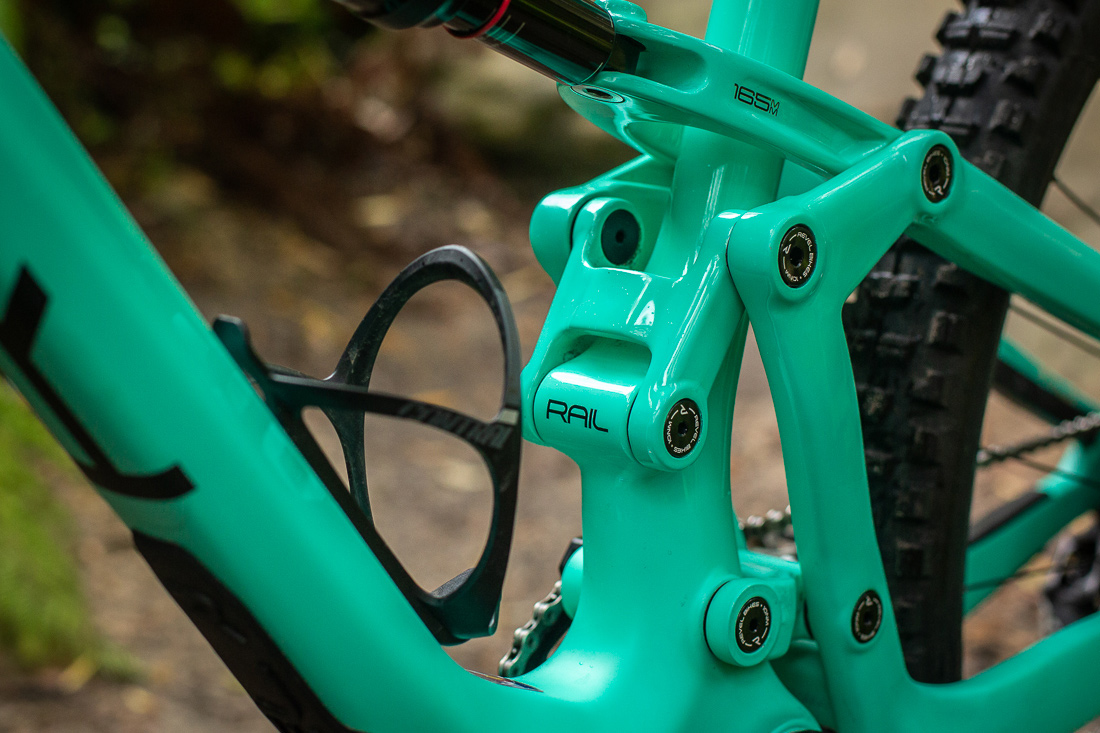 An engineer's wet dream.
Photo credit: @Richard McGibbon
---
Squat and Rise
If you've heard the term "Squat and Rise", then this is what the Revel CBF system deals with very well. You know that bobbing effect when you pedal? This is known as the squat. The less squat the bike has, the more efficient the pedalling will be. Too high an anti-squat means lost traction and feeling "locked out" when pedalling.
Rise occurs when you brake under force and feels as if the suspension is moving whilst braking, which can affect the handling of the bike. Too low anti-rise will not do a good job counteracting the weight shift from braking, and too high anti-rise will stiffen the suspension to the point of losing traction over bumps. Revel claim to have a near 100% anti-rise number, which translates into a braking system that is isolated from the suspension giving you improved handling under braking forces.
---
Geometry
The Revel RAIL is a progressive bike which will suit a very wide range of riding with the 170mm/165mm suspension mopping up what most trails can throw at you. The CBF system works hard to reduce squat and rise which makes it a very efficient climber as well as a gravity eating machine. A bike that will be equally at home on technical ups and downs as well as all day at the bike park. The word enduro is front and centre with this bike.
With a 65-degree head tube angle and 75-degree seat tube angle, the RAIL sits in the sweet spot for current geo designs and trends. The reach on the size large is 470mm which is a respectable number. It's the same as a Santa Cruz Hightower, 6.5mm longer than the Yeti SB140 Mullet and 4mm longer than a Specialized Enduro. Obviously it will never be as long as the extreme end of the POLE (excuse the pun) but it certainly sits in that sweet spot. Coupled with a short chainstay of 430mm and wheelbase of 1230mm and a fork offset of 46mm, gives the RAIL a stable platform that's prime for gravity and manoeuvrability.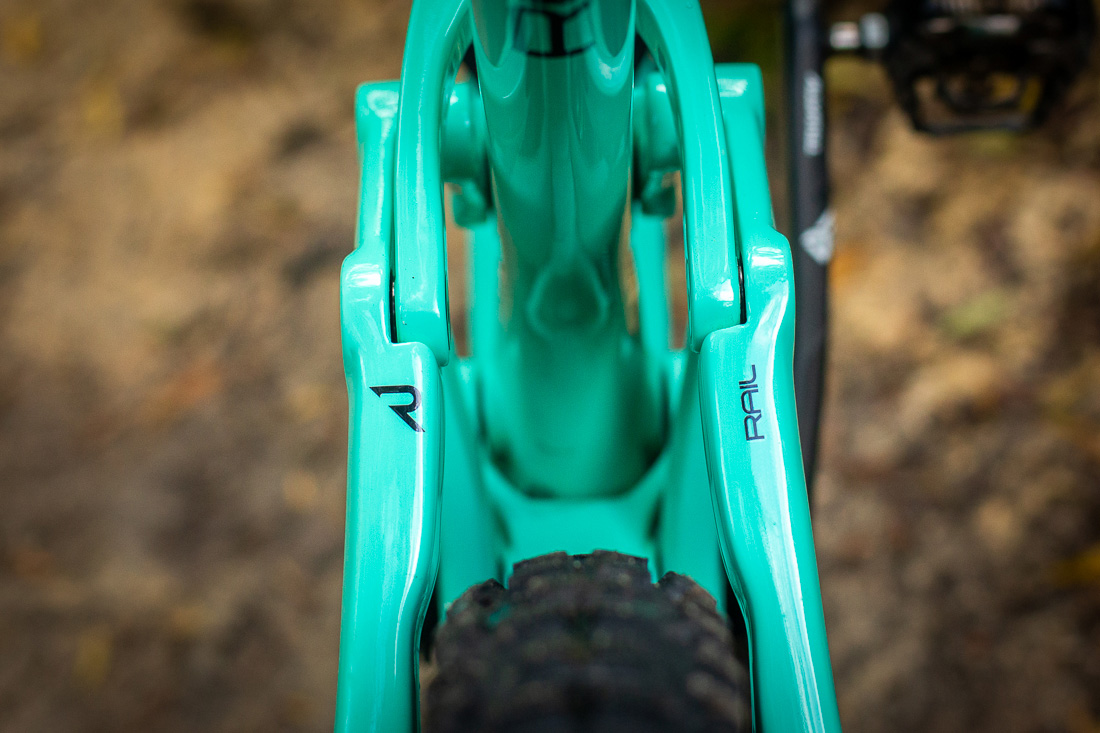 The RAIL sits in the sweet spot for current geo designs and trends.
Photo credit: @Richard McGibbon
---
Suspension
The 170mm of travel up front and 165mm rear (tested bike featured RockShox Lyrik Ultimate forks married with a Super Deluxe Ultimate shock) has undoubtedly been targeted at the enduro rider with a taste for the gnar. The Lyrik has a 46mm offset, which sits in the middle range, providing additional stability and rider confidence on the downs and not too extreme for the climbs, which supports the RAIL's overall moderate geometry.
The Super Delux Ultimate shock is the top of the range air shock from Rockshox featuring tuning abilities of an air spring with both compression and rebound adjustment to fine-tune to any trail. With a solid threshold adjustment for pedaling performance and Maxima Plush fluid for a buttery smooth feel, the fork and shock setup on the RAIL is an impressive suspension package.
---
Brakes / Wheelset
Stopping power on the RAIL comes in the guise of more SRAM products with a set of Guide RSC brakes and 180mm Avid Centerline rotors front and back (with the option to increase rotor size). To keep you rolling on the toughest of trails are a sweet Industry Nine wheelset with Enduro S Aliminium rims laced with matching Industry Nine hubs, all skinned with a fresh set of Maxxis Minion DHF/DHR tyres with EXO + casing for extra protection.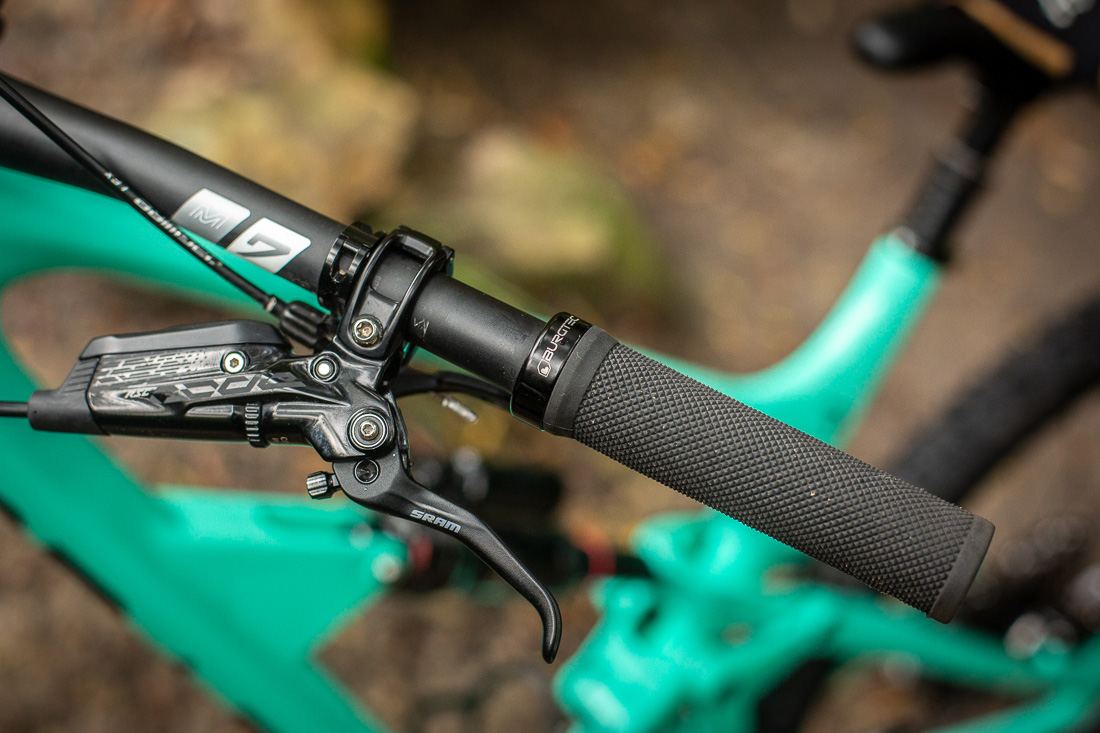 Top: Guide RSC brakes with 180mm Avid Centerline rotors / Middle: Industry Nine wheelset with Enduro S Aliminium rims / Bottom: Rims are matched with Industry Nine hubs
Photo credit: @Richard McGibbon
---
Contact Points & Drivetrain
The cockpit comes with an impressive ENVE M7 Carbon 35mm x 800mm bar matched with an M7 Carbon 35mm x 40mm stem and a pair of Burgtec grips for a well-rounded cockpit package. The RAIL features a Crank Brothers Highline 3 Seatpost and lever combo with an Ergon SM 10 saddle. The drivetrain is 1X setup (pretty normal these days) using the SRAM X01 Eagle with a pair of SRAM Descendant Carbon DUB cranks for those big hits.
---
Internal Routing
Revel claim to use "the best method for internal routing in the biz!" The super-silent ride is due to tubes which are moulded in one piece onto the inside of the carbon frame tubes. Revel uses these moulded guides on all their cables allowing you to route an entire frame in about a minute, and you'll be thankful for that. No rattling, no noise, and no fishing cables out of frames.
Other smaller but still essential features are the integrated chain guide which is designed to work best with SRAM's DUB system, and a robust downtube guard which has been cleanly integrated into the design of the bike. To finish it all off, the RAIL comes with a water bottle mount. A lot of brands are forgoing this feature, but we hear that a lot of riders still want a bottle cage on their frame. So thank you, Revel!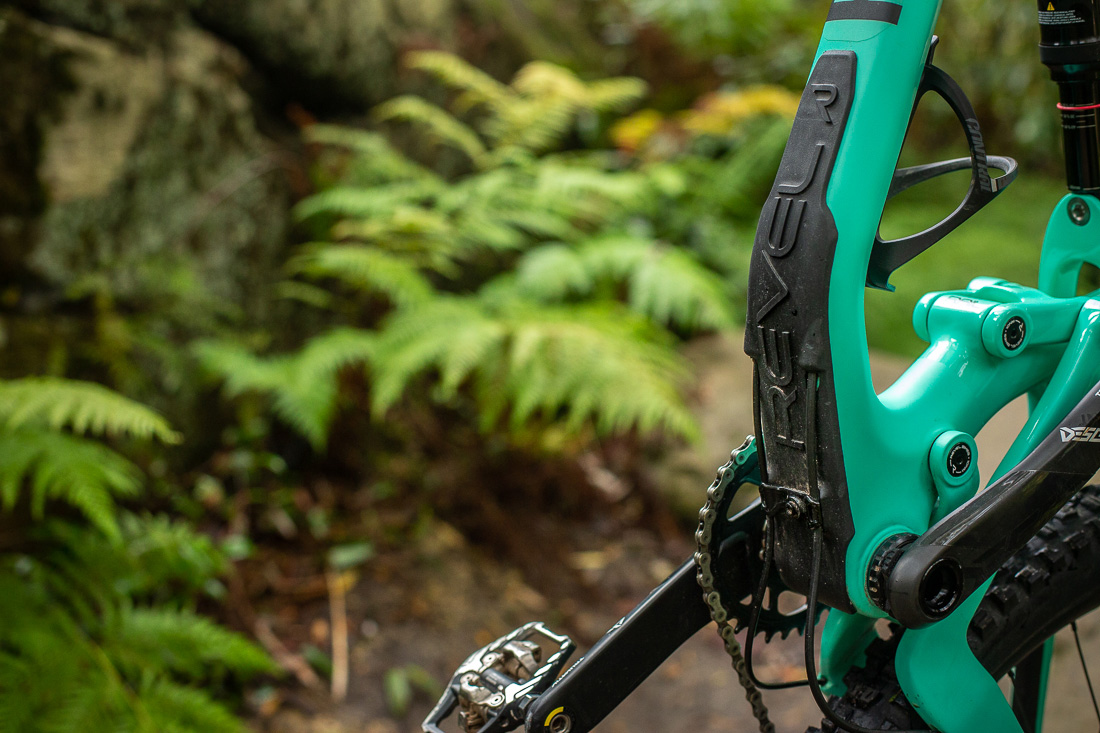 The robust downtube guard, perfectly integrated into the frame.
Photo credit: @Richard McGibbon
---
On The Trails
Straight off the bat, we've got to say that the RAIL is an incredibly manoeuvrable bike with a hugely confidence-inspiring suspension platform. A lot of bikes tend to meet expectations or even surpass, but the RAIL just blew our expectations out of the water, in a very good way. The RAIL has given us a lot of surprises in the way it handles itself on the downs, as well as the ups and was not what we expected from a 27.5 bike.
On the steeper, slower technical trails, the impressive anti-rise/squat came into fruition. The CBF system isolated braking and suspension allowed for a much more controlled descent under heavy braking forces without the feeling of diving or that the suspension was ever working against us. The bike never felt wild or out of control, but even when we were, the bike seemed to just hold its own, calm and composed.
The entire platform has a stable and planted feel but still manoeuvrable through tighter technical turns, giving us a lot of control and confidence when we really needed it. It has to be said though, the 170mm Lyrik certainly helped us get out of trouble in some situations. What's good to know is that the fork caters for plenty of spacers (we had one in our fork), so fine-tuning to your liking will not be an issue. Saying that, we never touched it, it was perfect from the get-go.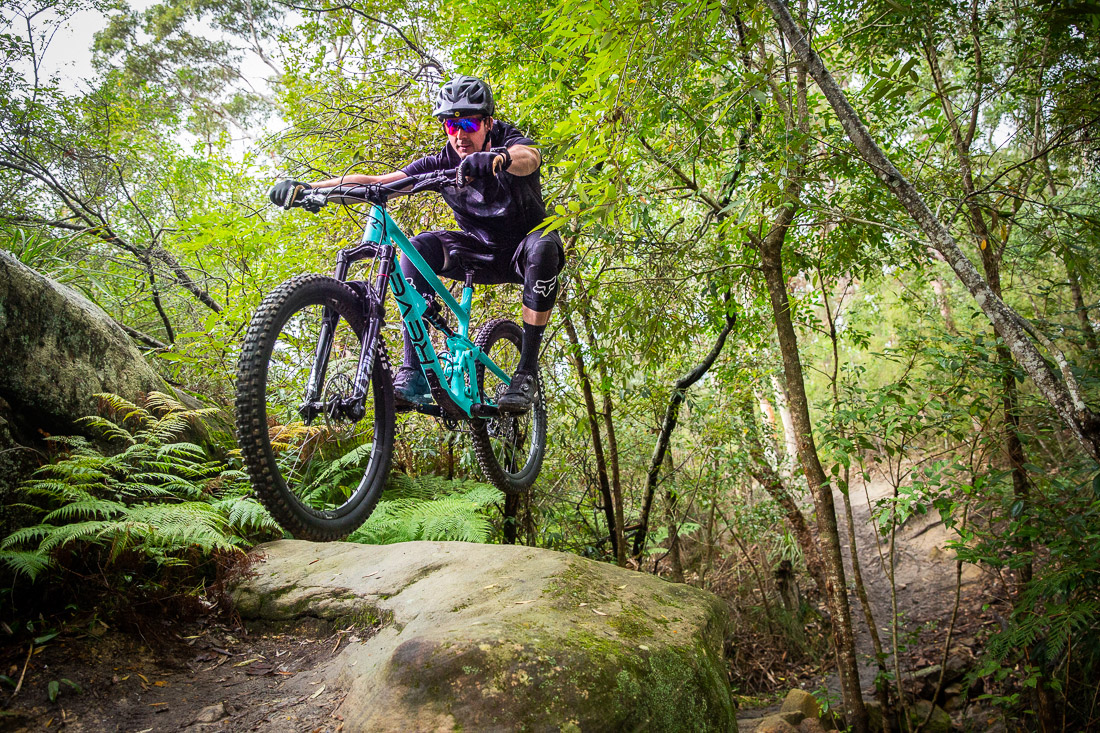 The moderate geo and CBF system provides a confidence inspiring ride.
Photo credit: @Richard McGibbon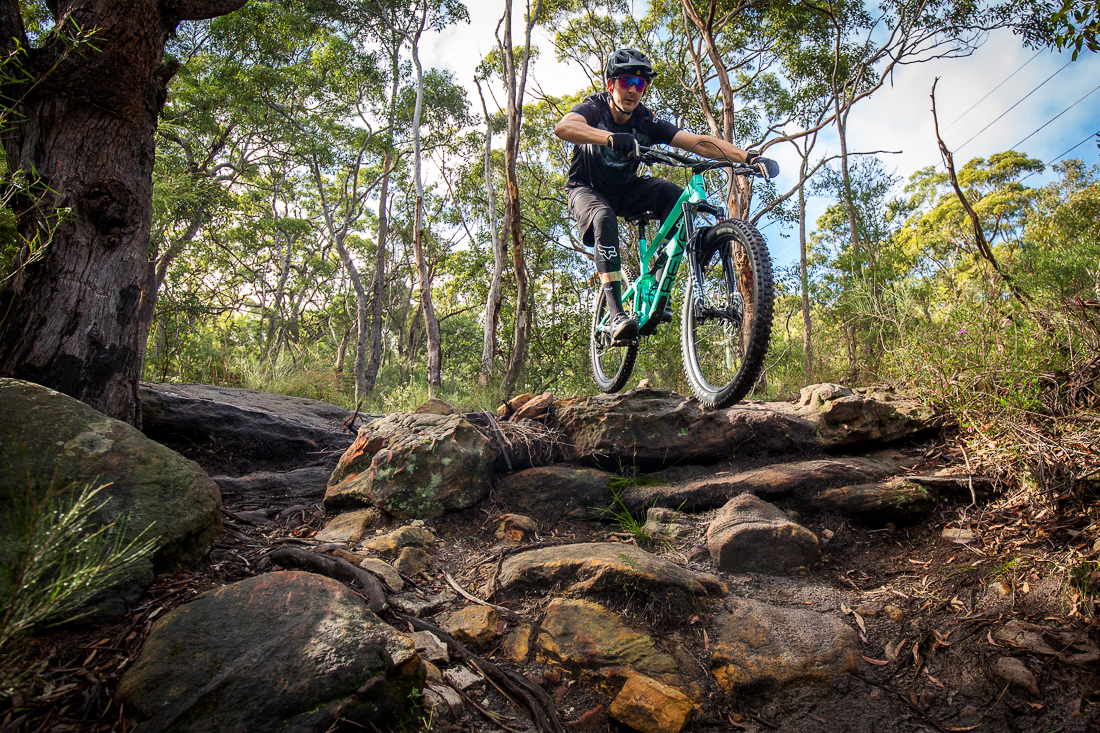 Point and shoot, the RAIL will obey.
Photo credit: @Richard McGibbon
---
We've all heard of point and shoot, and this term was front and centre when we hit the faster gravity trails. The shock ramps up a lot at the end to prevent bottom out, but is soft off the top for a lot of small-bump compliance. When picking up the pace, this is where the RAIL blew us away. The sheer handling of gnarly rock gardens was simply obliterated in a buttery smooth highway. This bike literally "purrs" through the rough stuff, and super-silent as well, thanks to the neat internal cable routing.
There is something to be said for the smaller wheel size, and hitting every bump and flicking it around put a big smile on our faces. Take note bike industry, don't go writing off the 27.5 range of bikes, just yet. There is still a huge market for this wheel size and the RAIL caters perfectly for this category.
Crank the RAIL up a notch and feel that smile grow.
Photo credit: @Richard McGibbon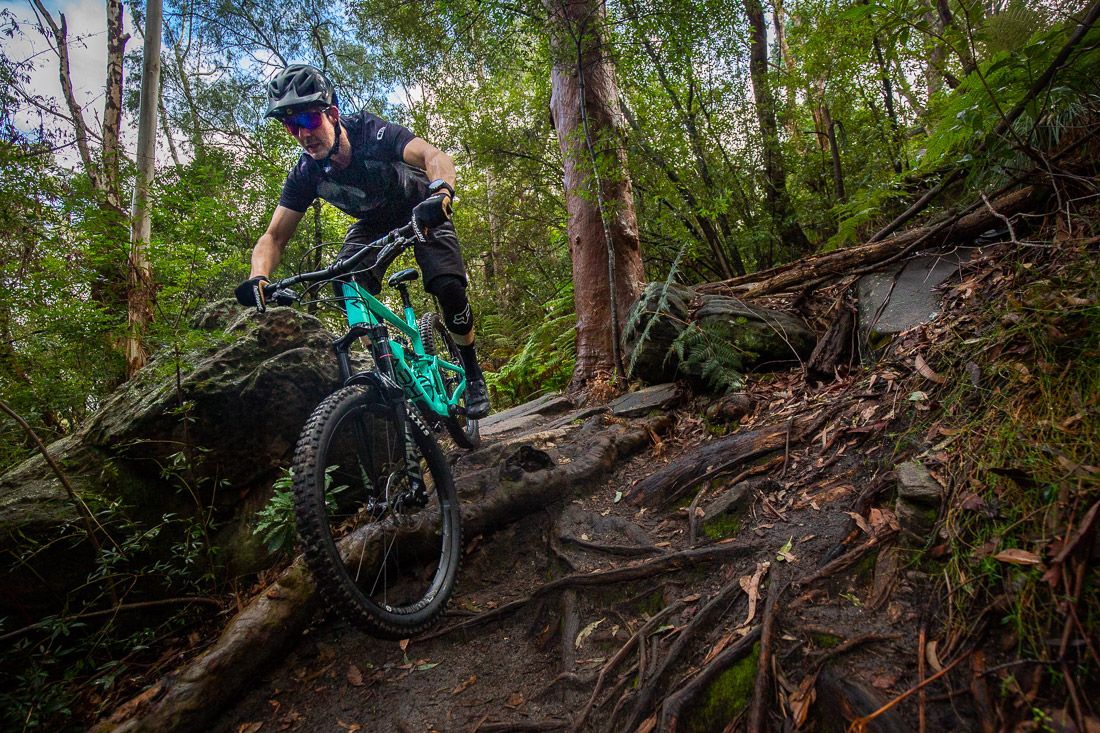 The RAIL is nimble and manoeuvrable. So much fun!
Photo credit: @Richard McGibbon
---
In terms of pace, the RAIL can hold it's own against the 29'ers out there and we didn't feel as if speed was being sacrificed for the super-plush handling. Due to the CBF system, we were able to sprint through rough sections of trail without any excessive bob or pedal strikes due to the stable platform, which meant we could maintain high speeds without losing too much efficiency. But anything we lost on the flat sections, we felt that we gained and surpassed on the downs.
While it's most comfortable pointed downhill, the Rail doesn't shy away from finding its way to the top of the hill either. In terms of climbing, the RAIL didn't penalise us with its 170/165 set up in any way at all. The CBF platform and the anti-rise numbers kept the bike planted on techy climbs, keeping the tyres on the ground and resulting in an excellent grip.
Poor climbing ability was something that we didn't notice or feel the need to complain about, this could be the fact that we were having so much fun on the downs? We did experiment with the Rockshox Super Deluxe Ultimate settings but ended up riding 95% of the time in the fully open mode, apart from one or two very steep long uphill grinds where we flipped the shock into climb mode and hey presto!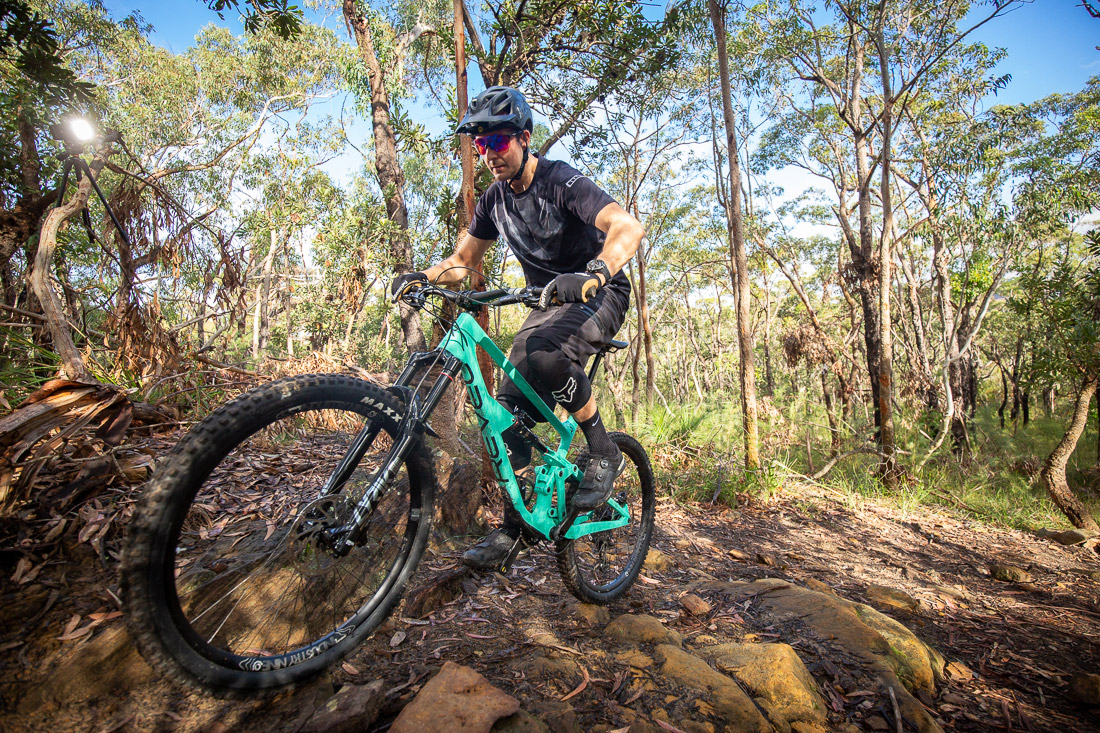 The RAIL doesn't shy away from a good climb.
Photo credit: @Richard McGibbon
---
Conclusions
The attention to detail from the frame finish to the engineering and geometry is impressive. It's no wonder really because the team behind the RAIL are super-bike nerds, some of the best in the industry. From the moment you get your leg over the RAIL is starts to tell a story. A story of a bike that has been designed and built by a team that knows a thing or two about how a bike should perform, and this is reflected in not only the RAIL but all of the Revel bikes.
The RAIL opens up endless trail opportunities. As easily comfortable riding gnarly rock gardens, hucking off big drops to days at the bike park or long XC rides. The CBF system is at the heart of the RAIL (and all Revel bikes) and has changed the way a long-travel bike can handle the downs as well as the ups with impressive efficiency.
What will come out of the Revel stable next? We don't know, but one thing's for sure, if the RAIL is anything to judge past performance by, then it's going to be a thoroughbred and you'd be a fool not to place a bet on it being a winner.
---
Price / Where to Buy?
$4500.00 AUD rrp
Pricing includes an integrated headset, chain guide, Shock, rear Thru Axle and seat clamp.
A complete build is available on request with both Shimano, SRAM, RockShox and Fox running gear.
Intended use: Enduro
• Wheel size: 27.5″
• Rear-wheel travel: 165mm
• Boost 12×148
• 1x specific
• Revel custom carbon frame
• Water bottle mount
• Size: S through XL
• Weight: 30.2 lbs. (as tested w/o pedals)
Australian Distributor – ORBO
ORBO have a national rental scheme setup and will have demo bikes available and roving demo days so people can try before they buy. Keep an eye out on their social media channels for more info, or visit the store.
Off-Road Bike Online (ORBO) is the exclusive distributor for REVEL Bikes in Australia. REVEL Bikes is direct to consumer brand with both Local online and telephone support. ORBO can ship to your door, for those looking for the full custom build experience, or if you just want to ride they can also ship to your preferred workshop, or refer you to a trusted workshop that they deal with in all capital cities.
---
Technical Specs – Geometry
Size
SM
MD
LG
XL
Seat Tube
386
416
446
476
Top Tube
555
575
590
612
Reach
430
450
470
495
BB Height
337
337
337
337
Head Angle
65
65
65
65
Seat Angle
75
75
75
75
Standover
695
716
716
742
Chainstay
430
430
430
430
Head Tube
104
115
125
135
Wheelbase
1173
1208
1230
1254
Trail
115
115
115
115
Stack
595
607
615
625
Max Seatpost Insertion
285
Specifications – Frame Details
| | |
| --- | --- |
| Wheel Size | 27.5"(650b) |
| Front Travel | 170mm |
| Rear Travel | 165mm |
| Shock Spec | 230×65-22.2 x 8 Hardware Spec |
| Boost Axles | 148mm rear / 110mm front |
| Seatpost Diameter | 31.6mm (Use our size guide to choose the best dropper height Here) |
| Bearings | BOLU 6801 VRS full complement, 12mm x 21mm x 5mm 18pcs per bike |
| Rear Brake | 180mm post mount / 203mm max |
| Tyre Clearance | 27.5×2.5″ (CEN Standard: 2.4″) |
| Bottom Bracket | Threaded (73mm English threaded) |
| Chainguide | Custom Revel guide included |
| Tapered Headtube | IS42 upper / IS52 lower |
| Colors | Tuxedo Penguin/ Mint Chocolate Chip |
| Sizes | S / M / L / XL |
| Frame Warranty | Lifetime Warranty |
---