Sweet Dreams are Guaranteed with The New NEMO Tensor Sleeping Pads
A good night's sleep under the stars can literally be the difference between a magical experience or a complete nightmare.
The outdoor equipment experts Nemo have done it again with another fantastic product, the Tensor sleeping pad, is a serious contender that rivals all of its competitors. 
The Nemo Tensor range comes in five different shapes and sizes, both insulated and standard versions. Each pad has been carefully developed to save both packing space and weight, resulting in a high-performance sleeping pad.
Features
Thermal Mirror™
The NEMO Tensor range comes complete with a metalised film layer that provides insulation in both hot and cold conditions while maintaining an ethereal weight and eliminating noise when you shift around at night. Yay! No more sounding like a human crisp packet. The insulated versions of Tensor™ add an additonal layer of Primaloft® for even more warmth when the ground is cold.
Spaceframe™ Baffles
Nemo's trademarked Spaceframe baffles (die-cut trusses of low-stretch fabric) eliminate the bounce found in competitor pads creating a more stable sleeping surface and is better for rolling side-to-side and for keeping your elbows from poking through to the ground when propped up reading.
Pad Thickness & Size
The Nemo Tensor sleeping pad boasts 3 inches of super comfy thickness. Even when lying on my side, my hip bones were well away from the ground. This is key to a good nights sleep if you're a side sleeper like myself.
I'm 6'1″ and I had plenty of room on the pad, which was the Long version. Luckily there are enough length and shape options to suit most body types.
Micro Adjustable Valve
The Nemo Tensor comes with a push and twist valve which helps to reduce air escaping between breaths, making it hassle-free when blowing up. The valve also allows you to easily fine-tune the sleeping pad's pressure for a perfect night's sleep.
Packed Size
Thanks to the most advanced materials available, combined with unique construction techniques result in a packed sleeping pad size that will almost shrink down and disappear in your pack. This makes the Nemo Tensor ideal for multi-day hikes where you need to keep your pack size down but still have a good nights sleep.
Out On The Trails
I have been using the Nemo Tensor sleeping pad for several months and I have to admit, it has now replaced my trusty Thermarest Neo Air (Sorry Neo). The insulated version has been noticeably warmer during the colder months. It's hard to say how much it actually raises the temperature, but it's enough to feel the difference and provide a better nights sleep, which is what it's all about.
The thickness of the Nemo Tensor is up there as one of the best on the market and best of all, it's virtually silent when rolling around. Trust me, your tent partner and neighbours will be thankful for that.
Fine tuning the air at night to adjust comfort levels is super-easy with the valve and in general, I have experienced less roll due to the baffle design. The platform seems much more stable than other pads I've used. All of this combines into a better night sleep. And for that, I give it a big thumbs up!
---
Specifications Key Features
3 inches of stable, cushioned loft.
Undulating lateral baffles are the most comfortable and unobtrusive topography for sleeping pads.
Spaceframe™ Baffles provide more stability and a quieter sleep than competitors.
Premium 20D fabrics shave grams for a minimal pack size and weight. Suspended Thermal Mirror™ metalized film provides quiet insulation.
Insulated models are lined with Primaloft® synthetic insulation for additional warmth.
Micro-adjust valve for customized control over your inflation.
A wide range of sizes for an exacting bag and tent pairing.
Minimum Weight: 14.5 oz / 410 g
Minimum Temp.: Zone 15 to 25F / -9 to -4C
Size/Shapes: Short Mummy, Regular Mummy, Regular Wide, Wide, Long Wide
What's Included:
Compression strap
Repair kit
Drawstring stuff sack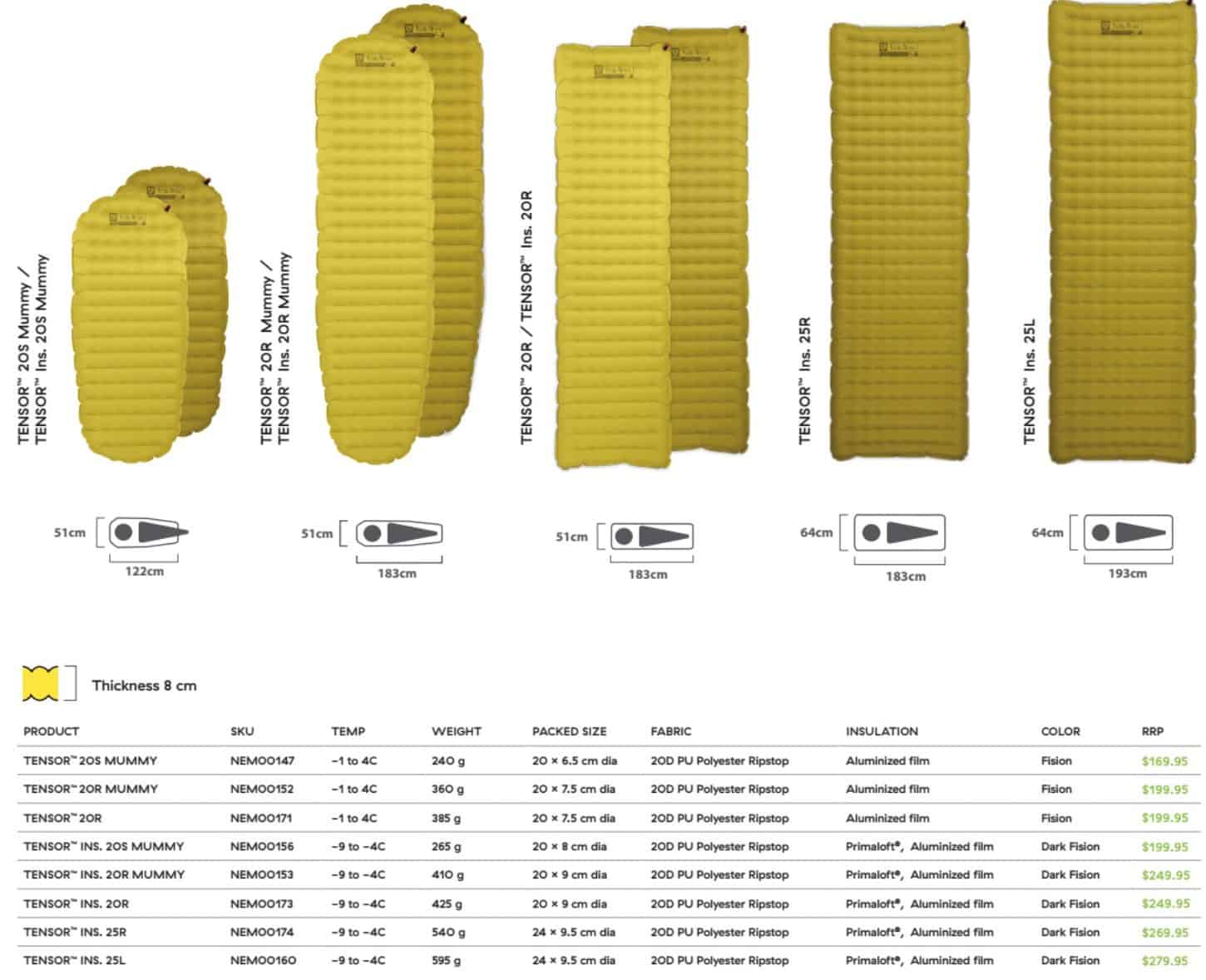 ---
Where to Buy / Price
Available nationally. For more information or to find your closest dealer visit www.outdooragencies.com.au
Prices range from: $169.95 – $279.95
---
Conclusions
[wp-review id="6132″]