---
Trailscapes Trail Tools – REVIEW
If you've ever been involved with building trails, you'll know it's bloody hard work. It's tough on the body and the tools. You know the saying, buy cheap and buy twice, or even thrice in some cases, well this is true of trail tools. They need to withstand a barrage of bashing and must therefore be made of sterner stuff. In addition to this, taking tools to the trail can be an unwieldy experience, so a tool that can do multiple tasks is the ideal solution to reduce the time spent walking back to vehicles or hunting for that 'other' tool.
You've heard of Trailscapes, right? Well, if you haven't, they build some of the world's best mountain bike trails and guess what, they also make the tools that create these amazing trails. Makes sense right? Although not a new product, we felt that the Trailscapes trail building tools deserve to be mentioned as they have become synonymous with trail building. Tired of the standard garden variety tools constantly breaking on them, the team at Trailscapes wanted to build a set of tools they could rely on and customised specifically for the rigors of trail building.
All tools are made in South Australia with wear and abrasion resistant steel, Hardox, combined with a custom Australian hardwood spotted gum handles, results in one hell of a trail building tool that's versatile, tough, and flexible.
You may have even seen these tools out on the trail or are lucky enough to have wielded one, if so, you'll know how good they are. The three models that Trailscapes offer is; the original and badass "The Rake n Bake", "The Half Bake" and the "The Fire Blade". These tools have become so popular that Trailscapes now ship them worldwide. Now if that isn't a good Australian business story, we don't know what is.

The Rake 'N' Bake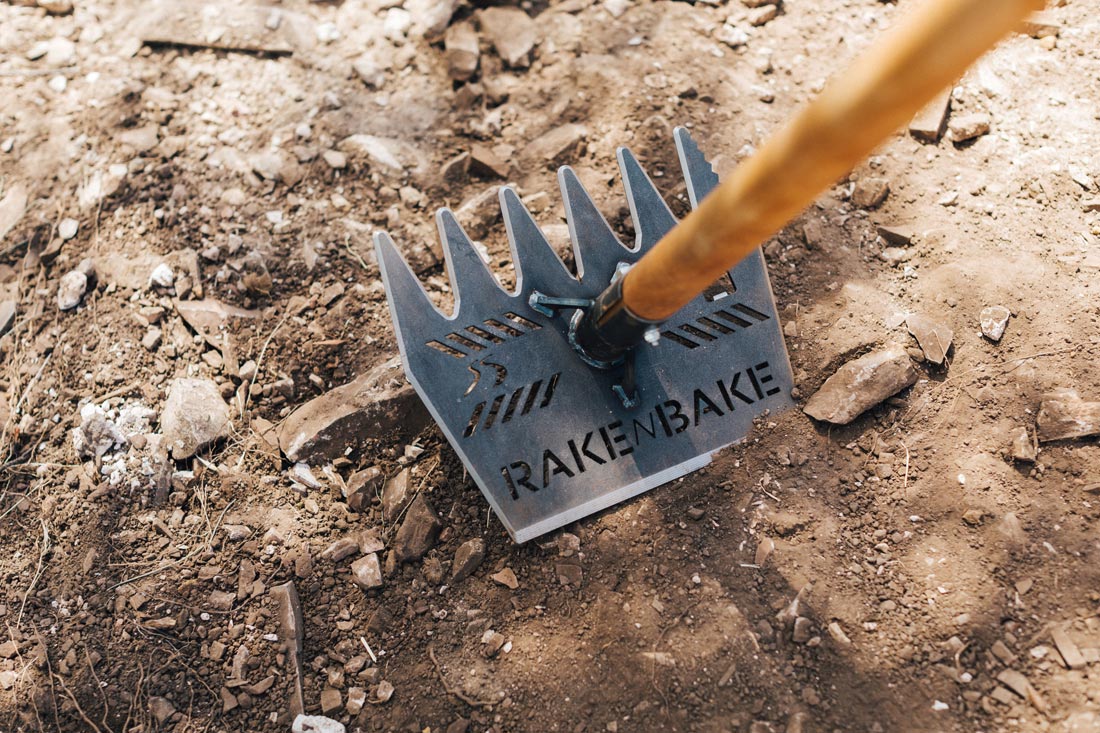 The original Rake 'N' Bake
---
"The Rake N Bake and the Half Baked rakes are, in our opinion, the world's best trail building tools. We were sick of bent tines and of having to replace our rake hoes after almost every project." Trailscapes.
---
The Rake 'N' Bake is the original badass tool developed by Trailscapes and has the largest rake head of the three. It features a sharp beveled edge that runs around each side of the head and tines, designed for cutting into tough roots. It has six tines in total, all with the sharp beveled edging and one with a serrated section. The head itself has been designed to be a compactor as well as a cutter, raker, and general trail smasher and the weight is well-balanced for all of these uses. The plate has some nice laser cut branding to help keep the tool as light as it possibly can without sacrificing strength and also looks pretty damn cool.
The Fire Blade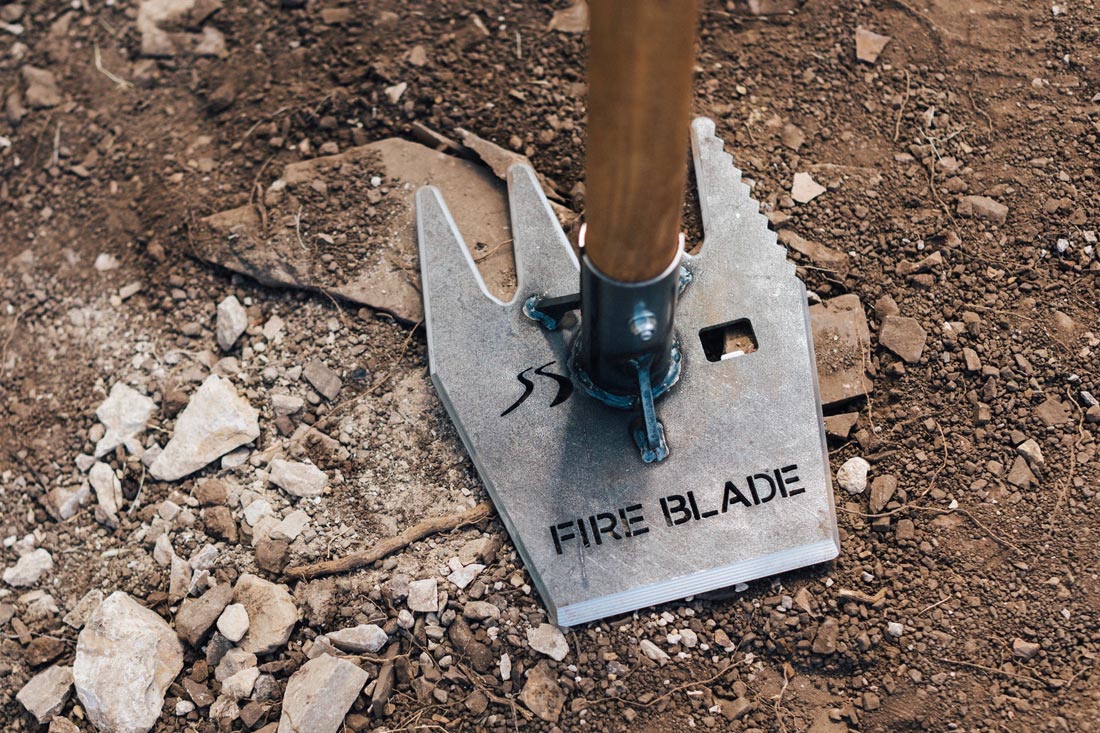 The Fire Blade
---
The Fire Blade is a smaller version of the Rake 'N' Bake but shares the same level of build quality and trail-ready features. Designed to Handle smaller root cutting, vegetation raking, and general hacking at things. It features the same sharp beveled edge as its larger sibling but with only four tines. It does have a smaller compacting ability than the Rake 'N' Bake but due to its smaller size, it is a little lighter and can be wielded around more easily.
The Half Baked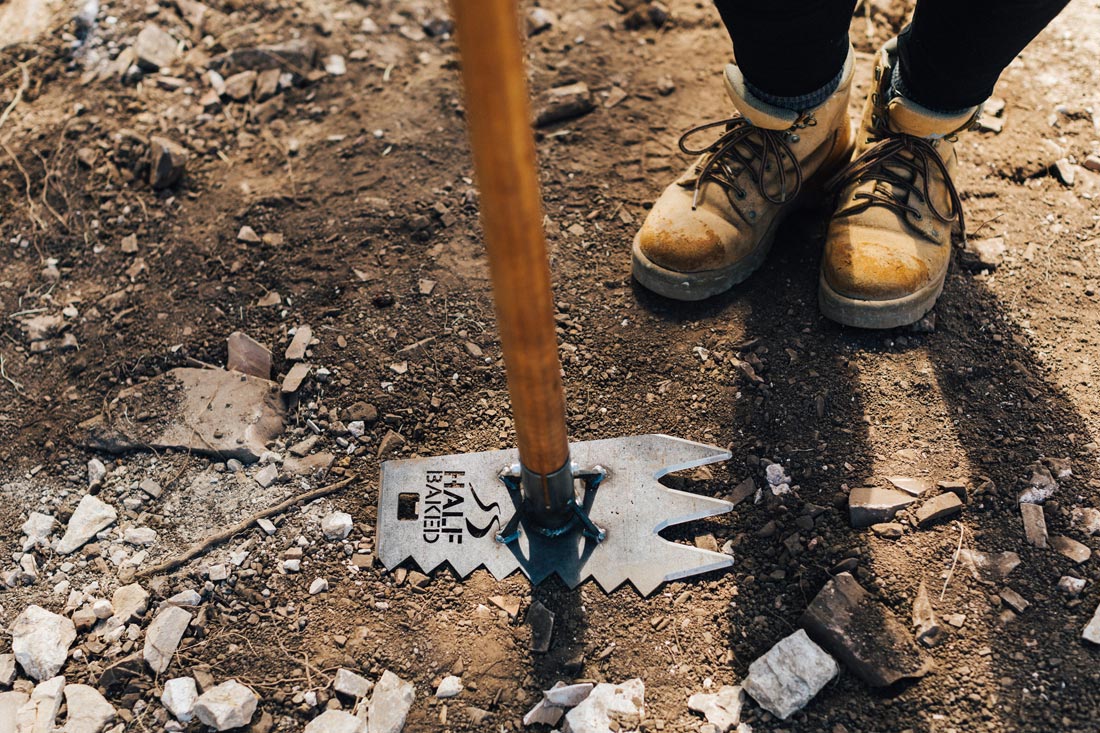 The Half Baked
The Half Baked is smaller again but also shares the same quality materials as the Rake 'N' Bake and the Fire Blade. The half baked is more of a maintenance tool. It's narrower design makes it easier to dig between rocks and is perfect for reopening drains, and acts more like a mattock.

Every one of these tools all has their place in a trail builder's arsenal and make trail building a little more reliable. What we appreciate about these tools is the way they have been designed with user maintenance in mind. Hardox is an incredibly tough and workshop friendly metal which allows you to maintain the tools in your own garage. Keeping the tools in tip-top shape only requires a good metal file, a wire brush and some oil and these tools will work hard for many years. Oh yes, and the pièce de résistance is that all of these Trailscapes tools come with a bottle opener! Oh yeah, now we're talking.
NEWS UPDATE!!!
We've had news from the Trailscapes camp that there is yet another tool to be added to the range. It's called the Overbaked and is a broad nail rake type of affair, made from all the same high-quality materials as the other tools. Early tests with select trail builders are proving to be a success. So keep your eyes peeled for this one.
---
Where to Buy / Price
Head on over to the Tools section of the Trailscapes website for full details how how to purchase.
Rake N Bake: AUD$170
Half Baked: AUD $125
Fire Blade: AUD$140
Rake N Bake + Half Baked bundle: AUD $270
All 3 tools: AUD$400