The Osprey Levity, The New Standard in Ultra-Light Backpacking!
With a refusal to budge on durability standards Osprey has found the perfect balance between ultra-light performance and long-lasting durability.
Over the years, Osprey has won us over with their fantastic range of packs, for hiking and mountain biking. The quality, construction and materials used are of the highest standards and the features are all warranted, nothing superfluous ever gets added to their designs.
However, we have been quietly waiting in the shadows for a multi-day Ultralight pack to come out of the Osprey camp, and now, oh boy have we been rewarded with that wait.
First Impressions
Osprey has produced an ultralight range with the Levity and Lumina. The Lumina is the women's specific model but we're only reviewing the Levity 45.
We can see why Osprey has marketed the Levity as a SuperUltralight pack, it's insanely light! When empty, it weighs in at a smidging over 800grams (o.81kg), but what surprised us the most was the sturdy frame and very comfortable padded hip belt, whilst still managing to keep the weight under a kilo.
The main material uses a combination of Ospreys NanoFly™ fabric which integrates ultra-high-molecular-weight polyethylene ripstop and Cordura Nylon. Sounds complicated, right? What it all boils down to, is the most light-weight outdoor fabric on the market with remarkable abrasion resistance.
Fabrics
OK, let's delve a little deeper into what makes the Osprey Levity so special. The main fabric is made from a super light 30D Cordura® Silnylon Ripstop. By adding the ripstop into the fabric, Osprey has reduced our fears of tearing out in the gnarly Australian bush. This is especially important for us as we often hike off-track.
The accent and bottom of the pack are made from a durable a mixed NanoFly™ 210D Nylon material. The NanoFly™ fabric integrates ultra-high-molecular-weight polyethylene (UHMWPE) ripstop and Cordura Nylon, creating an incredibly light fabric with remarkable abrasion resistance.
Frame and Support
The Osprey Levity features an incredibly lightweight and sturdy 3.5mm light wire 6065 aluminium skeleton and a highly breathable 3D tensioned back panel system. This back panel allows the entire pack to sit away from your back, providing excellent airflow and comfort.
The EXOFORM™ hip belt has great levels of padding for an ultralight pack, and a cutaway section for improved comfort around the hip bone. The belt closure straps use an ErgoPull™ system which means the cinch points sit closer to the point of tension, providing a more secure fit.
Storage
The main compartment is a single large opening with a separate pocket for your water bladder. There is a large bellowed front pocket for easily stashing jackets or other gear, a zippered top lid (fixed) and two large elasticated side pockets. The side pockets can be accessed from the top or the bottom, making them ideal for on the go situations.
The Levity has numerous compression cords and attachment loops for tying down or hanging additional items. The compression cords are removable when not in use. This lightens the pack even further and also avoids getting snagged on branches when not in use.
Out On The Trails
We've used frameless ultralight packs for many years and really like them, so when we tried the Osprey Levity, with its frame, it was a real pleasure. There is something to be said about a frame and the way it supports the load, especially on longer multi-day hikes.
Osprey has managed to provide a comfortable and supportive frame system that doesn't sacrifice weight or integrity. The lightweight fabrics with the addition of a ripstop element add peace of mind and confidence that the pack will last the distance.
For all you ultralight hikers who are very efficient with packing, then the Osprey Levity is large enough for those overnight trips or longer ones. I can fit a single man tent in here plus all my gear for the two days and one night.  However, if the 45l isn't quite large enough for you then it does come in a 60l also.
Osprey Levity – Key Features
Top lid with zippered pocket for organizing smaller items (non-removable)
Large bellowed front pocket for easy access.
Dual access side pockets with removable InsideOut™ compression cord.
Main internal compartment compression strap.
Top lid cord loop attachment points for external gear attachment.
15 mm adjustable slide sternum strap with integrated whistle.
Materials: Super light 30D Cordura® Silnylon Ripstop. NanoFly™ 210D Nylon X 200D UHMWPE
Carry Information
3.5mm light wire SUPERULTRALIGHT AIRSPEED™ back panel suspension system.
Lightweight 6065 aluminium frame.
3D-tensioned breathable mesh back panel with side ventilation for maximum airflow.
EXOFORM™ Harness with a seamless layered mesh that provides improved comfort and cushioning.
Size / Volume / Weight Specifications:
Small: 42 Litres / 63H X 40W X 30D cm /  0.78 kg
Medium: 45 Litres / 68H X 40W X 30D cm / 0.82 kg
Large: 48 Litres / 73H X 40W X 30D cm /  0.86 kg
Load Range: 2 – 9 Kg (Levity 45)
Stripped Weight: 0.81kg (Levity 45)
Further details can be found here.
---
Price/Where To Buy
For further information about Osprey or to find your nearest stockist, visit www.ospreypacks.com 
Osprey Levity/Lumina 45 RRP: $249.95
Osprey Levity/Lumina 60 RRP: $269.95
---
Conclusions
[wp-review id="6805″]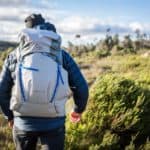 Osprey Levity 45 – Pack Review
Conclusions
The Osprey Levity 45 is one of the most comfortable and ventilated ultra-light packs on the market right now. It's perfect for streamlined weekends or committing thru-hikes. It's for people who pack lighter, go further, and think smarter.