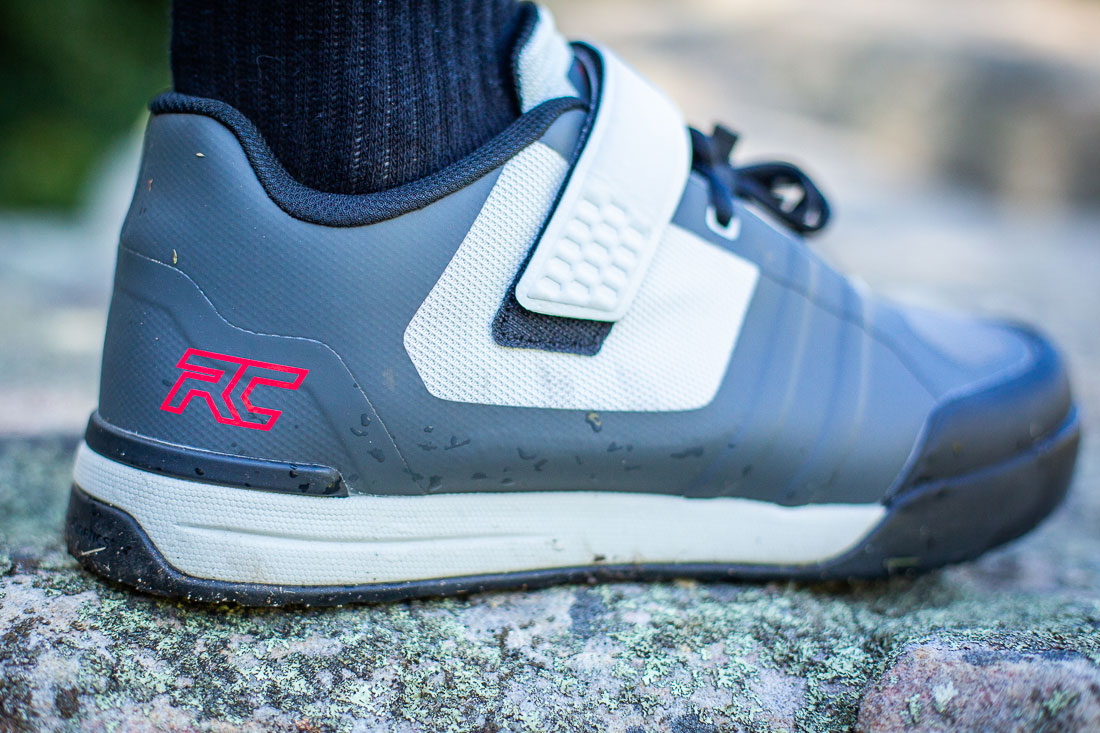 Ride Concepts: Transition – SHOE REVIEW
Cut to the Chase
A shoe that has been adopted by the Atherton World Cup Racing team says it all. The Ride Concepts Transition shoe is targeted at the gravity rider but is a much more adaptable shoe than that. It comes with a plethora of impact protection technology for big hits and aggressive riding, an oversized cleat box for world-class engagement and high levels of stiffness for excellent pedalling efficiency. The Transition shoe will change the way you engage with your pedals.
Pros
Excellent impact protection
D30 technology
Oversized cleat box for improved cleat engagement
RC PowerDrive nylon shank (stiff platform)
Anti-debris tongue gusset
Velcro lace enclosure and lace tidy loop
---
RIDE CONCEPTS HAS TRANSITIONED INTO A NEW LEVEL OF FOOTWEAR, HAVE YOU?
Ride Concepts seem to be going from strength to strength with their range of mountain bike shoes. A fairly new brand in the MTB shoe segment, they have captured the hearts of many riders worldwide and are a familiar shoe spotted on the world cup stage. The Ride Concepts Transition shoe is in fact the shoe of choice for the Atherton's as well as many more professional riders. The Transition shoe shares all the hallmark features as Ride Concepts flat shoes but is aimed squarely at the SPD (clipless) rider.
We recently reviewed the Ride Concepts Powerline shoe, which by the way is an incredible product and a serious contender to the hall of fame 510 shoe, but there's a lot to contend with if you want to be a leader in the footwear category these days and it's not just a case of having a shoe that looks good.
Footwear is crucial to the way we connect to our bike and perform on the trails. An MTB specific shoe must tick certain boxes such as; foot support, toe and heel protection, torsion and rigidity, and a secure closure system, and let's not forget grip. The grip is the key component to any shoe and is the most important when it comes to flat pedals. However, when it concerns an SPD shoe, the grip has less importance compared to the cleat connection, and this is where the transition shines.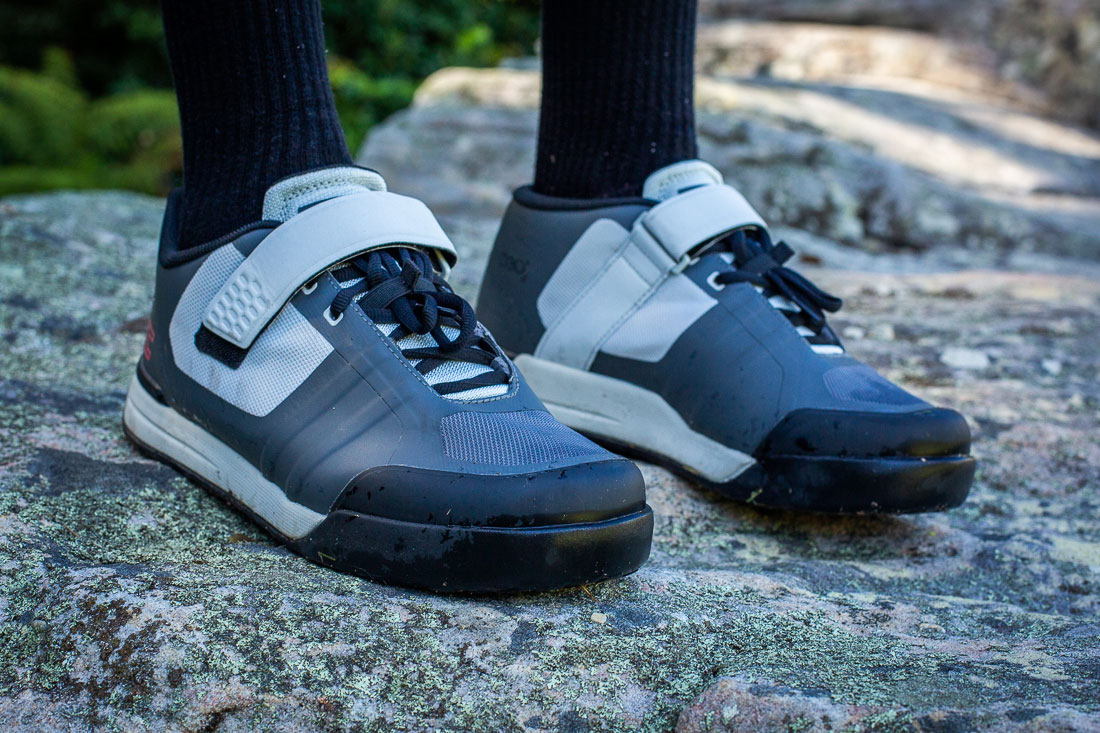 The Transition shoe from Ride Concepts strive to change the way you engage with your pedals.
Photo credit: @Richard McGibbon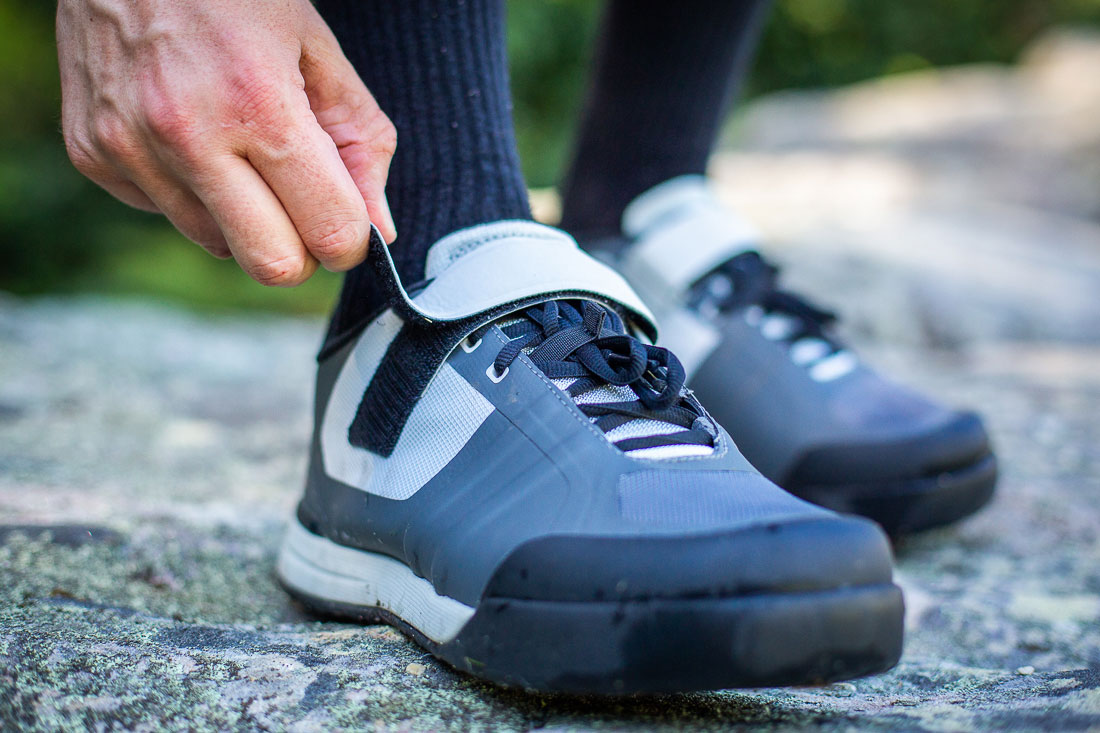 Secure lace strapping is just one of the many features the Transition has on offer.
Photo credit: @Richard McGibbon
---
Features
The Transition is a burly-looking shoe and a lot of this comes down to the amount of foot protection that has been incorporated into its design. The toecap and heel have been custom moulded to provide maximum levels of protection against big rock impacts with an additional focus on 'high-impact' areas such as the medial collar and insole using the (quite amazing) D30 material to absorb shocks for big drops and landings and to minimise foot fatigue on longer rides.
D30 is supple during normal use but on impact, it hardens to protect those soft and injury-prone areas of your body from what can be incredibly painful injuries. It's quite an amazing product and Ride Concepts features it in their shoes.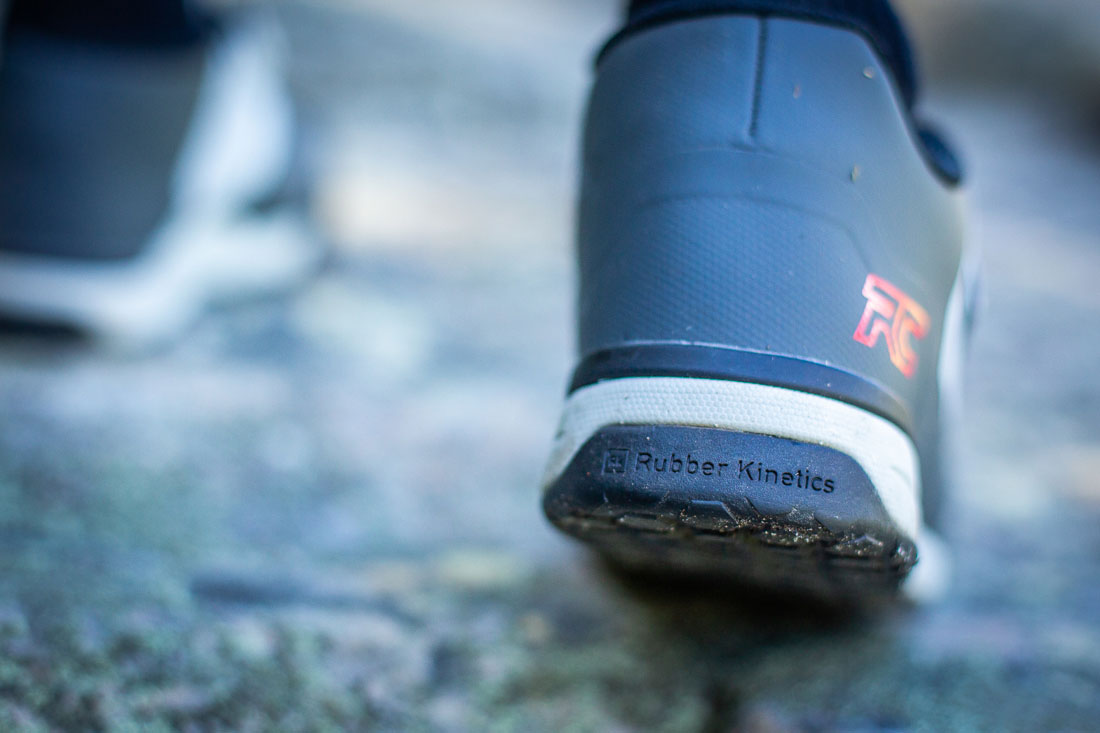 Rubber Kinetics provides a great grip for the DST 8.0 MID GRIP Rubber Outsole. And the honeycomb tread pattern provides maximum grip on and off the pedals.
Photo credit: @Richard McGibbon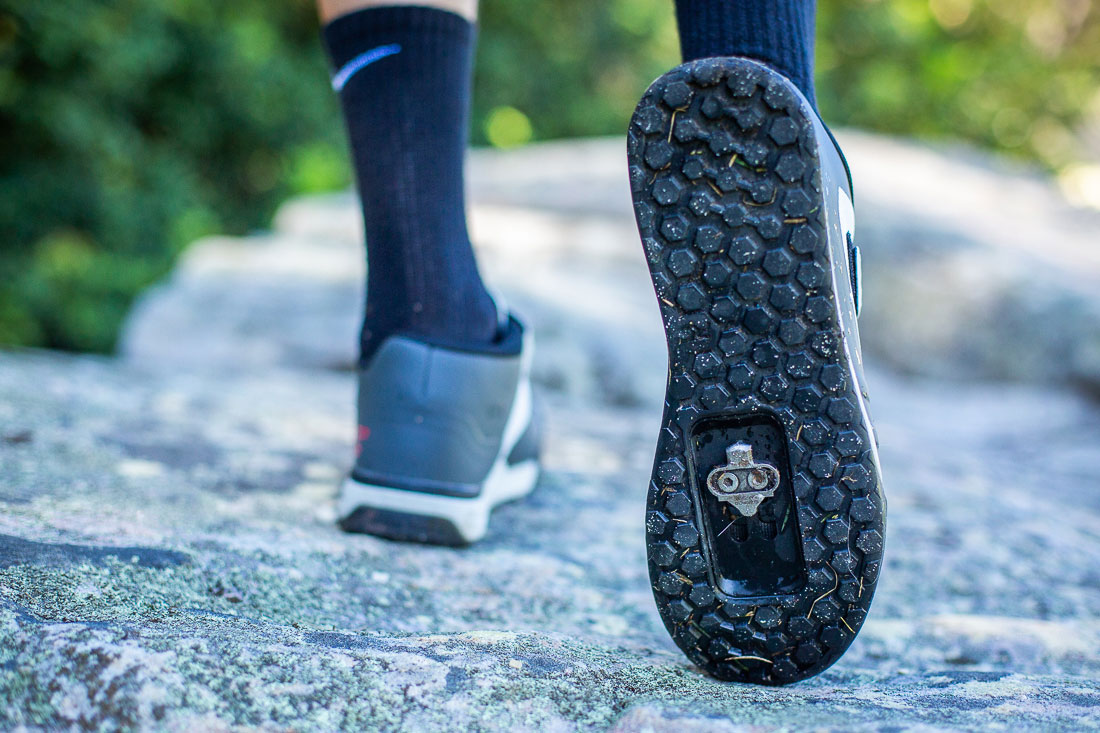 ---
Although the Transition is an SPD shoe, it still incorporates the same grip technology as RC's flat model shoes. Ride Concepts collaborated with Rubber Kinetics to develop Dynamic Surface Technology (DST). The combination of DST and the hexagonal outsole pattern provides a powerful grip for the demands of mountain biking, on and off the bike.
The Transition shoe has been designed to take on world cup level trails, (it's the Athertons shoe of choice!) so support and stiffness are ranked high on Ride Concept's priority list. This comes via a nylon heel counter and a tapered and serrated "toe-shaped" PowerDrive shank to provide maximum shoe to pedal power transfer whilst maintaining lateral stiffness across the shoe.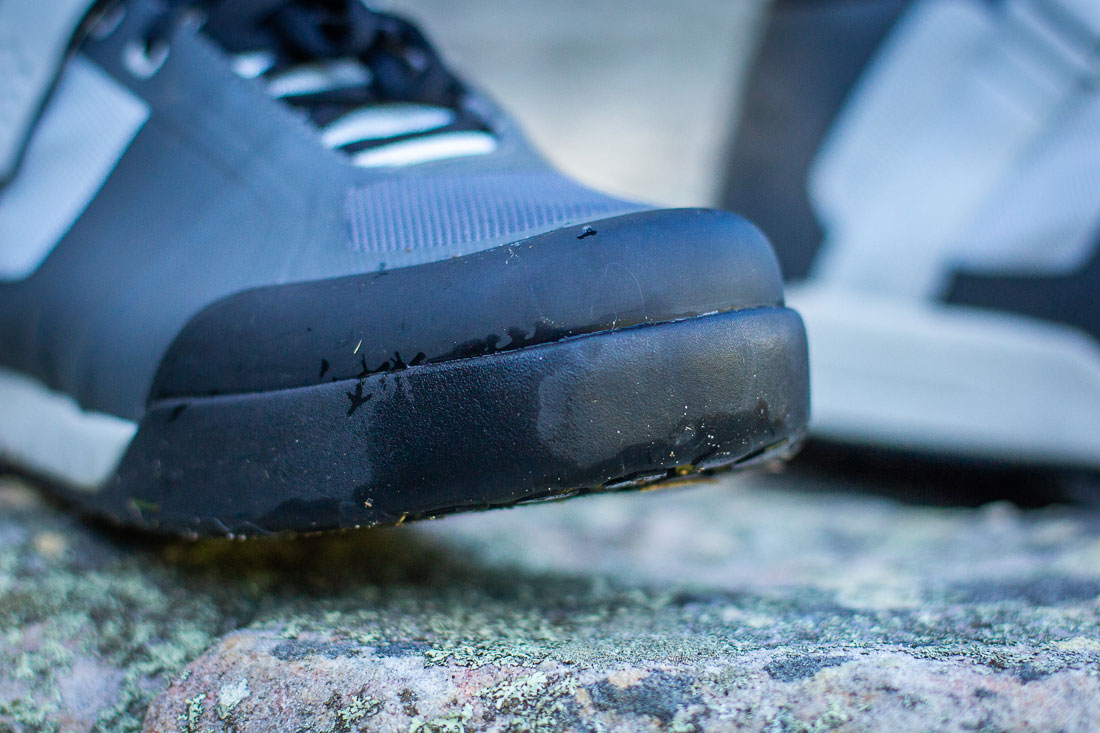 You'll be thanking the custom moulded toe cap and the D30 proactive technology on those rock impacts.
Photo credit: @Richard McGibbon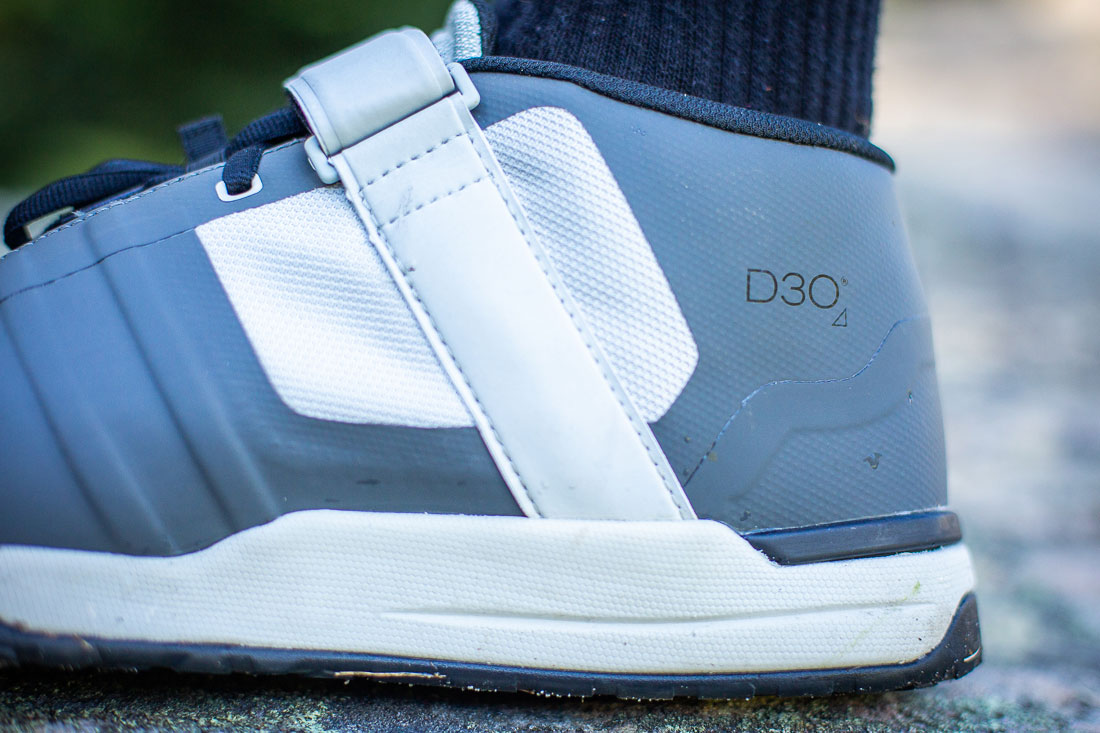 ---
Do you ride in all weather conditions? If so, then the Transition will keep you covered with a weather-resistant but breathable welded upper and a fully gusseted tongue that prohibits the intake of dirt and debris.
The Transition shoe may suit riders with the love of gravity due to a longer range of cleat adjustability allowing you to move that cleat position further back and if you like to dab the foot, especially in slippery conditions, then getting clipped back in is made easier with a 40mm wide cleat box to get your foot safely back in.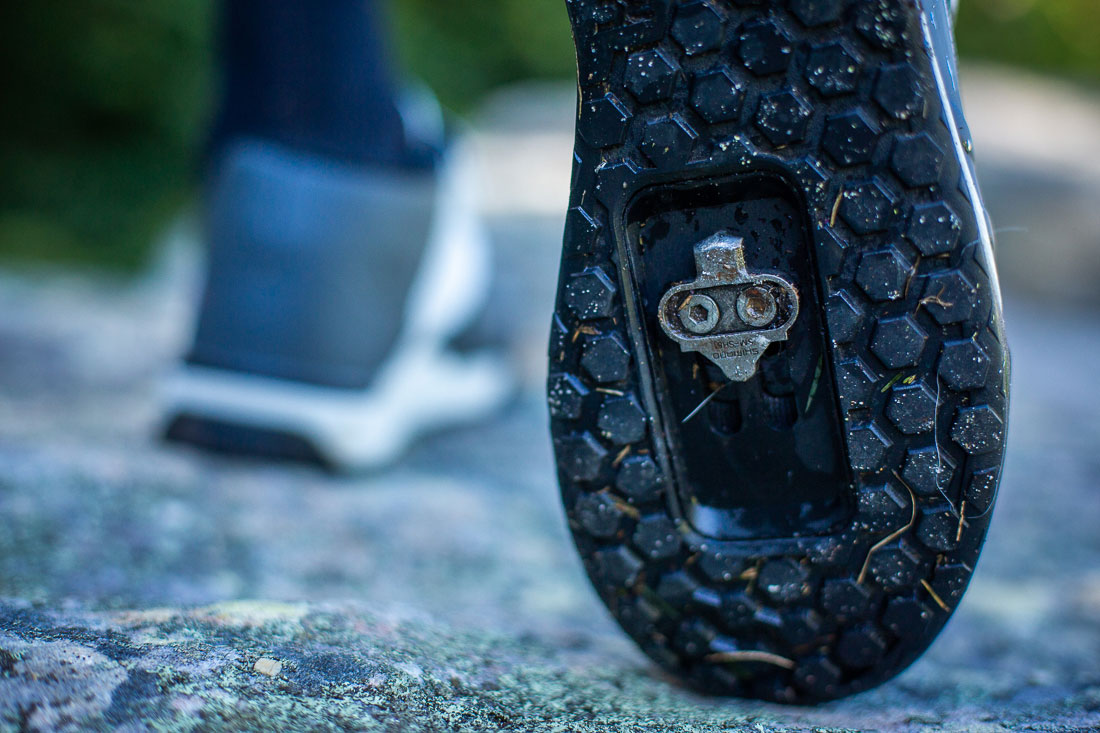 The extra-large cleat box provides excellent cleat engagement and positioning.
Photo credit: @Richard McGibbon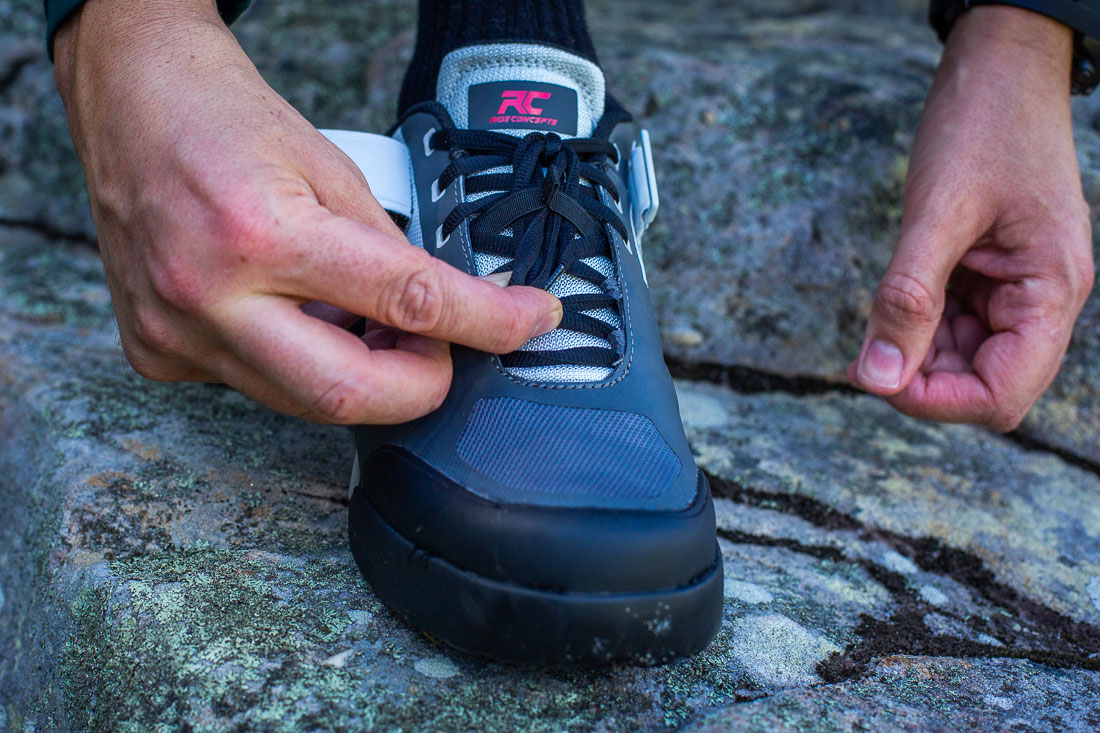 Elasticated hoop snaps over the laces, keeping them in place, nice!
Photo credit: @Richard McGibbon
---
Specifications
Rubber Kinetics | DST 8.0 MID GRIP Rubber Outsole
Welded microfiber upper is weather-resistant yet breathable
RC PowerDrive nylon shank provides power and maintains lateral stiffness
40mm wide cleat box for ease of pedal entry
Longer range cleat adjustability
Nylon heel counter provides support and stability
Asymmetrical medial collar with D30 impact protection
Custom-moulded rubber toecap and heel protection
Medial high-rise EVA midsole provides support and shock absorption
Fully gusseted tongue prohibits the intake of dirt and debris
D3O High Impact Zone Insole Technology absorbs shock and reduces fatigue
Lace closure with a power strap for additional stability and retention
---
On The Trails
Engagement
What we really liked about the Transition shoe was the extra-wide cleat box giving us a much larger range of positioning for our cleats. This also allowed us to position the cleat as far back as we could get it, which gives you a much better pedal position for the steep stuff. Horses for courses and all that, but this is the position that we prefer on gravity trails.
Pedal engagement is on point with the large cleat box. Getting clipped in and clipping out on trails was as expected and a non-issue. Getting flat out with our foot out in the corners and getting back in was quick and super-easy to engage. The larger cleat box certainly helped in these situations and we felt there was a marked difference between other shoes we've tested, where a more accurate cleat finding scenario tends to play out.
Feel / Performance
The Transition weighs in at 505g (Men's 10), compared to their flat pedal shoe the Powerline, at 435g (Men's 10), or the ION Rascal SPD shoe which comes close to 500g also (Men's 10). So in terms of weight, yes it is a little heavier than an XC/Enduro shoe but hell, this shoe is targeted at the more aggressive rider and comes pretty much armour-plated. If you enjoy tearing down gnarly trails at breakneck speeds, then that little extra weight is something you'll be thanking Ride Concepts for.
Power to pedal transfer felt excellent with the RC PowerDrive nylon shank, cranking down hard on sprints felt direct, secure and rigid, keeping our feet planted and in-line, which translated into better efficiency and energy on the bike.
Protection
The combination of the D30, custom toe cap, and Rubber Kinetics technology really help with those big hits and rock impacts. We felt a sense of confidence and security taking on larger drops and the increased force through the pedals was a non-issue. Overall, the shoe felt planted and incredibly secure. It may sound corny but, putting on the Transition shoe gave us a sense of comfort as we realised the amount of protection that's on offer.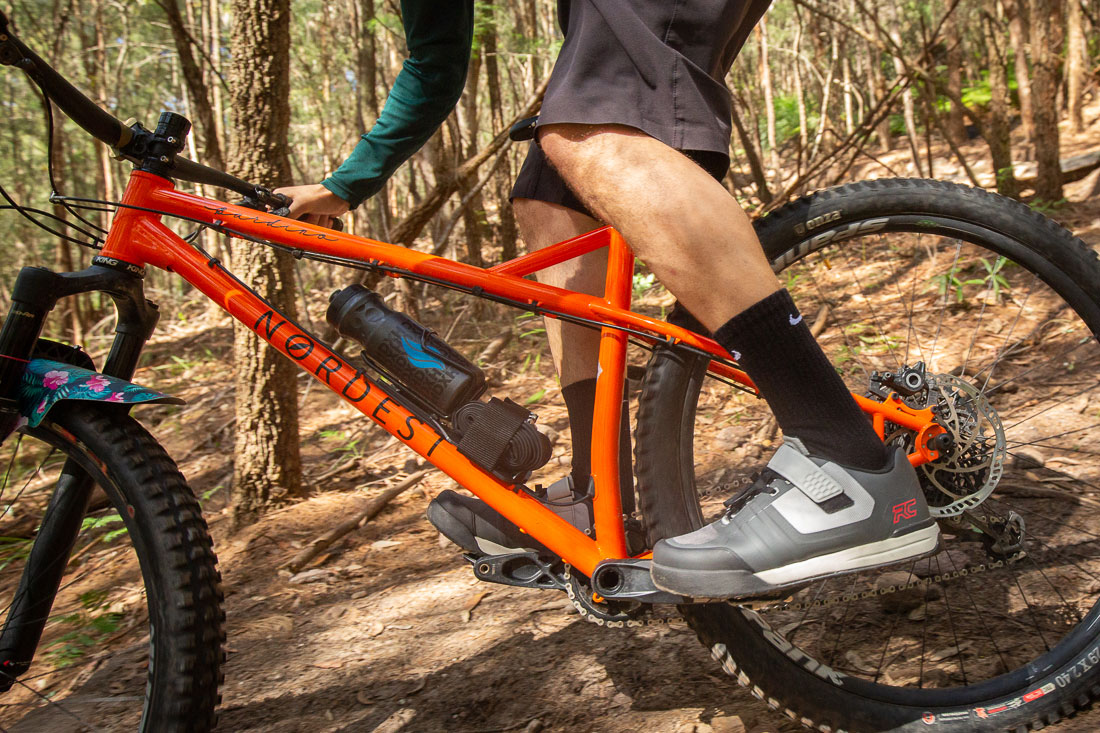 The Ride Concepts Transition shoe features a serious amount of impact protection with a super-stiff platform for excellent power to pedal transfer.
Photo credit: @Richard McGibbon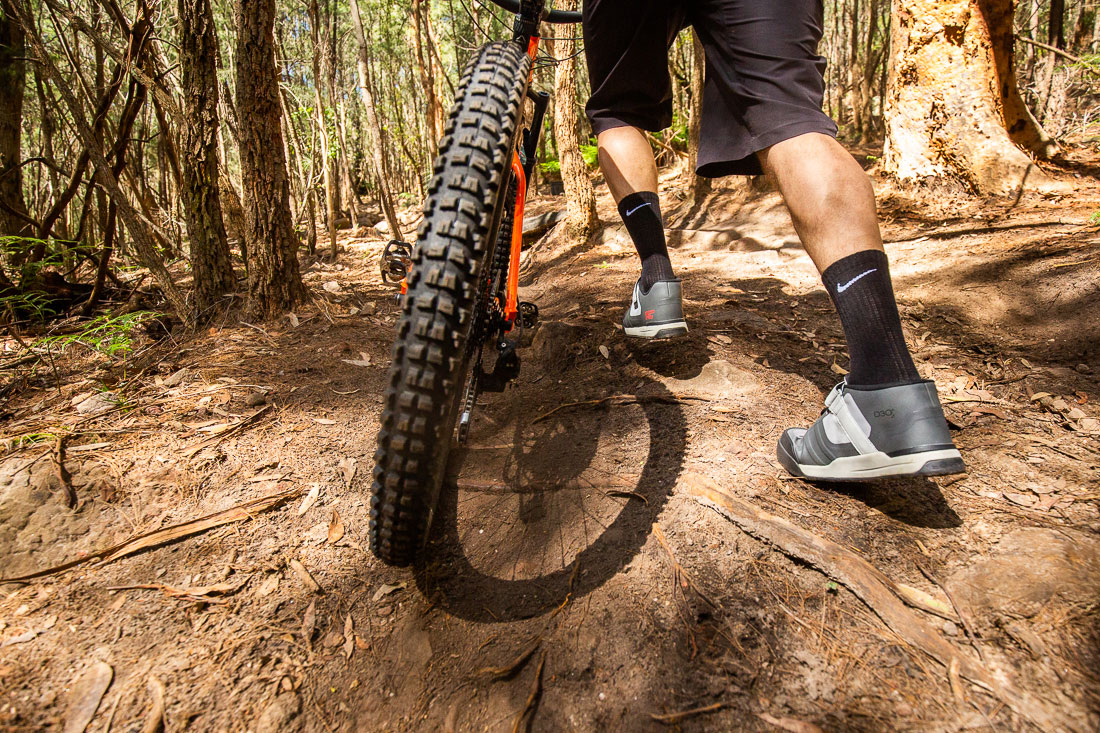 Even hike-a-bike moments felt great. Pushing the bike up steep terrain felt secure and easy to walk around in, on the trails or at the car park.
Photo credit: @Richard McGibbon
---
Conclusions
If you like to ride aggressively and prefer the gravity-oriented trails and are looking for a shoe that offers great impact protection, then try the Ride Concepts Transition shoe.
Or, you're simply into the market for a shoe that offers a lot of stiffness and doesn't mind a little extra weight in return for excellent power transfer and pedaling efficiency…then try the Ride Concepts Transition shoe.
If you're just looking for a shoe to drool over, yep you got that too.
Oh, and by the way, the transition shoe is the shoe of choice for the Atherton World Cup racing team. Nuff said!
---
Price / Where to Buy?
Ride Concepts Transition shoe: $274.95 (approx)
Available to buy at MTB Direct or ask at your local bike shop.
To find out more about Ride Concepts and their range of shoes, head on over to their website.
---