Dynaplug® Micro Pro – Accessory Review
Cut to the Chase
When it comes to plugging holes in tubeless tyres, the Dynaplug repair tool is a clever little device that gets the job done. With super-sticky compound plugs and high-quality tools included, all neatly wrapped up in a classy aluminium pill-like casing, and small enough to stow in any backpack or even in your pocket. The Dynaplug has to be one of the best "essential" gear items we've seen in years!
Pros
Plugs holes, effectively!
Compact and lightweight.
Selection of spares and tools.
Looks the biz!
Cons
None that we can think of.
---
Dynaplug….a license to repair.
Cue the James Bond music; I unscrewed the cap from the capsule to reveal several shiny dart-like implements sitting ominously within.
It certainly felt like a scene from a James Bond movie as I unscrewed the cap on this intriguing little device and why not, you only need to take one look at it to see what I'm talking about.
We've been hearing about a secret weapon on the trails, repairing punctures in style with 007 finesse. This non-lethal weapon is made by Dynaplug® and is a beautifully crafted piece of kit that comes in a range of selections, so look out punctures, your number is up!
---
How It Works
Remove – Align – Push – Pull.
The Dynaplug® system is designed to seal holes that are larger than the sealant can plug itself, plus they need to be of a circular type of puncture. A split or slash and it won't work. You'll need to use a tube as you normally would. That aside…
The scenario, if you can picture it: You're out riding, be it on trails or the road and you happen to get a piece of stick or nail stuck into your tyre. At this stage you can do nothing, watch your tyre deflate and all that lovely tyre sealant leak out…or you can plug it and carry on with your riding.
Lucky for you, you have one of these gadgets stowed away in your pack. So let's pull out our Dynaplug® system and get plugging!
---
The Test
Testing the Dynaplug® system requires a puncture. So as you can imagine this may take a while. We didn't have the luxury or misfortune, to wait for a real puncture. So we had to go ahead and puncture a perfectly healthy tyre with a piece of metal. I can tell you, it was an odd feeling sticking a piece of metal in an almost new $80 tyre. Oh well, all in the name of gear reviews.
Step 1
To make a repair, first, start by finding the object in your tyre. Pull this object out and quickly plug the hole with the supplied Air Stopper. It's the thing that looks like a metal dart. Once this is in the hole, you have time to prepare for the repair.
You need to plug the hole before the tyre goes completely flat, or the process will be pretty much impossible to do. The air volume in the tyre will give you enough pressure to be able to push the plug through the casing.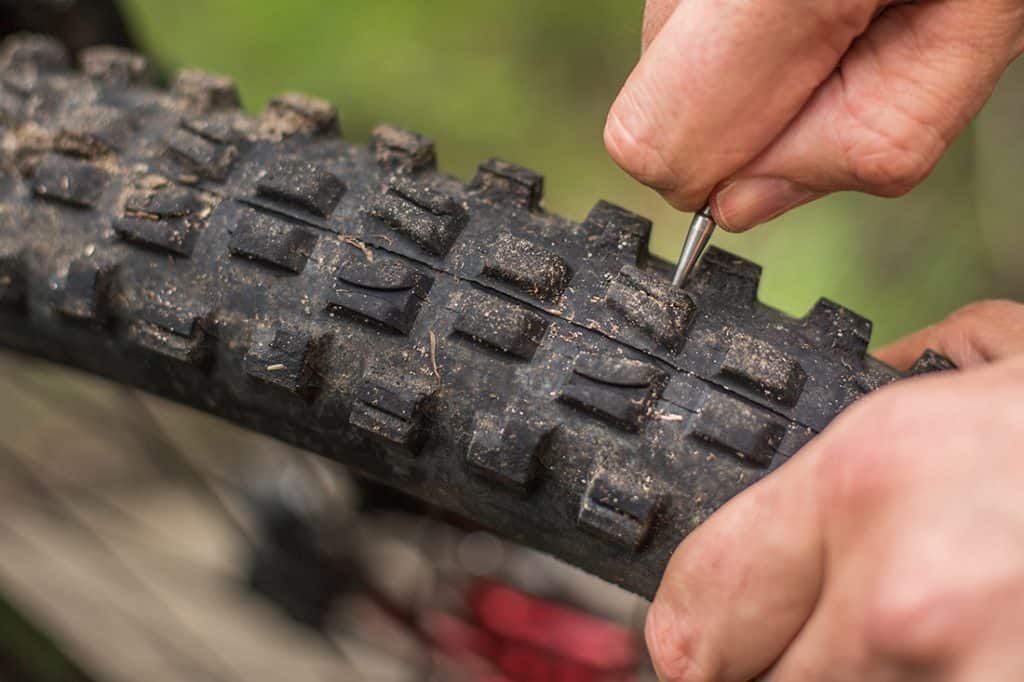 Above: Locate the hole, remove the stick/nail and plug the hole with the Air Stopper. Photo:©Richard McGibbon
Below: Once the Air Stopper is in place, you have time to deal with the rest of the repair. Photo:©Richard McGibbon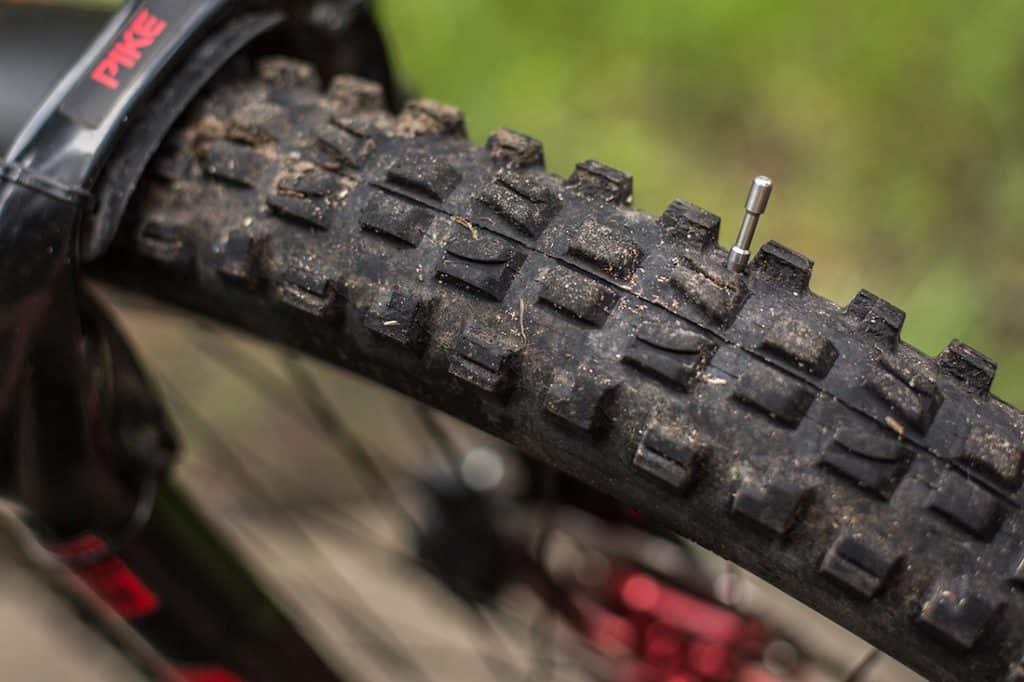 ---
Step 2
The Repair Plug is made of a fibrous viscoelastic-impregnated rubber which is fixed to a pointed brass tip. The cap of the capsule has a metal tube connected to it. This is the insertion tube. Insert one of the Repair Plugs into the insertion tube.
Above: Insert the repair plug into the tube. Photo:©Richard McGibbon
Below: Let's get plugging! Photo:©Richard McGibbon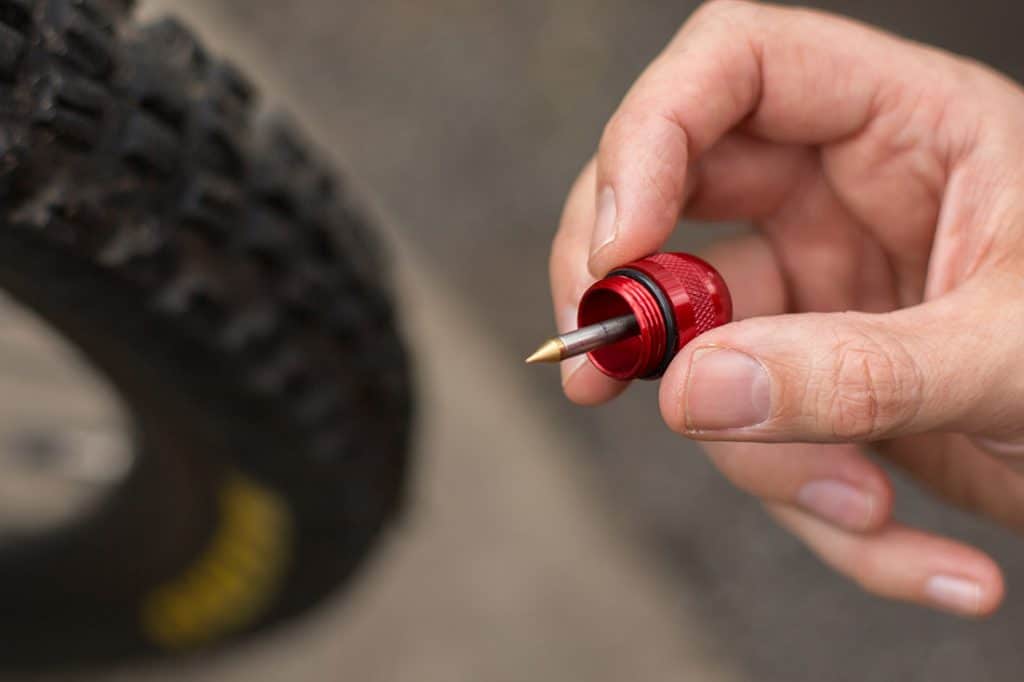 ---
Step 3
Align the Repair Plug pointy end as close to the Air Stopper as possible. This next step needs to be quick because as soon as you remove the Repair Plug you will start to lose air in the tyre.
So line them up and then quickly remove the Air Stopper and push in the Repair Plug. At this point, you will need some effort to make sure the Repair Plug is pushed all the way into the tyre thickness. This is done when the pointy brass tip has disappeared into the tyre.
Above: Quickly pull out the Air Stopper and plug that hole. Photo:©Richard McGibbon
Below: You do need a little bit of force to get the pointy nipple through the tyre wall. There should be no nipple showing, only the fibrous plug. Photo:©Richard McGibbon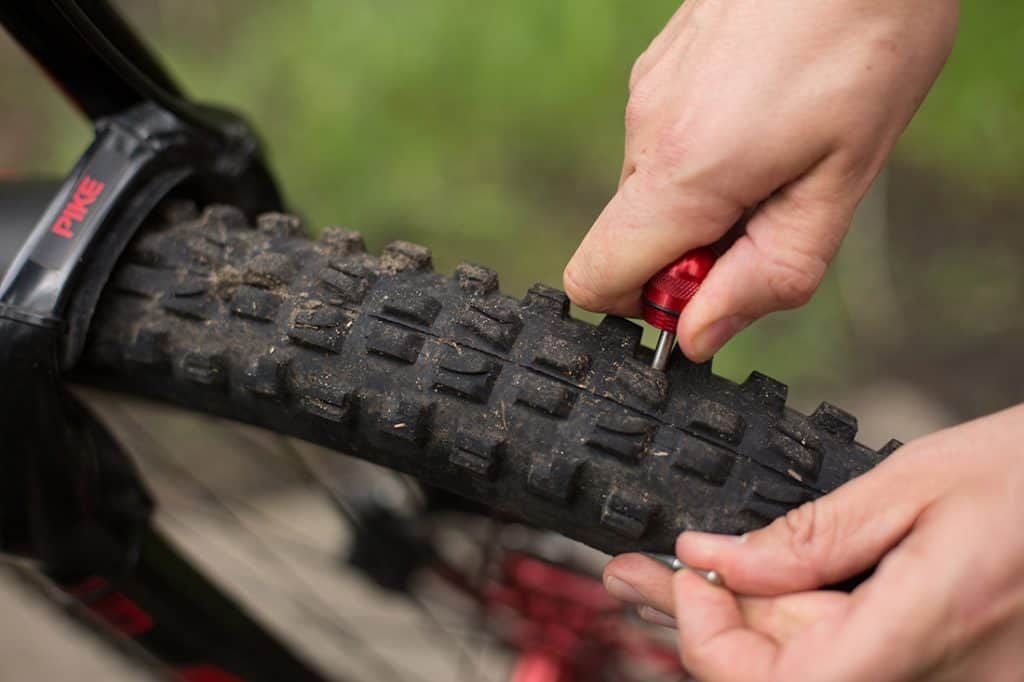 ---
Step 4
Pull the cap away and the Repair Plug should remain in the tyre. If this has been done correctly you won't see any of the brass tip, only the sticky fibrous Repair Plug material sticking out of the tyre.
The brass head keeps the whole plug safely inside the tyre as the fibrous material spreads out and seals the puncture.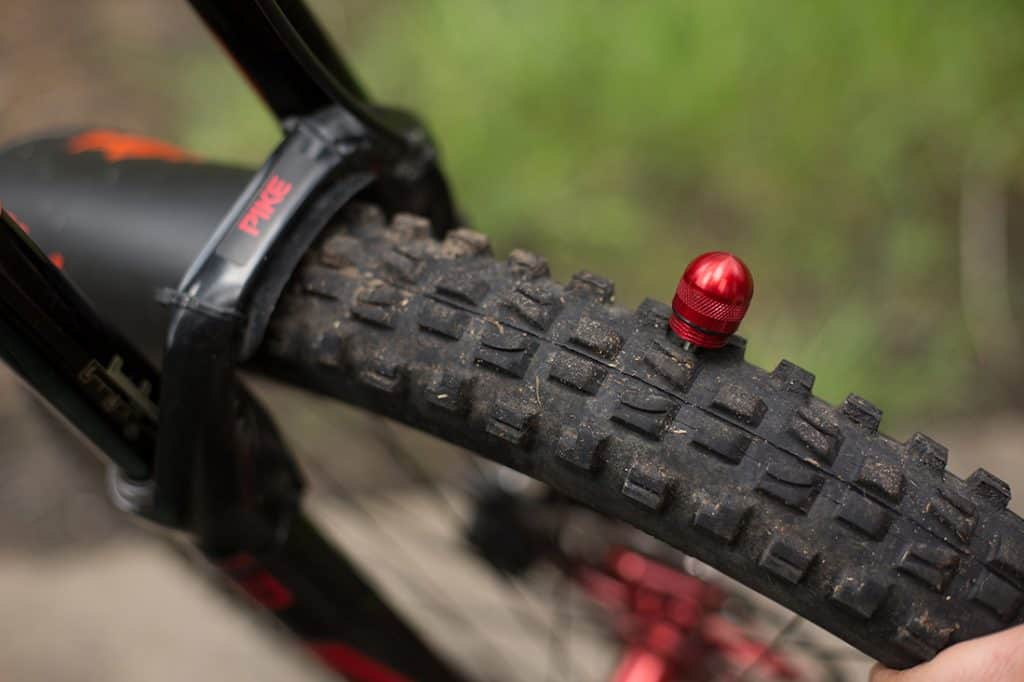 Above: When pushing the plug, you will feel it actually go through the tyre casing. Photo:©Richard McGibbon
Below: Simply pull the cap off, and hey presto! Choose to trim the plug or not. Photo:©Richard McGibbon
---
Out On The Trails
The beauty of the Dynaplug® Micro Pro is it's absolutely tiny! There are no issues with space in your pack or even your pockets. It does what it says on the packet and it does it very well. It's a beautifully designed and engineered product that looks the biz!
However, with all its good looks, the Dynaplug® system only really seals puncture holes. A slash or slice and it won't work. The system also pretty much permanently repairs the tyre, saving you buying another. So this saves you at least $60 – $80 in the short term.
The tyre you see in this post went on for another couple of months riding, on all types of trails, which saved me a few dollars in tyres. I didn't even bother trimming the fibrous plug.
But the best part to all of this is the way your fellow riding buddies will gape in awe as you jump into action with this Bond-like gadget. Cue the James Bond music….Dang de dang dang, dang dang, dang de dang dang, dang dang…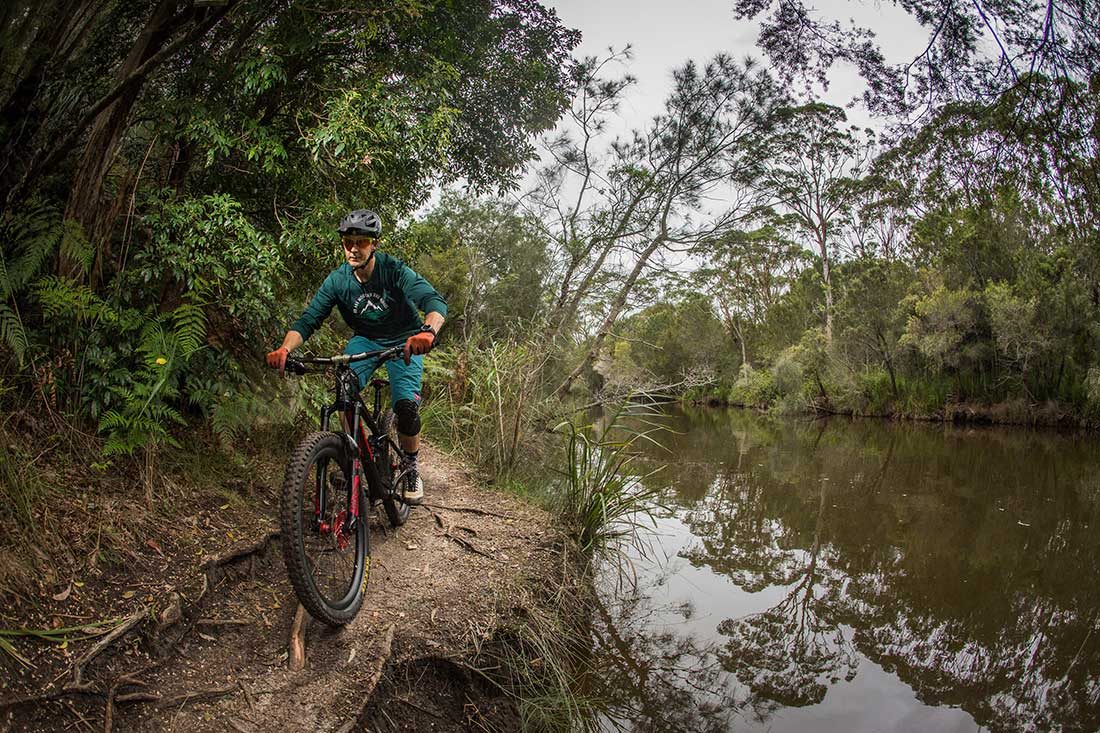 Above: The Dynaplug gets you home! Photo:©Richard McGibbon
---
What's In The Box:
Dynaplug® Micro Pro tool. 
CNC-machine sealed solid billet 6061 aluminium housing with an internal tool organizer.
5 – Tire repair plugs (Pointed tip)
2 – Insertion tubes
Micro knife
Air stopper
Pipe cleaner
Dimensions: 2.25" x .875" (57mm x 22mm)
Weight: 1.5 ounces (42.5 grams)
Warranty: Limited Lifetime
---
Price / Where To Buy
Price: AU$64 approx – Dynaplug® Micro Pro
You can pick the Dynaplug® kits up from your local or online bike shops.
---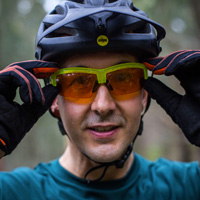 Chief Editor
at
Tyres and Soles
Born and grew up in Wales but now a fully fledged Aussie. A passionate mountain biker, hiker and general nature addict. I'm also a bit of a muso and enjoy a good craft beer every now and again (probably too often).

I hope what we do here at Tyres and Soles will inspire people to get out there and experience first hand, the natural wonders that surround them. So, pump up those tyres, don your favourite boots. Grab a mate, a partner, a pet… and head out into nature. But tell us all about it when you get back.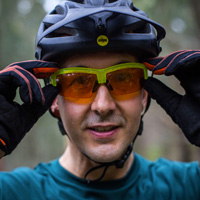 Latest posts by Jason Lorch (see all)