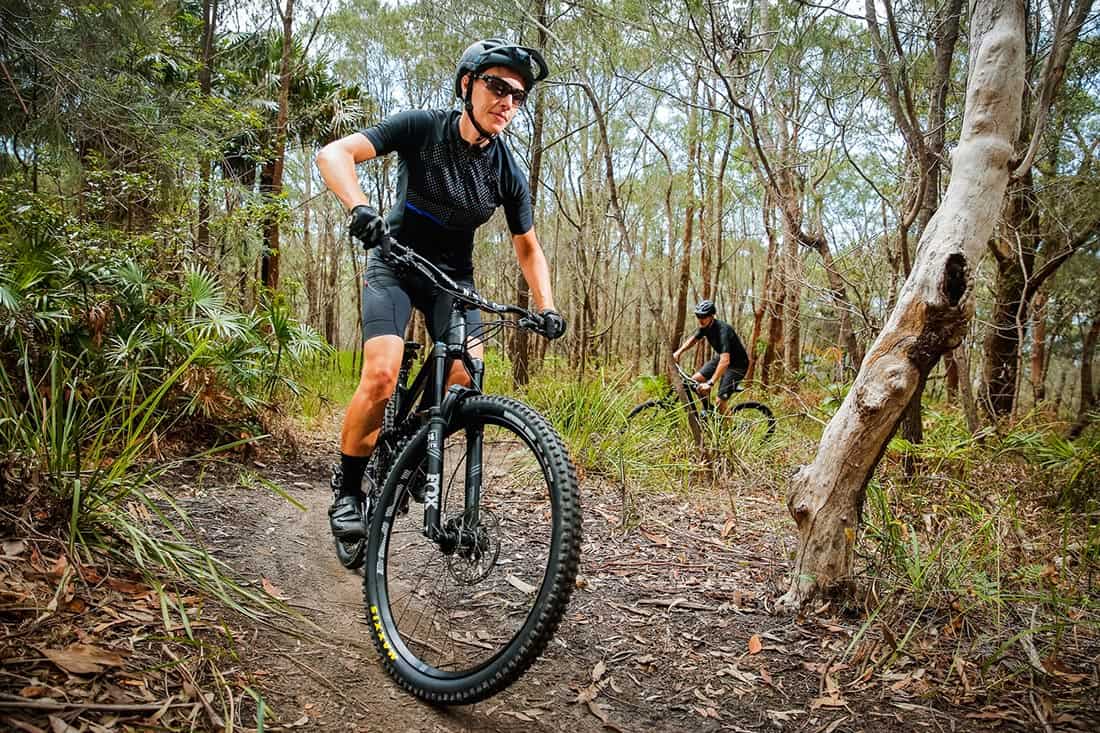 Aussie Grit – Apparel Review
Cut to the Chase
Ideal for mountain biking or trail running activities or a mix of both, such as an adventure race, the Aussie Grit range has a zero BS approach and is focused on functional movement to keep you performing at your very best. Aussie Grit has put a lot of thought into their range, with not a single superfluous feature added, each item is laser-focused on the activity at hand. It's obvious the range has been designed by runners and riders because like us, they know what works and what doesn't and this kit works!
Pros
Stylish and highly functional
Can be used for cross-functional activities
Extremely comfortable
Well thought out features
Cons
A little pricey
Limited range, but growing
---
Australians are known for their can-do attitude, grit and determination and this is no better reflected than in the Aussie Grit apparel.
Aussie Grit is an Australian start-up spearheaded by no other than former Formula One driver Mark Webber. Focused on off-road cycling and trail running for men and women, with an understated classy design but a highly functional range that offers features that don't just work, but work very well indeed!
First Impressions
The Aussie Grit range is designed primarily for trail running and mountain biking activities. Be it for the weekend warrior or the elite racer. We really like the look and feel of the designs, and can see the high quality and thought that's been put into each garment.
Each garment has a bold and simple aesthetic appeal paired with a range of highly functional features. There are no superfluous features added to clutter the garment or slow you down. It's a simple case of the right tools for the right job.
We received a large consignment of items from the team at Aussie Grit.  The women's Gilet, bike shorts and bike jersey, men's bike shorts/running shorts and a bike shell, all from their 'Flint' range.
Both the men's and women's share similar features across each garment, but let's delve deeper into the individual items below.
Bike Light Gilet – Women's
The Bike Light Gilet is a lightweight, breathable, wind and water resistant, for want of a better word, vest. The material is made from a soft 2-layer, high gauge fabric with a four-way stretch characteristic.
The gilet (vest) features two large rear pockets with plenty of room for storing food items, tubes and essentials. The left 'easy access' pocket features a weather resistant flap to keep the elements out, ideal for electronic devices. The right pocket has a reversed auto-locking zip for extra security.
In addition to the breathable fabric, the gilet features perforation holes at the rear for even more heat dissipation, making this an incredibly versatile piece of kit. For nighttime riding, the vest features reflective strips on the arm piping and front logo.
The extended rear section adds extra coverage and protects against grit and grime flicking up from the rear tyre. Another nice feature is the silicone gripper hem, which helps to keep the gilet in place and stops any bunching up.
---
Bike Jersey- Men's and Women's
When it comes to comfort on the bike, Aussie Grit knows a thing or two and this is reflected in the shared features across the men's and women's products. For example, the jersey's share the four-way stretch and perforated fabric under the arms, which provide unrestricted movement and high levels of breathability right where you need it.
In terms of storage, there are three good sized pockets and one water-resistant pocket, ideal for valuables or electronic items. The rear of the jersey has a slightly longer tail which protects against mud and grime, plus a high visibility reflective zip on the rear pocket, excellent for night rides.
Apart from the obvious functional aspects of the jersey, the comfort factor is incredibly high. Aussie Grit uses a soft touch thread, a tapered collar and the zip underneath the chin uses what Aussie Grit call a Zip garage, which eliminates direct contact with the zip puller. It's these small details that over a course of a 50 or 100km ride, can sometimes wear away at you, literally, and end up driving you mad, or grabbing that bottle of anti-chaff cream.
And best of all, the fabric is durable enough to withstand snagging or tearing as you ride through the tough Aussie bush and boasts a 50+ SPF factor to protect you from the powerful Australian sun.
---
Bike Shorts – Women's
A breathable, four-way stretch compression fabric supports muscles on the go and post ride and is durable enough to withstand branch snagging. The shorts have a high-quality, Italian made chamois, which is very well padded for excellent comfort.
These shorts are incredibly comfortable with a thigh length fit and tapered reinforced leg hems. The use of flatlock stitching and a shaped waistband sits flat on the stomach for comfort and keeps the shorts in place all day.
There is a secure phone pocket located on the leg of the shorts which sits in the ideal spot that won't disrupt your pedalling or annoy the hell out of you. The shorts also feature reflective highlights front and back for high visibility at night.
---
Bike Shorts – Men's
The bike shorts have a fantastic fit, with a lightweight fabric outer and a body-hugging inner liner. They run a little shorter than your typical enduro style MTB short, sitting just above the knee.  I've used these for trail running and they work perfectly. Although Aussie Grit does a specific running short also.
The shorts use a four-way stretch inner liner that uses an 'Anchor' waistband that holds the inner and outer together in the perfect riding position. And using the same excellent quality Italian made chamois, as in the women's shorts, makes them incredibly comfortable on longer rides.
They share similar traits to the women's shorts with the high vis reflective strips for night riding, snag-proof outer to prevent catching on tree branches and shrubs and a secure reverse zip pocket for your valuables.
To keep you cool on hotter days, the shorts are highly breathable and in addition to this, on the rear of the shorts are laser cut heat evacuation holes. Nice!
---
Bike Shell – Men's
The Aussie Grit bike shell is similar to the women's vest but in a full sleeve style. It uses a Singsoft 3-layer soft shell fabric which is waterproof and breathable featuring waterproof auto–locking zips and sealed seams. The shell is lightweight enough to use for long periods, unlike a lot of boil in the bag shells.
With a technical style that allows a full range of movement through the shoulders and elbows due to pre-shaped sleeves, a tensioned gripper at the rear to stop it 'riding up' at the back and binding cuffs for a close fit and to stop water getting in, this is one smart shell!
Using a high neck collar for some added warmth and protection against the cold and a longer tail at the rear of the jacket to guard against mud and dirt flicking up off the trail, makes the Aussie Grit shell a great choice for wet and colder conditions.
If you listen to music on the go then you'll appreciate the vertical chest pocket with the waterproof auto-locking zip and an eyelet for your headphones. The shell also features an offset zip that means it can be layered with other garments without the zips bunching up against your chest. Pretty smart eh.
Oh and to top it all off, the shell comes with high visibility reflective strips front and back, so you'll be easily spotted when out at night.
---
Where to Buy / Price?
You can purchase any of these items and more, over at the Aussie Grit website.
Flint Gilet Women's (Charcoal): $149.00AUD
Flint Bike Jersey Men's: $120.00AUD
Flint Bike Jersey Women's: $120.00AUD
Flint Bike Shorts Women's: $179.00AUD
Flint Bike Shorts Men's: $265.00AUD
Flint Bike Shell Men's (Charcoal): $296.00AUD