Onza, Onza, Onza, Oi, Oi, Oi!
"Who are Onza?" Well, for those of you who rode in the 90's you'd know the name only too well, if not, don't worry because they're back and performing better than ever,  just ask Aaron Gwin.
Onza made a myriad of components for mountain bikes during the 90's and were donned from the weekend warrior to the pro athletes alike. As the years flew by, the brand seemed to lose its appeal and a myriad of other brands sprung up and dominated.
Well, Onza are back and firmly in the front seat of the MTB scene with their very impressive range of tyres and not just any tyres, they make bloody good tyres, in fact we're talking about world cup winning tyres.
First Impressions
Onza offer eight tyre variations within their MTB range, from 20″ up tp 29″and +plus tyres.  The exact tyre we tested was the IBEX All Mountain 2.4 FRC / RC 55a in the 29″ size. Onza have designed the IBEX for every day use and should appeal to the Enduro rider. What does that mean exactly? Well it means that the Onza IBEX is one tough cookie and can handle pretty much anything you throw at it.
The IBEX tread has an aggressive and wide open pattern, mixed with a fast rolling centre tread for maintaining speed. In terms of weight, this particular version comes in at 960g per tyre. The casing uses a 6otpi which gives it extra strength, but it was still very flexibe when installing. In the past, we've had painful finger cramping sessions trying to get tyres onto our rims (Outer width: 35mm / Inner width: 29.5mm) but the IBEX popped on very easily.
On The Trails
There's something very special about putting new rubber on a bike and hitting the trails all fresh and minty. Immediately you look for proof that your new tyres are better than your last ones, grip better, roll faster and don't tear apart on the first rock you scrape up against. Well, we needn't of been concerned because the IBEX seemed to tick all of those boxes.
I was running around 22psi front and 25psi rear. A little lower than what I normally run only because I had Huck Norris in my rims. We tested on two bikes, one with Huck Norris and one with a standard tubeless set up. We also re-tested with tubes in there, just to mimick a puncture situation. Across all three variations we never really felt a lot of difference, and that was a good thing.
Grip & Speed
The grip has impressed us the most with the IBEX. Laying down a 29'er requires a bit more effort than a 27.5 bike but once it's down there, oh yes, it holds its own. We tested on lower psi settings for drier conditions and the IBEX performs on par, if not better than my usual go to tyre, the Maxxis DHF. Not taking anything away from Maxxis, I still love those tyres but now I'm all confused. Can you have two loves in your life?
What we liked about the IBEX is the ease of setup. I have often chosen different front/rear setups in the past but now that thinking has gone out the window. True, you do sometimes require a different set up for certain conditions but the majority of my riding over the past four months have been on this setup and I've had no complaints.  Why is this good? Well, it means you don't have to spend extra time searching for front and rear combinations. Simply buy the one tyre for front and rear, and get out there and ride.
In terms of rolling speed, they're fast! Smashing down the trails at Thredbo we felt an increase in rolling speed in areas that previously felt a little sluggish. Climbing traction on wet and dry surfaces were good, especially with a lower psi. I could feel it slip on higher psi settings in dry dusty conditions but that was to be expected. We found that keeping them in low 20's was the sweet spot. Cornering is where the IBEX really performs in my view. You do need to lay it down but when you do, just trust in those aggressive side knobs and you'll be ripping those turns in wet and dry conditions.
Durability
Our IBEX tyre has a 6otpi casing giving it a more durable sidewall and hence the slightly heavier weight than the lighter 120tpi version, of the same tyre. The lower the tpi number, the tougher the sidewall.  The 60tpi is aimed at more aggressive riding in rougher terrain. Which is generally all of Sydney and surrounds with every rock clawing and scraping up against the tyre wall.
We have been running these for about 4 months, riding from the Northern Beaches in Sydney to GreenValleys MTB Park, Thredbo and the trails at Derby in Tasmania. So they've had some varying terrain to deal with. Sandy, loose surfaces to slippery roots and rocks, the IBEX seems to handle it all admirably.
After 4 months of riding, the sidewalls have taken some beatings but are still going strong. No tearing or punctures, only scuffing. The tread is getting a little low on the rear but the front tyre is still going strong. So in terms of durability, the Onza IBEX has a perfect balance of soft rubber for traction and a burly sidewall casing to take a pounding, over and over again. Isn't that the goldilocks mix?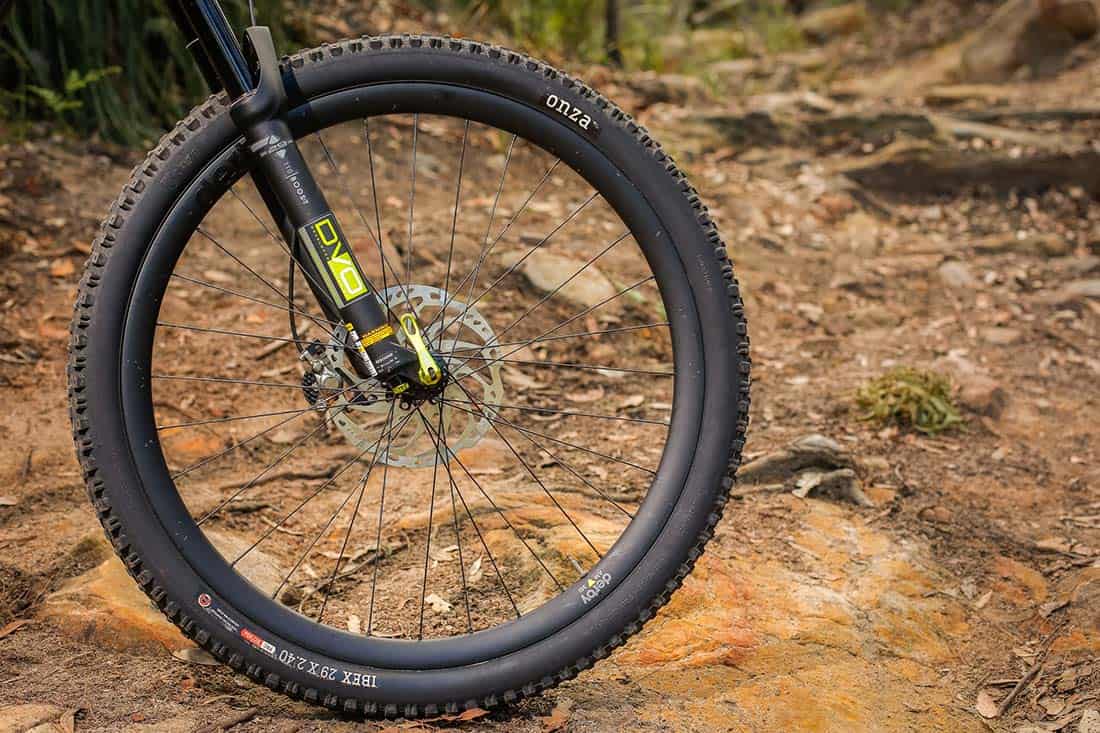 ---
Where to Buy/Price
Check out your local bike shop, if not a lot of online retailers now stock the full range of Onza tyres.
Price: Onza IBEX. From A$75

.99

 – A$99.95
A big thank you to Link Sports for sending us the tyres.
---
Conclusions
[wp-review id="6265″]