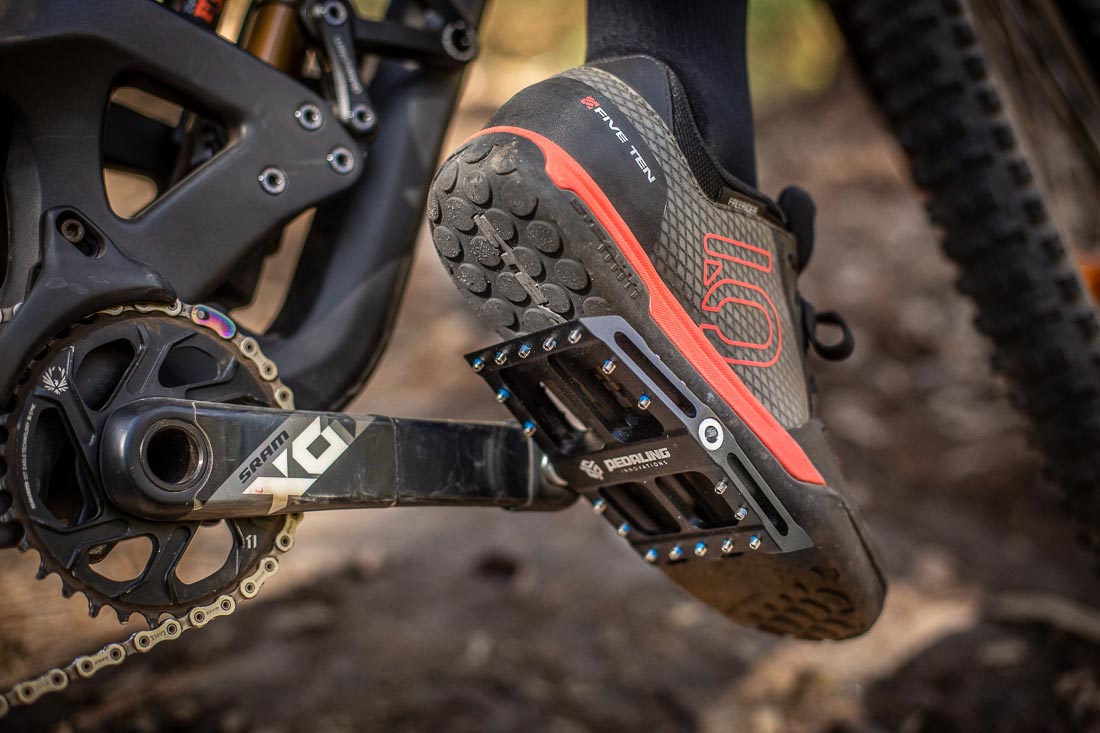 The Catalyst – Pedal Review
Cut to the Chase
If you're looking to upgrade your flat pedals or are keen to enter the world of flats for the first time, then you should seriously check out the Catalyst pedal. With the largest platform on the market that provides full arch support giving you improved power to the cranks, stability, balance and pedalling efficiency all-round. These are the Daddy of flat pedals!
Pros
Huge platform for increased comfort, power and stability
Flat pedal efficiency like no other
High quality built components
Replaceable pins with a set of longer spares
Cons
A little heavy
Foot position takes some getting used to
---
The Catalyst Pedal has you covered, quite literally!
With the largest pedal surface on the market, the Catalyst pedal has huge amounts of foot support and an incredibly stable platform. 
We've heard it so many times, the flat. Vs clip (or SPD) debate. It's probably one of the longest-running debates (soon to be topped by the wheel size debate) in the history of mountain biking, well, ever since clips became a thing. But years ago, flat pedals were all we had available, so that's what we all rode.
I've been wanting to get back to flats for quite some time, just to keep myself honest when it comes to certain techniques on the bike but I still enjoy riding with SPD's depending on the trails and the circumstances. So we started to research what was available and were quickly overwhelmed with the choices on offer.
After some online searching, we soon discovered the Catalyst pedal, made by a company called Pedaling Innovations.  James Wilson is the creator of this impressive pedal and he has some convincing arguments to back it all up.
First Impressions
The Catalyst looks big, really big, but in fact, the width isn't any wider than a normal flat pedal – 3.75 inches/ 95 mm. however, side by side with my XTR Trail pedals, they look huge. The key to the Catalyst pedal is the length, a full 5 inches of contact space for your foot. This is the longest on the market right now.
Quality of the Catalyst pedal is very high, with smooth running bearings, a stylish anodised finish and 18 removable pins on each side. The pedal also comes with a bag full of spare pins. The weight is a little heavier than a lot of flat pedals on the market, but the additional advantages of this pedal outweigh the extra grams.
How It Works
The key to the Catalyst pedal is the 5 inches of length. No other pedal on the market is long enough to accomplish this, which is what makes the Catalyst Pedal so effective. This extra long length allows the pedal body to support both the ball of the foot and the heel.
Due to this length, it allows you to have a true mid-foot placement above the axle. Why is this important? The mid-foot placement of the axle balances the foot, which takes stress off of the ankle joint and allows for better recruitment of the hips. The hips have also been shown to be the major muscles used when pedalling, not your quads.
Because the pedal supports the whole arch of your foot, you eliminate foot flex, (which is why MTB shoes are stiff). The Catalyst pedal supports the entire foot. This combination of foot placement and support allows for maximum power transfer into the cranks without the need for super-stiff shoes.
If you want a quick overview of the Catalyst pedal, here's a short video of James Wilson talking about the pedal.
Out On The Trails
The team at Pedaling Innovations told me to make sure I kept a mid-foot placement to feel the full benefits of the pedal. This I can tell you, felt a little strange to begin with. I kept wanting to move my foot backwards.
When your foot is slightly back, on most flat pedals, the effect is more of a forward motion and this is why your foot, sometimes, feels like it's going to slip off, and the reason why most flat pedals have a lot of pins in the midsection, as well as a concaved design. This is to help keep your foot on the pedal.
But the Catalyst does away with that with its extra length, which allows you to have a true mid-foot placement. This is crucial and the core of the pedal design. To reap the benefits from this pedal, you must, keep your foot in a mid-foot position above the axle, for maximum power transfer.
After several rides, I started to get used to this and could begin to feel why it was so important.
Cornering
What I noticed with the Catalyst pedal was the sheer amount of platform under my foot which helped with the torsion and twisting effect as I was going into the corner.  What I mean by that is, my body was turning but my foot wasn't, as it does with the float on an SPD pedal. So I was getting maximum grip on the pedal which resulted in more torsion and twist into the corner.
Jumps & Bunny Hops
Taking off with flats, after being on clips for so long is unnerving, but this is why I use flats every now and again just to keep my technique good, i.e. not pulling up on my pedals and rely on being clipped in to bring the bike up with me. This is where good bunny-hop technique is needed where you scoop your feet as you stand up and bring the bike up with you. Having 5 inches of platform to do this, felt fantastic and certainly helped with the transition from clip to flat pedals.
Drops
Having a big platform to land on was amazing. I often feel that my Shimano XTR Trail pedals are way too small for some drops that we ride here in Sydney, and the amount of force when we land, all focused on a relatively small part of the foot, just can't be good. The huge platform of the Catalyst pedal, when landing off drops of 5 + foot, felt incredibly stable and supportive.
The Rough Stuff
The Catalyst pedal uses 18 pins on each side of the pedal. These have been placed strategically around the platform of the pedal to give maximum grip. You'll notice that the centre doesn't have a lot of pins, this is because your foot is planted so well, it just doesn't need them.
Going through rough stuff my foot was planted and supported at all times and I felt that I could keep my heels down much more than in my clips. The large platform provided excellent levels of support through my entire foot, which made for a much more comfortable and confidence inspiring ride.
Specifications
Extruded and Machined using an exclusive mold using 6061 Aluminum with T6 Heat Treatment. Manufactured by VP Components using parts and materials with a proven track record for durability and quality.
Heat treated Cr-Mo Spindle that is compatible with a standard 15mm wrench or 6mm hex key. Dual sealed bearings and DU Bushing internals.
Length: 14.2 cm
Width: 9.5 cm
Thickness: 1.5 cm
Pins: 18 per side (plus longer (8mm) spares)
Weight: 505 grams per pair
Colours: Anodized Black, Blue, Red and Grey
---
Where to Buy / Price
You can purchase directly from the Pedaling Innovations website or a simple Google search will pop up your local distributors and sellers.
Price: $175 aud (approx)