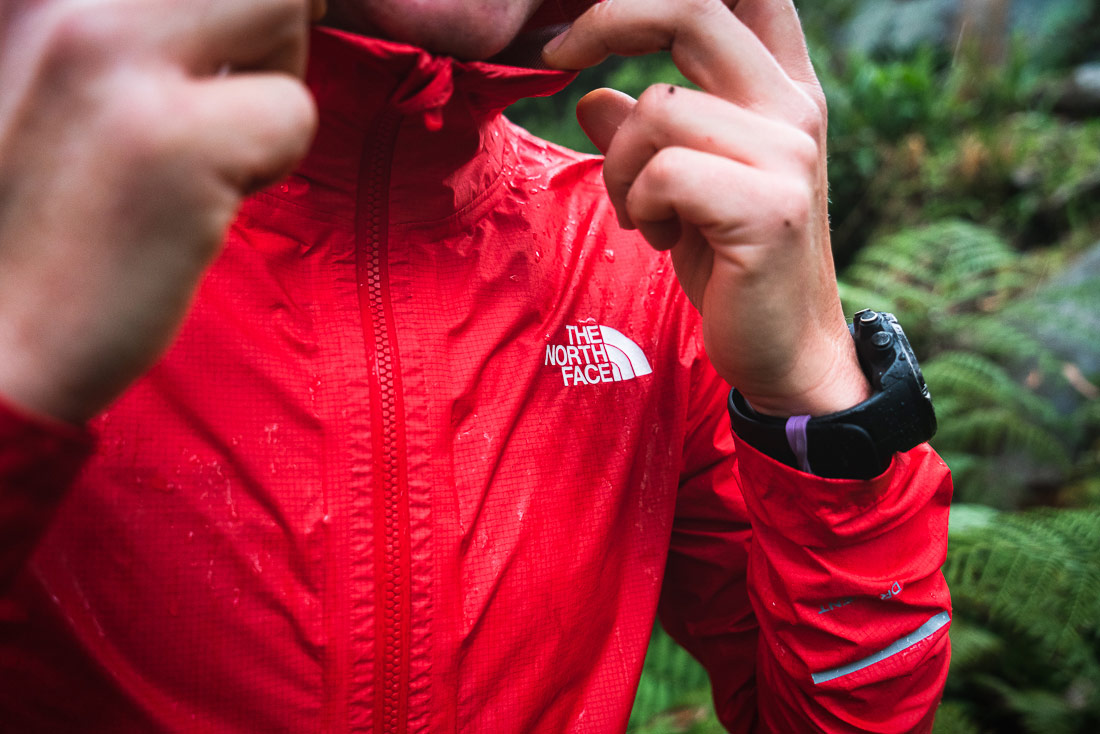 The Waterproof Jacket you won't notice you're carrying
Cut to the Chase
The North Face First Dawn Packable jacket is comfortable, stylish, and meets all the requirements of a top-of-the-range waterproof running jacket. Being super light and able to fit into the smallest of running vests, you will want to add this jacket to your trail running must-have gear. 
Pros
Incredibly lightweight
Highly breathable
Great colour and style
Packs down to size that will easily fit into a running vest
Rear pocket fits a mobile phone 
Cons
A snug fit around the wrists/cuffs means you cant push your sleeves up when you start to get a bit hot but still want the jacket on.
Keep dry whilst staying comfortable in The North Face First Dawn Packable Jacket
The last situation you want to find yourself in on any run, especially a long run, is one where your mind and body are getting tired, it starts to rain, and you have nothing to keep your body dry and warm. If you keep running your body temperature will most likely remain at a good level, but if you start to walk or want a rest the fatigue your body is already experiencing plus the added stress of the cold and wet you could be stepping into dangerous territories and possible hypothermia.
This is where a waterproof jacket and especially a lightweight waterproof jacket becomes permanent in your everyday running vest. It is not only an essential safety item but also gives you the option to go out and enjoy a rainy day run whilst remaining dry. In comparison a water-resistant jacket will only keep you dry in light drizzle, they are designed to let some moisture in. A waterproof jacket guarantees you remain dry and thus warm and happy.
The North Face First Dawn Packable jacket is the lightweight durable trail running jacket that you'll want as your waterproof option for rainy day runs and/or your compulsory equipment on those long trail races where free space and weight in your running vest is extremely limited.
The North Face continually delivers high-performance outdoor equipment that has enabled some of the best explorers and athletes this world has seen to push their limits and reach their true potential in outdoor exploration. Not only do they have a great range of high-performance gear for climbers, mountaineers, extreme skiers, snowboarders, and explorers, but they also create the same level of quality gear for endurance trail runners all around the globe.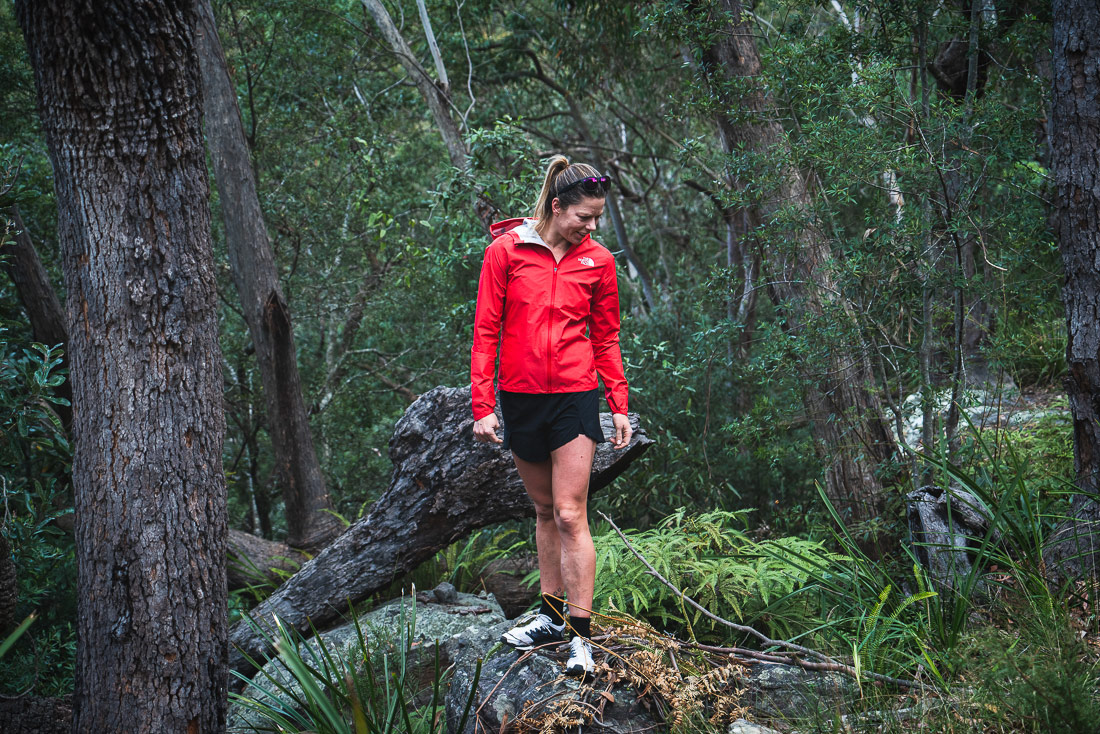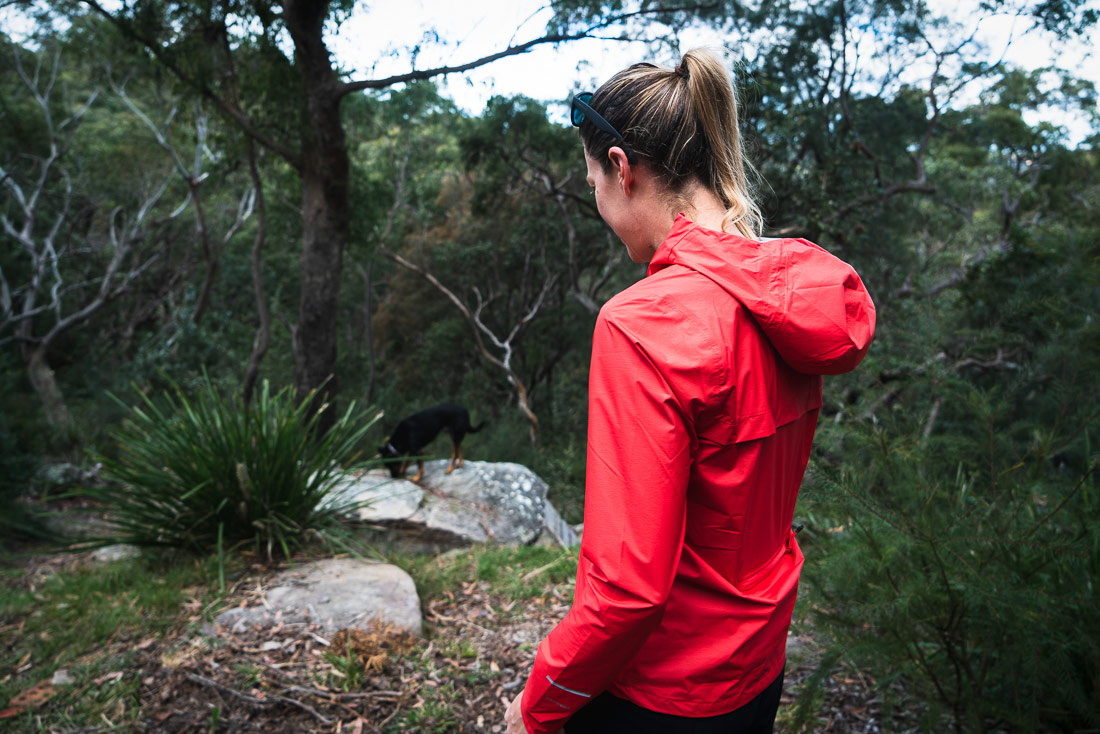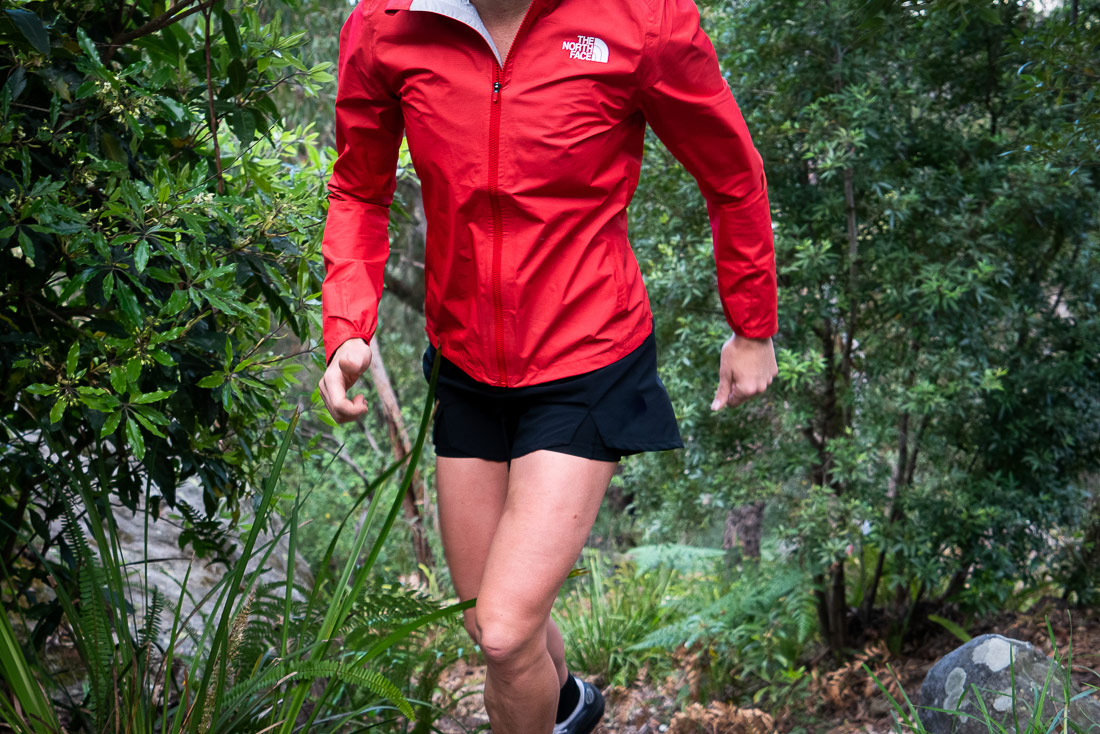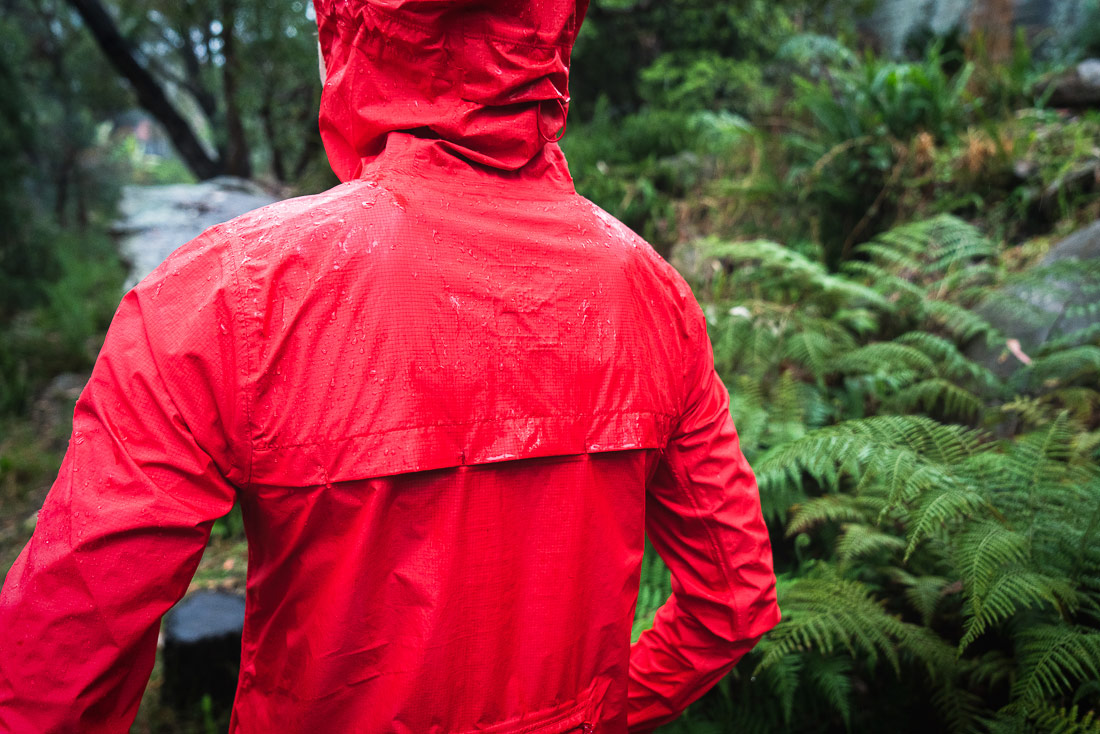 Features
Waterproof, breathable, seam-sealed DryVent™ 2.5L shell keeps you dry
Non-PFC DWR finish for added protection
Attached adjustable hood
Exposed center front zip
Secure-zip back pocket
Reflective logo on left chest and reflective bar on upper back and sleeves for enhanced visibility
Great colour
Standard fit – you're normal size will be the size you are in this jacket!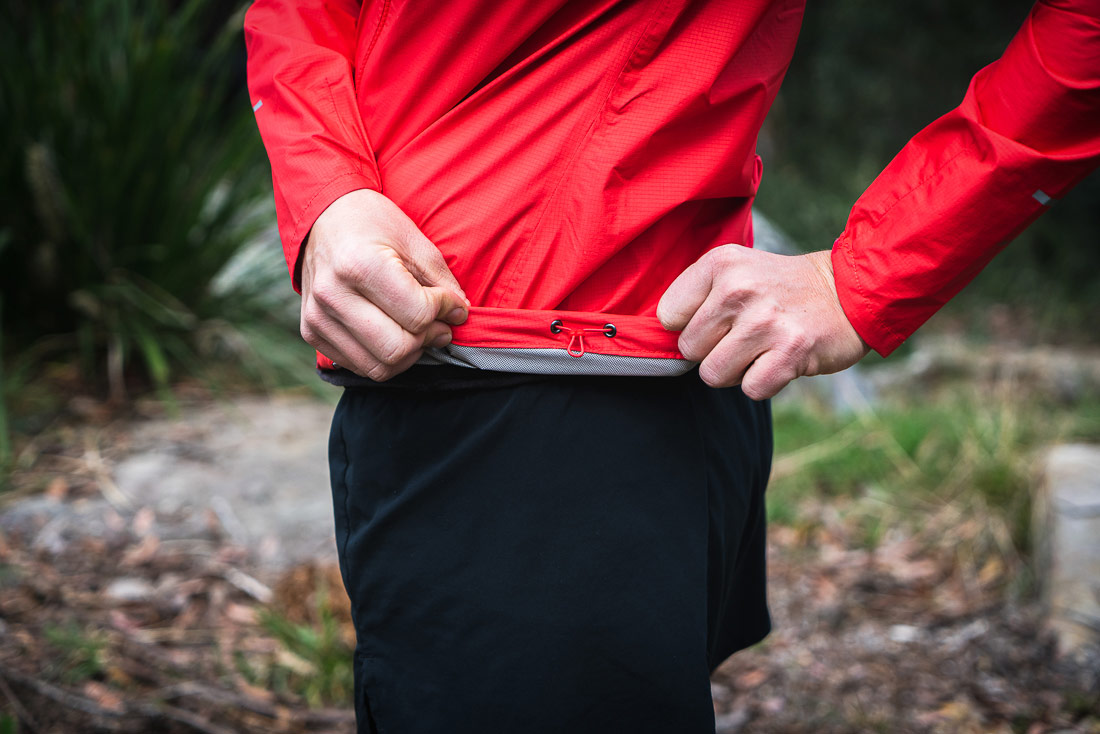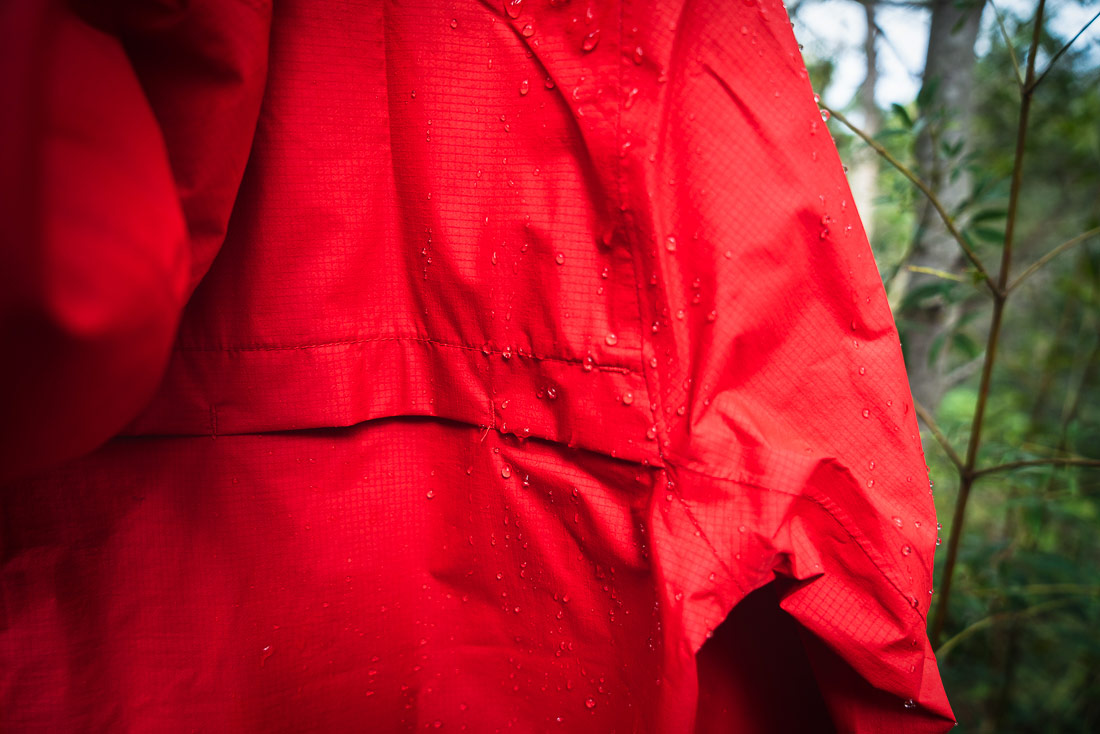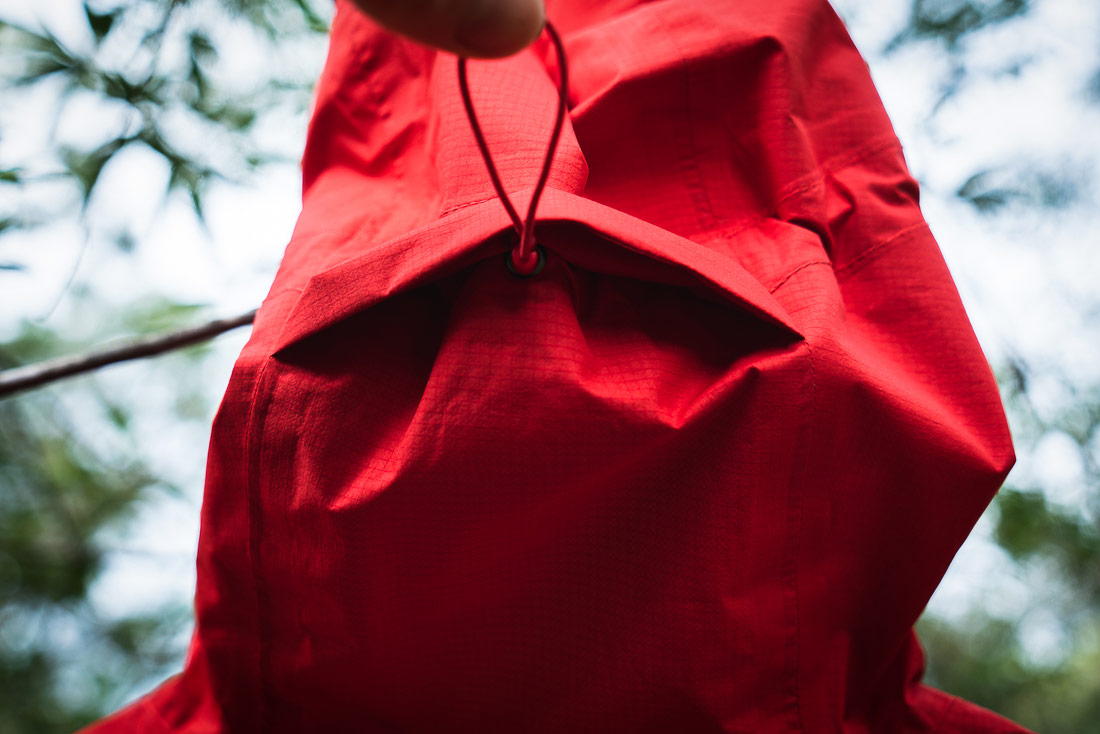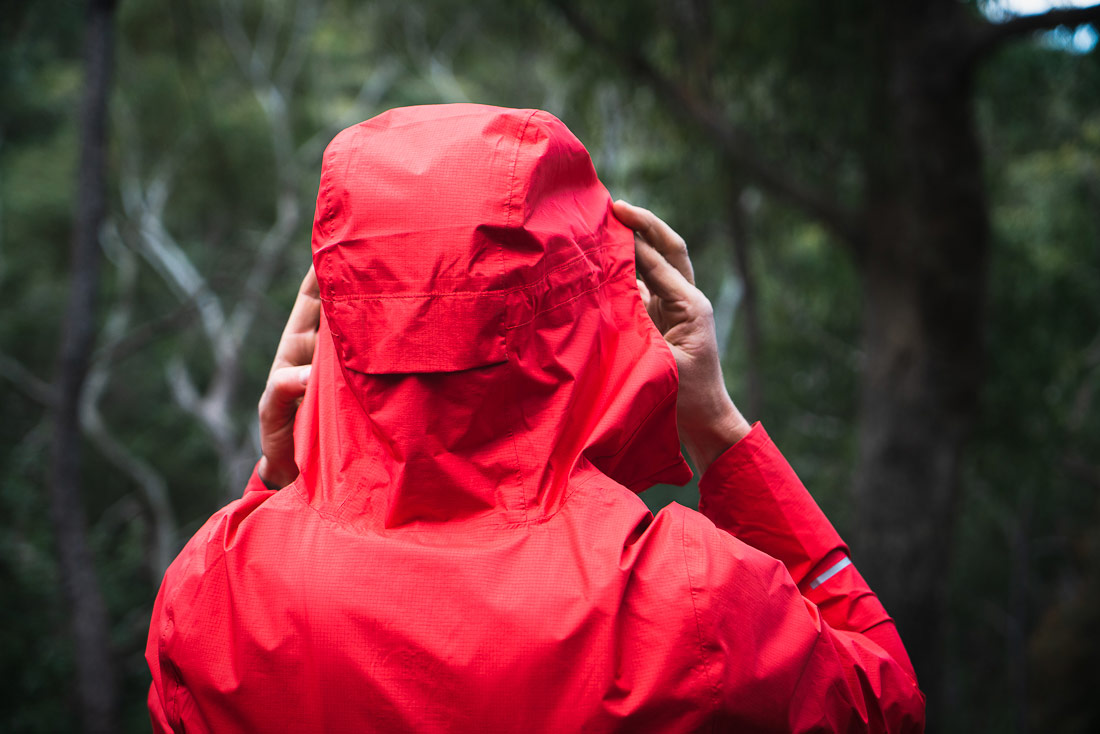 On The Trails
Performance
I trialed this jacket both out trail running, and mountain biking and it surprisingly performed amazingly across both disciplines even though it is specifically made as a running jacket.
The First Dawn Packable Jacket kept me significantly dry, with its waterproof, breathable, seam-sealed DryVent™ 2.5L shell, even when running into the sideways heavy rain I took this jacket through. After a few hours of use in the rain, I was still dry and thanks to the air vents in the upper back I was also still warm without too much sweat wetting me from the inside, which is something that normally occurs when wearing waterproof jackets which are not trail running specific.
Running in the early mornings with no running vest, the back pocket was a great place to keep my mobile, a Samsung Galaxy S10e. It easily fits in the pocket laying horizontally. Getting it out to take photos of the sunrise was trickier, requiring both hands to unzip the pocket without getting it caught on the storm flap. Even though it is a very handy place to carry your phone, it did swing a bit at the back when I was running which was distracting, so I did find it better to use The North Face running belt to hold my Phone.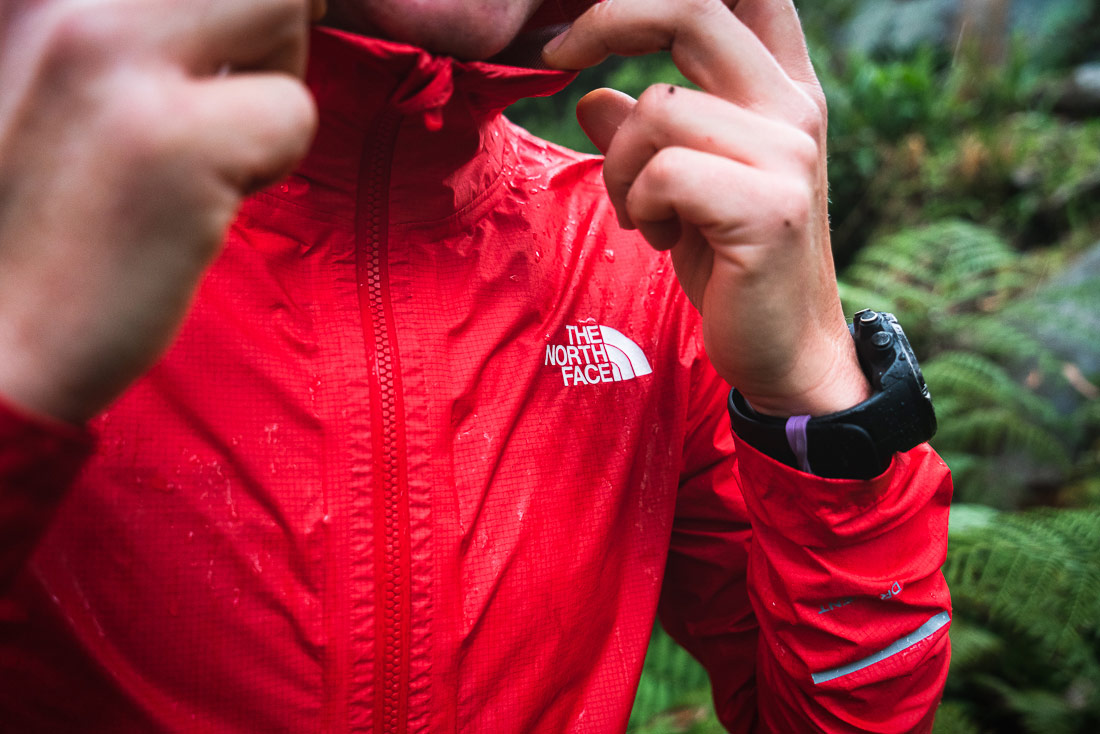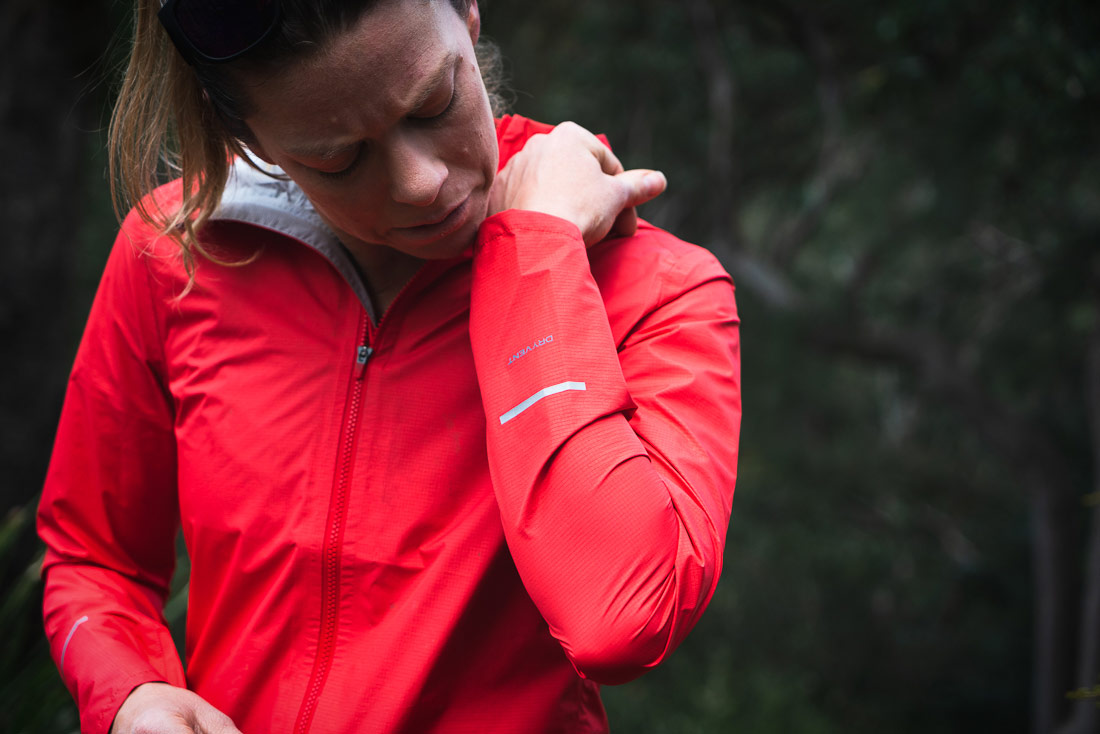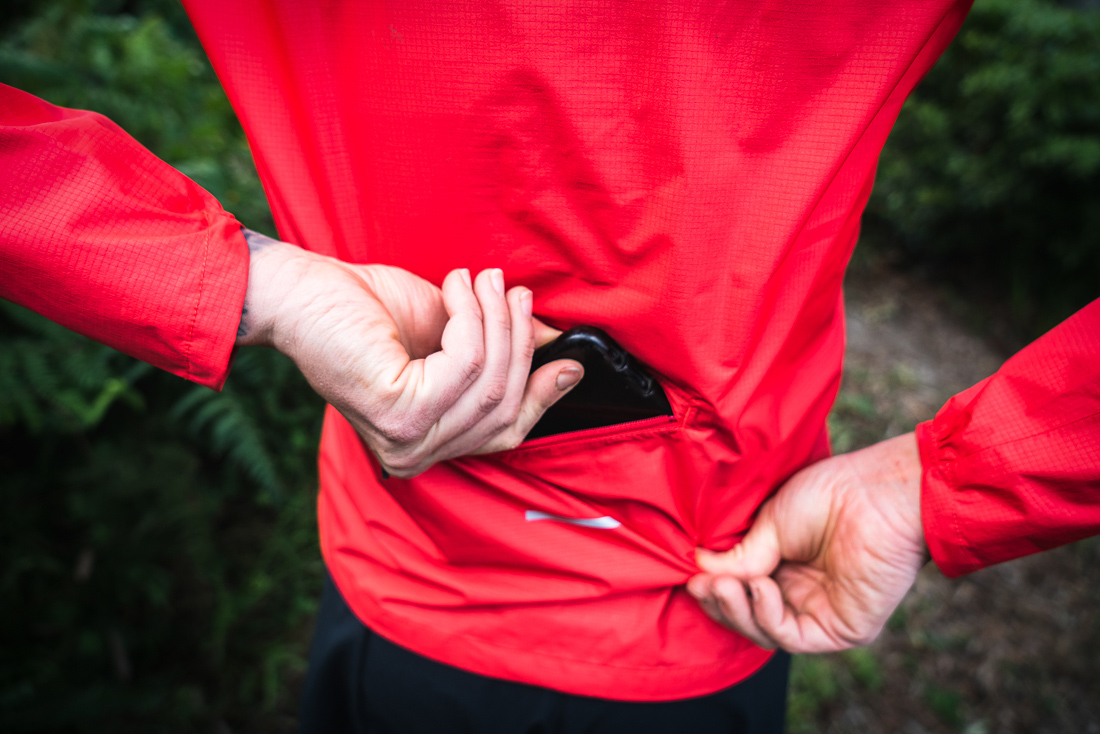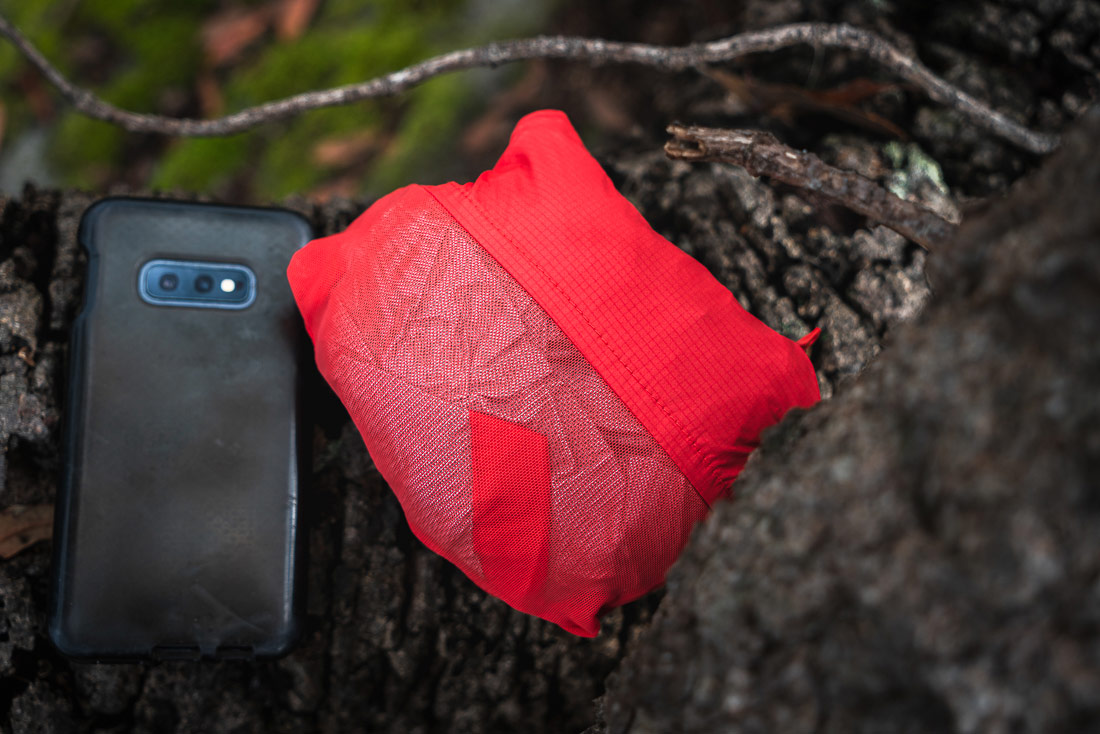 The most impressive feature of the jacket is how small it packs down. Folding it into its back pocket makes a nice neat little package to put into your running vest, however, you do have to be mindful of the zipper grabbing on the outer storm flap which ends up being on the inside when you turn it inside out to pack down.
I got it caught on a few occasions and to fix it, means you must unpack the jacket out to its normal size, fix the zipper, and start again. But this is an issue I have found happens on all outdoor apparel with zippers, a small price to pay for incredibly good gear.
Now, the First Dawn Packable jacket does pack down smaller than the size of its pocket. I was incredibly surprised when I attempted to fit the jacket into one of the side back pockets of The North Face Flight Race Day running vests and it fit. Not only did it squash down into the oddly shaped pocket, but it did it with ease, so much so I think I would also be able to fit gel in there too. This feature alone makes the First Dawn Packable jacket a must-have for any long trail runs or multi-day adventures where space is limited and you want to carry the lightest weight possible.
For the times it wasn't raining the jacket performed well simply as a lightweight jacket for warmth. It was the perfect extra layer on my early morning runs or rides where the night chill is still in the air.
If you are looking at purchasing a wet weather jacket that will serve you both in trail running and mountain biking, this jacket will work for you. On the bike it was just as comfortable as when I was running, it breathed well and sat nicely in all riding positions.
Style and Comfort
Again, The North Face has won me over with the colour and style of their trail running performance range. Straight out of the box I was in love with the red colour of the women's version of the First Dawn Packable Jacket (the men's comes in black). The colour, which is not quite red, but is so close there isn't really any other colour to call it, is a lot more impressive when you see the jacket in real life compared to the online photos. It's really bright and together with the reflective strips on the arms, cars will not miss you when running in low light and rain.
As soon as I put this jacket on, I loved how it fit and looked. It is the exact balance of a nice cut whilst not being too tight that you need for a trail running waterproof layer. The arm length was a bit too short for my long arms and the cuffs are a snug fit meaning I could not push the sleeves up when I was getting a bit hot but still wanted the jacket on for keeping my core dry.
The adjustability on the jacket means you have the option to tighten around the hips with a pull cord tucked into the inside of the jacket. This is great for changing how it sits around the bottom according to the weather and how you wish to wear the jacket.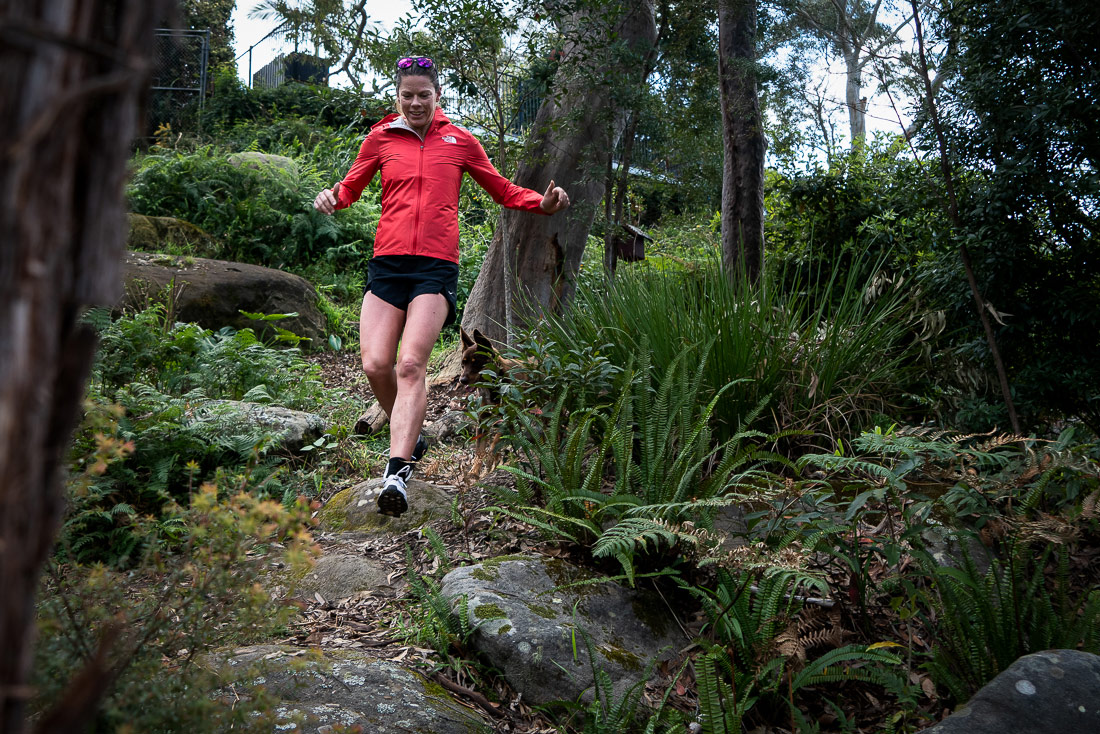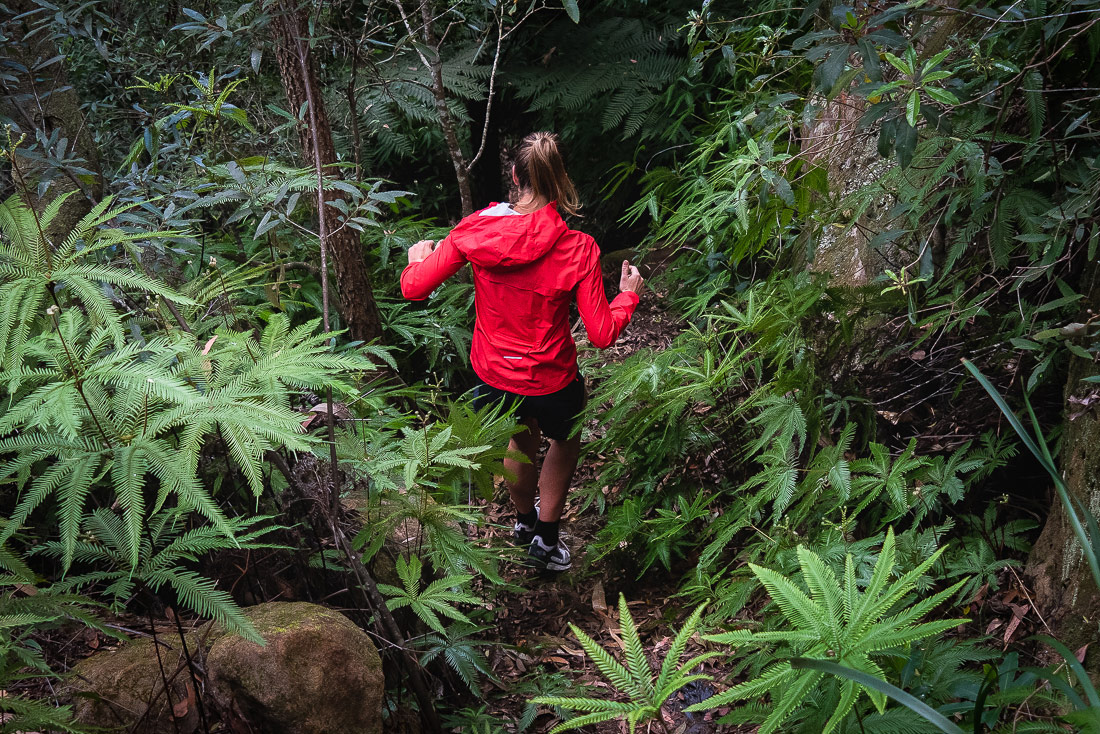 The hood is also adjustable via a pull cord at the back of the head which pulls the hood in tighter around your face keeping you warmer and dryer when needed. When the front zipper is up the whole way, the hood adjustment also pulls the collar up tighter around your neck/chin. This gave me the extra protection and warmth I needed on one of my windy raining runs where I wanted to hide my face inside the jacket.
The hood is also a great fit, it pulled on and off my head easily, even with a high ponytail. It also didn't rub or grab on the cord of my headphone which runs behind my head between each earpiece, making it easy to run in the rain with Bluetooth headphones under the hood and my Spotify playlist playing off my mobile in the running belt under my jacket.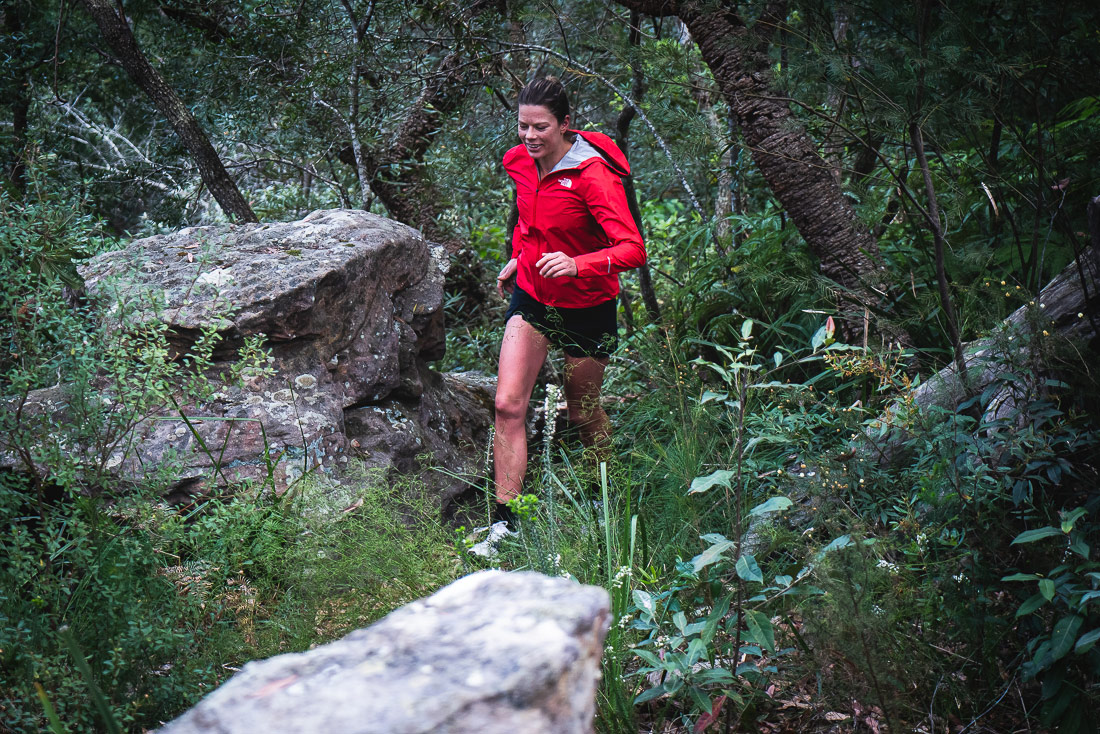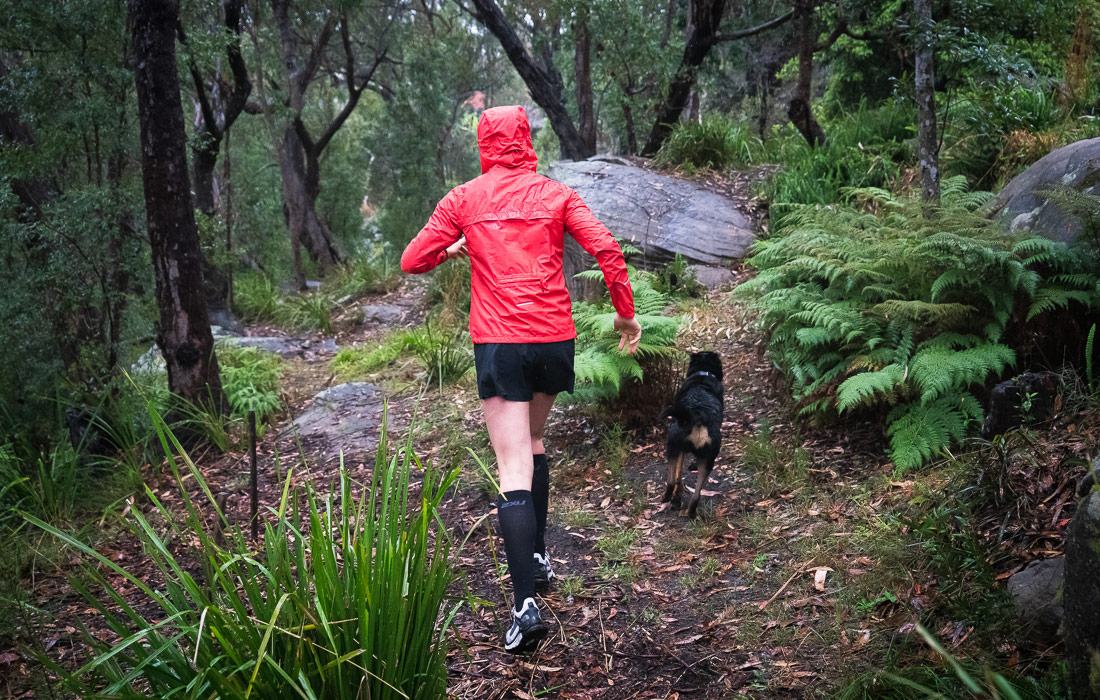 ---
Specifications
Body: 40D 67 g/m² DryVent™ 2.5L – 100% recycled nylon woven ripstop with non-PFC durable water-repellent (non-PFC DWR) finish
Pockets: 105 g/m² 80% nylon, 20% elastane-knit mesh
Weight: 155g
Center Back Length: 25.75" (65.4cm)
Available colours: Women's – Red, Men's – Black
Conclusions
The North Face First Dawn Packable jacket is comfortable, stylish, and meets all the requirements of a top-of-the-range waterproof running jacket. Being super light and able to fit into the smallest of running vests, you will want to add this jacket to your trail running must-have gear.
Price / Where to buy
The North Face First Dawn Packable Jacket – $300.00 AU (currently on sale $209.00)
Head on over to the North Face website for more info and purchasing.
---