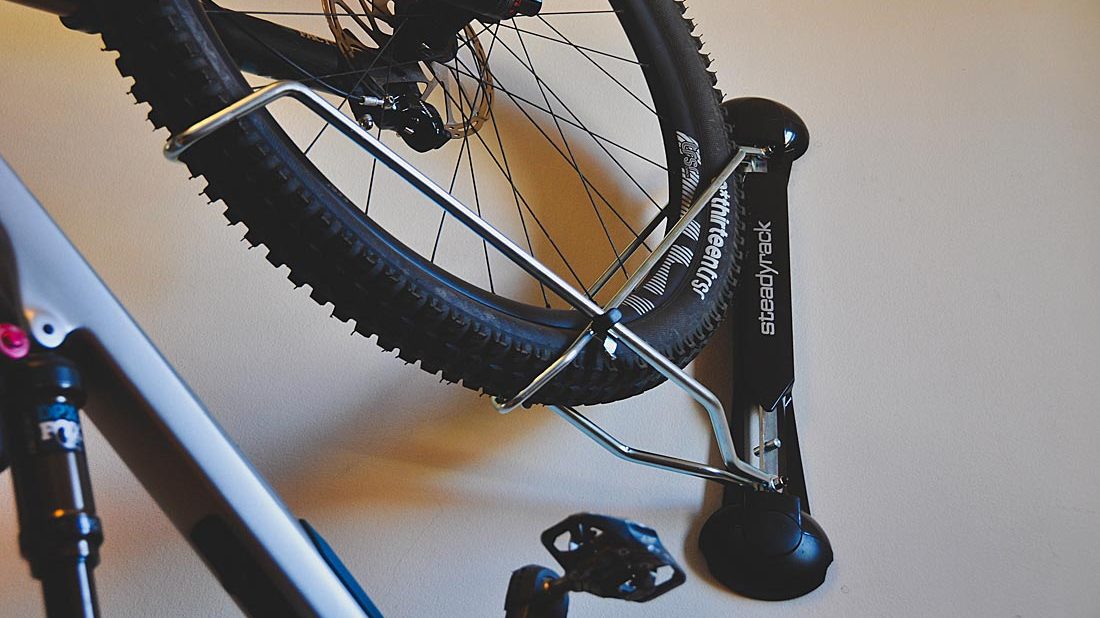 Steadyrack, a better way to Store Your MTB
Cut to the Chase
The Australian designed and engineered Steadyrack mountain bike wall rack provides a stylish and elegant solution to store bikes and save space in your garage or house. With its 180-degree pivot feature, you can stack more bikes together and still save space. If you're looking for a reliable, high-quality bike rack system for personal or commercial use, then check out the Steadyrack system.
Pros
Heavy duty design
180 degree pivot
Easy to install
Price
---
If you're an owner of multiple bikes, then you'll appreciate the need for a sturdy, safe and space-saving bike storage solution.
Steadyrack has just launched its latest version of wall mounted bike rack, the Steadyrack "MTB" model. This new size caters for mountain bikes with wider and larger tyres/tyres and wheels and sits neatly in between the original classic rack and the larger fat rack. Having more than one bike is always a plus, but it comes with its problems. Where to store them all? This problem is made worse if you live in a small abode where space is limited.
Well, Steadyrack, an Australian designed and engineered product could very well be the answer you're looking for. Based in Perth, Western Australia, the Steadyrack offers a bike storage system that utilises style, functionality and space, exceptionally well.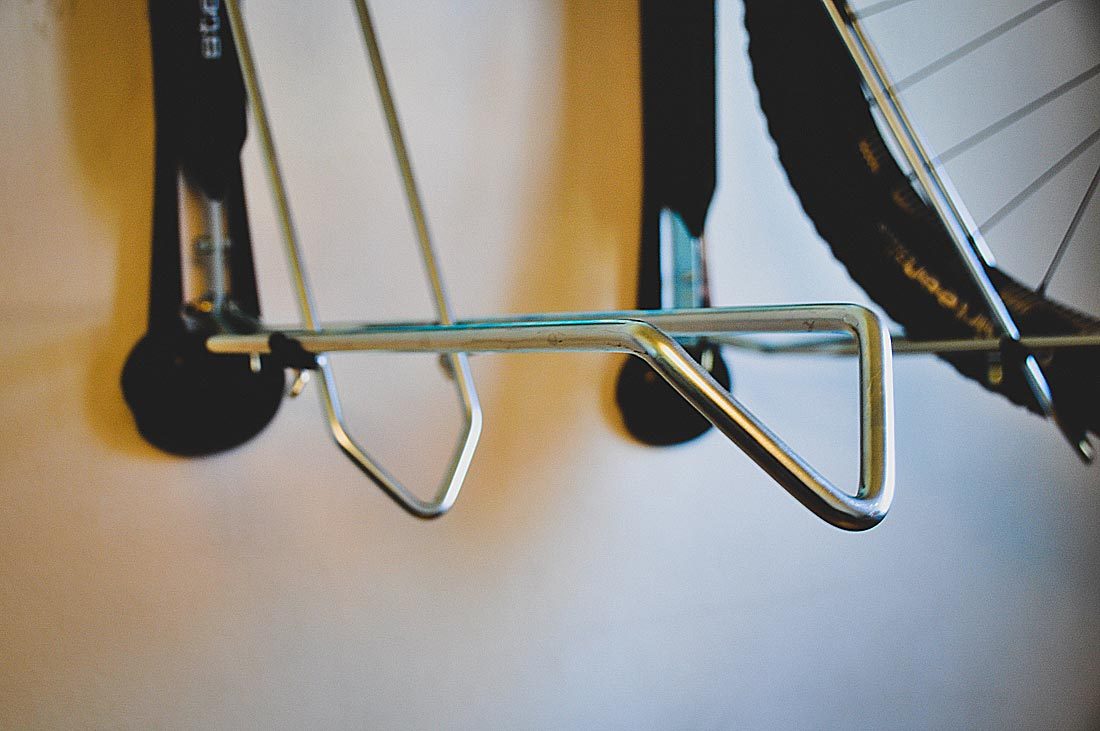 Above and below: The Steadyrack MTB rack securely holds tyres between 2.1" and 2.8". Photo: ©Tyres and Soles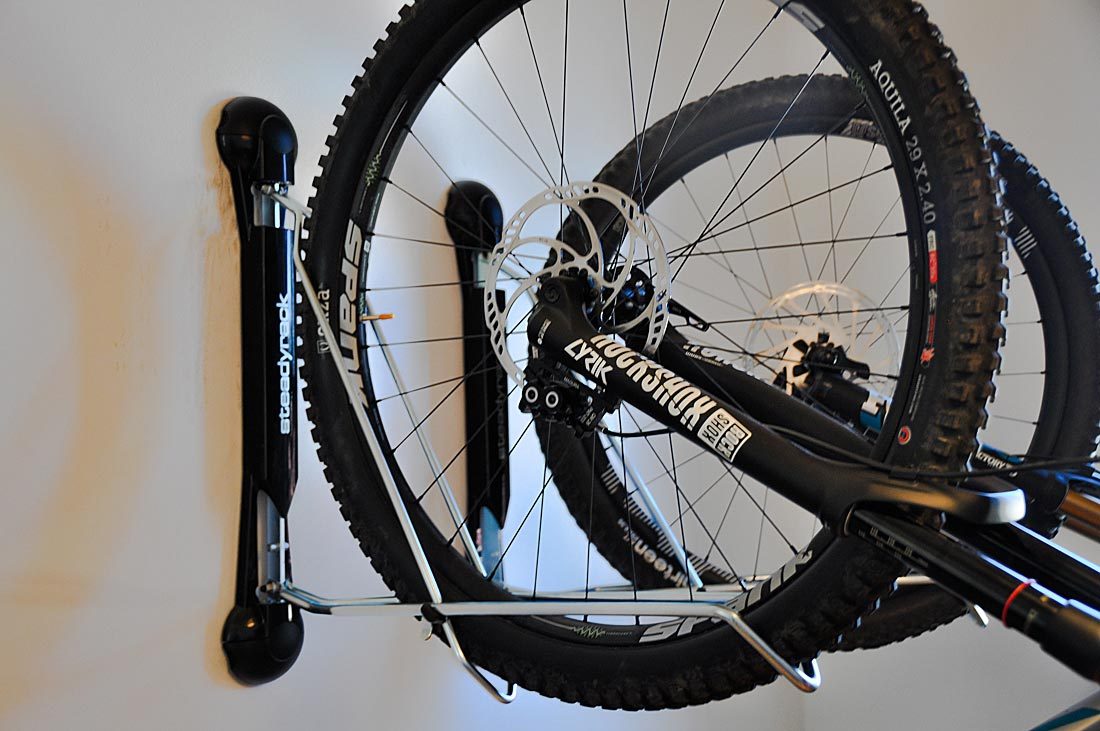 ---
Who is Steadyrack?
Steadyrack was born from CEO and Founder David Steadman's universal frustration of not being able to park his car in his garage due to the sheer number of bikes lying around on the garage floor, a nice problem to have.
Not wanting to use a crude hook to hang bikes onto, David was looking for something a little more functional that allowed bikes to be stored side by side in a space-saving manner. Working with his father-in-law Ron, a very crude handmade rack turned up.
This prototype was the beginning of David and Ron's five-year journey of multiple home-made iterations, that resulted in the now patented Steadyrack and the rest, as they say, is history. Steadyrack is now a global success with installations in a wide variety of locations and situations around the world.
---
Features
The Steadyrack Mountain Bike Rack (MTB) has been designed to cater for Mountain Bikes with wider and larger tyres between 2.1" and 2.8" which has become the trend for a lot of bikes these days.
The key highlight of the Steadyrack system is the pivot bearings in the rack that allows you to rotate the bike up against the wall to a 180-degree angle. This allows you to stack bikes side by side in a much more efficient manner.
Typical racks tend to put a bike at a perpendicular angle to a wall, encroaching into the room space. With the Steadyrack you can pivot the bike right up against the wall and if you have several bikes to hang, by just adjusting the height of each alternate rack so the bars don't touch, they all very neatly, fold back against each other.
The burly steel cage that holds the tyre has been designed to cater for different frame geometry and positioning of shocks to fit most bike set-ups, and when not in use it all folds neatly against the rack, out of the way. The main plastic cover comes in black but you can add some personality or colour code each rack to specific bikes for example, with the new coloured end caps.
---
Installation
Installation is very easy. Trust us. I'm not one for home DIY so the instructions put my mind at ease. If you're comfortable with drilling into walls, then you'll be good with this. Otherwise, just ask a friend or handyman to help you out. But in terms of speed of installation, it's very quick with minimal fuss. You should get the rack and bike up on the wall in 30 minutes to an hour.
But be sure to follow the installation guide to ensure the Steadyrack is fitted properly.
---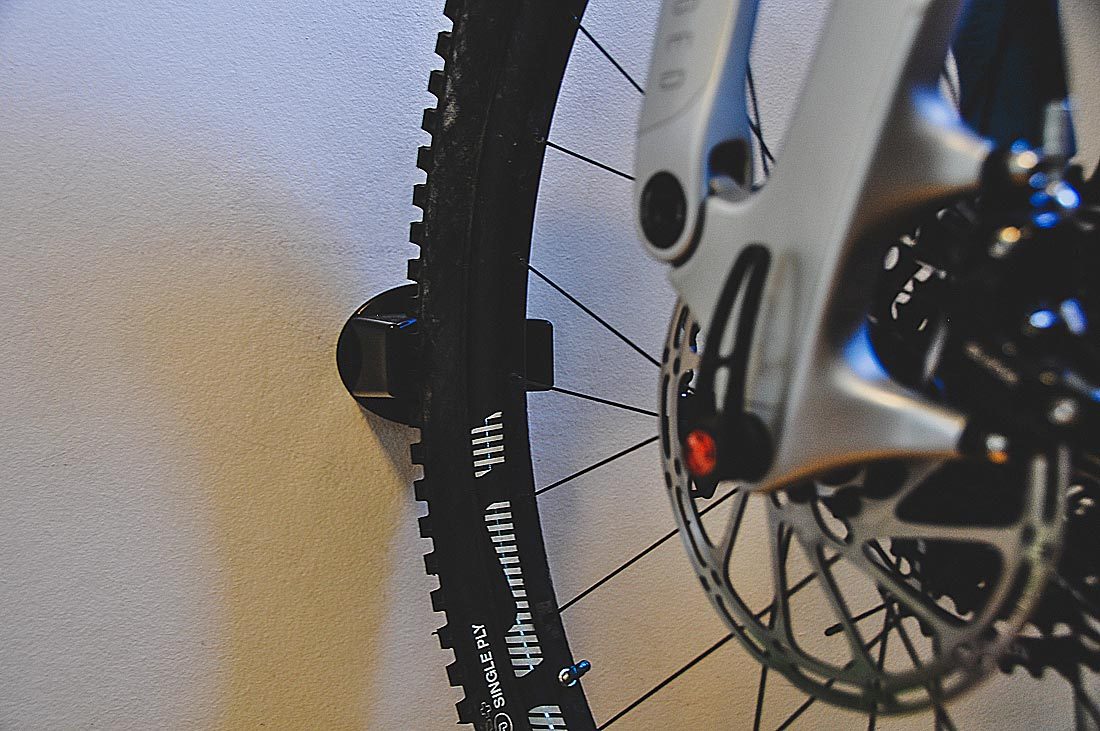 Above and Below: The rear tyre wall holder makes it easier when swivelling the bike and protects the wall. Photo: ©Tyres and Soles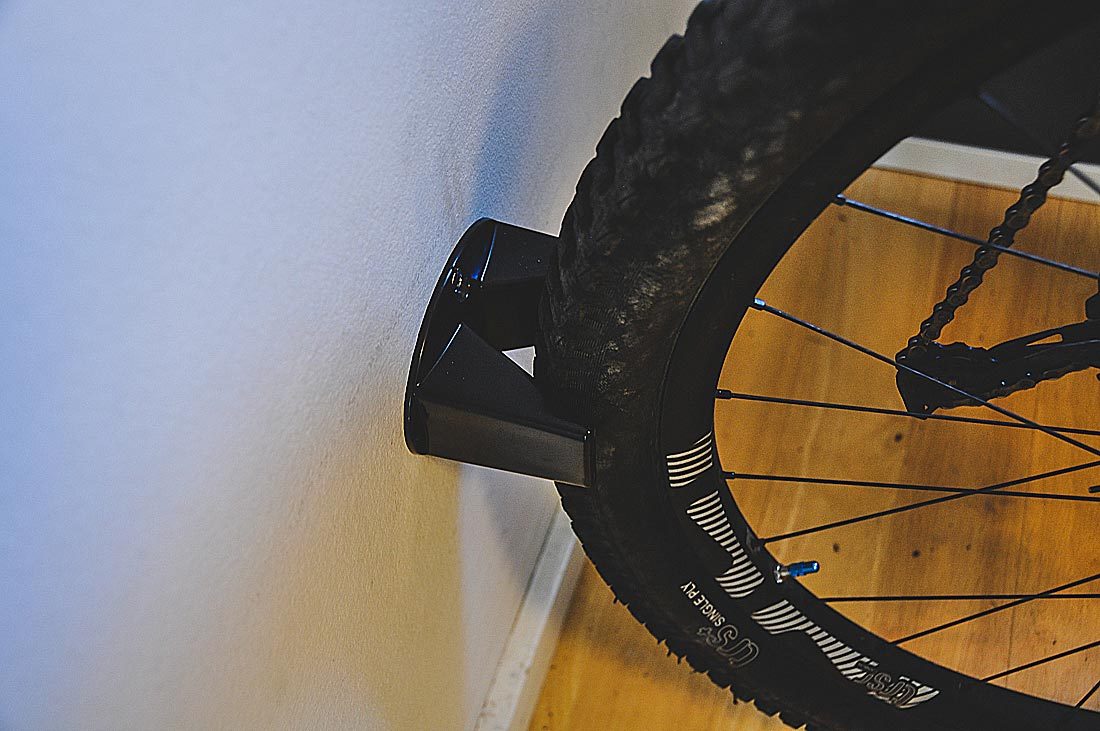 Conclusions
The Steadyrack offers a great storage solution for mountain bikes, and with an easy installation process, we had our bikes mounted on the wall in minutes. The big plus of these racks is the swivel feature. This has been perfect for us with limited space in our bike room. It means we can fold the bikes against each other making valuable space without snagging ourselves on the bikes every time we walk past.
The quality of materials and moving parts used in the Steadyrack is very high quality, giving us peace of mind that the bike and the rack are both securely fixed to the wall. Every time we rack the bikes up it feels solid and reliable as they slide into place. The Steadyrack is no ugly duckling either. Our room now has a clean and neat feel to it and the bikes now look like a feature rather than a tangle of angles.
---
Specifications:
Maximum Tyre Width: 2.1″ – 2.8″
Recommended Wheel Diameter (inc tyre): 20″ – 29″
Designed For MTB Bikes + E-bikes
Maximum Recommended Weight: 35kg
Made from long-lasting steel and UV treated plastic
Screws and wall plugs are provided.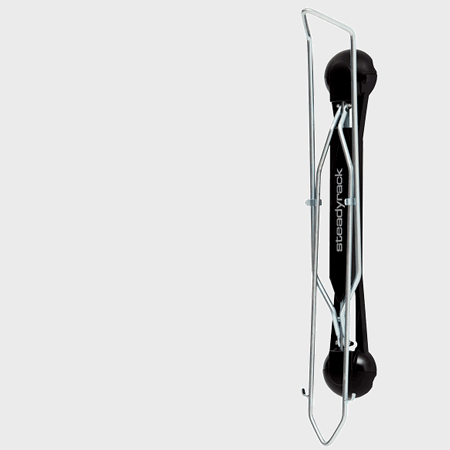 ---
Where to Buy / Price
Prices range from $74.99 – $83.99 depending on which model.
Model reviewed: Mountain Bike Rack: $83.99AUD
You can purchase directly from the Steadyrack website.
---