Look Out! The MTB Grinch is About!
The holiday season is five minutes away and that means that many of us are planning a break or trip away somewhere. Some of us are lucky enough to have a trip with the bike planned whereas, for others, a well-earned rest from two wheels will be a chance to recover and recharge.
For those leaving the bikes home alone, it's time to think about the security of your bikes. If you ride home from the trails/office or drive with your bike on the roof or back of your car, you should assume that your pride and joy has been noticed by envious eyes and that they are now working out how to get their devious hands on it. Below are some ideas on how to give your bike a better chance of surviving the festive thieving period.
1: Mobile Advertisement
Prevention is, of course, is better than cure, so whilst you are still using your bike, consider how it leaves and returns to home – can you put it more subtly inside your vehicle or ride home via a different route? To keep it even more secure whilst on the roof rack, have you considered the Z Lok Security ties? We did a review on them recently.
Yes, you love your bike and want everyone to know that you ride the latest and greatest dripping with Xtra Tricky Rideology type bits, but shining a spotlight on your beloved steed is not going to help keep it safe from the light-fingered Larry's out there.
2: Out Of Sight, Out Of Mind
If you are leaving your bike at home whilst away, make it as difficult as possible to find. Keep the bike out of plain view, even if it is in your building's shared secure storage area (which are about as robust as a tugboat made from tissue paper).
If in the home, keep the bike away from windows and consider hiding it behind furniture or under a blanket to make it less obvious.
3: Invest In A Decent Lock
Make the bike difficult to steal by investing in a number of high-quality locks (both for the bike and the place that it is stored e,g garage, storage unit etc). Check out the range of locks at the HIPLOK website, they're very impressive!
4: Make the bike less attractive to by removing vital parts
The wheels, fork, stem, and handlebar are easily removed in a few minutes. They are also easy to store somewhere discreet such as under the bed or sofa, in the wardrobe, in the boot of your car, at your best mate's house who isn't going away, or even at work. A bike that is hard to ride away and doesn't have all the parts will be less tempting for the thief.
5: Take a note of your bike's serial number plus plenty of photos
If the worst happens, you can at least try to make the recovery or insurance (you do have insurance don't you?) process a little easier. Don't forget, it's highly unlikely that you'll ever meet someone who regretted putting time and effort into the safekeeping of their bikes whilst they were on holiday!
6: Set Up Your Strava Security
Did you know thieves can track your home location using your Strava ride details! If you use Strava, make sure you turn it on after you have left your home, i,e only when you get to the trailheads and remember to turn it off before you get home.
You can also set up the security to create a secure zone around your home address. Just go into the Privacy Settings and do it NOW!!!!  Video here of how to do it:
Editors note:
So there you have it. Take care folks and do the best you can to prevent your beloved steeds from being pinched whilst your away. We hope these tips provide some useful outcomes and reduce the number of bikes stolen over this period.
---
Inside The Mind of a Bike Thief
Whilst we are still on the topic, we found this very interesting article about the mind of a bike thief. You may find it illuminating, we did.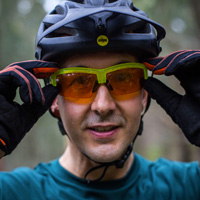 Latest posts by Jason Lorch
(see all)