Look Out! The MTB Grinch is About!
Bike theft is a real problem these days and having your hard-earned bike stolen, is a shitty thing to wake up to. If you're planning a trip away or are not at home for long periods of time, then make sure the bike is very secure, wherever it's kept. If you ride home from the trails/office or drive with your bike on the roof or back of your car, you should assume that your pride and joy has been spotted by envious eyes and that they are now working out how to get their devious hands on it. 
This article is intended to provide some ideas on how to give your bike a better chance of surviving those thieving hands.
1: Mobile Advertisement
Prevention, of course, is better than the cure, so whilst you are still using your bike, consider how it leaves and returns to your home – can you put it more subtly inside your vehicle or ride home via a different route? Some racks are just unavoidable when it comes to highlighting your trusty steed, but you can do some things to reduce the chances of it getting pulled off the roof or rear rack. To keep it even more secure whilst on the roof rack, have you considered the Z Lok Security ties? We did a review on them recently.
There are also some products on the market that offer a bike cover. This could be another good solution if you wanted to cover up your load to reduce the chances of your bike being targeted. Obviously, there is a bike under the cover but the thief won't be able to tell if it's worth stealing.
Yes, you love your bike and want everyone to know that you ride the latest and greatest dripping with Xtra Tricky Rideology type bits, but shining a spotlight on your beloved steed is not going to help keep it safe from the light-fingered Larry's out there.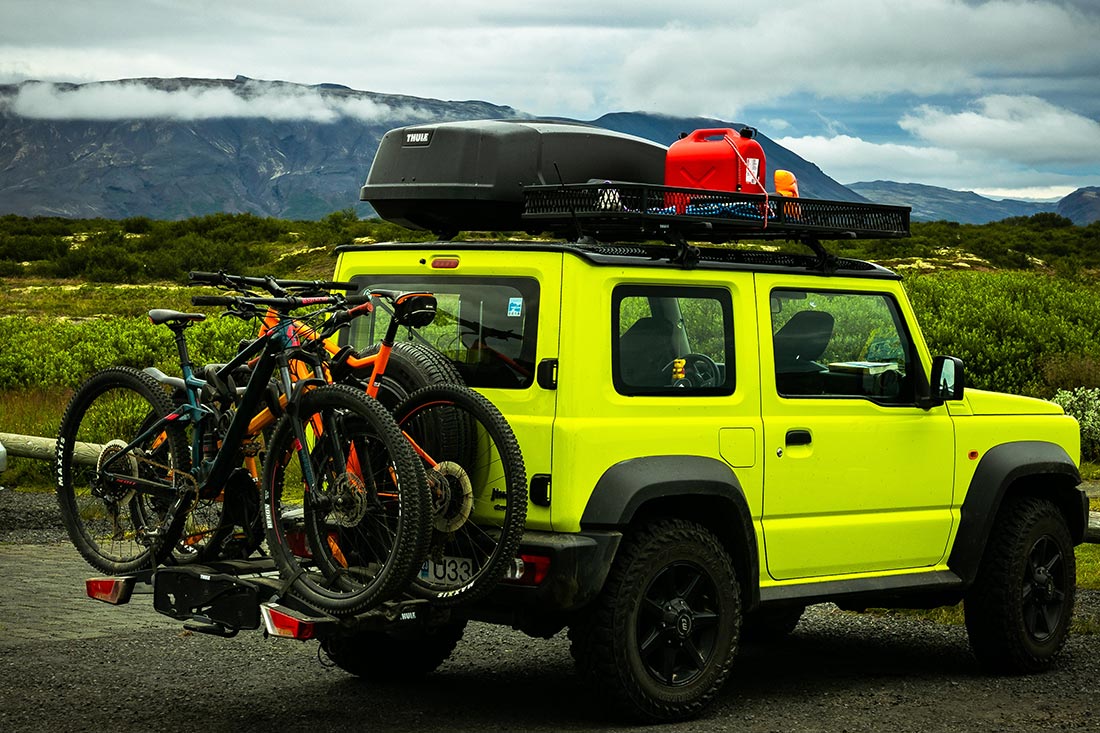 Look at my bike!
Photo credit: SaiKrishna Saketh Yellapragada
---
---
2: Out Of Sight, Out Of Mind
If you are leaving your bike at home whilst away, make it as difficult as possible to spot through a window. Keep the bike out of plain view, even if it's in your building's shared secure storage area (which is about as robust as a tugboat made from tissue paper).
If in the home, keep the bike away from windows and consider hiding it behind furniture or under a blanket to make it less obvious. You can even cover most of it with a bike blanket or partially with one of these flashy covers.
Make it difficult for thieves to judge the value of your bike by covering it up with a bike blanket.
---
3: Invest In A Decent Lock
Make the bike difficult to steal by investing in a number of high-quality locks (both for the bike and the place that it is stored e,g garage, storage unit, etc). Check out the range of locks at the HIPLOK website, they're very impressive!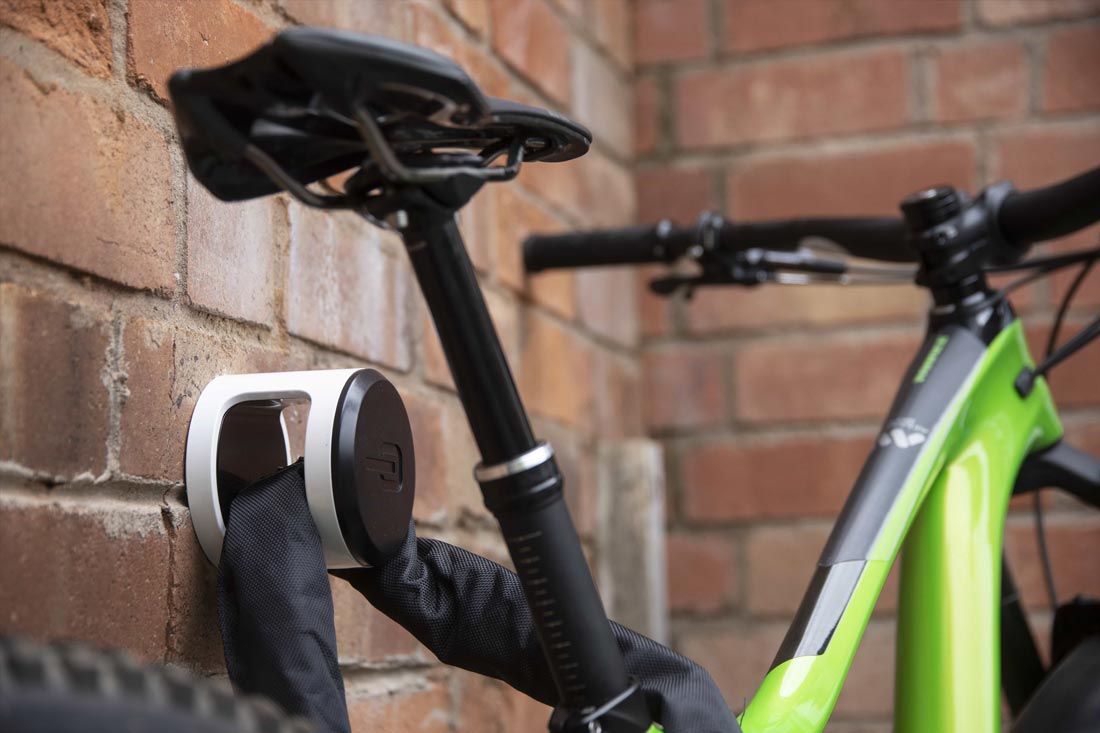 Make the bike difficult to steal by investing in a number of high-quality locks like this from Hiplok.
---
Also, consider adding some racks to the walls or floors. SteadyRack offers a range of wall rack options, and you can lock your bike to this making it pretty hard to remove. It will at least deter the thieves and take them a while to figure out how to remove it, which is sometimes all you need to do.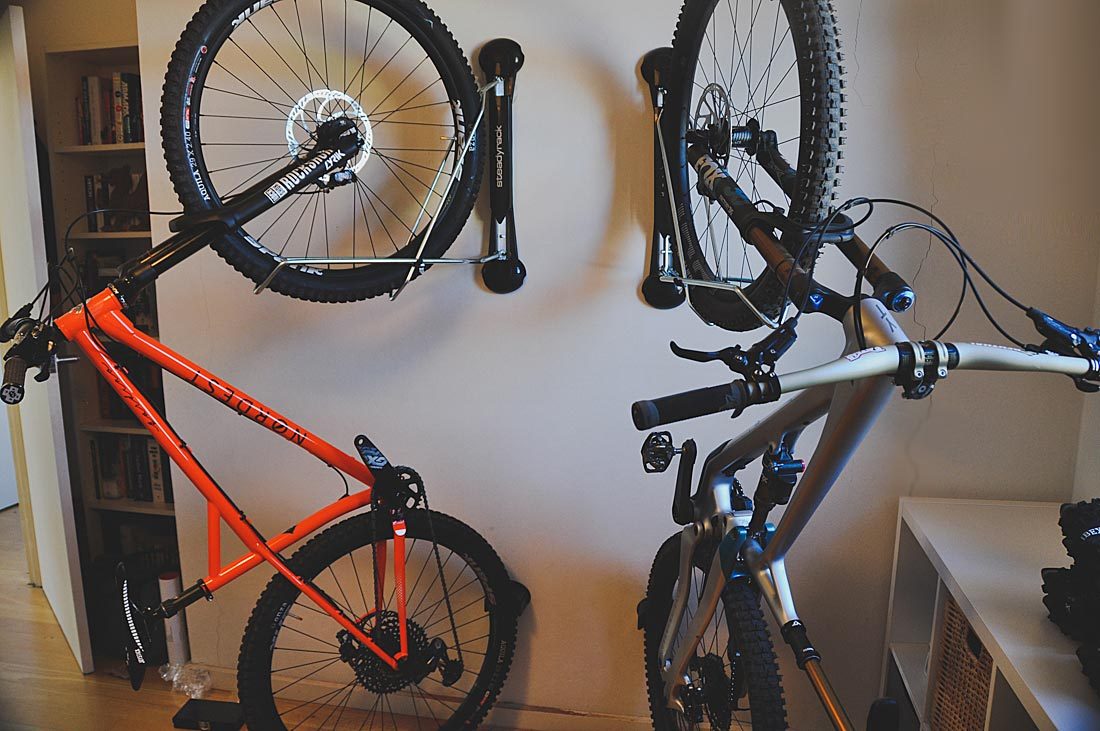 The SteadyRack wall rack can be mounted in your house or in the garage.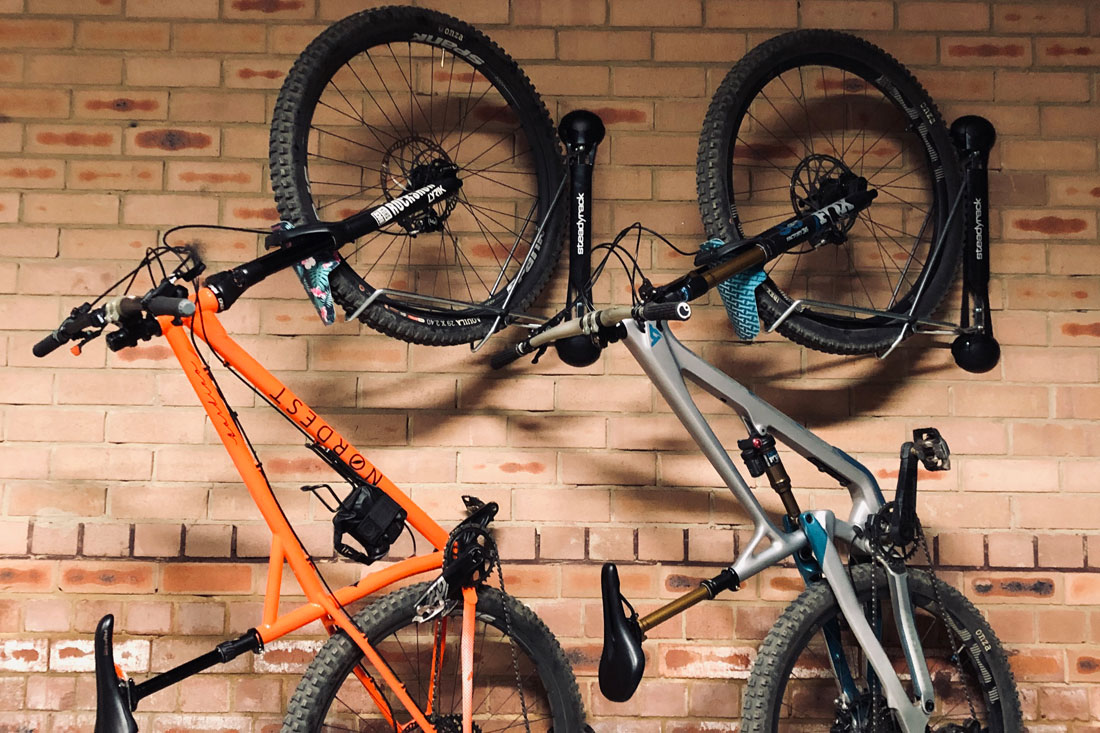 ---
4: Make the bike less attractive by removing vital parts.
If you're going away over the holiday period, you may want to consider breaking the bike apart. The wheels, fork, stem, and handlebar are easily removed in a few minutes. They are also easy to store somewhere discreet such as under the bed or sofa, in the wardrobe, in the boot of your car, at your best mate's house who isn't going away, or even at work. A bike that is hard to ride away and doesn't have all the parts will be less tempting for the thief.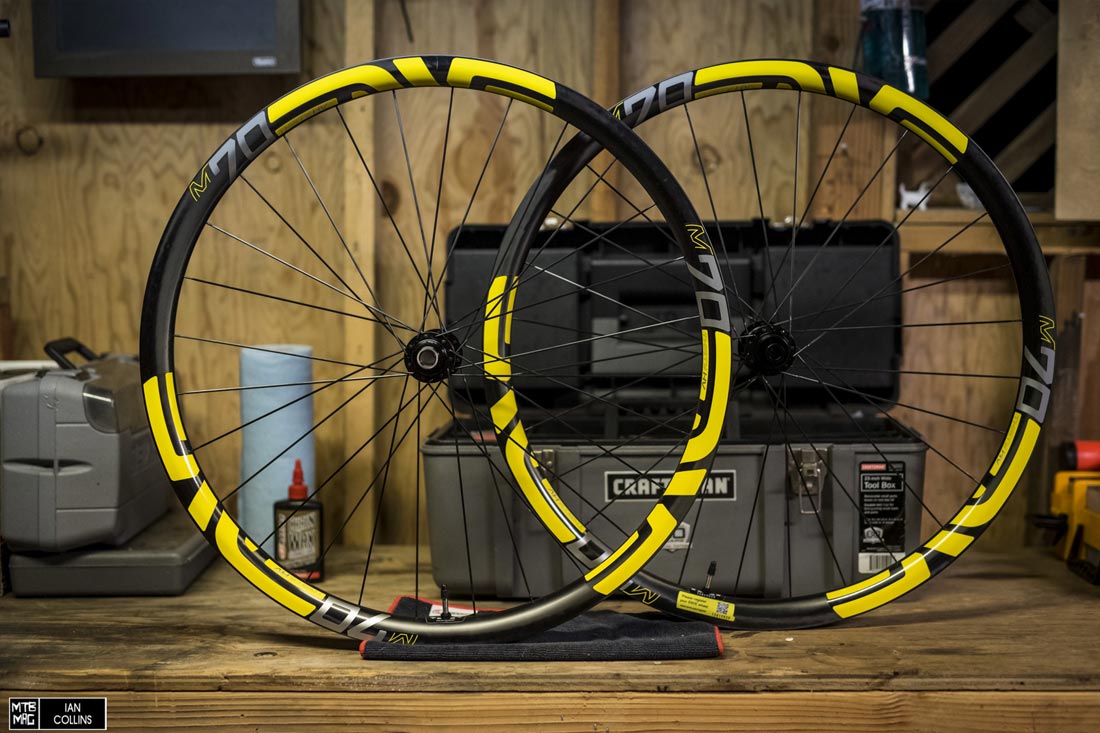 Got wheels like these? Then you may want to lock them up in the vault.
Photo credit: Ian Collins, MTB Mag
---
5: Take a note of your bike's serial number plus plenty of photos.
If the worst happens, you can at least try to make the recovery or insurance (you do have insurance don't you?) process a little easier. Don't forget, it's highly unlikely that you'll ever meet someone who regretted putting time and effort into the safekeeping of their bikes whilst they were on holiday!
Make a note of your bike serial number.
---
6: Set Up Your Strava Security.
Did you know thieves can track your home location using your Strava ride details! If you use Strava, make sure you turn it on after you have left your home, i,e only when you get to the trailheads, and remember to turn it off before you get home.
You can also set up the security to create a secure zone around your home address. Just go into the Privacy Settings and do it NOW!!!!  Video here of how to do it.
---
Plead with Them?
Although not a real tip from us, although it's worked for some people. See these two letters below for example. Which tone would you take?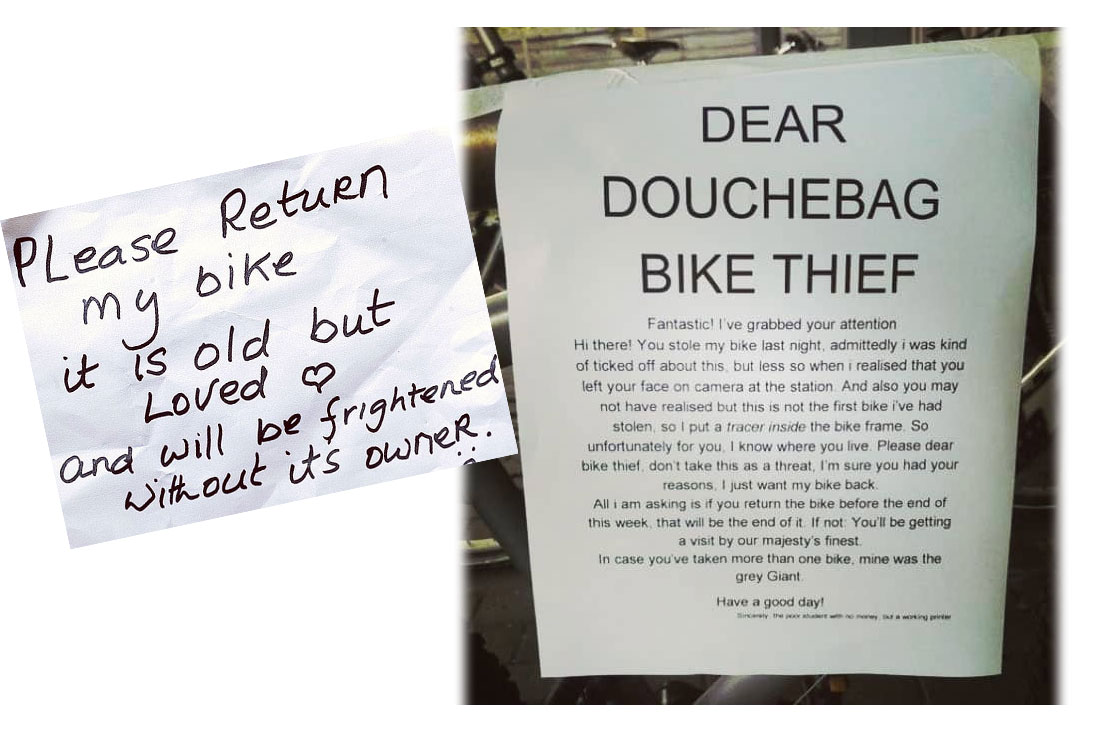 A couple of pleading notes left by bike thief victims. One is a little mushy but it got the job done and the bike was returned. Image and full story here. And a more passive-aggressive note. We like this one.
Image source
---
Editors note:
So there you have it. Take care folks and do the best you can to prevent your beloved steeds from being pinched whilst your away. We hope these tips provide some useful outcomes and reduce the number of bikes stolen over this period.
Inside The Mind of a Bike Thief…
Whilst we are still on the topic, we found this very interesting article about the mind of a bike thief. You may find it illuminating, we did.
---
Feature image: https://bikeportland.org/event/caddyshack-ride-2