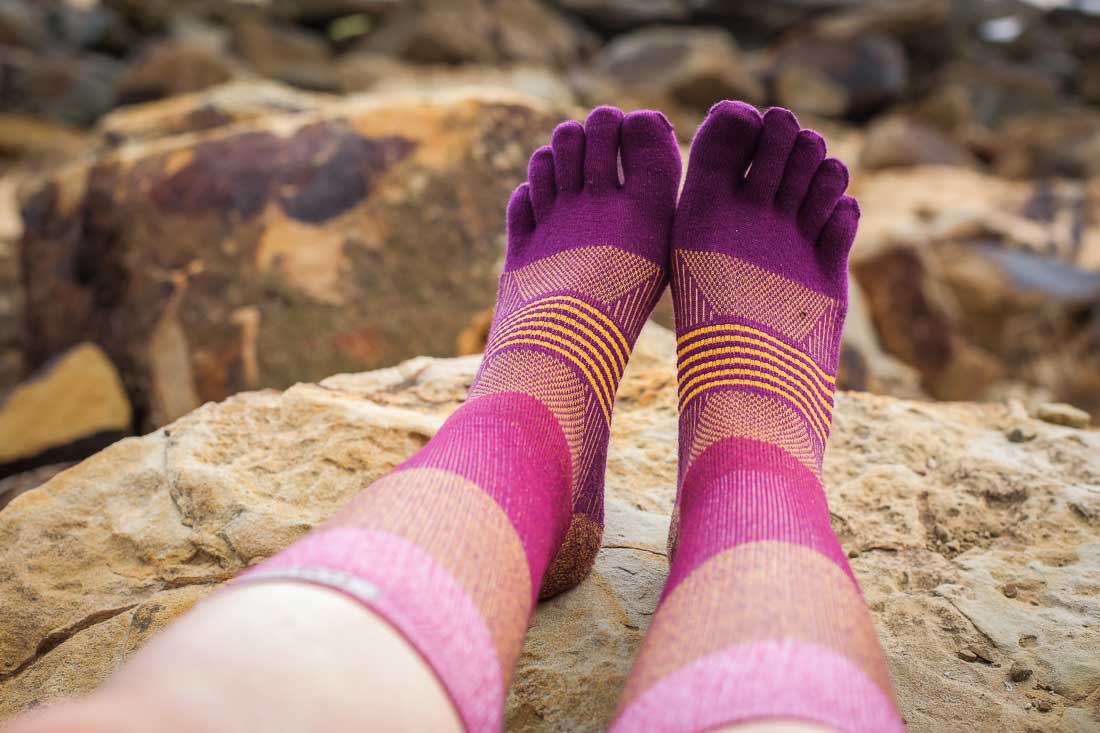 Women's Injinji Trail 2.0 Socks – Apparel Review
Cut to the Chase
The women's specific Injinji Trail Midweight Crew socks felt warm yet highly breathable and made for blister-free trails.
Pros
Excellent blister protection
Total toe coverage
Excellent moisture management
Arch support
Protective cushion
Whacky colours!
Cons
Can take a little longer to get on than standard socks
---
Go Blister Free with the Injinji Women's Trail Socks.
Injinji is a California-based toe sock company dedicated to the health and performance of feet. The Mid-weight Crew 2.0 trail socks are made specifically for women and make hitting the trails a true delight.
They are innovators, adventurers, lovers of all things active and most importantly, are passionate about making the journey of life more comfortable. Their five-toe sock design aims to reduce discomfort leaving more time for adventure.
First Impressions
First up I love the fun patterns that Injinji have. The designs make the process of choosing the right trail sock much more exciting. However, initially, I was apprehensive about running in crew length socks as I find they can sometimes feel too hot.
But, the blend of fibres felt soft and I have run in Injinji socks before, finding them very comfortable, (once your toes are all in the correct spots) so was keen to give them a whirl.
Features
The same great TRAIL toesock you're familiar with, tailored to a lady's foot! With shorter toes, narrower heel and more arch support, this all-new sock from Injinji offer a snugger fit than the Unisex version for women with smaller toes/feet.
Total foot utilization: When your toes are separated and properly aligned, this allows your entire foot to be engaged in any athletic activity.
Moisture Management: Each toe is wrapped in sweat-wicking material so your foot will be drier and therefore more comfortable than in traditional socks.
Blister Prevention: With each toe protected, skin-on-skin friction is completely eliminated protecting your foot from blisters and hot spots.
Arch Support: A supportive band that offers a secure and stable fit.
Protective Cushion: Extra cushioning on the footbed to increase foot comfort.
Fiber content: 39% COOLMAX® 58% Nylon 3% Lycra®
On The Trails
The Injinji midweight crew socks performed very well on the trails. Snug and supportive fit that takes away the worry about potential between-toe blisters is a win for any runner. Despite my initial concern, the mid-calf length didn't result in overheating and I could imagine it would be helpful on dense scrubby trails.
These socks didn't leave my side when I was trekking in Nepal and in fact, other hikers were bidding to borrow them off me during our hike. It seems that the five-toe sock is something you don't know you were missing in your life until you experience it.
A real bonus is the ability to wear them under sandals/flip-flops post run or hike in cold weather. The only slight drawback to this design is the extra effort in getting your toes into them in the first place.
A very small price to pay for blister prevention.
---