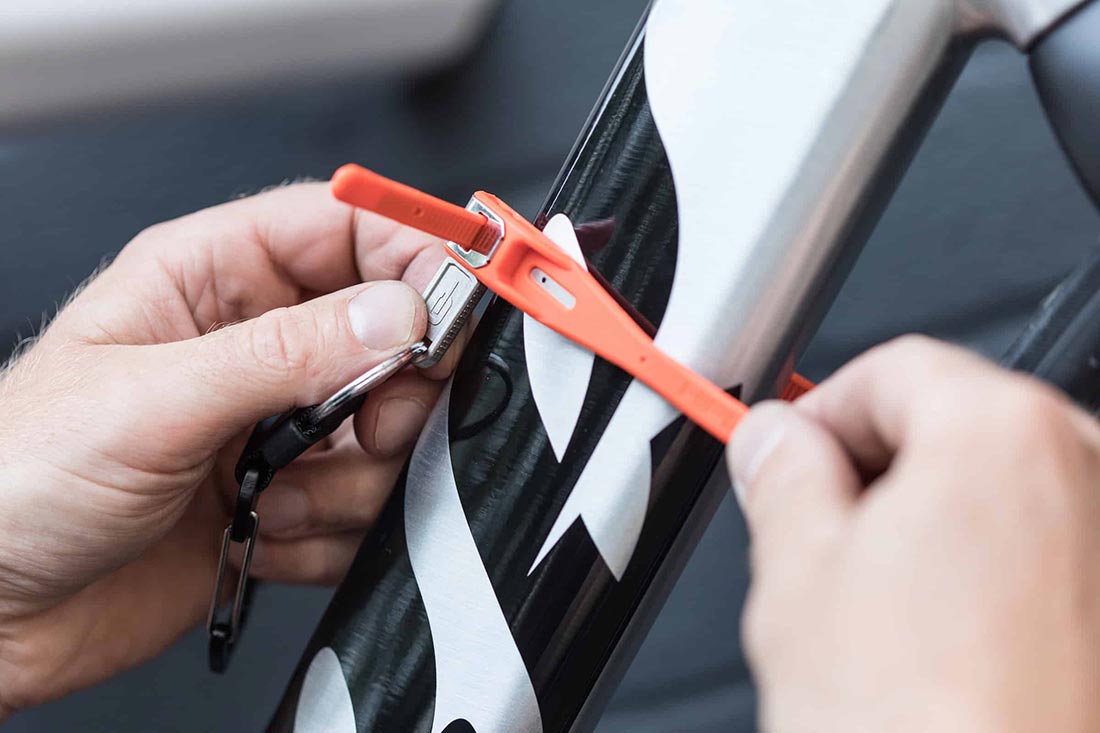 Cut to the Chase
A re-usable, zip tie that's light enough to stuff into your pocket giving you a little peace of mind everywhere you go...what's not to like about the ZLOK? It's not a long-term security measure but it will give thieves some grief and hopefully cause them to walk away. If it does that, then we've won this round and you get to live another day with your beloved bike. 
Pros
Added mobile security
Keep it in your pocket
Great value
---
Thieves 0 – Bike Owners 1, it's Game On with the ZLOK!
Bike theft is rife in Sydney and all over the world. It's been going on since we rode around on penny farthings but lately, it seems to be worse than ever.
This could be the fact that cycling is one of the most popular sports and past times in this country and thieves have cottoned on to how much our bikes are worth.
We spend a LOT on our beloved bikes, so we should want to keep them safe at all times but  it can be easy to get complacent. A quick stop at the cafe or pub or even left on the roof rack for half an hour, are all very easy targets for the opportunistic thief. So why not make it a little harder for them.
The ZLOK
The ZLOK is the world's first secured reusable zip style tie made by the bike security company, HIPLOK. The ZLOK provides ultra-convenient added protection for short pit stops and car racks. The ZLOK uses a steel core, toughened nylon outer and double ratchet design with a key locking system.
HIPLOK co-founders, Ben Smith and John Abrahams are product designers by trade and cyclists by heart. With over 25 years of combined design and cycle industry experience, they have set out to change security for cyclists.
Features
The Z LOK looks like a standard zip tie albeit slightly beefier. You'll notice the head is different from normal zip ties, as this is where the ZLOK differs.  The main locking system is made from reinforced steel and uses a small key to lock/unlock.
The strap itself also has reinforced steel running through it, creating a zip tie on steroids! There's a small key that is used to lock/unlock the zip tie. It's a very simple design but works incredibly well. Simplicity is the key here and the ZLOK is an innovation on an already popular locking device, the trusty old zip tie.
Specifications:
Security Level: Low Risk
Security Rating: N/A
Product Specification: Double-sided ratchet design, reinforced steel core, universal release key.
Weight: 20g
Locking Size: 40cm locking diameter
Usability
The ZLOK is so light and small, you can fit them into your pocket. This makes it incredibly handy and there's no need to bring those cutters for the normal zip ties anymore. That quick coffee order no longer needs to be a stressful situation, worrying about your bike out the front.
The ZLOK isn't limited to just bikes! You can use it to secure your snowboard, skis, or add an extra level of protection to your luggage when travelling abroad. In fact, anything you can think of that might need to be tied down, you can tie it down with the ZLOK.
Another good point to note is that the ZLOK is re-usable, which makes it good for the planet by reducing waste and unnecessary plastic going back into landfill and oceans.
Where to Buy / Price
You can pick up the ZLOK and HIPLOK's other locking products at a number of online shops or  head on over to their website to see the full range.
Price: AU$21.99 – AU$27.00 approx
For distributors, head on over to LinkSports.