This simple standing sequence of three postures is an amazing way to strengthen and stretch almost the entire body, especially focusing on the hips, legs, and ankles.
It's a great flow to build stability, balance, confidence and concentration. Another bonus, it's easy to do outside!
When I say a simple standing sequence, I mean accessible for all levels of yogis, not necessarily easy! We will break down the nitty gritty details of each posture to help you get the most out of these postures.
Then, as you feel comfortable, you can begin to move a little faster through the sequence with your breath and start to find your rhythm.
The foundation: Warrior 2
There are two ways to arrive here. I prefer to begin in downward dog.
Take a deep breath in. As you empty the lungs, step your right foot forward between your hands (maybe taking a couple steps/wiggles to get your foot there).
Alternatively, you can begin standing. As you exhale, step your left foot back about three or four feet, bringing your fingertips down to the ground for a little help with balance. If you're still working on flexibility, bring your fingertips to yoga blocks, books, chairs etc.
From here, keep your right toes pointing straight ahead, and turn your left toes to the left, perpendicular to your right toes, bending deeply into your right knee. (See pic below)
Your right heel should align with your left arch. Press firmly into your feet. Don't rely on your bones alone to keep you here! Engage the muscles of the lower body!
Pay special attention to the left foot, making sure that both the outside edge of the foot and the inside edge of the foot connect down to the ground.
A really helpful cue that one of my teachers told me years ago is to imagine that your mat is covered in honey (if you're a hot yoga fan, you'll probably know what I'm talking about) and your feet are sliding apart.
You want to press down firmly, but also activate your inner thighs and squeeze your feet together (without actually moving them).
Keeping all of this, open the arms up to a "T" shape. Welcome to Warrior 2!
Now, let's refine.
Look down towards your right knee, and make sure that knee is pointing straight ahead and you can see your big toe inside of your knee. Now bring the hands to the hips to bring awareness.
Keeping your knee in alignment, gently tuck your tailbone underneath you, engaging your core – kind of like a little pelvic thrust. Notice how this helps your hips open towards the left.
Now release your hands back up, gaze softly over your front fingertips, or towards your left if gazing forward causes discomfort in your neck.
One final adjustment! Notice if your torso is leaning forwards slightly, and try to gently shift the shoulders back, like someone is tugging your left arm. Now you've found the vertical alignment of the hips and the shoulders. PHEW. Breathe here.
Lift up: Exalted Warrior
Keeping your lower body strong and stable, on your next inhale bring your left hand to your left thigh and reach your right fingertips up towards the sky. (see pic below)
Expand through your chest and right side body, keeping your core, lower back and left side strong to avoid collapse. Think "lift up", NOT "lean back".
You are welcome to keep the shoulders open to the left to make this more of a side-body stretch or gently open the shoulders forwards to find more of a twist and a heart opener. Keep the weight on your left hand light – remember, your core keeps you here, not your arm.
Reach long: Extended Side Angle
On an exhale reach your arms back through warrior 2. On an inhale reach your right fingertips as far forward as you can, keeping both sides of your waist long. When you can't reach any further, keeping the length in both sides, bend your right elbow and gently place it on your right thigh (See pic below).
Like our previous pose, our core stabilizes us here, not our arm. Your left arm swings in front of you and then up alongside your ear, as you gently squeeze your left shoulder behind you and down your back.
Notice what your hips are doing – use the same action we found in warrior 2 – tuck the tailbone, scooping that right butt cheek underneath you to really open up through the hips. This tucking action is important – this is a pretty yummy hip stretch and many of us tend to stick our bums out to make ourselves more comfortable.
If you are having trouble keeping your side waist long, lift your elbow up, placing your right hand on your thigh instead. Work here until you've gained the strength and flexibility to go deeper.
If you feel comfortable here, move deeper by bringing your right fingertips inside of your right foot. Your fingertips stay very light (core strong!), maybe applying gentle pressure to your knee with your tricep to deepen the stretch through your right hip.
Congratulations!
That was a TON of information. By no means will you absorb it all the first time you try it. But try and try again.
The Dance
To begin to dance through this warrior sequence, we move a little faster with our breath.
Beginning in warrior 2, really stabilize through your lower body – you want to be strong here as we move our upper body.
Inhale and drop your left hand to your left thigh, coming to exalted warrior.
Exhale through warrior 2, reach, open to extended side angle pose.
With a strong core, inhale back up to exalted warrior.
Exhale, side angle pose…keep moving and breathing and bending into your right knee as your legs start to get shaky.
Repeat on the other side.
And here's the Dancing Warrior in all it's glory.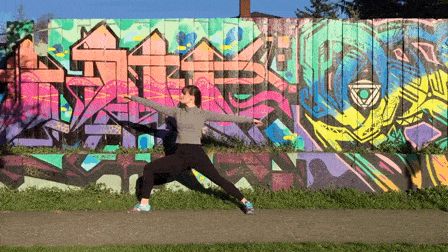 Editors note…
So there we have it folks. Yet another great Yoga class specially created for you by our yoga guru, Brogan Kiss. Remember, maintaining a strong core is crucial to enjoying your hiking and biking adventures now and into your senior years.
Check out our other Yoga specials here.
See you outside!
Jason