---
Single Speed Racing. An Act of Self Abuse or Utter Enjoyment? You Decide.
When I first started mountain biking back in the days of 90mm stems, I had grand delusions of becoming a 24 hr XC machine (high hopes for someone built like a rugby union second row……….well I actually was a rugby union second row). Thankfully I found shuttle-fed freeride and Enduro.
But before I did, I managed to dip my toe into the world of MTB endurance racing with a total of 3 races under my belt (one 6 hour event as part of a 4 man team, the old Scott 24 Hr at Mt Stromlo and a crampfest formerly known as the Dirtworks 50). All were completed on a 5" travel, 27-speed trail bike that weighed about the same as a collapsed star.
With such fond memories, my perception of the Single Speed World Championships had always been that it would be a weekend of abject misery undertaken by masochistic mountain biking purists with a propensity for leg waxing, protracted debates over the lightest dust cap to use and of course, beards.
If dragging my heavy arse to the top of Mt Stromlo multiple times in the cold and dusty Canberra air was meant to be 'fun', I couldn't imagine what in God's name would possess anyone to fly halfway across the planet to ride an unknown trail on a bike with fewer gears than a Model T Ford.
Well, it would seem the answer might be fancy dress, mid-ride beers and general tomfoolery!
We caught up with an SSWC veteran, Andy Jones, who is preparing for the upcoming 2018 event in the mountain bike mecca of Bend, Oregon, USA to improve on his previous best of fourth place……"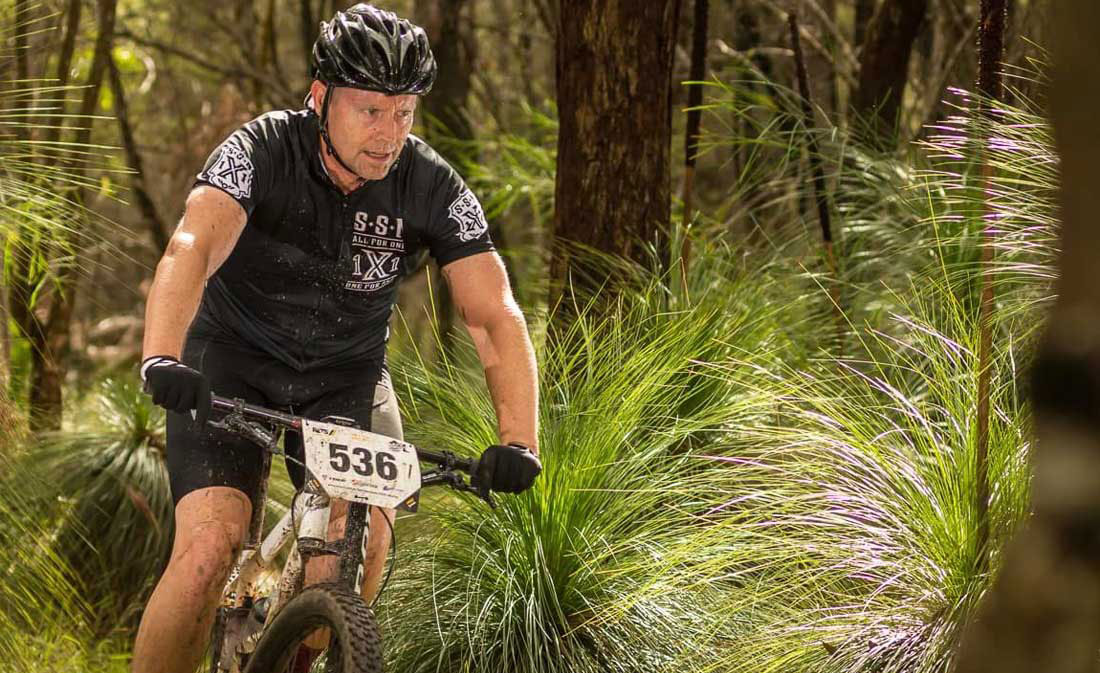 Who is Andy Jones? Tell us a little bit about yourself.
I grew up in Sydney but moved to Brisbane when I joined the Air Force at 18 and now call Queensland home (my family has never forgiven me). I love the outdoor life and always interested to take part in most things (cycling, trekking, SCUBA diving….most sports really). I'm probably not an expert nor do I particularly excel in anything, but I love giving everything a go. Married to an awesome wife with two fur kids. We love being active together, she's a Yoga teacher which is great for my recovery 😉 – and now I'm over 50, everything helps.
What is the SSWC? Who takes part in this type of event?
SSWC (Single Speed World Championships) is a race unlike any other. First officially held in 1999 in California USA, it's really more of a Bike Rally and Festival than it is a race – although there is a competitive spirit there. As the name suggests, it's only open to Single Speed bikes and mainly mountain bikes as it's ridden off road – however, any SS bike is able to join.
Competitors come from all over the world to battle for the rights of SS World Champ……actually only about 10% are really there to try to win, the rest of us (erm….them) are there for the awesome atmosphere, thrill and fun that is SSWC. There is always an interesting start to the race, Le Mans style, running to your bike only to find it either slightly dismantled or moved.
Then there are the costumes! Oh yeah, no race lycra here! The costumes are out of this world and range from subtle wigs and crazy socks to full-blown theatrical outfits – Dinosaurs, full-size Muppetts and even a rocket man with working rocket – anything goes as long as it's on a Single Speed bike.
At some point in the race, there will be alcohol and failure to take part in this activity normally means a race penalty of an extra lap, running around without your bike.
You don't know what the course layout is or how long the race is until you get there. Any questions about this are answered with "you'll start somewhere in there, ride over there a bit and finish over here somewhere". Overall, an awesome event that gets more participants every year.
Wow! That sounds awesome and certainly different to the typical races we get here in Australia. We'd guess the riders must cover a huge range. What is the 'average' or typical male/female split at the event? Is there a core group or is it a complete mix?
Unfortunately like most MTB races there is still a larger male presence over females, however, of all the races I've done, SSWC definitely attracts a lot of females to join in – I think the whole laid back festive atmosphere, the awesome folks who organise the events and all the fellow SS'ers make for a really inclusive mix.
That sounds great. At Tyres and Soles, we love events that attract a broad range of people and provide that welcoming feel. We think that mountain biking attracts that sort of crowd but tell us, how did you get started in MTB?
I've been riding bikes since I was a kid but started to become more serious since I was about 28. Straight into MTB, I loved the freedom and the remoteness it gave me, being able to escape into and explore the bush. My first taste of anything competitive was the Flight Centre Epic, a 100km point-to-point MTB race from Toowoomba to Hiddenvale in Queensland. And what an epic it was at 7 hours of gruelling punishment although, in the end, it was an awesome achievement.
I've done about 8 "Epics" now and realised that I wanted to actually get a better result, so I started up road riding to increase my endurance and fitness (always an excuse to buy another bike!) It's funny to be riding SS now as I've always been the guy that loves new technology on my bikes. I was the first in our group with a dual suspension bike, first with hydraulic brakes and first with a 1 X drivetrain! So to now be riding a steel single speed just goes against all that….maybe its old age!
A Steel single speed? Impressive! That's going in the opposite direction to many of the bikes out on the trails today. What is your opinion on the way high tech gadgetry is going in the industry vs low tech, does it equal more enjoyment?
Interesting question, my personal opinion is………… it's personal!
I'm all for technological advancement in any sport, as long as there's a need and not just a way to "sell more stuff". Gears and suspension are a no-brainer as they are part and parcel of the MTB scene and small tweaks here and there are awesome. My "other" bike is a dually with 1 X 11 gearing – there's not a hill I haven't been able to climb on it and I'm not an elite rider by any stretch….so when I saw the new 1×12, 50t rear cassettes, I thought "really!?"
However, E-Bikes are a different thing. If an e-bike gets someone out on the dirt that previously wasn't able (or willing) to, then awesome. I took one for a spin the other day, and man they fly!! Such fun! I personally wouldn't buy one as I find them too damn heavy – plus I love riding uphills.
For the Single Speed thing, its hard to explain and most people think you are weird. But not having to think about gear choices puts you in a totally different place on the bike. Anything you come across is all about you; your technique, flow, speed, experience and sometimes balls. Hey sometimes, you just gotta get off and walk, but that clean line of the bike and the lack of choice changes the ride – it makes a local well-known track new again.
As you point out, there are so many options now when it comes to mountain bikes, but is there a typical single speed bike 'type' that people lean towards? You're on a hardtail but what are some of the other bikes that people might use? Fat bikes? Dual suspension? 10" Down Hill rigs? And if you don't mind us asking, what is the value of your SSWC bike?
There's no 'typical" SS bike, if you look around at an SS race, you will see all sorts. However most ride hardtails, and a fair few are steel. You don't see a lot of duallies, although there are some. Plus some Fat Bikes squeeze in there too – but man they would be a tough pedal!
Mine is a little weird. It's a steel hardtail with a Lefty fork and drop bars (yep, like a road bike). I did that for two reasons: 1. The drop bars give you a few hand positions which I like, and 2. They look weird! As for the cost, I can't say what mine cost as my wife will be reading this…..
Singlespeed bikes generally cost a bit less than their geared counterparts for obvious reasons, fewer bits. But there are also a lot of unique custom built frames out there too that cost a fair bit.
You've clearly seen some sights at the SSWC. How many have you completed? Where were they? What were the highlights or lowlights?
This year will be my 3rd SSWC. The first was in Woodend in Victoria, Australia. The 2017 event was in Rotorua NZ and this year is in Bend, Oregon USA (Legal marijuana apparently*)
Woodend was awesome! Obviously, as it was my first SSWC experience but also the small town really opened up it's doors to us. It had a classic "Hippy" style festival about it. Rotorua was a fantastic event and venue – some of the best MTB tracks in the world and really well organised.
And next is Bend. We are really looking forward to this! From everything I've read, the tracks will be mint, it's a great town with great people and did I mention the marijuana?? The downside would have to be the risk of being eaten by bears or cougars………..ok maybe being eaten by a cougar could be ok….….(is my wife going to read this??)
Tyres and Soles do NOT condone being high when mountain biking. Mainly because Doritos aren't a suitable mid-ride snack and don't easily fit in a water bottle holder.
We're starting to see the attraction in this strange event! But what compelled you to enter your first SSWC? Was it a shiraz induced "yeah, why not"?
Yep! Alcohol had a bit to do with it. I had only just converted my bike to SS and a mate and I were discussing rides and events when we saw that the next SSWC was going to be held just outside of Melbourne! A World Championship just down the road!! So we booked in and never looked back.
How on earth do you prepare for such a wild event? Tell us about your training: Hours per week/hill work/sprint work/gym/conditioning/specificity/drinking!
Training for SS races is like hiking; you don't become fit for the job or conditioned unless you actually do it. So for me, it's getting out as much as I can on the single speed. I'm lucky because, in Brisbane, we have four excellent locations to ride within 30 minutes of the city, so getting out is easy. Oh and the weather helps too!
I still do road rides, probably twice a week to keep general endurance fitness up. And I also do a strength training routine in the home gym consisting of basic movements to keep strength, power and endurance throughout the body. Singlespeed riding often requires a lot of power bursts so building strength is crucial.
As I mentioned earlier, my wife is a yoga teacher so she helps to keep me from becoming too twisted and tight!
Then there's the drinking, to be honest, I don't drink a lot, but about a month out of the SSWC, I go into beer drinking mode, because…….. why not? It's always funny to watch on social media the posts people put up with a beer in hand, or in the bidon cage with the title, "training".
Do you take a particular approach with your diet?
Diet is an interesting one. Being on a plant-based diet for the past 10 years, I've got it fairly dialled in now. Having a Nutritionist and Naturopath for a wife really helps get the most out of everything I eat. The main thing is to keep most of what I do wholefood. Smoothies are my best friend and I have one nearly every morning – this makes it really easy to get good nutrients in when you've got an early ride.
I always ask myself "is there protein here? Is there green in it and is it wholefood?". I do this for every meal. Snacks are super important too, but I keep them wholefood too. I avoid gels as they don't sit well, so I prefer dates instead.
How do you plan or structure your fuel for the SSWC? Other than keeping a hip flask close to hand?
SSWC races are generally 40-50km in length and usually run a couple of laps of a specific circuit, so there are normally spots to stop and refuel. This normally means the organisers have included mandatory alcohol refuel as well – that's carbs, right? For me, that length of race can be done with two bidons of race fuel. I just top up with water as needed. I also throw in some dates for a sweet snack.
What are your SSWC goals for the future?
I've come 4th in both my last races so improving on that would be awesome………..Ok, I'll come clean….after 1st, 2nd and 3rd places……..everyone comes 4th! Seriously though, my goals are to have a blast, not take it too seriously, drink some alcohol and ride some of the best trails in the world with some really awesome people.
That sounds like a solid plan to us! We're looking forward to the post-ride report, whether it be about the drinking, cougars, trailside herbs or steel fat bikes with drop bars!
To find out more about the 2018 Single Speed World Championships, go here!