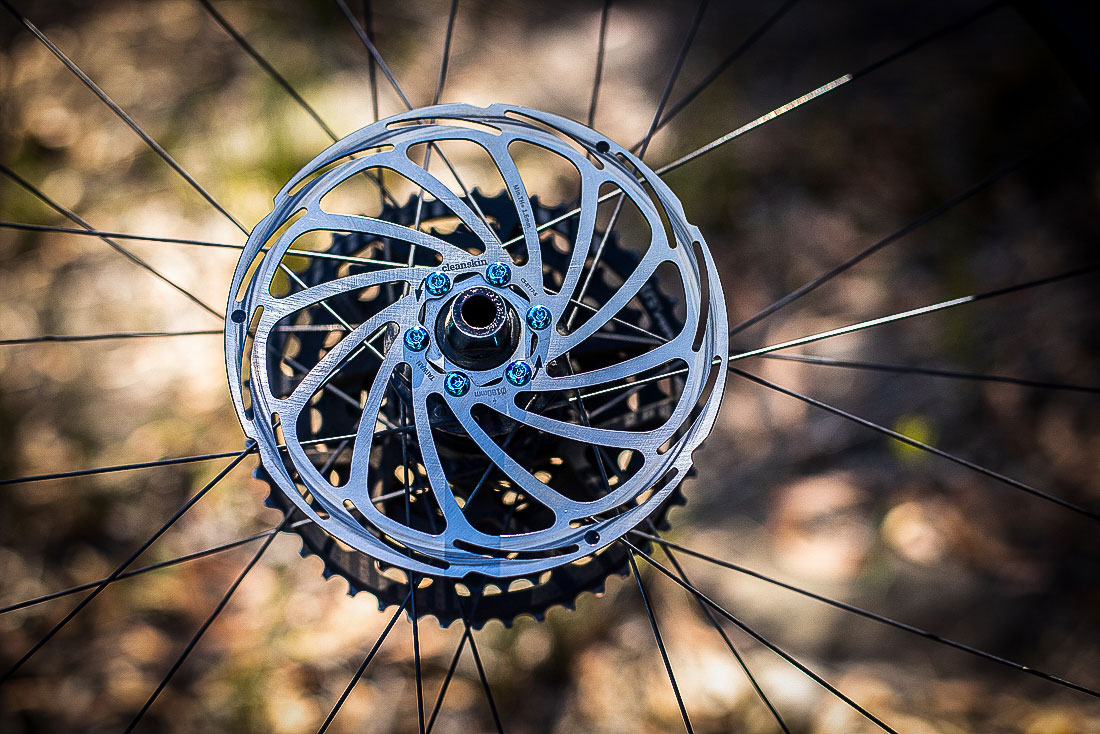 Dropping The Anchor with Cleanskin Rotors
Cut to the Chase
Cleanskin MTB brake pads and rotors offer a high-performance option for the price-conscious buyer. Ideal if you go through brake pads and rotors at a blistering pace. These products are on par with major brands in terms of performance and quality, but at a much lower price point, you'd be crazy not to try them out!
Pros
Excellent price point
Range of brake pad and rotor size options to suit most brake systems
High performance grade materials
Homegrown brand
No frills packaging
---
Start stopping with Cleanskin brake components
There is no doubt about it, brakes are a critical part of your bike setup. From the levers to the pads and the rotors, they all need to work in harmony with each other. But choosing what's right for you can be a journey in itself. Quality brake components can be pricey, so doing some research and testing is the only way to be sure that you have the right setup for you, but that will hit your wallet pretty hard.
Cleanskin MTB has been offering an ever-growing range of bike components, all at a very competitive price, hence the name, Cleanskin. They focus on stripping out the unnecessary aspects of product design and production and focus on supplying riders with gear that not only performs but also enhances the ride. With the sole aim to offer refined and purposed products that are perfect for Mountain Bikers of all kinds at a lower price point than the major brands.
Check out what we thought of the UNITE 1000 light, the Digital Mini Shock Pump and the C-Flat pedal.
We recently received a pack of goodies from Cleanskin MTB which included brake rotors, rotor bolts and pads. There are a lot of things we like about Cleanskin, but one of them is the no-frills recycled cardboard packaging. This alone helps to reduce costs to the rider.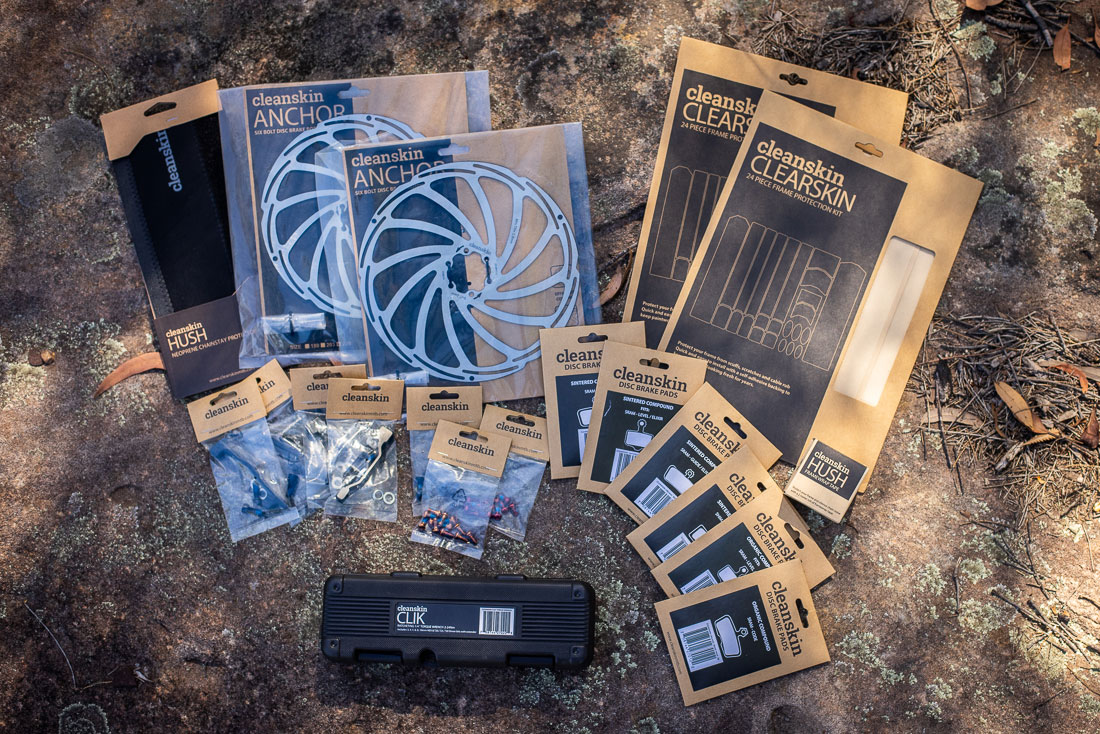 Cleanskin MTB use recycled materials for their packaging as much as possible. Another reason they can keep prices down for us riders.
Photo: ©Richard McGibbon
---
Anchor 6 Bolt Disc Brake Rotors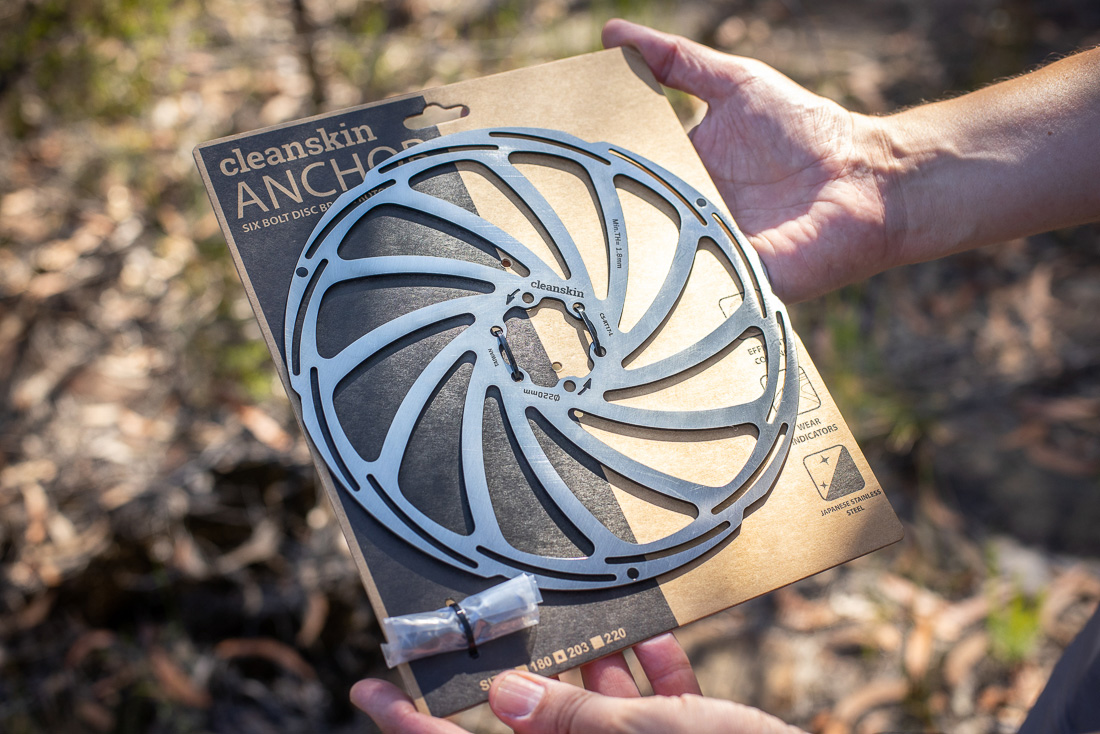 The enormous 220mm rotor! If this aint going to stop you, nothing will.
Photo: ©Richard McGibbon
---
The Cleanskin Anchor 6 Bolt Disc Brake Rotor's are solid, one-piece disc that features a chamfered edge and a large cut-out pattern to keep weight down and braking performance at a maximum. These rotors also feature some cool wear indicators so you can easily tell when you are due for a replacement. Handy eh?
Made from high-grade Japanese stainless steel, these rotors are made to last. You'll be shredding the trails like a Samurai warrior in no time! All Cleanskin rotors come with 6 rotor bolts pre-primed with Loctite.
Available in a range of sizes: 180mm – 148g, 203mm – 183g, and the whopping 220mm – 242g.
6 Bolt Rotor: From RRP. $28.95
---
Rotor Bolts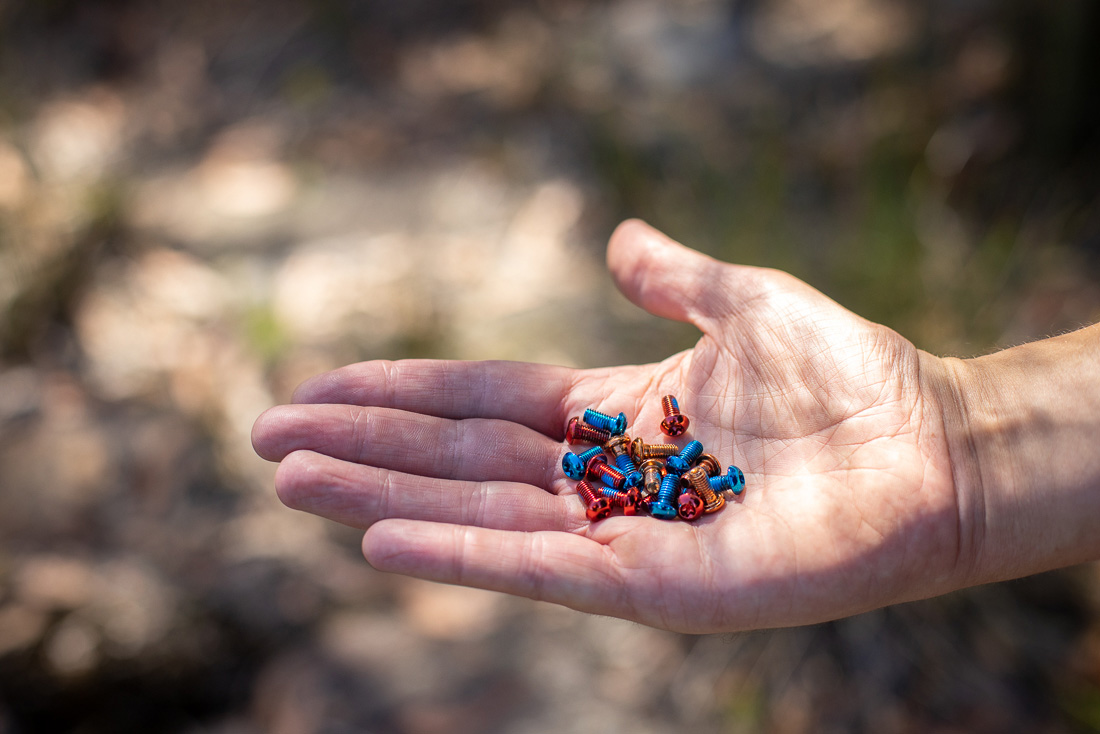 Bling, bling anyone? Who doesn't love anodised components?
Photos: ©Richard McGibbon
---
In need of some replacement rotor bolts or just want to add a bit of bling to your ride? Then the Cleanskin T25 Rotor Bolts have you sorted. Precision engineered T25 Torx heads coated with threadlock on the threads, these will keep that rotor locked in place.
Each pack contains 12 bolts, enough to fully replace a complete set of your wheels rotor bolts.
Available in a range of colours.
RRP. $9.95 per pack
---
Brake Pads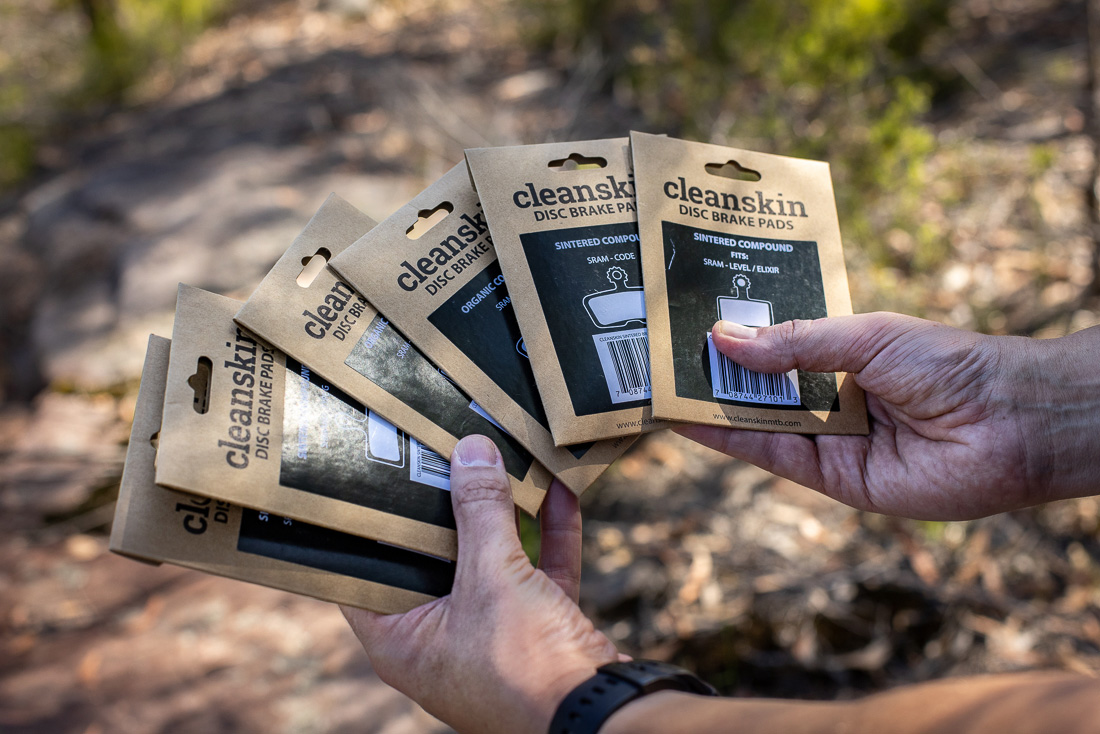 Bling, bling anyone? Who doesn't love anodised components?
Photo: ©Richard McGibbon
---
Cleanskin MTB offers a good range of pads to fit most popular brake systems on the market. A great option if you go through pads quickly. We suggest buying bulk, it will save you in the long run. The pads are available in two compounds; sintered or Organic so you can get the best option for your riding style.
All Cleanskin pads are tested to offer the highest performance and come with a high-quality spring retainer. We've not had any issues with them to date and can't tell the difference between these and the major brand version.
From RRP $18.95
---
---
Conclusions
The Cleanskin MTB products continue to impress with an ever-growing and clearly useful range of components being launched. Match that with their aggressive price point and high-quality manufacturing, and they offer a very attractive solution for riders wanting to spend less but still have confidence in what they are buying.
There are so many brands on the market all fighting for our attention to try out their range of products with glossy and high budget advertising campaings. Experimenting with different products can be costly to the wallet, but with the Cleanskin MTB range offering such a great price point, why wouldn't you check them out?
Us riders tend to be a little cautious with unfamiliar brands, so making that exploratory shift can be a little slow, but on the other hand, we're an adventurous type of people and have a sense of curiosity. We say you should throw that caution to the wind and try Cleanskin MTB products out for yourself.
---
Where to Buy / Price
6 Bolt Rotor: From RRP. $28.95
Rotor Bolts: RRP. $9.95 per pack
Brake Pads: From RRP $18.95
Available to buy at MTB Direct or ask at your local bike shop.
You can also check out other Cleanskin products on the Cleanskin Website.
Stockists
Online
MTB Direct
Website: www.mtbdirect.com.au
---
VIC
Cyclescape BendigoBENDIGO, VIC
Website: https://cyclescape.com.au/
Phone: 03 5152 1886
JBs Bike Tech
FERNTREE GULLY, VIC
Website: www.jbsbiketech.com
Phone: (03) 9758 1919
Riviera Cycles
BAIRNSDALE, VIC
Website: www.rivieracycles.com.au
Phone: 03 5425 2200
Royal Bikes
WARRAMBOOL, VIC
Website: www.royalbikes.com.au
Phone: 0435 468 574
The Rapid Wrench Melbourne
CAULFIELD SOUTH, VIC
Website: www.therapidwrench.melbourne
Phone: 0416 177 802
The Angry Butcher
SUNBURY, VIC
Website: https://theangrybutcher.com.au/
Phone: 03 8746 8500
---
NSW
Cheeky Bikes
LAMBTON, NSW
Website: www.cheekybikes.com.au
Phone: 02 49546689
Cycle Spot
MONA VALE, NSW
Website: www.cyclespot.com.au
Phone: 02 9979544
OTB Cycleworks
MUSWELLBROOK, NSW
Website: www.facebook.com/OTBcycleworks
Phone: 0490067365
The Bikesmith & Espresso Bar Pty Ltd
MAITLAND, NSW
Website: www.thebikesmith.com.au
Phone: 02 4933 3309
Velotec Sports
WICKHAM, NSW
Website: www.velotecsports.com.au
Phone: 0422 055 532
---
QLD
Big Mountain
DAISY HILL, QLD
Website: www.bigmountain.bike
Phone: 07 3090 3664
Just Ride Nerang
Nerang, QLD
Website: www.justridenerang.com.au
Phone: 07 5596 2911
PedalHeads Cycles
BRENDALE, QLD
Website: www.pedalheads.com.au
Phone: 07 3154 6432
---
TAS
Cyclingo
SOUTH HOBART, TAS
Website: www.cyclingo.com.au
Phone: 03 6224 6533
My Ride Launceston
LAUNCESTON, TAS
Website: https://www.myride.com.au/launceston
Phone: 03 6331 1311
Ride Bellerive
BELLERIVE, TAS
Website: www.facebook.com/ridebellerive/
Phone: 0362448222
Roam Cycles
LATROBE, TAS
Website: www.roamcycles.com.au
Phone: 04 1505 2748
Ulverstone Bicycles
ULVERSTONE, TAS
Website: www.ulverstonebicycles.com.au/
Phone: 03 6425 1595
West Beach Cycles
BURNIE, TAS
Website: www.facebook.com/westbeachcycles/
Phone: 03 6431 3530
---
SA
Ride Union Bike Co.
ALDGATE, SA
Website: www.rideunionbikeco.com.au
Phone: 08 8131 0237
---
WA
Bike Shed Dunsborough
DUNSBOROUGH, WA
Website: www.bikesheddunsborough.com.au
Phone: 08 9759 1495
The Bike Stable
SAWYERS VALLEY, WA
Website: https://thebikestablewa.com.au/
Phone: 08 9295 3667
Empire Cycles
BECKENHAM, WA
Website: https://empirecycles.com.au/
Phone: 08 6558 1761
Humble Bicycle Co
VASSE, WA
Website: www.facebook.com/humblebikeco/
Phone: 08 9744 7861
Kalamunda Cycles
KALAMUNDA, WA
Website: www.kalamundacycles.com.au
Phone: 08 9293 2115
---
NT
Outback Cycling
ALICE SPRINGS, NT
Website: outback cycling.com
Phone: +61889521541
---