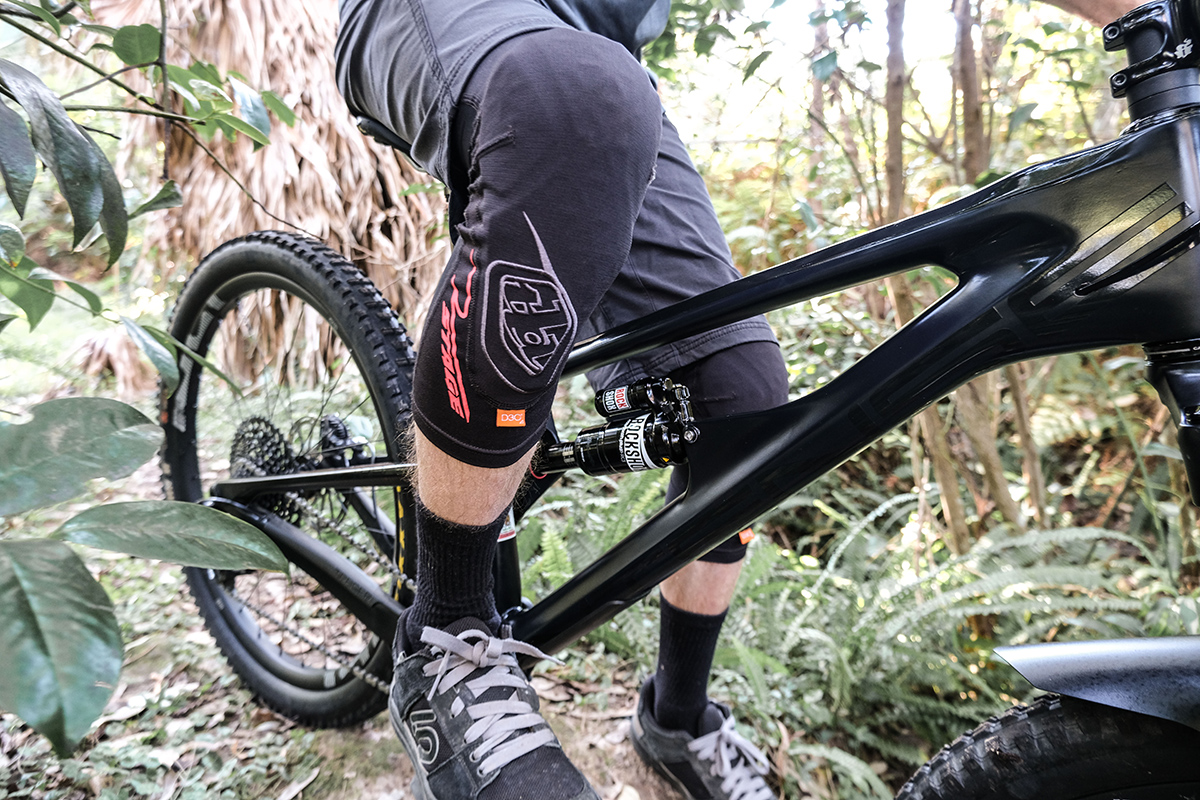 TLD Stage Knee Guards keeping your knees in one piece
Cut to the Chase
If you're looking for knee guards that can cop a hit but are comfortable enough to be worn for a full day of shred-filled adventures, the new Troy Lee Designs Stage Knee Guards could be just what you've been looking for. Suitable for DH, XC, All Mountain, Dirt Jumping and everything in between, for me personally, these guards were the peace of mind protection that I needed to push myself to the next level.
Pros
Lightweight
D30 Impact absorption technology
Highly-breathable
Very comfortable
Low-profile, great for wearing under pants.
Silicone thigh grip
Cons
Limited sizing options
Potentially prone to ripping
Minimal shin protection
Protect Your Knobblys with TLD Stage Knee Guards
For those of us who have experienced a dirt nap that involved our beloved knees, we are acutely aware of the benefits of a decent set of knee pads. Knee pads are the most commonly worn pads after a helmet and it's probably due to our knees taking the brunt of the majority when we crash. With a multitude of options to choose from, it's not always easy to find the perfect pad for you.
Troy Lee Designs are widely known for high quality and superior protection MTB equipment. They recently dropped a new range of soft knee and elbow guards that boasted the latest in shock-absorbing technology, offering unrivaled levels of protection – and better still were actually comfortable to wear. We recently reviewed the Stage Knee Guards and were surprised at just how true these claims were and wearable they actually are.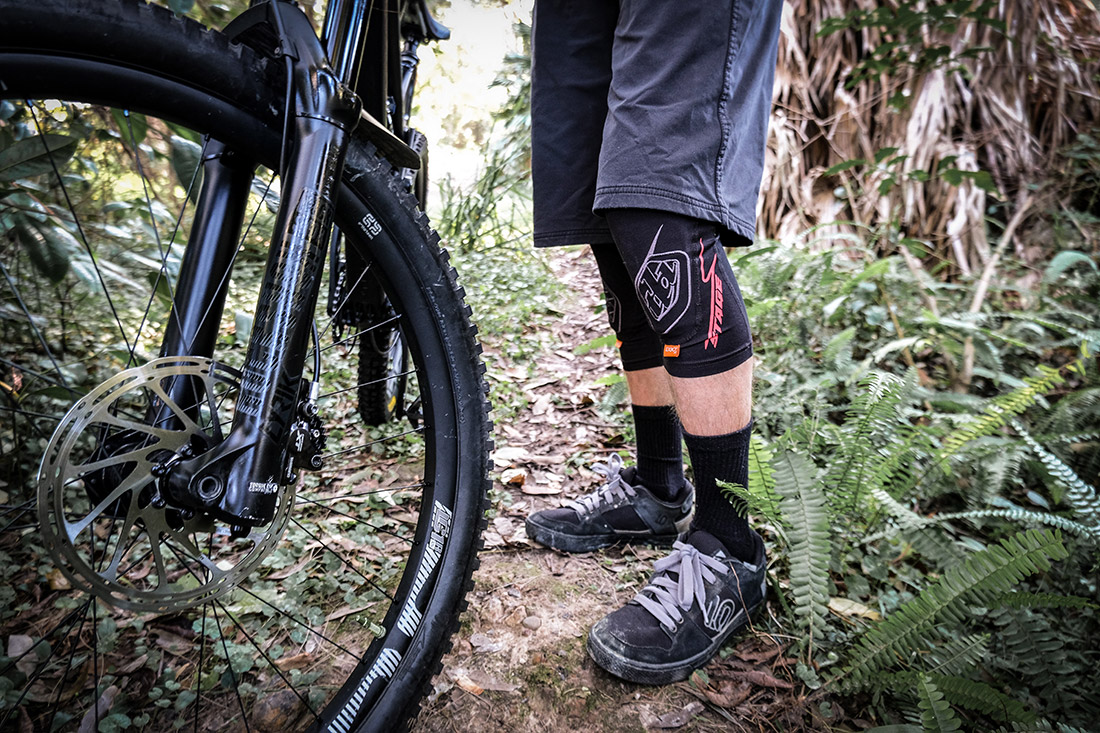 The Troy Lee Designs "Stage" are a great option if you're looking for lightweight, versatile, and breathable knee pad with impressive impact protection.
Photo: ©Luke Dean-Weymark
---
Features
The hero feature of the new TLD Stage Knee Guards undoubtedly is the high-tech material that is responsible for keeping your knees in one piece. The technology, called D3O® is a product developed by a mob of scientists, engineers, and equipment designers, which is quickly becoming the number one protective material in high-impact sports – think hockey, American football, snow sports, and motorcycle racing.
D3O® padding has some magical properties which allow it to be soft, light, and flexible, but will instantly harden on impact, spreading and absorbing the force of the blow to prevent serious injury.
D3O® lightweight, low profile knee impact protection
Internal silicone grippers prevent slipping
Spacer-prene sleeve combined with breathable mesh panel for all-day riding comfort
Durable, abrasion-resistant knee panel
Sold in pairs-left/right
CE EN1621-1 Certified
Sizing: XS/SM, MD/LG, XL/2XL – See sizing chart
On The Trails
Once you've got them on, you quickly forget that they're even there, which is honestly a first for us! The TLD Stage Knee Guards are low-profile and conform to your knees (no matter how knobbly), unlike many of the other knee protectors on the market that we've trialed. The TLD Stage knee pads can be worn underneath your shorts or pants with ease.
Weighing only 130 grams per pad, the inner silicone grippers keep the guards firmly planted on your upper calf and lower thigh, meaning there's no need for velcro straps to help keep them in place. The icing on the comfortability cake is the spacer-prene and breathable mesh panel, that makes these guards wearable all day long without discomfort.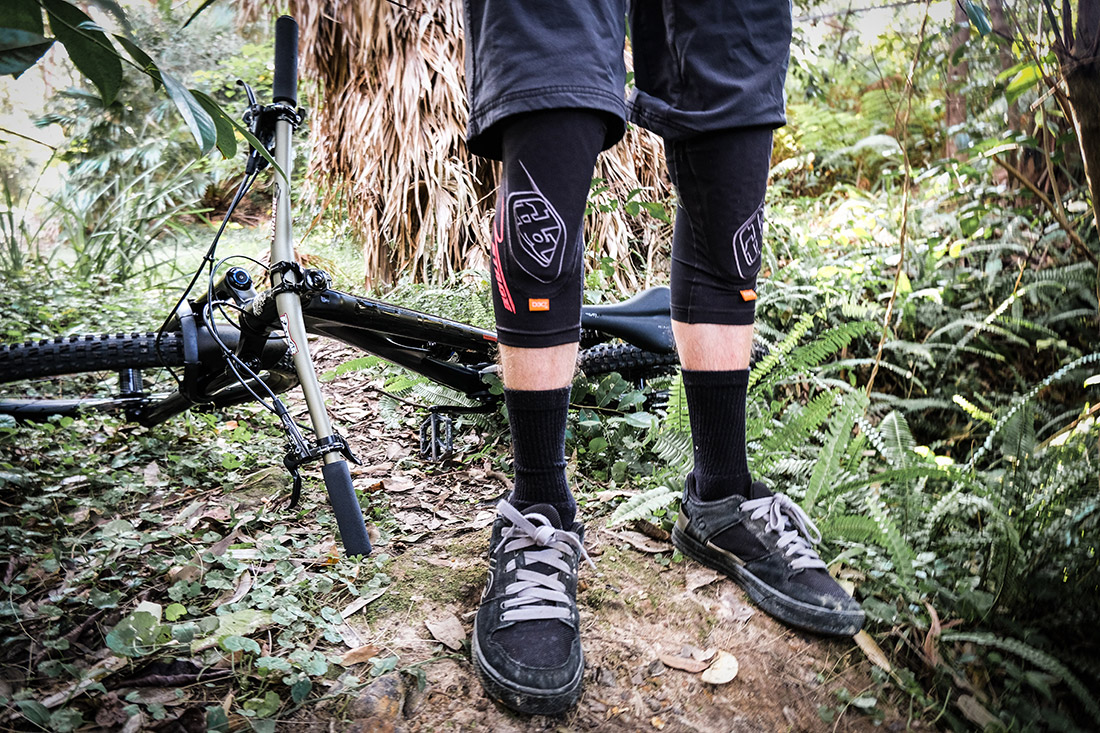 The TLD Stage knee pads are so lightweight and breathable, you'll forget you have them on.
Photo: ©Luke Dean-Weymark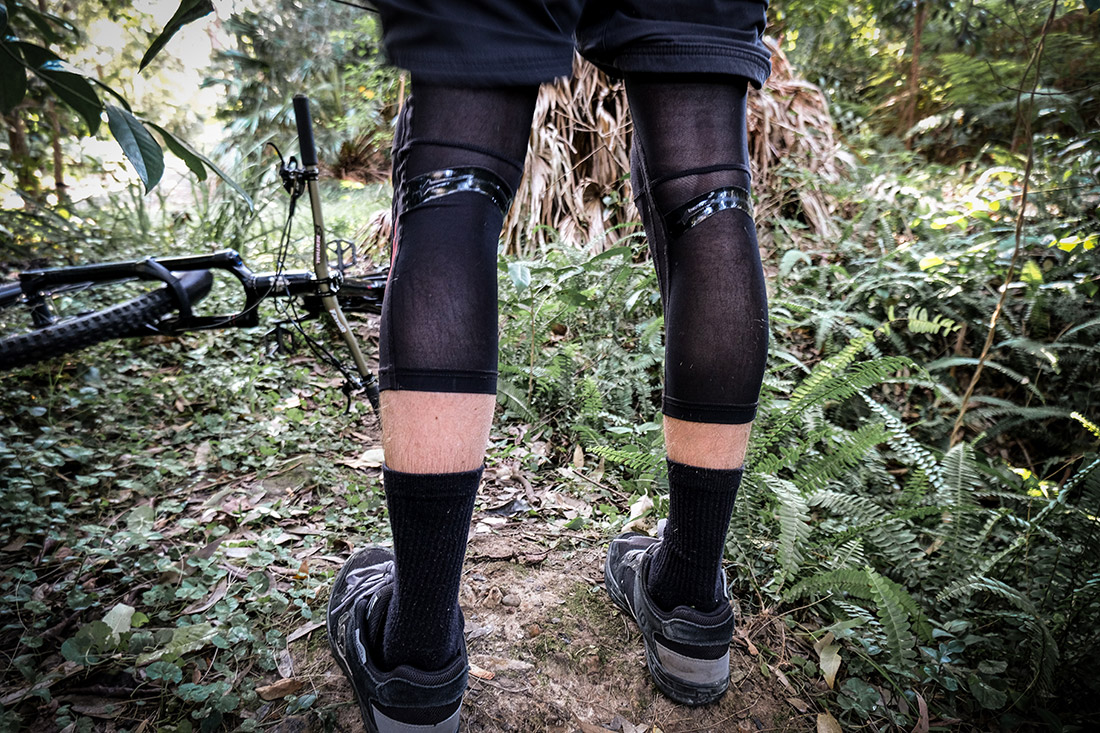 Showing a bit of leg just for the camera. The spacer-prene and breathable mesh panel keep breathability to the max!
Photo: ©Luke Dean-Weymark
---
The only flaw to these guards is the outer fabric. When compared to a guard with hard external plating like the 7 iDP Project Knee Pad, the TLD Stage Knee Guard lacks the outer durability to withstand multiple crashes.
They are said to be made from durable and abrasion-resistant paneling, but there is still the possibility that these pads could rip to a point where they could become unusable after a few big falls. Fortunately for this reviewer, there hasn't been the opportunity to test them out in this way (yet). He will report back at a later date!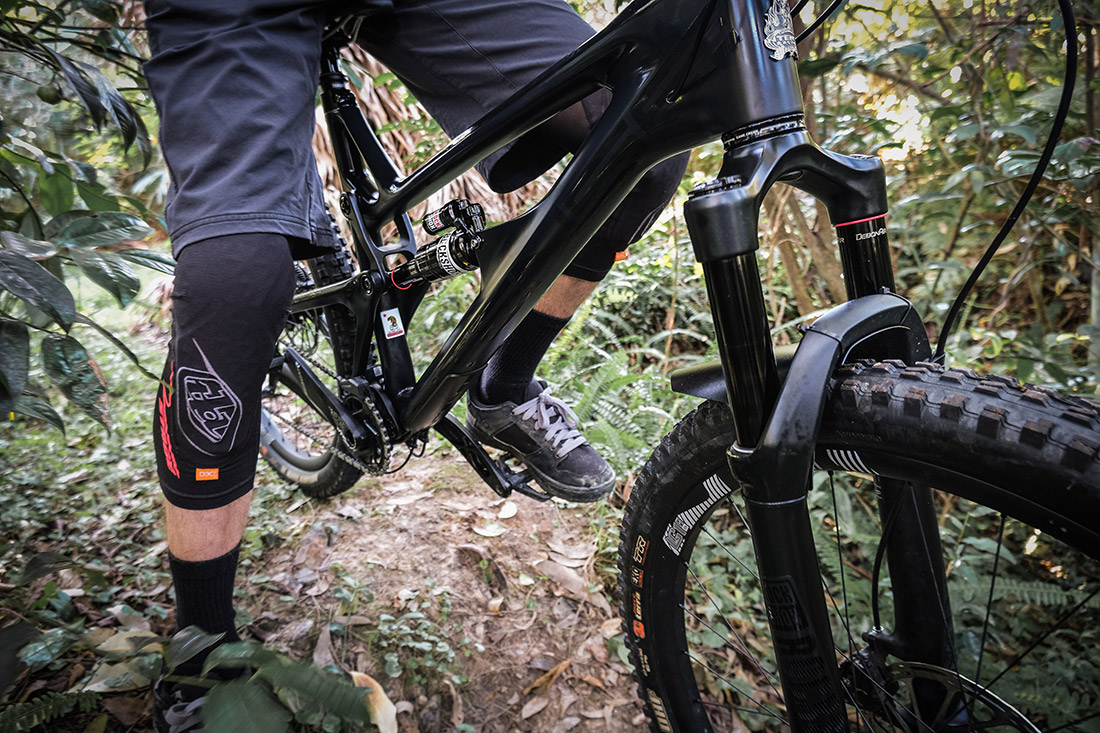 The Troy Lee Designs "Stage" knee pads cut a very fine form out in their natural environment.
Photo: ©Luke Dean-Weymark
---
Conclusions
Despite the soft external material and the chance of ripping the pads open, we'd opt for the TLD Stage Knee Guards over some of the more heavy-duty guards on the market. They are the most comfortable knee guards we've tested to date and partnered with the techy 3DO, the guards give you a sense of confidence that they'll protect you from a big fall, all the while you can almost forget that you're wearing them altogether. That's a win-win in our books.
Price/Where to Buy?
TLD Stage Knee Guards: RRP: $190.00
Available to buy at MTB Direct or ask at your local bike shop.