---
Designed to be light-minded. Not light-headed.
The Zenbivy Light Beds have a patent-pending zipper-less design which means they can hang with the lightest quilts and mummies on the market. Add to that the comfort of a Zenbivy Bed, and its ability to transform from a Quilt to a Rectangular Bag, to the warmth of a Mummy—the Zenbivy Light Beds are even more capable to take you anywhere.
The Zenbivy Light Bed is a lightweight version of the standard Zenbivy bed that we reviewed previously. The beds are essentially a two-piece sleeping bag, but it really isn't a bag at all. Bags are not designed to sleep in your favourite sleep position. Bags slide off mattresses. Bags get twisted when you move in them. Bags are only one size (some are warm but small, some are big but cold).
With the Light Bed, you don't slide off the mattress. You cover it with a soft sheet and lie on it, just like at home. The separate top quilt "floats" even when zipped in, so it won't twist around you, pin you, or trap you. The quilt can be "tucked in" for cold weather or "untucked" for warm. The hood gives you a snug place for your head and arms, with the quilt tucked in as snugly as you want. All without constricting your head and neck with a bag's web of cords and toggles.
---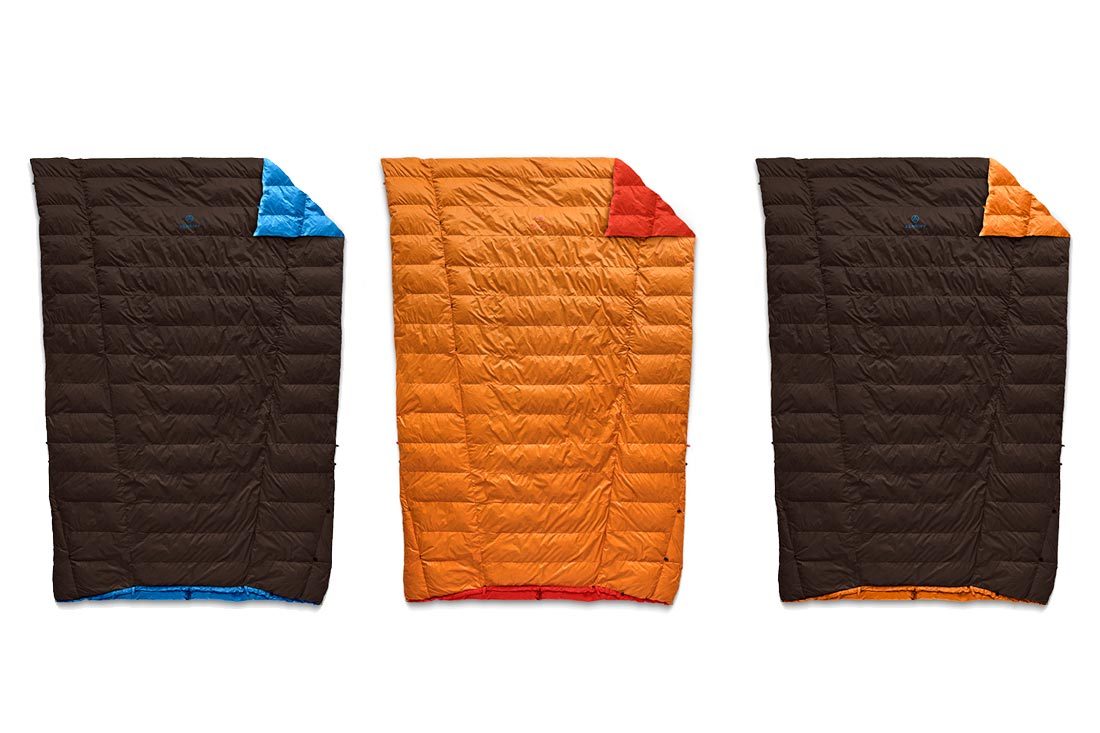 Choose a quilt and a sheet to assemble your perfect Light Bed.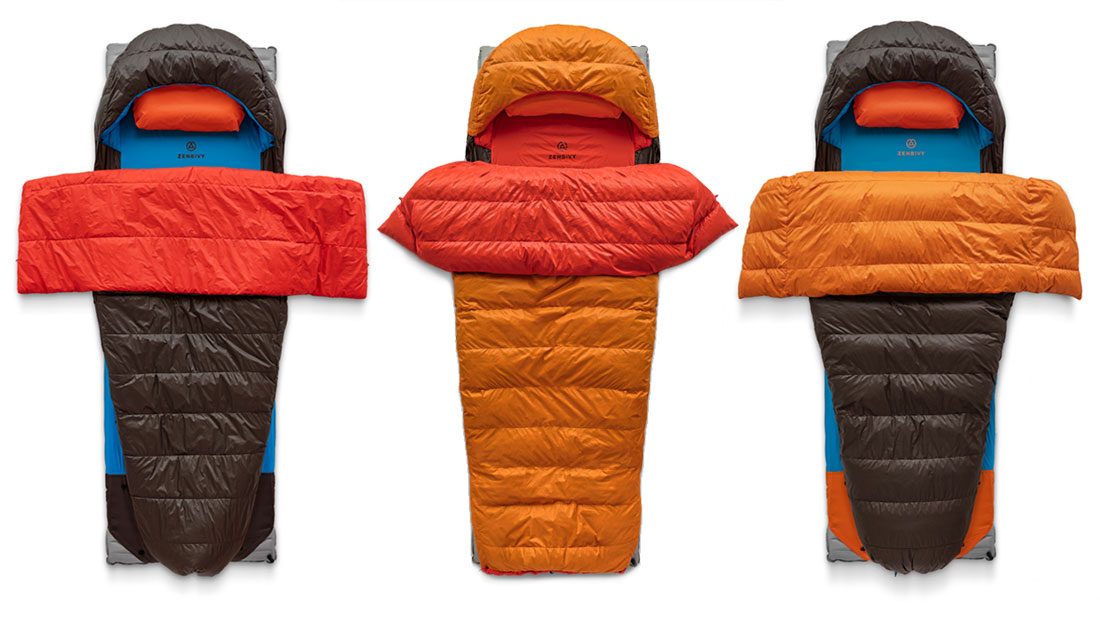 Add a mattress and pillow to complete your bed.
---
Thre Different Sleeping Modes…
Mummy Mode
When it's cold out, curl up in Mummy Mode with the quilt attached into the hood while closing the foot box at the bottom for a draft-free night sleep. The patent-pending zipper-less foot box is just as secure as a zippered design but without the weight of zippers. Don't believe it? Check it out here.
Rectangular Mode
In moderate temperatures, the Rectangular Bag Mode enables a complete range of motion for your feet while keeping the covers "tucked in". Check it out here.
Quilt Mode
When fast and light is the objective, leave the sheet behind and sleep directly on your mattress to shave every possible ounce. Quilt mode is also great in hammocks or on sofas.
---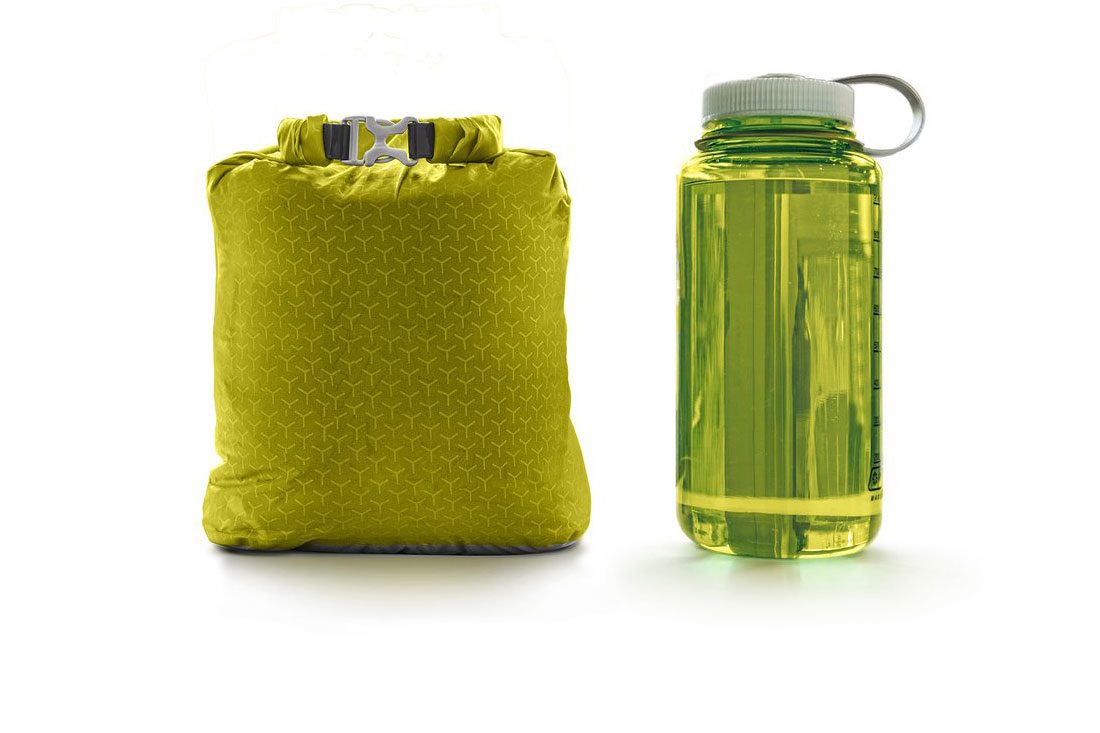 Above: Can your bag do this?
20% Lighter than the original Zenbivy Bed and competes with the lightest blankets and mummy bags out there. Not only that, but you can take our ultralight beds anywhere. All Light Beds compress to between 4 and 5L.
---
Goodbye zipper, hello hooks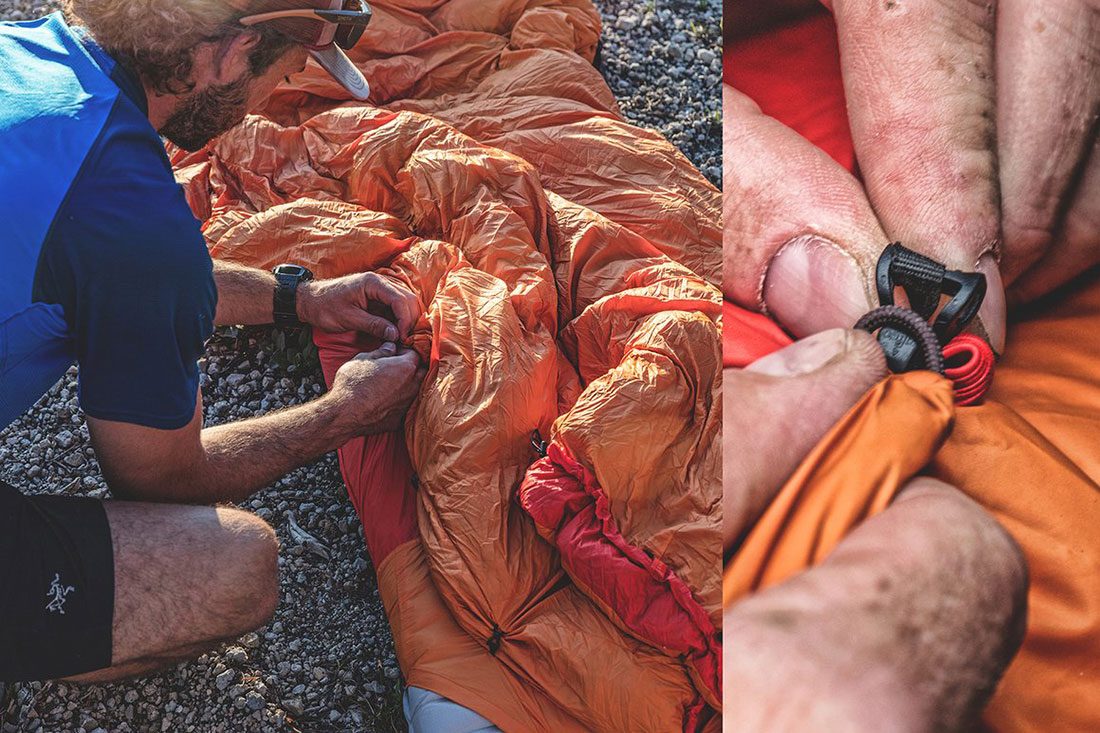 By removing the zippers from both the quilt and the fitted sheet, and adding hooks and loops to the sheet itself, you can now attach the quilt to the bed in even more ways and configure the quilt into both a Mummy-style foot box AND now a rectangular bag-style foot box.
Comfortably light
We want light, but let's not get weird about it. Sure, we used top-shelf 800 fill power HyperDry down. But while other ultralight quilts shed weight by making their fabric a super thin and clingy 10d, we opted to find smarter ways to lose ounces while keeping the fabric a very soft and comfy 20d. You're welcome.
---
To find out more, head on over to the ZENBIVY website for prices and the full range of products.
---