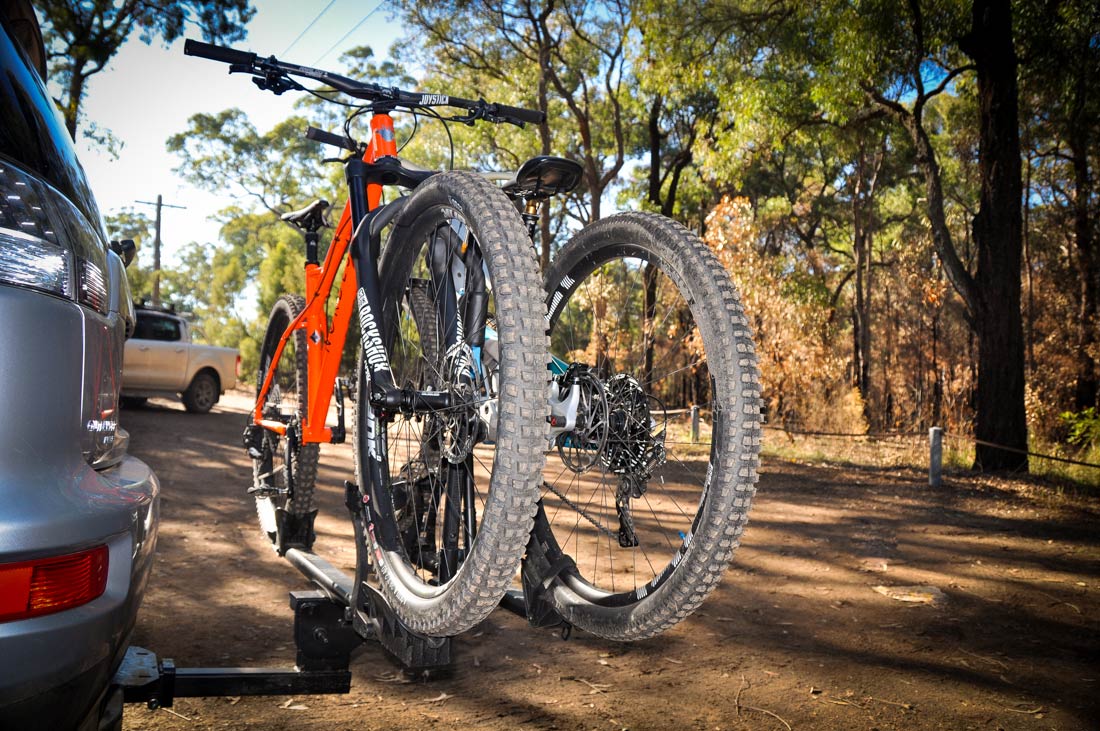 RockyMounts Monorail Platform – Rack Review
Cut to the Chase
If you're looking for a bike rack you can trust to securely carry your beloved bikes, then the Monorail from RockyMounts could be one hell of an option for you. An impressive setup made from incredibly strong materials, a simple secure contact point system and unique features to make your bike travelling life a little easier. The well-known US brand is now available in Australia and we think it's going to do very well here.
Pros
Simple contact point and set-up
Super-strong materials made to last
45 degree drop down feature
Cable lock included
Simple and bold aesthetics
Cons
The 45 degree drop-down feature can be a little tricky to use.
---
The Rockymount Monorail is a user-friendly, bounce-free, versatile bike rack that provides a secure and reliable bike carrying system.
The MonoRail is just one of the hitch racks on offer from RockyMounts. It stores two bikes but can be extended to carry three and is versatile enough to carry road bikes to fat bikes. With a simple but burly design, the Monorail looks great hanging off the back of your vehicle, with or without bikes.
Let's admit it, bike racks are not cheap. Well, actually there are cheap models out there but why go cheap when the bikes you're carrying can be worth more than the vehicle you're driving? The last thing we all want is to see those beloved bikes bounce along the road due to a cheap bike rack failing. That's the stuff of nightmares.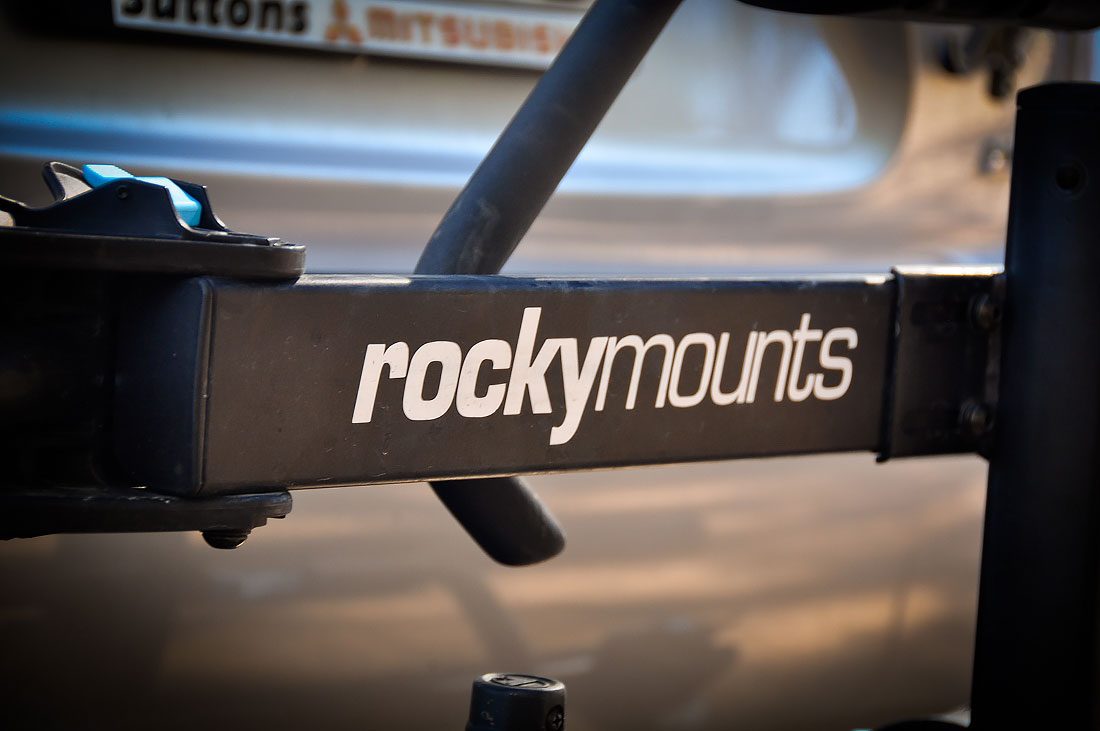 Who are Rockymounts?
In 1993, founder Bobby Noyes ventured from New Jersey to Colorado to feed his passion for bicycling. Recognizing the need for a better bike racks, he set up shop and began producing bike racks by hand. Those first racks, which were sold out of the back of his truck, became a huge hit locally and quickly made their way across the United States.
The RockyMounts company evolved from the need to offer outdoor enthusiasts and professional athletes a higher quality product to transport gear to their next big ride or backcountry adventure. Today, RockyMounts offers a full lineup of bike, ski and cargo racks along with a complete bike security collection and are now here, in Australia!
---
Features
The main lower frame (the chassis) is made from custom extruded carbon steel, E-coated, and Powdercoated for maximum weather resistance. The Monorail attaches to the vehicle via a standard 2″ square hitch hole and is secured via a bolt that screws through and locks on the opposite side.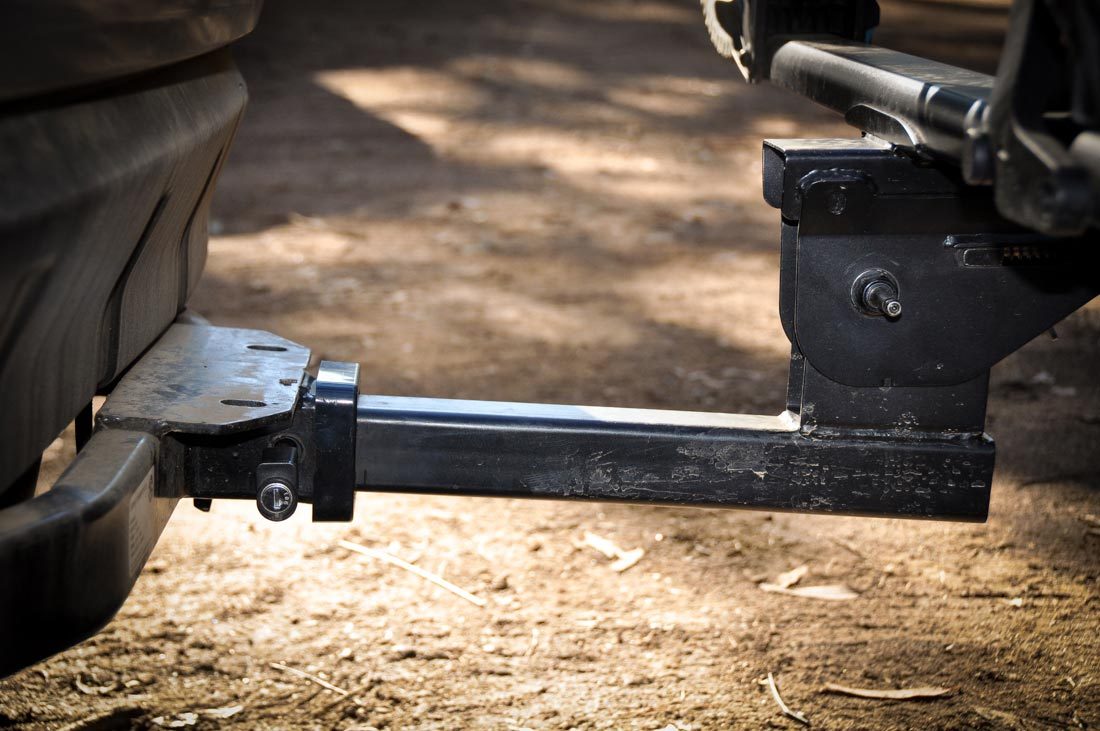 Above: The Monorail lower frame is made from custom extruded carbon steel, E-coated and Powdercoated for maximum weather resistance. Photo: ©Tyres and Soles.
---
The Monorail is an extremely versatile rack with the capacity for all styles of bikes; from skinny tyre road bikes to heavy fat tyre E-bikes. With only two contact points to concern yourself about, it's a quick loading system allowing you to rack up two bikes, in seconds.
The front wheel of the bike is supported via large wheel cups made from engineered nylon for durability and strength. A clamping arm folds upwards into place and ratchets down onto the tyre with an over-moulded rubberised clamp, flush against the fork arch. The rear wheel is then clamped down using a heavy-duty ratchet belt that folds over the rim, stabilising the rear end of the bike.
One of the key features of the Monorail is the ability to drop the entire rack 45 degrees to gain access to the rear of your vehicle. This makes it much more convenient to gain access to your riding kit without having to clamber through the vehicle or drag bags out onto the floor.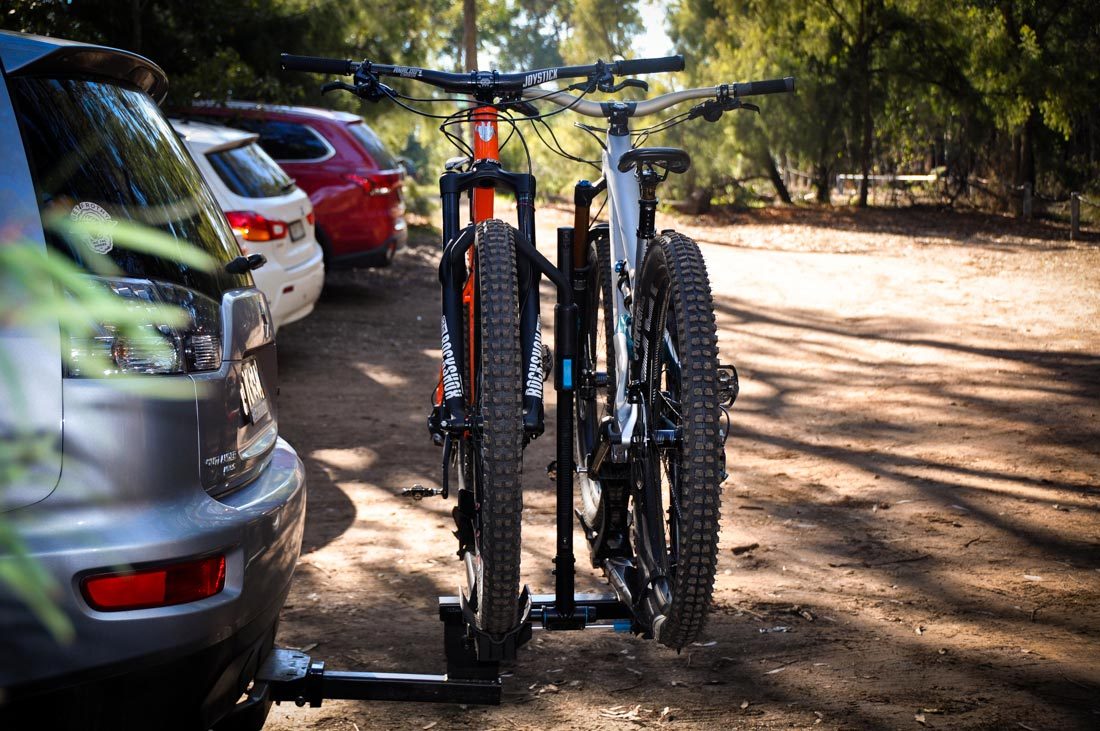 Above & Below: The same handle allows the Monorail to drop down at an angle to allow for easy vehicle rear access. Photo: ©Tyres and Soles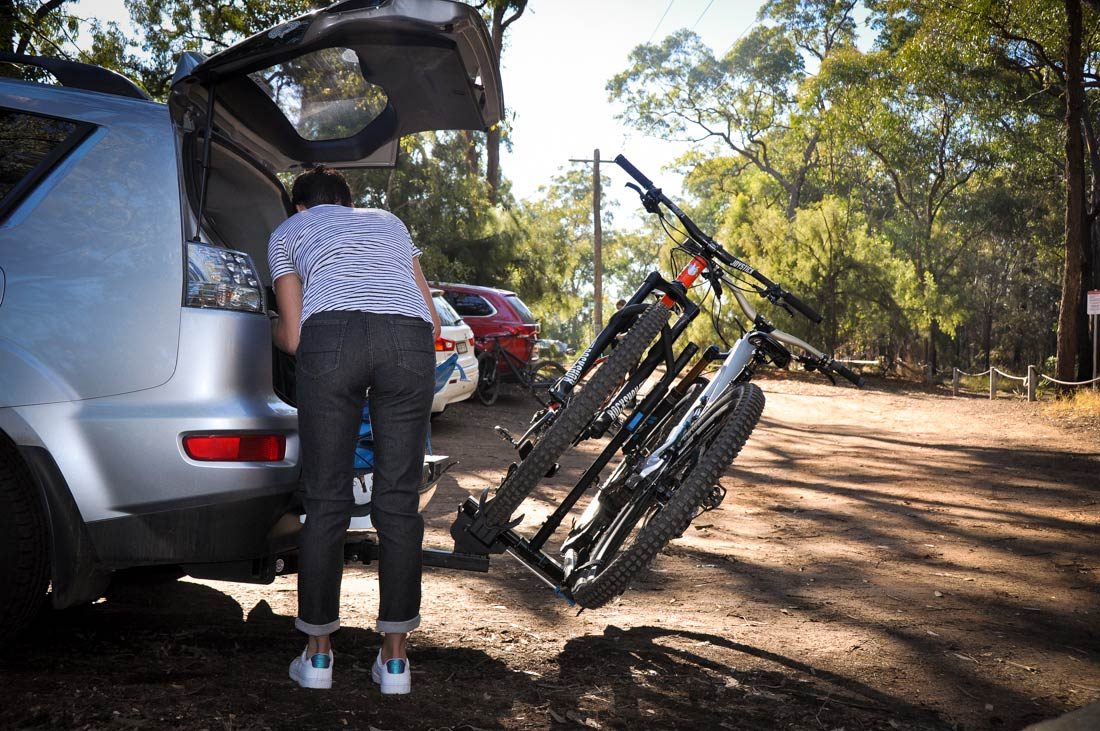 You'll notice that the MonoRail extends out from the rear of the vehicle more than some racks, so when not is use you can fold it vertically by simply pulling on the same lever you use to drop it down. This reduces the length and potential bump hazard from other vehicles.
A heavy-duty 10mm cable lock also comes with the Monorail which attaches to the hitch arm bolt and is long enough to loop around both bikes for additional security.
---
Specifications:
Carries 2 bikes, up to 60 lbs. 2" variant is expandable to 3 bikes up to 45 lbs each, with Add-On
No contact with frame, secures bicycle by front wheel
Carries road tires up to 5.0" fat bike tires, and diameters from 20" to 29"
Compatible with bicycles' wheelbases from 34" and 49"
Folds flat against the vehicle, and tilts down 30 degrees to allow for hatch access
Available in both 1.25" and 2" variants.
Comes with anti wobble bolt
Includes locking hitch pin, cable lock, and standard lock pods, keyed alike
Not for use with fender equipped bicyclesRack weight 17.7kgs
Materials:
Lower Frame: Made from custom extruded carbon steel. E-coated and Powdercoated for maximum weather resistance.
Clamping Arm: Extruded alloy with powdercoat and over-moulded rubberised clamp.
Wheel Cups: Engineered Nylon for durable and strength.
Cable Lock: Heavy duty 10mm locking cable.
Above: Make no mistake, the Rockymounts bike racks are built to last. Photo: ©Tyres and Soles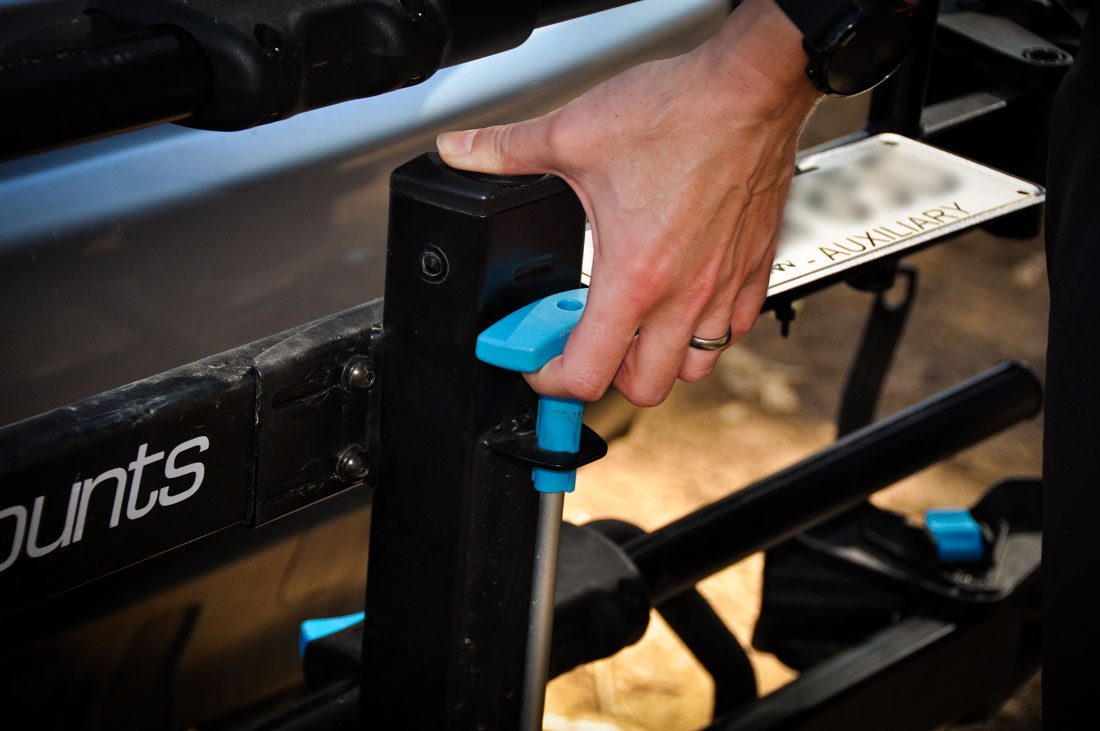 Above: Lever used to drop rack 45 degrees for easy vehicle access and fold up when not in use. Photo: ©Tyres and Soles.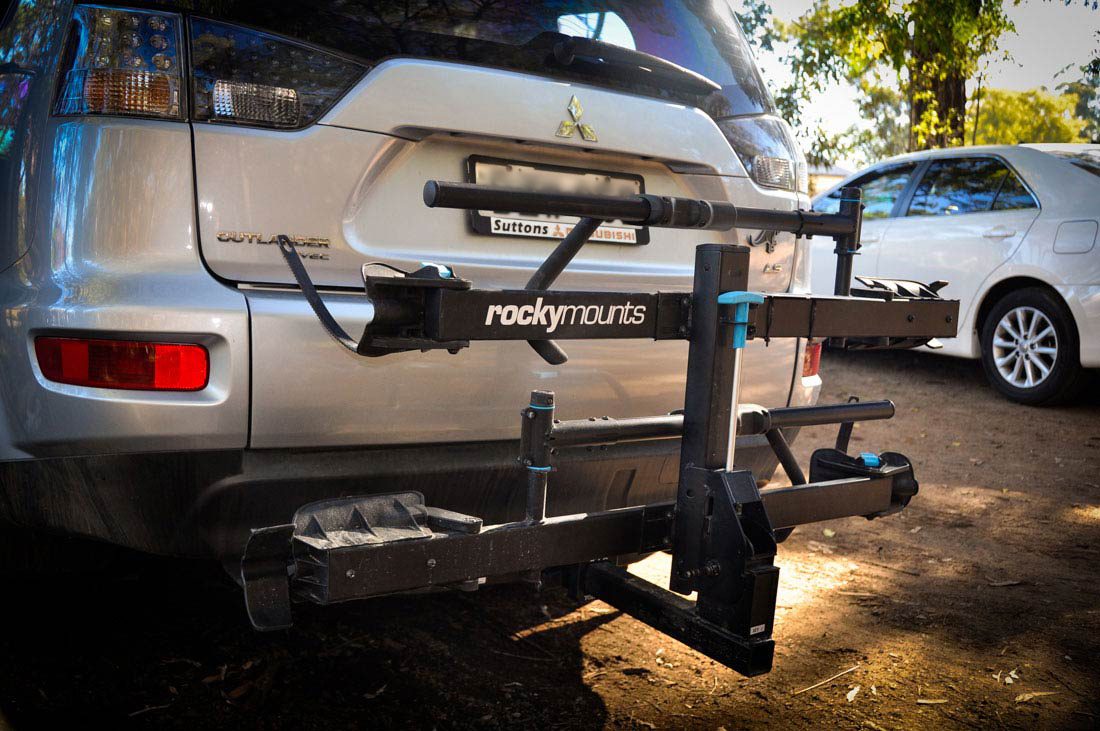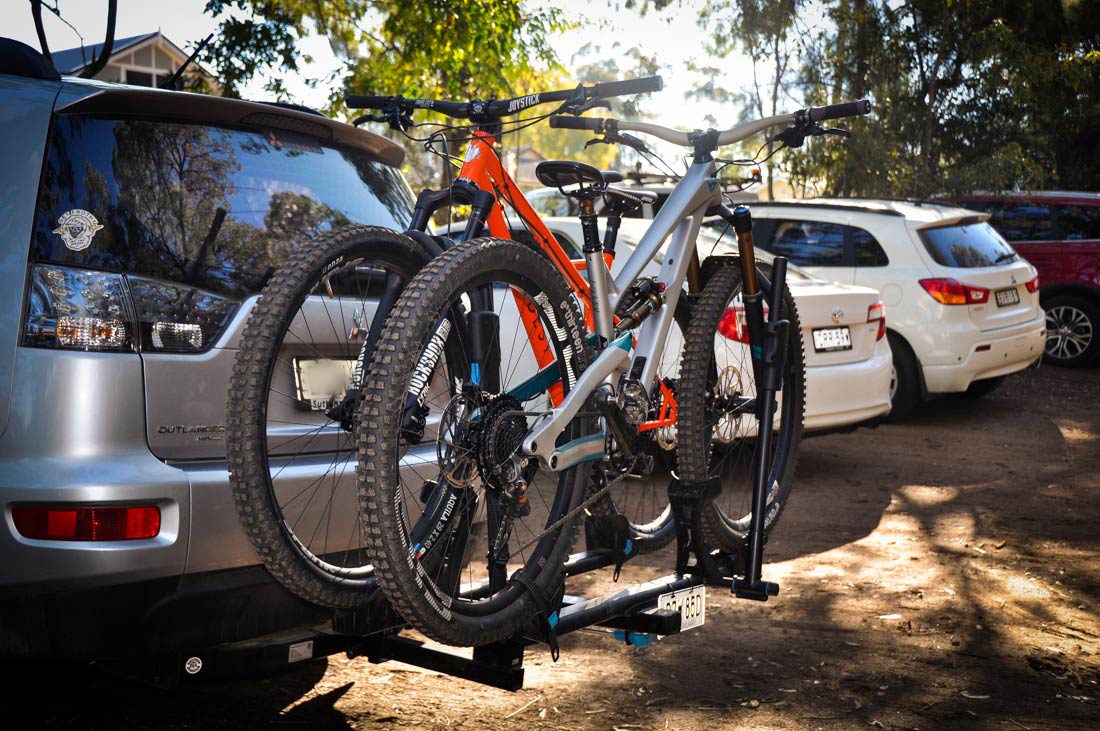 Above: The RockyMounts Monorail Platform 2 bike carrier has a clean and bold appearance.
Photo: ©Tyres and Soles.
---
Conclusions
We've been using the Monorail for about 6 months and have had absolutely no issues with it. We have total confidence that our bikes are securely clamped down and are not going anywhere, especially on long-haul trips or when going off-road when it gets a bit bumpy. The ability to drop the rack down to gain rear access to our vehicle has been a big bonus for us, a feature we've come to really appreciate.
---
Where to Buy / Price
RockyMounts Monorail Two Bike car rack: $489.00AUD. Currently on special. Was $549.00.
You can purchase the Monorail or any other of the RockyMounts bike racks from the Roof Rack Store.
Or for further information, contact: Chris Murty (Australian Distributor) at chris@rockymounts.com.au
---