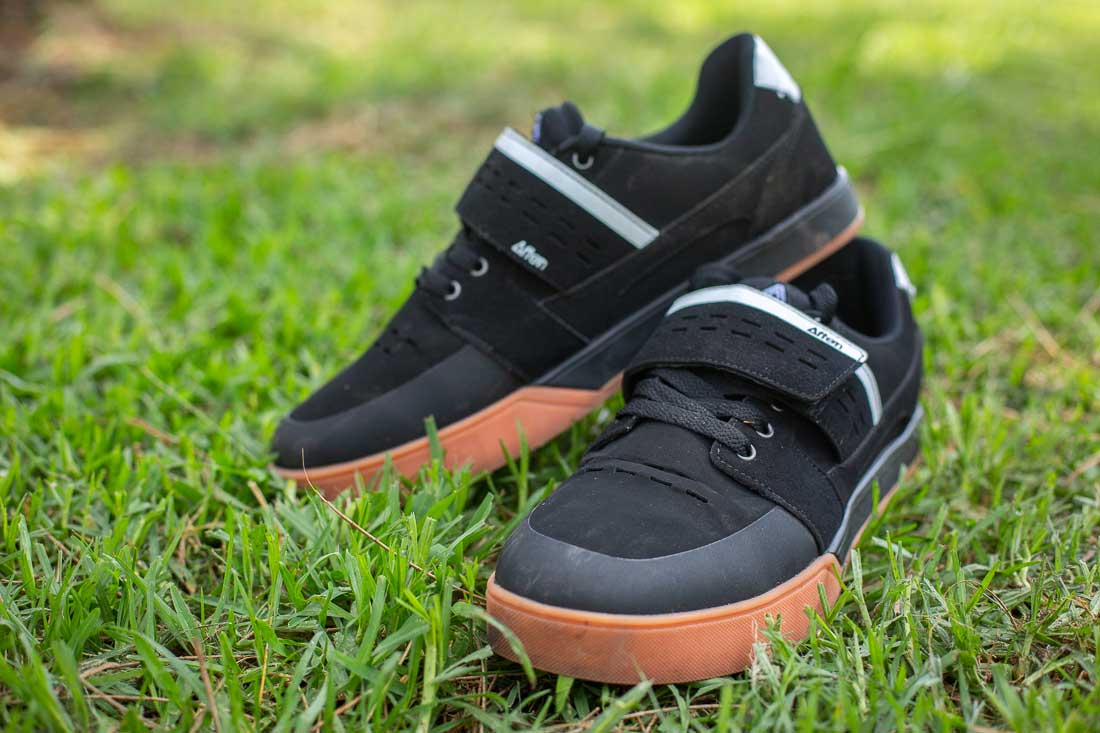 Afton Shoes – Old skool styling with High-tech features!
Cut to the Chase
If you're a fan of old skool fashion but look for high tech features in a shoe, then the Afton Keegan and Vectal shoes could be the thing you're looking for. With a great balance of suppleness and strength in all the right places, these shoes are perfect for DH, Enduro and AM riding, with a bucket load of style to boot!
Pros
Old skool looks with hi-tech features
Innovative shank technology
Excellent foot support
Tough outer and inner sole combination for big impacts
Very comfortable when off bike/walking
Cons
Laces could be a little longer on the Keegan model
The Vectal model is a little on the heavy side
---
Afton Vectal & Keegan – MTB Shoe Review
There are many areas that need consideration when purchasing MTB riding gear. The helmet is the most obvious and the most expensive (never, ever, go cheap on this!) But we all too often get caught up with jerseys, gloves, and socks, far too easily. Why? Because gloves and socks are fun! Simple as that. They're also pretty cheap in comparison to body armour and footwear. However, footwear is one area that is crucial to your performance and comfort on the bike.
There are only five touchpoints on a bike. Our feet make up 40% of those touchpoints but have a huge impact on the way we ride. There's a lot to think about when looking for the right shoe such as; stiffness, torsion, clips, flats, laced or boa-closure systems, grip, protection, trail feedback, power transfer…you get the idea.
Then, of course, there are the looks. Do you go for a full-on uber-stiff XC shoe or something softer, like an old skool skate shoe? Can you have both? We think you can with the Afton footwear company who are merging high tech with old skool looks.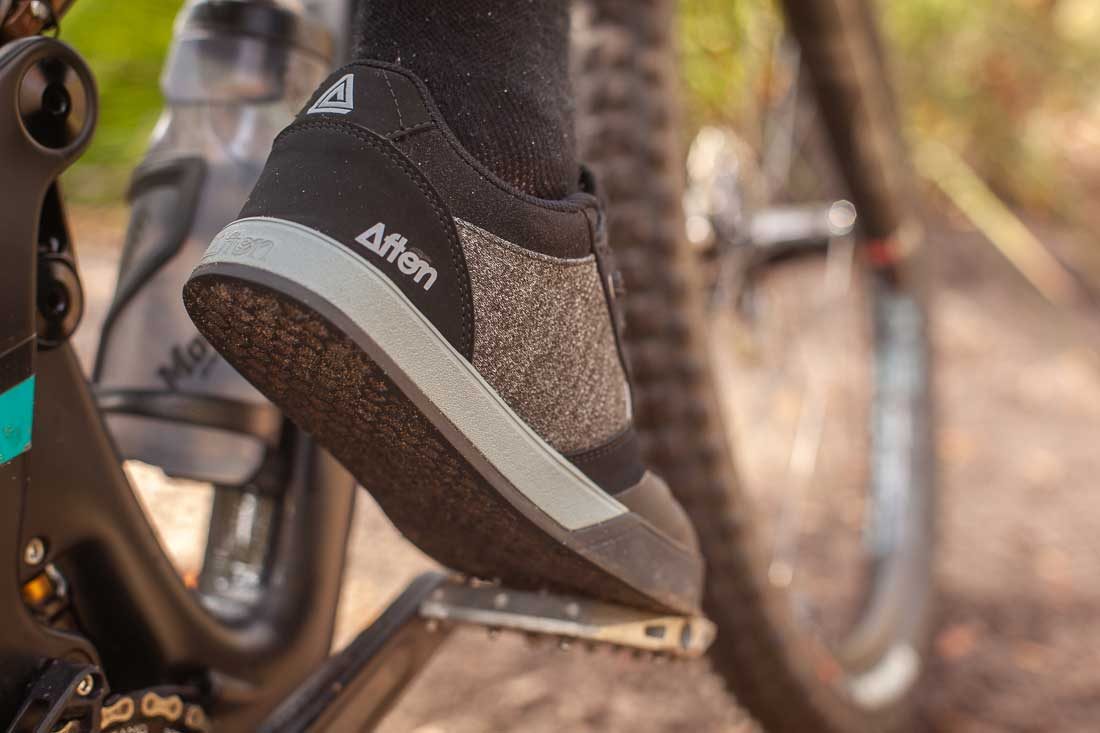 The simple looks can be deceiving, but these shoes pack plenty of tech once you look a little deeper.
Photo: ©Richard McGibbon
---
Who is Afton?
Based in Southern California, Afton shoes appeared on the MTB world stage in 2018 with their Keegan flat pedal shoe and Vectal clipless shoe, both featuring the shank sole insert which won them the 2018 Innovation Award.
Afton shoes have already been on multiple UCI World Cup DH podiums, taken home a U.S. National DH Championship, and have won an X-Games gold medal.
The mix of old skool BMX and Skateboard styling, coupled with new technology, makes the Afton range very attractive to a wide range of riders who appreciate this particular style but still need a fully supportive and technical shoe.
Features
We were given a pair of the Afton Keegan (flats) and the Vectal (clips) to test. Both shoes have the classic flat pedal styling, there's not even the slightest whiff of XC anywhere in sight.
Vectal – Tech Specs
Improved and accurate fit.
Afton's second generation Intact® rubber is more resilient and less susceptible to tears
Oversized clip box and 35mm of clip travel allow all kinds of clip configurations without restriction when clipping in and out.
Thickness ranging from 4mm to 12mm, the shank is specifically designed to transfer power into the pedal yet allows you to walk as normal as possible.
Reinforced toe box with additional protective PU taping together protect your toes and shoes from rock deflections and impacts.
Anti-microbial moulded foam insole to control odour and for proper heel and arch support does not break down use after use.
Lace protector flap.
Weight: 600 per shoe (1200g a pair)/ Size 45 EUR with cleats.
Keegan – Tech Specs
This shoe has a performance fit which is snug. If you like more relaxed fitting shoes, please order a size larger.
Afton's proprietary Intact® rubber. Boasting a Shore A of 60, it's a blend of durability and needed traction.
Outsole constructed specifically to interface with a flat pedal yet provide traction when climbing and descending hills when off the bike.
Mono-directional interior shank supports your foot on the pedal during impacts, assists in energy transfer when pedaling, and reduces vibration yet flexes to allow normal walking.
Reinforced toe box with additional protective PU taping together protect your toes and shoes from rock deflections and impacts.
Weight: 424g per shoe (848g per pair)/ Size 42 EUR
On The Trails
The Vectal (clips) come with standard laces and a protective flap that closes over them. I personally like this look, it reminds me of old skate era of the late '80s. You can also pull this flap really tight and it helps to wrap the entire shoe much more securely to your foot, without cutting off circulation. The Keegans don't have the protective flap, however.
Clipping in and out with the Vectal model was never an issue. An oversized clip box and 35mm of clip travel allowed for all kinds of clip configurations without restriction when clipping in and out.
Both the Vectal and the Keegan outer sole rubber uses Afton's aptly named propriety compound, "Intact". It's a soft compound that offers high levels of grip but unlike the Vectal where you can rely on the clip to keep your feet on the pedal, the Keegan really needs the grip to keep your foot planted.
We felt that although the grip is good and slightly softer than other shoes in the same category, it lacked a little when compared to 5.10 Stealth compound or even Specialized 2FO 2.0, but the compromise will result in longevity of the soles.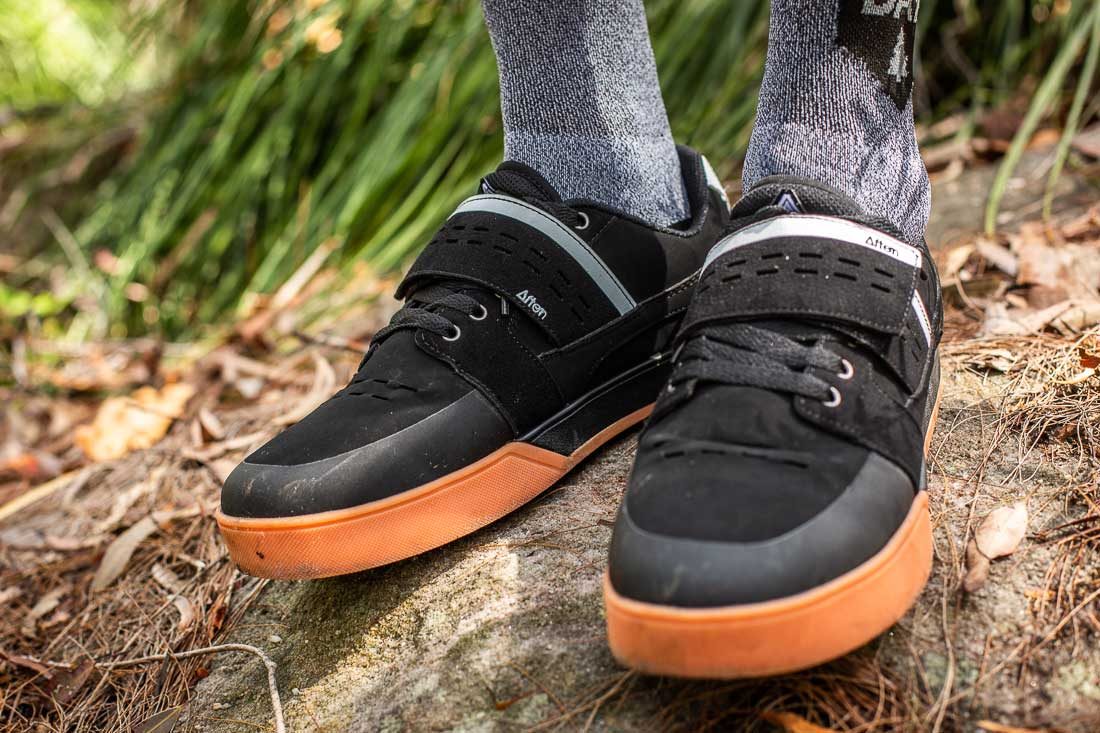 Afton Vectal. Wrapped up and ready to go!
Photo: ©Richard McGibbon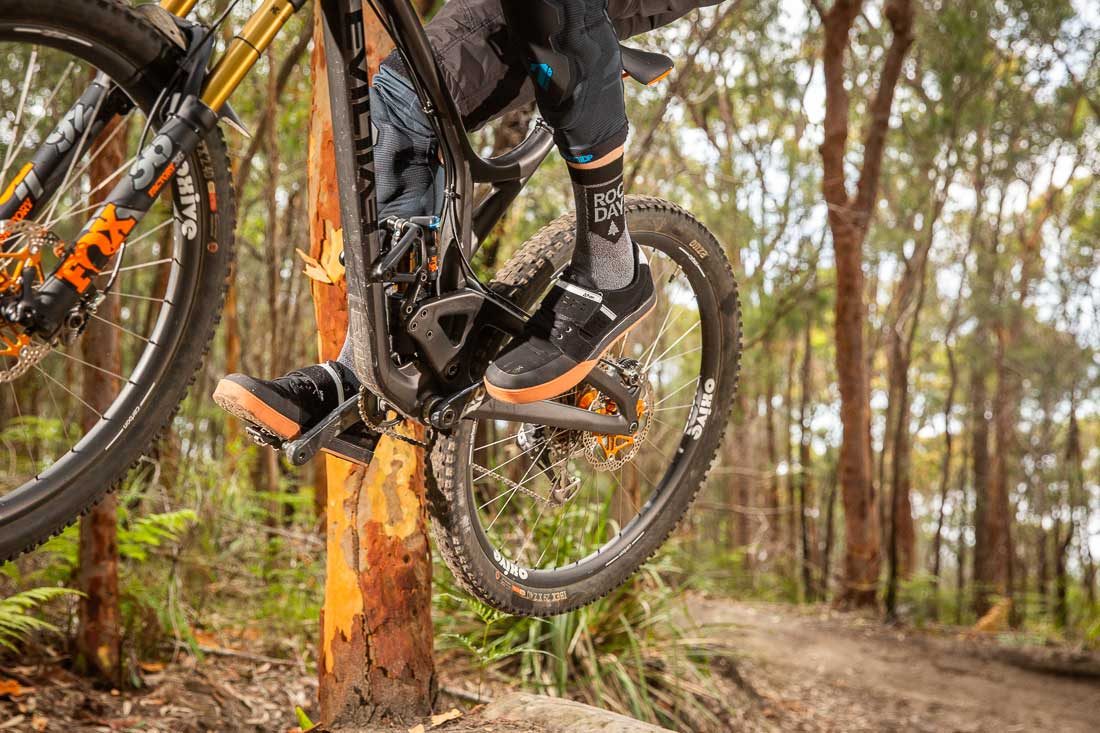 Afton shoes have just the right amount of stiffness and support without being too harsh on the feet.
Photo: ©Richard McGibbon
---
The big feature with the Afton shoes is the innovative shank which sits under the front of the foot and towards the heel. This made the shoe feel very rigid with great levels of support across the arch of the foot. However, there's plenty of flex in the sole to comfortably walk around for hike-a-bike moments and can even be worn down the pub or cafe, which one of us did.
The power transfer into the pedal felt solid and planted, giving us good levels of trail feedback. On the rough and chattery stuff, the vibration was hardly felt at all due to the shank system whilst still giving excellent levels of support.
We only really had one gripe with the Keegan (flats) shoes. It may have been a mix-up at the factory, but the laces seemed a little short. Maybe we are used to the extra-long laces on our Specialized 2FO's, but an extra inch or two would be an improvement.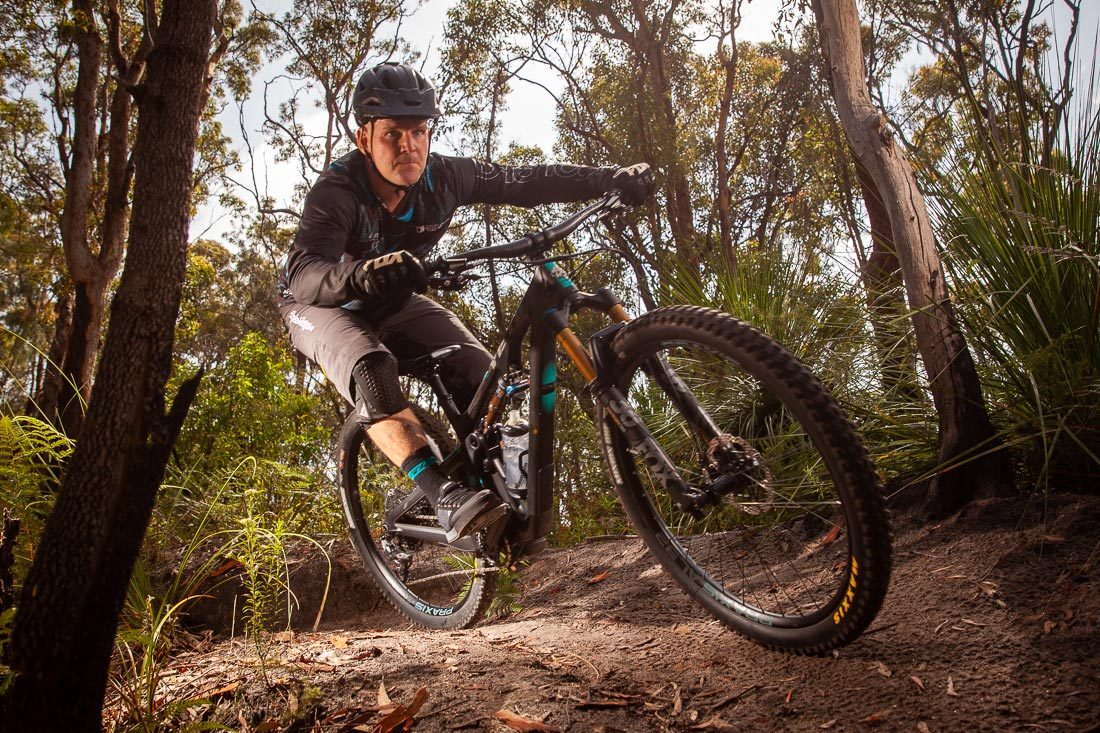 The Keegan shoe has all the looks of an old skool skate shoe but with all the latest hi-tech features. A perfect balance.
Photo: ©Richard McGibbon
---
Where to Buy / Price
Afton Keegan: from $134.95
Afton Vectal: $118.95 (30% off RRP at time of this review)
Can be purchased at MTB Direct and other good online retailers or ask at your local bike shop.
---