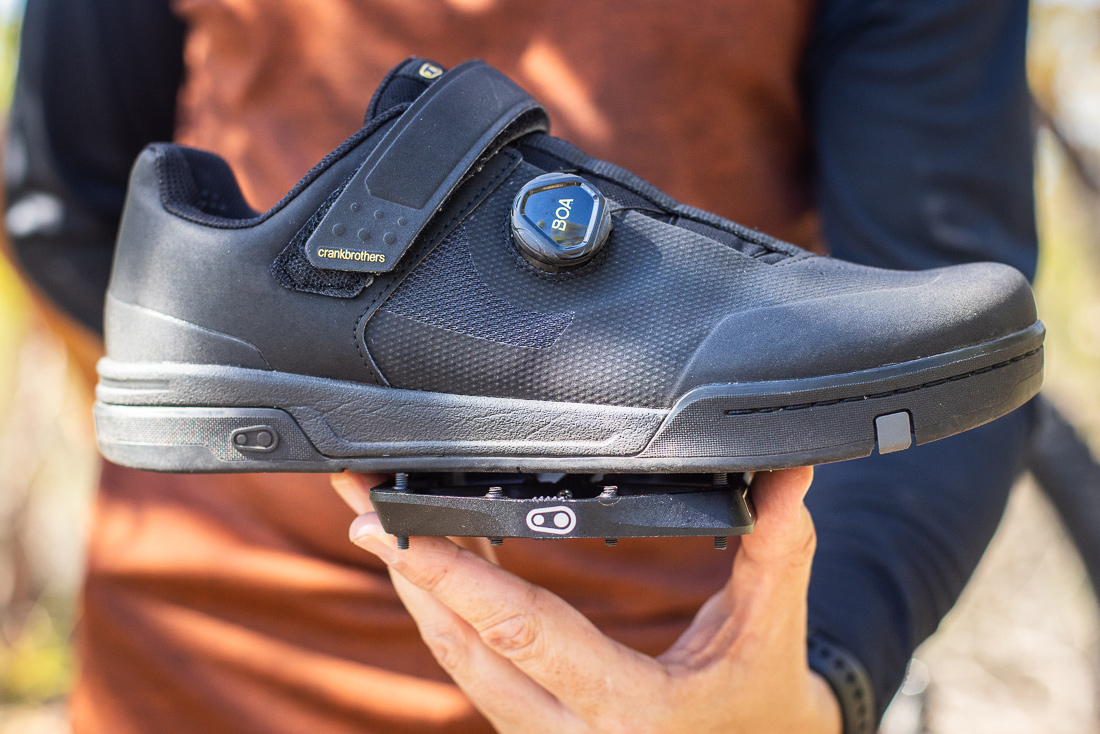 STAMP Your Feet In Excitement for the NEW Crankbrothers shoes
Cut to the Chase
Crankbrothers have created a truly awesome range of MTB shoes, all offering a fantastic amount of features. The MATCH System is a unique pedal and shoe pairing model that gets the best out of both products. The result is a range of stylish, efficient shoes that feel and perform excellently on and off the bike. A little pricey but you do get what you pay for in this industry.
Pros
Boa closure system
Super-grippy
Impact and abrasion zones
Weight
Excellent on and off pedal use
Comfort factor is high
Cons
Unique looks may not suit everyone
A bit pricey
Crankbrothers STAMP BOA® and STAMP Pedal Combo review
Crankbrothers have entered the MTB shoe market with a bang! There are nine core shoes to choose from, all of which cover a broad range of rider disciplines from trail, dirt jump, enduro, and downhill. The Crankbrothers shoes have been designed with what they are calling the "Match System", where each shoe matches up with their respective pedal.
Each category, MALLET, MALLET-E and STAMP share similar features but it comes down to the type of lacing system you prefer. The STAMP is Crankbrothers flat pedal shoe that comes with three closure systems to choose from.
We dropped a "First Look" post about these shoes a few weeks back, but since then we've had the chance to get out and ride with a pair of the STAMP BOA flat pedal shoes, thanks to the team at We Are Lusty who kindly sent us a pair, along with the matching Cranbrothers STAMP flat pedal.
OK, so what do these three lace closure systems mean?
STAMP LACE – Classic lace closure system offers smooth closure with round laces and a pocket to safely tuck laces.
STAMP SPEED LACE – Speed lace closure system offers fast adjustment, a velcro strap for secure closure, and a pocket to safely tuck laces.
STAMP BOA® – The BOA® Fit System utilizes a micro-adjustment dial, velcro strap for secure closure, and low-friction lace guides to deliver fast, effortless, precision fit.
Got that? OK good. So once you've worked out which type of lace system you prefer, you'll have three core shoes to choose from. The STAMP range comes in a variety of colourways, in fact, the most variety on offer from the entire Crankbrothers collection.
STAMP
Flat pedal shoes are a hotly contended product. The grip, support, and style have always been a major factor for success, but most important of all, it's the grip that truly wins over flat pedal users and can elevate a shoe into legendary status. Just look at the popularity and loyal fan base of the FiveTen Stealth rubber. Those shoes should be entered into the flat pedal shoe hall of fame if one existed.
STAMP is the Crankbrothers market response to this very specific shoe type. Crankbrothers claim that the Stamp flat shoe does it all, whether on street or trail. The outsole is optimized for the Crankbrothers Stamp pedal body, though it is designed to work flawlessly with any flat pedal. Its high-friction rubber compound provides optimal grip and its lug depth absorbs the pins to ensure a secure pedal connection.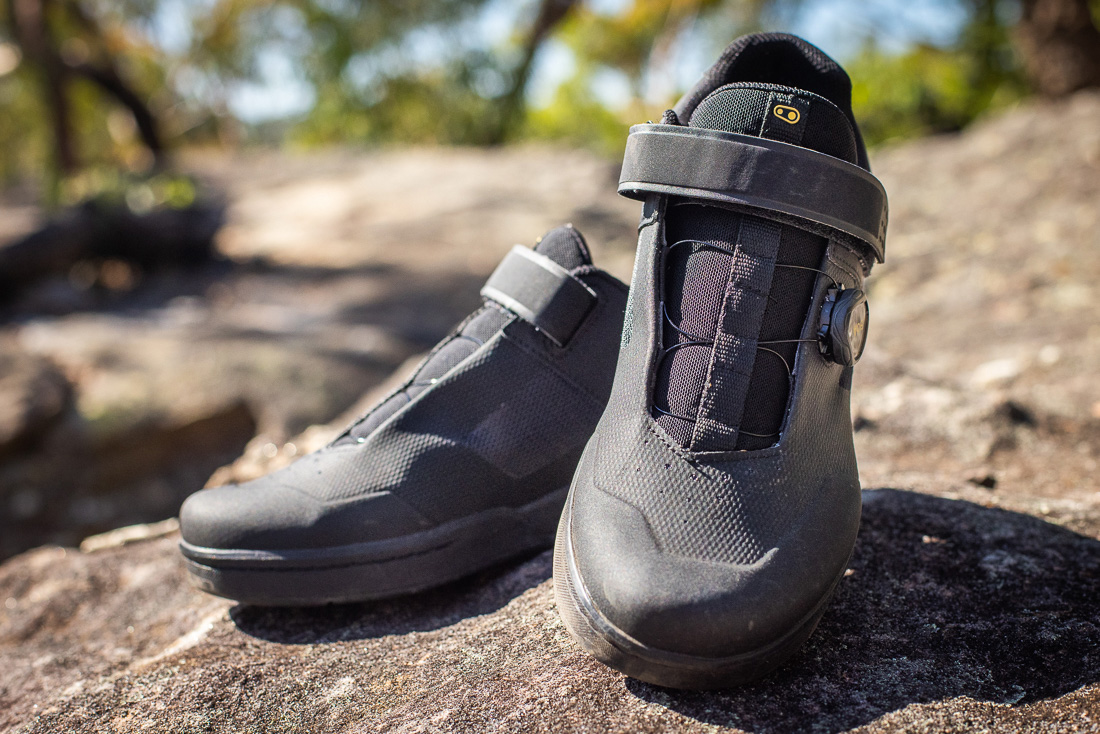 Not your usual flat pedal shoe. The BOA closure system gives the STAMP an interesting blend of looks.
Photo credit: ©Richard McGibbon
---
Key Features
Match System
The key selling point to the Crankbrothers shoes is the "Match System", where every shoe in the range has been designed to match up with its respective Crankbrothers MALLET, MALLET-E and STAMP pedal counterpart. There are two key performance features to the Match System. On Pedal and Off Pedal moments.
All the Crankbrothers shoes embrace the Match System, but for the sake of this review, let's focus on the STAMP BOA shoe.
On Pedal...the STAMP BOA tread pattern is designed for maximum contact surface and compatibility with the STAMP pedal platform with a lug depth designed around pin dimensions to absorb the pin body. In addition to this, the tread features rounded lugs to improve abrasion resistance, i.e reduce the tearing of the lug.

Off Pedal...directionally angled and spaced toe and heel lugs offer traction for hiking up or down steep and loose ground. In addition to this, the front of the toe box is ramped to provide further comfort and contact engagement when walking on steep terrain.
Crankbrothers say their shoes can be worn with other pedals, but it's worth noting that the Match System has been specifically designed with the shoe and pedal marriage in mind.
BOA®
The Crankbrothers shoes include three lace closure systems and one of those is the BOA® Fit System. This is not a new design and has been adopted by many other shoe brands due to its efficient and tidy lace-up system, although we haven't seen many flat pedal shoes offering this system before. The BOA utilizes a micro-adjustment dial, a strong lightweight lace, and low-friction lace guides to deliver a fast, effortless, precision fit. Designed to allow changes regardless of conditions, BOA® ensures you'll have instant control over your ride with a simple one-handed, on-the-fly adjustment.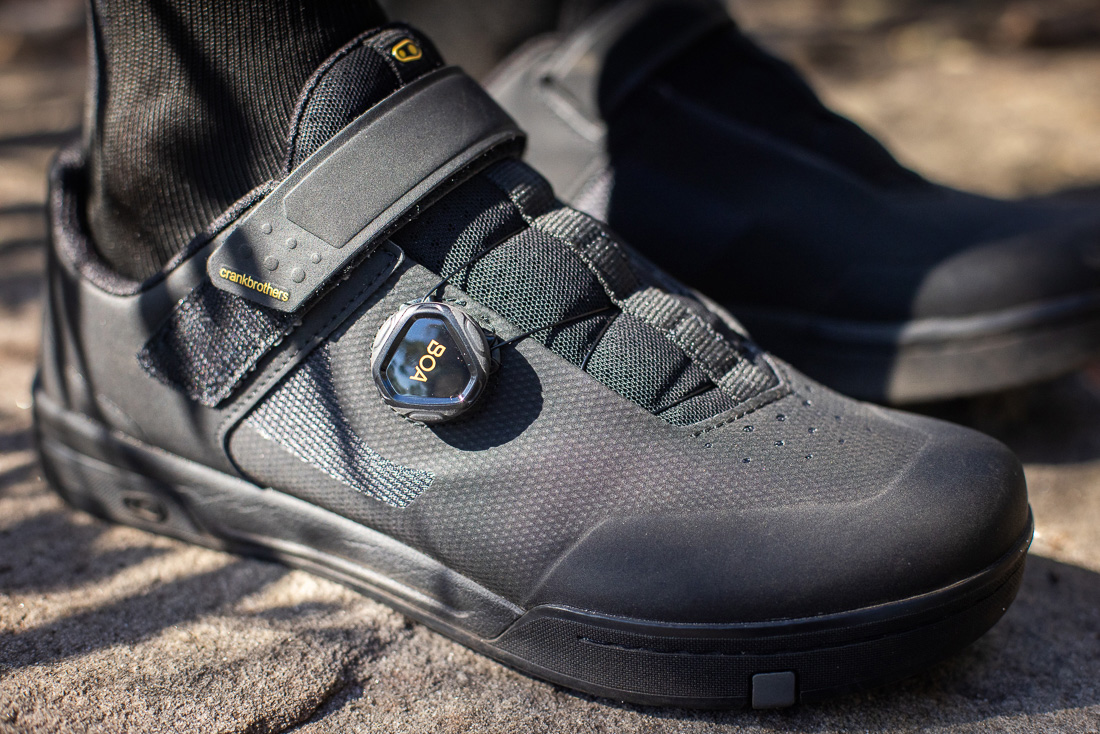 The BOA® Closure system is highly efficient but may not suit all rider's tastes.
Luckily, the STAMP comes in three different lace closure systems.
Photo credit: ©Richard McGibbon
---
Upper
The STAMP uses premium materials with TPU reinforced areas for protection and abrasion resistance and a reinforced toe box area to protect against impacts. You can expect all the usual impact features that you would get with any top of the range flat pedal shoe. The STAMP offers excellent comfort with the padded tongue and sticky heel dots to reduce heel slippage. The shoe also offers several perforated and ventilated mesh windows that improve breathability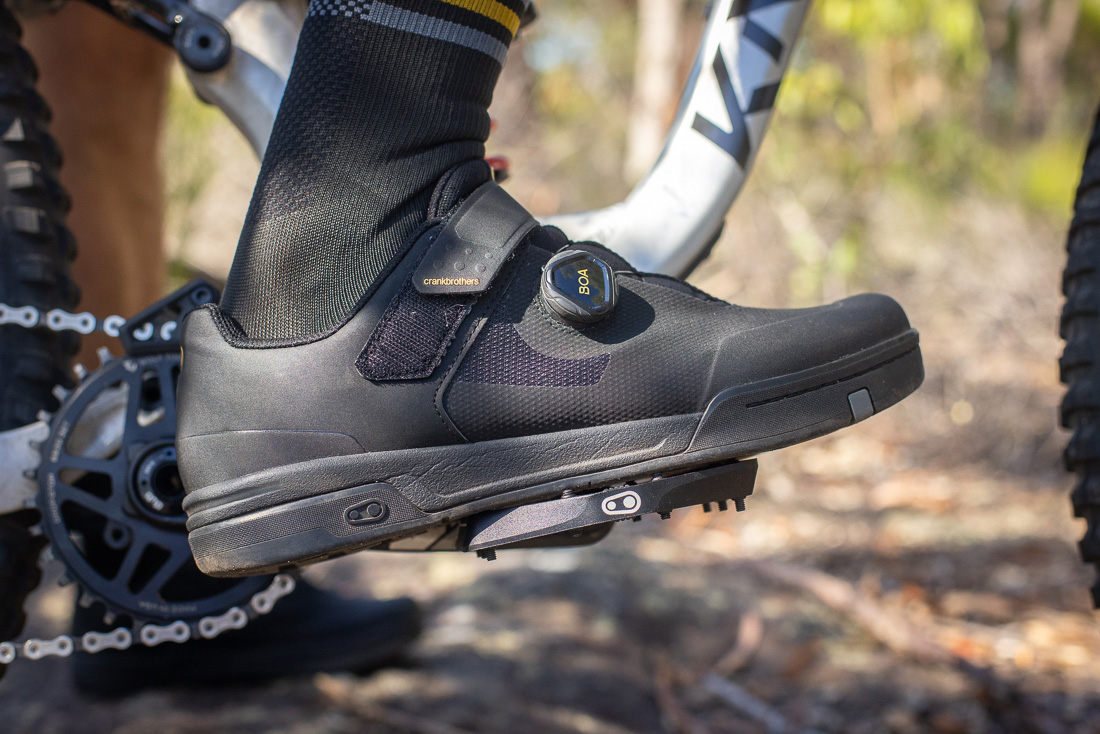 The STAMP BOA has been designed to match up with the STAMP pedal.
Photo credit: ©Richard McGibbon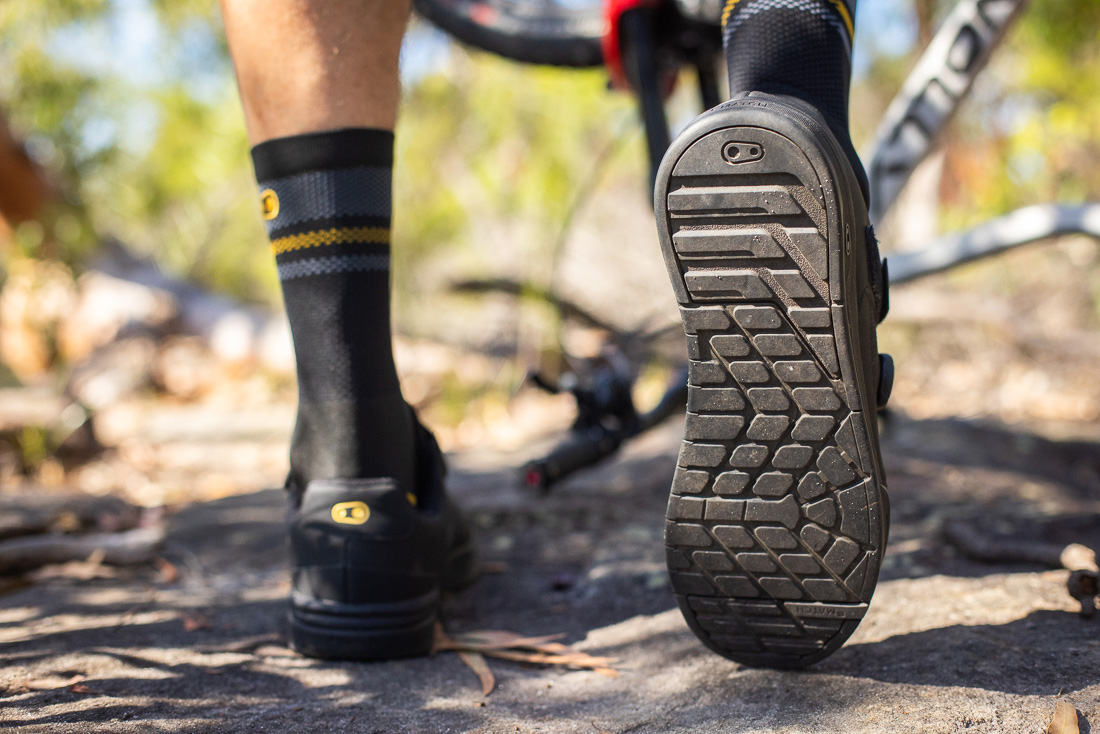 The Match System offers great traction when off the bike hiking on steep terrain as well as positive pedal engagment with its unique lug design.
Photo credit: ©Richard McGibbon
---
Match Compound
Crankbrothers flat rubber compound (MC2) is optimized for grip and durability. It has high-friction to stick to the pedal body and low rebound properties to dampen vibrations. The lugs are rounded to resist abrasion.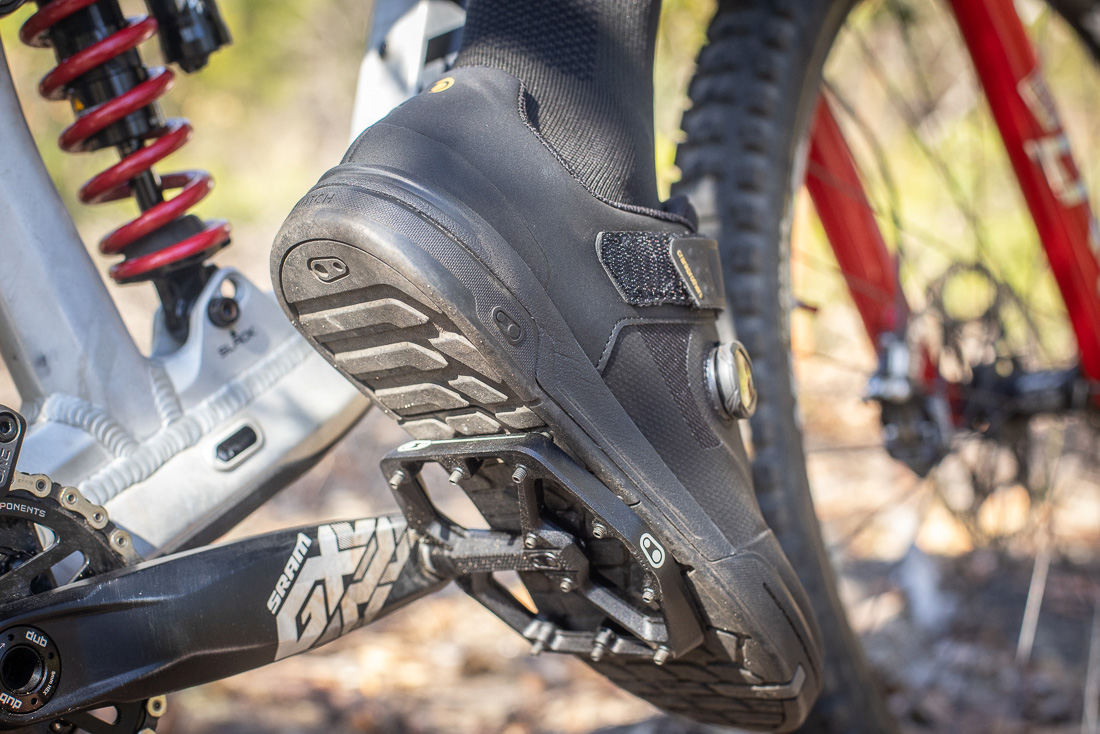 The STAMP shoe and pedal match system.
Photo credit: ©Richard McGibbon
---
On The Trails
The Grip & The Match System
So how did they perform? Well, we have to admit, they're good, really good! The MC2 high-friction compound is staggeringly grippy and provides a very high level of on pedal stability and impact absorption. Overall traction was unreal when combined with the STAMP pedal, but be aware, these pedals eat shins for breakfast.
Getting off the bike and hiking over rocky surfaces and loose terrain, the STAMP shoes performed as well as a hiking shoe. The front and rear lug design gave us plenty of grip and overall the shoe just felt really comfortable on and off the bike. This boils down to the Match System with its unique lug design. These unique lugs (tread) have been created for hiking (front and rear zones) and pedal contact (centre zone) where the tread pattern is shaped specifically for improved traction for on and off bike.
The Crankbrothers STAMP shoe combined with the STAMP pedal is one hell of a combo. The stickiness of the rubber compound combined with the aggressive pedal pins and the wide platform is a winner!
Closure System
If you've used a BOA system before, you'll know how efficient they are. Forget about tying or re-tying laces, double knotting, or having to tuck them away, the BOA is so simple and elegant and can be done up with one hand. This becomes incredibly useful when needing to tighten or loosen on the fly, rather than having to stop, untie, and re-tie.
From experience (and this is subjective of course) the BOA system can become uncomfortable due to the narrow gauge wire-like lace pressing against your instep, but the STAMP comes with an extra comfy padded tongue which combats this issue.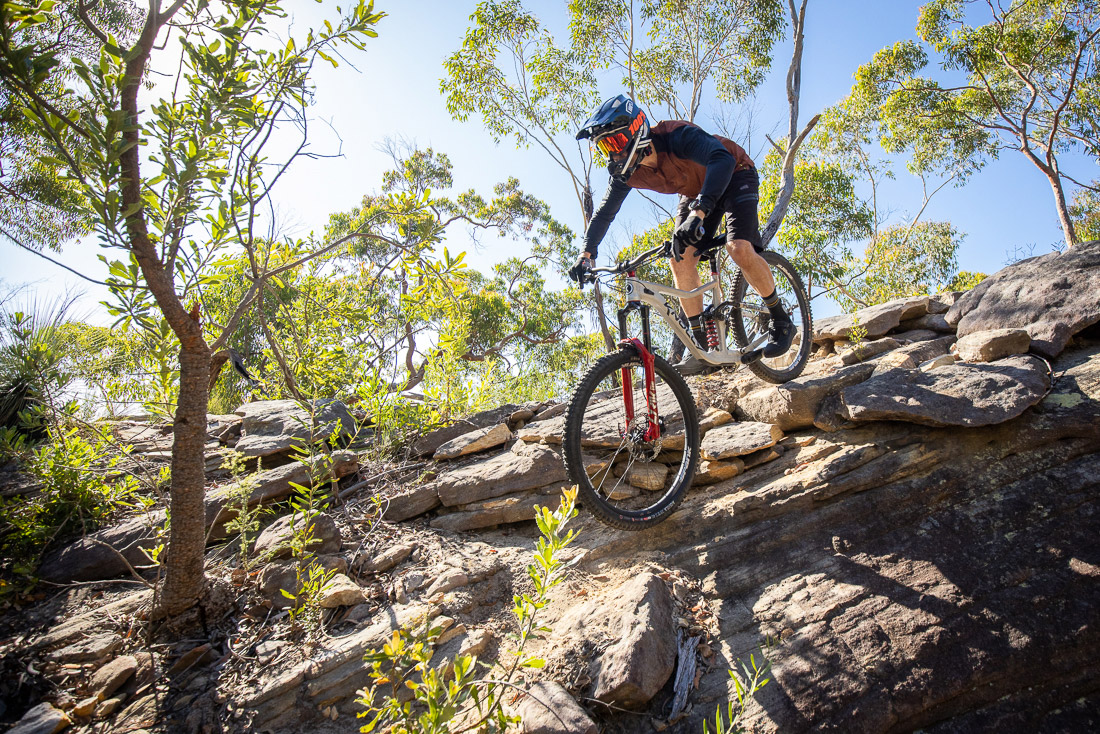 We felt confident and connected to the pedals at all times.
Photo credit: ©Richard McGibbon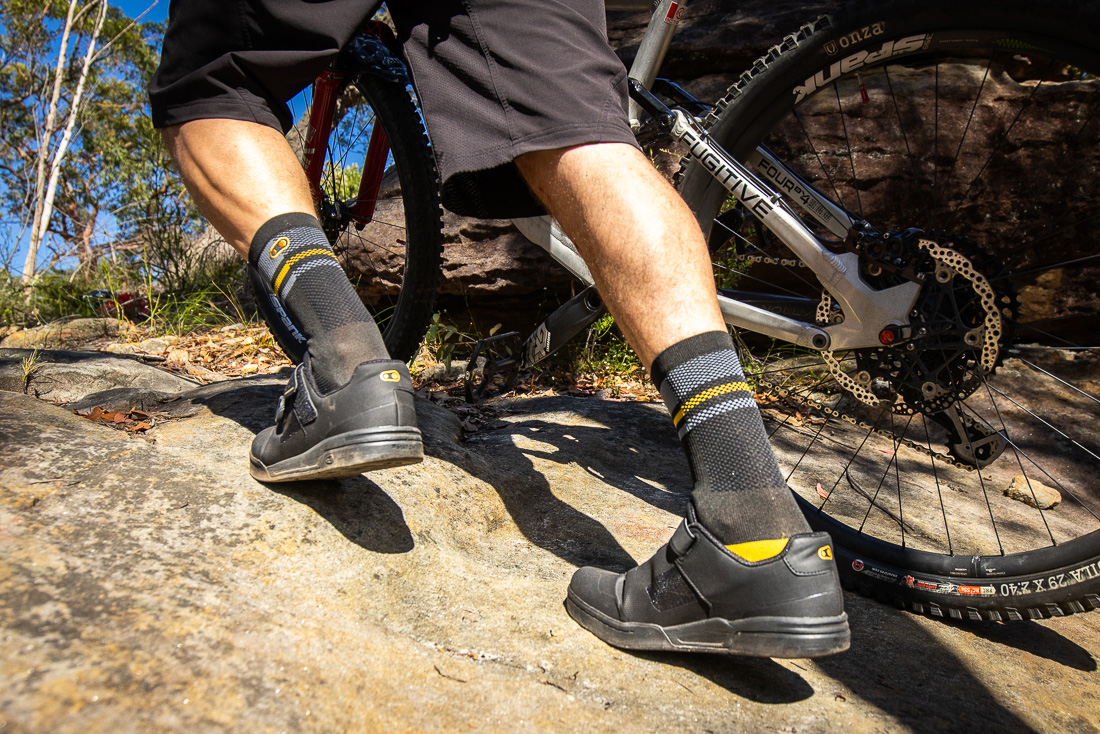 All of the Crankbrothers shoes have been designed with those hike-a-bike moments in mind.
Photo credit: ©Richard McGibbon
Comfort & Protection
The STAMP shoes felt comfortable and stable on and off the pedal. We put this down to the efficient BOA closure system and the large velcro strap that pulls it all together, which gave our feet a snug and secure feeling. And one other thing we need to mention is the weight. These shoes are light! Compared to other flat pedal shoes the STAMP Boa has a much lighter and minimalistic feel to them, where a lot of flat pedal shoes can look and feel overly cumbersome.
In terms of protection, the STAMP shoes like all the Crankbrothers shoes, come with a high level of impact protection, and occasionally smashing into rocks or stubbing our toes was never an issue. Even high-impact landings on larger drops felt comfortable and safe due to the cushioned EVA midsole. In general, rough trails felt smoothened out and dampened, in a positive way. We could still "feel the trail", but it just felt a little kinder to our feet.
When off the bike and having to hike around, we experienced very little heel slippage and this is mainly due to the excellent BOA closure system keeping everything in place, but there's also a small but nice touch in the form of several small silicone dots just inside the heel area. These surprisingly small additions really help reduce heel/sock slippage and also make it easier when initially pulling the shoe on.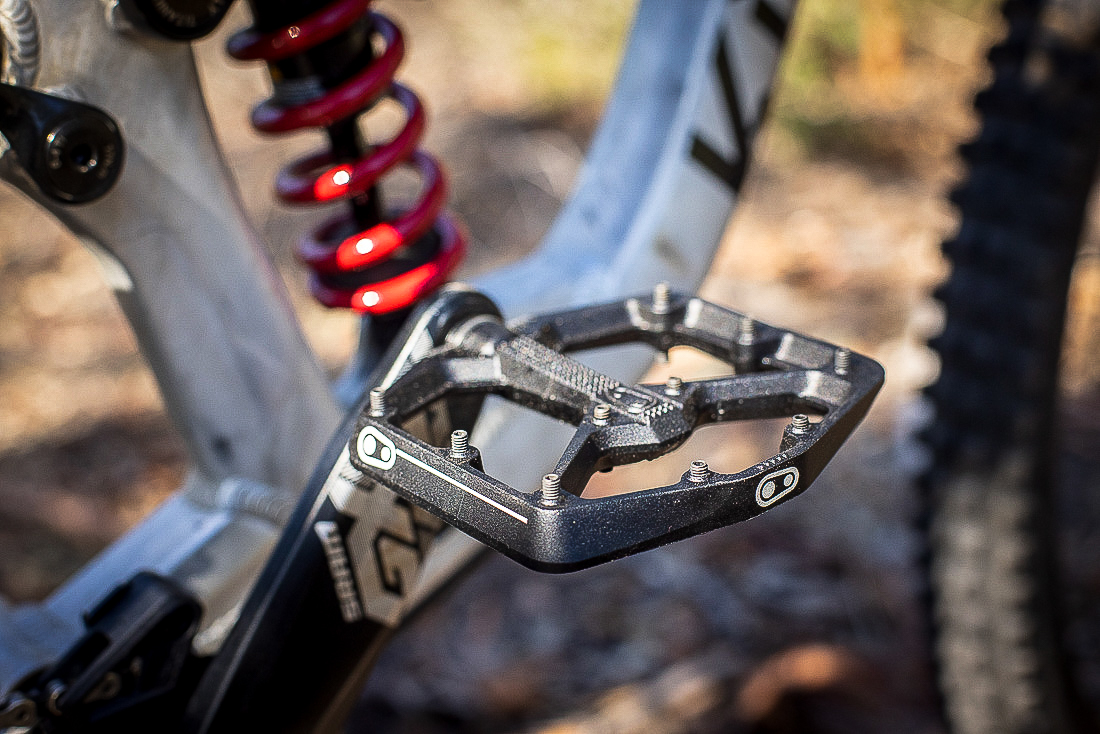 The STAMP pedal comes in two sizes depending on your foot size. When matched together, the soft compound of the STAMP shoe and the aggressive nature of the STAMP pedal meant that you were literally stuck in position.
Photo credit: ©Richard McGibbon
---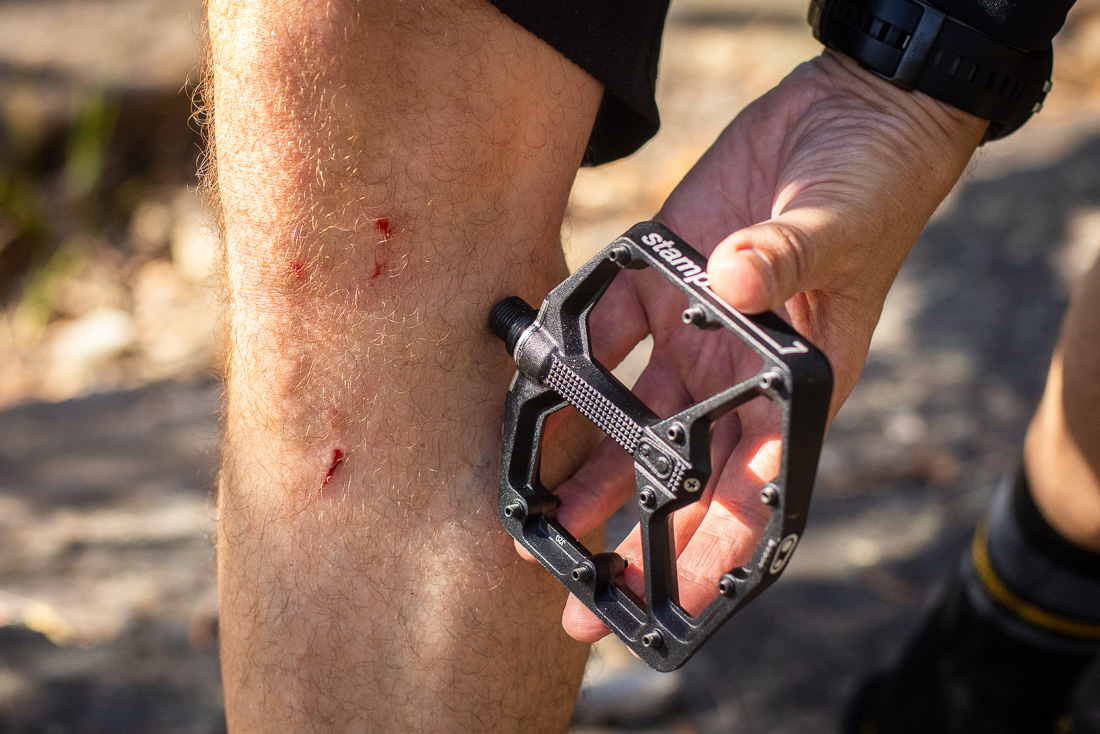 Strike one! One mishap was enough to remind us to be super-careful with these pedals.
Photo credit: ©Richard McGibbon
---
Conclusions
All in all, the Crankbrothers STAMP BOA is a very interesting product. In terms of looks, it has a real mixture of casual skate styling merged with an XC technical shoe and all the positive features that both of these styles bring to the table. Being able to tie your laces single-handedly and not have to fuss over tucking away laces, is also a thumbs up. The STAMP shoe is comfortable on and off the bike and we'd wear them at post-ride meetups, cafes, pubs, backyard BBQs and probably walk straight into the office the following day.
The sticky sole flat rubber compound (MC2) combined with the STAMP pedal is an incredible package and certainly deserves a closer look if you're in the market for a new flat pedal shoe/and or pedal combo. Is it as good as the 510 stealth, hmmm…we think it's close, possibly the closest we've tested yet.
What Crankbrothers have done here is short of a shoe miracle. It's a very clever strategy. Not only are they providing us, the riders, with a range of high-quality shoes to choose from, but they've also created a demand for pedal and shoe combination sales. Crankbrothers have boldly entered the MTB shoe market, and we give them a big thumbs up!
Where to Buy / Price
Australian pricing is as follows: RRP
Stamp Lace $219.95
Stamp Speedlace + Strap $249.95
Stamp Boa $299.95
Mallet Lace $249.95 (with cleat installed RRP: $49.95)
Mallet Speedlace + Strap $279.95 (with cleat installed RRP: $49.95)
Mallet Boa $329.95 (with cleat installed RRP: $49.95)
Mallet E Lace $249.95 (with cleat installed RRP: $49.95)
Mallet E Speedlace + Strap $279.95 (with cleat installed RRP: $49.95)
Mallet E Boa $329.95 (with cleat installed RRP: $49.95)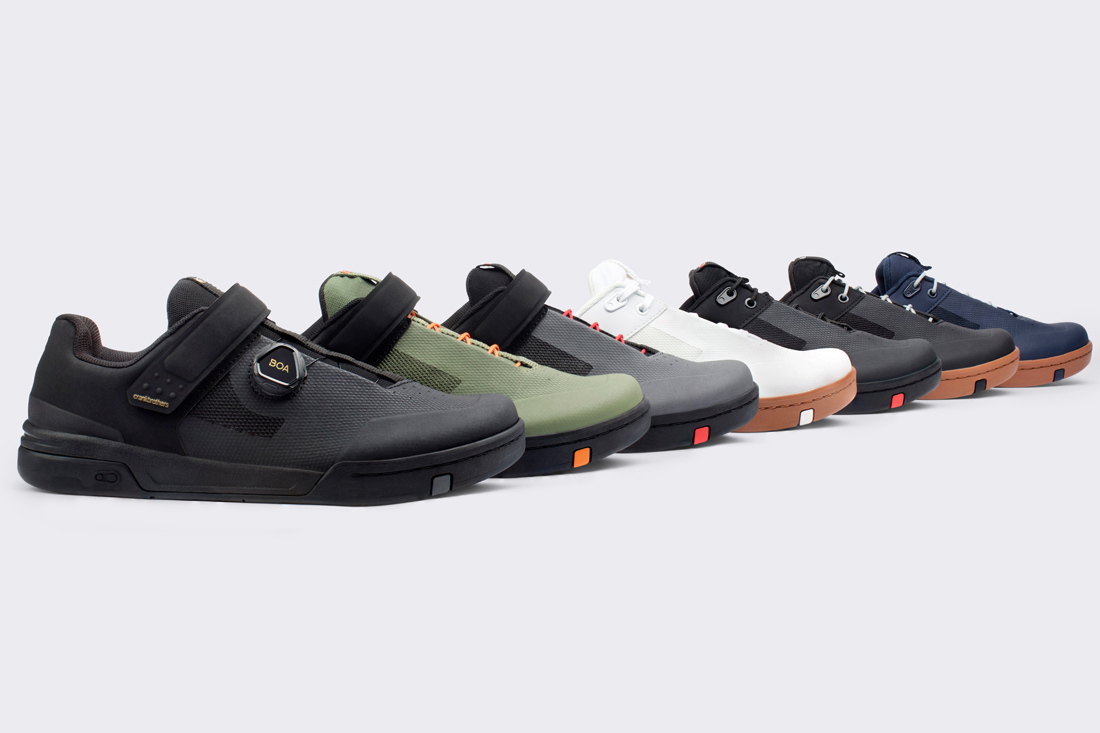 The STAMP shoe comes in seven colourway options, the most out of all of the three collections.
Tech Specs
BOA® Fit System & strap for micro-adjustment
Sticky flat rubber compound (MC2)
Ventilated windows with perforated mesh material for breathability
Padded tongue for protection, as well as being perforated to additional breathability
TPU reinforced areas for protection and abrasion resistance
Cushioned EVA midsole for shock absorption
Heel dots for grip and superior heel hold
Hidden eyelets for durability and clean design
384g per shoe (US 9 / EU 42)
---
Continue reading to find out more about the rest of the Crankbrothers shoes
The MALLET Clip In – Collection
The Crankbrothers Mallet clip-in shoe plays nicely on the race track and at the bike park. The innovative Match System optimizes engagement for any MTB clip-in system, whether that's Crankbrothers or SPD. It comes with Match shim and Crankbrothers cleat pre-installed in a neutral position so they are ready to ride with Crankbrothers pedals right out of the box.
The three main closure system on offer, Speed Lace, Lace and BOA®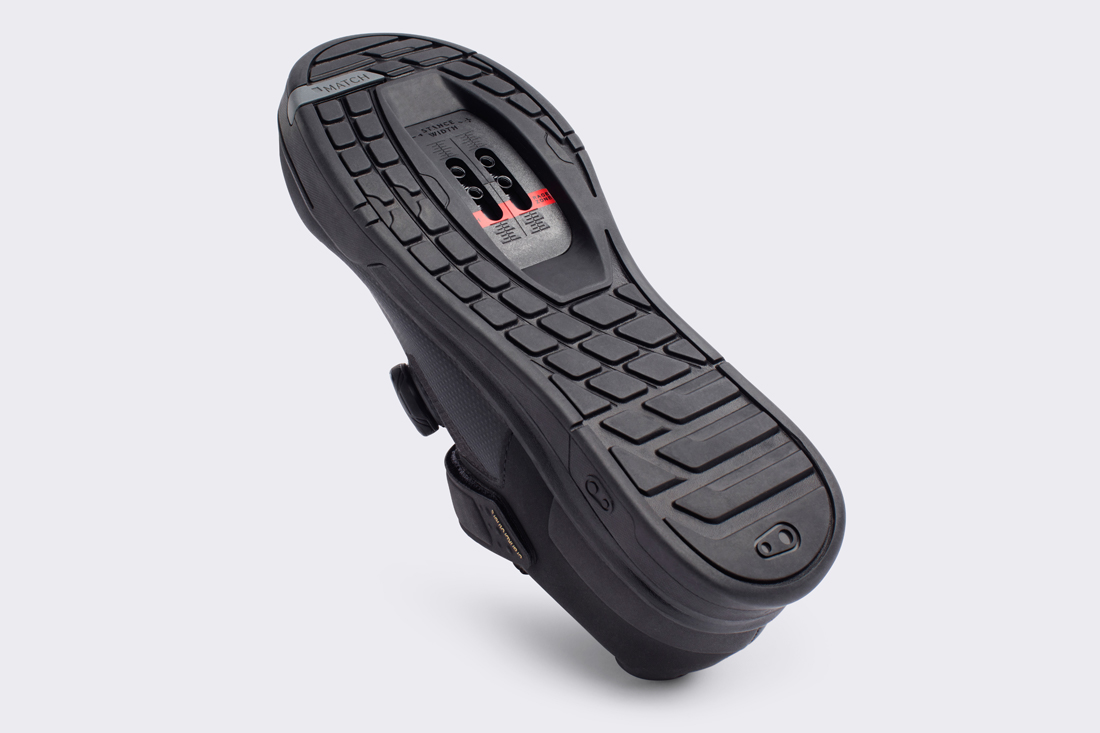 The ramped cleat box offers easy front and rear pedal entry and mud shedding. A Race Zone setback on the cleat track allows the cleat to be positioned further toward the heel for added control and stability when descending. Hopefully, this means no more gouging out the sole with a craft blade.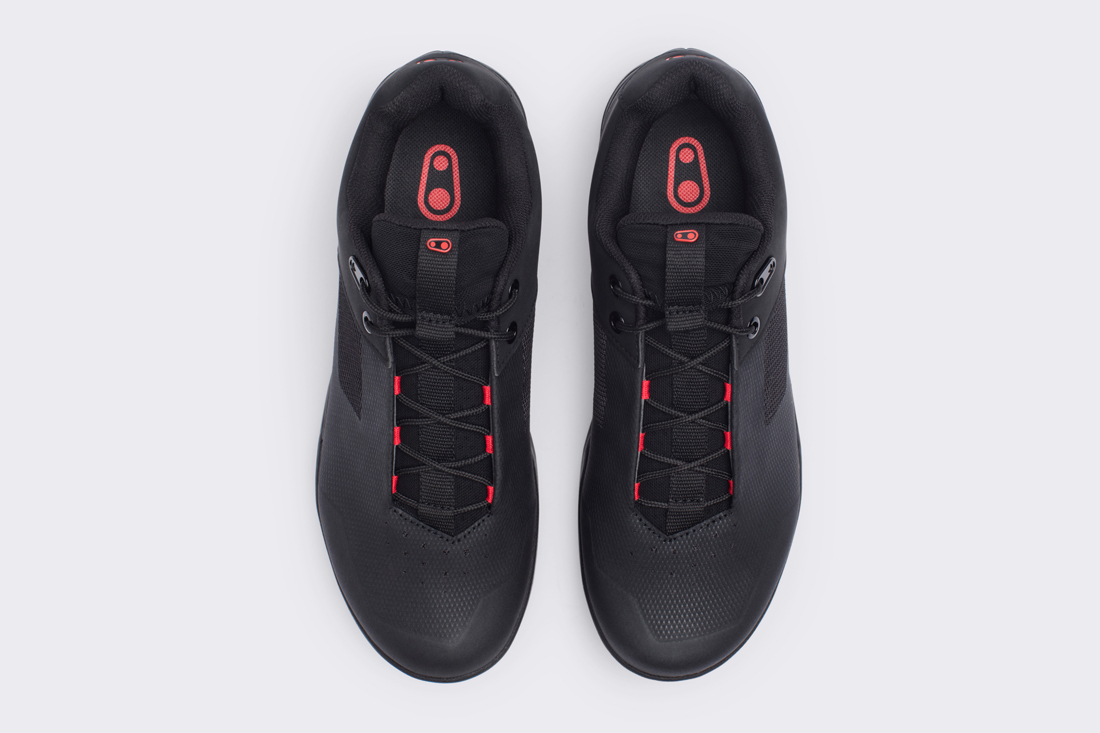 The Crankbrothers MALLET in the Lace option.
---
The MALLET E Clip In – Collection
The MALLET E is very similar to the MALLET shoe but has been designed to match up with the Mallet-E pedal, although they can be used with other Crankbrothers clip-in pedals. The "E" denotes Enduro and although the differences are subtle, they are there. One was the weight, oddly enough the MALLET E is slightly heavier than the MALLET, which was surprising as we thought it would have been the other way round. The other difference is the tread/lug pattern. The MALLET has a straight cut lug design whereas the MALLET E has ramped lugs for better traction when hike-a-biking, and the MALLET E comes with a green colour option, and the MALLET has a blue colour option.
But to be honest, we didn't see any major differences between the two shoes, unless we're missing something obvious.
NOTE: Yes, that's 4 shoes you see in the top image. The reason you see 4 pairs of shoes is due to the Speed Lace coming in two colour options, the black, and the Green.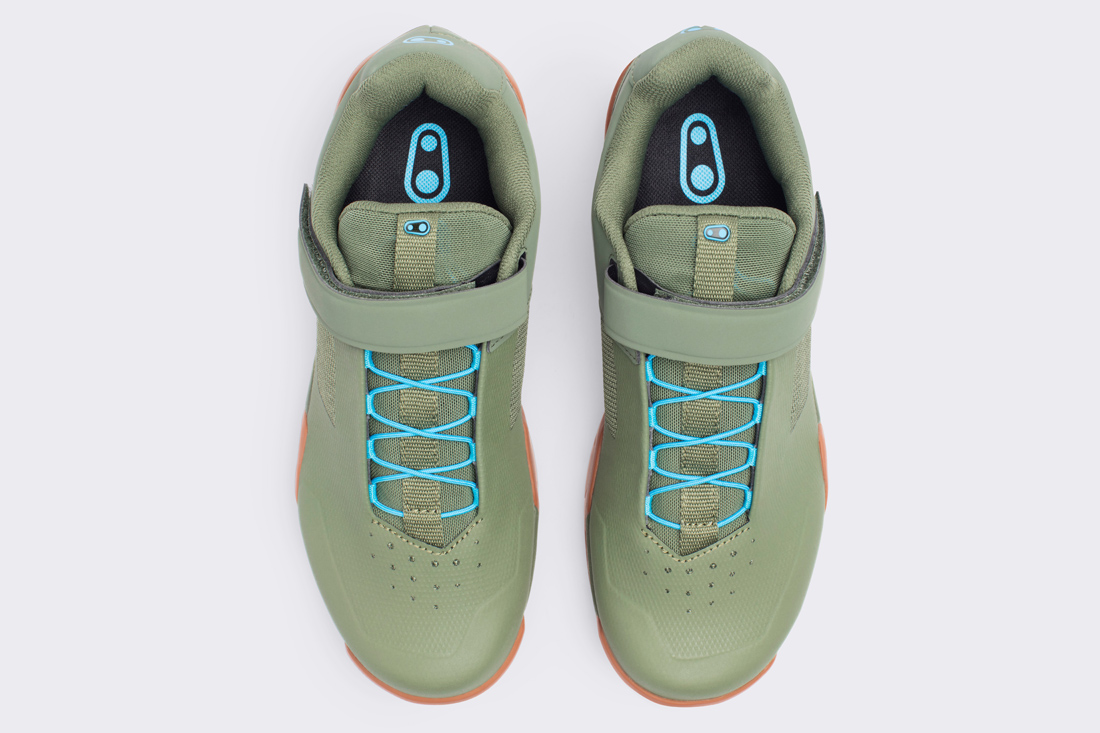 The E-MALLET in the Green/Navy colour option. Pretty snazzy eh?
---