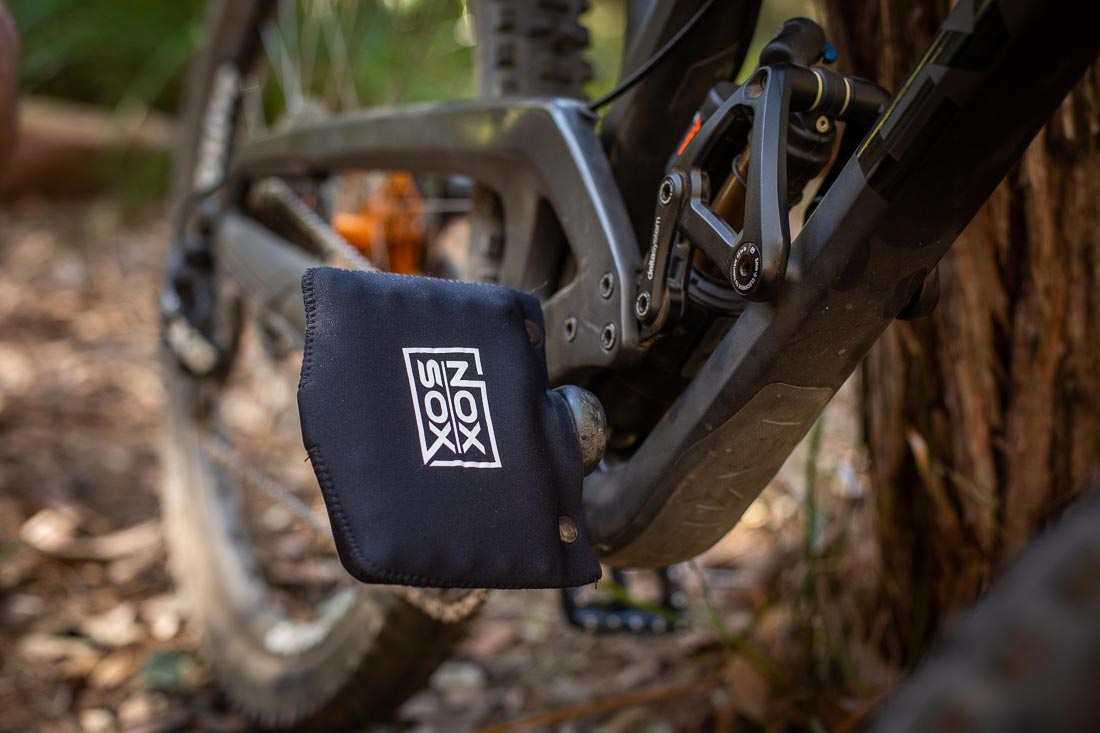 Nox Sox – Accessory Review
Cut to the Chase
Nox Sox provides the best form of protection for your precious bikes and car in the form of this easy to fit cover. Whether you have the bikes in your car or on a rack, Nox Sox will reduce premature greying due to bike scratch related stress syndrome.
Pros
An end to annoying frame, stanchion and car scratches
Simple and effective
A neater solution to dust sheets or rags
Covers most pedal sizes on the market
Cons
Nox Sox killed the dust sheet!
---
Protect Your Car and Bike with the Nox Sox Pedal Covers.
In terms of mountain biking, we've got to agree there's nothing worse than scratching your new bike frame!
This typically occurs when loading our beloved bikes into our vehicle or onto a bike rack, and it's the type of dumb-ass mistakes like these that just make us want to cry. The cause of these agonising mistakes is commonly attributed to pedals scratching up against the bike.
So what do we do about it? We use dust sheets or grab the nearest towel, which by the time you get back from the trip, you'll be one towel less in your household and it will end up as the new, new oily rag. Of course, this is if you even remember to cover the bikes in the first place.
If you've forgotten to put the new, new oily rag in-between the bikes, then the journey can become the stuff of nightmares. Your only option is to ignore it and turn up the music to drown out the paranoia-inducing squeaks and scratching sounds emanating from the back of the car.
Well, maybe we can get over these horrifying thoughts with a product made by a Gone Biking Mad from the U.K. They've created a  neoprene style sock called the Nox Sox, which simply slips over the pedal and banishes those nightmarish pedal scratching experiences forever.
First Impressions
On first glance, the Nox Sox is incredibly simple by design as it should be, it's been designed to do one thing, protect your bike. Made in Cornwall in the U.K, where they know a thing or two about wetsuits (one of the best surfing locations in the U.K) and funny enough, this is what the Nox Sox has been made out of.
The neoprene material is a good idea due to its stretchy and spongy characteristic making it easy to fit over the pedal body and provides good levels of protection.  The piece is stitched together with some burly looking stitching that gives us confidence that it will last the test of time. The overall design is simple and highly functional.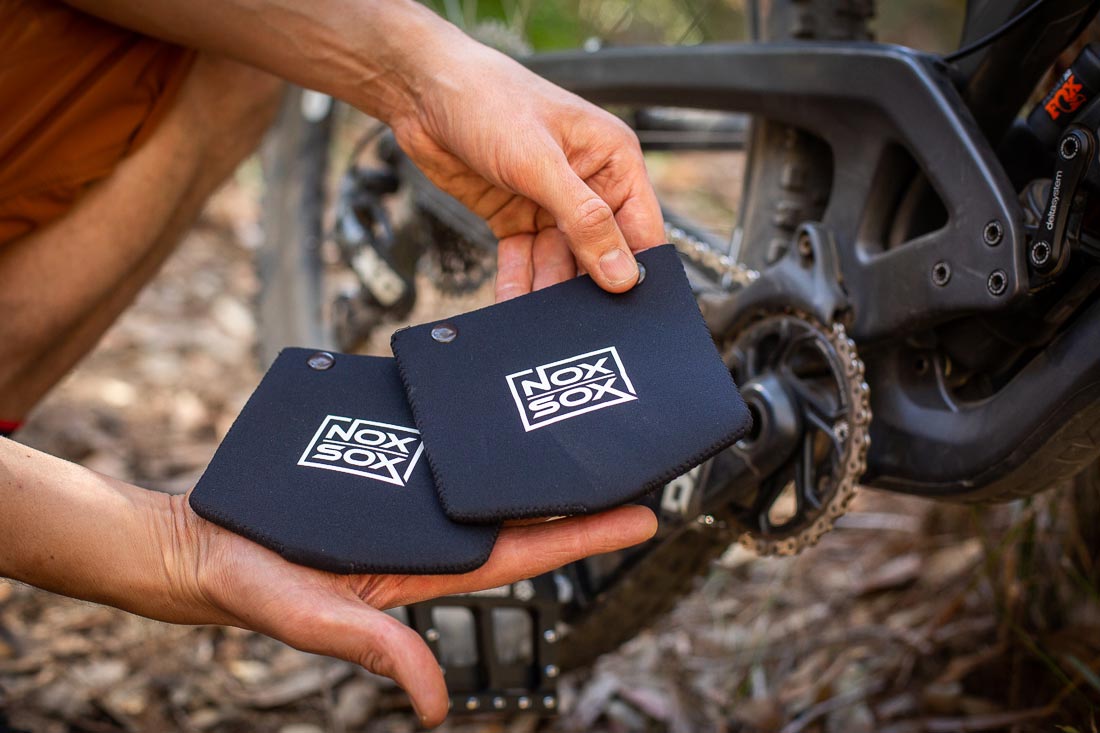 Installation
Installation is as simple as you would imagine. Simply un-pop the two poppers, stretch and slide over your pedal platform. The Nox Sox only comes in two sizes but due to the stretchy neoprene material, it will fit any size MTB pedal. It even fits our Catalyst pedal, which has the largest length on the market right now.
Once the Nox Sox has covered the entire body of the pedal, just press the poppers shut to keep the Nox Sox cover on securely. Now load up the bikes onto your bike rack or into your vehicle.
At first, we thought the poppers were a little overkill but if you're flying down the motorway at 110kmh with the bikes on the back, the wind could (in theory) pull them off, so this is just to be sure they stay in place.
Functionality
At first glance, you may be thinking "Why? I can just use a rag" Of course you can, but at some point you can't keep using towels or bed sheets, that becomes too expensive and will ultimately mean a trip to the homeware store, and who in the hell wants to do that when there's riding to be done?
We can see the benefits of the Nox Sox immediately. If your bikes are stored inside the vehicle (like ours) and are tied down close together, the risk of pedal scratching is quite high, as we can attest to. The benefits for rear vehicle bike racks or truck beds are especially high also, where the bikes are stacked on top of each other and you need to sync the cranks to get them into place.
So although at first glance you may think "Why?',  but if you do a lot of bike travelling and have experienced a fair bit of frame scratching due to pedals, then hopefully you will see why the Nox Sox is actually a cool little gadget.
Specifications:
High-quality Neoprene made to last
Two poppers per cover keep them firmly on
Quick on and quick off
Made to fit the largest of pedals, big sharp pointy pined pedal friendly design.
U.K made in Cornwall, where they know a thing or two about neoprene
Supplied as a pair
Available in Small or Large sizes
---
Where to Buy / Price
Nox Sox are currently in the process of coming to Australia, so keep an eye out for them. Otherwise, just head on over to their website for more details and how to order.
Price: $15.99 – 29.99 GBP
---