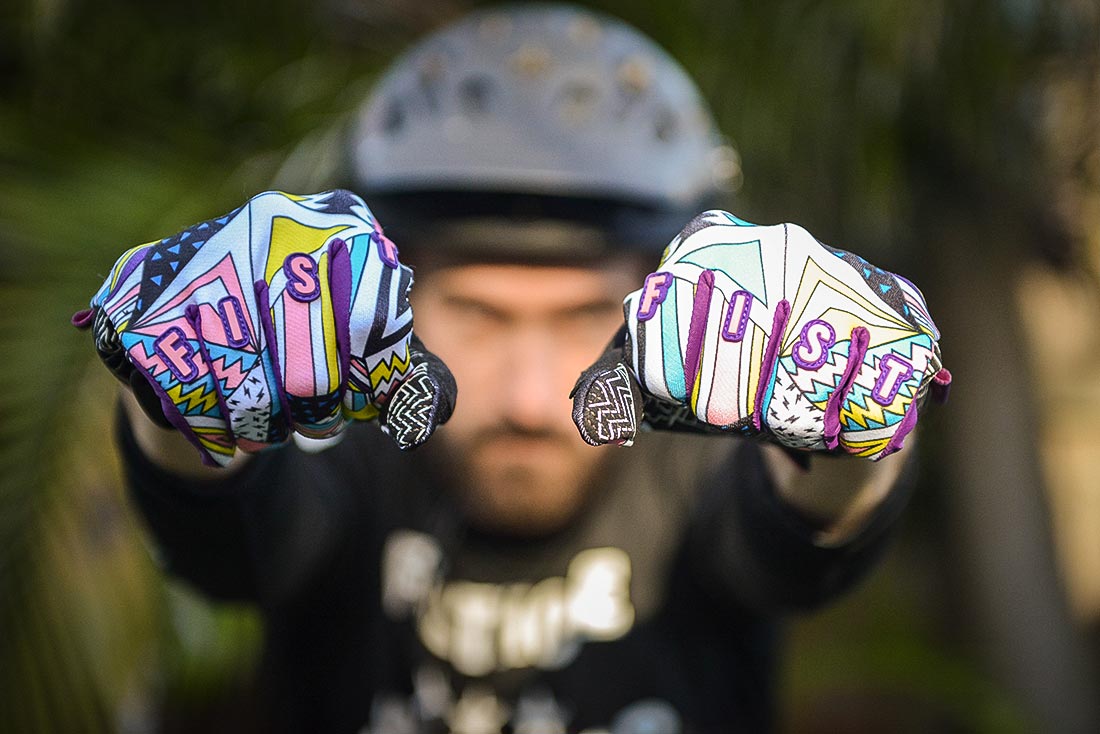 FIST: Zig Zag Gloves – REVIEW
Cut to the Chase
The FIST Zig Zag is a high-performance glove that can talk the talk and walk the walk, with eye meltingly cool graphics and all the features you'd expect from a pro-line glove. If you fancy wearing something different and don't mind people drooling over your new gloves, then check out the FIST glove range.
Pros
Fair price point.
Touch screen tips
Quality stitching and padding
Breathable.
Graphics and colours to die for
Cons
Designs may not suit everyone's taste. (Well don't buy them then, you boring git!)
---
Zig Zag gloves, another eye-watering design from FIST
If a friend asked what gear to buy first after scoring a sweet new bike, most riders with any trail experience would suggest a quality brain-bucket, followed very closely by gloves, before you start bombing epic single trails. Getting your hands a decent pair of gloves will not only enhance your riding grip performance but also help protect your hands from the unfortunate inevitable wipe-outs and hand-plants that we all face from time-to-time – especially when you are new to the trails.
With that in mind, Tyres & Soles recently had the opportunity to slap on a pair of Fist Handwear Gloves and put them to the test around some of the popular Northern Beaches single trails.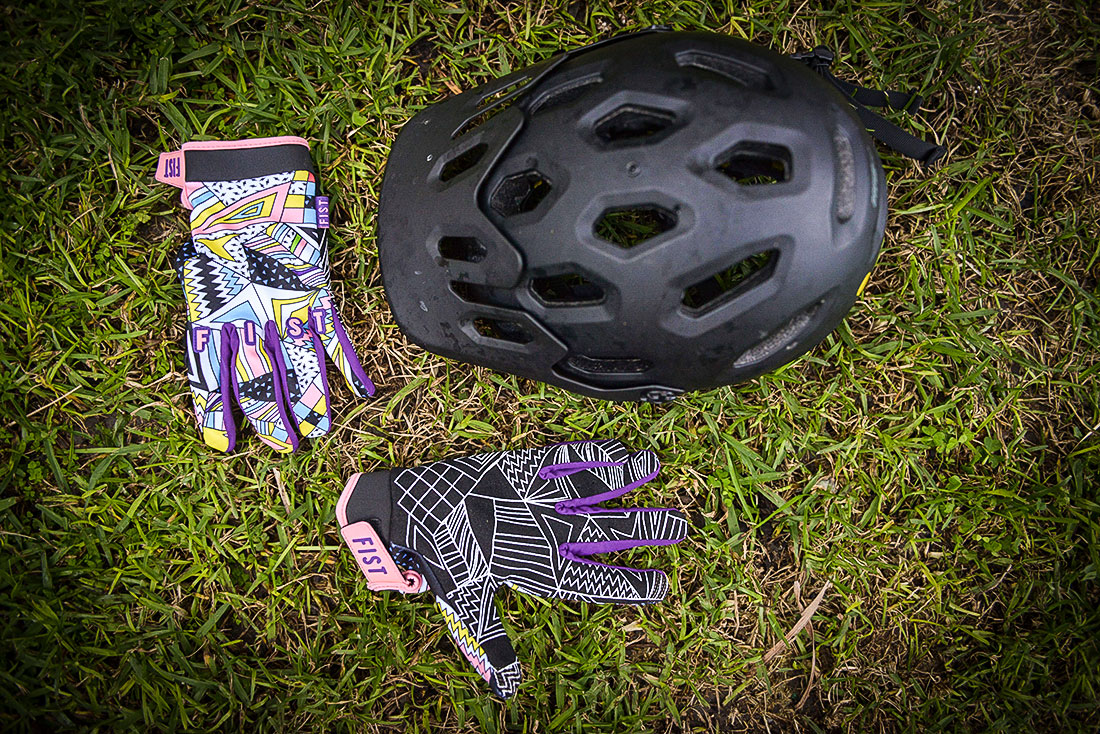 Stand out from the crowd with the FIST Zig Zag gloves.
Photo: Luke Dean-Weymark
---
First Impressions
They say those first impressions last right? Well from the first glance, the Fist Zig Zag Gloves surely know how to make an entrance! Staying true to Fist's general vibe, these gloves are bright, loud and guaranteed to be a conversation starter with people you meet out on the trails.
For anyone that grew up in the '90s, you'll enjoy the outrageously bold print featured on these gloves and retro colours.
Aside from the design and colours, the gloves feel lightweight, grippy throughout the palm and are quite stretchy through the panelling on the fingers and back of the hand.
The FIST Zig Zag gloves are touch screen friendly.
Photo: Luke Dean-Weymark
---
Features
Despite looking like a relatively simple glove in terms of features, the Fist Zig Zag actually doesn't disappoint when it comes to the technical side of things.
They are constructed with four-way stretch twill spandex and upper and finger gussets to enhance flexibility, dexterity and ensure a snug fit. A single layer of synthetic leather (a.k.a. CLARINO) that is abrasion-resistant and breathable also means there's no lack of feeling between you and the handlebars when you're out there shedding dirt.
The broad velcro closure system offers heaps of adjustment at the wrist and a touch screen conductive index finger and thumb means that these gloves are also phone friendly so you can fire off a few pics of your fellow riders without having to de-glove.
Technical Specifications:
Minimalistic lightweight design for maximum performance and feel
Sublimated 4-way stretch twill spandex upper featuring full breathability and supreme comfort
Single Layer Clarino* palm for maximum feel and control
Spandex finger gussets for ultimate flexibility and dexterity
Touch Screen conductive index finger and thumb
Custom FIST closure offers a broad range of adjustment to keep your gloves secured just how you like them
On The Trails
Surprisingly enough the first thing we noticed was just how much these gloves stand out! For someone who normally rides a black bike, with a black helmet, shirt and pants etc, it was a welcome change to add a little bit of flair to the riding wardrobe.
Outside of the looks, there were three stand-out features:
Breathability – these babies really do breathe. If you're prone to sweaty palms (like our test pilot) then you'll enjoy the level of airflow you get from the Zig Zags.
Grip – these gloves have grip to boot! It doesn't matter if they're bone dry or you've worked up a sweat, the Fist Zig Zags will give you the confidence to push the limits without requiring a complete death grip on your bars.
Sensitivity – the perfect balance between thick and thin. These gloves are thick enough to keep your hands from being torn to bits when you go over the handlebars but thin enough that you can feel everything as if your hand were almost stark naked. It's a goooood feeling!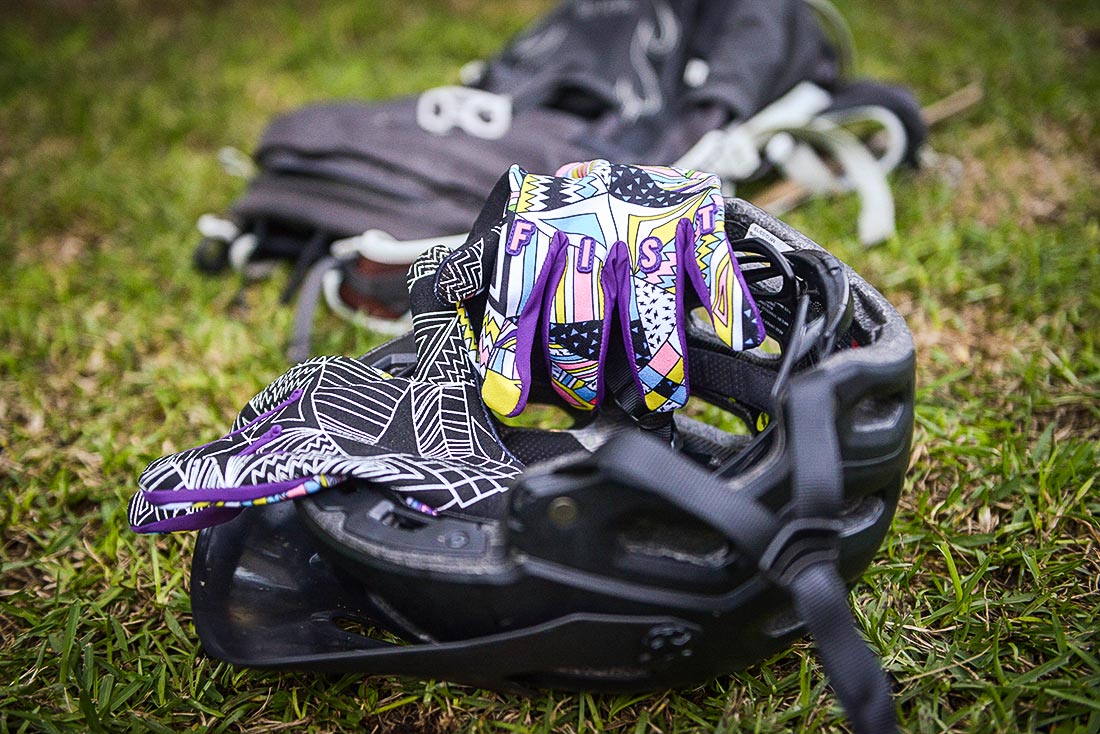 BAM! In your face boring glove people.
Photo: Luke Dean-Weymark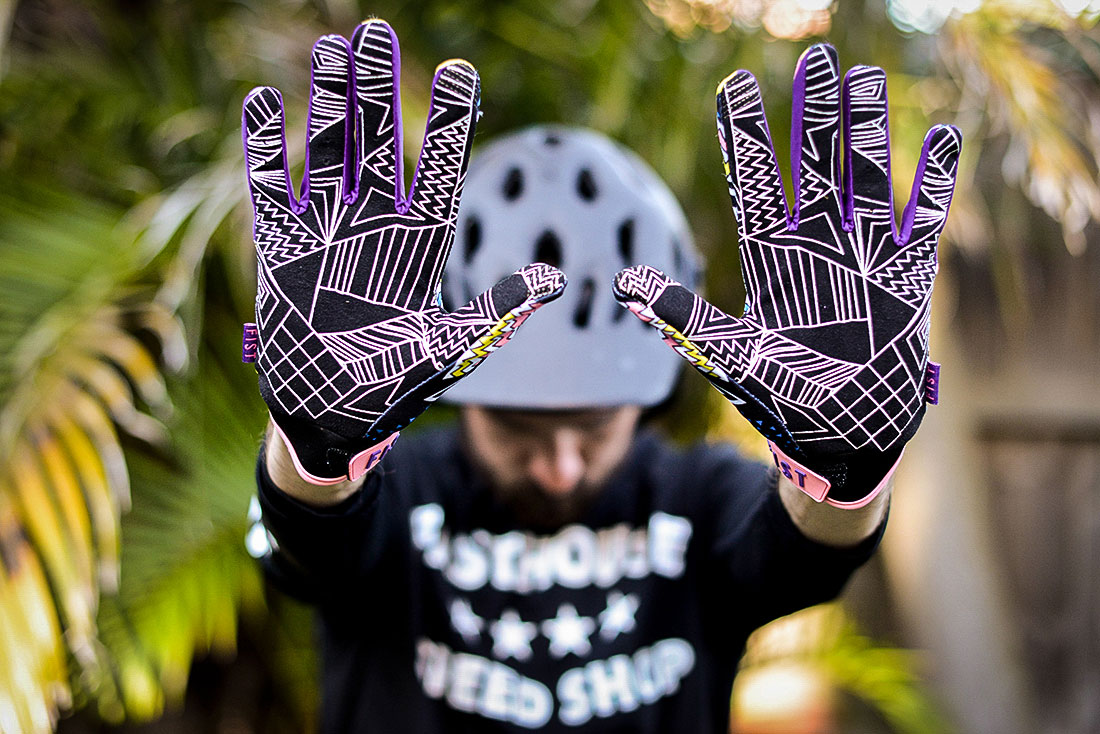 ---
Conclusions
Style-wise, the Fist Handwear glove designs may not be everyone's cup of tea, but if you don't mind a healthy hit of colour and a pair of gloves that are a 100% icebreaker on the trails, then it's definitely worth checking them out.
The Fist Zig Zag gloves come in a tonne of sizes from XXS right through to XL and they also have a range of equally vibrant youth gloves. Check out the sizing chart to make sure that they fit like a glove (had to squeeze in one glove puns sorry).
The FIST Zig Zag gloves are light, bright, fun and won't let you down on the performance side of things.
---
Where To Buy / Price
FIST Zig Zag gloves: $44.95
Available to buy at MTB Direct or ask at your local bike shop.
---