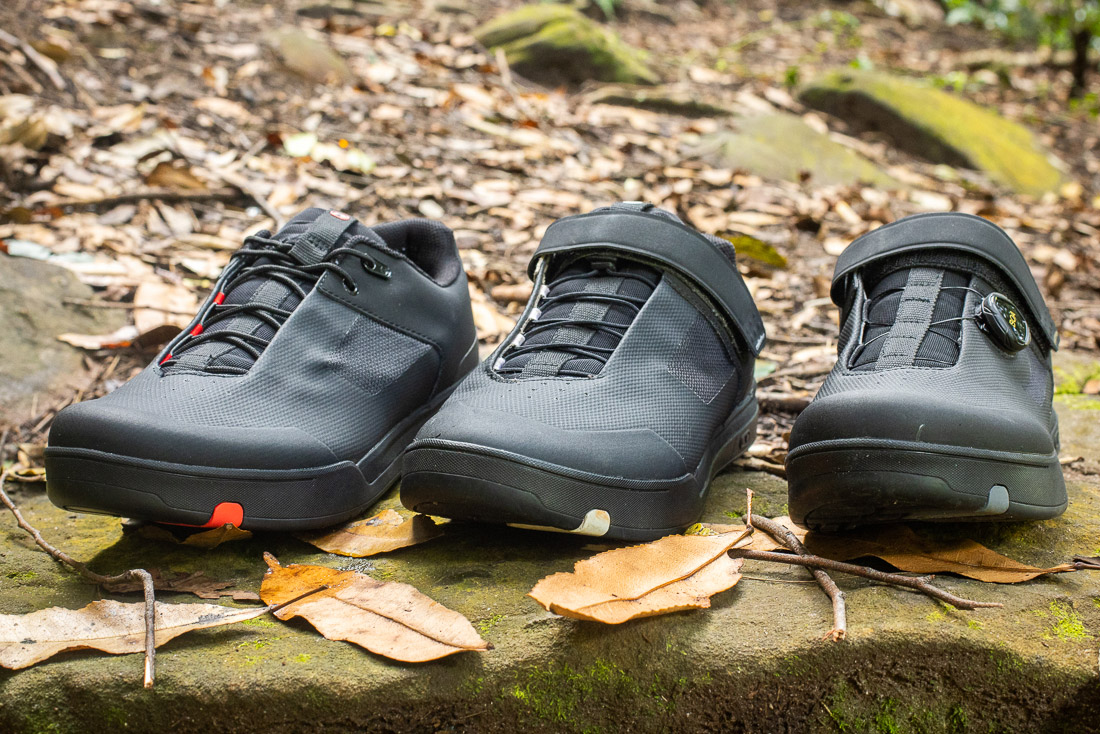 Cut to the Chase
The Crankbrothers Mallet is a truly exceptional shoe. With comfort levels through the roof, stiffness, and support for maximum confidence and power transfer, and a level of protection designed for the world enduro and downhill scene, these shoes are a classic in the making. If you're looking for the creme de la creme of clipless shoes to tackle those spicy trails and provide superior foot support, protection, and all-day comfort with a selection of closure systems to suit your taste, then all we can say is go buy a pair and be done with it!
Pros
Excellent stiffness and support throughout the foot
Range of closure systems including the BOA system
5 star comfort
Excellent levels of protection
Breathable mesh windows
Lightweight
The Crankbrothers Mallet Shoes Takes The Podium Spot
Since Crankbrother's spectacular entrance into the footwear world in 2020, we've been slowly working our way through their range of shoes on offer. There are not many (if any), footwear brands that have made such a debut entrance with a range and performance promise that meets and exceeds the marketing hype.
OK, that may be a bold sentence but we firmly believe this. Why? You may ask. well, we've been slowly working our way through the Crankbrothers shoe range and have been very pleased with the overall performance, construction, and quality of these shoes. We did a full review of the Stamp flat pedal shoe with BOA closure system recently, jump back over there to read our thoughts on those.
The Mallet shoes are available in three unique closure systems and an array of colours to choose from. Each category, MALLET, MALLET-E and STAMP share similar features but it comes down to the type of lacing system you prefer that separates each shoe. The three different lacing systems are as follows;
MALLET LACE
Classic lace closure system offers smooth closure with round laces and a pocket to safely tuck the laces away.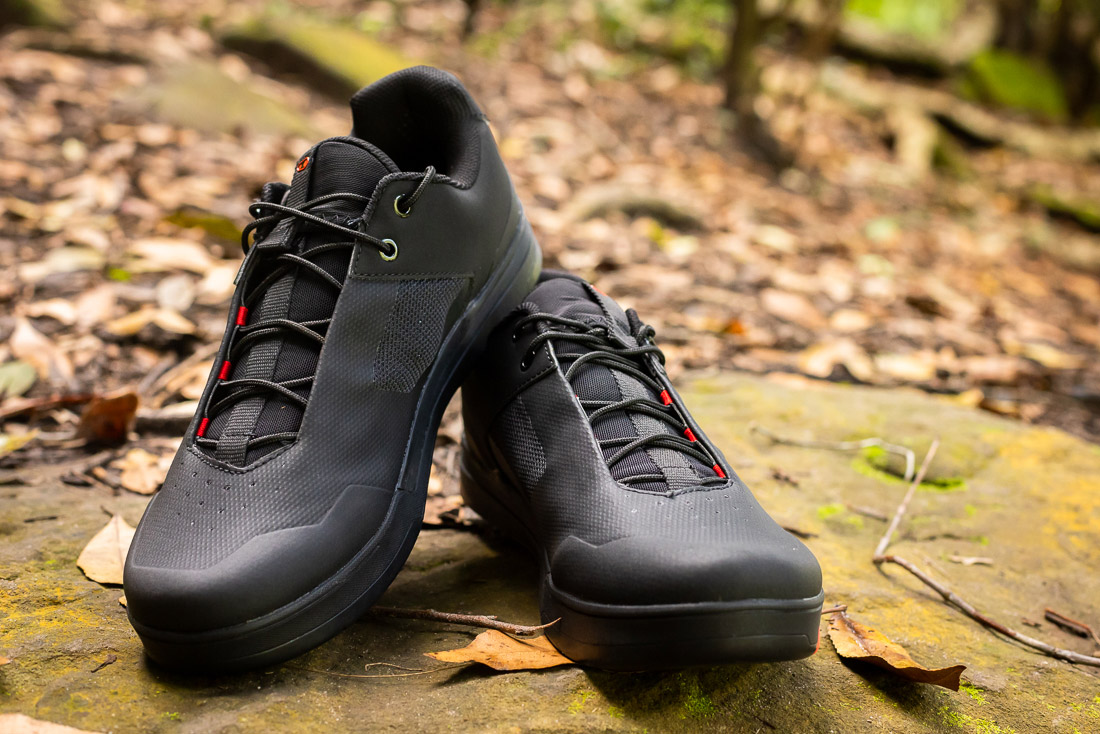 ---
MALLET SPEED LACE
Speed lace closure system offers a fast adjustment slider with a narrow-gauge lace, a velcro strap that binds the whole closure system down across the instep, plus the tuck-away lace pocket as the Mallet Lace version, above.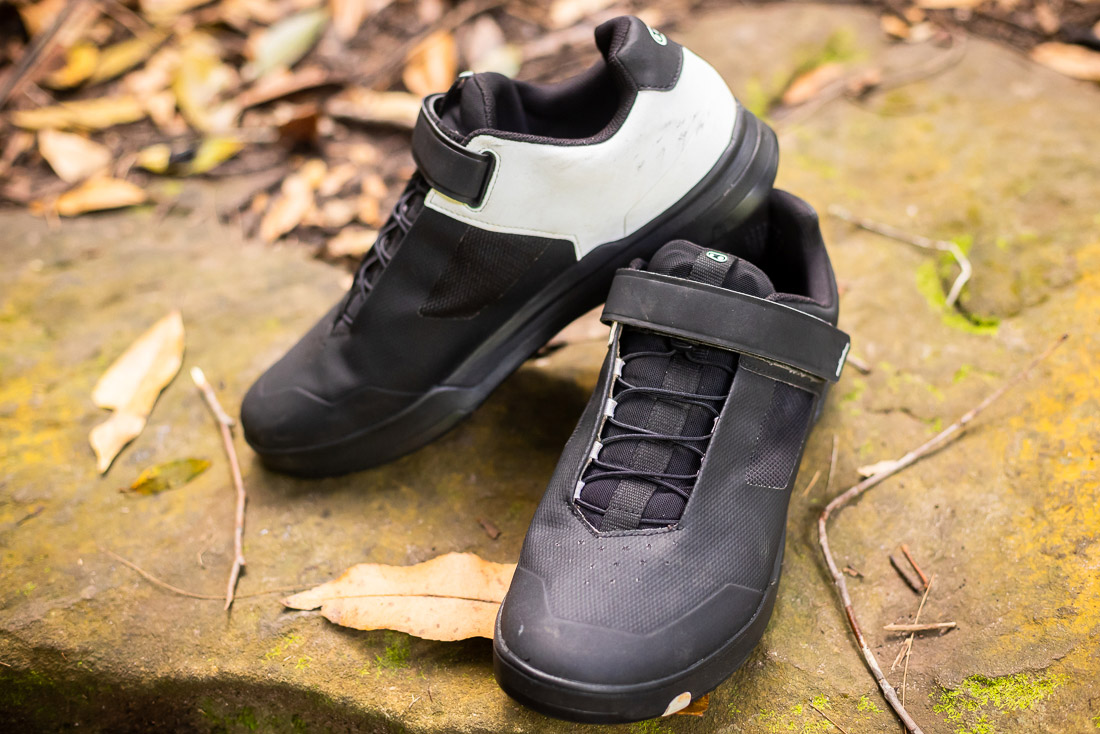 ---
MALLET BOA®
The BOA® Fit System is the most technical of the three in terms of its closure system. Utilizing a micro-adjustment dial (BOA®), plus the same velcro strap as the Mallet Speedlace for secure closure, and low-friction lace guides to deliver a fast, effortless, precision fit.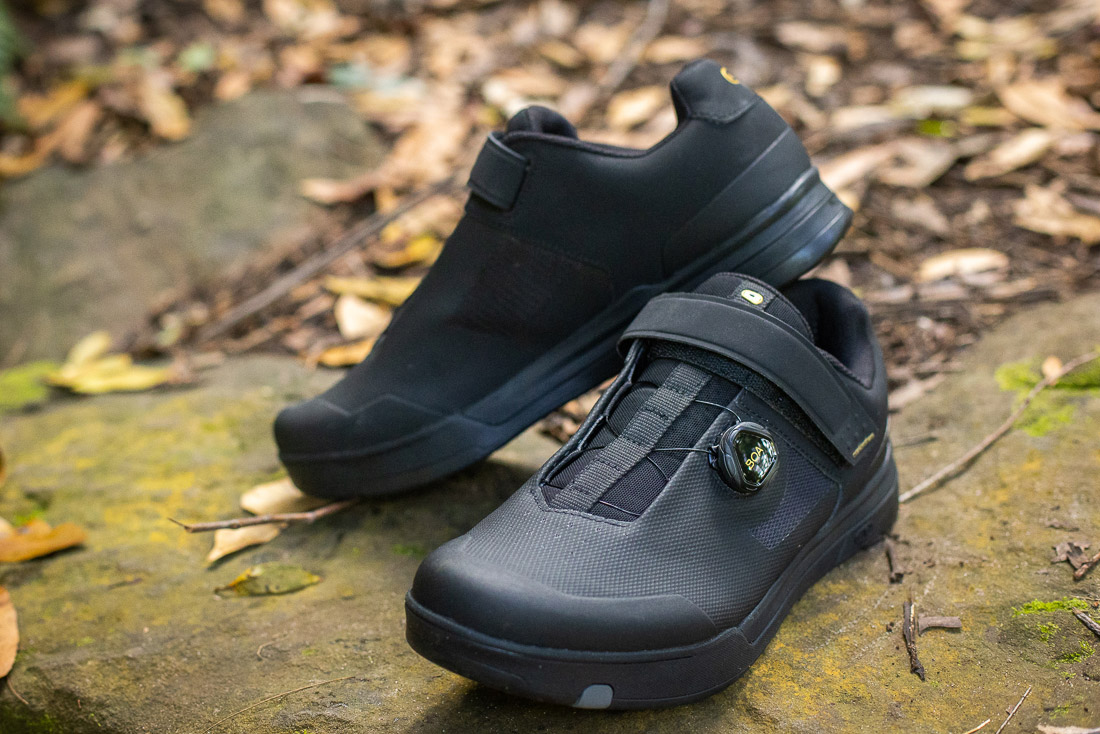 Features
All three models of the clipless shoe have been designed to work seamlessly with the Crankbrothers pedals straight out of the box. Each model features a ramped cleat box, specific outsole compounds, and a lug design making it easy to engage and disengage from the pedal. The upside is that these work equally as well with the Shimano SPD system.
Although the Mallet shoes come with the Cankbrothers cleats as standard, we preferred the SPD cleats. Horses for courses.
We have found that a lot of clipless shoes on the market don't have enough rearwards cleat position. Having the cleat set back in its furthest position allows for a much more stable foot position on the pedal, especially when descending. Well, we can safely say that Crankbrothers have addressed this issue with their Race Zone.
The Crankbrothers Maller cleat track design allows the cleat to be positioned further toward the heel for added control and stability when descending. See that red strip, yep, that's the race zone. Get on it!
It's the small things that put a smile on our faces. Take these super grippy dots that help to keep the heel from slipping. Noice.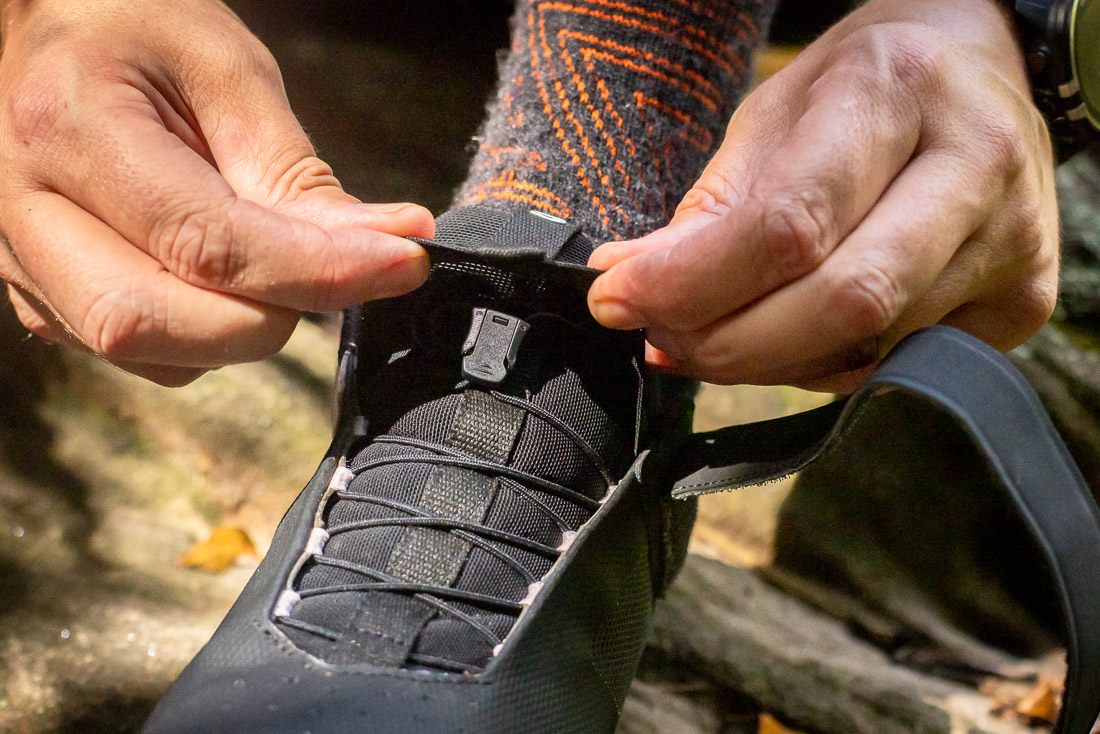 All three models have a lace hideyhole. Everything in its place.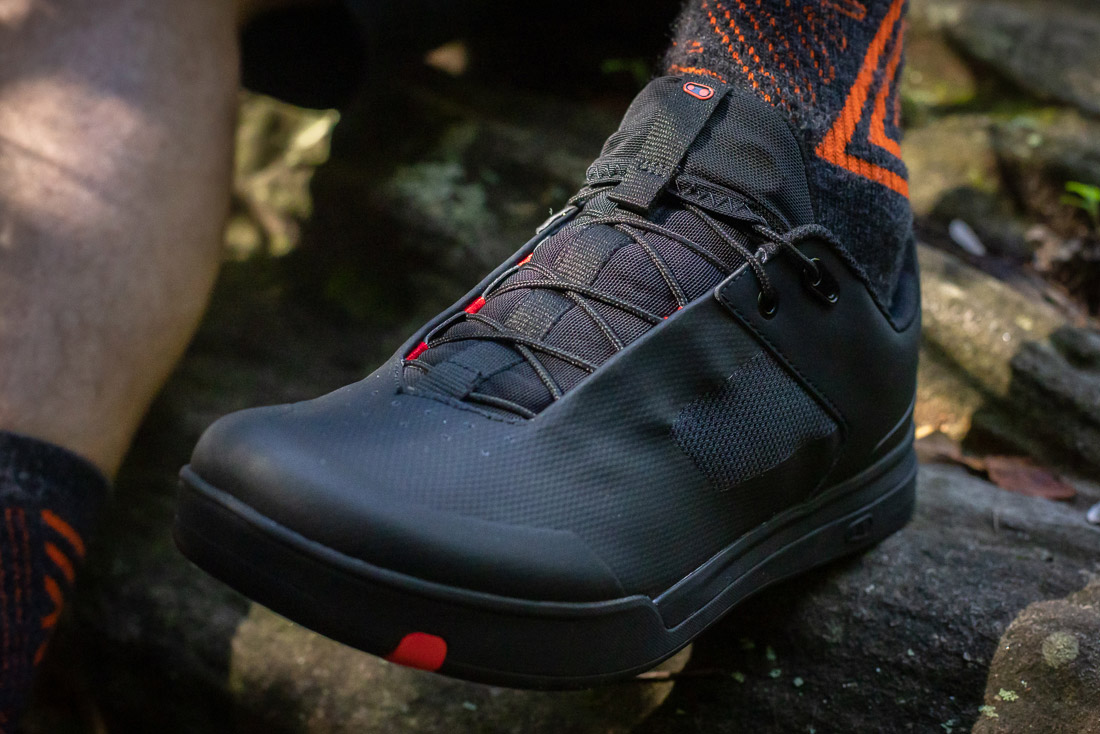 We have to admit, the BOA® system is one of the neatest closure systems on the market. BOA, it's so hot right now!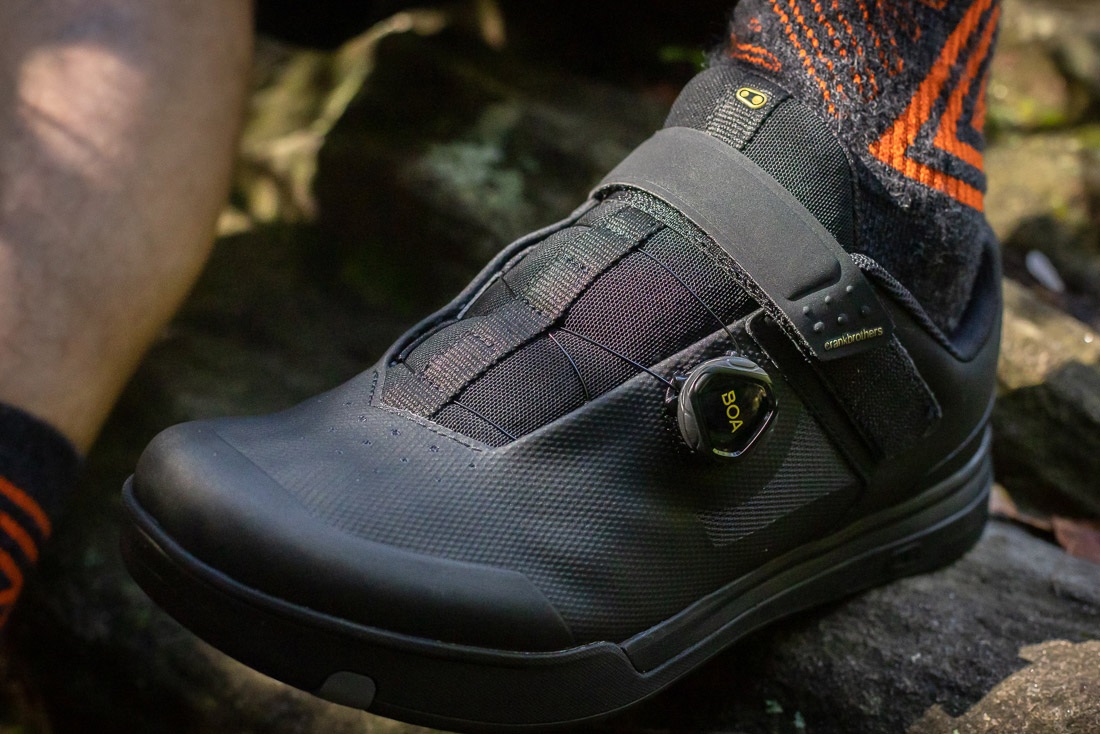 On The Trails
When it comes to clipless shoes, we look at certain key areas. The ease of pedal entry and exit, cleat range and adjustability, foot support, protection and comfort (this includes materials), and the closure system. Oh, and let's not forget the quality of construction. The Crankbrothers Mallet shoes seem to score high on all of these key areas.
The outsole uses a hard-wearing mid-friction rubber compound to withstand wear and tear and a radial lug pattern around the cleat box makes for a much smoother pedal entry and exit. The lugs are also deep enough to provide excellent hike-a-bike traction.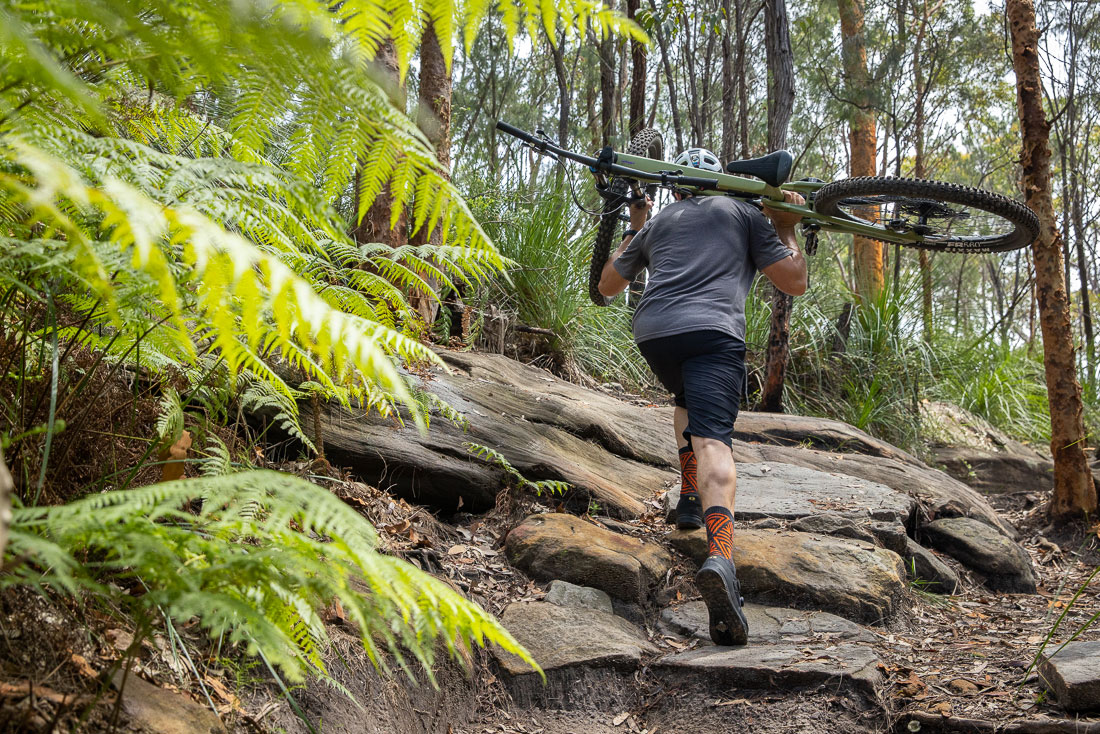 Crankbrothers Mallet shoes feature a synthetic upper with a combination of perforated materials and mesh windows to provide ventilation during hot days and fast drying times on wet days. A mix of premium materials adds breathability, protection, and comfort, with a reinforced TPU in the toe box to protect against harsh rock strikes and impacts.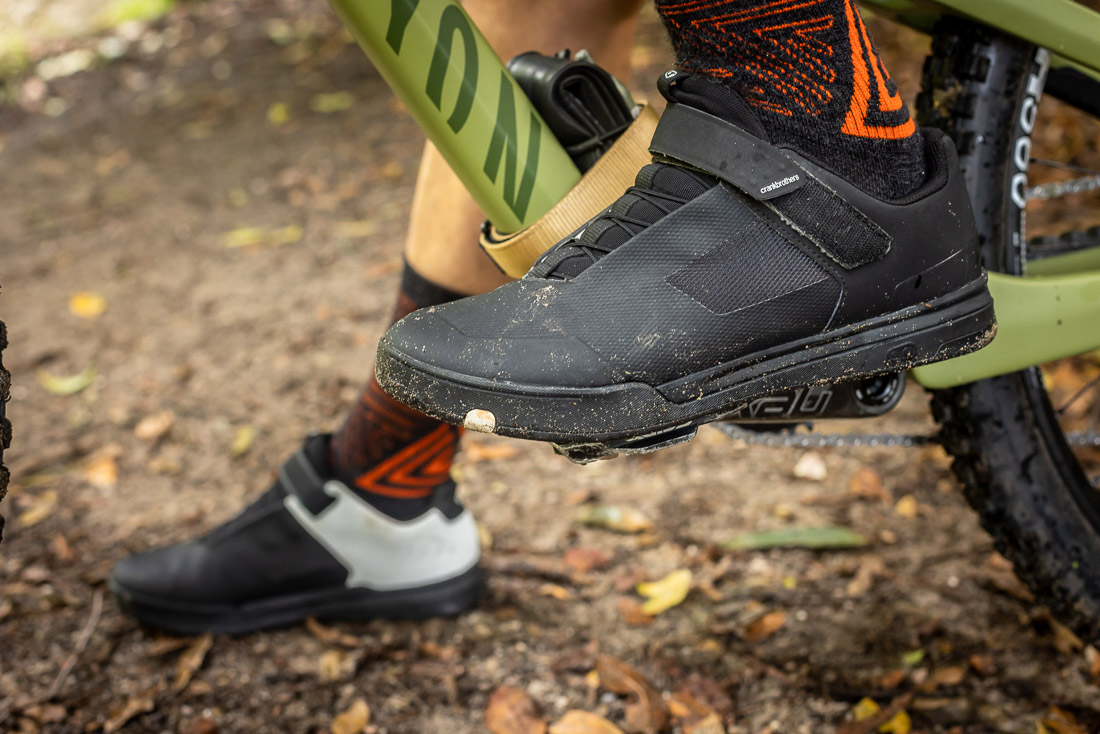 Our favourite MTB shoe for many years had been the Specialized 2FO, but we have to admit, the Crankbrothers Mallet has confidently kicked that shoe straight off the podium. We now have a new number 1 in our stable. Go buy a pair and be done with it. Review over!
Oh, you want details? Do you want to know why these shoes are our new favourite number 1? Well, it could be the combination of the mesh windows, perforated toe box, and perforated tongue that help to keep your foot cool. Or it could be the closure system, super-sticky heel dots, or super-thick padded tongue that make these shoes feel like they were something out of the Cinderella story, made just for you. Or is it the reinforced toe box or heel and sole that provide stiffness and support throughout the foot? Well, yes you got it. It's all of the above.
Comfort
What struck us more than anything with the Crankbrothers Mallet shoes was how comfortable they felt. The thing with footwear is that you really don't want to notice you have them on. A good shoe or any piece of apparel should go unnoticed once you start riding. Some shoes shout out with heel slippage or hot spots, or just to let you know you've got a pair of lead weights attached to your lower legs. But the Mallets don't do any of that. The comfort factor is through the roof.
Stiffness and Support
You can feel the stiffness of these shoes as you walk and as you place your foot on the pedal, they mean business. That stiffness is directly transferred into the pedal and cranks as you stand up and crank it out. Foot pedal placement is rock solid and lateral movement is pretty much nonexistent. They are after all targeted at enduro and downhill riders, and the level of protection and stiffness matches that. On the rough stuff, they are incredibly supportive through the entire length of the foot and heel. Rock gardens and large drops don't phase these shoes whatsoever. Add to that the closure system which wraps and locks your foot securely limiting any lateral movement.
Race Zone
Not many shoes in our pinion offer a cleat position far enough back to give that confident feel on the steep stuff. We've read and seen some attempts of DIY sole gouging to try and remedy this but 9 times out of 10 it ends in a ruined shoe. We highly recommend NOT doing this DIY approach as it can compromise the entire shoe design resulting in disaster.
The Specialized 2FO and the Shimano AM5 were by far some of the best shoes to offer this, but the Crankbrother Mallets have now stepped up to that challenge with their Race Zone strip. Race Zone is purely the marketing dept needing to shout about something, but essentially it's the most rearward position on the shoe, and it's a bloody good way back. We've spent a lot of wonga on shoes that are marketed as downhill shoes only to be utterly disappointed to feel tippy-toe on the steeps. So we were hugely relieved to see what Crankbrothers have done here. If you got on with the Specialized 2FO cleat position, you'll love the Mallets.
Closure System
All three closure systems offer a very comfortable fit and all versions have a neat lace storage pocket to keep things uncluttered. The BOA is the quickest to close up with the Speedlace coming in a fast second, and the Lace coming in third, but all three offer the same features depending on your budget and style tastes.
Our personal choice was the Mallet Speedlace. Why? Well the BOA is an awesome system, let's be fair, but for us, we felt it's just one more thing that can go wrong. With the BOA system on our previous Specialized 2FO shoes, we had issues with the dial not working due to crud getting in there and it was a very minor issue but one that went against it when it came time to voting. We also really liked the feeling of pulling the laces individually on the Mallet Speedlace to get that perfect feel. With the BOA, you don't have that, but what you do have with the BOA is the ability to adjust on the fly whilst riding. You simply reach down and adjust the dial. that was something we always like about the BOA system.
The Mallet Lace on the other hand is a little more old school and is a great option to steal all the shared features of the other versions at a much lower price. Unfortunately, they don't have the velcro instep strap, which for us is a must. So all in all, the three variants all have their pros and cons, it will come down to your budget and closure preference.
Shoes can be very subjective, we all have different shaped feet, so what worked for us may not be right for you, but we're still puzzling over how good these shoes feel. A message to Crankbrothers. Whatever you do, do NOT change a thing! You have hit the magic ingredient with these shoes.
We've tested and reviewed a few shoes over the years and we never want to waste your time with skullduggery and a pointless trip to disappointment street. Let's be fair, shoes are bloody expensive. It's not something you want to get wrong once, let alone thrice. So we will repeat ourselves again just in case you missed it the first time. Crankbrothers Mallet..go buy a pair and be done with it!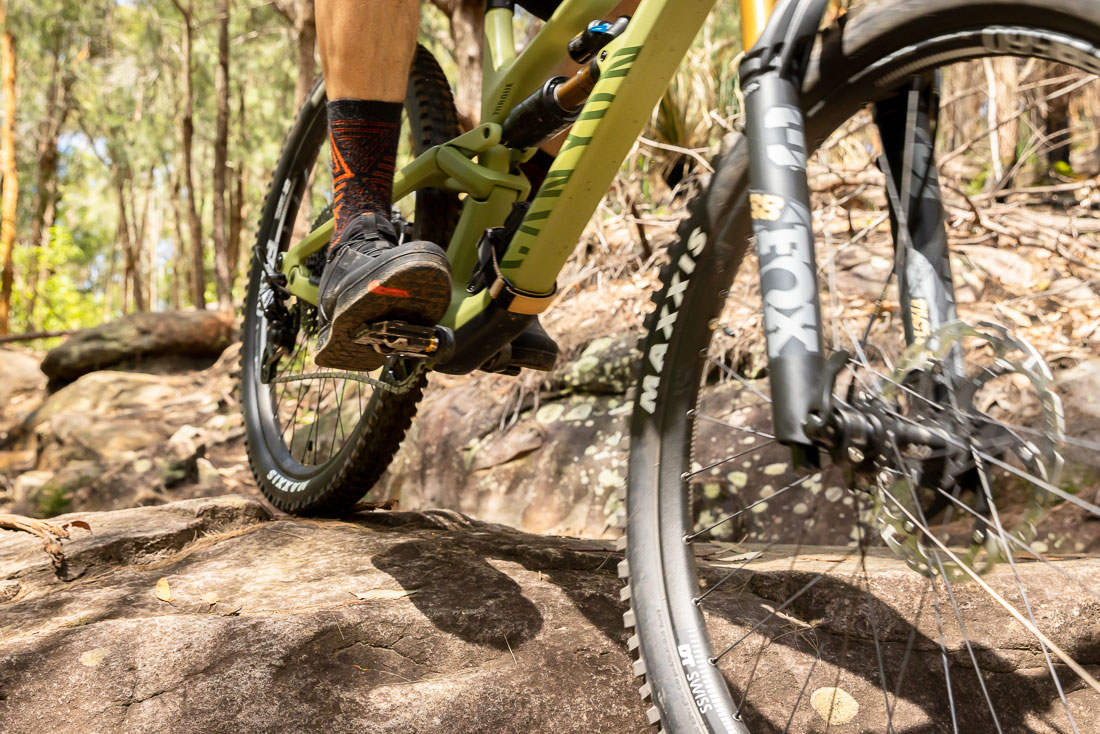 Foot stability is excellent with plenty of stiffness in the sole and heel area providing a confident platform on the descents.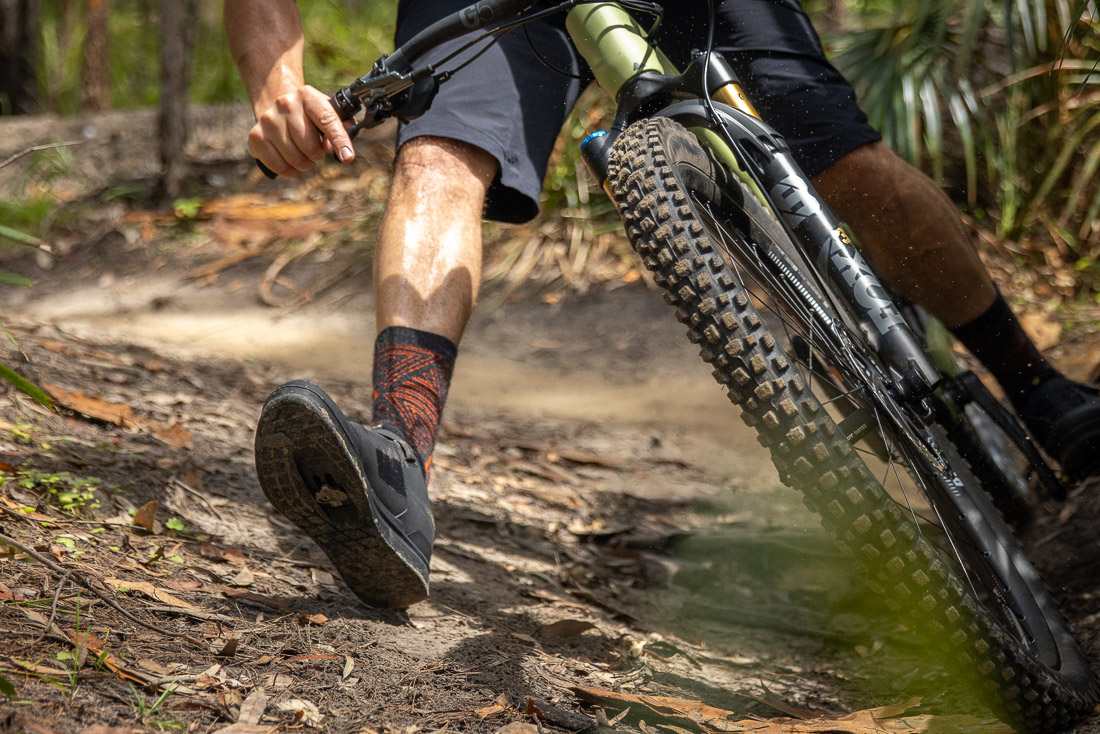 Getting your foot out, and more importantly, back in again, is super-easy with the wide cleat area and rounded lugs. We felt an increased improvement in pedal engagement versus similar shoes in this space.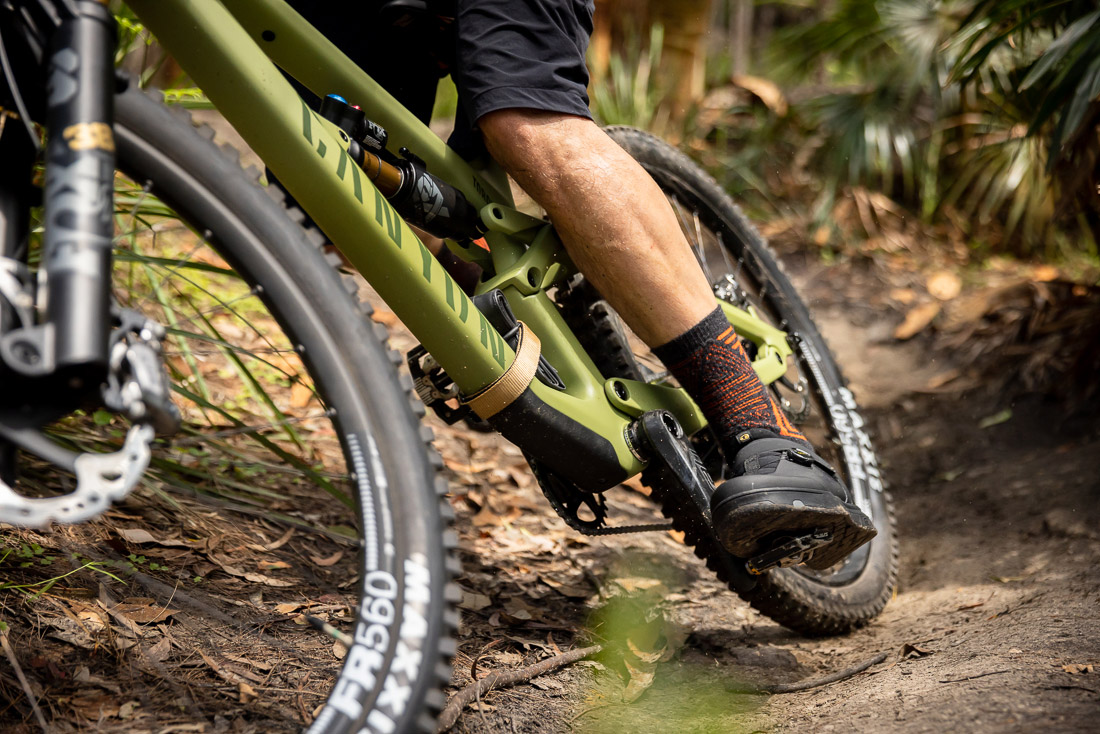 Conclusions
The Crankbrothers Mallet shoes have truly impressed us over the past several months. There are not many brands that can come charging out of the gate that ticks all the boxes. The Mallet offers comfort, protection, and performance that we feel is very hard to beat. Apart from the Specialized 2FO's, we feel there's not much that can come close right now.
When we ride we need to feel confident and that cascades down into what we wear, especially when it comes to protection and one of the main touchpoints on the bike. Good footwear can make or break a ride experience and can also go a long way to build that confidence, especially on rowdy trails.
If you're looking for the creme de la creme of clipless shoes to tackle those spicy trails and will provide superior foot support, protection, and all-day comfort with a selection of closure systems to suit your taste, then all we can say is go buy a pair and be done with it! There, we said it a third time just for good luck and in case you really weren't paying attention.
Where to Buy / Price
Crank Brothers Mallet BOA Clipless Shoes: $299 (approx)
Crank Brothers Mallet Speedlace Clipless Shoes: $240 (approx)
Crank Brothers Mallet Lace Clipless Shoes: $220 (approx)
Available to buy at MTB Direct or ask at your local bike shop.