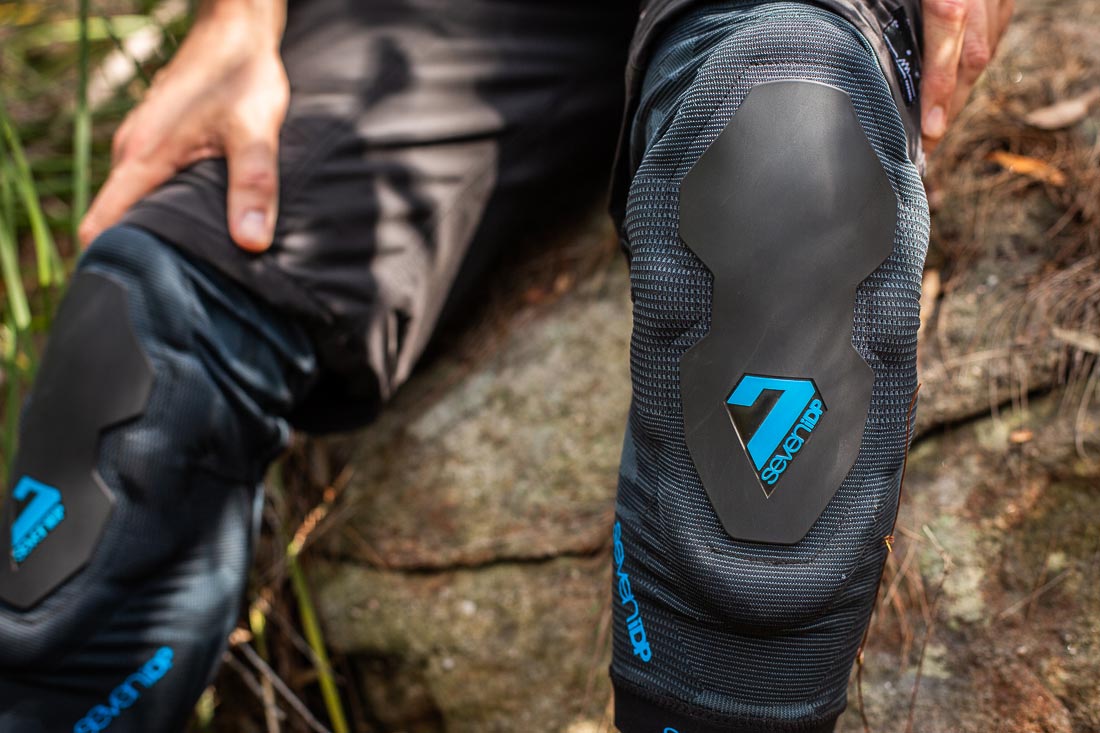 The Most Innovative Knee pad from 7iDP
Cut to the Chase
If you're looking for serious protection out on the trails with the flexibility and breathability of a much lighter pad, then the 7iDP Project knee pads are absolutely the mutts nuts. The 7iDP Project offers industry best SAS-TEC protection to keep your knees protected against the rowdiest of trails.
Pros
SAS-TEC protection, best in industry!
Highly breathable and lightweight
Can be used as your every day pads.
Removable padding for easy cleaning.
Longer coverage.
Cons
Some thigh slippage even with attachment.
7iDP Project Knee Pad – Review
Body armour is not exclusive to extreme riders. We know all too well that you can have a very nasty injury on the slowest and tamest of trails, shit certainly does happen and most of us can attest to this. Choosing the right protection is critical to adding an extra layer of safety and even some extra confidence to your riding.
So, the trusty knee pad has become the most common piece of protection, apart from the helmet, for riders of all skill levels. There's something about riding without knee pads that feel great, but the less protection you wear the louder that voice in your head is shouting "don't crash, don't crash".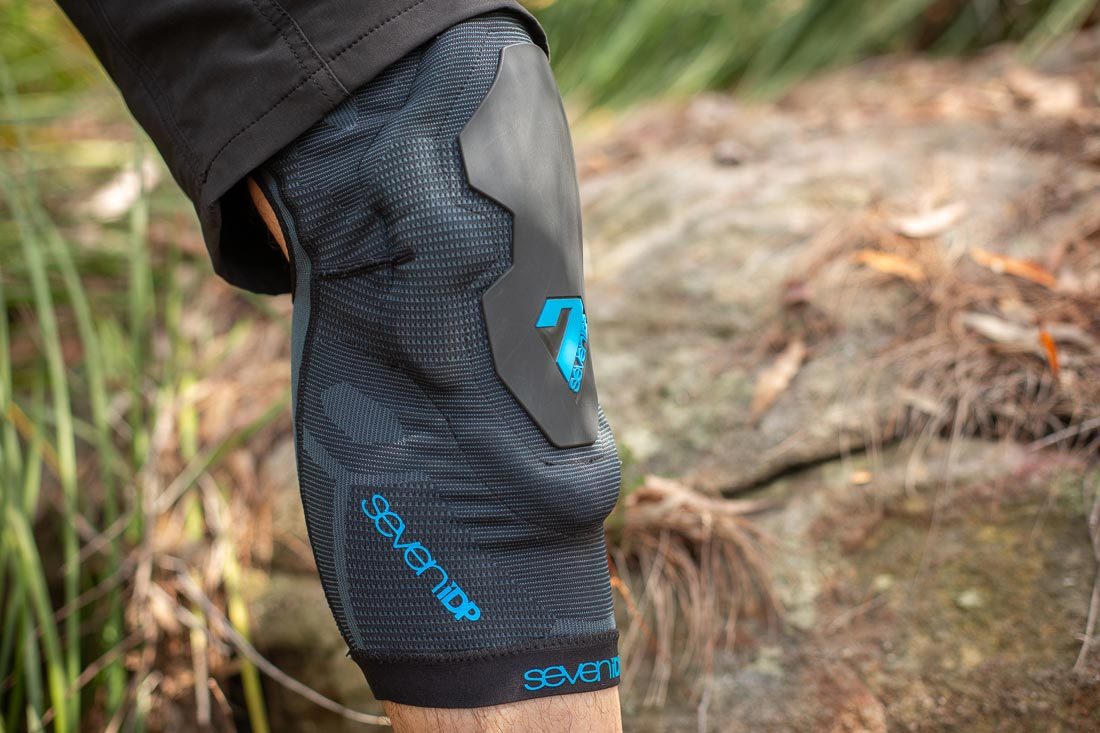 Above: The Project from 7iDP covers all key areas on the knee and upper shin areas. Photo: ©Richard McGibbon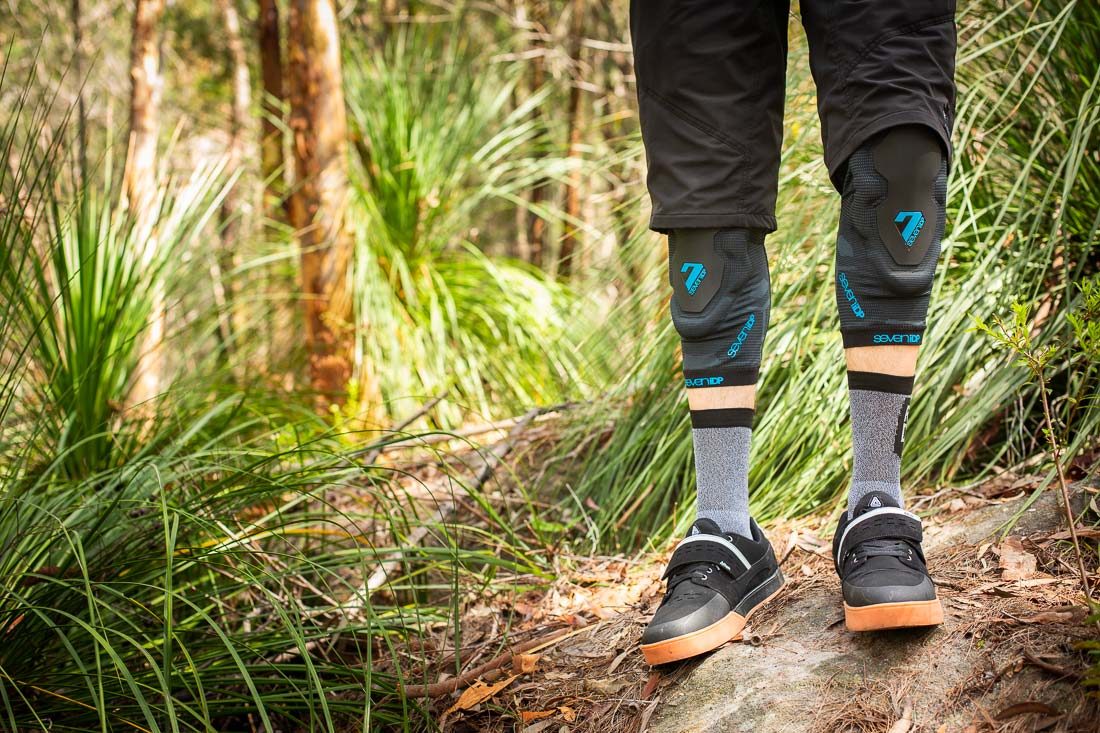 Above: The Project offers larger coverage than most. Photo: ©Richard McGibbon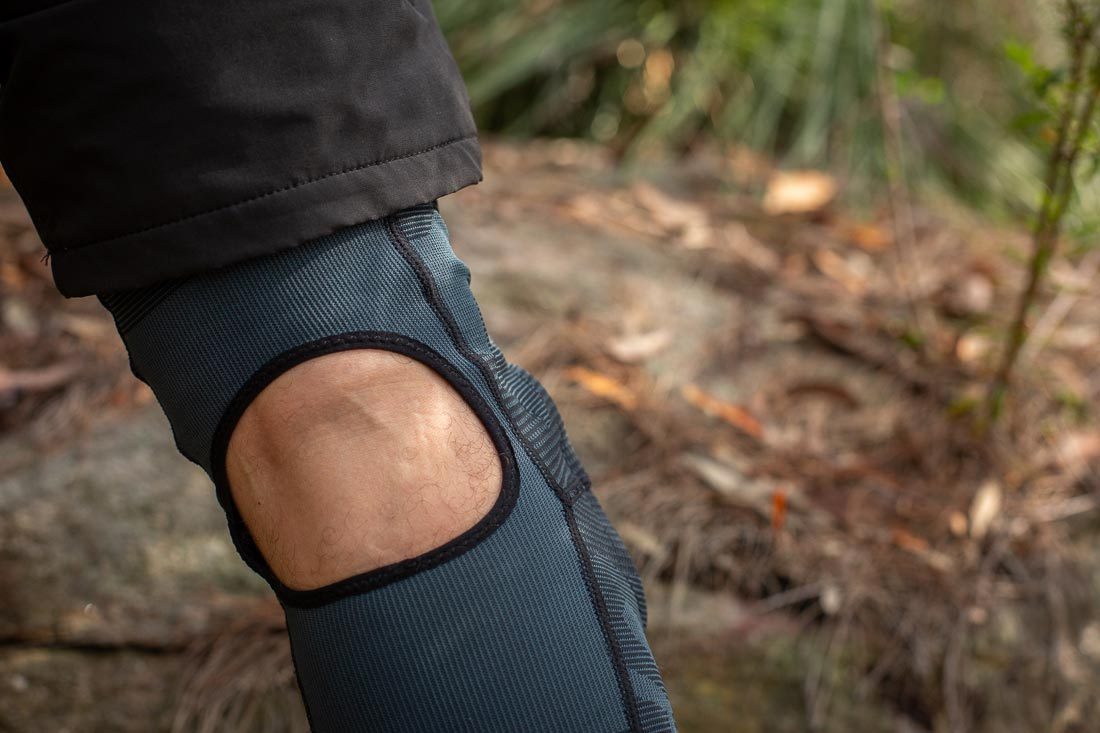 Above: Rear cut away section for improved airflow and comfort. Photo: ©Richard McGibbon
---
Features
If you are looking for a knee pad that can handle a wide range of riding, from casual trails to more aggressive gravity fed enduro or downhill, then stop and check out the 7iDP Project knee pads.
First off, you'll notice how long the Project Knee pad looks. These pads offer an excellent range of coverage, longer than most, that come right up onto your upper thigh and down to mid/lower shin level.
SAS-TEC
The removable knee cap is made from SAS-TEC material, which is very pliable but tough as steel when in a high-speed impact. Remember that stretchy man toy you used to have as a kid? Well, it's a bit like that.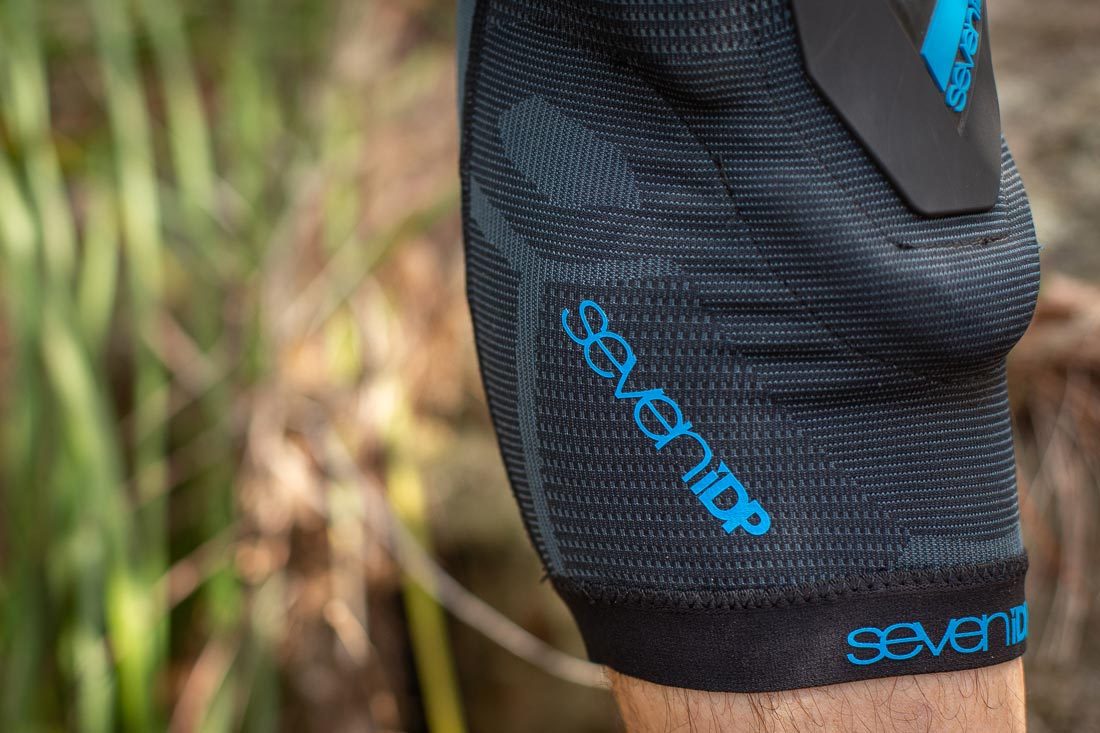 Above: The ProKnit fabric gives a body-hugging fit. Photo: ©Richard McGibbon
---
ProKnit
The sleeve material called 'ProKnit' has been woven into different areas of the sleeve to give a mix of elasticity and support in all the right areas. 7iDP claims that it offers better durability, comfort and breathability than Lycra.
The upper sleeve has a double ended velcro strap plus a silicone strip on the back of the hem to keep them up whilst riding, whilst the lower hem is elasticated. Combine this with the ProKnit sleeve fabric and you have a body-hugging knee pad.
On The Trails
These pads have replaced my beloved ION K-Lites, so they already had a lot to live up to. I wanted a knee pad that offered a little more coverage and was comfortable enough for longer rides. The ProKnit fabric goes a long way to make this happen.
The ProKnit fabric is light and airy which I think is a brilliant design feature on these pads. Typically, the more coverage the hotter you're going to get, so this fabric really helps keep the heat down on warmer days and doesn't become an excuse not to wear them.
The levels of protection are very good. The SAS-TEC pads offer incredible levels of pliability for pedalling and excellent levels of impact protection when you're unlucky enough to encounter those dirt naps. But, you know what? You'll be bloody glad you put them on.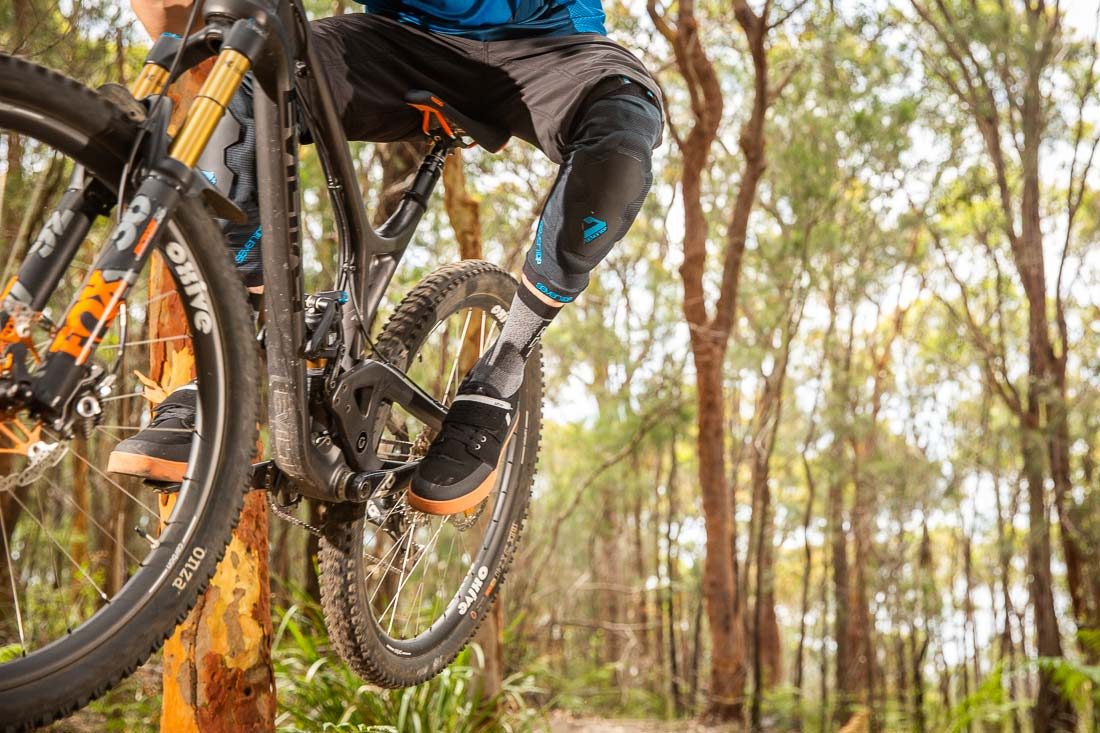 Above: The Project knee pads from 7iDP, super-comfy, breathable and lightweight. Photo: ©Richard McGibbon
---
In terms of overall comfort on the bike, the Project pads felt fantastic! I've had issues in the past with other pads where the lower part of the cup caused a lot of pressure on my shin bone. I've had absolutely zero problems in terms of comfort with the 7iDP Project pads.
Washing is super-easy due to the removable SAS-TEC shells. Just pull the shells out of the slits and bung the rest of the pad in the wash. We washed ours by hand with some mild detergent and cold water. Squeeze them out and let them dry.
My Only Gripe
Because they are a little longer in the leg, I did have some slippage issues with the upper sleeve section, above the main pad. It was nothing major but still a little annoying. It was just one of those small gripes, having to keep adjusting them when we stopped.
Apart from the upper thigh slippage issue, the 7iDP Project pads have been a very much welcomed addition to our body armour cache and ones we can see ourselves using for the majority of our riding.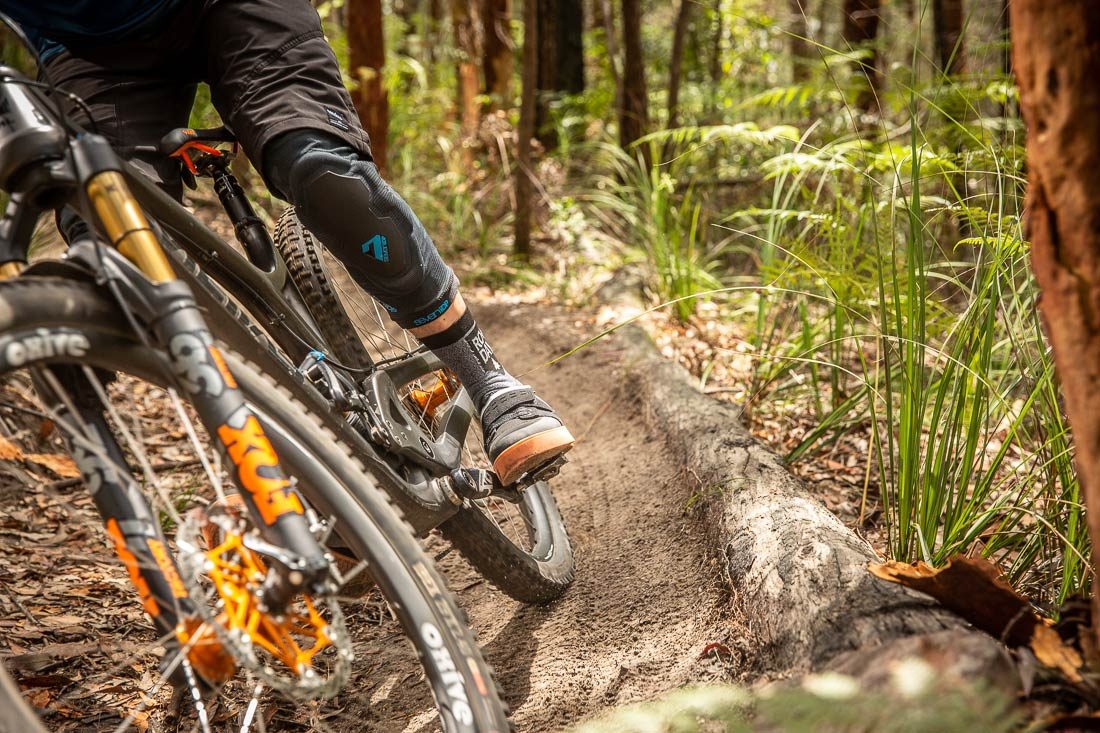 Above: The 7iDP Project knee pads offer are an all-round knee pad that offers high levels of protection and comfort. Photo: ©Richard McGibbon
---
Price / Where to Buy
7iDP Project Knee Pad: Prices range from $129.99 to $192.48
Can be purchased at MTB Direct and other good online retailers or ask at your local bike shop.
---