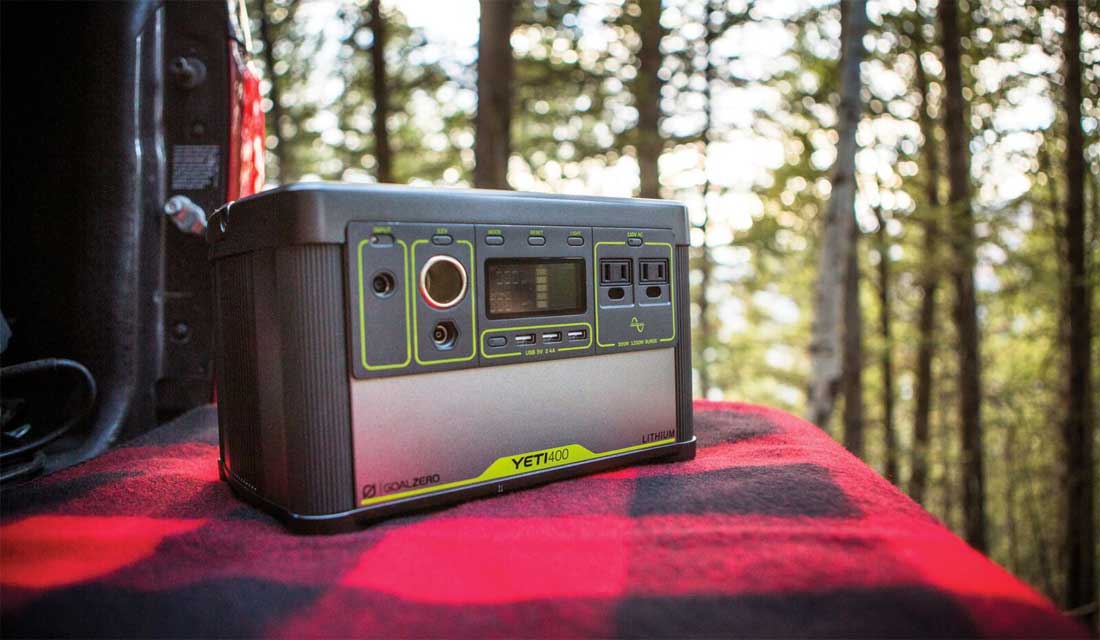 Cut to the Chase
The new Yeti range certainly packs a punch in the power department with enough guts in those Lithium batteries to power anything you can throw at them. Camping trips, social events, work equipment whilst out on location or even powering parts of your home. Just choose a package to suit your lifestyle and needs and let Goal Zero take care of the rest.
Pros
Powerful lithium battery
Improved display
Compact
Lightweight
Quieter fan than previous models
Cons
Price. A little steep, but you get what you pay for.
---
NEW Goal Zero Lithium Yeti Range. Big Power Anywhere, Anytime.
Born from a desire to empower human potential and enhance lives with renewable energy, Goal Zero has set a new category of portable power in motion; one that provides a safe, clean alternative, to traditional gas generators. Goal Zero is proud to announce the release of their most versatile and innovative portable power stations yet – The brand new Lithium Yeti Range.
Who is Goal Zero?
Goal Zero is the largest portable solar company in the world. They equip people seeking adventure with market-leading solar kits, solar rechargers, solar panels and solar accessories, each designed to work in concert with each other. Their portable solar power systems power a variety of USB, AC and DC devices anywhere and at any time, and provide a perfect blend of portability, power and ease of use.
Goal Zero is a company that equips people reaching the farthest outposts of the world with the most innovative portable power products on the market. Field-proven in some of the most remote places on earth, they are working to continually deliver smart, innovative power solutions that will change the way you adventure.
The New Yeti Family
Yeti 400
The Lithium Yeti 400 is compact, lightweight and perfect for weekend adventures with a 400Wh capacity. It features real-time usage data via an upgraded display, two powerful AC outputs, three USB ports, and a 12V output for devices designed for car cigarette lighters. The Lithium Yeti 400 can charge your phone 30x, a laptop 6-8x, or give you a 12V LED light for 140 hours, camping will never be the same again.
Yeti 1400
The next generation of portable, award-winning power is the Goal Zero Lithium Yeti 1400, developed to help tackle the toughest jobs off the grid with 1400Wh of power. High-quality, replaceable lithium packs yield long run times and feature additional monitoring electronics for ultimate safety. The multi-stage surge capability AC sets a new industry standard allowing you to power more devices than ever before – power tools, fans, refrigerators, film equipment and more!
Yeti 3000
With over ten versatile ports to pick from and 3000Wh capacity, the Lithium Yeti 3000 is perfect for using multiple devices. It may be large but it's certainly mobile, this Yeti comes with preinstalled wheels and a telescoping handle. Fully recharged in 25 hours, the Yeti 3000 can run your 32" LCD TV for 30 hours, fridge for 50+ hours, lights for 1000+, making it the perfect power backup for your home.
Goal Zero Solar Panels give you the ability to never run out of charge while on the go. The Lithium Yeti range are also compatible with Goal Zero solar panels (sold separately), so you have the option to charge up off-the-grid, or with standard 240v mains power via the included wall charger.
Whether you're charging your phone or camera on a weekend adventure, tackling tough jobs off the grid, or need backup power for your home, Goal Zero Lithium Yeti Range has a solution for you.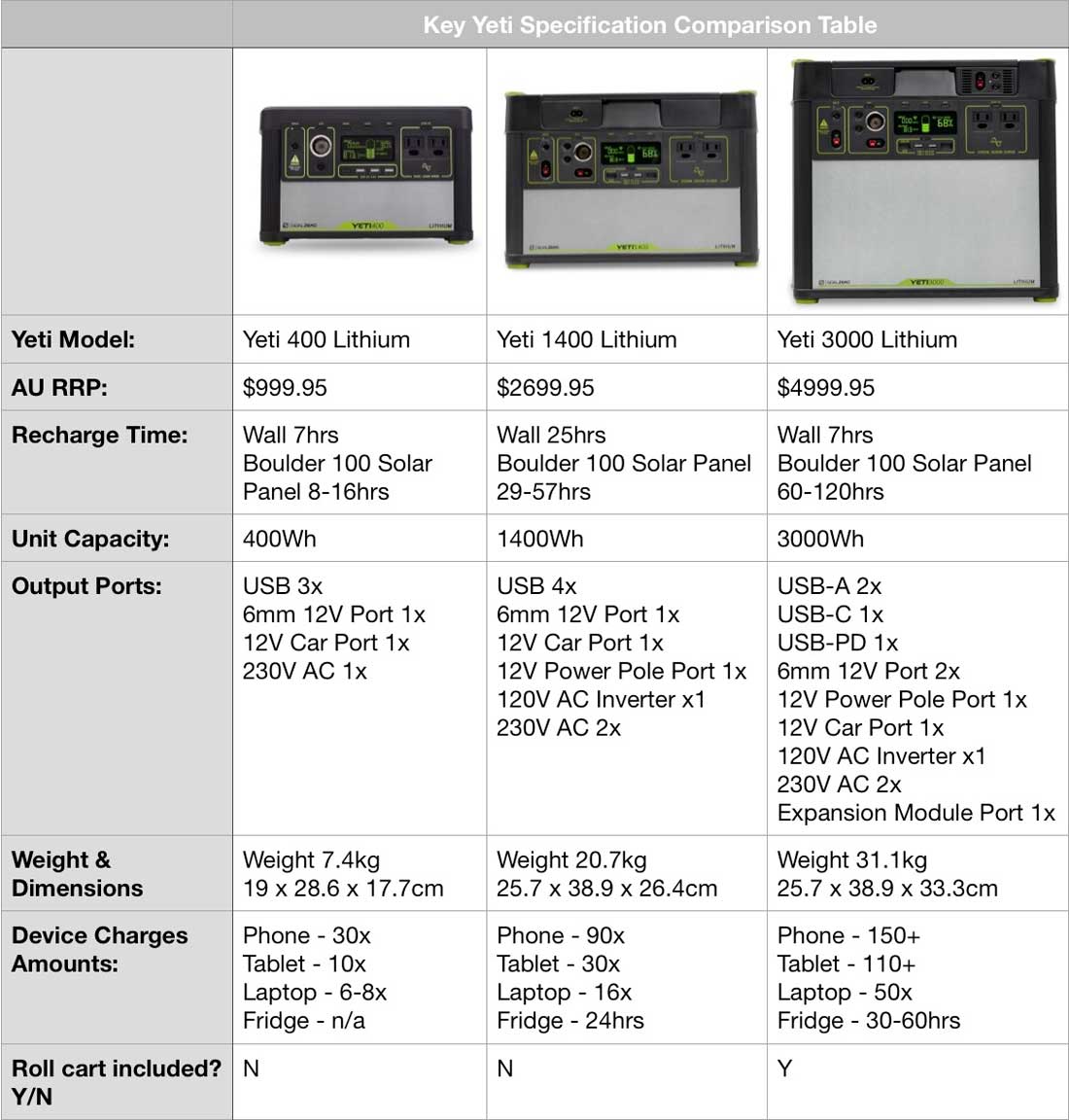 ---
Where to Buy / Price
Goal Zero Lithium Yeti 400 RRP: $999.95
Goal Zero Lithium Yeti 1400 RRP: $2699.96
Goal Zero Lithium Yeti 3000 RRP: $4999.95
Visit goalzero.com.au for more information, to shop online, or to find your closest dealer.
---