---
White Knuckle MTB – INTERVIEW
The feeling of excitement, anticipation, and expectation of things to come is at an all-time high as you take in your surroundings. You're sat in the driver seat of a fully customised van with your bikes and all your biking gear loaded up behind you. Sitting in the seat next to you is your favourite riding buddy who's already buzzing from the music blaring out of the super-smooth speaker system, head in a blur of movement, throwing the all too familiar "let's rock" hand signal. With shit-eating grins donned, you look ahead and floor the accelerator, peeling off the tarmac and head into the open road like a rocket pulling away from its earthly bonds as it fires into the wild open space leaving a trail of acrid smoke and a set of black steaming scars in its wake.
OK STOP! WAKE UP!!!! Sound like a familiar daydream to you?
Actually, no, this is not a dream, it's reality and it can now be yours too. White Knuckle MTB is a custom camper van hire company based in Devonport, Tasmania. They offer campers that are designed for riders, by riders, and has everything you need to hit the trails in Tassie with the added bonus of it being mobile, efficient and affordable.
We sat down with owner Bryce, to get the low-down on this awesome company.
T&S: So, who is White Knuckle MTB?
White Knuckle MTB is me, but the end result wouldn't have come about without a lot of help from my mates and family. We put a lot of effort into the name so we could build a good brand around it, something people would associate with shredding on your bike with your mates while experiencing our beautiful little island.
We are a company that's invested in peoples riding experiences. From where to ride in Tasmania and details about the trails when you get there, we want to help riders at every step of the journey. If we don't know the answer we will do our absolute best to find out.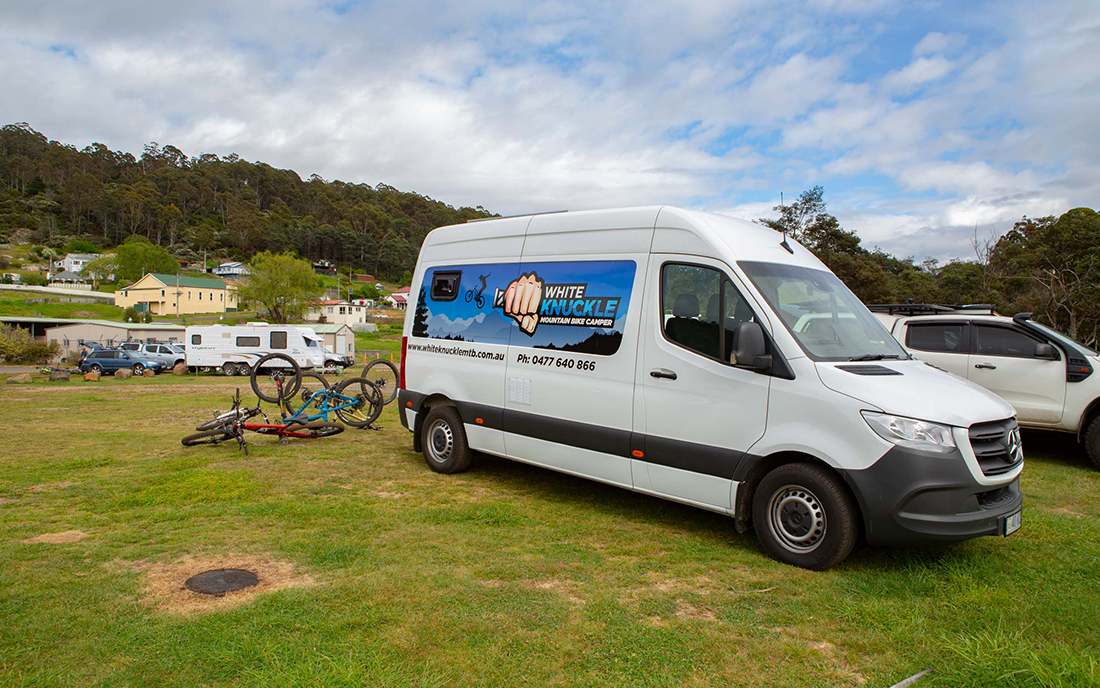 T&S: So tell us a little more about these campers, what makes them so special?
I think our vans are special because of the effort that goes into building them. We wanted to make it as easy as possible for riders. Just get your bikes over here and we deliver the van to you then you're all set to head off North, South, East or West, the adventure is yours.
In respect to tools, we have everything on the van that you'll need to maintain your bikes, plus wheel bags, safe storage and a park tool bike clamp on the door, so you can work on the bikes anywhere you pull up. It really is an epic experience, trust me I have been testing it a lot.
T&S: What was the catalyst behind White Knuckle MTB?
I think everyone who rides bikes has had some sort of dream about working in the industry, I mean, if you get to be around bikes or people riding bikes, it's generally going to be a great time, so who wouldn't want to?
I once met Jill Kintner and Bryn Atkinson down in derby and started following them on social media and noticed they had a custom-built van to ride and travel in, and this took me back to when I travelled the east coast of New Zealand, so it just clicked. I should build a van for people to travel around Tasmania with their mates and bikes, just load up and go…then the hard work began.
T&S: If it's your first time riding in Tasmania, what can riders expect from the trails?
Expect it to blow you away! I have never seen anyone disappointed in the trails we have here. Most just say they have never ever ridden trails like this before and I've ridden with people from all around the globe. From the old tin mining town in Derby to the absolute gravity focused Maydena or the new Epic trail from Blue Tier to St.Helens, there is something for everyone and it is just getting bigger and better, with even more trails and riding destinations are yet to come.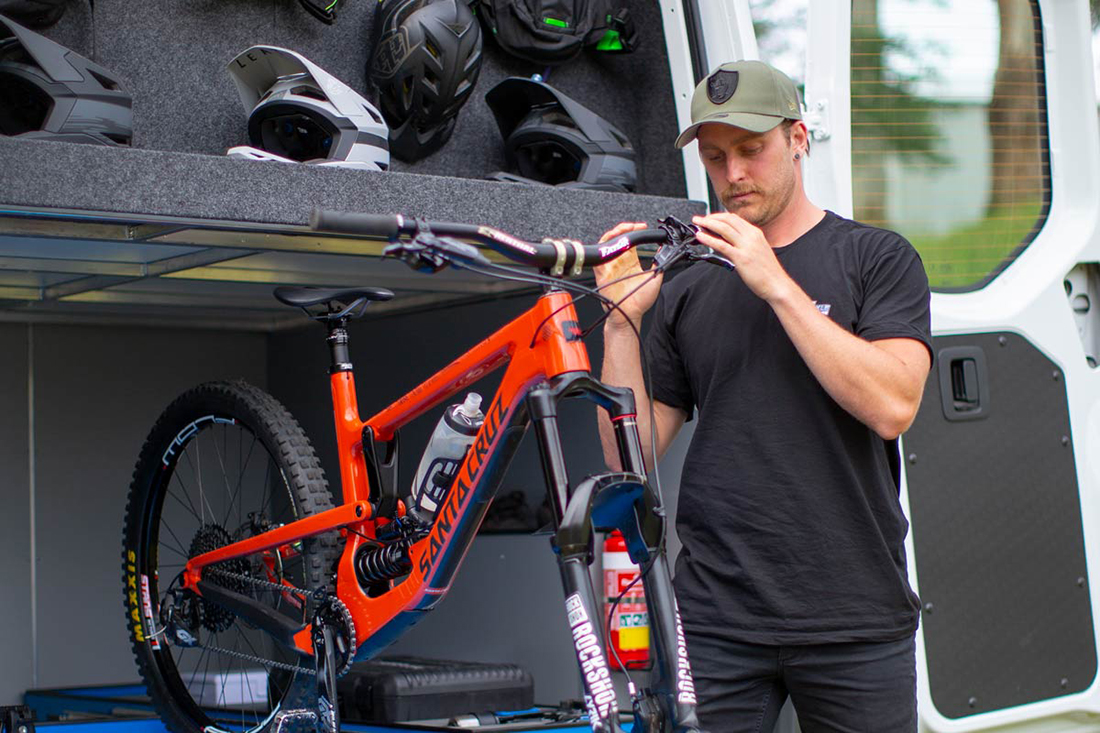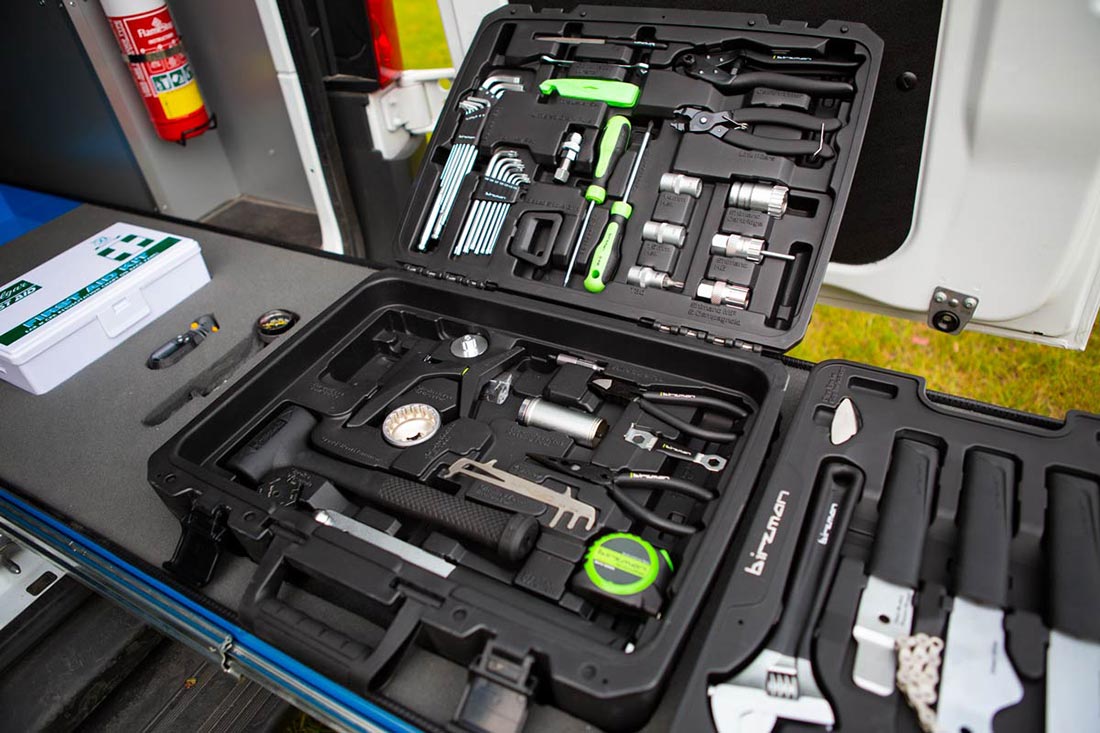 T&S: The van life's an itch many a rider has thought about scratching. What you offer seems to provide a taster of what that life could be like, without the full commitment.
What can I say about this? I think if we all could we would. It's refreshing to the soul to go somewhat off-grid and being able to do what you love along the way is such an appealing notion for a lot of people.
T&S: Would you recommend some van driving experience before hiring?
I haven't found the need to change my driving style too much at all. The van an automatic mid-wheel based, high roof vehicle and is very easy to drive. I would recommend just taking corners a little wider and be conscious of its height and added length. Apart from that, it's super easy to drive.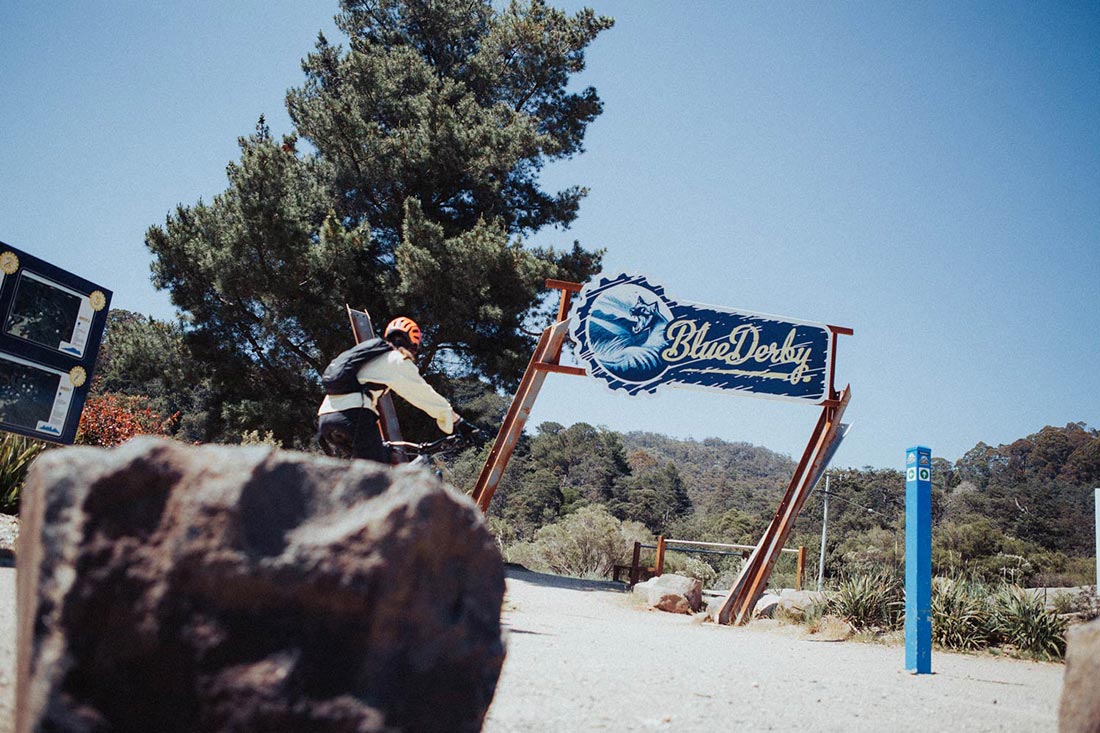 T&S: Being mobile and completely self-reliant is a great feeling, but what if you break down, do you offer some sort of roadside assistance?
We have Mercedes Benz 24hour roadside assist readily available for any break downs, should they ever occur.
T&S: Are there any restrictions or things people need to know about campsites in Tasmania?
Camping in Tasmania is great, with Derby leading the charge offering free camping and a toilet/shower block available to the public. A lot of the mountain bike destinations are well equipped with toilets, showers and places to eat. Basically, there aren't many restrictions when it comes to campsites in Tasmania, but if it says no camping, then don't camp there.
T&S: If you had to sum it up, the elevator pitch, how would you describe what you offer?
Experience Our world-class trails in Tasmania in our Custom built Mercedes Sprinter. Everything in one van that you need to not only get you to the trails but keep your bikes cared for along the way. North, South, East or West you chose which way to go. Shred all day with your mates in some of the most untouched wilderness in the world.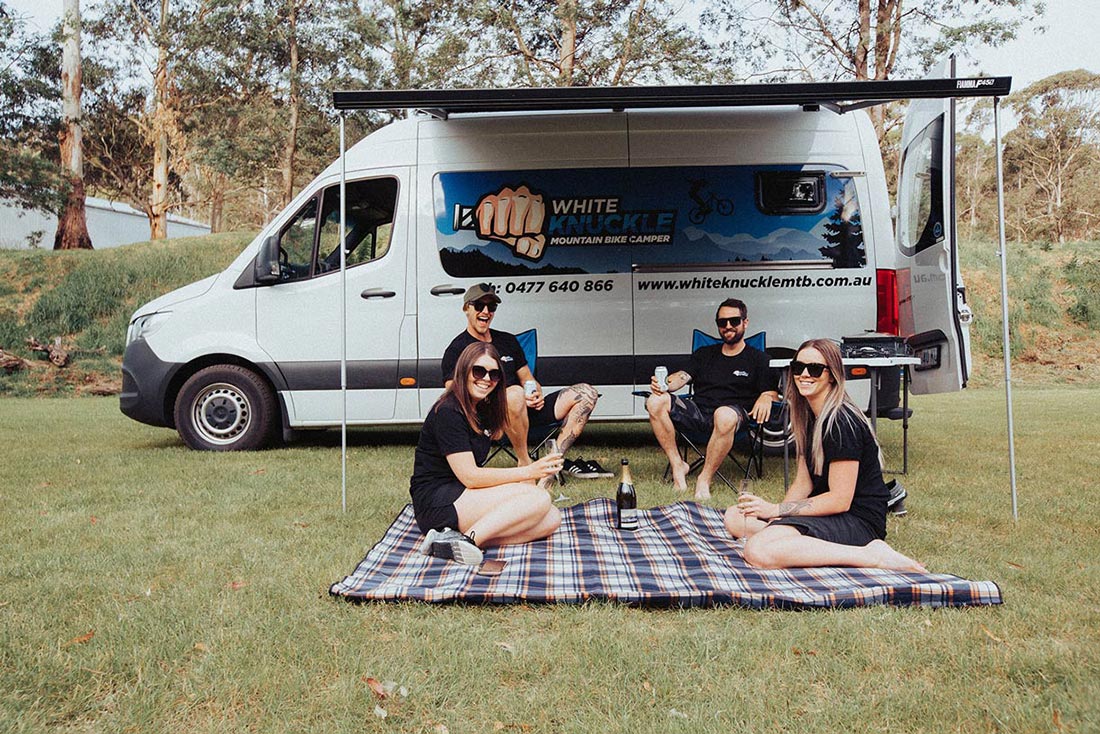 ---
Van Specifications and Features
The Mercedes Benz Sprinter, customised by riders, for riders. Tasmania is home to some of the greatest Mountain Bike Trails, and our MTB Camper is custom made to help you navigate your way around Tasmania.
Our custom-built MTB Camper features include:
• 80 Litre Fridge
• USB Charging Ports
• Bike Racks (Stores 3 max)
• Full Workshop Tool Kit
• Park Tool Bike Clamp
• Bike Bag Storage
• 3x Wheel Bags Supplied
• First Aid Kit
• King Size Double Bed
• Double Swag
• 3m Awning
---
Book Now!
To find out more about White Knuckle MTB or book your next adventure, head on over to their website and stop by to say hello on their Facebook Page.
We have to admit, the very thought of this is making us all jittery with excitement and I can safely say that the team here have already started planning their next Tassie trip, fully mobile if you get our drift.
---