---
The Esplanade Trail House, Derby, a Mountain Bikers Dream Stay.
If you're a mountain biker and haven't already heard about the trails at Derby, Tasmania, then shame on you.
Only kidding, but you must have been living under a rock for the past couple of years. OK, we'll stop with the judging. For now.
Derby, pronounced Durby, is the place to visit if you consider yourself a mountain biker. These trails have featured on the Enduro World Series twice, and have been voted the best trails for the entire series, twice!
EWS has undoubtedly helped put these trails on the MTB world map, but they were also gaining traction via word of mouth from riders who were the first to experience these incredible trails. With a plethora of riding on offer from green to double black, and now a new epic trail that takes you all the way into the Bay of Fires, there's a trail for every level of rider.
Some of the scenery you'll see down at Derby.
Photos: ©FlowMTB
---
But this isn't about the trails, this is about where to stay when you get to Derby. With so many exhilarating trails to ride, at the end of each day, you'll be feeling pretty exhausted, so a place to rest your head and feel refreshed for the next day of riding is a must.
Enter, The Esplanade Trail House. A stunning property nestled in the centre of Derby village, walking distance to all the bike shops, cafes/restaurants and pub. The Esplanade Trail house is a 3 bedroom house which has been thoughtfully renovated and decorated with a stylish large open plan kitchen, living and dining room, large deck with BBQ and a fire pit at the rear, it also comes with a secure lock-up garage for your bikes. The large deck out the front of the house overlooks the river and is a great spot for post-ride beers, tall tales or a BBQ while enjoying the view.
The Esplanade Trail House sits below the main road, right on the river, the resulting view is one of the river and bush rather than houses.
Photos: ©Tyres and Soles
---
Kitchen / Dining Area
The functional and stylish kitchen is well equipped with everything you'll need to cook up a storm when not eating out. If you decide that you don't want to cook and eat out instead, then there's the Dorset Hotel, the Hub pizzeria or other eateries available, but be sure to book because it can get pretty busy.
If you do decide to cook for yourself, remember to stop off at *Scottsdale for those coming from Launceston. Most airport transfer services offer this stop off on the way to Derby. Failing this, there is an IGA at Branxholm for anything you forget.
The Esplanade Trail House boasts a large decked area which is a perfect place for early morning breakfasts or chilling in the evening after a long ride with a cold beer or glass of wine. A perfect spot to relax as the sun goes down and the sounds of the night come to life.
Stylish kitchen, dining and living room areas. The Esplanade Trail House is a beautiful property and only a few hundred metres from the village centre, eateries and bike shops.
Photos: ©Tyres and Soles
---
Bedrooms/Living Room
The simple yet stylish bedrooms are roomy and fresh with very comfortable beds and adequate storage for clothing. The property sleeps up to six people with the option to have a single bed or double bed configuration. **There are no air conditioners in the bedroom, so just crack open the window and let in the cool Tasmanian night air.
The living room features a large three-seater sofa and an additional chair, all incredibly comfy. A good-sized TV sits on the wall with Netflix all ready to go. Simply log in to your account (if you have one) and hey presto, you've got all your favourite tv shows, movies and documentaries, just like you do at home. We're seeing more Air BnB's being set up with this type of entertainment option. It makes a lot of sense.
We were a group of five and there was plenty of room for all of us to roam around the house without feeling cramped. With the addition of the large decked area and the rear yard with the fire pit offering even more space to spread out. In the colder months, you can sit outdoors around the fire pit and watch the stars come out. Bliss!
Stylish throughout, the Esplanade Trail House offers all you really need for your mountain bike adventure holiday in Derby.
Photos: ©Tyres and Soles
---
Bathroom/Laundry
The main bathroom provides everything you need to wash off the day's dirt and feel refreshed again. The bathroom has a great shower and feels like heaven after a day of hard riding. There is no bath but who needs a bath when you have the river and the lake to cool off in. We highly recommend riding down to the lake after a ride to cool off. We've done this every year and it's a perfect end to the day.
There is a separate laundry room with a washing machine and dryer, large sink and toilet. This allowed us to pack less and travel a little more lightly because we knew we could wash our riding gear during the stay. Having the bathroom and utility room at the front of the house means you can drop your riding gear into the laundry room and clean up without dragging it through the property.
The Esplanade Trail House will keep you smelling fresh.
Photos: ©Tyres and Soles
---
Bike Storage
The Esplanade Trail House has a large secure garage with a remote roller door for your bikes. The garage comes with some basic bike tools and a bike stand, super handy when assembling and re-assembling the bikes if you've flown over with your own. Straight outside the front of the property is a footpath that will lead you up to the village or to the pump track and the shuttle pick up points. Too easy!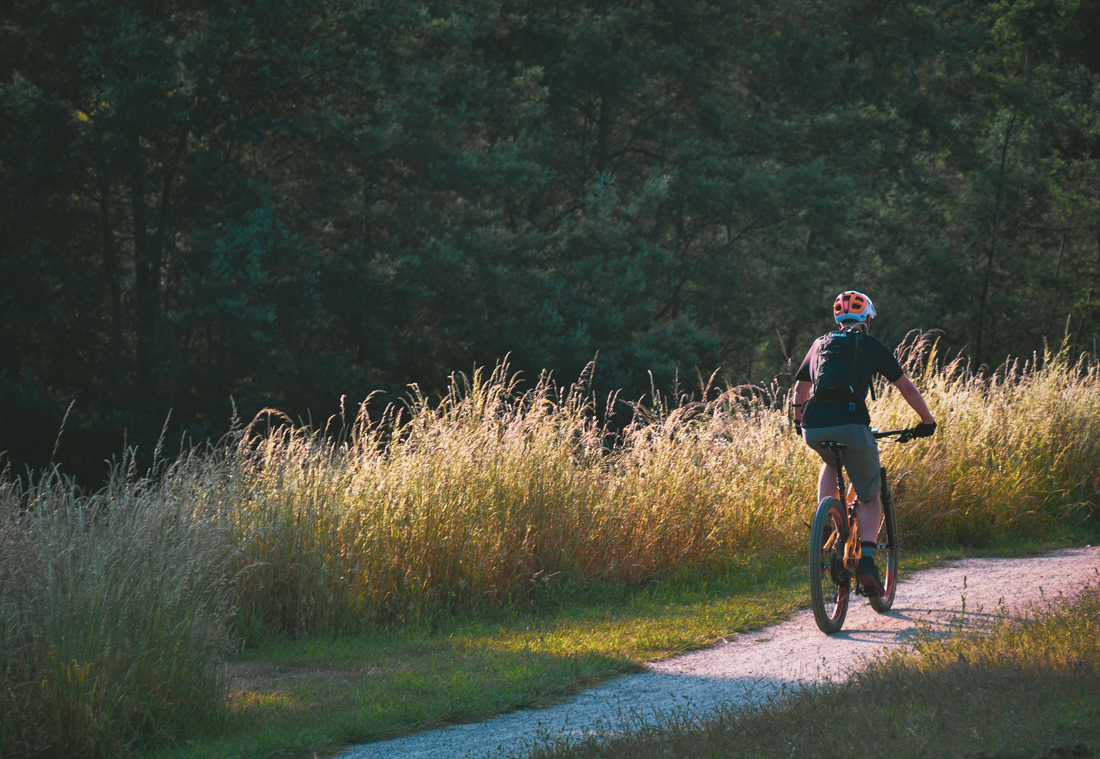 Above: Ride straight out of the garage and onto the bike path that leads you into the village. Below: Store your bike in the secure garage under the house.
Photo: ©Tyres and Soles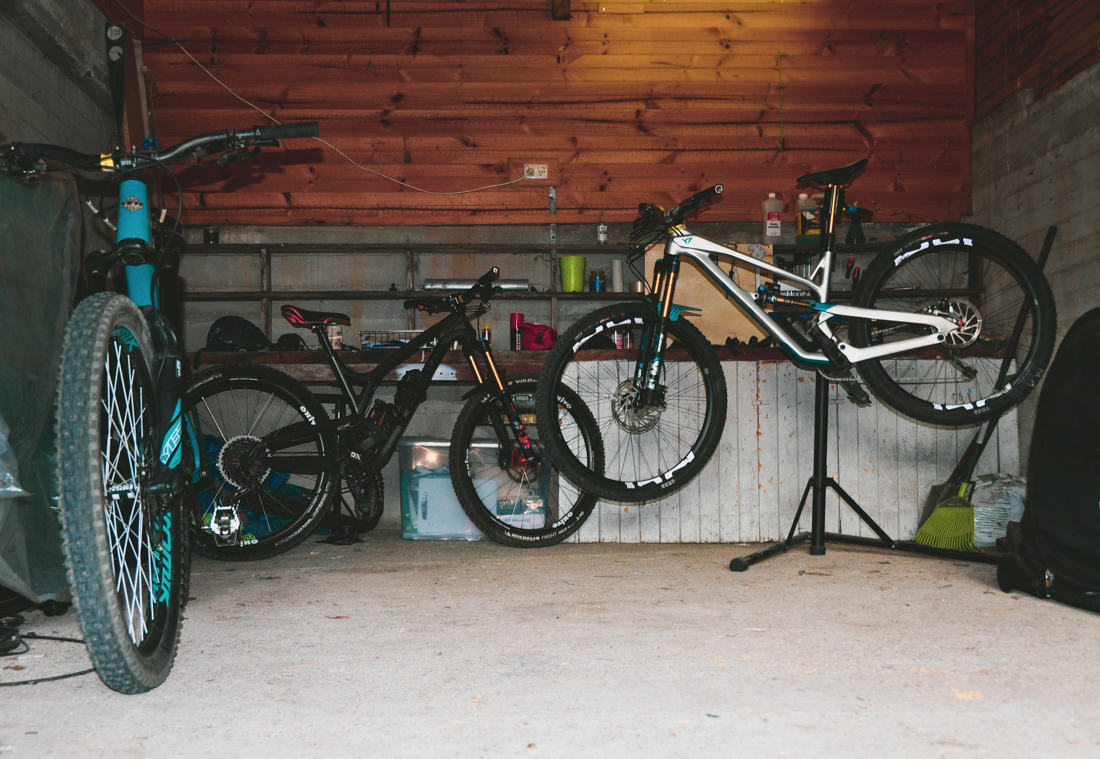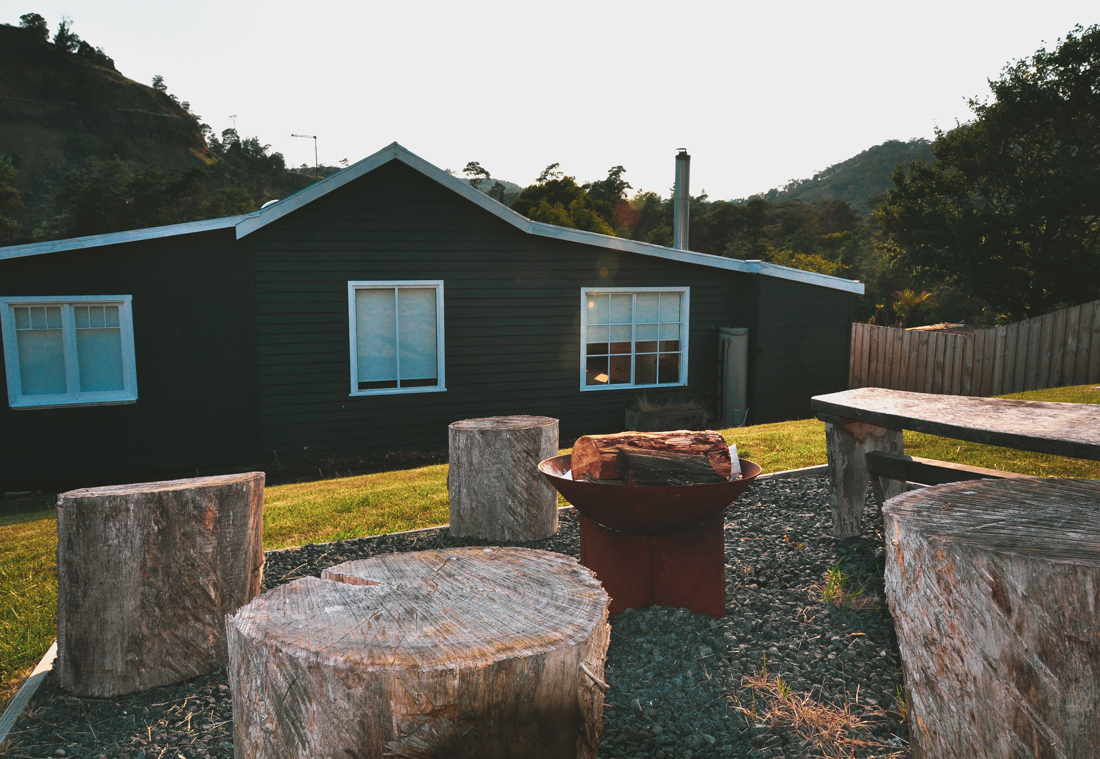 The fire pit at the rear of the Esplanade Trail House provides a great spot for post-ride get-togethers.
Photo: ©Tyres and Soles
---
Conclusions
The Esplanade Trail House is the perfect spot to stay whilst in Derby. A stunning property that has been thoughtfully renovated and decorated with mountain bikers in mind. All in all, the Esplanade Trail House is somewhere we would come back to again and again. It's a great stay for single couples of or a mixed mid-sized group. Highly recommended!
Oh and to top it all off, we all had a nice surprise gift waiting for us on arrival, some Esplanade Trail House branded mudguards. A nice touch.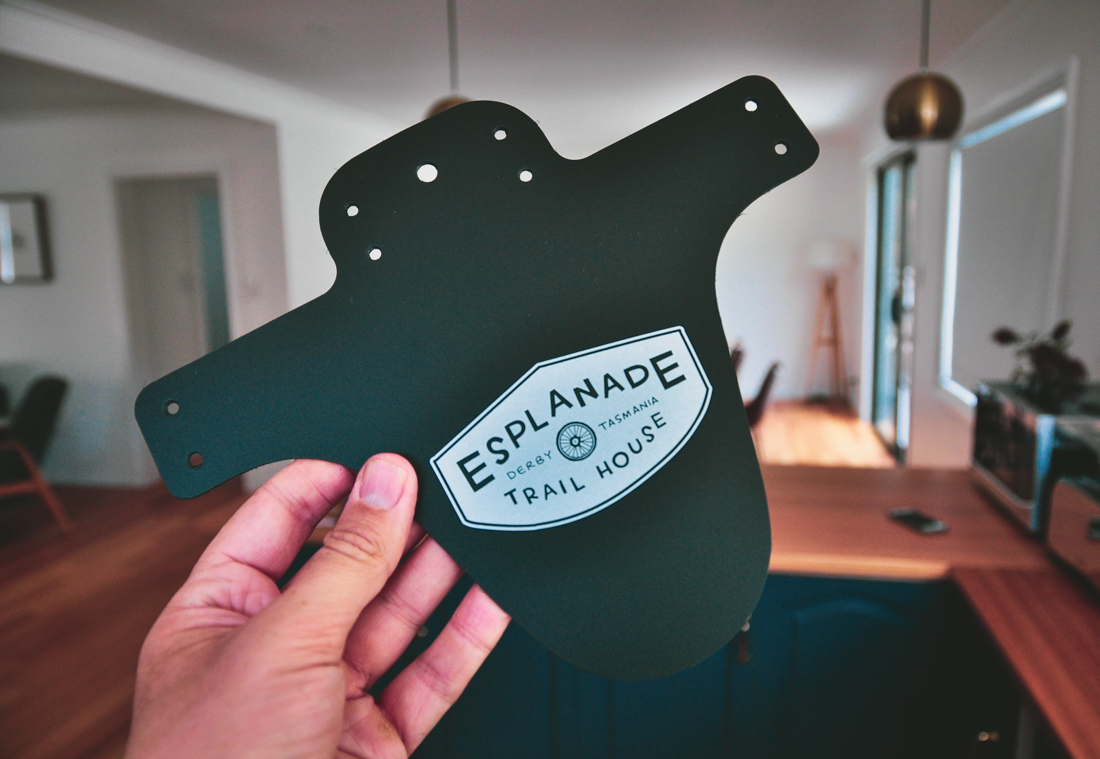 A very nice gift on our arrival.
Photo: ©Tyres and Soles
---
The Esplanade Trail House – Amenities
To arrange your bookings, head on over to The Esplanade Trail House website:
1 Bathroom, 3 Bedroom, 1 Kitchen, 1 Living room, 2 Toilet.
Sleeping Bed linen, 3 King bed, all beds unzip to form 2 singles, each bedroom can be 1 x king or 2 x single
Cooking Open plan fully appointed kitchen
Heating/Cooling Electric heating, Fireplace
Outside Outdoor fire pit, gas BBQ and outdoor furniture for post-ride beers
Entertainment Broadband Internet, TV (Antenna), TV (Cable)
Sanitary Towel-set
Laundry Washer/dryer supplied
Miscellaneous Lock-up garage and bike work area, bike stand, track pump, Allen keys, pedal spanners
Parking Included
---
Handy Information
Bike Hire & Shuttles
We chose Vertigo MTB for all of our bike shuttles. Vertigo offers a fantastic bike shuttle service and has been doing this at Derby since day zero. Hopefully, you'll get to meet Buck and Jude, very lovely people.
Up Down Around picked us up from Launceston and brought us back. They cater to group packages be it airport transfers and or shuttles.
Evolution Bikes offer electric MTB's for hire, give E-Biking a go in Derby.
There are other bike shuttle services running, just do a quick Google search to find out more.
Food Options
Due to limited dining options in town and heaps of hungry bikers, it's best to plan ahead.
If you are planning to ride, not cook, we suggest pre-booking dinners at the Dorset Hotel or The Hub Pizza & Beer (both easy walking distance from Esplanade Trail House). If you have a car you could head to Weldborough (Weldborough Hotel), Branxholm (The Imperial) or Winnaleah (Winnaleah Hotel) for dinner.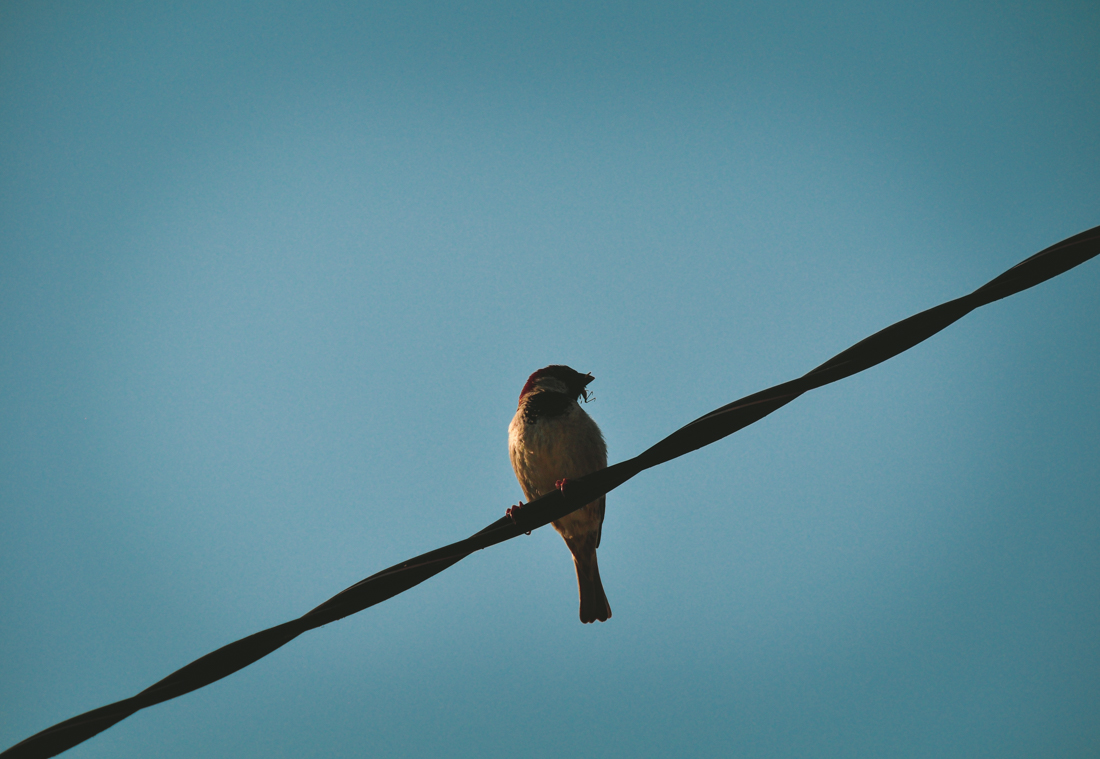 Photo: ©Tyres and Soles
---
*Handy tip: We ordered online using the Woolworths website and picked up on the way. Just use the app to notify that you're almost at the store and the food will be put in a trollery and brought round to the cash registers for you. Simple eh.
**Handy tip: We do advise keeping the lights out or windows down at night, especially at the front door as there were a few mozzies out over the New Year period and they swarm towards any light, at night.