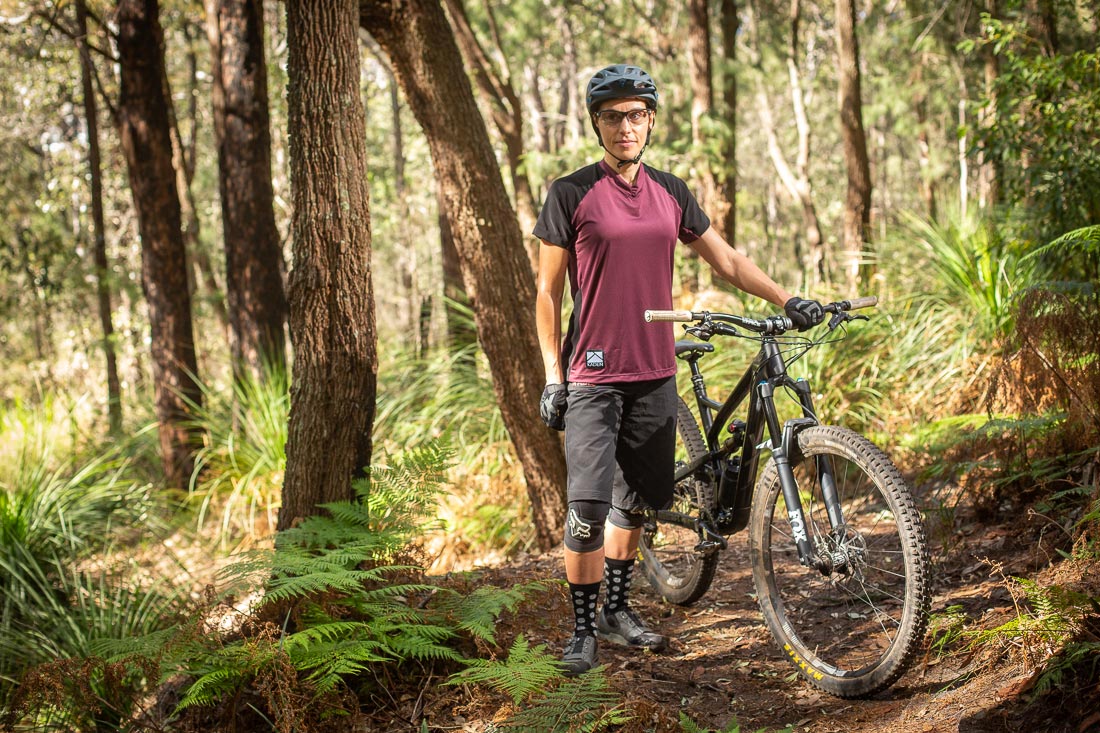 Kaden Cady V Jersey – Apparel Review
Cut to the Chase
The Cady-V jersey is an understated yet highly functional women's dedicated mountain bike jersey. With a stretchy but breathable fabric, the jersey can be worn for any type of riding, even over body armour. With a classic raglan style cut and its seamless sections, the Cady-V jersey is incredibly comfortable to wear on long rides without getting all chaffed up. If you rate function over fashion and admire clothing that just does what it says on the label, then the Cady-V jersey won't disappoint.
Pros
Lightweight
Good levels of stretch
Can easily wear over body armour
Classy looks!
Cons
Choosing the correct size due to overseas order, can be risky
Just a tad pricey
---
The Cady-V jersey from Kaden is a highly functional jersey designed specifically for the dynamic female cyclist.
At long last, we are starting to see a real choice for women's clothing. A lot has changed in the past five years that it's almost on par with the men's range, almost. It's brands like Kaden that are helping to push this sector of the mountain bike industry and that the demand for high quality, functional clothing focused on the female form prove is high.
Kaden Apparel is a dedicated women's mountain bike brand based and founded in Burlington, Vermont, in 2013 by Chelsea Camarata. The necessity for high-quality, ladies specific bike clothing, that is both functional and fashionable, was apparent.
A frustration with the selection, or lack thereof, of women's mountain bike clothing, was what spurred Chelsea to get up and solve this issue, and thus KadenApparel was born.
First Impressions
The first impressions when you pick up the Cady-V jersey is the silky smooth fabric. It's got a really soft feel against the skin. The muted, earthy colours and simple yet bold aesthetics are certainly appealing and make it a jersey you can easily mix and match with your other bike kit.
Fashion comes and goes but the classic raglan, V-neck design and lack of specific graphics, give the Cady-V jersey it a timeless feel. Branding is kept on the low-down with a simple badge on the lower right corner.
Another thing I noticed was the amount of stretch the Cady-V jersey has. It's super-stretchy and snaps back without losing its original shape.  All in all, we really like the look of the Kaden Cady-V jersey.
Features
The Cady-V jersey is made up of 92% Polyester and 8% Lycra mix. This gives it its high stretch characteristics. In fact, it has enough stretch that you could easily wear it over body armour. It's also highly breathable for those hot and humid days, and incredibly quick drying if you do get caught in a bit of rain.
Using a raglan design means the neck and shoulder come down into the arm, all in one single piece. This gives you a much greater range of movement with less stitching and seams to restrict movement. Makes sense to us.
There's also an underarm gusset which is specifically designed to reduce underarm chafing, which can occur from too many seams. The Cady-V jersey also uses a longer design that scoops down in the back. This helps to prevent it from scrunching up while biking.
On The Trails
Out on the trails is where the Cady-V jersey really starts to show its strengths. The light fabric felt fantastic on the bike with unrestricted movement. The fabric has high levels of stretch, which gives it its flattering cut but still moves with you.
With or without a pack, the jersey stayed in place and the slightly longer scooped design at the rear helped reduce that annoying bunching up thing that happens.
In terms of comfort, we've been testing the Cady-V jersey for about three months with short and long days on the saddle. The lose casual style helps with to keep heat levels controlled but the stretch material maintains its flattering shape. Over the past few months, the Cady-V jersey still looks as good as it did when we received it.
I've done a fair bit of hike-a-bike and push runs over the past few months and its never given me any issues. There's nothing annoying like scratchy labels, or annoying seams under your armpit or around your neck. It's a no fuss, hard-working jersey that doesn't cry out for attention with over the top graphics. It simply does its job of keeping you comfortable on the bike, no questions asked.
---
Where To Buy / Price
You purchase directly from the Kaden website.
Price: $80.00USD ($111.00AUD)