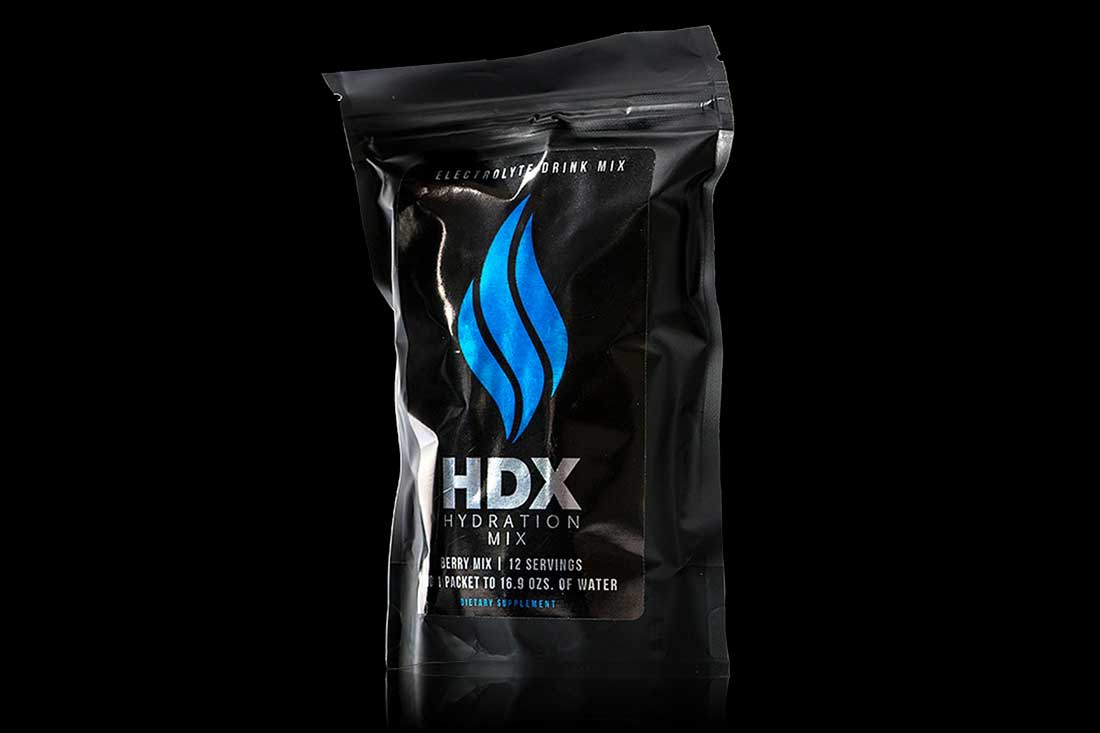 HDX Hydration Mix – Nutrition Review
Cut to the Chase
Vipe and his team are dedicated to having the smallest carbon footprint possible. So what you end up with is a formula that's not only very effective at delivering high-performance hydration solution but a product that's also friendly to the earth and our oceans. We'll certainly drink to that!
Pros
Eco conscious brand
Effective hydration formula
Mixes quickly and easily
Cons
Tastes a little sweet
---
Hydrate Better with HDX Hydration Mix!
We need water to survive, it's as simple as that. So when we're out on the trails it's crucial to keep hydrated throughout the day. Water is the obvious option but we can use hydration powders to help add additional nutrients that are lost through excessive sweating. 
With so many hydration gels, tabs and powders out there, it can be a little bewildering which ones to choose. We all have our favourites and over the years we tend to stick with what we know, so when we discover a new brand, we're a little reluctant at first to go and spend our hard earned money on something that we don't know will work for us, but after reading about HDX's story and the founder behind it, we must admit, we got very interested indeed.
Who and What is HDX Mix?
HDX Mix was created in 2011 by founder and owner Vipe Desai. In 2008 Vipe was diagnosed with Type 2 Diabetes and quickly learned that he would need to make some changes in his life. He realized how rapidly the disease is growing out of control and that sugary drinks are just one of the contributors that are affecting more than 25 million people living with diabetes in the U.S alone.
A frustration with the single-use plastic bottle and a love for the planet was a catalyst for Vipe to make a difference in the world of hydration products. Vipe is an active speaker when it comes to environmental issues and is often seen tweeting about such issues. "With more than 1 million plastic bottles being thrown away every minute, this is the better way to hydrate". said Vipe on his twitter account.
With a background in surfing and working for one of the top energy drink brands in the world and serving on the boards of several humanitarian and environmental non-profit organizations, the mix was right for Vipe to start his own planet-friendly energy drink product. This is the inspiration behind the HDX Hydration Mix.
How It Works
The sustained endurance provided from HDX Hydration Drink Mix comes from a combination of Vitamins B6 and B12 and fast and slow acting carbohydrates. Natural Crystalline Fructose and Maltodextrin are fast-acting carbohydrates providing immediate alertness, while Palatinose™ is a patented endurance carbohydrate providing sustained endurance to get you through intense activities. When taking HDX post-workout, these carbohydrates quickly replenish lost muscle glycogen (muscle energy).
The mental focus provided by HDX Hydration Drink Mix is second to none. The combination of Folic Acid, N-Acetyl-L-Tyrosine, L-Tyrosine and the B Vitamins work to give you maximum alertness.
The Branched Chain Amino Acids (Leucine, Isoleucine and Valine) and CarnoSyn™ Beta-Alanine provide muscles with needed amino acids, speed recovery and buffer lactic acid. Leucine, Isoleucine and Valine provide instant food for hungry muscles and stimulate protein synthesis to help repair and build new ones. CarnoSyn™ Beta-Alanine is patented and clinically proven to buffer lactic acid and increase endurance. The Citrulline in HDX Hydration Mix is an important precursor to Arginine and may help boost blood flow by boosting nitric oxide levels.
Confused? Well, trust us, it works. We found the HDX Hydration Mix incredibly beneficial on long hikes where we need to sustain good levels of energy throughout the day. And also for our mountain bike rides where we need to tap into energy levels at a drop of a hat, for those sharp hill climbs or when we need to re-focus our mind on a tricky steep descent.
Low Impact
HDX is pushing hard to help reduce unnecessary waste and to prevent the ever-growing pile of single-use plastic bottles ending up in our oceans. With this in mind, they are always focusing on ways to reduce waste during production cycles.
95% less packaging waste than a bottled sports drink.
During manufacturing, HDX consumes 1/16th the amount of energy compared to bottled sports drinks.
HDX generates 85% fewer emissions than bottled sports drinks.
HDX significantly reduces greenhouse gases released and energy consumed during the manufacturing, transportation and refrigeration stage as a result of our minimal packaging and dry powder mix.
Key Benefits of HDX Mix:
Maximizes Hydration
Increases Strength
Improves Endurance
Speeds Recovery
Delays Fatigue
Made with Natural Ingredients
Diabetic Friendly
Gluten Free
---
Where to Buy / Price
For Australian readers, just head on over to the HDX Mix Australia site. For international readers, go to the HDX Mix US website.
Price: Various options, but a 30 Serve Pouch costs $54.95AUD