Osprey Savu – MTB Pack Review
Cut to the Chase
The Savu, from Osprey, is a great alternative to the traditional lumbar packs we see today. With a modular design, it allows you to fill up or cinch down, making it quite an adaptable hydration pack. In terms of storage and comfort, we rate it high. The Savu has a very secure and stable fit even on the rowdiest of trails. Ideal for short to mid-length rides.
Pros
Stable and secure fit.
Good amount of storage options.
Hip belt pockets, a bonus!
Breathable fabrics.
Modular design.
Cons
Requires two bottles when carrying water to avoid weight unbalance.
It's finally here—the perfect pack for the mountain biking minimalist.
Osprey have produced something a little different for the lumber pack market with the Savu. An ideal solution for quick laps on your local singletrack or gravel trails, the Savu lumbar pack does away with a hydration bladder altogether and opts for a dual bottle approach.
We've reviewed a few lumbar packs such as the Osprey Seral, Source Hipster and Enduro by Henty, but the Savu from Osprey has really caught our attention. It's a fresh and feisty, modular take on the traditional bladder style lumbar pack.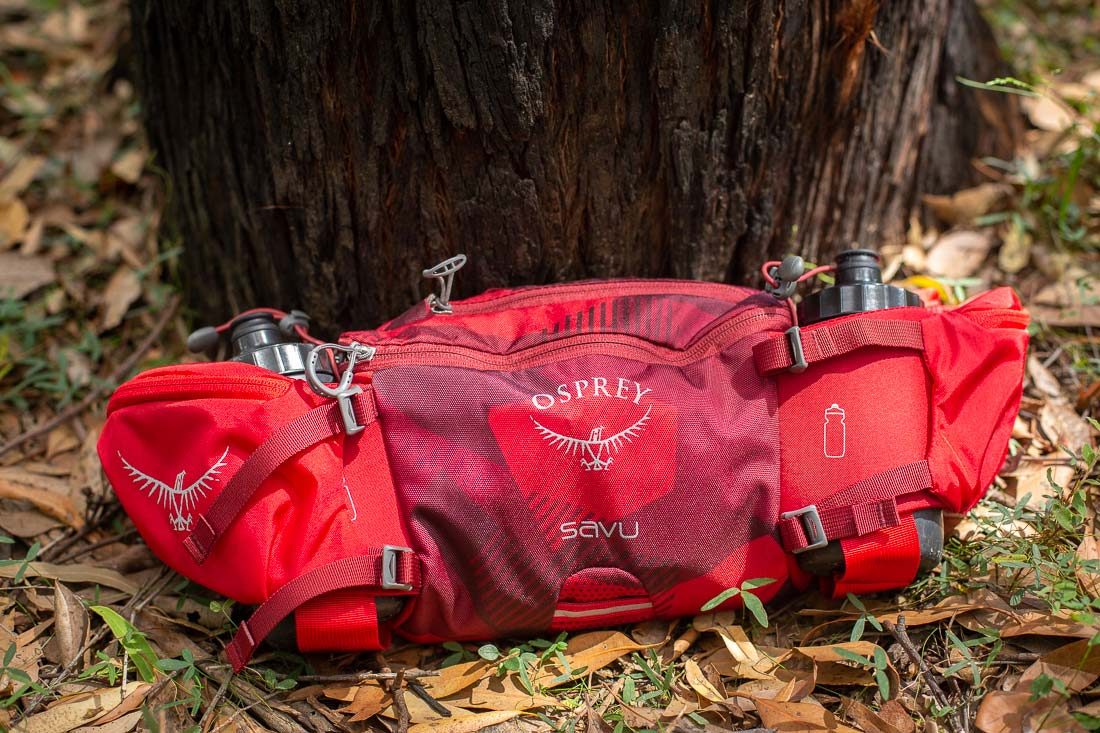 Above: The Osprey Savu lumbar pack is compact and modular. Photo: ©Richard McGibbon
---
Fit & Comfort
The Osprey Savu uses an angled hip belt and compression straps to provide maximum stability over every type of trail, with minimum creep or sway. The Savu features an AirScape back panel with a contouring lumbar wrap that provides maximum stability on the rowdiest of trails. The combination of large mesh fabric wrap and the thick air channels, provide excellent levels of breathability.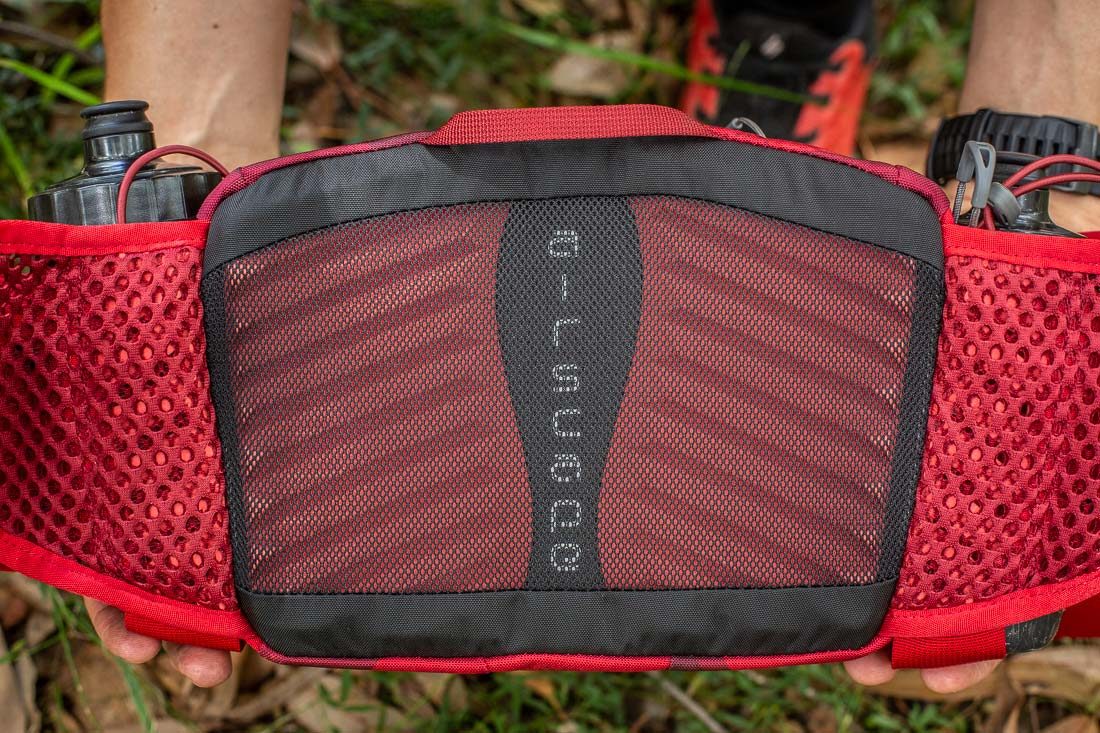 Above: The Airspace feature provides maximum airflow and comfort. Photo: ©Richard McGibbon
---
Storage
The Savu offers an impressive amount of storage with a large, main compartment directly in the centre of the pack. Having this in the centre allows for the larger space, in-between the two bottle pockets. The Savu also features two zippered, hip belt pockets on either side and a quick stash pocket on the top of the pack, ideal for sunglasses.
Combined, the Savu has enough storage to fit your vital flat-fixing tools, a tube, snacks, phone or small camera and other small mountain biking essentials.
---
Hydration
The two bottle pockets can 450, 650 or 750mm bottles and when not in use, the pockets can be tucked away giving the pack a slim profile. This is handy if you don't want to carry bottles at all but still want to use the pack for your ride essentials.

On The Trails
Out on the trails, the Savu felt stable and secure over many types of terrain with a snug body-hugging feeling, but not uncomfortably so. We didn't experience any creeping or sliding throughout the test period, this was due to the ergo-pull waist strap and the secure feeling of the lumbar wrap.
The two bottle design did take a little bit of getting used to at first, as you can feel the weight on the outer area of your hips as opposed to a more centrally weighted feeling with a traditional lumbar pack. But after about 15-20 minutes of riding, we quickly adapted and the Savy soon began to feel normal.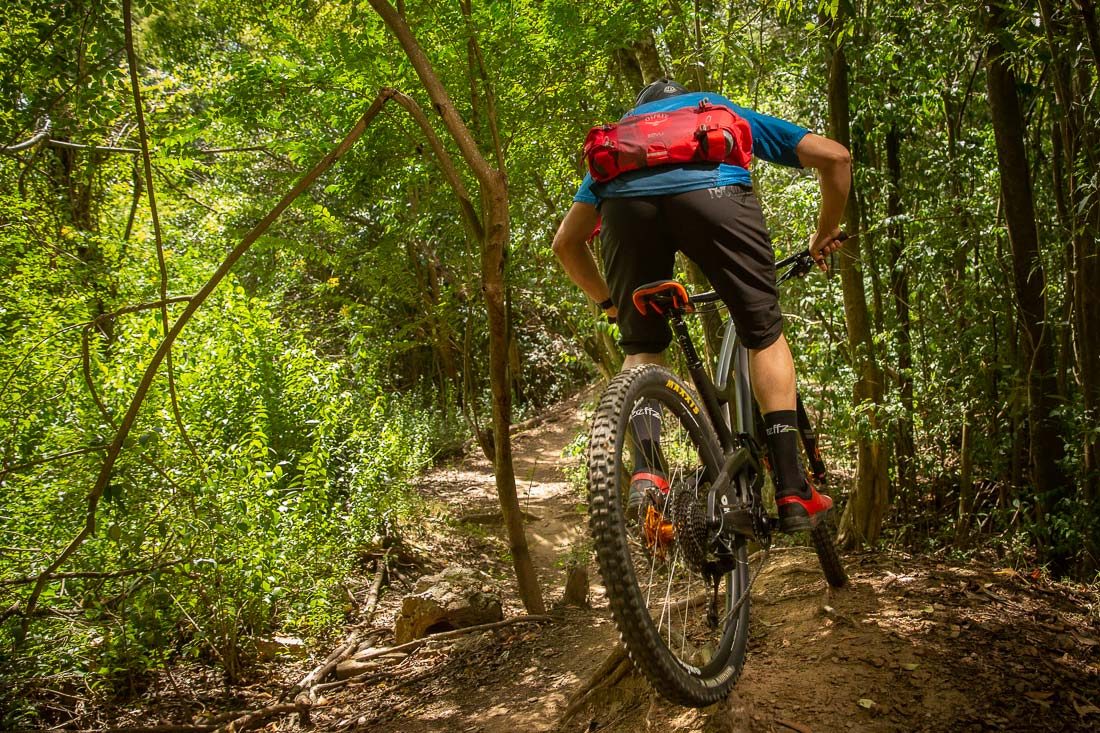 Above: The Osprey Savu feels secure on rowdy trails. Photo: ©Richard McGibbon
---
Access to the water bottles is straightforward, however, you may want to drink evenly from both to avoid an unbalanced effect. We also found it a little tricky getting the bottles back into the pockets, whilst on the move. This may hav been our technique, so we'd be keen tohear if anyone else has had simialr issues.
Overall, the Savu is a neat piece of kit if you're looking for something a little more modular than the usual lumbar pack nd by having the ability to store two bottles, puts it in the mid-range in terms of hydration capabilities.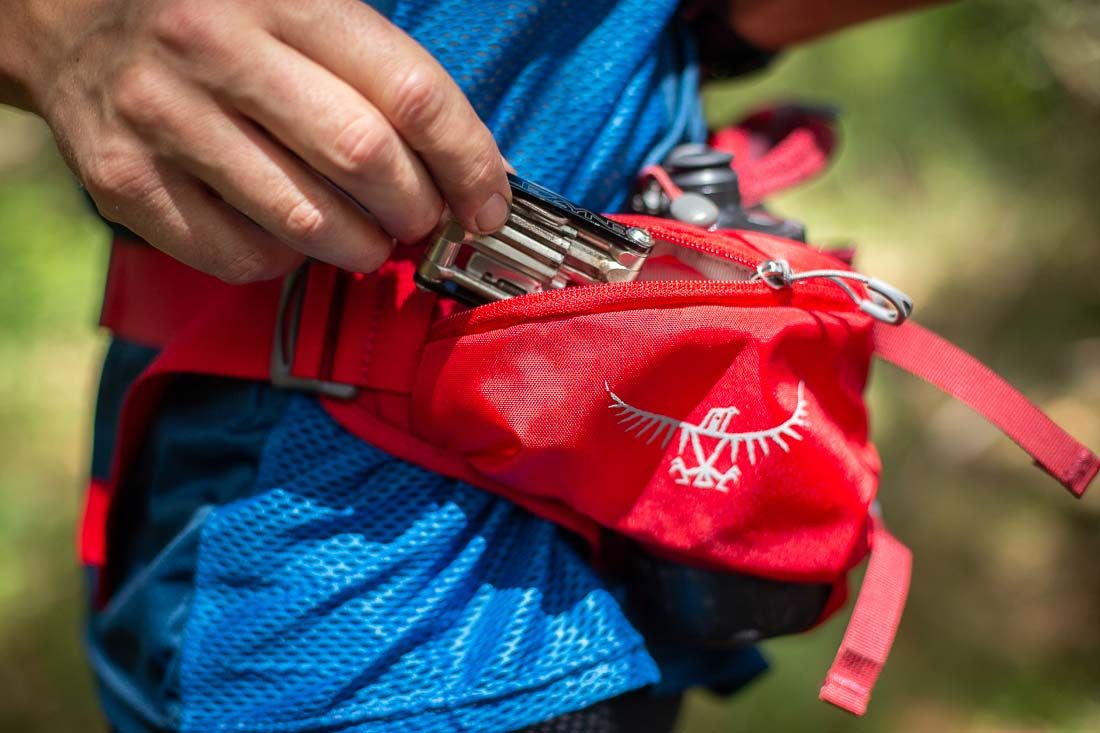 Above: Easy access to tools or snacks on the go. Photo: ©Richard McGibbon
---
Where to Buy / Price
The Osprey Savu is available at most good online or local outdoor stores.
Price: $69.95AUD
---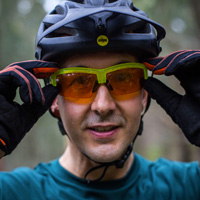 Chief Editor
at
Tyres and Soles
Born and grew up in Wales but now a fully fledged Aussie. A passionate mountain biker, hiker and general nature addict. I'm also a bit of a muso and enjoy a good craft beer every now and again (probably too often).

I hope what we do here at Tyres and Soles will inspire people to get out there and experience first hand, the natural wonders that surround them. So, pump up those tyres, don your favourite boots. Grab a mate, a partner, a pet… and head out into nature. But tell us all about it when you get back.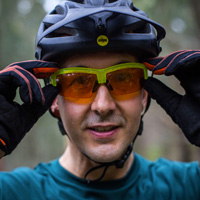 Latest posts by Jason Lorch (see all)