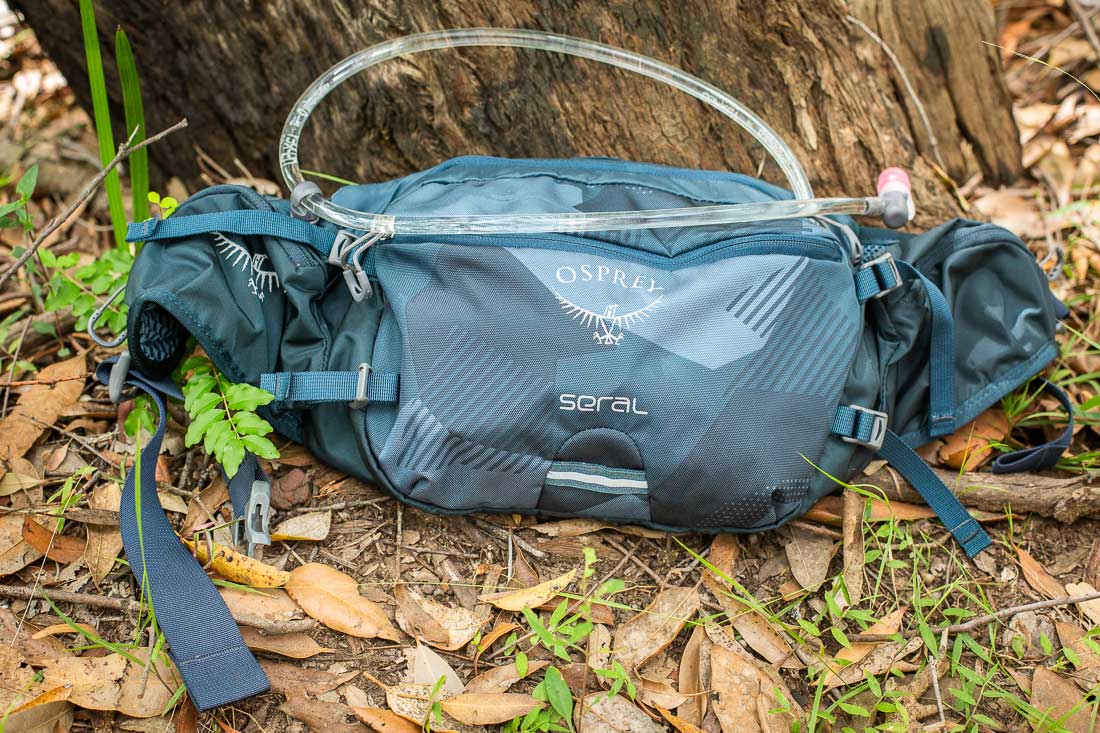 Osprey Seral – MTB Pack Review
Cut to the Chase
The Osprey Seral offers more than the standard sized packs in this category. The Seral has a 1.5ltr bladder, excellent storage options, and great levels of comfort and stability. If you prefer the lumbar style to an 'over the shoulder' pack yet still need something for those longer rides, the Seral is an excellent choice.
Pros
Impressive amount of storage capacity.
Air mesh, zippered hip belt pockets.
Airspace offers a highly breathability back panel.
Premium 1.5lt Hydrapack bladder system.
Cons
Bladder hose is slightly too long.
ErgoPull waist straps need to have a "tidy up" solution.
---
The Seral is a mid-sized lumbar pack designed for longer rides.
The trend for lumbar packs is still going strong in the mountain bike world, and Osprey has turned their attention fully to this trend with the addition of the new Seral and Savu packs. Whether your preference is for the classic over the shoulder pack or a lumbar pack, there are a few things that we can't go without, especially for longer rides. Water storage, and enough of it, and storage options for tools and first aid items.
We've done it ourselves, gone for a ride with hardly anything, but chances are something always seems to go wrong on those rides, sod's law eh. So these days we always pack the bare essentials to get us out of a fix and also help others on the trail.
Well, if you're looking for something in between a pack and the minimalist single bottle approach, then the Seral could be the ideal pack for you with a 1.5-litre bladder and a ton of storage on offer.
---
Hydration
The Seral includes a 1.5-litre Hydrapak bladder system which features our preferred sliding open top closure. This allows easy access for filling and emptying, cleaning and even dropping in some ice on those super-hot days. The large removable bite valve uses a soft rubber mouthpiece for extra drinking comfort and has an open and closed position to stop any leaking whilst riding.
---
Storage
There's a lot of storage space in the Seral lumbar pack. A single large main compartment with enough for a spare tube, co2, mini pump, tire lever and multi-tool, plus more. There are two internal pockets, one elasticated and one zippered weatherproof pocket ideal for electronic items and a hook to secure your keys. In addition to all of this, there are zippered hip pockets on each side of the belt for snacks, SPF or whatever takes your fancy. There's a lot of storage space in this pack.
---
Carrying Features
Lumbar packs can move around a fair bit, especially when loaded up. Osprey has countered this by adding in compression straps,something we usually see on their hiking packs. This adds extra stability on technical terrain and stops the pack from creeping upwards.
For extra comfort, the Osprey Seral comes with a decent amount of padding and ventilation. The main back panel features thick foam padding with mesh holes for breathability and Ospreys Airscape channel in the centre, for improved ventilation. All of this is pulled together nicely with Ospreys ErgoPull waist strap closure system, keeping the entire pack stable and secure on your hips.
---
On The Trails
Out on the trails, the Osprey Seral felt secure and comfortable. Considering it was carrying 1.5 litres of water, (that's already 1.5 kilos) plus I had a spare tube, iPhone, car keys, mini pump, CO2, mini tool, first aid items and some other mechanical odds and sods, it felt secure, even on the rougher stuff.
The AirScape back panel and lumbar wrap combined with the air mesh hip belt, helped reduce sweaty back syndrome and the ErgoPull waist strap closure maintained a snug and stable fit throughout the testing. However, we would like to see Osprey add one tiny little addition, and that's to include elasticated hoops on the waist straps because they tend to hang down and just look ugly. With a couple of elasticated hoops, these could be rolled back and kept out of the way.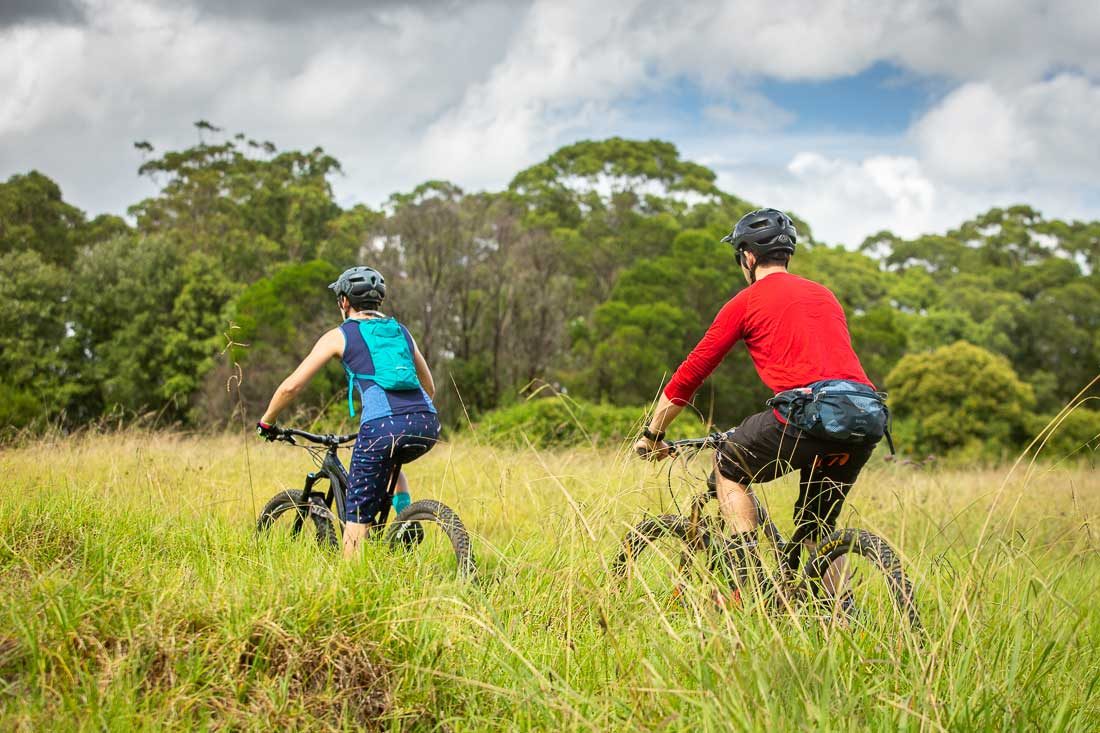 Above: The Seral is a great option for something in-between a bottle only or an over the shoulder pack. Photo: ©Richard McGibbon
---
The bladder hose did give us pause for concern due to its long length, but we were proven wrong as it didn't drop down onto the frame or come loose of the magnetic fastener whilst riding. However, it is tricky to place back whilst riding. The magnetic fastener on the hose tends to slip down causing some issues with re-attachment, only whilst riding however. This fastener could do with being a little tighter on the hose and that would solve the problem. Otherwise, it's fine if you've stopped to drink.
We also tested the Seral with a lot less gear inside to see how it fared when half full. On this occassion we used the compression straps to tighten up the empty spaces. This worked a treat and we can see how adaptable this pack can be for short or longer rides.
With 1.5 litres of water carrying ability, the Seral definitely allows you to go on those longer rides further afield than just a single bottle, and if you ombine it with another bottle on the frame, you're getting close to 3 litres on-board.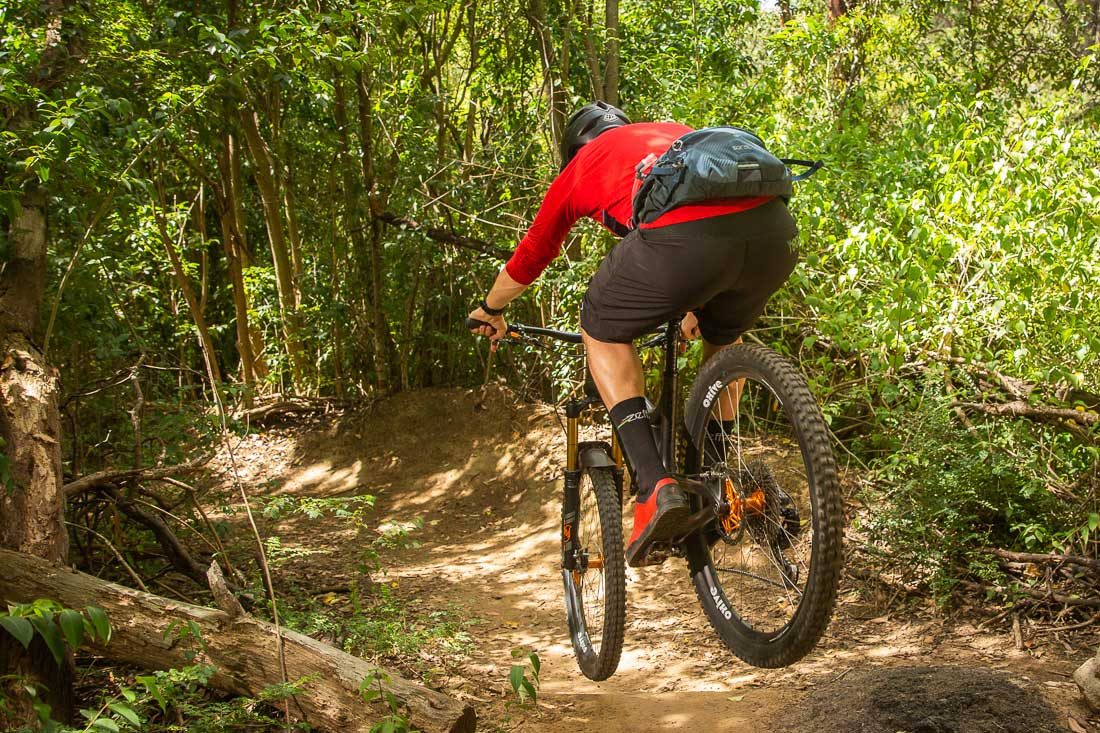 Above: The bike-specific, angled hip-belt and compression straps provide stability and comfort, keeping the pack close to your body. Photo: ©Richard McGibbon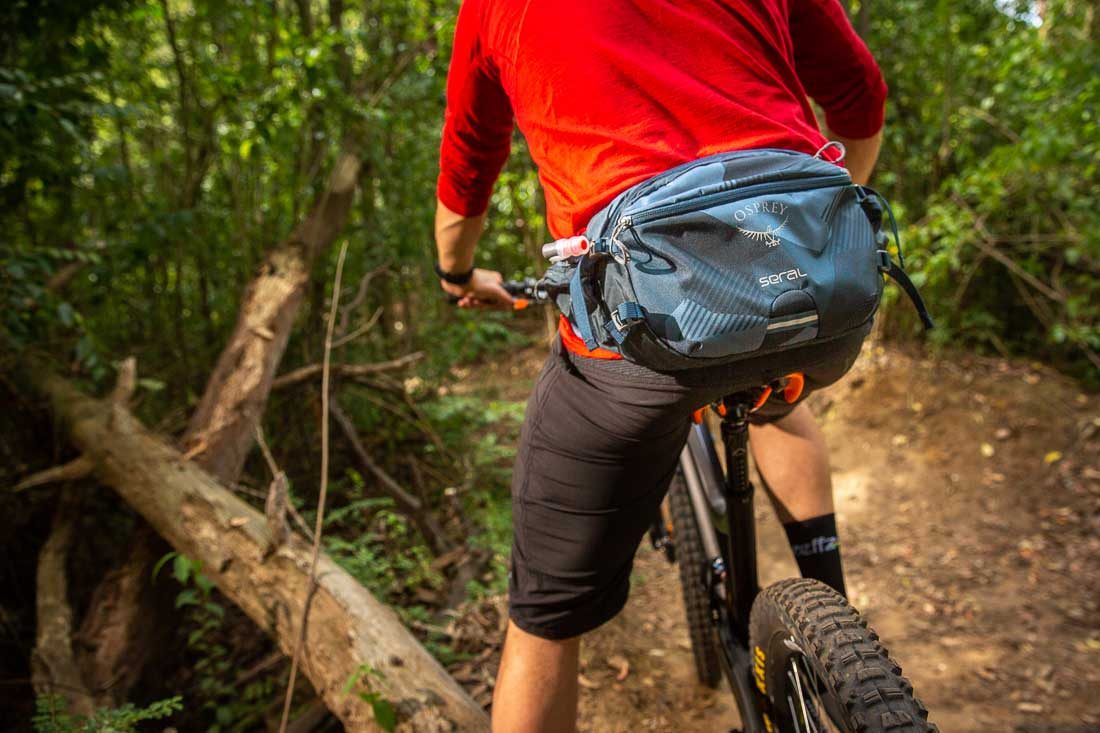 Above: The Osprey Seral is a great solution if you want to go a little bigger with a lumbar pack. Photo: ©Richard McGibbon
---
Where to Buy / Price
You can purchase the Osprey Seral from most good outdoor retailers, or head on over to the Osprey website.
Price: $99.95 AUD
---
Specifications
Included Osprey Hydraulics® 1.5L lumbar reservoir by Hydrapak.
Magnetic hip-belt bite valve attachment

Bike-specific, angled hip-belt and compression straps provide stability and comfort by keeping the pack close to your body.
AirScape back panel with contouring lumbar wrap.
Airmesh wrap hip-belt with zippered fabric pockets provide stability and breathability.
ErgoPull waist strap closure system allows for proper snug and stable fit.
Extra thick ridged foam padding.
Easily accessible zippered main compartment with internal tool organisation.

Dual zippered hip-belt pockets.
Blinker light attachment.
1.5 litre bladder included.
FABRIC:

Main: 900x600D Polyester
Accent: 210D Nylon Duramax
Bottom: 420HD Nylon Oxford
Weight: 0.37kg
Dimensions: 20H X 33W X 15D cm
---