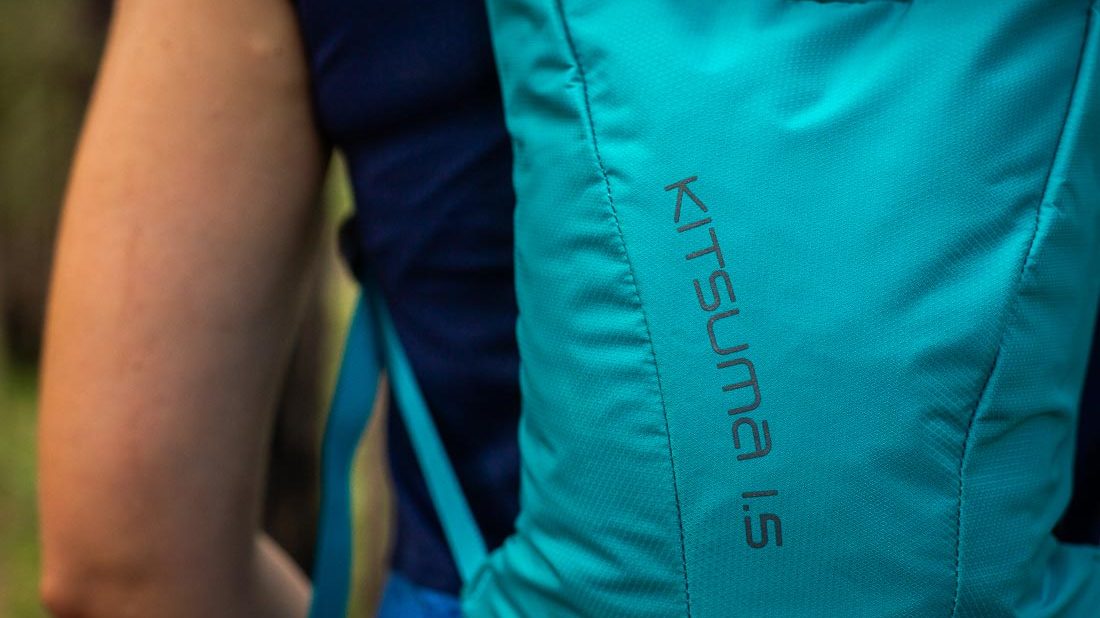 Sometimes the water on your back is the only thing you need
Cut to the Chase
The Osprey Kitsuma 1.5 is a women's specific hydration pack for shorter rides where all you need is the water on your back and a few bare essentials. One of the lightest and minimalistic packs we've tested with features shared by much larger packs. The Kitsuma has been designed for maximum comfort and efficiency on the trails.
Pros
Airspace back panel provides excellent airflow
1.5 litre Hydrapack bladder and big bite valve
Incredibly lightweight
Biostretch harness is very comfortable
Magnetic hose attachment
Good value for money
Cons
Compression straps are messy
---
Osprey Kitsuma 1.5 – Pack Review
The Kitsuma 1.5 is the ideal pack for women who want just that. The Women's specific pack from Osprey has been developed for those rides when you don't need to carry much except water and a few essentials, an ideal hydration carrying solution for short to mid-length bike rides.
Osprey offer a massive range of packs for all types of activities but recently we have seen an increased focus on mountain biking specific packs. This has seen some impressive products hitting our shelves from traditional shoulder packs to hip packs.
But what Osprey do very well is, they understand that we all have different body shapes and torso lengths, and through this knowledge they provide a focus on women's specific packs, such as the Kitsuma 1.5.
---
Features
The Kitsuma is a women's specific minimalistic low-profile pack, designed to carry only the bare essentials. It includes a 1 .5 litre Hydrapak bladder (which we think are one of the best bladders on the market), and sits in its own dedicated sleeve to protect pack contents from accidental spills. The bladder hose a large soft bite valve with a magnetic sternum strap attachment, making it easier to stow away after use.
In terms of storage, the Kitsuma 1.5 offers a single zipped pocket at the top of the pack for small items such as keys, phone or a multi-tool. The Kitsuma although minimalistic in appearance features offers a technical and lightweight bio-stretch mesh harness with rolled edges that have been designed to offer a more comfortable, soft and stable fit.
Featuring Osprey's "Airscape" technology, airflow and breathability appear to be high on the agenda with the Kitsuma. The back panel uses a combination of an air-mesh foam centre with grooved air channels to provide airflow when on the move. And to finish it off, there's also a small hoop at the bottom of the pack for a rear blinker light when riding in low light.
Specifications
Women's-specific fit and sizing
Low-profile design with AirScape backpanel and rolled, soft-edged harness for maximum comfort
Dedicated hydration compartment with included Osprey Hydraulics® LT 1.5L reservoir by Hydrapak
Magnetic sternum strap bite valve attachment
Zippered, scratch-free heat-embossed slash pocket
Blinker light attachment
On The Trails
Comfort
Out on the trails the Kitsuma 1.5 felt great! The soft rolled edges on the harness definitely helped reduce cutting under the armpits, and the combination of the biostretch design and mesh material on the harness sections created excellent airflow, much more than expected. What was very noticeable was the amount of airflow across the back with the Airspace back panel. Those grooves work very well!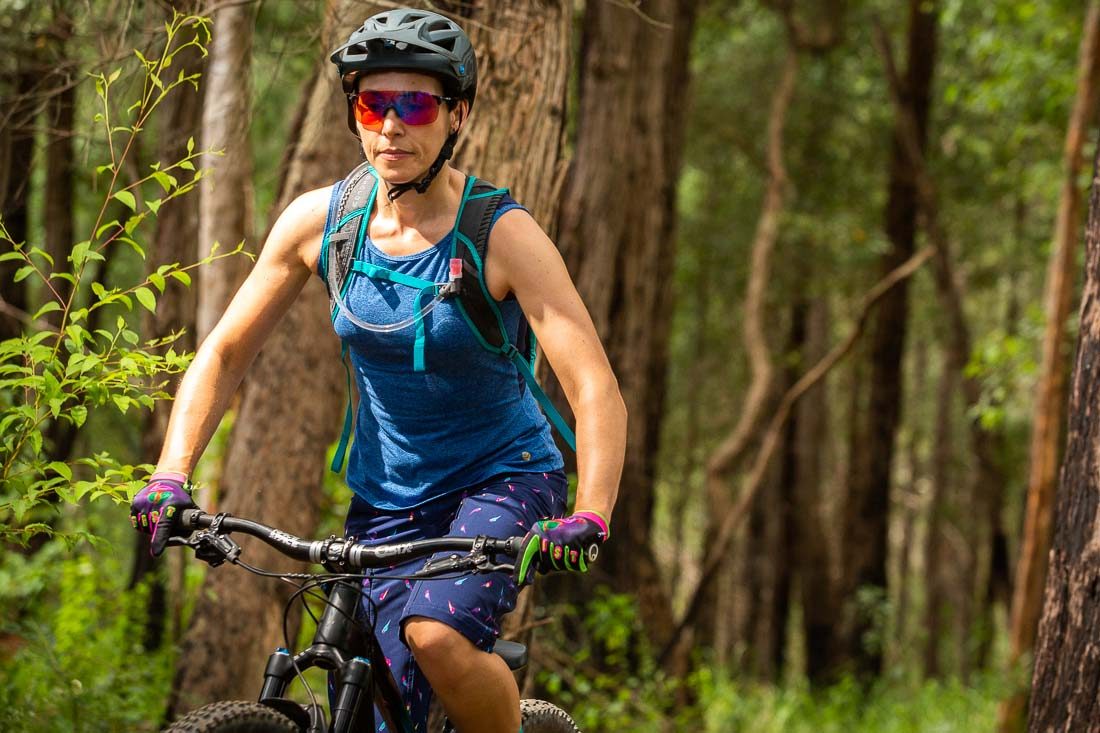 The kitsuma 1.5 is a lightweight, stable and very comfortable pack.
Photo: ©Richard McGibbon
Stability
In terms of stability, the pack felt secure and there were no issues with it sliding around, even on the rougher trails. The low-profile design kept the pack close to the back, which helped with stability and a bounce-free ride. Once the sternum strap and compression straps on either side were cinched up, the entire pack felt very secure.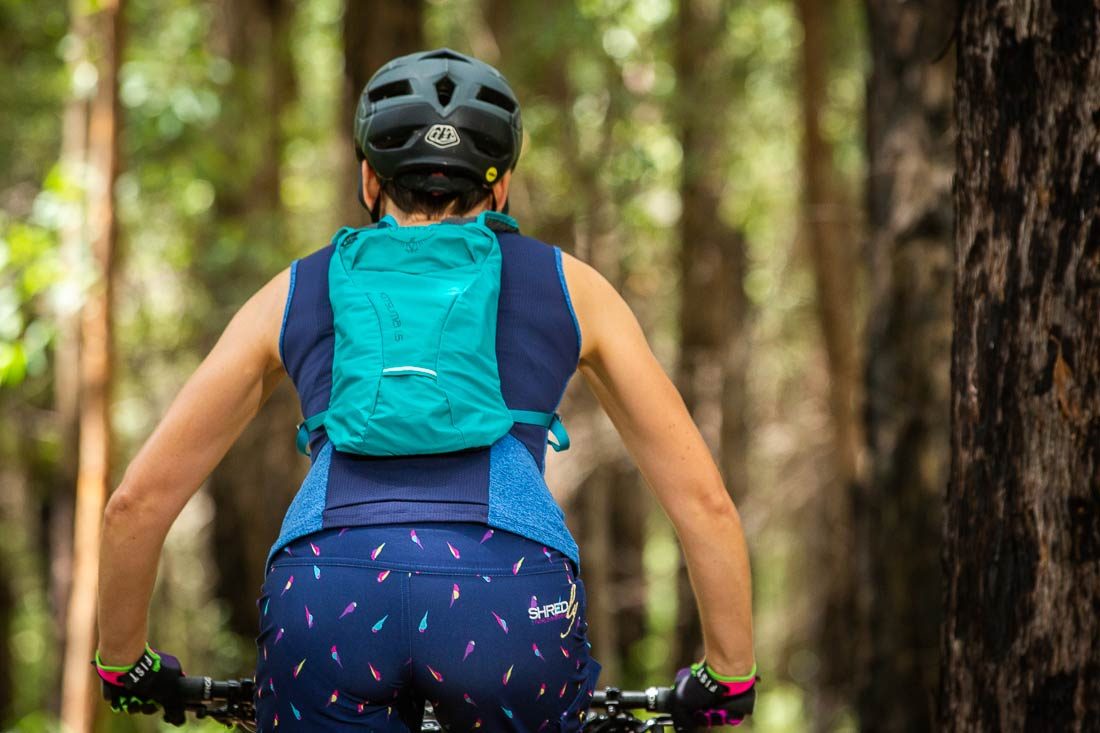 Sometimes the water on your back is the only thing you need.
Photo: ©Richard McGibbon
---
Storage
The small single pocket was just enough for an iPhone 8, small multi tool, and car keys. We also squeezed in a small muesli bar, but it is a squeeze with all of these items. Ideally, you should plan to eat before and after riding with this pack.
However, the 1.5 litre bladder makes up for the lack of storage. This is a great volume of hydration on shorter rides where a bottle is not quite enough and the 2 litre packs are just a wee bit bulky for a short ride. Plus it keeps the weight down, which is what this pack is all about.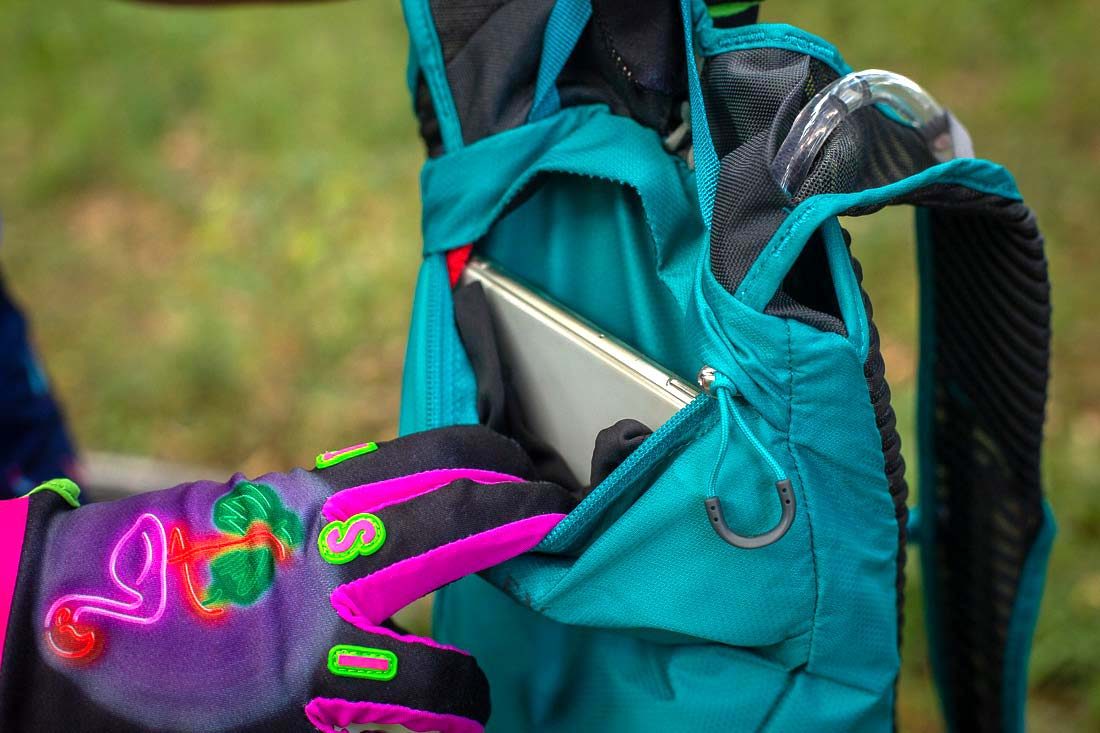 The zippered slash pocket is enough to store the bare essentials.
Photo: ©Richard McGibbon
---
Improvements
We would like to see a small addition added to the compression straps. Once cinched up, they hang down flapping about when you ride and and in our view, look ugly. A simple elastic loop would keep these from dangling down and keep it all looking much more neater.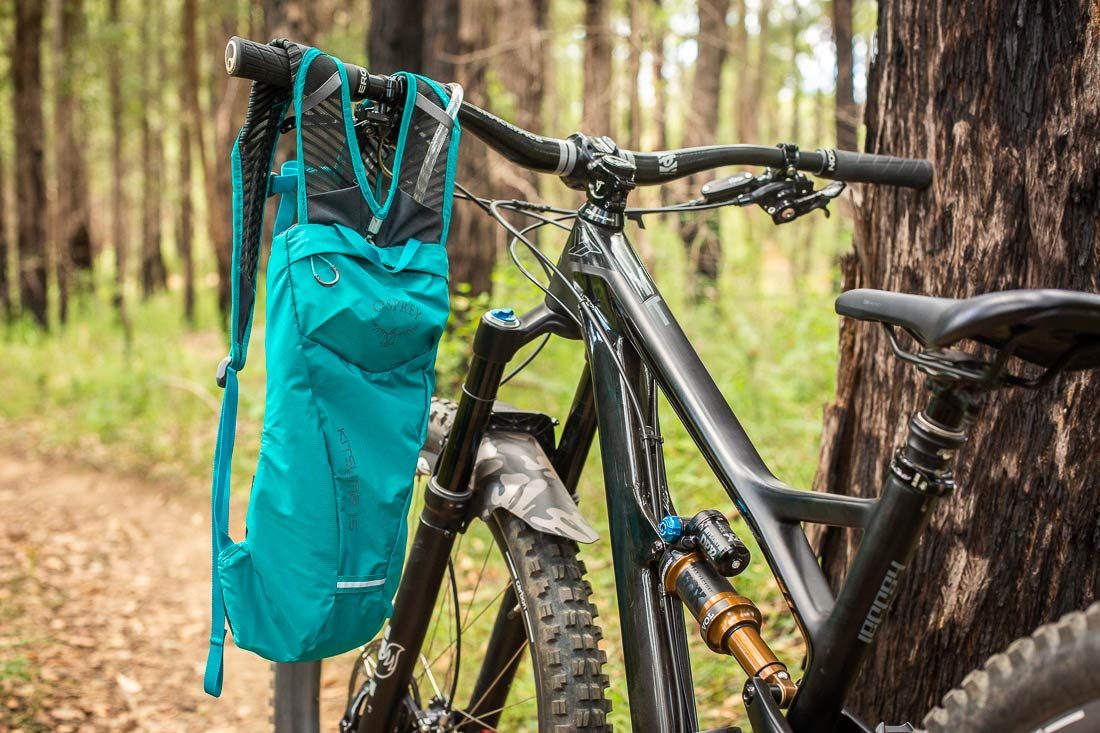 The Osprey Kitsuma 1.5 has been designed with the mountain biking minimalist in mind.
Photo: ©Richard McGibbon
---
Where to Buy / Price
Osprey Kitsuma 1.5 Hydration pack $79.95
Available to buy at MTB Direct or ask at your local bike shop.
---