Cut to the Chase
76 Projects offer an excellent priced on-frame storage solution for your essential ride gear. Using a bolt-on approach, the Piggy and Little Piggy offers a rock-solid platform to keep your gear safe and on the bike at all times. With a versatile set of add-ons, the Piggy and Little Piggy products will fit pretty much all frame types.
Pros
Secure frame attachment
Low priced
Versatile add-ons
Dry bag is the boss!
Cons
Piggy may not fit all full-suspension frames
---
On Bike Storage Solutions from 76 Projects
This little piggy stayed home, this little piggy had roast beef, this little piggy had none, but this little piggy cried "wee wee wee" as you hurtled down the trail. How we carry our ride essentials differ from person to person. Some of us use a backpack, others a bum bag or store it on the bike itself with a strap or a fancy bike bag. Either way, if you've converted to the on-bike storage movement then you'll know there's quite a lot of products on the market to choose from.
76 Projects are now another contender in this crowded space, offering a range of robust and affordable on-bike storage products that attach to the bike frame, in what we feel, is a slightly different way than most products in the marketplace. We're pretty excited to be able to get our hands on this stuff and share our thoughts with you.
Who are 76 Projects?
76 Projects is a small UK based company creating on bike storage for the MTB, gravel, road and triathlon markets, solving issues that the mass market products could be missing. Owners Paul and Rob are passionate cyclists and have over 30 years of industrial design experience between them.
Not a single product goes out the door without first going through a rigorous testing phase by Rob and Paul, plus a team of dedicated test riders. Every product is thoroughly tested and goes through rapid iterations with the use of in-house 3D printers allowing them to quickly refine, test and repeat until the product is a 100% ready for roll out to the public.
---
The Piggy
The Piggy is a robust and elegant on-bike storage solution.
Photo: Richard McGibbon
The Piggy keeps your tools and spares sitting neatly behind your water bottle. This design is perfect for hardtails, road and gravel (and a quite a few full-suspension frames). Unlike saddlebags, the Piggy doesn't rattle or rub your seatpost and wear away your beloved frame finish.
For the Piggy to fit many different frame designs, the platform attaches to the frame's bottle cage bosses via slots. This moves the bottle and The Piggy up 105mm forward of the position the bottle would usually sit. We'd recommend measuring your frame and bottle bolt positions before pressing that purchase button, just to be 100% certain it will fit into your frame space. But as you'll see on our frame, albeit a hardtail, it all fitted in nicely. We were able to a store a spare tube, Co2 canister, tyre levers and a multi-tool, comfortably.
Out On The Trails
Out on the trails, the Piggy really held it's own and stayed put. We installed it on a Nordest Bardino hardtail and took it down some rough terrain. Even the combination of rough trails and being on a hardtail with the expected additional bump, it all stayed in place.
What we also really liked about the positioning of the Piggy was that it sits lower on the bike, putting the weight at a lower centre of gravity than let's say, on one of the top tubes for example. We feel this helped the feeling of stability, especially if you strap up heavier items plus the full bottle of water.
Another reason it all stays in place so well is due to what we see as three key factors in play. Firstly, your items are sat behind the water bottle, so no forward/upward motion can occur here. Secondly, at the bottom of the plastic base, there is a small shelf-like piece that stops any downward motion, and thirdly this whole package comes together with an industrial quality, super-wide velcro strap that closes over the top. It certainly has a very solid feel to it and we were never concerned about the contents slipping out or moving on the frame.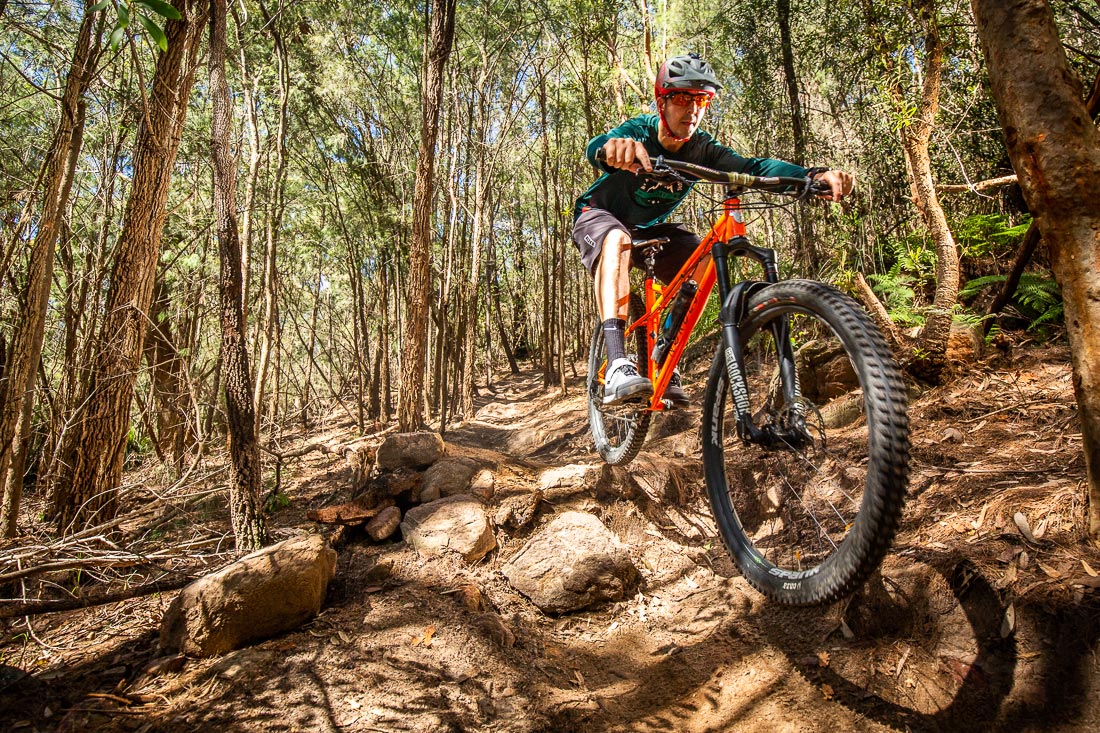 Even on the rough stuff, All your bike essentials stay put!
Photo above/below: Richard McGibbon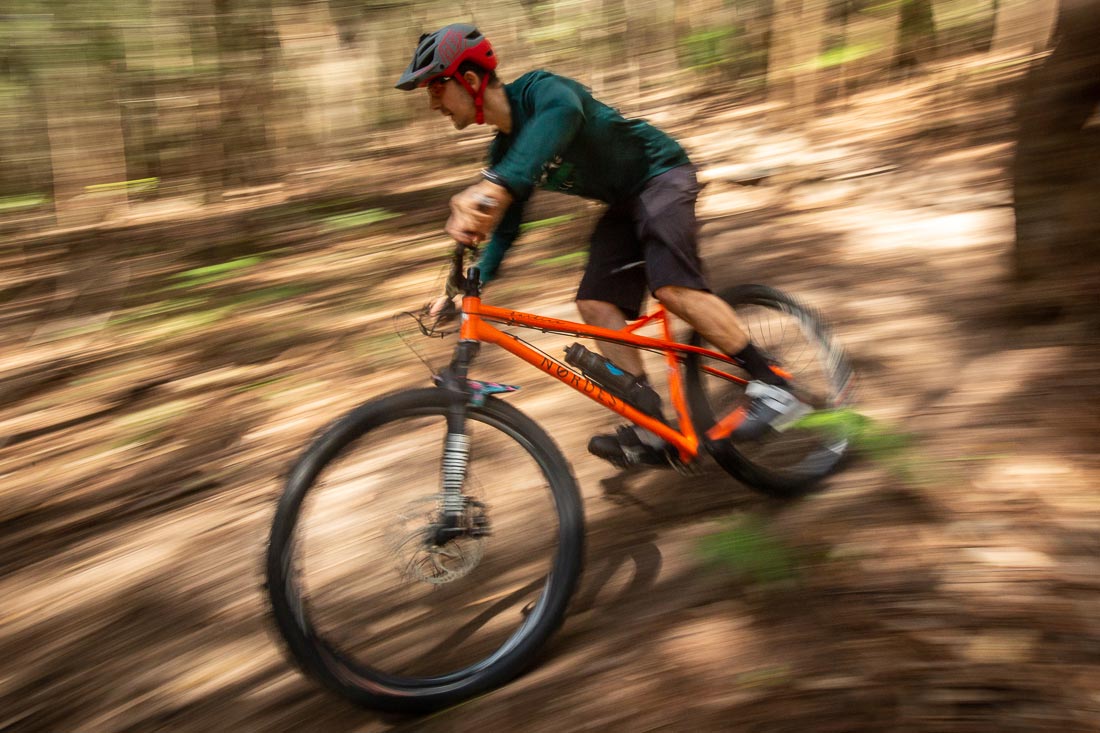 ---
Specifications:
MTB, Road, Gravel, Commute
Fits beneath a bottle cage.
Multiple mounting points enabling it fit many frame designs*.
Secure adjustable strap allows capacity up to 29er tube, levers, mid-size multitool and CO2 inflator.
Built-in storage for chain quick links.
Includes silicone strap for organising your tools and making quick switches of tools between Piggy equipped bikes.
Keeps the weight off of your back, lowers the centre of gravity, doesn't foul dropper, more aerodynamic location on-bike compared to traditional saddlebags.
Use your favourite water bottle cage and tools instead of being tied to a proprietary system. Cage, tube, and tools are shown for illustrative purposes only and are not included.
Injection moulded from tough glass-filled nylon.
Supplied with stainless steel fixings and silicone band as standard.
Weight – 72gms including strap and fixings.
Helpful links:
---
Little Piggy
Strap Mount or Direct Mount. The original Piggy's versatile brother can be directly mounted to bottle bosses or strap mounted anywhere on the frame. Despite its name, the Little Piggy has the same storage capacity as its brother.
Using a direct mount system, the platform of the Little Piggy bolts directly to your bottle cage bosses (bolts), unlike the Piggy (above), where it allows you to combine both Piggy and bottle cage together. But, more and more bike manufacturers are adding additional bosses to their frames, which means you will have more options where to bolt the Little Piggy.
If you don't want to use up your bottle cage mounts but still need to strap the Little Piggy to your frame, 76 Projects include silicone rubber pads in the kit, which are both super grippy and add shock absorption. These allow you to strap the Little Piggy to your frame, reducing the potential of frame paint wear. Once attached, you cinch everything up with the robust velcro strap, like its bigger brother. This little Piggy is going nowhere!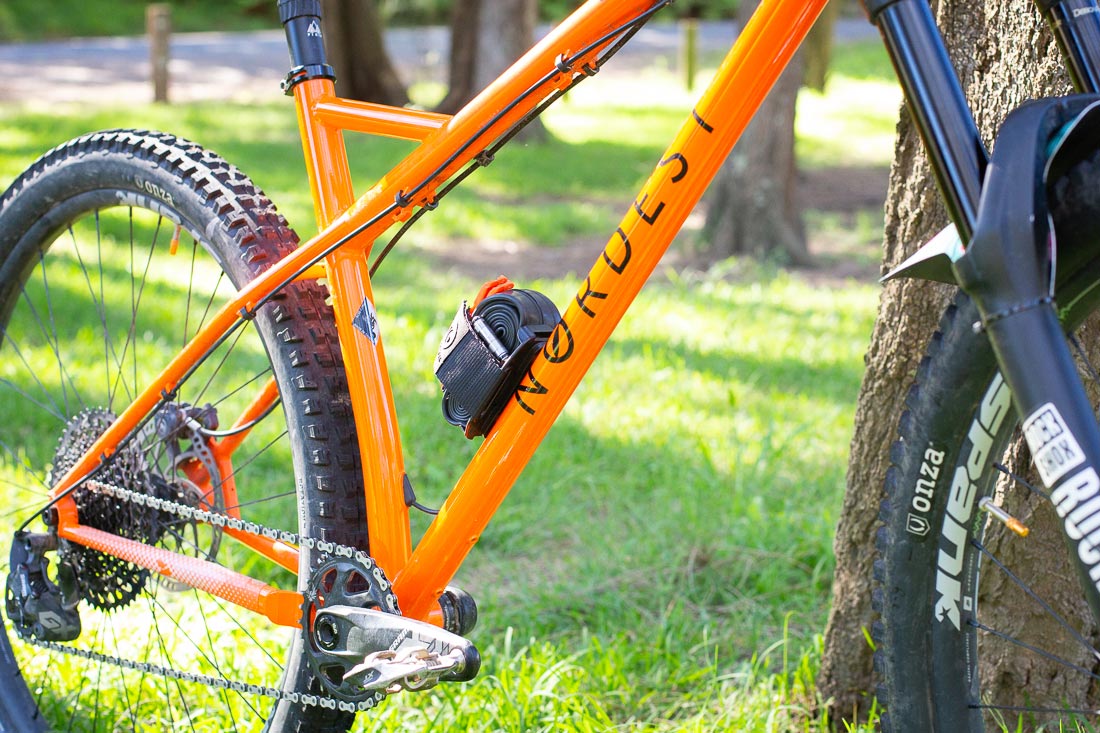 The Little Piggy, compact and bijou.
Photo: Richard McGibbon
---
Out On The Trails
The Little Piggy has all the stability as its older brother when out on the trails. We used the direct mount bolted to the water cage bosses, and this was bombproof! Having the direct mount gave the Little Piggy and its contents a solid base to anchor to the frame with zero frame slippage or loss of contents. What we also liked about this mount option is the aesthetics that it gives the bike. With no water bottle cage, it adds a very clean and neat look to the frame.
It will come down to what your preferences are. If you want the combined water bottle and storage option and have the frame space, go for the original Piggy. If you don't carry a water bottle on the frame, then the Little Piggy is perfect for this, direct-mounted to the water bottle cage bosses. If you prefer to carry a water bottle on the frame but are lacking the space for the Piggy, then go for the Little Piggy and use the silicone frame attachments. There's a piggy for all situations.
---
Specifications:
Versatile direct or strap mount enables the Little Piggy to fit all bikes.
Secure adjustable strap allows capacity up to 29er tube, levers, multitool and CO2 inflator.
Built-in storage for chain quick links.
Includes silicone strap for organising your tools and making quick switches of tools between Piggy equipped bikes.
Keeps the weight off of your back, lowers the centre of gravity, doesn't foul dropper seat post.
Injection moulded from tough glass-filled nylon.
Weight – 50g including strap and fixings
Helpful links:
---
Piggy Dry Bag
When we first received the products, we felt that the Pigy Dry Bag was one that we wouldn't really use that often, in Australia, but we now have to admit it's the on ethat has stayed on our bike for the longest.
The base of the Dry Bag is shaped to match the platform of The Piggy and Little Piggy for a perfect fit. The Dry Bag is 100% waterproof, so it's ideal for winter rides or using in an exposed position such as the underside of your downtube.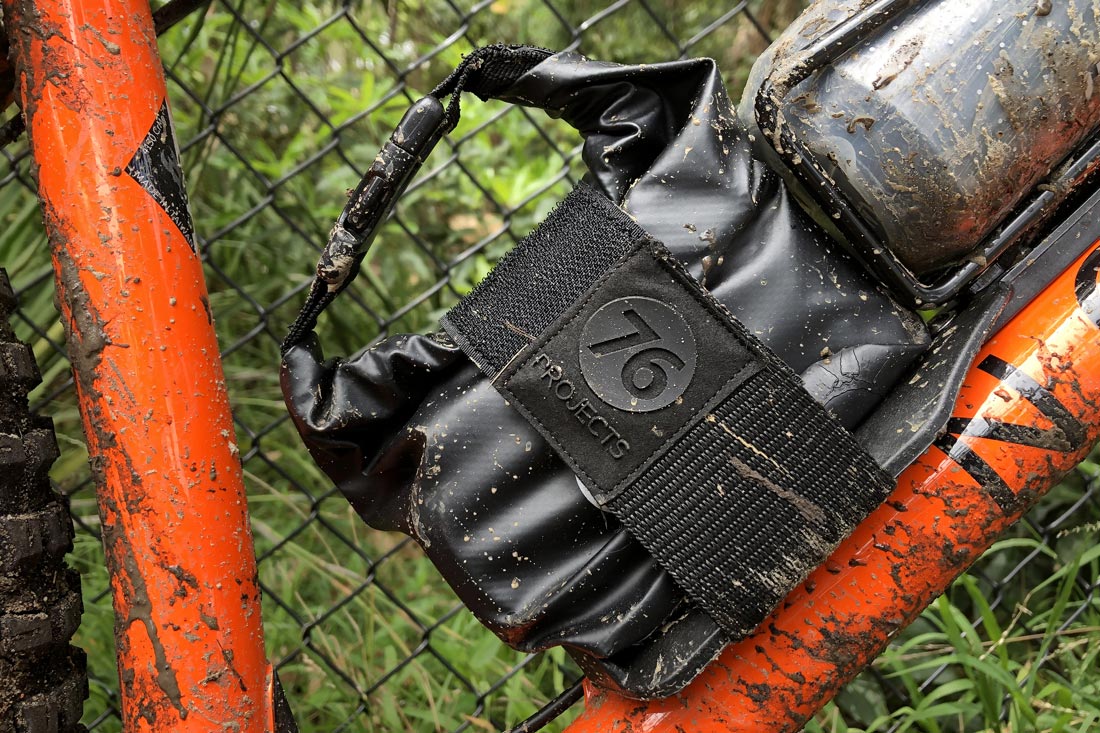 The Dry Bag is a great solution to keep your bike essentials in good working order.
Photo: ©Tyres and Soles
---
Initially, we felt it was going to be overkill and we assumed that the roll-top/clip bag was going to be a hassle to keep getting items in and out, but as we know, these essential items are not brought out on every ride i.e. a flat tyre or mechanical jobs are not something that happens every single ride unless you're very unlucky. There can be several months of riding before needing to tackle a flat tyre, for example. So, we were overreacting to the initial effort Vs actual real-life use. If that makes any sense.
Out On The Trails
Since installing the Dry Bag it has stayed on my bike ever since. Having bike essentials wrapped up in a 100% waterproof bag was just a no brainer for us. Dry or wet weather, we didn't have to worry about the contents becoming wet or perished through sun and grime exposure. We've been checking periodically for potential rusting, due to condensation, but nope, nothing. All dry as a bone inside.
The Dry Bag is a 100% waterproof, perfect for those wetter rides.
Photo above/below: ©Tyres and Soles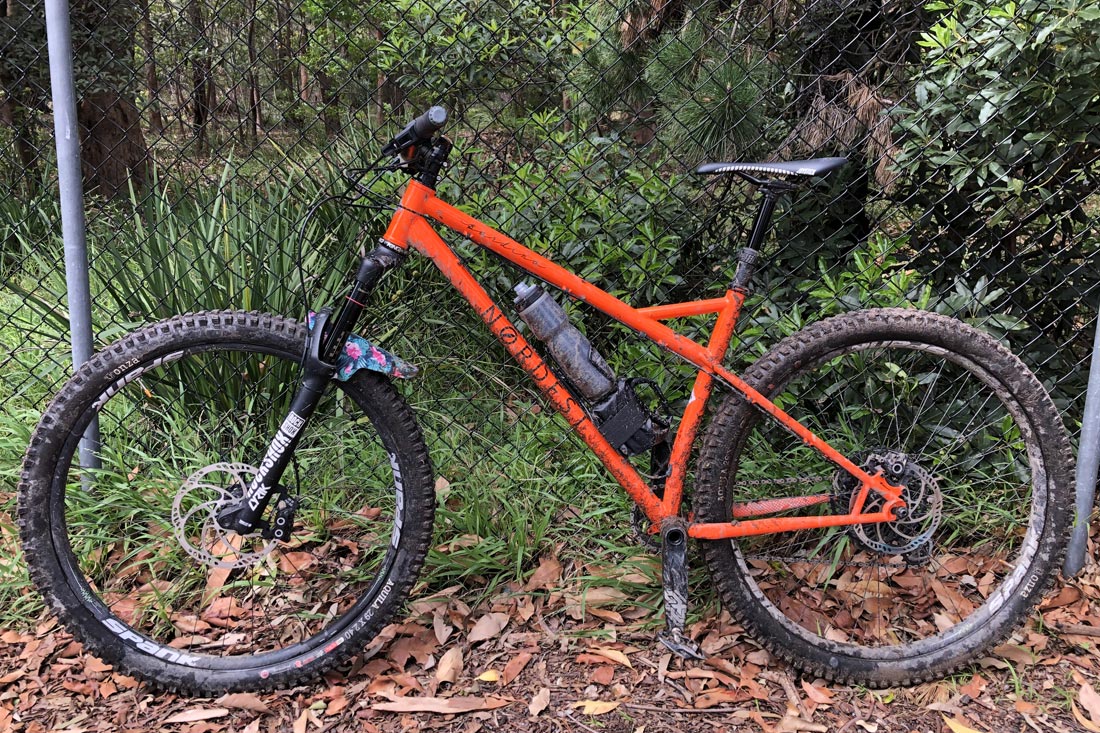 ---
Specifications:
Roll-top expands to fit up to a 29er tube, tyre levers, multitool, tubeless plugs, and CO2 inflator.
Tough tarpaulin material.
Wide opening for easy access to contents.
Many uses off the bike.
80x100mm base, 130mm high when the top is rolled twice.
Capacity is 0.9L max, 0.65L on the bike.
Weight – 50g
---
Conclusions
With a lot of on-bike storage options out there, we feel 76 Projects are offering something a little different from the norm. The super-sturdy attachments make these products a little more reliable and offer long-term value than the simple frame strap option. Don't get us wrong, we like the frame strap products and still use them from time to time, but if you are looking for something a little more robust, then we'd highly recommend checking out the Piggy and Little Piggy products.
---
Price / Where To Buy?
Piggy: $49.95AUD
Little Piggy: $49.95AUD
Dry Bag: $19.95AUD
For all Australian residents, head on over to Full Beam Australia who stocks the entire range!
For UK and European residents, you can order direct from 76 Projects website.
---