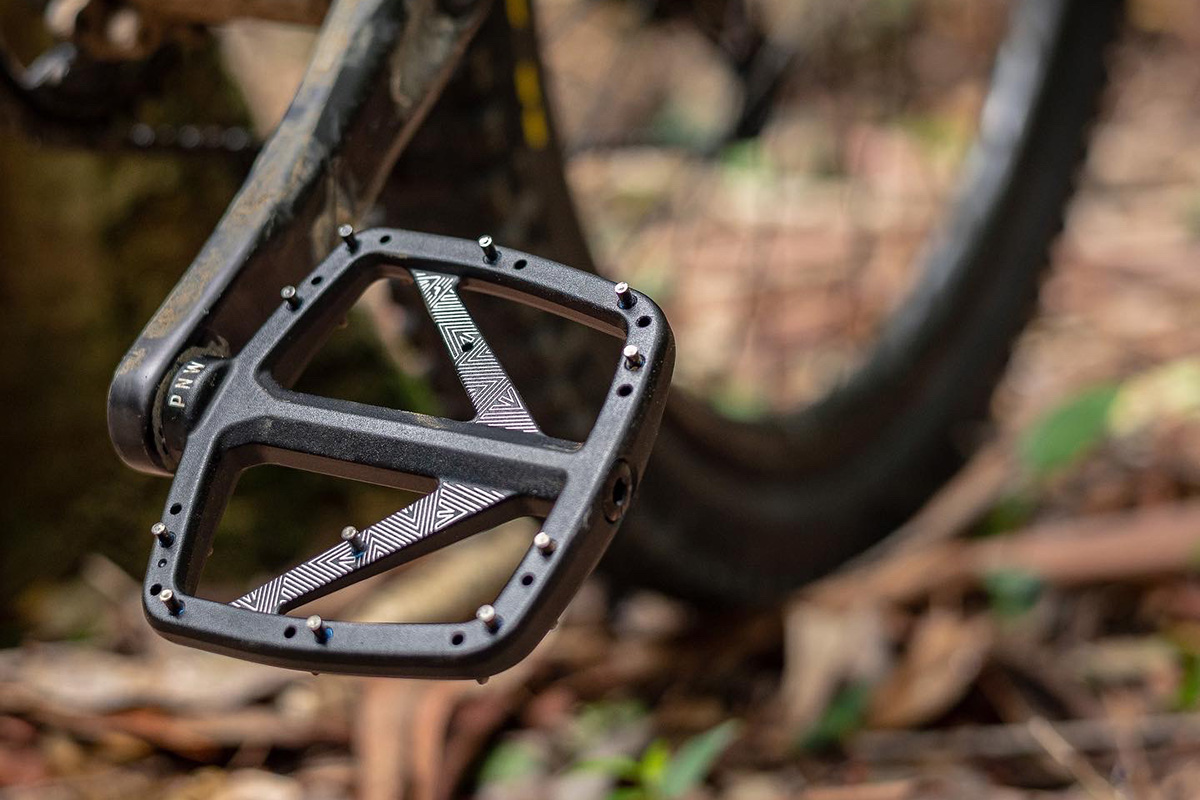 Cut to the Chase
Ever heard of the Goldilocks Zone? We're not talking about a family of bears here. The Goldilocks Zone is a precise zone within the universe to sustain life. Well, technically, it's the right range of temperatures for water to remain liquid. Whatever. The new Loam Pedal is that zone. That perfect balance of the best elements to breathe new life into all of your rides.
Pros
Slim profile and unique looks
Sharp, steel pins in all the right spots
Full bearings, no bushings
Fully rebuildable
Slight concave shape for comfort and support
Great price point for a quality pedal
Cons
Convex shape may not suit all shoe types
Pins are not height adjustable
PNW Components Loam Pedal – Review
Flat pedals. We have all used them at some stage. Some go on to clip in, leaving flat pedals as a distant memory- for others, that's just crazy talk! Everyone seems to have their opinion on which pedal is best and why- how many pins, pin placement, the shape of the pedal, concave Vs convex- the list goes on! Slimline, low profile, or the biggest slab of aluminum you can attach to a crank arm?
We have tried many, many sets of flat pedals over the years- so how do these new kids on the block stack up?
The Loam Pedal by PNW Components is focused on delivering the perfect balance of grip and features a low profile and unobtrusive bearings that stay out of the way, as well as a slightly concave shape that allows shoes to settle in and remain planted and comfortable for long rides.
The Loam was PNWs first foray into flat pedals but has since released the 'Range', a composite version of the Loam alloy pedal. The pedals look really sharp in our opinion. Nice and slim with a tapered profile to the outside edge. They have a unique design that some have already nicknamed the cake mixer.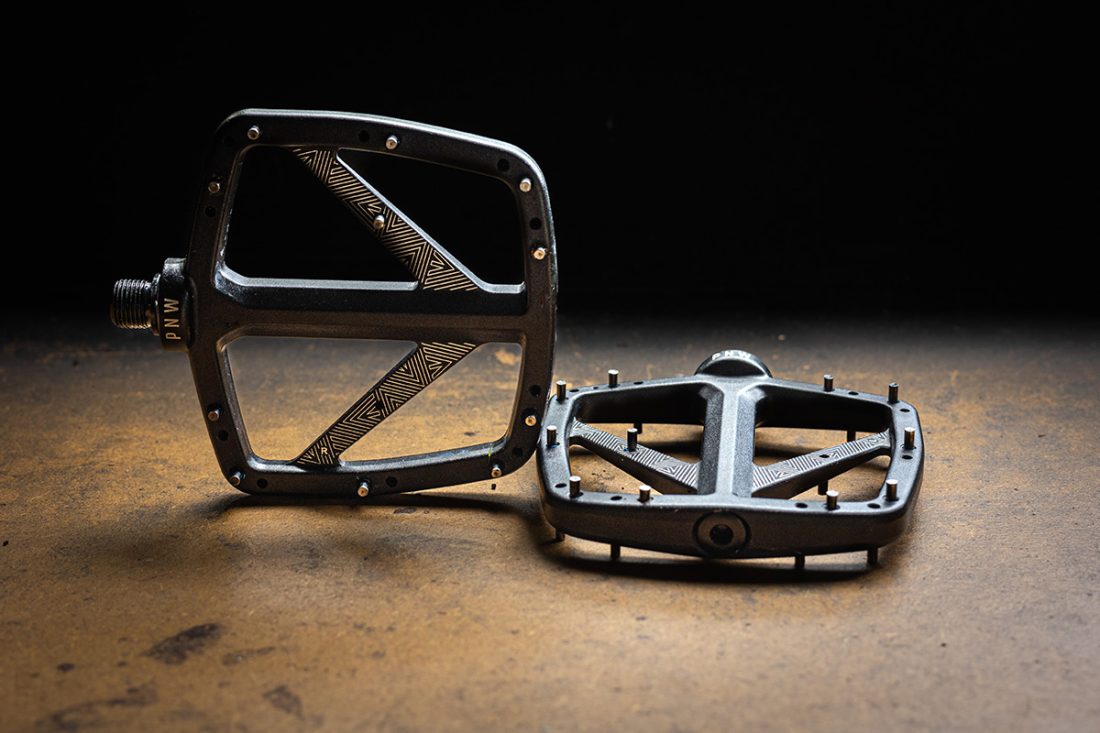 Features
11 replaceable steel pins per pedal, with a noticeable cluster on the front and rear edges of the pedal- central pins are noticeably absent, more on this later. We found the pins to be incredibly grippy- perhaps due to being thinner than the average alloy 'stud' style of pin.
They have a sharp square cut that bites into the shoe. Apparently, these pins are custom-made for the Loam. Just enough grip to feel planted in sketchy terrain, but not so much that you can't reposition your feet.
From the pins to pedal body the Loam Pedal gives you enough of a concave shape to let your shoe settle into it without stressing your feet on long rides.
Low-profile bearing sizes and locations eliminate hot spots so you can ride as long, or as short, as you want.
Like most of the PNW products we have reviewed, the build quality is great.
Slim, sleek-looking, low profile pedal
3 colours: Blackout, Nickelback( Silver) & Fruit Snacks (Purple)
Fully rebuildable and serviceable with a 5mm Allen key.
Forged and CNC'd 6061 Aluminum
Sealed Cartridge and Roller Bearings- no bushings.
445 Grams Per Pair
22 Replaceable Steel Pins Per Pedal- fixed height
Platform Size of 105mm W x 115mm L
We must mention PNW's commitment to environmentally friendly packaging- a simple recycled cardboard box.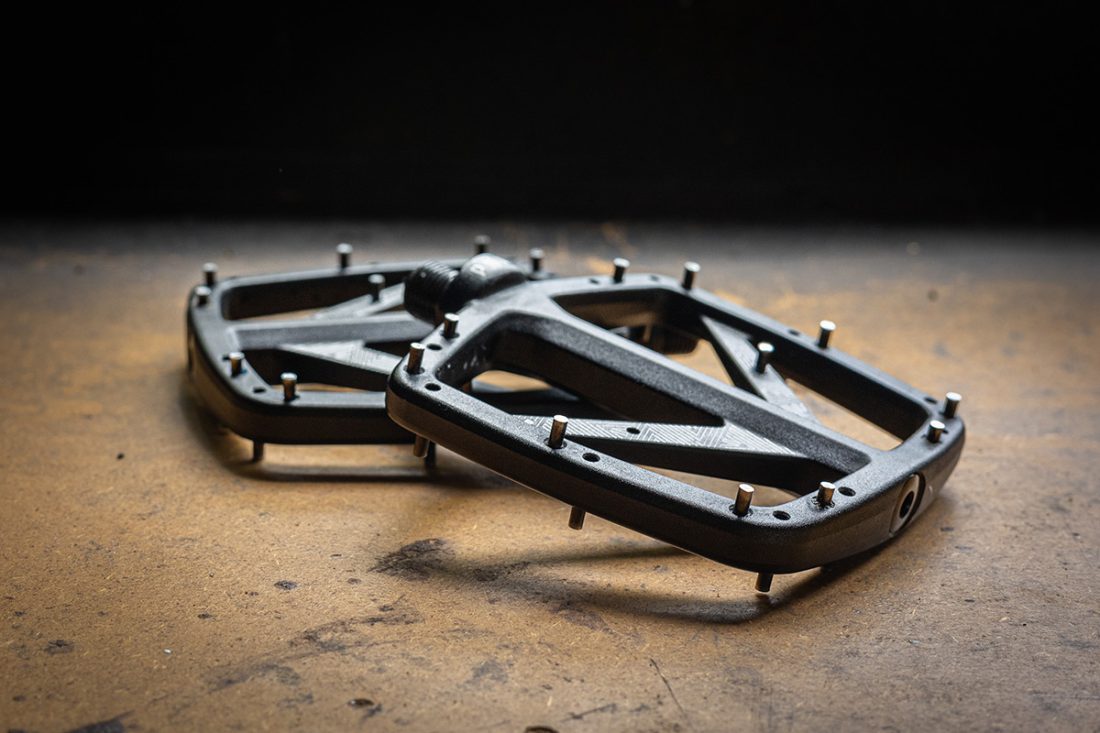 On The Trails
At T&S we like to go into a review without letting any outside opinions influence the test. We fit up the product and hit the trails, as we did this time around. The first couple of rides left us scratching our heads.
The pedals looked amazing and had pins in all the right places, but we felt like we weren't getting the grip the pedals should clearly offer. A few rides later we had almost accepted that perhaps the pedals just allowed a bit more movement than other, more locked-in styles.
After some back and forth banter with a few of the regular riding crew, we wondered if perhaps the shoe wasn't playing nicely with the pedal. The initial shoe we opted for has a hard rubber compound and a very stiff platform- perhaps it wasn't the ideal match for the pedal??
PNW has clearly tried to differentiate this pedal from the hordes of other flat, chunky, uber grip pedals by focusing on pedal feel and comfort. Now, that is all good and well… but we're never going to be comfortable on a flat pedal if we are constantly worrying about the shoe/pedal interface. We ended up switching shoes, and everything changed.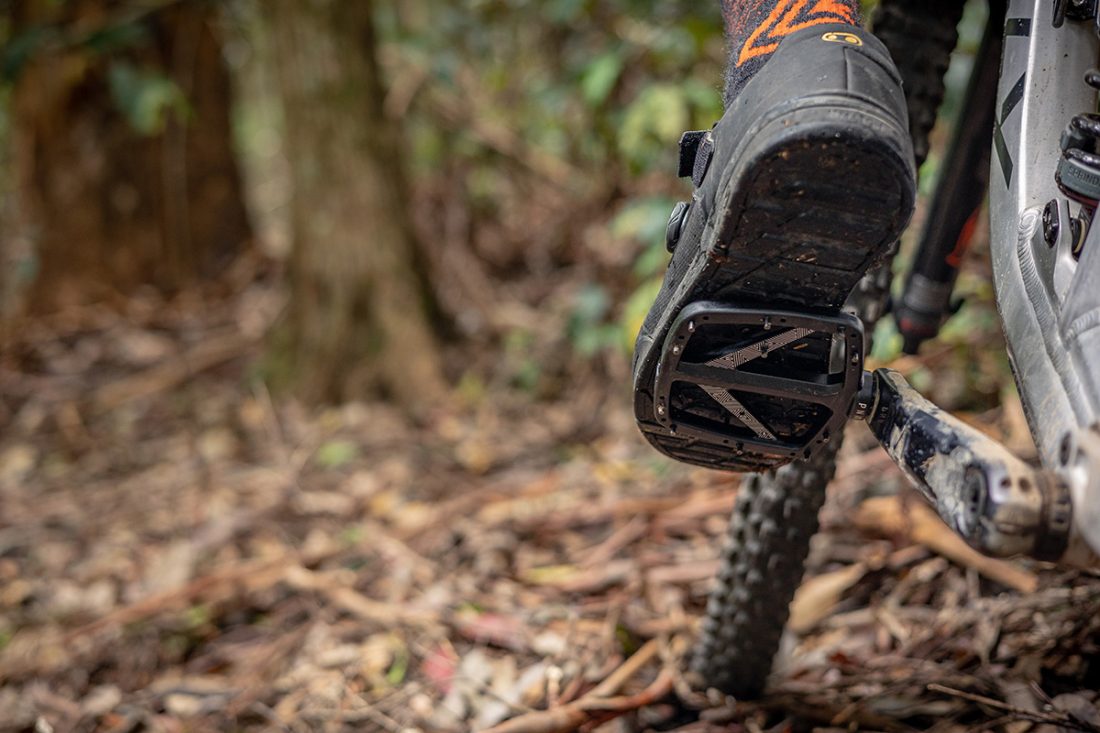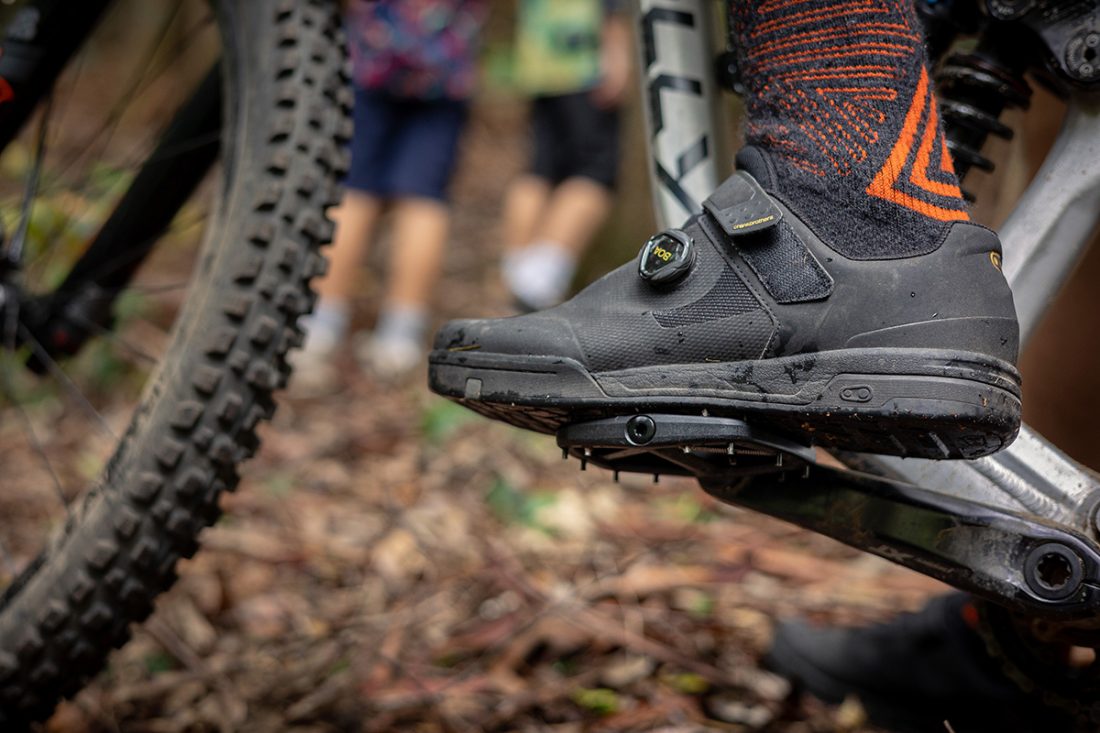 We just returned from 3 days of alpine shredding in Thredbo. If there was ever going to be a problem with hotspots, comfort, or grip, it will become apparent quick smart with thousands of feet of chairlift-assisted alpine riding. We are pleased to report that our opinion changed completely with the shoe change. A thicker, softer sole sunk into the pins and was nicely supported in the centre of the pedal.
We were never short of grip and were able to shift foot position and re-position easily. The best thing we can say is that the pedal/shoe interface faded into the background allowing us to get on with some of Australia's best riding. A point definitely worth mentioning is how fresh our feet felt after a long day on the mountain "Fresh Feet" is one of PNW's key marketing taglines, and after our experience, we'd have to agree with them. So it begs the question, do you need to go full concave?
How much of that is down to the shoe or the pedal is hard to say, call it an observation, but correct shoe choice i,e a soft sole, is something we would recommend you consider when purchasing the Loam pedals. The softer the better.
The pedals copped plenty of alpine granite impacts and sadly lost some of their 'blackout' finish but are still running perfectly. No bent pins or damage to the pedals. They are a burly set of pedals and can withstand plenty of hard hits. Anecdotally, we have never had more people comment on a set of pedals before- left lines, lunch stops- They seemed to be a real talking point.
One final point to mention is the bearings- these things spin like crazy. Some, more gravity-focused, pedals we've used are almost damped in the way they spin. The Loam pedals spin very smoothly which can be a pro or a con, depending on personal preferences. The Loam pedal is also fully rebuildable and a service kit is available if you need to do a full rebuild.
Conclusions
So final thoughts on the PNW Components Loam pedals. We love them! That certainly wasn't the case initially, but upon switching shoes they are our firm favourite right now. Since reviewing the pedal we have read the specs and some of the other opinions out there and firmly believe it comes down to the shoe being used. There is a lot of discussion about the Convex nature of the pedal, but the pins have been designed to 'level out' the foot position. With the right shoe, it's set and forget.
Price / Where to Buy?
PNW Components Loam Aluminium Pedals $149.95
If you're looking for a similar feel but something less pricey, take a look at PNW Components Range pedal which is a composite brother to the Loam. Check out our First Look post and some comparison images of the Loam and Range pedal, below.
Can be purchased at MTB Direct and other good online retailers or ask at your local bike shop.