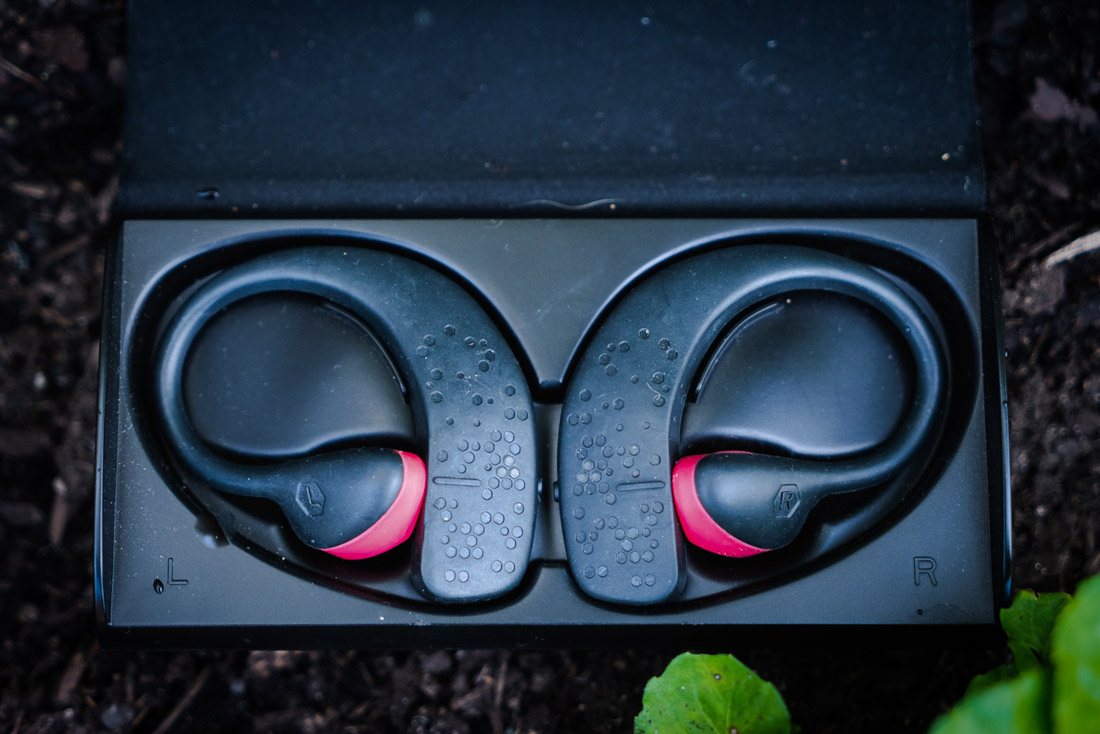 The Trails Are Alive With The Sound Of Music
Cut to the Chase
earSHOTS offer a very high-quality product designed for a safer solution when riding with music, with great ambient levels that allow you to hear music and still know what's going on around you., and a good amount of functions for music, podcasts, and taking calls. They confidently handle the toughest trails with their innovative magnetic connection. These will stay calmly on your head in the roughest of trails, even when you're bouncing around like a teenager in a mosh pit.
Pros
Secure magnetic headpiece connector
Design, materials and quality build
Offers a good mix of music and ambient sound levels
Decent amount of functions: next track, pause, take/reject calls etc
Integrated hardcase charger, with up to 4 full charges
Easy Bluetooth connectivity
Works with sunglasses
Water resistant
Cons
Initial attachment can be difficult
Poor bass levels
A little bit bulky
earSHOTS Bluetooth Headphones – Long Term Test
There's a reason why MTB videos inspire us to ride. Admittedly, they tend to be shot at breathtaking locations with incredible cinemaphotography, and usually with the world's best riders but there is always one thing that remains, and that is the unmistakable union of how powerful music and mountain biking can be.
There are positives and negatives when it comes to riding with music. Feeling like a rockstar on the trails with that extra boost of energy or drowning out your riding buddy who's whinging about the climb. But then there's the annoying factor of being that person blissfully unaware of riders trying to get around you as you're lost in a mind-meltingly good guitar solo There's also the loss of ambient noise that can cause a slight feeling of disconnection from the trail. But one thing is for sure, music and riding go together like birds of a feather but not all earpieces are made from the same cloth.
Unfortunately, there's not been a lot of products designed with the movements of mountain biking in mind, until now.
The individual earSHOT pieces fit snugly into the self-charging case and offer 4 hours of charge time with one hour of charging.
earSHOTS was founded to do one thing… let runners and riders take their love of sound to the most extreme places of their performance…from their fastest descent, to their biggest back flip.
Who are earSHOTS?
Earshots founder James Bell-Booth conjured up the ideas for a headphone design out of pure frustration whilst training for adventure races in New Zealand. Trying to focus on his training for future adventure races, but constantly getting distracted by having to tediously re-adjust or pick up headphones from the floor was the impetus for the earSHOT headphones.
James set about trying to create a set of headphones that didn't fall off, get dislodged, or constantly needed re-adjusting. A new headphone design that would use magnets to attach to your ears. A fix and forget design. Through many handcrafted iterations, a final design was arrived at. The earSHOTS were born and now ship globally to professional and amateur athletes around the world.
The first time you attach the earSHOTS can be a tricky affair but once they're in, they stay in place thanks to the magnetic connection.
The earSHOTS work well with pretty much any helmet and sunglasses combo.
Features
Earshots have developed features that make riding with headphones an enjoyable experience. One of the stand-out features is the magnetic ear clip. This has been designed in answer to the frustrating issue of headphones falling out when riding the rough stuff.
Fit and comfort are crucial for in-ear headphones, and earSHOTS have spent five years of research and development in this area hand-crafting models to ensure the shape of each piece molds seamlessly to your ear and head. Each ear clip is made from flexible materials that ensure a good fit for all shapes of ears and heads. Yes, even yours!
Another key feature is ambient noise balancing. The earSHOTS earbud design provides a balance of music and trail noise, allowing you to listen to your music but still be aware of what's going on around you. There is also a"solo mode" where only a single earpiece can be used when riding & running with friends.
The earSHOTS offer good amounts of functionality in the form of several small control buttons set into the back of the earpiece, which include: play/pause, next track, previous track, answer/reject a call, hang up, and Power on/off.
Another impressive feature of the earSHOTS is the Self Charging Case. Nothing new here but it's worth noting the rugged design of the case which has obviously been designed with the rough and tumble of outdoor activities in mind. The earSHOTS themselves offer 4 hours of use when fully charged and the case itself can charge up to 4 full charges. So even if you forget the USB charger cable, and the case has been fully charged, you have 16 hours of ride/run time. Not bad eh?
Because the earSHOTS have been designed for outdoor active use they have been rated with an IPX4 rating, which means they can handle water splashes from any direction.
earSHOTS Magnetic Ear Clip means they will NEVER fall off, get loose or distract riders and runners. They are the perfect balance between comfort and a secure hold on the ears.
Music has a very powerful effect on our mood and has the ability to lift us out of lethargy to a more energized state of mind or increase feelings of relaxation and contentment after a stressful day.
Stream your sounds Crush that climb with Bluetooth streaming of your favourite tunes, podcasts, or audiobooks.
On The Trails
The first thing you need to work out is how to attach the ear clip to your ear. Now, this may sound like a simple task but it does take some practice to get right. The earpiece needs to loop around the ear and then connect via the magnetic connection on either side of your earlobe. The magnetic connector is key to keeping the whole piece in place. It's just a little tricky. But with all things in life, once you've got it, you've got it. Earshots do provide a detailed "How To" on their website.
Fit/Comfort
On first impression, the earpiece does appear fairly bulky, especially when compared to an Apple ear pod for example and you may be excused for being concerned about its fit or ability to stay on your head when riding rougher trails, but fear not, once on, the earpiece stays in place.
The design works well and is a reason why earSHOTS have become so popular with high activity sports. The combination of flexible materials and the magnetic fastener provides a solid attachment to your head. We also wore the earSHOTS whilst wearing sunglasses and had no issues whatsoever in terms of compatibility.
Controls/Functions
Changing songs and taking calls is simple with a set of buttons placed on the rear of each earpiece. A single press on the left or right earpiece will start or pause tracks and a double click on the left or right earpiece will skip or play the previous track.
Taking a call can be done with a single press of the button (left or right) or a long press to reject it and continue listening to your music. However, all of this is somewhat cumbersome when wearing gloves. A slightly larger button or protrusion could remedy this.
One item we really would have liked to have seen is a volume control. Not many earpieces offer this feature because it's not an issue when casually walking along where you can adjust the volume via the phone in your pocket. Having to fumble for the volume button on your phone which is in your shorts pocket, with gloves on, becomes frustrating. OK, this may be a little unfair as you can learn to live with setting the volume and leaving it at that, but after adding all of these controls to the earpiece, what's one more?
Sound Quality
OK, let's talk about sound quality. We can safely say what earSHOTS does well is provide a good balance of ambient and music levels. What does this mean? Well, it means you can still hear your music and your surroundings, such as the chatter of the trail/bike and other riders around you.
That being said, this tends to fade away if you have the volume turned up high, which we found ourselves doing just to get a decent sound quality. This is the only real downside we experienced with the product. The earSHOTS, when at a lower to mid-volume level, lack any sort of bass tone. We tried to counter this by pushing the earpiece further into our ear canal but this didn't work, it only caused discomfort. So we resorted to turning up the volume, so much so that the ambient sounds were then drowned out.
The quality of sound is sub-par compared to an Apple Air/Ear pod, for example, so If you're a lover of bass tones then having the volume up at a higher level will be your best bet, but this counters the purpose of one of their key features, which is the ambient sound levels.
Conclusions
The amount of thought and testing that went into the earSHOTS is reflective of the overall design. The quality build and materials used are of extremely high standards and this is where the earSHOTS stand out against its competitors. With a decent amount of functionality and controls on offer, listening to music and taking calls is straightforward.
If you tend to lose headphones when riding the rough stuff then you will love the innovative magnetic connector for keeping the earSHOT confidently on your head even when you're out of control. This will save you a ton of cash in the long run. The hard case scores extra kudos points for us with its robust design and charging capabilities, giving you a whopping 16 hours of charge time.
Earshots, we believe, have not been designed for an audio extravaganza so don't expect much in that department, but what they have been designed for and do very well is provide you with a product purposely built for high activity outdoor lifestyles, and a safer solution whilst doing this i,e being able to hear what's going on around you, and at the end of the day, isn't that what's important?
What's In The Box?
earSHOTS keep their footprint to a minimum, using a Zero Waste approach so you won't be getting any unnecessary bits and bobs that will end up in the landfill. In the box will be:
Left and Right earSHOT pieces.
A self charging case.
A micro-USB charging cable.
Tech Specs
Magnetic ear clip
Nextgen ergonomics
Ambient noise balancing
Pause and next song controls
Fit and forget design
20 hours of power
Solo mode
Make & take calls
Bluetooth enabled
ConnectivityBluetooth 4.2
earSHOTS onboard controls: Audio – play/pause; next track; previous trackPhone calls – answer call; reject call; hang upPower on/off
Charging case connector: Micro-USB
earSHOTS battery: up to 4 hours of listening time on a single charge
earSHOTS Self Charging Case battery: 4 full charges of earSHOTS or 16 hours of ride/run time
AudioDriver size: 10.2mmImpedance: 65 OhmOutput Max: 4mW (0.5V)Response bandwidth: 20Hz -5kHzT.H.D <3%,300-3K;0.25V,<1.5% 1kHzS.P.L 103+-3dB with IEC-318, at 1mW(0.25V),1KHz
Where to Buy / Price
earSHOTS: $169.00NZD / $161AUD (approx)
You can purchase the earSHOTS headphones directly from the earSHOTS website.
Can also be purchased at MTB Direct and other good online retailers or ask at your local bike shop.
---