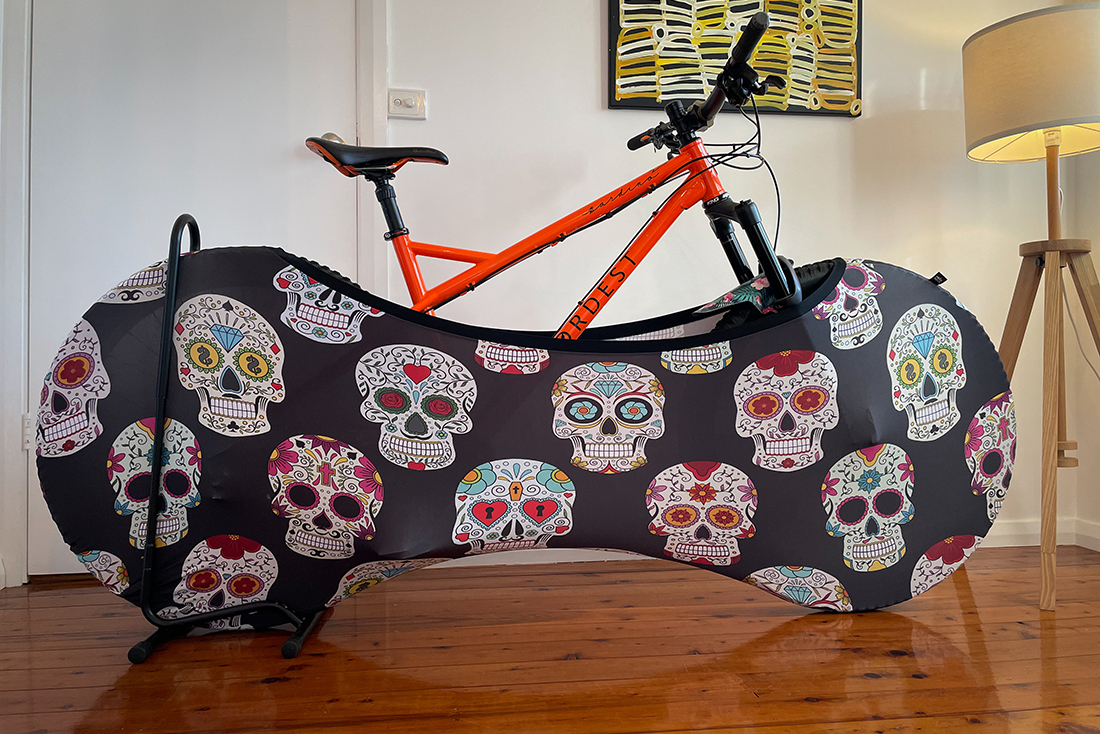 Cut to the Chase
The Velo Sock is a simple and unique way to protect your home and car if transporting dirty bikes, and storage space is an issue. If you have nice flooring and clean white walls, the last thing you want is to leave dirty tyre marks on the floor or bar-end scrapes on the wall, and it's also true for the interior of your car. A very nice alternative to throwing an old bedsheet over your bike.
Pros
So much eye candy!
Fits most bikes.
Very cool range of patterns to choose from.
Turns a dirty bike into an interior design piece.
Cons
A tight fit on larger 29'er MTB's.
No Australian distributors.
Velo Sock Indoor Bike Cover
Do you live in a house or apartment with limited space but need to bring your bike indoors for security reasons? If so, then you'll be all too familiar with the tiresome act of having to clean your bike to reduce any grit and mud dropping over the floors or marking your walls. This can quickly become a groan-fest, especially if you're in a hurry.
So what if you could just throw some sort of cover around your bike beforehand, and simply carry it in without marking your walls or floors? Tadaaa! Enter the Velo Sock indoor bike cover.
Who is Velo Sock?
Velo Sock is a European company making indoor and travel covers for road and mountain bikes. Velo Sock draws inspiration from its Nordic heritage of profound cycling culture and delivers a visually unique bike storing solution that is now used worldwide. The bike cover provides all-round coverage to keep the bicycle clean and protected at all times reducing dirt drop-off in your home or during transportation.
Velo Sock Features
The Velo Sock is like a giant sized sports sock that uses a stretchy fabric allowing you to cover the entire lower part of your bike so you can transport it around or store it, without dropping dirt and grime on your carpets, walls or car interior.
But the real selling point (we think) is the choice of colours and designs which turns your dusty bike into an art exhibition piece. This is the key attraction to the Velo Sock especially if you are storing it in a room where it can be seen, like a living room. Because let's admit it, if it's in a room that nobody uses, you could just use an old bedsheet.
When the cover gets dirty, simply throw it in the washing machine and wash it at 30 – 40° C (80 – 100° F) or less. Velo Sock promises that colors won't fade so you can wash it every single time you use it if you wanted to.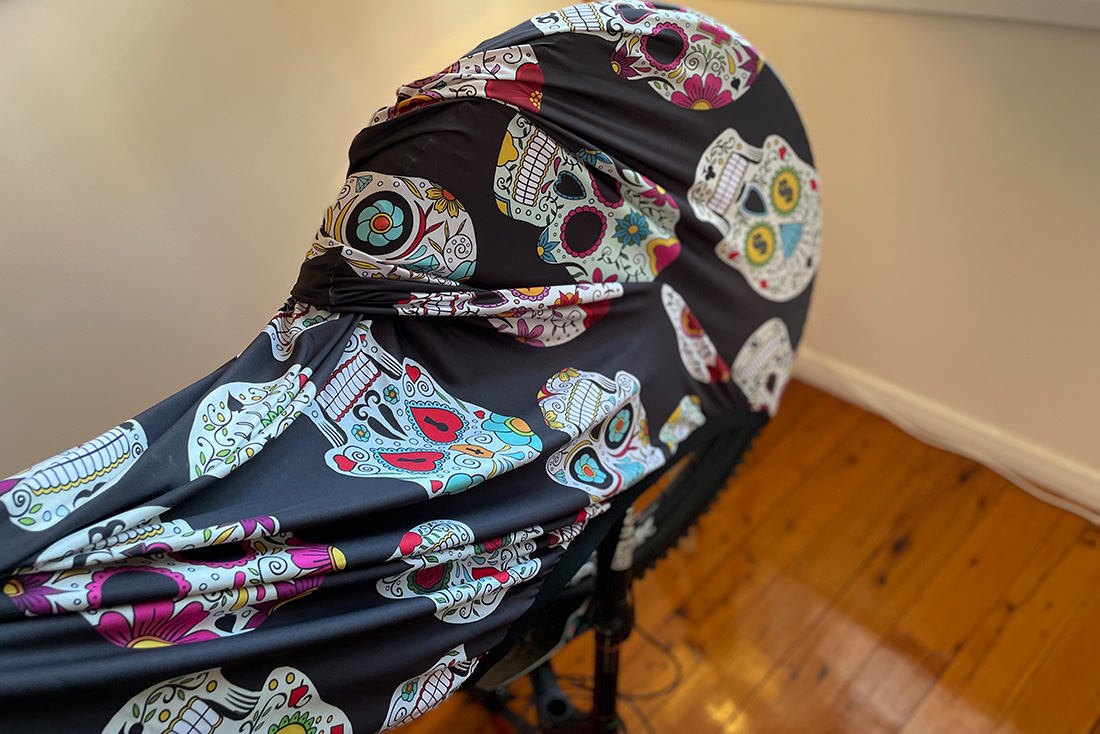 Velo Sock offer a large range of funky designs.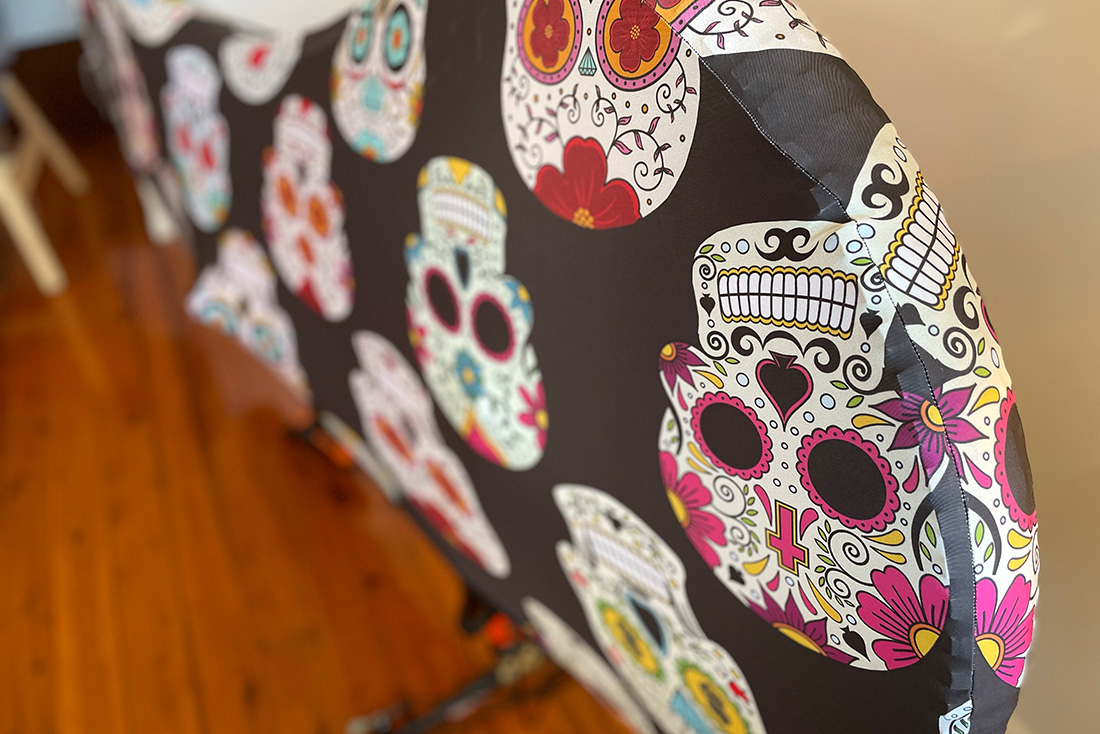 The materials are a mix of flexible fabric: 90% Polyester, 10% Spandex.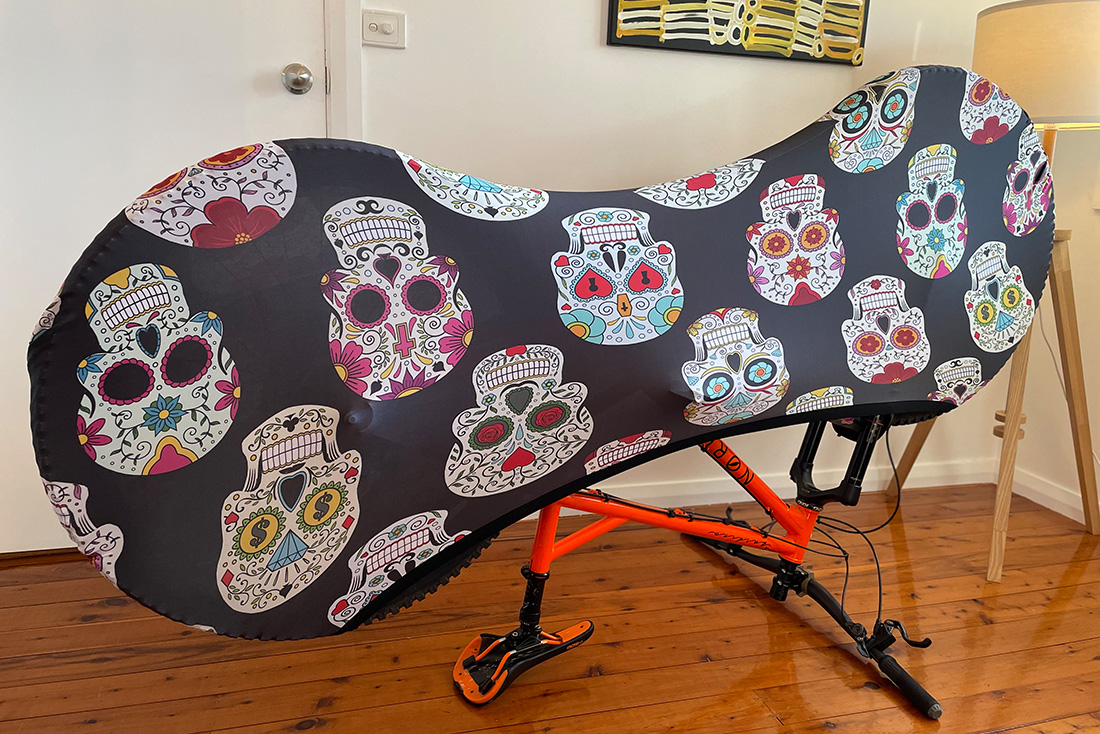 It does come in three sizes depending on bike size. Velo Sock claims that the adult cover fits 99% of adult bikes, including road and mountain bikes, as well as 29'ers. But we have to say, it was a very tight fit getting the sock onto our large 29'er hardtail, hence we had to put the sock on with the bike upside down.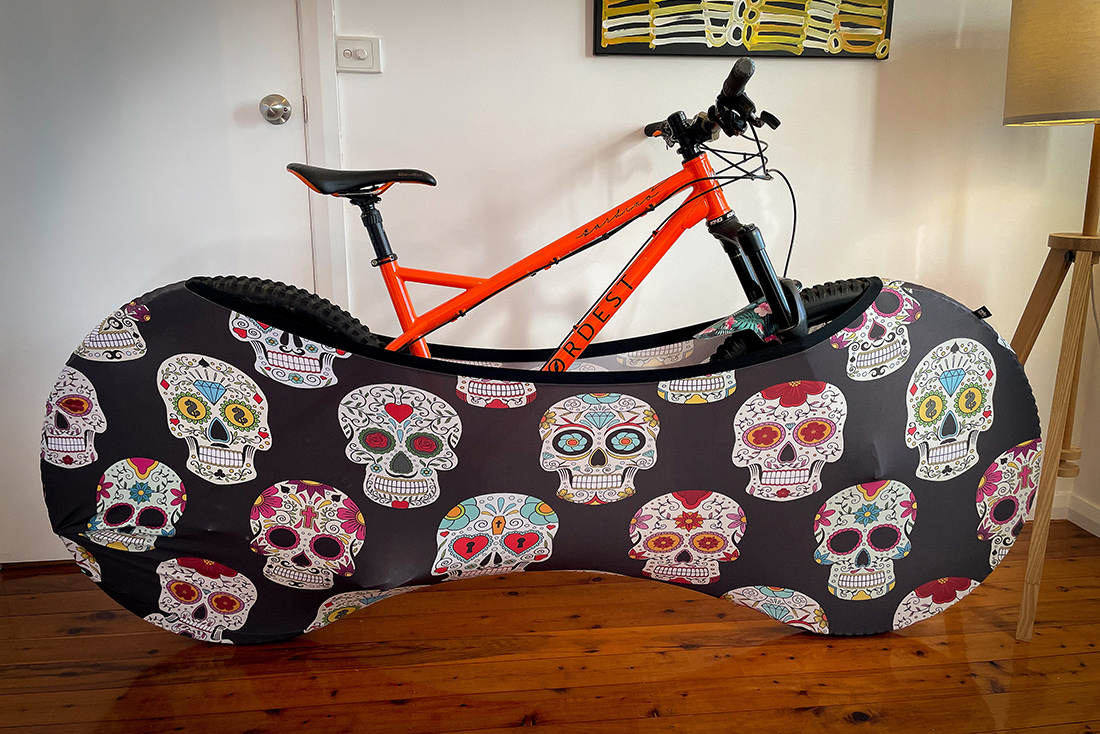 Although after the initial fit, it did stretch a little more and was easier the second time around thanks to the stretchy polyester and spandex fabric.
If you use a wall rack to hang your bike then the Velo Sock can be used in conjunction with this due to the top part of the frame not being covered. We have to admit, hanging this onto a wall would look pretty impressive.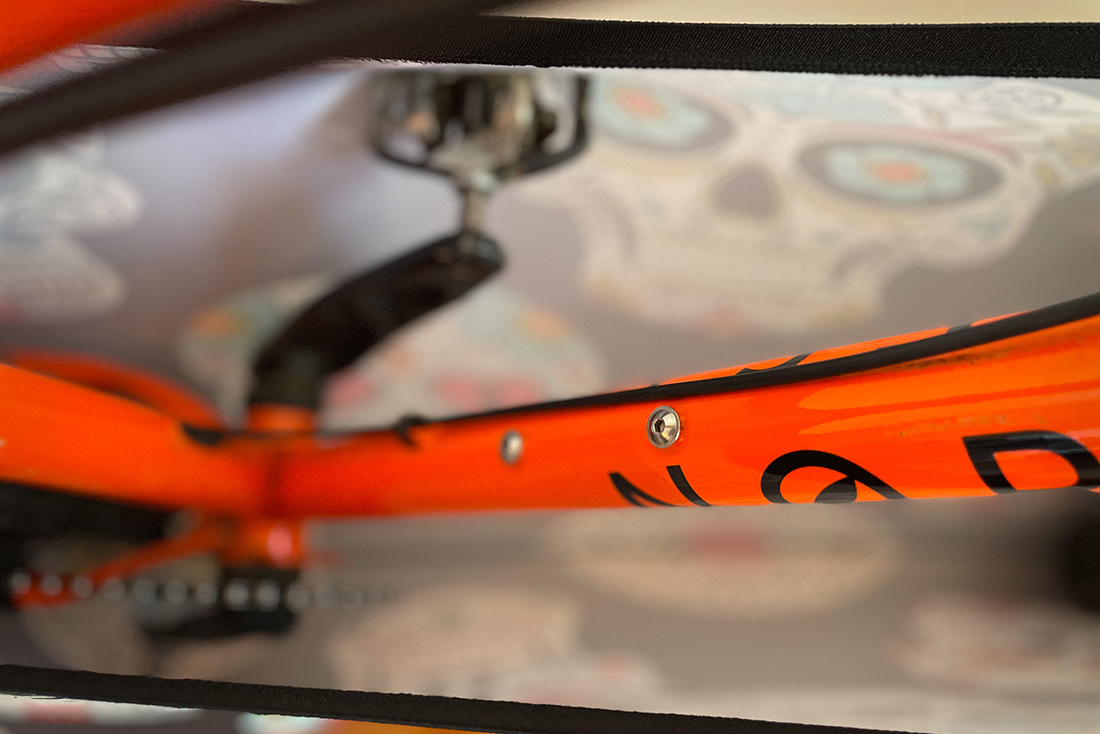 There's even room to drop gloves or other riding gear inside.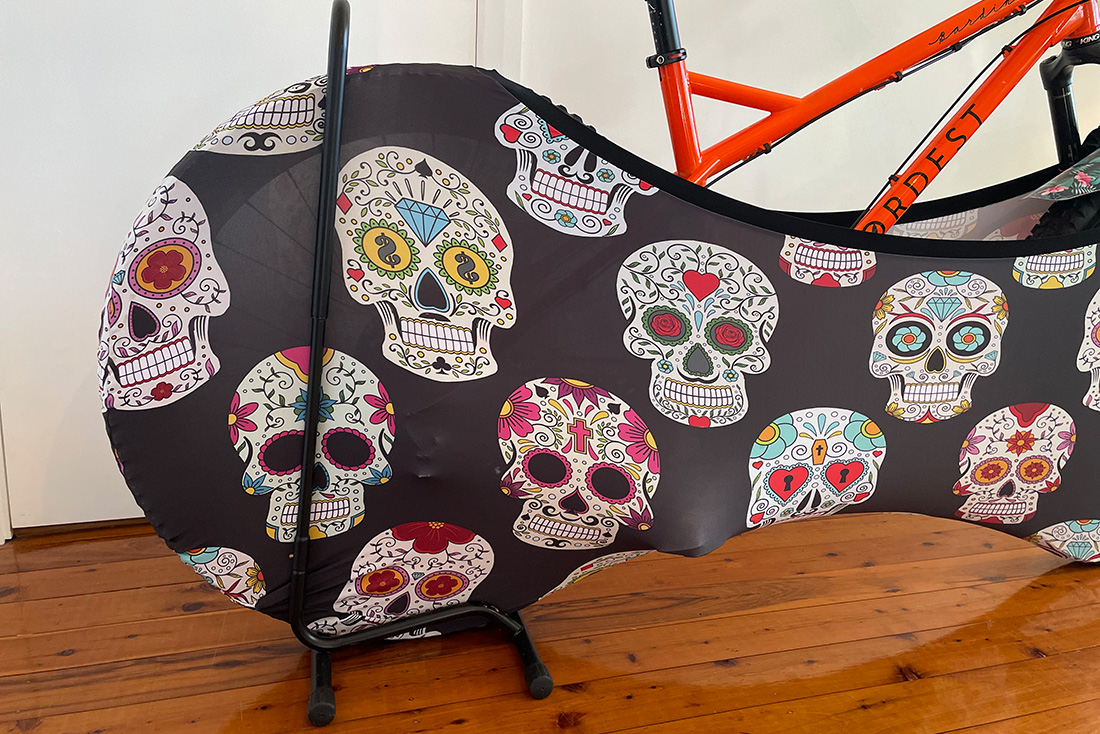 The stretchy fabric allows propping up your bike on a kickstand quickly and seamlessly.
---

Conclusions
The Velo Sock is a simple yet very usable product, especially if you have to cart your bike into your home after every ride and more so if you really, really don't want to wash it again. If you have nice flooring and clean white walls, the last thing you want is to leave dirty tyre marks on the floor or bar-end scrapes on the wall, and it's also true for the interior of your car.
The only downside that we could see was that the adult size should be re-evaluated in terms of mountain bikes. We don't see this being such an issue with road bikes but for the slacker 29'er mountain bikes that are the norm these days, it's a tight fit. We're going to get in touch with Velo Sock to give them our feedback on this. Apart from the tight fit we were pretty happy with the product, and can certainly see its uses.
Where to Buy / Price
Velo Sock Indoor Bike: €59.99 euros
To purchase, head on over to the Velo Sock website for more information.
This is the reccomended way to fit velo Sock.
No Australian distributors that we know of at the time of this review.