Manly Dam mountain bike track: Dangerous and environmentally concerning, riders say.
Track usage has soared since COVID-19 hit, with 10,400 riders during April 2020, a 144 per cent increase on the 4200 riders during April 2019. While numbers might have since dropped they remain higher than pre-COVID times, rider Stephen Hancock says the extra usage and council's lack of maintenance has led to an unsafe track.
MANLY Dam mountain bike track might be promoted by council as "one of Sydney's best" but riders say it's been left to rot and has become dangerous and an environmental concern. The Manly Vale resident and keen mountain biker said the track is the reason why he moved into the area 15 years ago. "It was a little hidden gem," he said. "Manly Dam was the original and only mountain bike track in Sydney almost and they've let it rot," Mr Hancock said.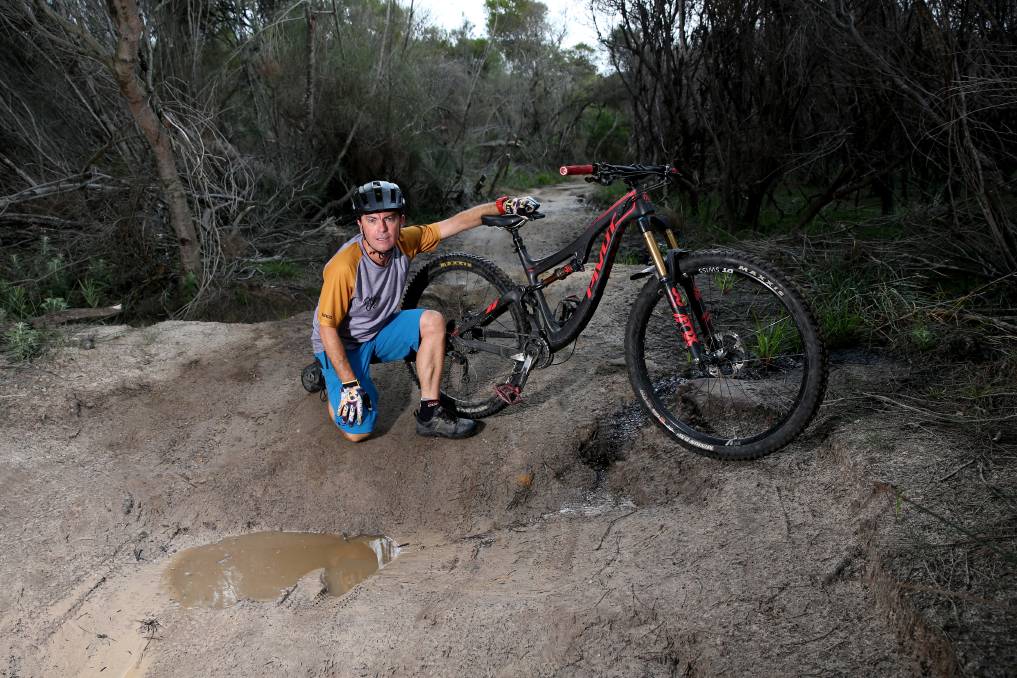 ROUGH RIDE: Stephen Hancock has accused council of neglecting the Manly Dam mountain bike track which he says has become dangerous and an environmental concern. Picture: Geoff Jones
---
It's become dangerous for its key user group of intermediate riders. Mountain biker Stephen Hancock
"Once a hole happens it fills with water and as people ride through it it gets deeper and deeper … that's when people have accidents because they don't know how deep it is."
Mr Hancock said because the track was never "professionally built" and is a mix of fire trails, walking tracks and areas constructed by riders years ago, that heavy rainfall can lead to parts of the track washing away.
"Most professionally built mountain bike trails they traverse and they move they turn, there's ways of building trails so they don't get damaged by water," he said.
"I don't understand why Sydney's busiest mountain bike track's been left to fall into disrepair by council. Rider numbers are booming and the most popular trail is suffering from poor management. "In the grand scheme of all the money they're [council] putting into plastic football pitches, surf clubs, which is all fantastic. You look at the money that's going into that, this would be incredibly cheap for them to do."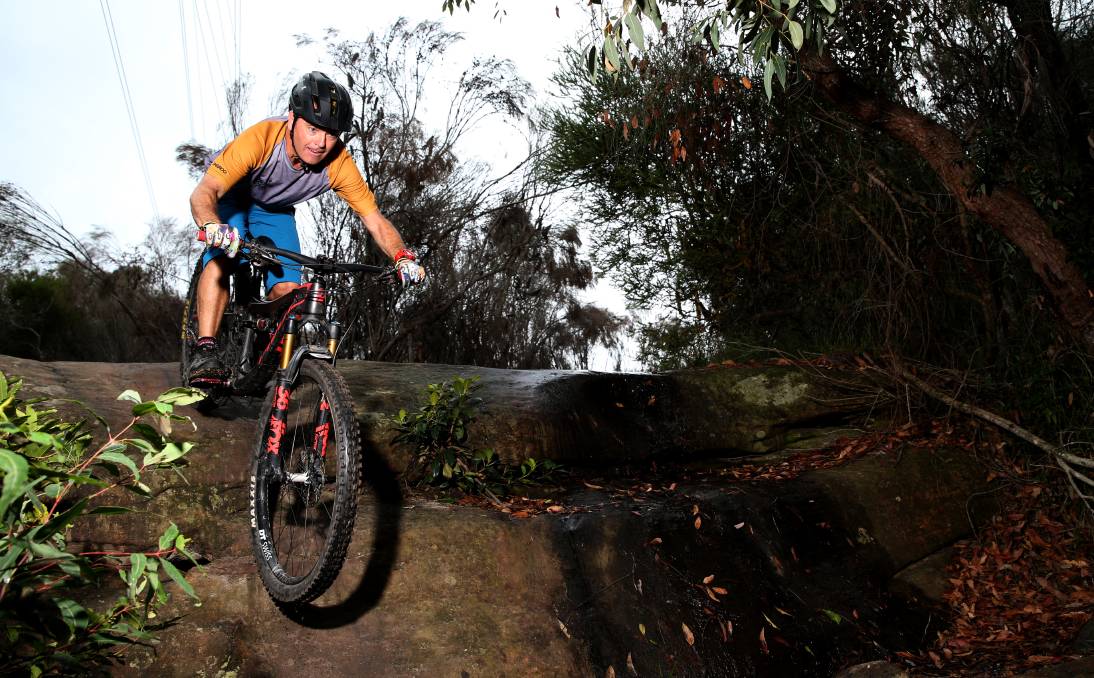 ROUGH RIDE: Stephen Hancock has accused council of neglecting the Manly Dam mountain bike track which he says has become dangerous and an environmental concern. Picture: Geoff Jones
---
TrailCare president Paul Lidgard said "management on most levels has failed to deliver proactive works and a plan for the future of the trail". TrailCare has worked with council for the past 20 years to maintain the track and Mr Lidgard said for the past two years council has been talking to track users.
"The lack of action has now brought to light the safety and environmental factors in play, due to the degradation of the trail especially since COVID," he said. "The works done by contractors and the volunteer group is mainly reactive works with some not resolving ongoing issues."
"Council has been engaging with the local riding clubs and individuals through strategy groups and working groups for separate areas and we are seeing progressive [sic] in some areas."
Planned works for the Beaches Link will further affect Manly Dam's trails off Wakehurst Parkway and Mr Lidgard said TrailCare was working with the project's team on solutions in a positive and proactive manner.
Council CEO Ray Brownlee said routine inspections and maintenance are conducted on the track, but said heavy usage can mean the track comes under pressure. "Council has listened to calls by some riders for more work to be done to the track," he said.
"In response, last December council conducted maintenance work to specific sections and has engaged a trail consultant to conduct an audit of the track to help determine future funding requirements for maintenance and improvements. We expect the audit to be finalised in April.
Editors note
The upside to this story is that TrailCare (and let's not forget the hard work of the local bike groups who volunteer their time repairing the trails) are working with council to rectify these issues and we have total confidence in what TrailCare can achieve. They have been representing mountain bikers in NSW for over a decade, including numerous NPWS and state-level strategy projects.
Originally published on Northern Beaches Review.