---
SENDY – INTERVIEW
There are so many positives about riding bikes; the physical and mental health benefits, the focus on learning and self-discipline, being out in nature and a desire to care for it and also the social aspect; riding with friends and family is what makes mountain biking a very appealing lifestyle for so many of us.
We've seen more family-oriented rides these past few COVID months than ever before and what we see are mums and dads all kitted out to the nines in the latest uber-cool riding gear, but what about the kids? The kids we see riding in this scenario are mostly dressed in cotton t-shirts and shorts and this is due to the sheer lack of kids MTB clothing available.
This is where homegrown Aussie brand and Thredbo based SENDY, step into the limelight. We were lucky enough to sit down with SENDY co-owner, Jono, for a chat to discover what SENDY is all about.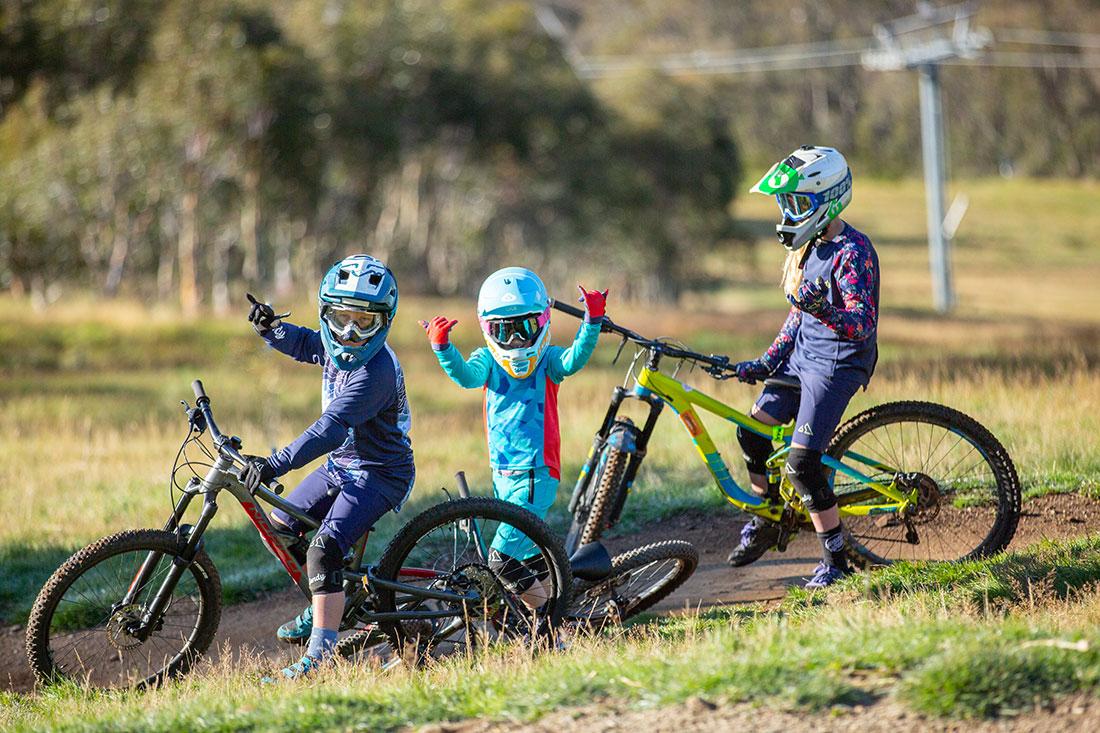 Building a MTB brand is no mean feat, it takes a lot of guts and passion. Can you tell us what the reasons were that sparked the fire in your belly to start the SENDY brand?
For sure, I guess it's best to start way back though.
So I was lucky enough to grow up and live in Thredbo from the age of 10. Naturally, I got heavily into skiing in winter and riding in summer. This was well before gravity riding was a thing and so my mates and I would convince the lifties to let us take our steel clunkers up the chair and ride wherever our imagination took us which got me hooked on riding bikes. Fortunately for me, I turned my first passion of ski racing into a career that took me around the world for about 20 years but I kept riding at every chance I got whether it was XC, DH, dirt jumps, or Moto.
After I retired from competition in 2010, I married the love of my life, had our first child, and thought I better get a "real job" so to speak. So, we moved to Canberra and opened a business in retail which saw me pulling 100+hr weeks. 5 years on I could not stop thinking about the mountains and doing life better, so we sold up the shop and relocated back to Thredbo.
In our first summer back, my kids started getting into riding and of course, I wanted them to be safe and confident, so I started to look for some gear for them. My search took me digitally around the world late one night and I quickly realised a few things. A) there appeared to be a serious lack of range for kids in apparel and protection and B) it was prohibitively expensive especially when you consider how fast kids trash their gear and also grow out of it.
Being a parent of a 6 and 8-year old who has an activity after school every other day I am acutely aware of the cost of living these days. So, queue the lightbulb moment and a year later, a couple of hundred samples and heaps of learning, we launched www.sendygear.com.
What are some of the challenges you've faced in a crowded MTB apparel space?
So our model is essentially flipped on its head from what everyone else is doing. With products, we have focused on kids first and adults second delivering super high-quality apparel and protection from Jerseys to socks, hydro packs, and pads at up to 40% below our competitors while still delivering all the technical aspects of the big brands. 
From a supply perspective, we have leveraged the current digital climate to reduce operating costs dramatically, cutting out the middle people and working succinctly with our customers so that our prices remain low, the supply chain is cutting edge and our resellers keep healthy margins. 
There are a lot of brands that only offer a men's range. What really impressed us with SENDY was that you already offer a full range of Men's, Women's plus the kid's line.
Thanks. We obviously identified kids as our niche but when I was getting all the kids samples I ordered a few items for my wife and myself just because I didn't want to miss out. I ride most days in Thredbo and Jindabyne in summer and wearing the gear got adults asking questions about gear for them too. After thrashing all my samples and not being able to fault them I thought why not, let's test it out.
Last summer we did a small adults production run just to see how it was received. It was awesome, selling out of basically everything. This year we are expanding into a full line for women first and a small line for men across Jerseys, Shorts, Socks, and Hydro packs all with the high spec functions you find on any big-name products at banging price points just like the kid's gear!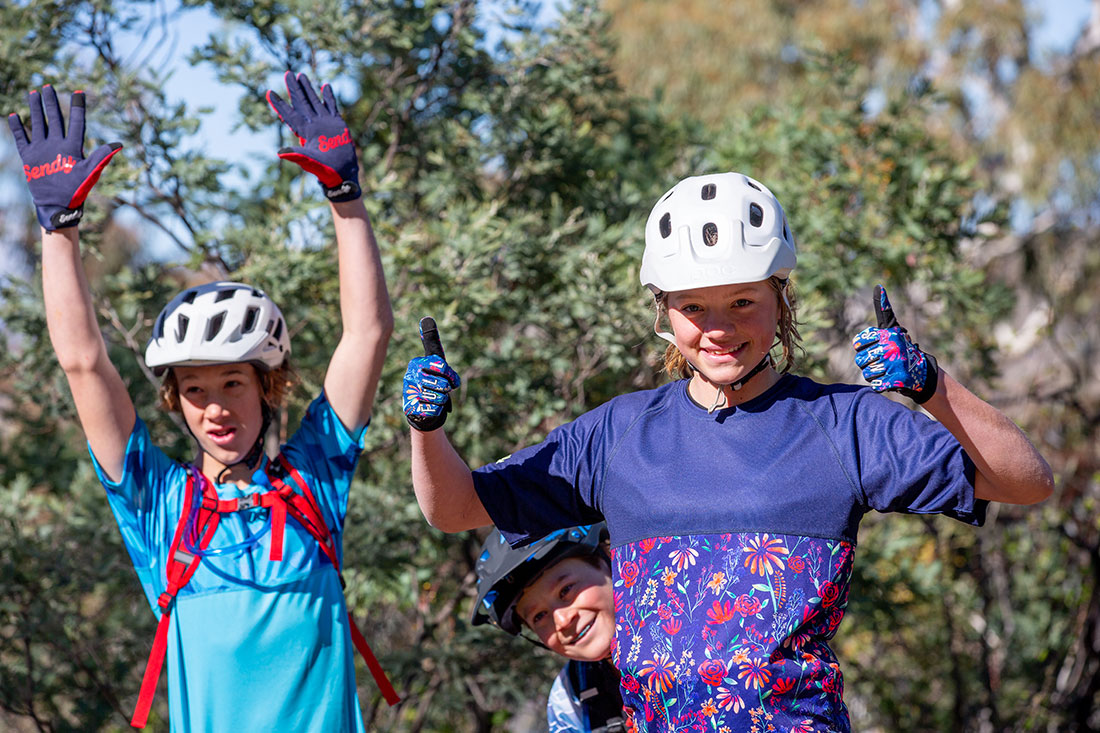 Seeing whole families wearing your SENDY gear must be a pretty special feeling.
We are so stoked. Building Sendy isn't about taking over the world and being the biggest brand, it has been a total passion project for me and is ultimately driven by my kids. They are the models, testers, designers, and hardcore critics that are helping shape our Brand.
That is the coolest thing ever, to have my wife and kids actively involved in building something from scratch in a field that we love. So when we go for a ride somewhere and we see other Sendy families out there shredding, it's just the best and we are reinvigorated with purpose.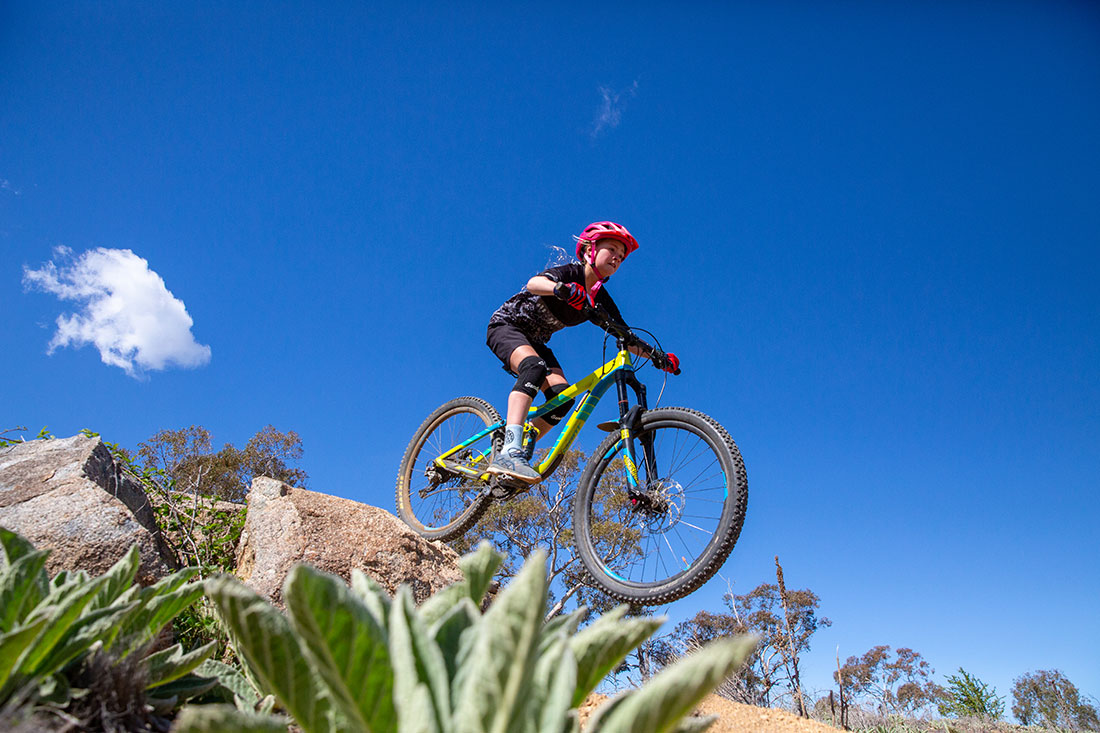 Marketing towards adults is one thing but kids are a different matter. How do you go about doing that, considering the adults are paying for the gear?
As I mentioned earlier, my kid's Banjo (6) and Lilly (8) are the critics and testers. In the sample phase, we will get say a dozen designs, and then when we get them in the kids tell it to me straight about what is good or no good. After that, my wife, friends, and I put our parent/rider hats on and go ok, if this is what they like and this is what we like let's go with this. Really the method is simple and kids have zero filter – just black and white when it comes to telling us what they think.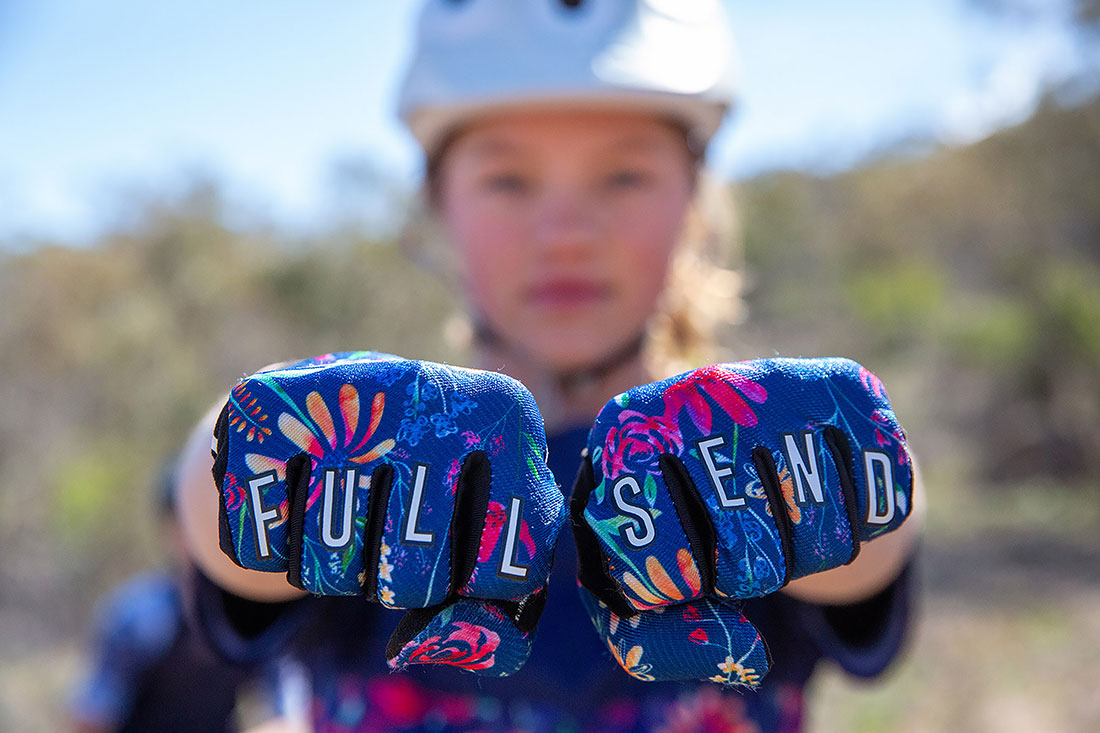 Adults tend not to grow too much after a certain age so there is a relatively small size range to choose from, but kids sprout an inch every month, or so it seems. Was it tricky designing an age range/sizing for the kid's line?
Absolutely, there is always a broad size range of kids at different ages so it is super hard to say "Youth Medium is fit for an 8-year-old" and be right for everyone because you could have two 8 your old's next to each other that are a foot different in height. We have tried to combat that with an in-depth size guide including a to-scale printable hand chart which all help to give you a really good indication when ordering and we are expanding our network of bricks and mortar stores which helps to try before you buy.
We totally understand that when buying online your products can show up and not be quite the right fit. As such we have an incredibly flexible approach to returns and exchanges. My moto is "do good things and good things happen" so I want to make everyone smile when they interact with Sendy even if they don't get what they want the first time around, it's my job to make the journey as easy as possible so that the customer is always happy. After all, you can't buy goodwill, you only get it from doing good in the world.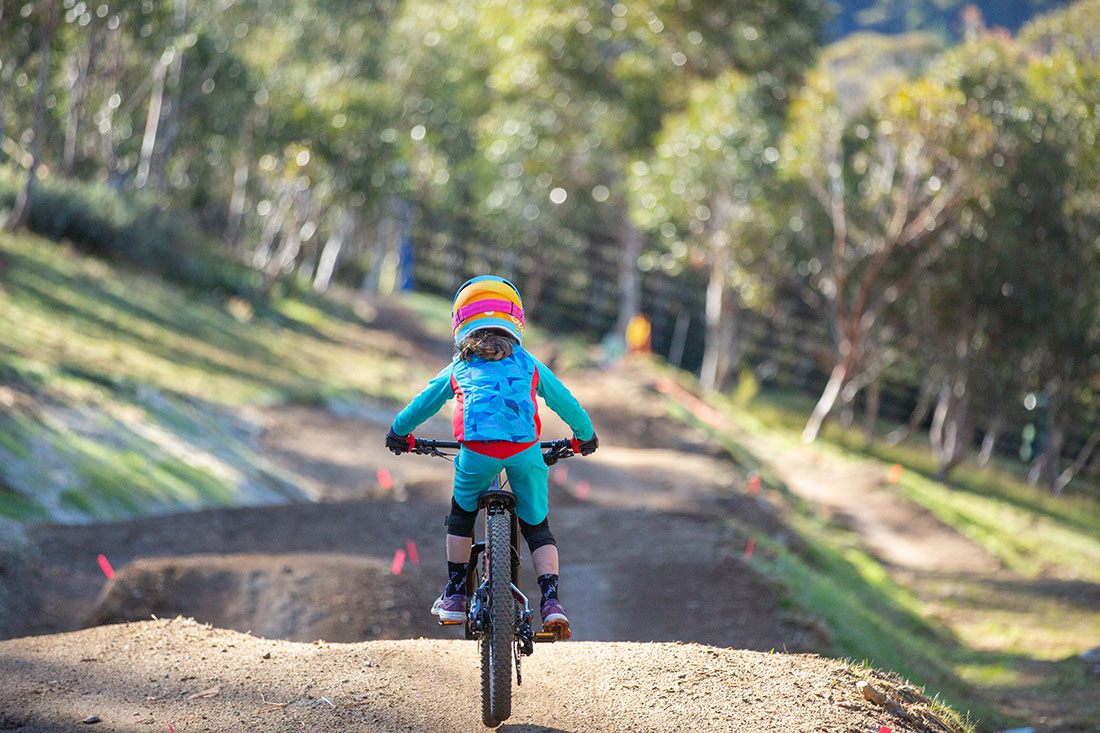 Is the kid's range of clothing made from the same materials as the adults, in terms of quality and protection?
Yep, 100%. I have no understanding why kids should get an underperforming garment that either gets thrown to the back of the cupboard or thrown into a landfill. Kids and adult gear alike get all the same qualities, Kevlar on the knee and elbow pads, 4 way stretch, moisture-wicking, anti-fungal fabric amongst others in the high-quality technical materials.
Most people don't believe that we can deliver that for the price point we are at but we have leveraged a super-efficient operating model and cut at least one if not two middlemen/women out of the picture to make sure that not only we are delivering great technical products but they are affordable and keep the parents pocket as happy as can be.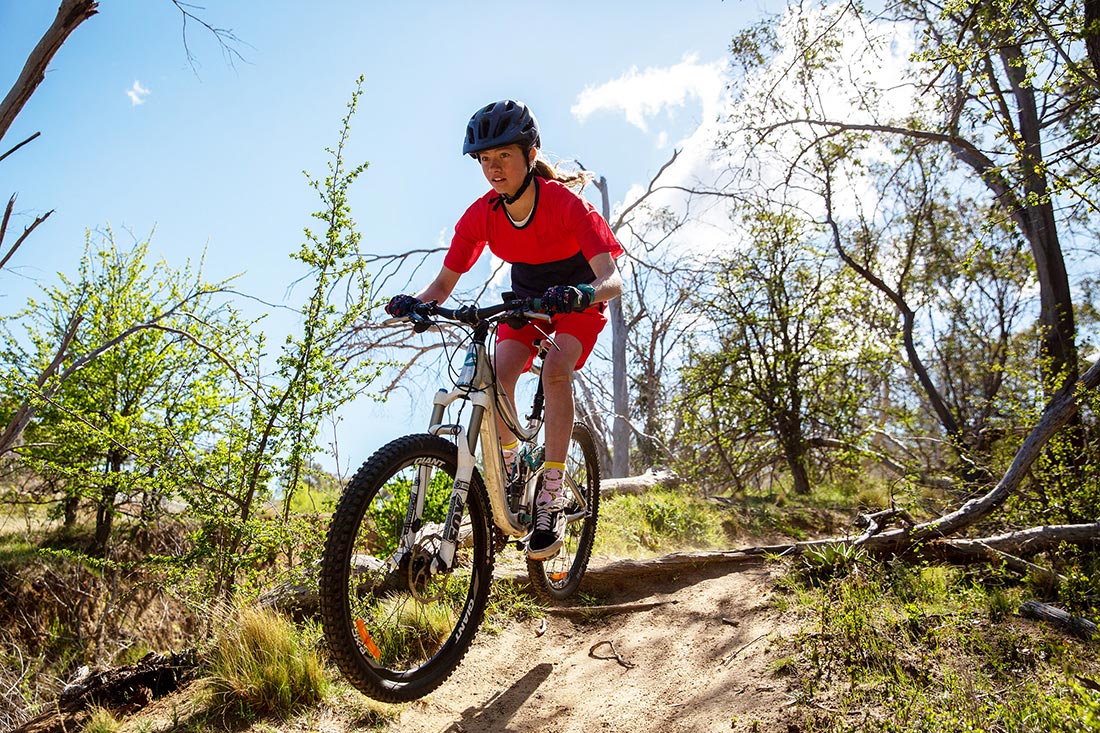 It's a good feeling unwrapping and putting on your latest uber-cool riding gear, do you see a difference when the kids are wearing their new gear out on the trails?
Like anything, when kids or adults are looking good they are generally feeling good too. So combine good vibes and getting sendy on the trail, and you have a recipe for a great riding session. I'm a  parent of a couple of little frothers and every day I see this pull towards screens and being connected so at the end of the day if we can help kids get excited to get outside, explore, meet up with their friends and be social I will keep plowing ahead to help get them to be excited day in and day out.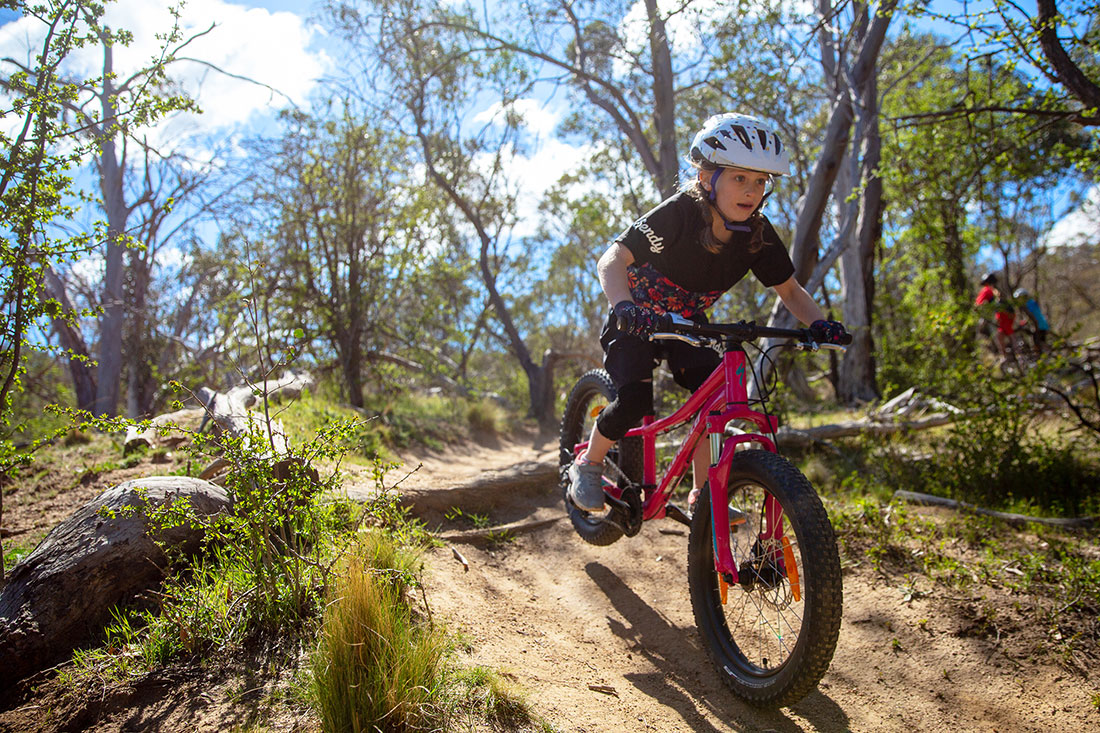 In the future, would you be looking to sponsor some riders, to help get the brand out there on the World Stage? The likes of Harry Schofield for example?
For sure! We already have a few shredders who are repping Sendygear as brand ambassadors around the country from Tassie, Coffs Harbour, Jindabyne, and Perth. 
Our best marketing tool is kids riding bikes and having fun in Sendy. Having come from being an athlete and knowing how hard it was plucking the courage up to ask for sponsorship when I was 12 yrs old I applaud all the little frothers who approach us.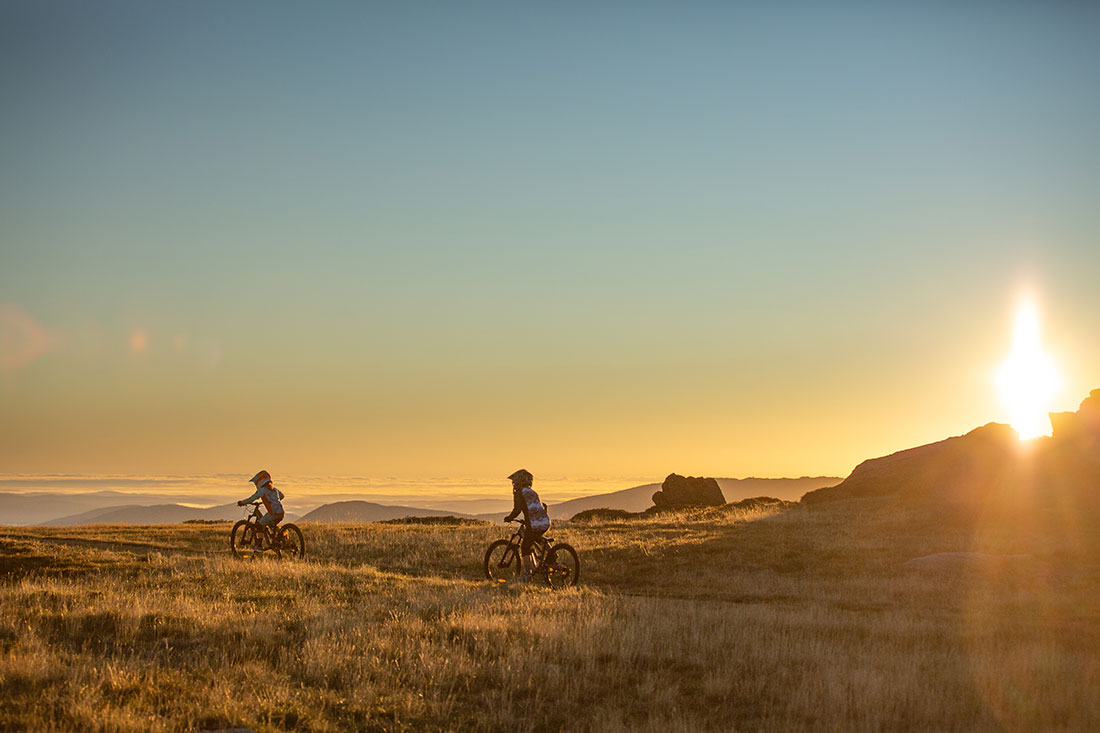 We are super-stoked for SENDY and the future it holds and we'll be watching out for all the little shredders of the world and the SENDY label on their jerseys. Thanks again for taking the time to talk with us.
Thanks so much for the opportunity to chat, when you are up in the mountains please give us a shout so we can get Sendy!!
---
To find out more about SENDY head on over to their website, Facebook and Instagram channels.
Available to buy at MTB Direct or ask at your local bike shop.
Photo credits to Adam Kroenert.
---