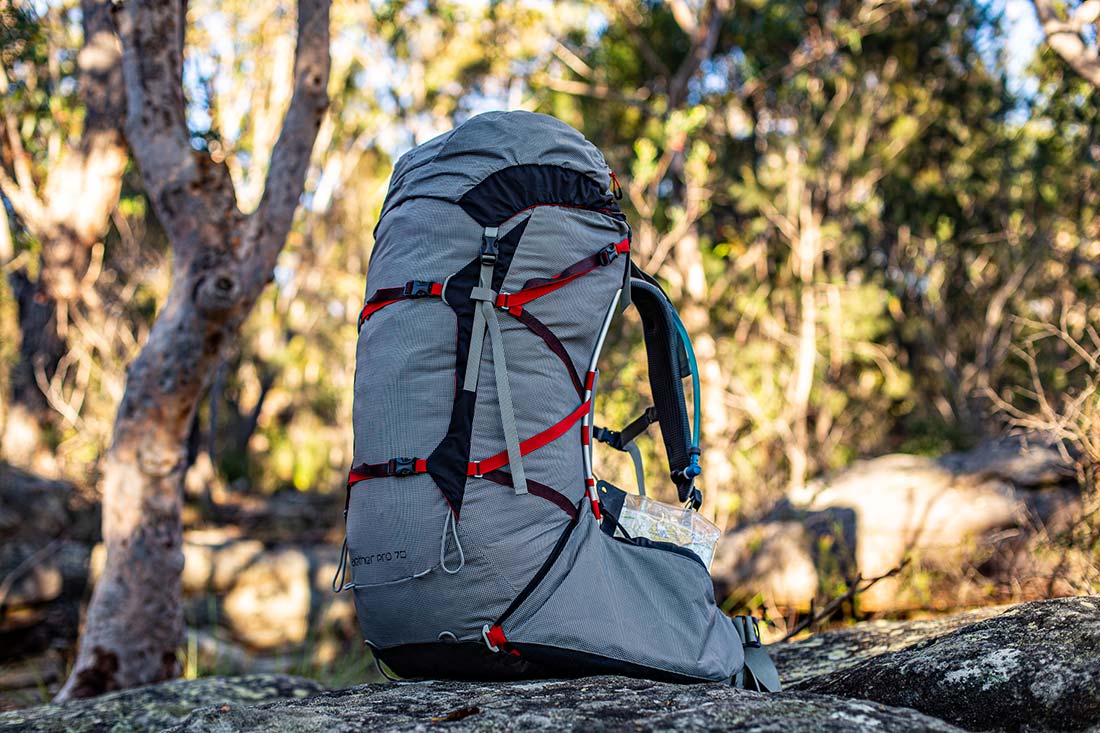 Osprey's Aether Pro 70 is a svelte, stripped-back, load hauler
Cut to the Chase
The Osprey Aether Pro 70 is a modular, hi-tech load hauler that can be used for a wide range of adventures. Using a mix of super-tough materials combined with an efficient carrying and load distribution system, this pack can haul big loads in extreme comfort, allowing you to keep going for longer. Featuring a range of easy access storage options, a 3-litre bladder hydration system, and a slimline design suited to more challenging terrain. The Aether Pro is suited for novice weekend hikers to working professionals alike, who need to rely on a pack that can perform, again and again. Plus, it's uber-sexy, just look at it!!!
Pros
Over a kilo lighter than packs in the same class.
Excellent load hauling and weight distribution system.
Uses high-tech, light weight and strong materials.
Weight saving modular design.
Highly functional top lid and waist pockets.
Non-bulky shape, perfect for challenging ground.
Cons
Price. It's not cheap.
When fully loaded up, pack height can get snagged under branches when off track.
Hydration bladder is difficult to access when pack is full.
---
Osprey Aether Pro 70 – Pack Review
Osprey has been making packs since 1974 and is now one of the most trusted outdoor brands worldwide. Over the years we have had a number of their packs and Osprey has won us over with their fantastic range for hiking and mountain biking. The quality, construction and materials used are of the highest standards and the features are all warranted, nothing superfluous ever gets added to their designs.
In this test, we are going to look at the Aether Pro 70, Osprey's stripped-down load-hauler (the Ariel Pro 65 is the women's version, which is not in this test). The marketing blurb uses words like "boundary-pushing", "svelte" and "streamlined", we'll have a look to see what Osprey mean by that and if they have achieved what they set out to do.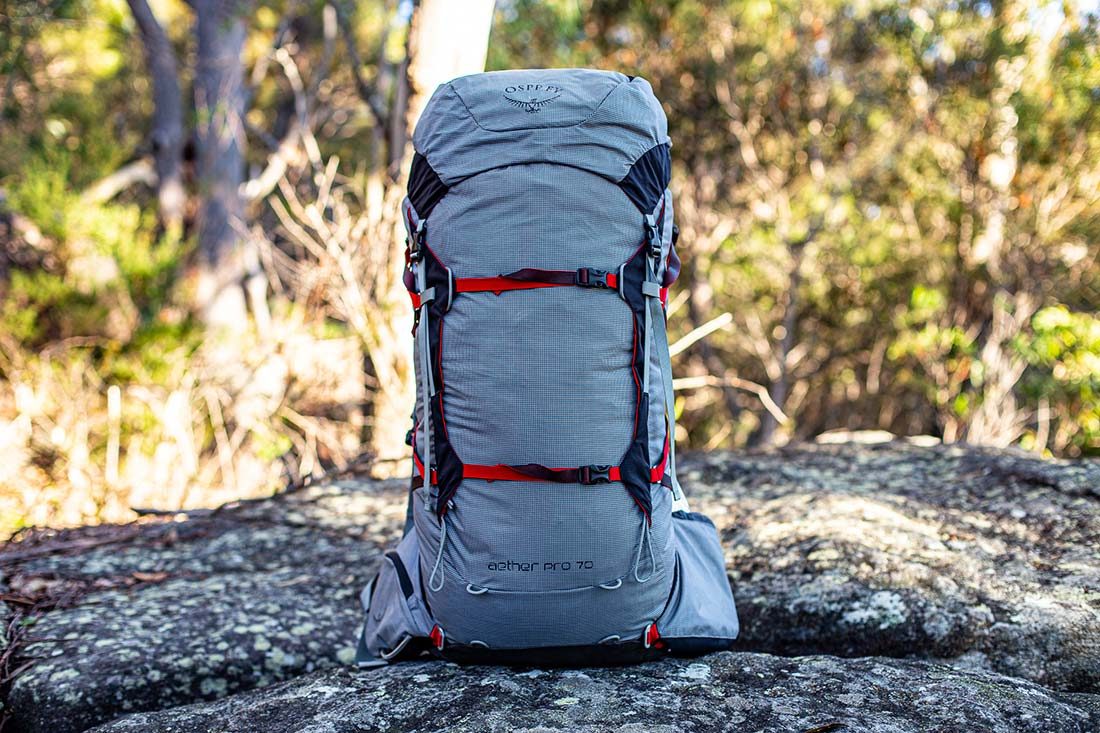 Above: The Aether Pro has a ton of features such as the two non-removable front straps which provide the ice axe attachment system.
Photo: ©Ian Ganderton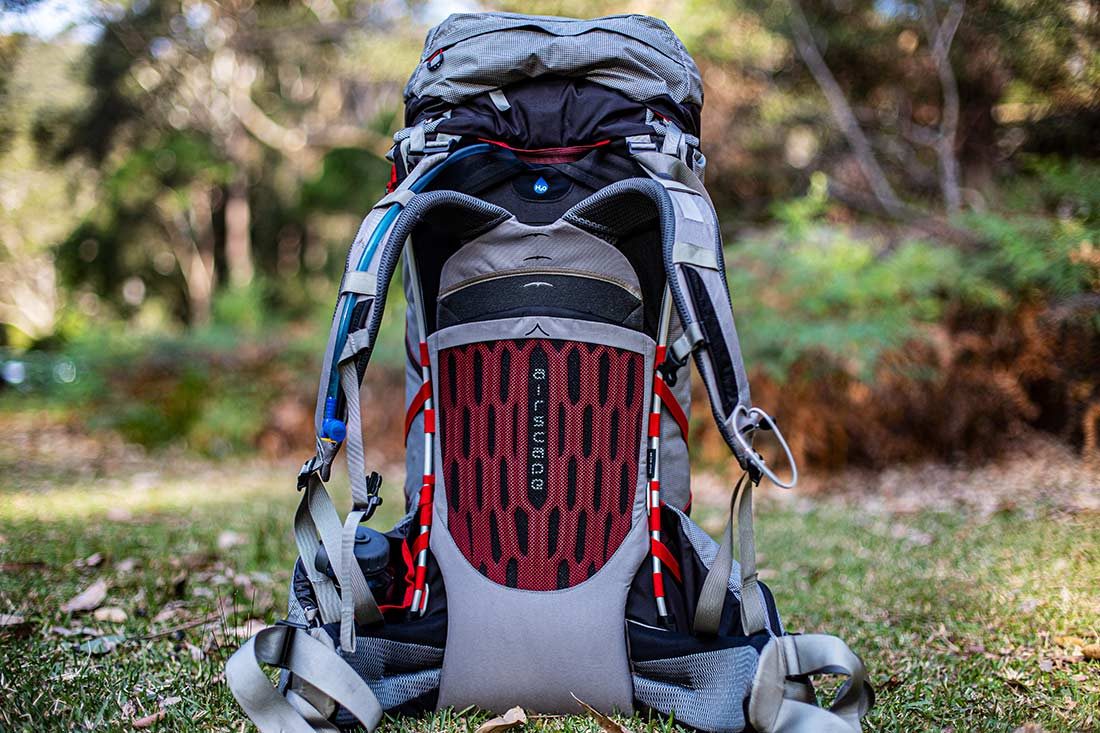 Above: The Osprey Aether Pro in all its glory. An incredibly well-balanced pack with excellent load carrying and storage features.
Photo: ©Ian Ganderton
---
First Impressions
The first thing I noticed about this pack is that I really like the overall aesthetics. Because it has no external pockets it has a slim efficient look to it. Packs with pockets on the sides or front can look a bit podgy or lumpy. I also like the distinctive, technical vibe of the contrasting grey/black/red.
The Aether Pro's Isoform hip belt immediately feels like it's built to give solid comfort under the heaviest loads. It has a very firm outer structure with an mix of mesh and foam directly on the hips. When I first put the pack on, I noticed how comfortably firm the grip was. The V pull of the belt does a great job cupping the hip bones.
The shoulder straps feel equally well designed for purpose and the back system was quick and easy to adjust to my back length. I'm 175cm (with a slightly long back for my height) and the medium fits me well in the middle of the settings. The Osprey's tried and tested Velcro adjustment system feels strong and wont ever slip.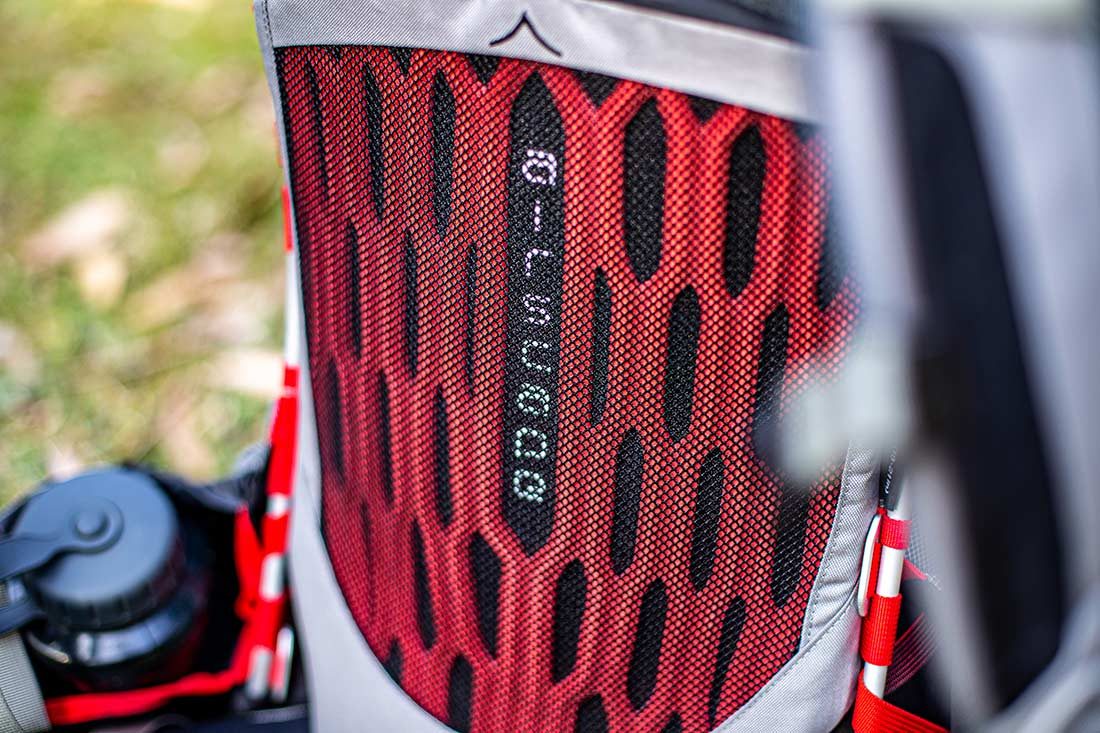 Above: The Osprey Airscape feature allows air to flow between the pack and your back, keeping you comfortable for extended periods of time. Especially appreciated during the warmer Australian months.
Photo: ©Ian Ganderton
---
Features
Heavy packs put huge strains on the materials they are made of. Any abrasion or weakness has more force behind it and you will begin to see seams bulge. Because of this, I've put some research into the lightweight material for the pack body. 
Materials
It's a 210 denier weight nylon with 200 denier UHMWPE ripstop in a 2mm grid. What's UHMWPE I hear you ask? Well UHMWPE stands for ultra-high-molecular-weight polyethylene which is often branded as Spectra or Dyneema. 200 denier UHMWPE has a similar strength to 400 denier nylon with great abrasion resistance to boot. So the same durability for half the weight.
The old mantra of "strong, light, cheap – pick 2" is a relevant with this pack. It's a premium pack using high-tech materials and features sitting in the top end of Osprey's range. Good packs do have some of the longest lifespans of outdoor gear so the 'buy well, buy once' mantra is also relevant in this product group.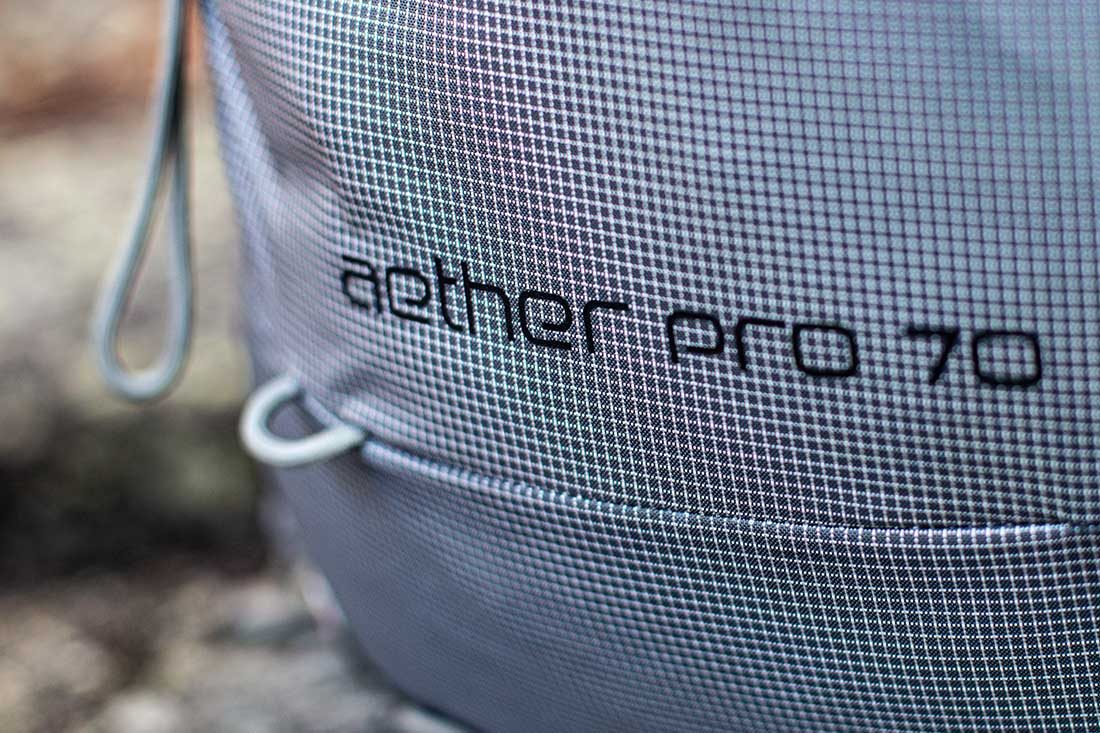 Above: The Aether Pro uses a 210 denier weight nylon with 200 denier UHMWPE ripstop in a 2mm grid.
Photo: ©Ian Ganderton
---
Weight
One of the key features of this pack is its ability to be stripped right back to further reduce weight. At full spec it weighs in at a very light 1.89kg. This is just over 400g lighter than similar size packs in Ospreys range using more conventional materials (Aether Pro 70 – 2.33kg & Xenith 75 – 2.35kg) , stripped right back its just 1.5kg which is incredibly light for a pack with this robust a back system.
Below is the breakdown of what can be removed with their individual part weights. I estimate removing the various pockets reduces the real world carrying capacity by approx.
10 litres.
141g -Top lid with pocket
80g -Waist bottle pocket (RH)
79g -Waist zip pocket (LH)
46g -Side compression straps
15g -Mat straps
Total weight of removable parts = 361g
Carrying / Comfort
The 70 litre pack is slim and, to my eye, aesthetically pleasing. The main fabric is Ospreys high tech NanoFly® 210D Nylon X 200D UHMWPE ripstop with 315HD Nylon Oxford accents and a 'solid' 200D UHMWPE base.
The back system is their Isoform harness and hipbelt with a lightwire aluminium 7075 peripheral frame and single 6061-T6 centre stay. It has the Airscape backpanel with mesh covered foam ridges and the shoulder straps and hipbelt use spacer mesh fabric. The hipbelt also has a custom heat moulding option. This is a very high end, stable, comfortable, strong and light back system with a load range of 15 to 27 kg.
Storage
The main pack is a single compartment top only entry design with no side pockets. This style is often favoured by experienced users as they know reducing the bells and whistles saved weight and removed failure points. Expert users will have simple packing strategies that remove the need to pockets and zips.
The removable floating top lid has a good sized zipped pocket big enough to fill with the adventurers clutter of headtorch, repair kit, wallet, keys, mug, sunglasses, matches, suncream etc. When the floating lid is removed Osprey's integrated FlapJacket efficiently takes care of top closure duties.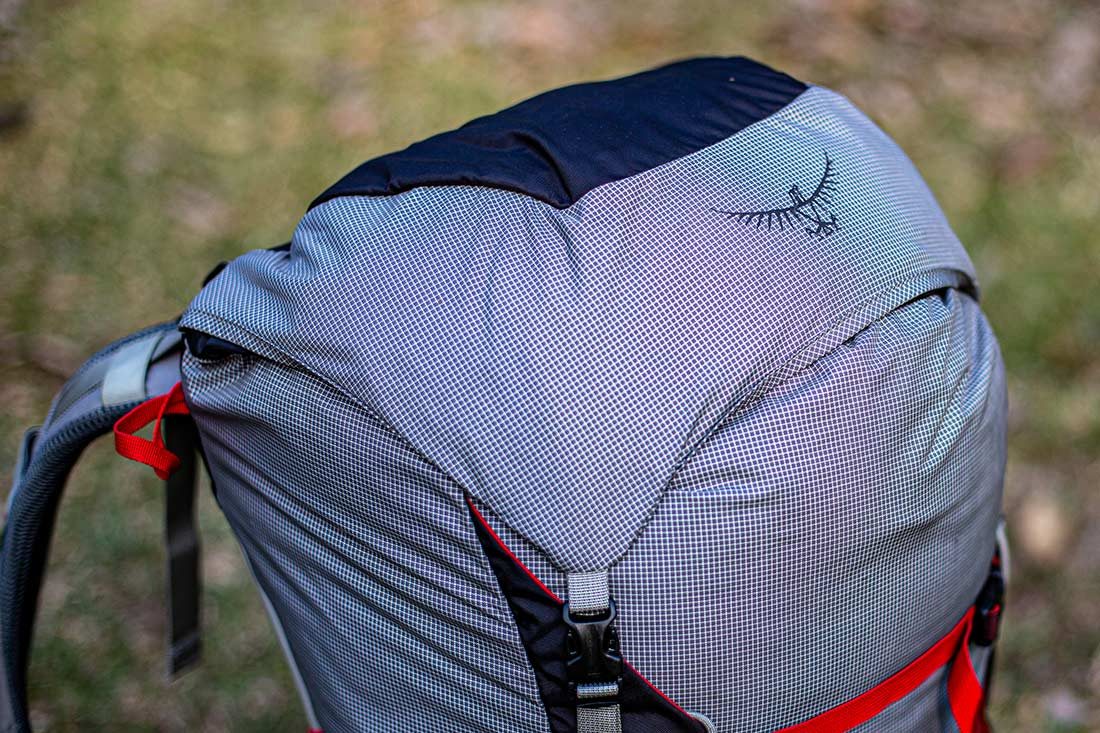 Above: The Flap Jacket lid is big enough to dump all those bits and bobs (mug, spoon, repair kit, keys, pen, lighter, phone, toilet roll etc)
Photo: ©Ian Ganderton
---
On the waist belt are two good-sized removable pockets for easy access for your adventuring bits and bobs. The left-hand pocket is zippered giving secure storage for on-the-go items like snacks, GPS, compass, etc. Great to note that the zip pocket is a true easy one-handed opening, (not always the case). The right pocket is a cinch-style closure ideally suited to a Nalgene-style water bottle. I've also used it for stashing maps. 
Removing the waist belt pockets requires a bit of effort, its not something you'd do on the fly, much more an 'at home' job. The flip side of this is that 'in use' they absolutely feel an integral part of the pack.
I like the simple, neat and easy to use Stow-on-the-Go trekking pole attachment system. Very handy for quick 'on the fly' stowing when hands are needed for things like navigation or whilst on steep ground. Worth noting the system only works with the left hand pocket attached.
The internal hydration reservoir sleeve easily takes a 3 litre bladder with good routing for the drink tube, though it's far from easily accessible when the pack is full. As a pack that's designed for being 'full' it would have been good to see the external style access as seen on the Xenith packs, but that may have added additonal weight.
On The Trails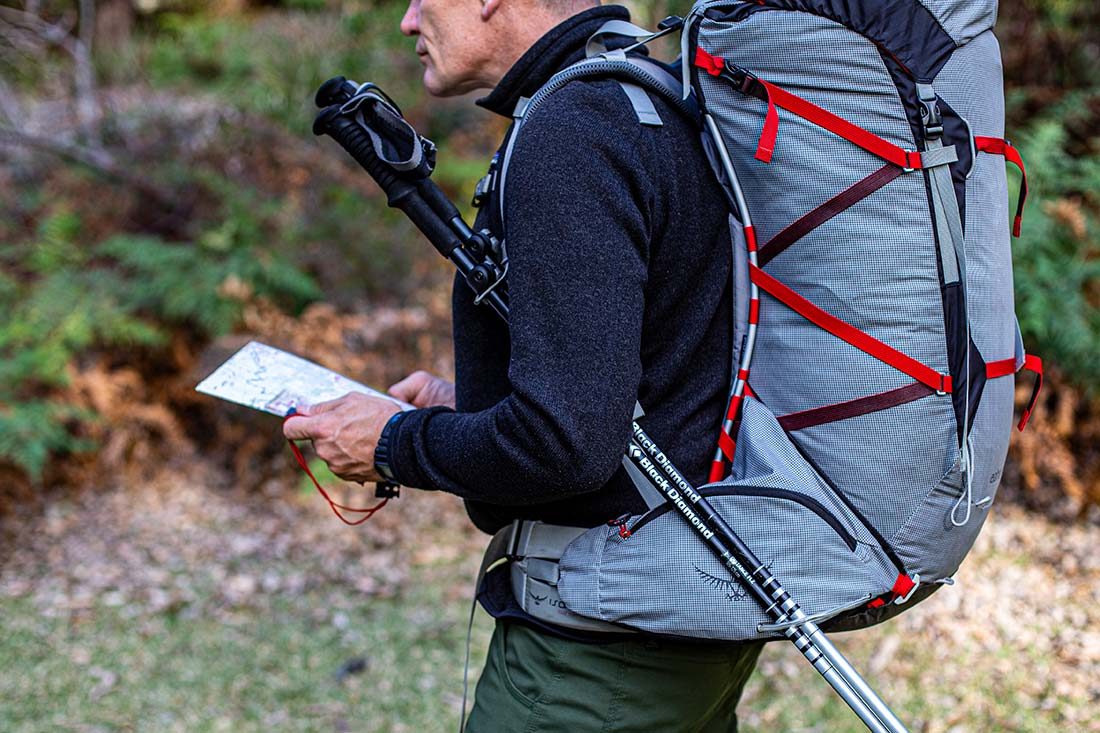 Above: Distinctive Red/Charcoal compression straps circle the pack body significantly contributing to the 'Pro' tech look of the Aether Pro.
Photo: ©Ian Ganderton
---
The Aether Pro is now my go-to pack for journeys, both work, and play. Working in Outdoor Education and Duke of Edinburgh requires carrying first aid and comms gear over and above what is normally needed for personal trips. This means saving weight anywhere you can make a difference but the pack gets abused too (back of utes, the bottom of canoes, off-track bush) so it needs to be robust. I'm saving over a kilo over some of my colleagues' packs of a similar size, that's significant! 
Importantly the Aether Pro weight saving doesn't come with any of the negative performance costs normally associated with light weight packs. The pack stability and distribution of weight is excellent plus the high spec materials are very tough.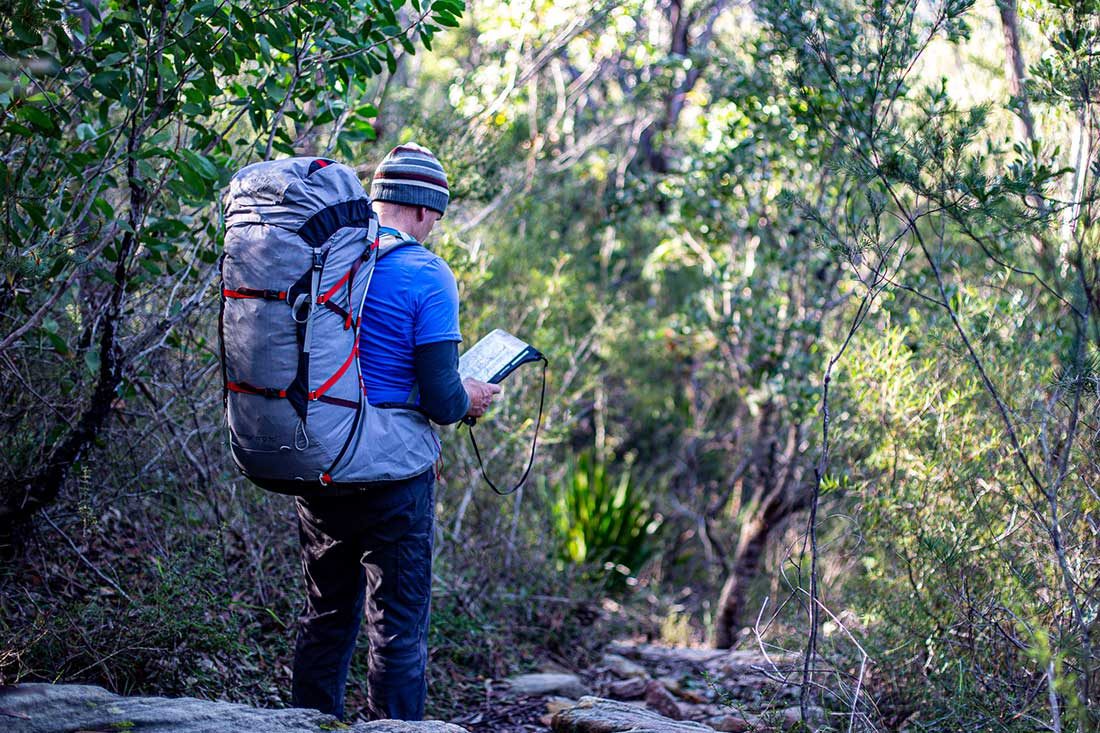 Above: The Osprey Aether Pro is a slim, body hugging pack that is suited for pretty much any adventure you can throw at it.
Photo: ©Ian Ganderton

---
The slim profile is great on steep ground, it never catches or pushes you off balance but when packed to the max, it does get a bit tall making ducking under low branches a bit snaggy.  The top pocket is big enough to dump all those bits and bobs (mug, spoon, repair kit, keys, pen, lighter, phone, toilet roll, etc) that top pockets are so good for. The left-hand waist pocket, with its zip closure being a true one-handed operation (not often the case on waist pockets), is awesome for the stuff I like to access without taking a pack off, this includes things like my compass, GPS, and snacks. 
The single compartment and no side pockets won't suit some people but I like its simplicity and associated weight saving. I have simple strategies than mean I'm organized enough with my packing to deal with the simplicity and I love the benefits of a slim pack which come to the fore both public transport or on steep/off track ground. Of course, 'light is always right' too.
I haven't used it stripped back in its light 'n' feisty mode yet but I know I will. It means I don't need another journey pack in my 'quiver'.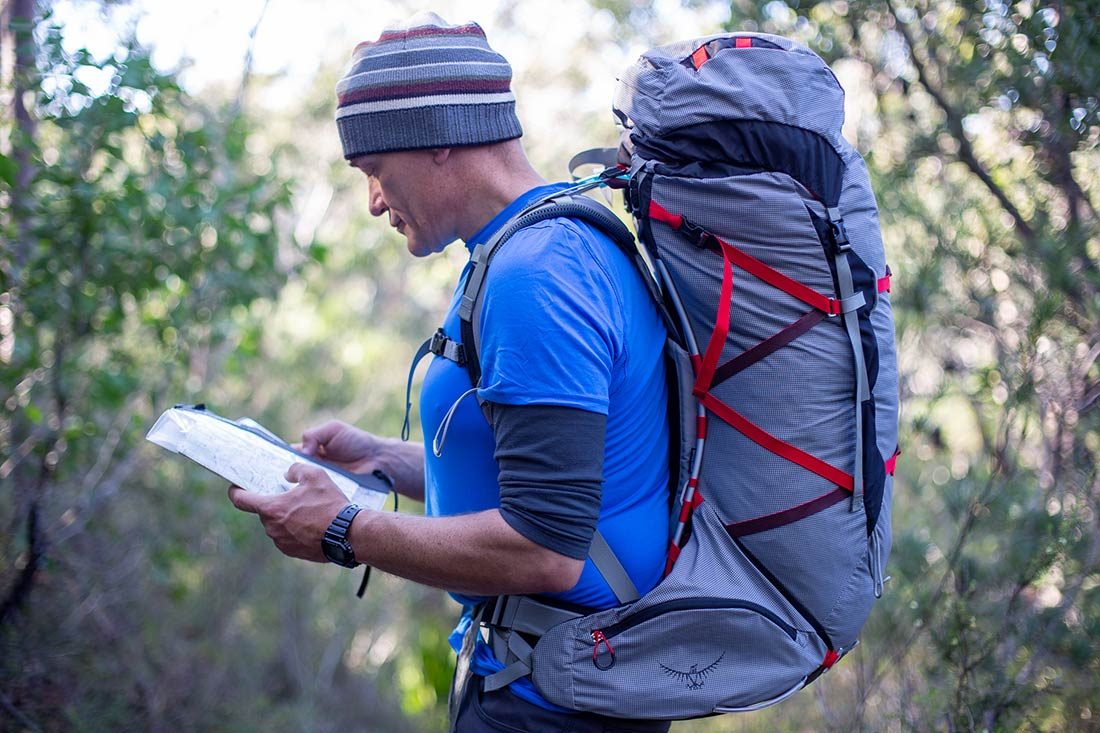 Above: The Z style side straps do a great job of evenly stabilising smaller loads when needed and can be removed to save valuable grams when not.
Photo: ©Ian Ganderton
---
Conclusions
This is an incredibly high spec while efficient, svelte load hauler that, through modular design, will cover a wide range of trip uses. It will do the hard yards for me as my "do it all" journey pack for work and play. It suits experts who have packing strategies to cope with its simple, strong, and light single compartment design and will cope with the hard use and challenging environments they will take it into. 
For a simple, single compartment pack it comes with a hefty price tag but that's the cost of the high-tech hard wearing lightweight materials. The adage 'buy well, buy once' rings true and this pack should earn its keep over many, many trips. Add up the weight saved each day you are carrying it and it will soon pay for itsself.
---
Key Features
Removable floating top lid with zippered pocket
Integrated FlapJacket protects packed gear when top lid is removed
Stow-on-the-Go trekking pole attachment
Dual removable ice tool loops with upper cord attachments
Internal reservoir sleeve accommodates up to a 3L reservoir
Dual front compression straps
Large, dual removable hipbelt pockets, one zippered and one with a cinch closure
Dual removable side compression straps
Reinforced cord loops to attach daypack or Alpine Pocket
Removable sleeping pad straps
Sternum strap with whistle
Carrying Information
Load range – 15 – 27 kg
LIGHTWIRE SUSPENSION with Aluminum 7075 peripheral frame & single 6061-T6 center stay
AIRSCAPE BACKPANEL with mesh-covered foam ridges
ISOFORM4 HARNESS with Spacer mesh fabric
ISOFORM4 CM HIPBELT with Custom heat molding option
Fabrics
Main – NanoFly® 210D Nylon X 200D UHMWPE
Accent – 315HD Nylon Oxford
Bottom – 200D UHMWPE
Dimensions
| | | | | |
| --- | --- | --- | --- | --- |
| Volume | Dimensions | | Weight | |
| SM 67 litres | 82h x 45w x 37d cm | | 1.43 – 1.73 kg | |
| MD 70 litres | 87h x 45w x 37d cm | | 1.49 – 1.79 kg | |
| LG 73 litres | 92h x 45w x 37d cm | | 1.54 – 1.84 kg | |
---
Where to Buy / Price
The Osprey Aether Pro is available from reputable online or local outdoor stores.
The Osprey Aether Pro 70 is priced at $449.96
---